The ability to handle and use project records in a way that ensures seamless storage, and smooth records management of documents, and papers by seniors, team members, and other stakeholders is made feasible by managing records on a project.
Records management, which is a component of overall document management, enables a project manager to direct and control document flows throughout the course of a project while ensuring that each document or record meets operational needs and aids teams in capturing and retrieving crucial information. It lays the groundwork for analysis, lessons learned, historical reviews, etc. It establishes a framework for carrying out project activities and procedures.
Naturally, we find it difficult to imagine a project without any way to manage records and documentation. We view the creation, usage, and storage of various sorts and forms of project records, files, documents, papers, sheets, etc. as a consistent and ongoing process that involves a number of steps and procedures.
This makes the work long and tacky. If you want to ease out the process of records management in your company, keep reading to learn more about managing records. We will discuss the definition, significance, and important steps of the process for managing project records in this post.
A Guide to Project Record Management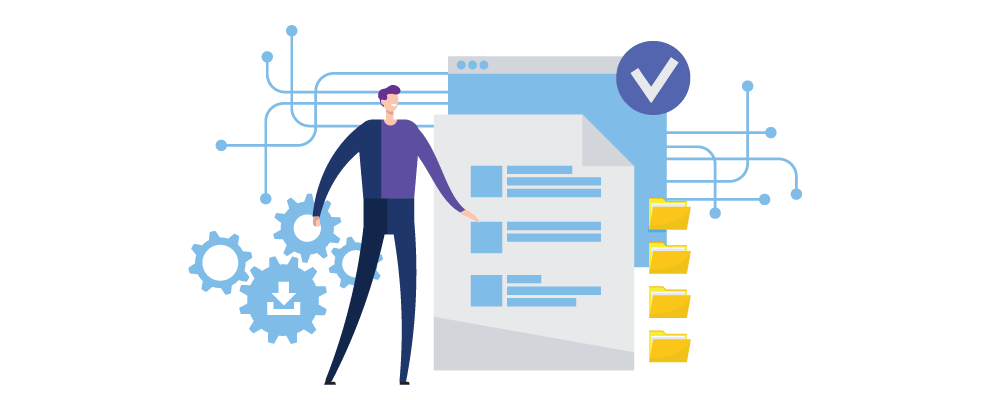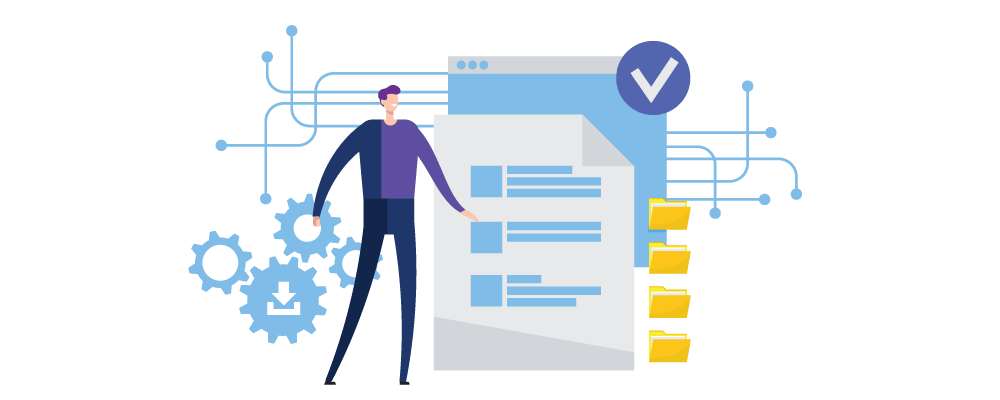 A record system is a procedure by which an organization chooses the following factors, actions, and functions:
The kind of data that has to be logged.
a method for keeping track of data.
Collection and handling of records
the duration of storage and retention.
Records that are related to external occurrences should be destroyed or protected.
A record management system's components
Analysis of the content, which explains or states the record-keeping system.
A file strategy is outlining the categories of records needed for each project.
A compliance requirement paper outlining the required IT practices will be created. This will guarantee that everyone on the team is totally compliant.
A process for gathering old records. All record sources, including emails, file servers, etc., should undergo these.
A process for auditing documents.
The system for recording data capture.
The system permits reporting and monitoring in accordance with the manner in which records are kept.
Three Stages of Records
There are three major phases in the project record management process. For these stages to be completed and the goals for each step to be achieved, there are numerous additional actions needed.
Step 1. Creating Project Files
Make sure to generate project files in accordance with the guidelines and standards for file management established by your company. For instance, a company has a file management policy that outlines how to create a project file, what system and tools to use, what file types and extensions are preferred, who has permission to create files, how to amend filed records, and other things.
There are five standard prerequisites to project record creation:
1. Prompt:
As soon and swiftly as possible, a file should be produced.
2. Simple:
The structure of the file's content should be as straightforward as possible.
3. Separate:
Every file is a single, distinct record; the contents of two or more files cannot be mixed; instead, a new file should be generated if the content of several files has to be combined.
4. Up-to-date:
A versioning number and the date the file was last edited should be appended to the file header whenever a project file is updated.
5. Confidential:
A file should be kept completely confidential, and only authorized people should be able to access it and its contents.
Any project or program should take great care to adhere to these 5 standards, as failure to do so could result in the creation of project files that are not trustworthy, thorough, complete, or pertinent.
Step 2. File Project Documents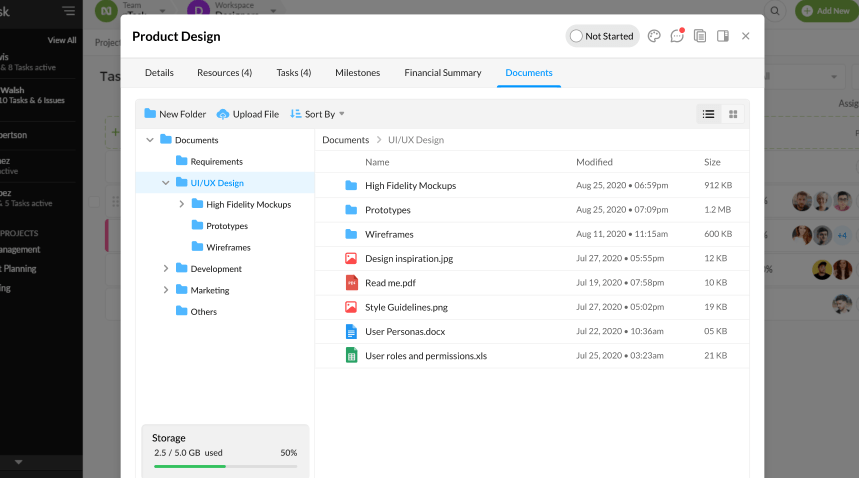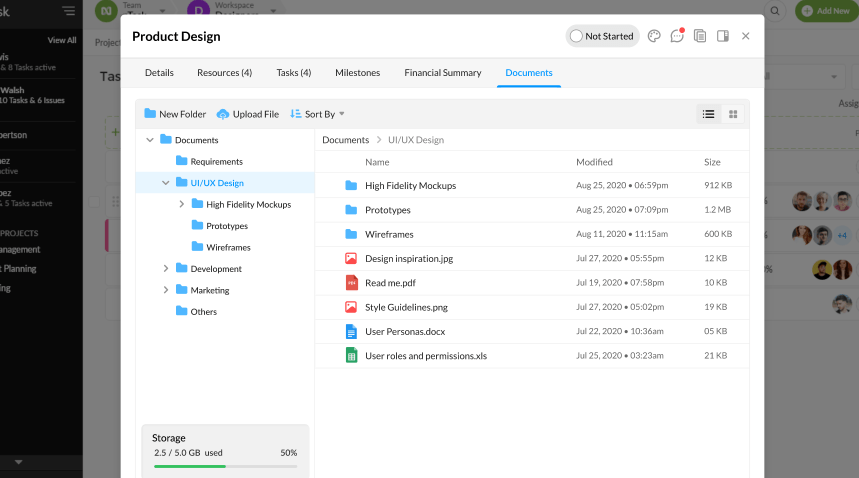 After creating a file in accordance with your file management guidelines, you can now move on to filing project documents. This requires that you organize all of your documents and white papers into the appropriate files. The important files and information you need to include in your project files are listed below:
Messages sent via official mail and email, including letters, attachments, and photos
Documents for project meetings
Request for proposal, brief, and project.
Contact information for stakeholders.
Requests for changes and variations.
Decisions are taken, risk logs, and issue logs.
Status summaries and reports.
Purchase orders.
Rules, directives, notes, etc. for the team.
Transfer and closing papers.
Make sure that each piece of this information is stored in a separate file. Version control is necessary to guarantee that the project files are altered and updated correctly. The following information is necessary: Author, editor, revision date, revision number, and a hyperlink to an electronic copy.
Step 3. Keeping and Erasing Project Records
The following step is to manage the records and move them to the archive once all of your project documents and pertinent data have been filed. Making documents inaccessible inside a given setting while keeping them retrievable for subsequent projects and lessons learned is what is meant by archiving project records.
Instead of archiving the documents after the project is finished, you might need to destroy them. In any case, when handling your project documents, you must refer to your organization's archiving and destruction policies.
In most companies, we favor document archiving over document destruction. Why is that? Because we think that each piece of recorded and filed information may one day be needed, we endeavor not to practice record destruction. Your business might have a different viewpoint on this.
However, because doing so appears to be very expensive, we can't keep all of our files indefinitely. We aim to extend a file's life as much as we can, and when that life is over, we simply destroy the file. I've listed our record-keeping standards below in the hopes that they'll be helpful to you:
Contract-based paperwork and advisory records are kept for at least five years after the contracts have been completed.
General project records are maintained according to the purpose they serve.
Research data records last between five and seven years depending on the type of research.
Legal matters and case histories: at least seven years.
Five years are preserved for financial records.
For a period of 5-7 years, other project records are archived.
According to best practices for document archiving, a company should aim to save a project file for as long as possible. We adhere to this standard.
Why is Records Management Important?
90% of the world's data, according to IBM, was created in just two years. Without routine information monitoring, managing enormous amounts of data becomes all but impossible.
In addition to the data deluge, businesses must manage their records due to the constantly changing regulatory environment. Records management practices and retention guidelines that aren't followed can lead to pointless audits, wasted productivity, and severe penalties for noncompliance.
The following are other advantages of putting in place a successful records management strategy in your workplace:
1. Record Preservation
It aids in the management and supervision of significant records. It aids in carefully preserving necessary documents and getting rid of unnecessary ones.
2. Monitoring Development
It aids in monitoring an organization's progress. It aids in the preservation of an organization's history. The historical data demonstrates organizational direction. It aids in identifying the organization's strengths and weaknesses. The keeping of records provides a report on the direction and rate of the organization.
3. Make Comparisons Easier
Evaluation of corporate performance and advancement is aided by record management. It facilitates comparisons between the same business hours or different time periods.
4. Ease In Decision Making
Records are the business's memory and are useful in decision-making. It is helpful for making judgments in the future. The analysis of historical data provides guidance for the future. Every time an organization needs information, it provides it. As a result, it facilitates decision-making.
5. Effectiveness In Use
The accurate and timely delivery of essential information is made possible via record management. It facilitates productive and efficient office operations. The office's productivity is boosted by it.
6. Acts As A Proof
When there is a disagreement, records serve as proof. It is crucial for the resolution of disputes. It is admissible as evidence in court.
Conclusion
In an organization, a record is a written document or electronic data storage that serves as documentation or a set of rules. The systematic practice of project record management enables individuals to keep records for later use.
It lists the information that is pertinent to the project. As a result, significant attention must be paid to project record management for a better and smooth workflow.
More Articles You May Like: