Do you find yourself struggling to get your point across in a clear and concise manner? Are team meetings becoming less productive due to poor communication? Maybe you need to send a quick email or share some important information with everyone on your team.
If so, you're not alone. Poor communication is one of the top reasons why teams fail, and it's something that can be easily remedied with the help of nTask.
nTask is the perfect tool for professionals who need to stay connected and organized. nTask allows you to create, share, and collaborate on tasks with your team quickly and easily.
With nTask, you'll be able to get your point across without wasting time and energy trying to explain it again and again.
This powerful app provides users with everything they need to stay organized and on top of communication tasks. Whether you're a manager, employee, or team member, nTask has features that will help you get the most out of your communication.
In this blog post, we'll highlight seven of these features and explain why they make nTask such an essential tool for professional communication in the workplace. So read on to learn more about this indispensable project management tool!
What Is nTask?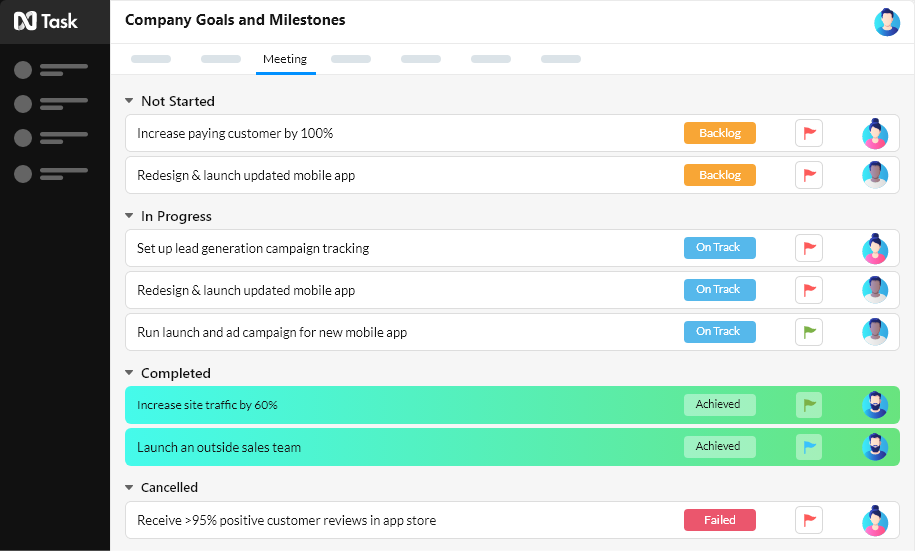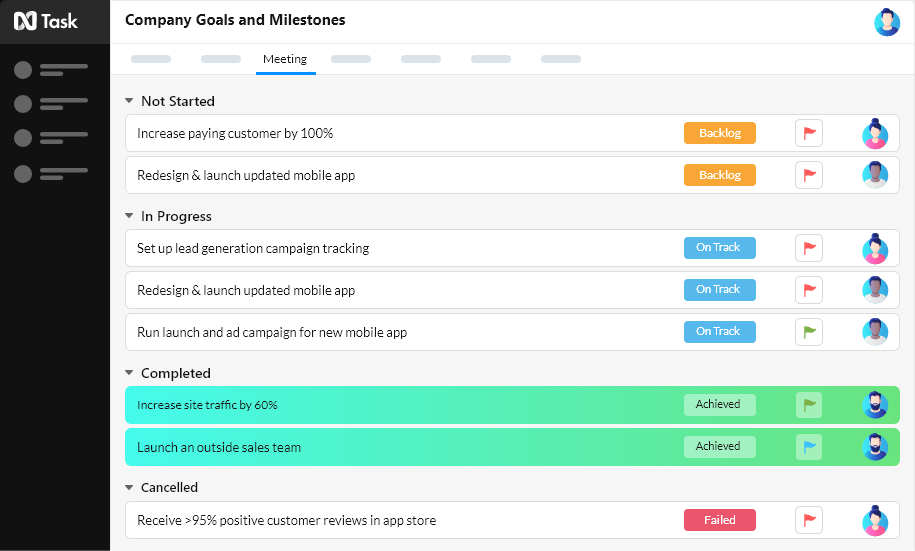 nTask is a cloud-based task management platform that helps businesses manage and automate their workflows. It's easy to use and perfect for anyone who needs a way to organize their tasks, as well as track progress and complete them efficiently.
It offers a wide range of features to help users get the most out of their day, including tasks, deadlines, notes, files, and notifications. nTask also integrates with various other platforms to make it easier for users to get work done from anywhere.
nTask was designed with the modern worker in mind. Its simple user interface makes it easy to find what you're looking for, and its automation capabilities let you run your workflow painlessly without having to worry about tedious tasks or missed deadlines.
In addition to helping businesses streamline their everyday operations, nTask can also be used as an employee management tool; employees can access the platform through their employer's website or app.
Additionally, the platform is optimized for tracking deadlines and project milestones, so you can stay on track with your work goals.
It is a versatile task automation tool that can help businesses get more done faster. With nTask, you can easily manage your work tasks and prioritize your workloads.
You can also set up automated processes to run regularly ( or on demand ), so you know that everything is getting done as efficiently as possible.
nTask provides an easy way to organize your workflows and make sure everything gets completed on time. Plus, it's mobile-friendly so you can access it from anywhere in the world.
How Does It Work?
What is the purpose of professional communication tools? No team is complete without a good task communication tool. nTask is perfect for professional communication in the workplace because of its seamless collaboration features.
With nTask, team members can always access and update tasks accurately and promptly.
It offers optional features such as chat support for collaboration between employees, integration with popular calendar applications (such as Google Calendar), import/export functionality for exporting completed projects into other formats (PDFs, etc.), tracking of employee performance data (e.g., hours worked per day), email notifications when changes occur to a project or task list, automatic features and much more!
nTask is designed to automatically tie together all the different pieces of information team members need. This way, effective professional communication is simplified and everyone is kept on track. Additionally, nTask is a great tool for managing meeting minutes, tracking issues, and more.
What Makes nTask The Best Project Management App?
There are quite a lot of project management apps on the market today, but nTask is one of the best. nTask was created with simplicity and ease of use in mind, and it delivers on that promise.
nTask makes it easy to create tasks, assign them to team members, track progress and deadlines, and get alerts when things go wrong.
Plus, it has several other features that make it an excellent choice for busy business owners or professionals who need help managing their time and projects effectively. Here are six reasons why nTask is one of the best project management apps on the internet today:
Simple interface – The interface is simple enough for beginners but powerful enough for experts.
Customizable notifications – You can customize which tasks/alerts you want to be notified about (and how frequently). This makes sure you're never left out in the cold when something important happens with your project.
Rack multiple projects at once – With its unified task management system, nTask can handle multiple projects at once without any trouble.
Integrated calendar & reminder tools – Use the calendar tool to keep track of appointments or reminders related to your project so you don't have to constantly check your email or phone screen!
Helps manage time more efficiently – By organizing your tasks by the due date instead of type (text vs video), you'll be able to better focus on what's most important while still getting everything done on time.
All-in-one functionality – Instead of signing up for different tools to manage different aspects of your business, you can sign up for nTask and enjoy all the perks from a unified platform. nTask offers a suite of 7 management solutions along with hundreds of advanced features that make it one of the most comprehensive solutions out there.
From creating tasks to managing calendars, files, and notifications, nTask has everything you need to get your projects done right. Whether you're working on a small project or a complex one with multiple stakeholders, nTask is the perfect app for you!
nTask Features That Make It Ideal for Professional Communication in Teams
nTask is a powerful communication tool that can help professionals collaborate more effectively. Here are some of the features that make it perfect for this purpose:
1. Real-Time Collaboration
With nTask, team communication becomes easier than ever. It allows for easy sharing and editing of files, as well as keeping everyone up-to-date on the progress of tasks.
As a result, communication sessions are more effective and efficient – making it great for both face-to-face meetings and remote working.
nTask also offers online meeting capabilities so team members can easily talk to one another while working on projects. Plus, with its wide range of features, nTask makes sure that each member gets the most out of their collaboration session!
2. Integrated Chat and Messaging
Integrated chat and messaging is becoming increasingly important for businesses of all sizes.
Not only does it allow employees to communicate more easily and efficiently, but it can also help reduce office stress levels and improve effective professional communication between team members.
Integrated chat and messaging are some of the features that set nTask apart from the competition. With the tool, teams can easily send and receive messages privately or publicly.
This allows teams to remain focused on completing their project while working efficiently.
Integrated chat and messaging are great ways for team communication. It's available on both desktop and mobile platforms, making it accessible to everyone in the company.
3. Conflict Management
what is the purpose of professional communication? One of the many reasons professional communication is so essential is conflict management.
Conflict management is an important skill for any employee to master. It helps in building effective professional communication skills, resolving disputes amicably, and increasing team productivity.
nTask is one of the best tools for managing conflicts effectively. This platform not only provides verbal and non-verbal communication channels, but also a collaborative feature that makes working together more efficiently.
Additionally, it offers instant messaging support so you can communicate with team members at any time of the day or night.
With nTask, you can easily manage conflicts and stay focused on your work. It provides a user-friendly platform that makes it easy to communicate with other team members, resolve disputes, and track progress.
Plus, its powerful reporting tools make it easy to see how well you're doing overall.
4. Time Tracking
Time tracking is one of nTask's many strong points. Time tracking is an essential part of effective communication in teams. As such, it is important to use a tool that can accurately record time spent on various tasks.
It also lets you track your work hours and productivity accurately. nTask provides you with detailed reports that show where your time goes, so you can easily identify areas of improvement.
It also offers hour-based payroll processing and invoicing. nTask is perfect for time tracking as it integrates with email and other team communication tools to provide accurate tracking of work progress.
Additionally, nTask helps track projects and deadlines, ensuring everyone knows what's expected from them and when they are meeting expectations.
5. Quick Views of Team Member Activity
In a company, it is important to track team member activity as frequently as possible in order to handle problems and make sure that everyone is working effectively.
nTask allows you to quickly view important data about all of your employees at once, helping you identify problem areas and optimize workflow.
There is no better way than nTask to get a quick overview of team member activity. This handy tool lets you see all the tasks on your team in an easy-to-understand format, filtered by status and assigned to specific team members.
What's more, it also provides information on when each task was last updated – essential for effective communication between team members.
6. Fully Integrated Task Management
Tasks are a major part of any professional's day-to-day. But with the ever-growing number of distractions, it can be hard to stay focused and ensure that all communication is effective.
That's where nTask comes in – as an integrated task management platform that makes team communication easier than ever.
Built with real-time collaboration features, nTask allows professionals of all levels of experience to work on the same tasks at the same time without any trouble.
It is a fully integrated task management solution that helps you manage your tasks and projects with ease. With nTask, you can track your progress, assign tasks to colleagues and collaborators, and keep track of deadlines. You can also add notes and comments to each task, so you always have the information you need to complete them on time.
Not only does this help keep everyone on track, but it also manages communication effectively so that everyone knows what needs to be done and when it needs to be done.
nTask also offers real-time notifications so you know when something has been completed or updated.
And finally, because nTask is fully integrated with email and calendaring systems, it's easy to send yourself reminders as soon as a task is due rather than waiting until later in the day when you may be busy working on other things.
7. Reports to Keep Everyone in Check
There's no doubt that keeping everyone on track is essential for a successful business. Whether you're the CEO, CMO, or any other team member, it's important that you have accurate information about your projects so that you can make informed decisions and deliver on your promises.
But how can you do this effectively without bogging down your work with needless paperwork? One solution is to use nTask reports.
nTask reports provide detailed descriptions of every task assigned to a team member, as well as the time spent on each task and the results achieved. This allows you to assess individual performance and find areas for improvement. You can also use this data to create updated goals and track progress toward those goals throughout the project timeline.
nTask reports are an excellent way to keep track of all aspects of your projects – from progress to results to budget estimates. They are simple, and easy-to-understand reports that help you monitor important performance indicators and trends. They're perfect for tracking progress, setting goals, and measuring results.
Remote Collaboration Software: Key Features to Look For
Security and Encryption: Look for solutions that offer secure encryption of data in transit as well as at rest.
Real-time Collaboration: Select a platform with features like simultaneous editing, audio/video conferencing, and chat capabilities to foster collaboration among remote teams.
Task Management: Choose a remote collaboration tool that includes task management functionality so users can track activities, assign tasks, set deadlines, and more -all in one place.
Self-Hosted Options: Consider solutions with self-hosted options if you want to keep control over your data within your organization's own infrastructure.
File Sharing: Make sure the solution you choose offers an easy way to share files between users while ensuring secure transfer and storage of documents in the cloud or on an internal server when required by security policy or regulations such as GDPR compliance requirements etc.
Accessibility & Usability: Ensure the platform you select allows for seamless access from any device and is intuitive enough for everyone to use without requiring lengthy training or technical know-how.
Adopt the Best Remote Team Collaboration Software for Greater Productivity
nTask is an all-in-one collaboration software designed to help remote teams and organizations maximize their productivity. It offers a range of features that make it easy for team members to communicate and collaborate efficiently even when working from different locations.
nTask allows users to assign tasks, set deadlines, store documents, track progress, assign roles and responsibilities, generate reports, and much more. With its intuitive user interface, nTask is the perfect team collaboration software for both small businesses as well as large enterprises looking for productive solutions for their distributed teams.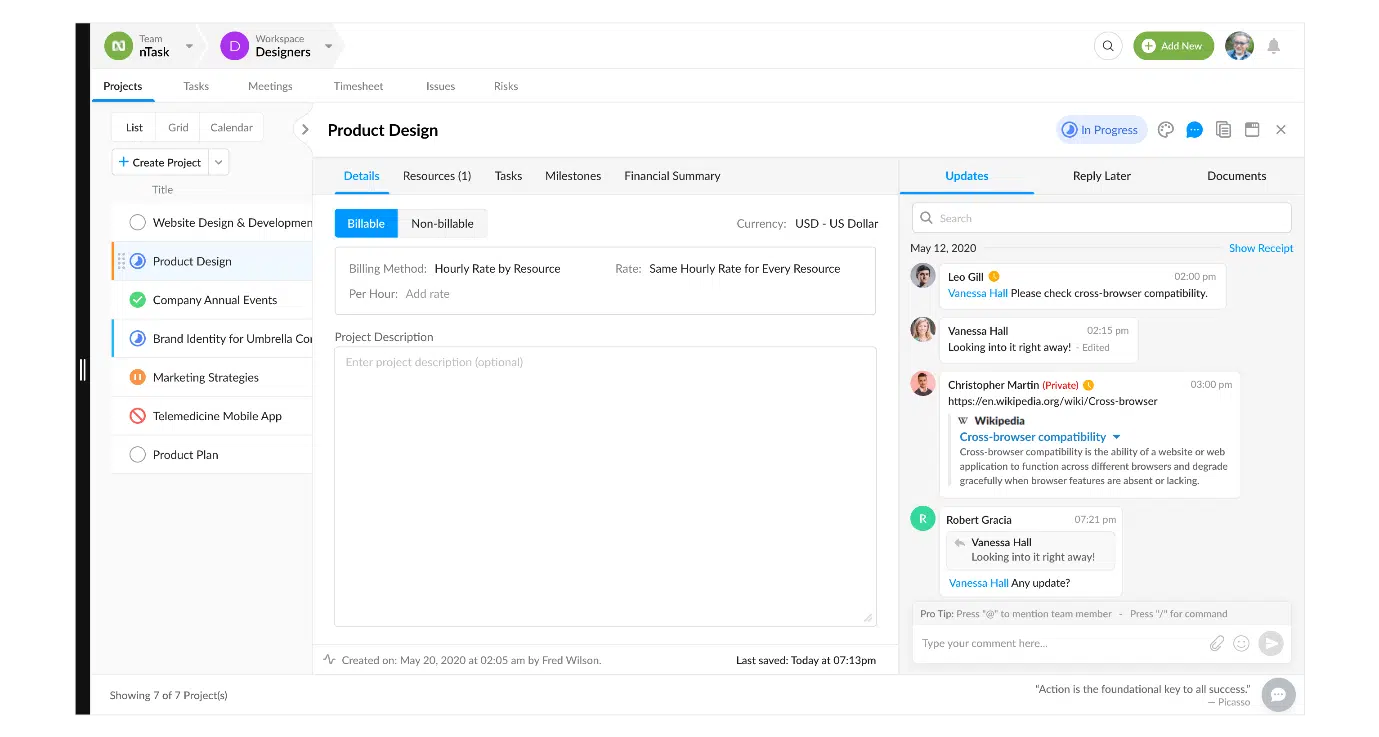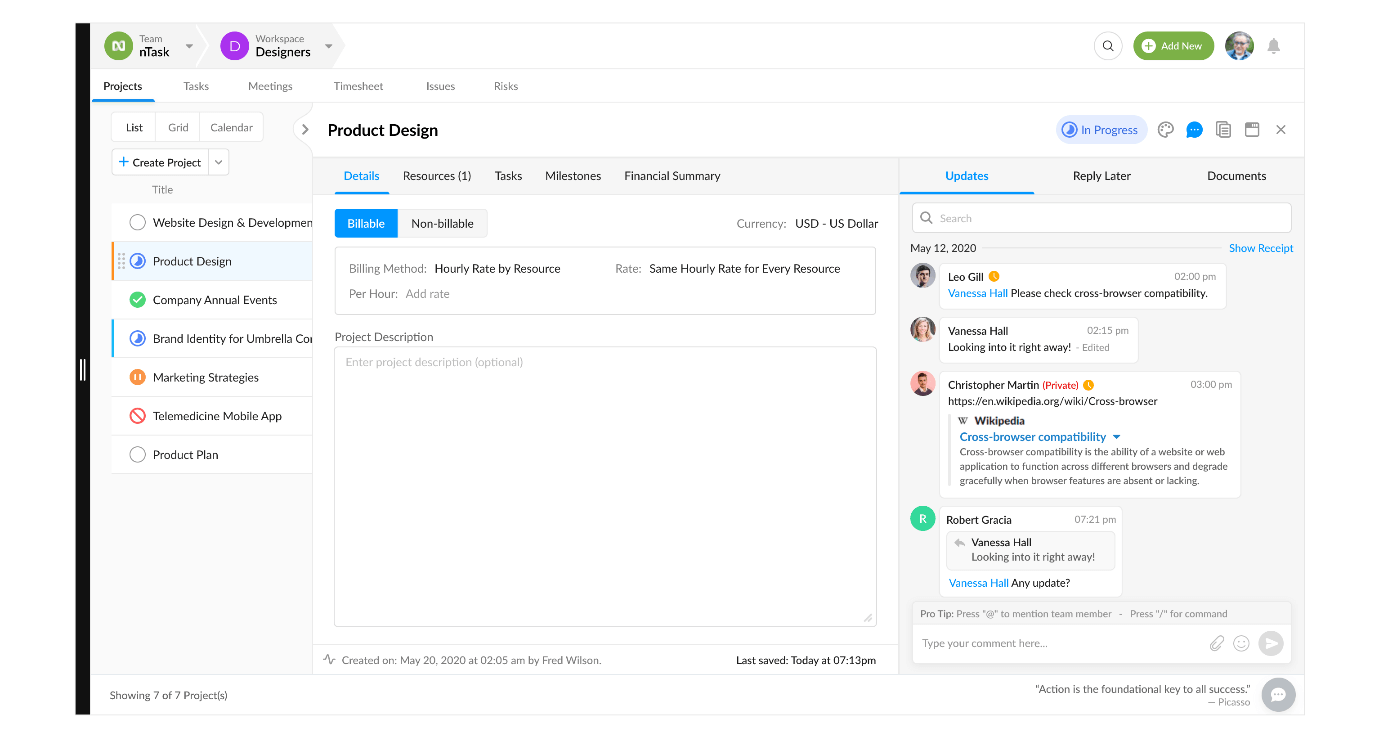 nTask provides an ideal platform where everyone on the team can work together in harmony while staying focused on their individual goals. Its easy-to-use task management system simplifies communication between teammates so they don't get lost in a flurry of emails or ping-pong conversations.
Additionally, its advanced analytics feature makes it easier to identify problem areas which helps streamline processes and ensure better results in a timely fashion. In short, with its robust feature set and excellent customer service support, there's no doubt that nTask is the best remote team collaboration software available today!
Final Word
There's no doubt that professional communication in the workplace can be a challenge. But with the help of nTask, it can be a lot easier. It has a user-friendly interface and features that make it great for coordinating tasks and communication between team members.
In addition, its easy-to-use features make it an ideal choice for busy professionals who want to get their work done efficiently.
The chat feature makes it easy to communicate with teammates on the go, and its integration features with other software tools make it even more effective. So, whether you're a small team or a large organization, nTask is the perfect communication solution for you.
For any queries regarding the platform or using it for your team's communication needs, feel free to contact us!