What Are Product Plan Tools?
Product plan tools are software applications that help businesses manage and track their product roadmap.
They provide a way for businesses to plan and prioritize the various stages of their product development, monitor each stage's progress, and make necessary adjustments.
Product Planning
made easy!
There are many different product plan tools, but the most common ones include resource allocation tools, product requirements gathering tools, market analysis tools, team collaboration tools, and milestone tracking tools.
All these applications vary in complexity and extent, but they all have one common goal: to help businesses achieve effective product planning and management.
---
Product Plan Tools Benefit Modern-Day Businesses – Here's How
Product plan tools help you manage your product plan by allowing you to keep track of your progress, identify potential issues, and make decisions based on the latest information.
They also provide a platform for you to communicate with other stakeholders involved in your product plan so that everyone knows the status and timeline.
The best product plan tools allow you to create and manage a product roadmap, assign tasks to team members, track deadlines and progress, and monitor issues as they occur.
Finally, they can help you forecast revenue and expenses associated with your product launch.
---
Why Use Product Plan Tools?
Product plan tools can help you organize and streamline your product development process by providing a comprehensive overview of your project timeline, resources, and goals. These tools can enable progress tracking and improvisation as needed depending on the use case.
Several different product plan tools are available on the market today, so it's essential to find one that fits your specific needs. Some popular options include Gantt charts, PERT charts, and S-curves. Choosing the right tool for the job is also overwhelmingly important because inaccuracies in planning can lead to delays or even cancellations in your project.
If you're looking for a reliable way to organize your product development process, think about using a product plan tool. They're an invaluable resource that can save you time and trouble.
---
Benefits of Using Product Plan Tools
Product plan tools can be extremely helpful in managing and optimizing your product strategy. Here are a few of the most common benefits:
Define your target market, know what products to develop, and estimate the costs required to bring them to market
Identify potential competitors and assess how best to compete against them
Product plan tools can help you determine which features are essential to your product
Make decisions about pricing and promotional strategies
Track your progress over time and measure whether your products are meeting customer expectations
---
How to Start Using Product Plan Tools?
Product plan tools can be a great way to help you manage your business and achieve your goals. They can help you track your progress, make smarter decisions, and stay on track.
There are a few different product plan tools, but the most common is the product vision statement. A product vision statement is a simple statement describing what your product or service is intended to do and why it's valuable. It helps you clarify what you're trying to achieve and gives your customers a sense of where you're going and why.
Another type of tool is the product scope document. This document outlines all of your product or service's features and functionality. It helps you ensure that each component meets specific customer needs and meets the overall vision statement.
Creating a product launch plan is essential if you're planning on launching a new product or service. This document outlines everything from pricing strategy to marketing plans to distribution channels. It ensures that everything is in place so your new venture can reach its full potential.
---
Best Product Plan Tools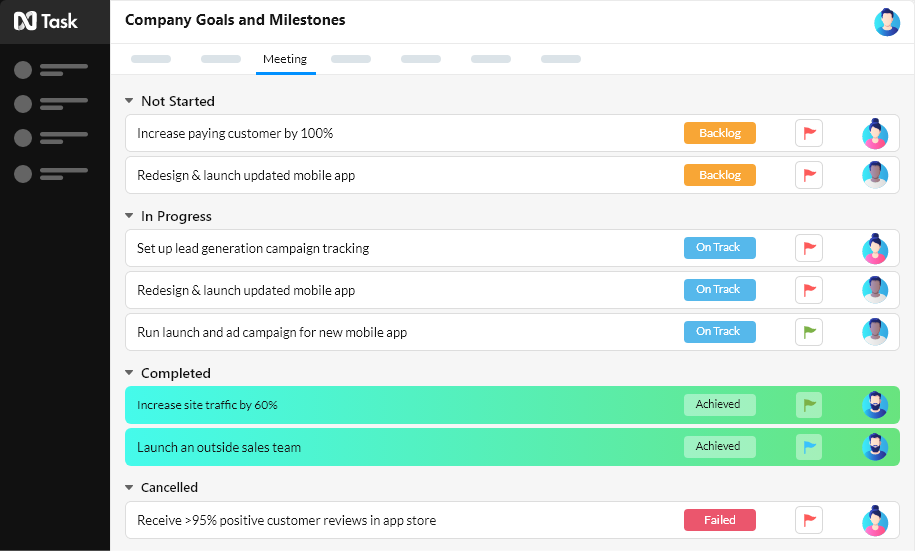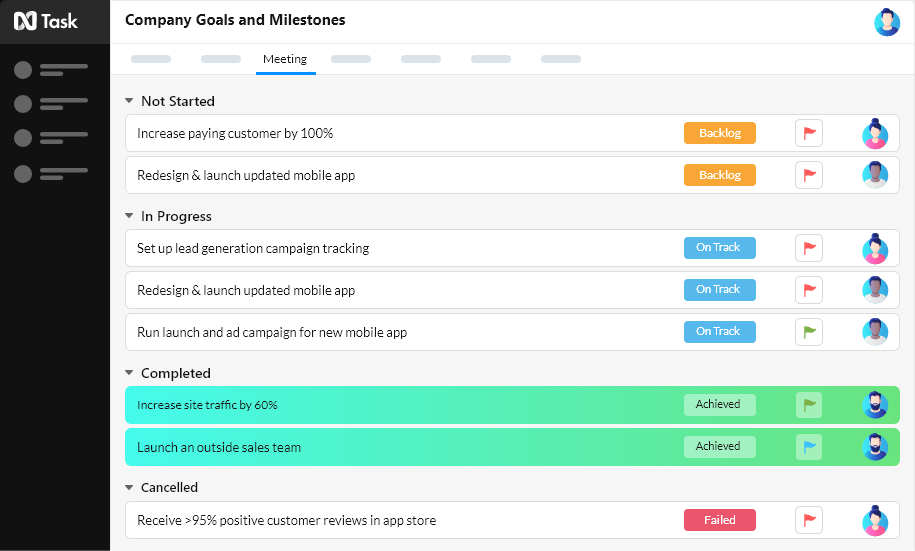 nTask is a product plan tool that helps you create and track your product roadmap. It lets you easily connect with stakeholders and track progress on your product plans, making it easier to stay on track and deliverables.
The nTask product plan tool is unique in that it allows you to plan and execute as well. This means that you can easily assign tasks to different team members and monitor their progress to ensure the project is moving in the right direction. You can also use the nTask product plan tool to compare your current roadmap against past ones and see how well you're doing.
If you're looking for a reliable and easy-to-use product planning tool, nTask should be your go-to choice.
Key Features
Timeline that shows the stages of your product development and how long they will take to complete
Project map that displays all the details associated with your project, such as team members, milestones, and deadlines.
Resource graph that shows which resources are being used in each stage of your product development
The ability to add dependencies between stages so you can make sure everything proceeds in the correct order
---
Craft.io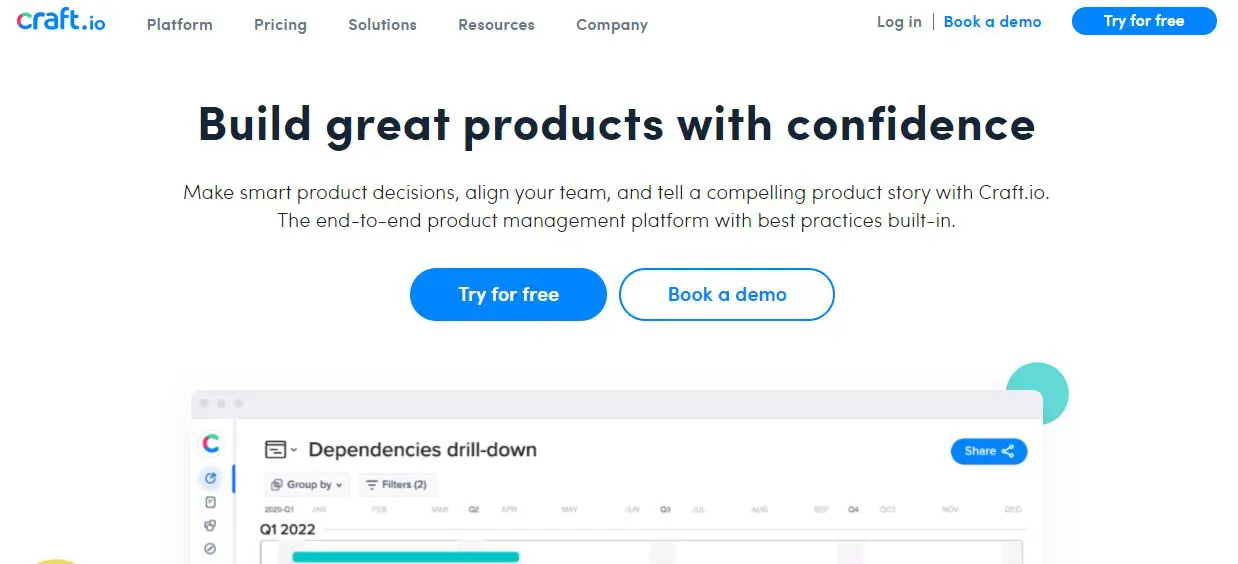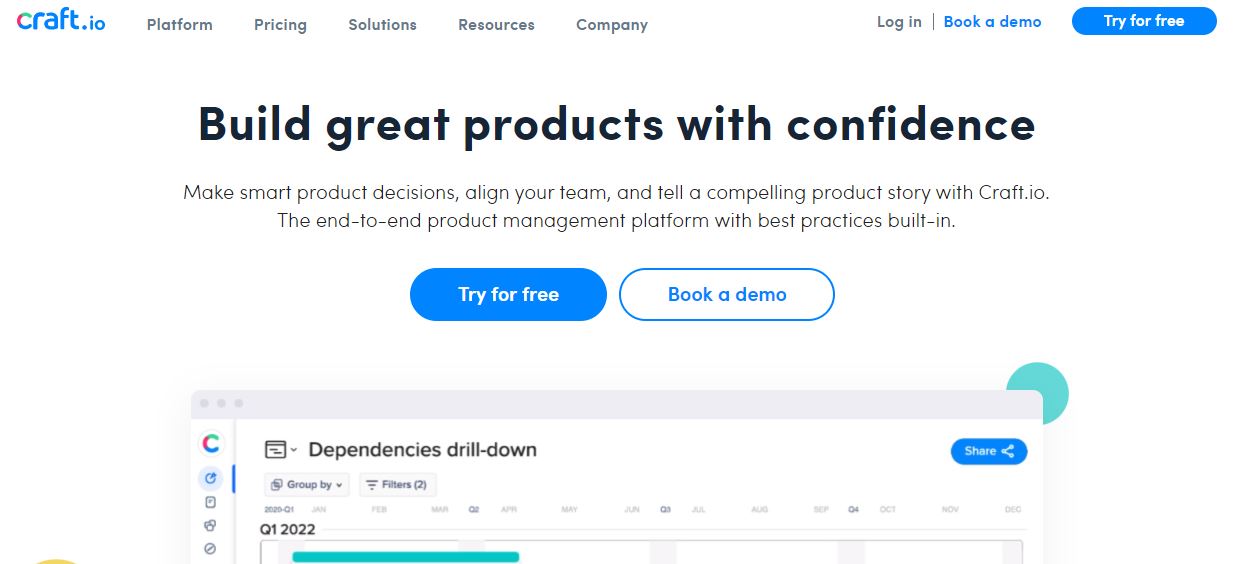 Craft.io is a product plan tool that helps companies create and manage their product roadmap. It helps them define their goals, measure progress, and identify any obstacles or challenges they may encounter.
The product plan tool has several features that are ideal for businesses.
First of all, it allows you to take into account the different stages of a product's life cycle when planning your roadmap. This includes developing plans for early-stage products, mid-stage products, and advanced-stage products.
Secondly, it provides users with detailed information about each product milestone, including deadlines and estimated costs. And lastly, it makes it easy to track your progress over time by displaying graphs and charts that show how well you're doing relative to your goals.
Overall, Craft.io is an excellent product planning tool that can help companies achieve their objectives more effectively.
Key Features
Drag-and-drop interface, so it's easy to add new products or changes to existing ones.
Timeline feature lets you see how long each stage of the product life cycle will take
Cost analysis section shows how much it will cost to produce a specific product
Resource allocation section lets you figure out which resources (people, money, time) are needed to produce your product
Approval process feature to ensure that all the necessary resources are available when you need them
---
Prodpad


Prodpad product plan software helps businesses create and track their product plans. It can help companies estimate the costs and time frames associated with various stages of a product's development and identify any potential risks or issues that may arise.
One of the main benefits of using Prodpad product plan software is that it helps businesses save time and money. Automating many of the routine tasks involved in product planning can help enterprises to avoid making costly mistakes. It can also help companies stay on track with their deadlines – ensuring that they get their products to market as soon as possible.
Prodpad product plan software is essential for businesses of all sizes that want to create quality products that meet customer expectations. You should consider using this software if you're looking for a way to streamline your product planning process.
Key Features
Planning template that makes it easy to create a product plan.
Customizable product roadmap that allows you to track the progress of your products and learn from your past successes and failures
Reports provide detailed information about your products and their performance
Collaborate with other people on the same project, so you can get feedback and make changes as needed
Product Board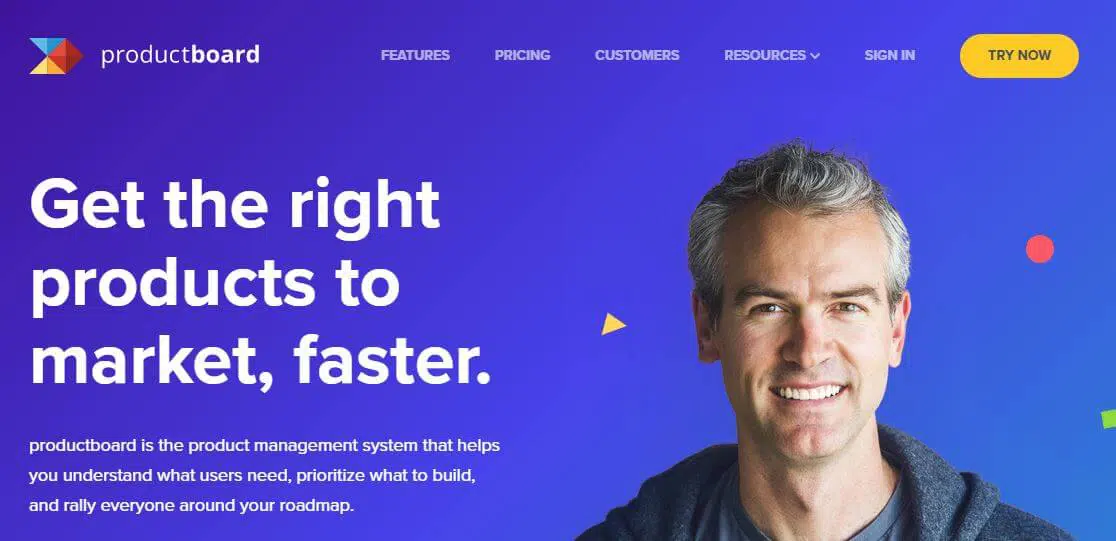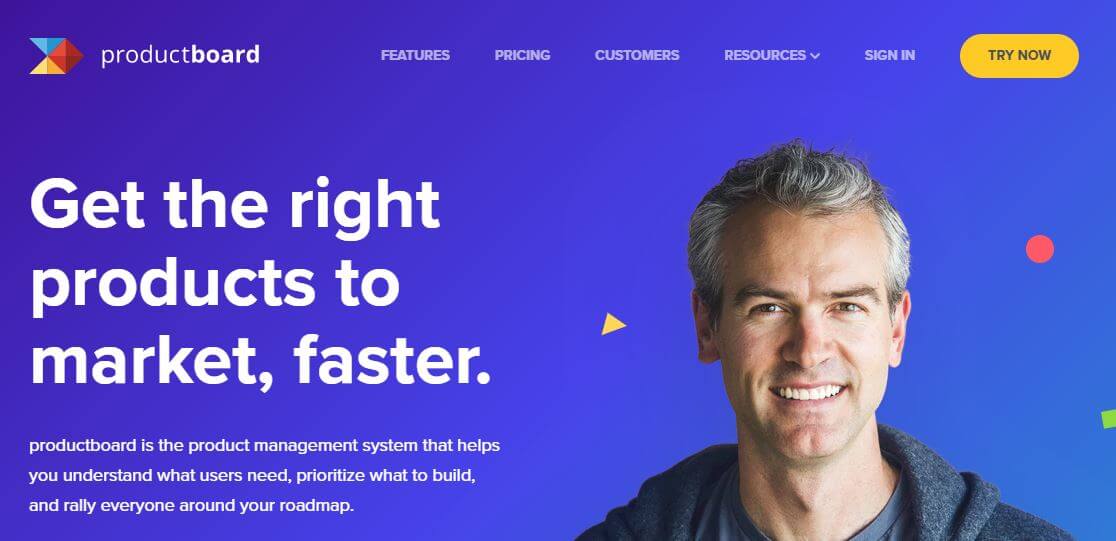 Product board, product plan software helps businesses create a product roadmap.
It provides organizers with an efficient way to track their products' progress and ensure they meet customer expectations.
The tool makes it easy to keep track of all the stages involved in creating a new product. From pre-production through to marketing and sales, it covers everything from design to manufacturing to shipping.
Key Features
Product backlog and release plan management
Product costing and budgeting
Tracking progress and milestones for each stage of the product development process
Synchronization with various project management tools, like Gantt or Kanban boards
Productplan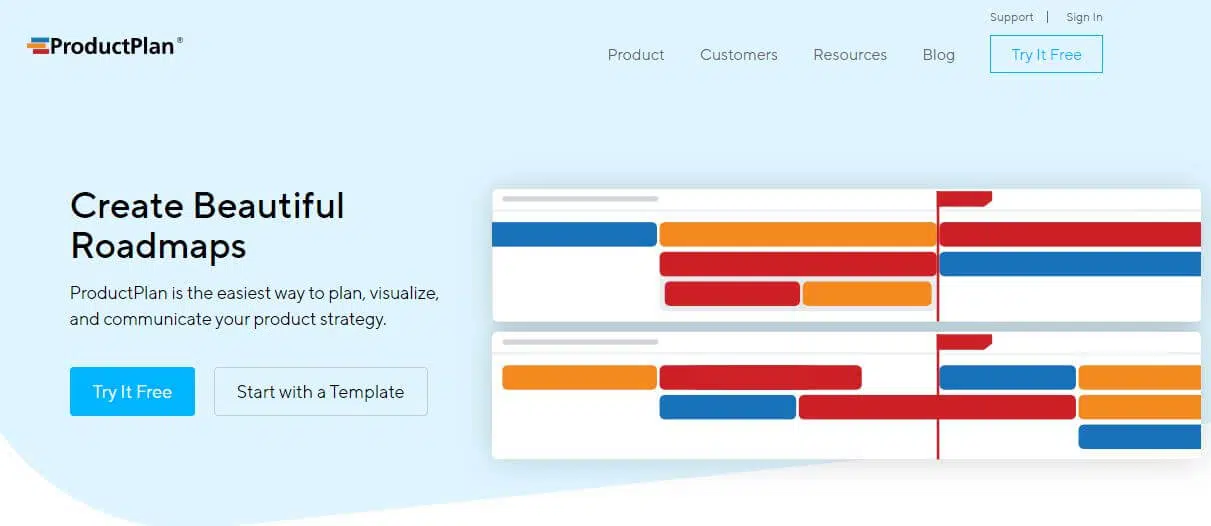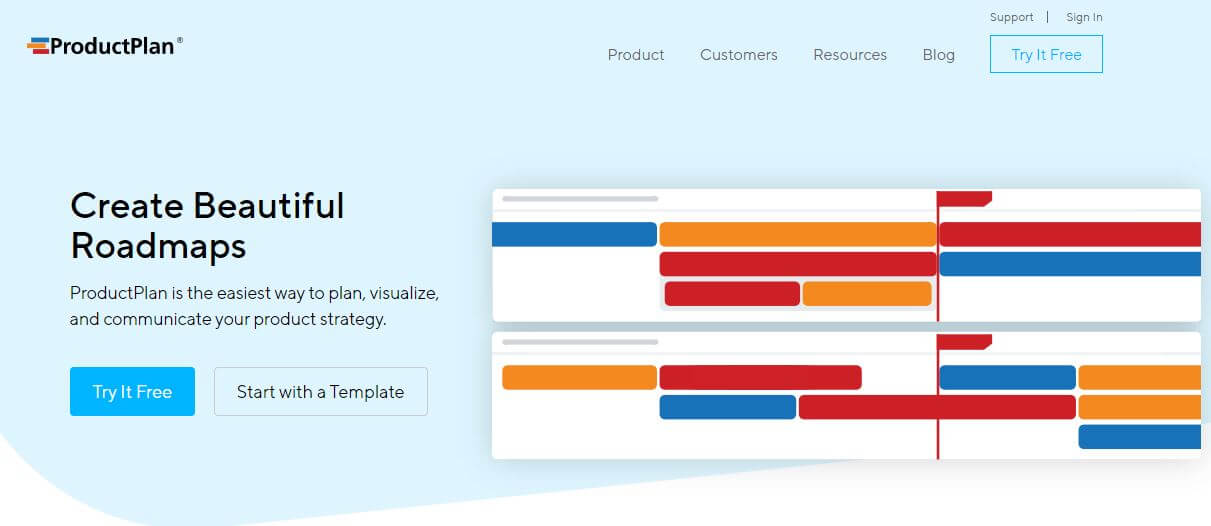 Productplan is a tool that helps businesses create product plans. It provides an overview of your product, including its features and how it will be marketed. It also includes a detailed timeline for developing, launching, and selling the product.
Productplan is an excellent way for businesses to start their product planning process. By understanding what their product will look like and how it will be marketed, businesses can make more informed decisions about their investments and priorities. Productplan is also a valuable resource for tracking progress and meeting deadlines.
Key Features
A product timeline that lets you plan and track your progress throughout the entire product lifecycle from idea to launch
Detailed customer insights help you understand your target market and what they need and want from your product
Customizable goals and milestones that make it easy to achieve your objectives
Time management tools that help you stay on schedule and meet deadlines
A feedback system that allows you to track how users are responding to your product
---
Conclusion
In the end, there is no denying that product plan tools are here to stay.
However, you need to know when and how these tools work and benefit your organization. If you follow the steps mentioned above, you'll be ready to reap their full benefits.
Remember that this is just one part of the bigger picture—you still need an effective sales strategy and time-tested marketing practices to succeed with these tools. But if done right, they can make a big difference not only in your products' success but also in employee engagement and company morale!