One-on-one meetings form a core part of a company's administration and management. These simple and quick sessions can be an excellent way of communication within the organization.
One-on-one meetings give teams an insight into the problems plaguing their projects' process. They are also an efficient way of identifying issues and resolving them before they pose a threat to project management.
Most of the problems in the workplace arise from a lack of communication or miscommunication. One-on-one meetings, in such a case, are an appropriate way of exchanging information and discussing the details of a project for better working.
If these sessions are conducted properly then they can help increase a team's productivity, overall performance, engagement, and morale. Moreover, they also alleviate the risk of blame game or office politics, both of which negatively impact a company's progress.
Last, but not least, one-on-one meetings build rapport which creates a healthy and positive working environment in the office.
In this article, we will guide you on how to plan and conduct one-on-one meetings to make the most out of them.
But before we move on to the guide, why not take a brief look at what one-on-one meetings are?
What Are One-On-One Meetings?
One-on-one meetings are exclusive, lightweight sessions between two people working in an organization-typically a manager and his employee. The purpose of such an intimate meeting is to discuss issues, resolve problems and work on areas that need improvement.
What makes one-on-one sessions different from regular meetings is privacy and exclusivity. Managers and their employees get to build a trustful and productive relationship and also, improve their performance.
Remember – one-on-one meetings go two ways. On one hand, they allow managers to share their feedback, point out issues, discuss improvements, etc. On the other hand, they help employees receive coaching on their performance, ask detailed questions for improvement, etc.
They are an efficient source of:
Building trust
Planning and improving career growth
Solving bottlenecks and issues
Gaining shared insight on work
What Are The Benefits Of One-On-One Sessions?

One-on-one meetings are often overlooked by both managers and employees. Usually, the time set aside for the meetings is often spent in awkward silences, pleasantries, or simply allocated for other 'more important' stuff.
Most of the teams discount the benefits of one-on-one meetings and deem them unimportant in the face of regular team meetings. It has been noted that around 15% of employees are regularly engaged when they do not meet with their managers, the numbers, however, almost triple in the case of regular meetings between employees and managers.
Statistics also show that only about 29% of millennials are actively engaged in their work, 55% of millennials are not engaged while 16% are actively disengaged. These numbers are a result of a lack of communication since 56% of millennials meet their managers less than once a month.
Great teams, however, recognize the importance of these meetings and conduct them on a regular basis to enjoy their perks.
We will shed light on some of the most important benefits of one-on-one meetings in the following pointers:
Boost the productivity of employees
Help engage employees and promote a healthy work relationship
Effective in addressing issues and resolving them in time
Create a healthy environment for the exchange of feedback
Lift employees' morale
Help employees better their performance
Give employees' an insight into their work
Coming back to the main subject of this article, how to conduct a perfect one-on-one session? What constitutes a regular one-on-one meeting? We will answer all your questions related to one-on-one meetings in the following paragraphs.
How To Conduct A Proper One-On-One Meeting?
Now that we have had a glimpse at the beneficial aspects of one-on-one meetings, we will look into the fundamentals of how one-on-one meetings are conducted.
We must point out that one of the main reasons one-on-one meetings are unsuccessful is because of the ignorant ways they are structured. It is essential to plan the meeting the right way to fully utilize its advantages.
We have got you covered in this aspect, following paragraphs give an insight into the basics of these meetings and how you can optimize their benefits.
1. Schedule One-On-One Meetings Regularly
You have to understand one point- one-on-one meetings are not extras. They do not play a supporting role in your team's performance, in opposition, they play a vital role in enhancing the productivity of your employees.
The point is you have to take out time to schedule these meetings regularly. You cannot wait for extra or free time because you will not have any unless you make out time for these meetings specifically.
Consistency in these sessions is a great way to connect with your employees. Weekly sessions with each team member reflect your commitment to helping them improve their performance. Make these meetings a habit to harvest the fruit later on.
It has been noted that the best frequency for the sessions is once every week or two weeks with every session lasting from half an hour to an hour.
If you communicate with your team every day, then you can reduce the frequency of the meetings to once every two weeks, however, if your communication is intermittent or inconsistent then you must meet at least once a week.
By conducting meetings regularly, you stay updated about the performance and working of each of your employees and gain shared insights into growth and improvement opportunities.
Thankfully, nTask makes this feat easy with its 'recurring meetings' feature whereby you can create meetings and repeat them based on a pre-determined time interval. This saves you from the hassle of scheduling meetings again and again. You can also sync meetings with your calendar to stay on track with your meeting schedule.
You can leave all the hassle to nTask and enjoy the perks it offers!
2. Do Not Leave Anyone Out
One-on-one meetings must be scheduled with every person in a team. You cannot be biased in this respect. You should schedule a session with every employee.
If you conduct a session with only one or two of your employees, the rest of your team will feel demotivated and will lack the confidence to share their ideas with you. Your proactivity in this aspect will engage them in the work progress and increase their morale.
3. Finding The Right Place For The Meeting

As we mentioned previously, one-on-one meetings are an excellent way of connecting with your employees so, conducting these sessions at the right place is also important.
The best way to meet for the discussion will be your conference or meeting room. These rooms are relatively quiet and will give you the privacy you need to openly communicate. You can also take these meetings outside your office walls to lower employees' nervousness and hesitation and give them a relaxing environment.
Remote teams, however, can also conduct one-on-one sessions using nTask's meeting management module. nTask allows you to communicate with your employee in real-time over video calls. The detailed features of nTask's meeting management module are just icing on the cake for remote teams. You can easily schedule meetings any time, anywhere you want and have a perfectly organized session – the way you like.
4. Personalize The Meetings
Managers and employees often find it hard to communicate in the presence of other people or in-office. In such circumstances shifting your meetings to an online platform such as nTask, will be a better option.
Online platforms provide a private space where employees and managers can openly discuss the points without feeling nervous.
5. Note Down The Important Points Of The Meeting
Taking notes during a meeting is important since you are highly likely to forget the discussion points. Notes help you retain the necessary information and are also, helpful in recollecting the important points you might not remember later.
When you take notes during a session, your gesture is an indicator of your interest in the meeting's agenda and your employee's work. It reflects your willingness to listen to the employee and help them however you can.
One of the core benefits of taking notes is that you can summarize the points and share them with your colleagues for further discussion. It also helps reduce the risk of misunderstanding between both parties.
You can use note-taking as a personal thing, to keep an account of the things you want to remember and focus on.
You can either note down the points using a paper and pen or use nTask to jot down the discussion points. The pointers noted during the session will help you keep track of the details of the meetings and the focal points of the session.
The discussion points will also help you decide the follow-up actions required to boost employees' performance and make important decisions necessary for the betterment of your employees' working ability.
Looking for meeting management and note-taking apps? Check this out:
6. Prepare For The Meeting
One-on-one meetings are not to be taken lightly, prepare yourself for the session. However, you do not have to follow a rigid set of guidelines during the meeting. You can note down the points you want to focus on and discuss during the meeting.
Your preparations will help you stay on track, you will not digress and will be able to discuss the main points efficiently. Both the participant can actively prepare for the meeting, this will lessen the time wasted on small talk and will keep your meeting more focused and productive.
7. Use A Meeting Management Tool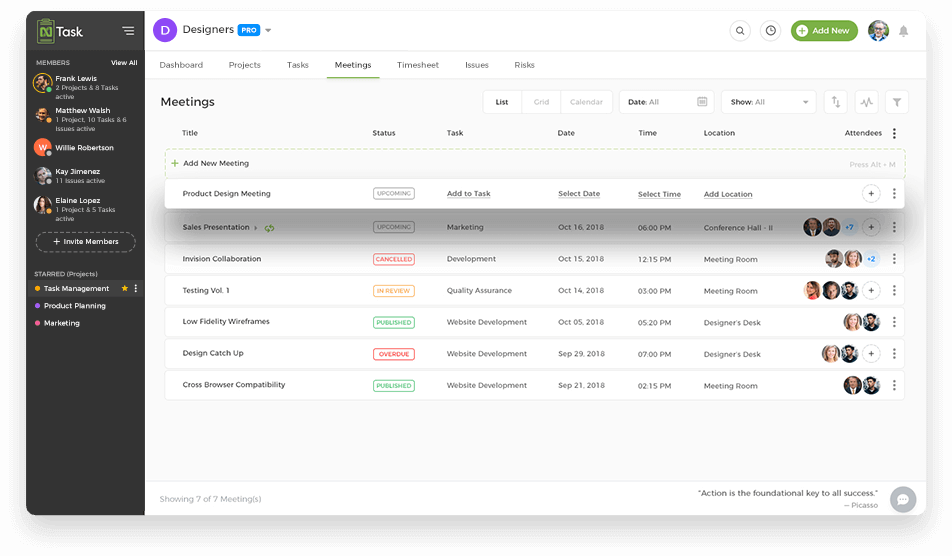 If you are having trouble scheduling a one-on-one session with your team members then you can take the help of an efficient meeting management tool- such as nTask.
The features offered by the tool include:
Scheduling meetings with a clear and precise meeting agenda
Linking meeting to a task
Integrate Zoom with nTask
Setting time and location for the meeting
Scheduling recurring meetings
Inviting as many people as you want
Syncing meeting with your calendar
Jotting down important discussion points
Deciding follow-up actions
Tracking and managing your team
Converting follow-ups to tasks
Submitting meetings for review
Publishing the meetings
A good meeting management tool such as nTask will make it easy for you to conduct the meeting and will also help in the follow-up actions. So, sign-up to nTask now if you want to make one-on-one meetings simpler and easier.
The best free meeting management app.

Manage teams, tasks, to-do lists, and timesheets for free. Sign up today!
8. Be Proactive
No matter if you are a manager or an employee, you should be proactive in one-on-one sessions. These meetings are scheduled to help you increase your productivity. This, however, is impossible if you do not proactively ask questions and seek answers.
Managers should ask questions to understand the working ability of the employee, his strengths and weaknesses, and the issues he faces. A manager's gentle probing might help the employee open up more and will ultimately help address the points that need to be addressed.
Employees, on the other hand, can seek guidance by asking questions. Their willingness to improve their performance will be reflected through their actions. So, they must ask the right questions to improve their performance and develop their skills for the future.
Conclusion
If you are setting up meetings using nTask then all these things will be taken care of with nTask's best of the best meeting management features. And if you have not already shifted to nTask then it is that you do so now.
What is stopping you from bagging all these benefits? Sign-up now and enjoy!
Happy nTasking!