If you have been using a paper pad or sticky notes to jot down your ideas or important pointers then, it is time that you reconsider manual note-taking and transition to the digital world, offering simpler, easier, and more flexible note taking options.
An excellent idea you thought of, an order from your boss, or an important point in a meeting, if you do not take note of the same, it is highly likely that you will forget it within 30 seconds. Our short-term memory is only capable of storing 4-9 items for approximately 20 to 30 seconds.
This is where note taking apps come in handy. Not only do they help you keep a record of important notes but organize and manage the information to make it easily retrievable. Since it can be difficult to find out what is the best note taking app, we will be taking you on a journey of the best 8 in town.
On this journey, we will explore the most efficient note taking apps in the market with their features and pricing details.
List Of the 8 Best Note Taking Apps:
Check out the top note-taking apps in this list.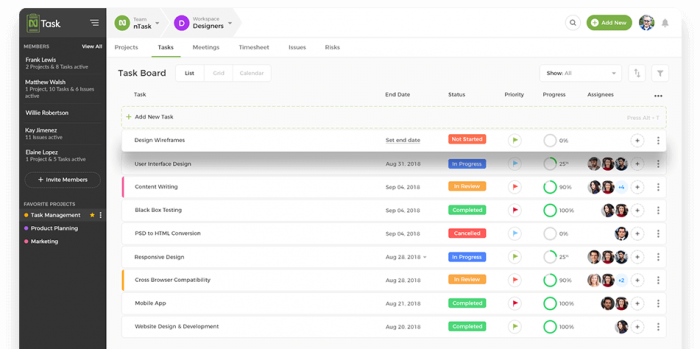 nTask is an all-in-one solution for management. The software is a renowned tool with over 250,000 users in 150+ countries. The tool offers 7 different management modules, all of which are equipped with the latest features geared to simplify management processes for you.
With the help of nTask's advanced features, you can create tasks, assign resources, add deadlines, start and end dates and track the progress of each task in a project. It also smoothens communication and collaboration with comments, chat options, and much more.
nTask also eases file exchange allowing you to easily send and receive files, images, videos, etc. The software has all the features you might need for efficient management of projects in your team.
In addition to project management, the tool also excels in note-taking. As a note taking tool, nTask does not lose against any of the other options. Let's take a look at nTask's key features and you'll know more.
Key Features:
Offers multiple management solutions including, task management, project management, team management, meeting management, issue management, time tracking, and risk management.
Gantt charts and Kanban boards help visualize the progress of your projects
You can jot down important discussion points during meetings to keep track of key information
Two-factor authentication for foolproof security
The search and filter feature allows you to quickly retrieve information
Offers multiple integrations to keep your workspace unified
Alerts, notifications, and reminders keep you updated all the time
Allows seamless file sharing
Mobile app available on iOS and Android
Pricing:
Basic plan – Available free of cost
Pro plan – $3/user/month
Business plan – $8/user/month
Enterprise plan – Contact nTask's team for the pricing.
nTask is the best note taking app.

Manage tasks, notes, documents, projects and timesheets easily. Sign up today!
2. Evernote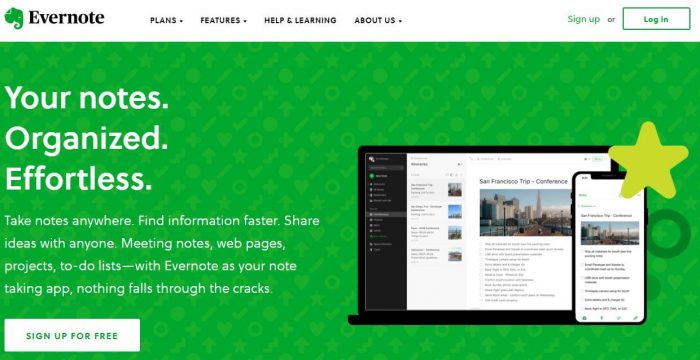 Evernote is the second virtual note taker on our list. The app is hailed as one of the best in note-taking. Not only does it allow you to create notes in different formats but also helps you organize them so that you can easily search and retrieve them whenever you want.
One of Evernote's most enticing features is its Web Clipper extension that allows you to save webpages with images, text, etc. Additionally, the data is synced across all your devices so that you can easily access the information you need.
Key Features:
Offers powerful search features with keywords and tags
You can store all your information on one platform
With Evernote's flexible organization you can easily retrieve your notes whenever you want
Can easily recognize characters, no matter whether they are in text, images, handwriting, etc.
Offers integrations with various apps to keep your workflow smooth
Allows you to take audio noted when you cannot type
Reminders help you stay on track
Pricing:
Basic – Available for free.
Premium – $7.99 per month
Business – $14.99 per month
3. Microsoft OneNote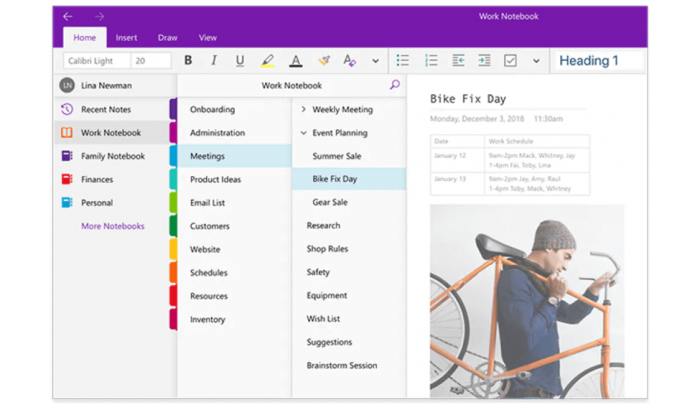 Microsoft is loved and trusted by users all over the world. OneNote is Microsoft's free note taking app with which you can easily take notes with various added features. The tool allows you to attach images, symbols, and more to your notes.
Moreover, its intuitive interface makes it easy to navigate through the tool and utilize its capabilities to the maximum.
Key Features:
Allows you to organize your notes into sections and pages which makes retrieval much easier
You can update your notes by highlighting important text, inking annotations, or adding additional content
You can share your notes with others and easily collaborate for better notetaking
You can add more creativity to your notes via a stylus or your finger
You can record and save audio files for quick note taking
Pricing:
Microsoft OneNote can be downloaded for free
4. Ulysses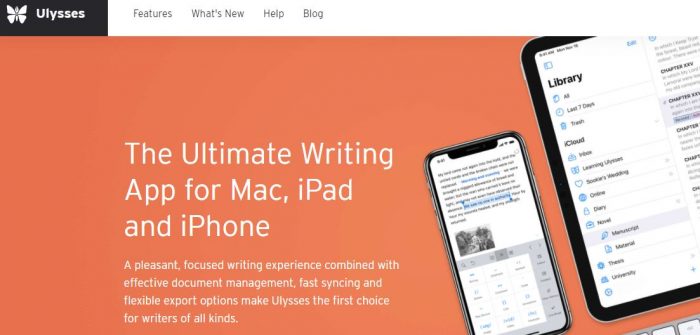 Ulysses is our next pick for the best note taking app. This online note taking app can take a lot of stress off of your shoulders with its smooth and efficient features. The app is a dedicated note taking tool for Apple users.
The iPad note taking app is easy to use and allows you to store and manage your notes without any hassle. Ulysses integrates with other apps to help you share information with everyone on your team.
Key Features:
A friendly interface makes the onboarding process easier and quicker
Ulysses' editor allows you to mark different texts without moving your hand off of your keyboard
Offers all the features you might need for note-taking with options to attach images, links, and more
Allows you to organize your notes into groups, sub-groups, and sub-sub-groups for better organization and management
Filtered searches make the retrieval process much smoother
You can set writing goals with set word limits and deadlines
Pricing:
You can download the iPad note taking app for free on your Apple devices.
The monthly subscriptions charges for the app are $5.99 per month
However, if you want to subscribe to the app on yearly basis, it will cost $49.99 per year
5. Zoho Notebook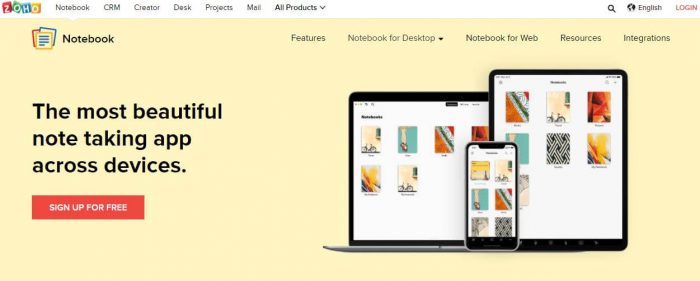 Zoho Notebook is a visually charming note-taking tool with various features that make note taking a walk in the park. The tool allows you to add images, audios, etc., and sync all your data across various devices to keep everything united.
You can also use Zoho Notebook's Sketch card to draw sketches and add them to your notes. This feature can also be used to write notes.
Key Features:
Makes management much easier with notable gestures
You can customize your note covers with Zoho Notebook's handcrafted covers
Allows you to copy and move your cards however you want
You can also assign a specific color to your cards to keep everything in order
Offers two viewing options i.e., grid or landscape style
You can add tags to your notes to make accessibility easier
You can protect personal notes with passwords and touch ID
Zoho Notebook app is available on both iOS and Android
Pricing:
Zoho Notebook is available free of cost
Related:
24 Best Zoho Alternatives to Use in 2023
6. Bear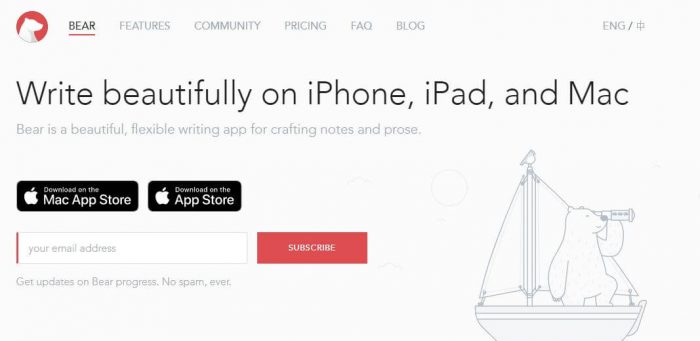 Bear is our next pick in the list of best online note taking apps. Bear is also exclusively an iPhone, MAC, and iPad note taking app, available for Apple users all around the world. Bear is another visually appealing app offering advanced note taking functionalities.
The app allows you to arrange your notes into subfolders using hashtags. It also syncs your notes across all the other Apple devices, but this feature can only be availed with paid versions.
Key Features:
Offers a focus mode to help you keep focused
Different themes and typographies are available that enhance your notes
Allows you to keep your notes protected with a face/touch ID or password
Bear's editor helps you keep track of reading time and word count
Regular updates keep you up to date
Pricing:
The Bear app is available for free on the Apple App store but if you are looking for advanced features you can subscribe to Bear's Pro plan.
Bear Pro

Monthly – $1.49 per month with a free trial of one week
Yearly – $14.99 per year with a free trial of one month
7. Notion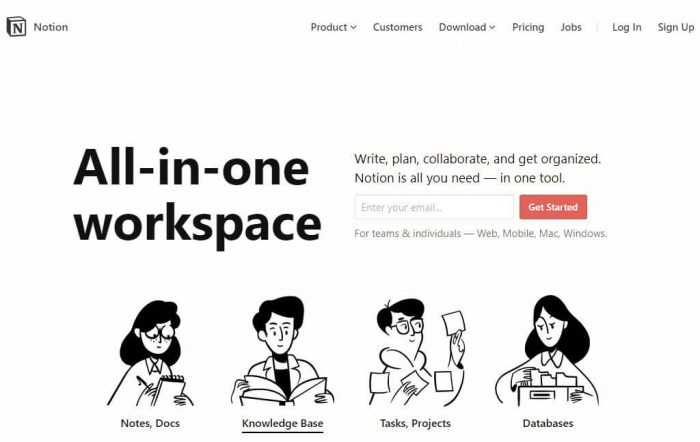 Notion is our last pick for this list. The virtual note taker is a one-shop stop for note taking, project management, collaboration, and much more. On top of various features, the tool also offers templates to help you quickly get started with note taking.
One of its most unique features is its segmented sections of notes i.e., Private and Workspace. Private section includes notes only accessible to you while workspace notes are available to the whole team.
Key Features:
The editor helps you stay focused while typing by fading everything in the background
You can use the drag and drop feature to quickly ass or move things around
You can add different types of content via your keyboard
Keeps your notes organized with tags
Easy access to all notes through the sidebar
Customize tags yourself to personalize your notes
Give you the freedom to share your notes or keep them private
You can easily tag @ someone and notify them
Pricing:
Personal – $0
Personal Pro – $4 per month
Team – $8 per month
Enterprise – Contact vendors' sales team for custom pricing details.
8. Google Keep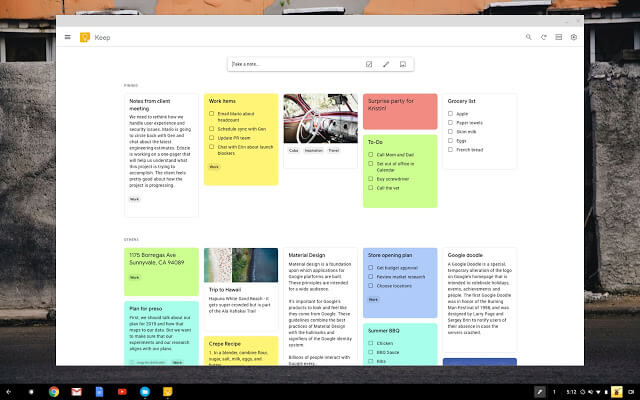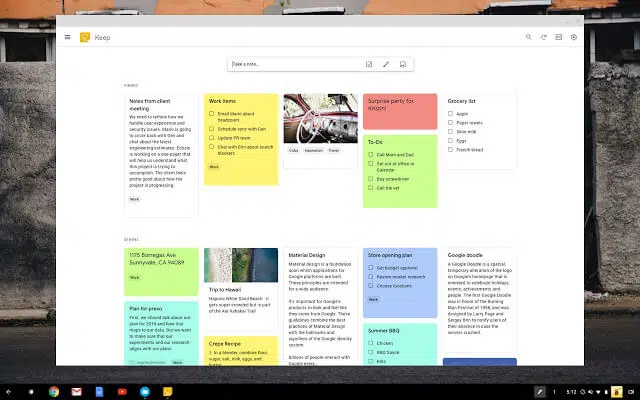 Another great note-taking application that you can use in 2023 is Google Keep. The application is a web-based note-taking software that allows different individuals and professionals to capture other ideas and memories with their voice, image notes, regular to-do lists, and much more.
The application also lets you create different notes, collaborate on those notes with varying team members, and even share those notes with different people from the workplace or other stakeholders.
The application also lets you create and manage different reminders regarding your work or any of the other entries that you put into the interface. It also helps you to manage different details of the notes comprising the place they were written and the time they were written at.
Different teams can also share notes with different collaborators from their team and outside by adding their names and email addresses so that if they want to edit the notes or the documents for the whole development team or the entire organization, they can.
There is also an option to remove those collaborators from tampering with the documents or notes so that you can keep the information safe without it ever being manipulated in any shape or form.
Key Features
Reminder System to make sure that you get updates regarding the note that you input into the interface, and if you want to change it at a specific time, you can
Dashboard to help you see and interact with all your notes in a single interface
Document Storage to make sure that all of your notes are stored and managed properly
Note-taking
Calendar Sync
Collaboration Tools
Data Import/Export
Handwriting Recognition
Notes Management
Reminders
Pricing
The application is completely free to use
Conclusion:
There are hundreds of note-taking apps available in the market. Going through each one of them and narrowing down your choices can be a boring and demanding task. To help you decide what is the best note taking app and save you from the mundane we compiled this list of the 8 best note taking apps.
We have explained their features and pricing in detail to help you make your choice. Now the choice is yours to choose the right app for your business.
Good luck! Au revoir!
---
More Resources: