What is Wekan?
Wekan is an open-source kanban board. It was created to provide a collaborative tool for agile and Scrum development teams, as well as regular users who want to manage tasks simply. It enables users to create boards with columns and cards, which can be organized into projects, sprints, stories, or any other classification.
Within each card, you can add additional details such as labels or comments. Additionally, users can assign tasks to team members or even attach files or images related to the task at hand.
Wekan also offers various features allowing collaboration among members of the team like real-time notifications and discussions via comments. Overall Wekan provides a flexible workflow management solution that allows teams large and small to effectively manage their workflows.
Simplify project management
with nTask today!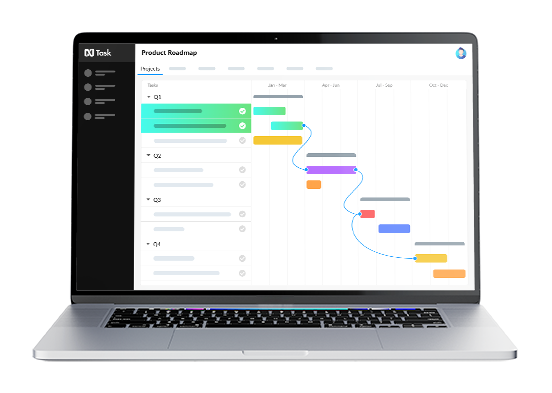 Who is Wekan for?
Wekan is a project and task management platform for teams. It is used by teams, businesses, organizations, and individuals to collaborate on projects visually. It helps users to plan tasks, organize resources, and track progress from start to finish.
Wekan makes it easier to stay organized by creating lists of tasks that can be assigned deadlines and checked off when completed. It also allows users to comment on cards or assign entire cards or subtasks to others so that everyone involved in the project knows what needs to be done next.
Furthermore, Wekan provides analytics about how projects are progressing so users can adjust if needed. Therefore, Wekan is perfect for anyone who wants an easy way of managing their team's work without needing complex software solutions.
How Does Wekan Work?
Wekan is an open-source kanban board, inspired by Trello. It works similarly to other popular project management tools like Trello and JIRA, but with added flexibility and features. Wekan allows users to create boards where they can track progress on any project or process with a task-oriented workflow.
On each board, users can create individual cards for different tasks that need to be done to complete the larger project or process on hand.
People working together can collaborate on tasks by adding comments, assigning members of the team responsible for completing them, and attaching relevant files if necessary. Once the task is completed it can be marked as such, giving everyone involved a better picture of how far along their project is.
Furthermore, tasks that need further attention or action can also be highlighted so they don't get forgotten about once things start moving quickly. Wekan also gives users access to numerous analytics tools that help teams gain insight into their current progress without ever having to leave the app itself — making it easier than ever for collaborative teams to stay organized and reach success faster!
What functionalities does Wekan offer?
Wekan is an open-source, self-hosted Kanban-style project management system. It offers many features and functionalities to help teams plan and manage their projects efficiently. Key functionalities offered by Wekan include:
• Boards – This is a main workspace that allows users to structure their tasks in the form of cards on boards. Users can create multiple boards for different projects or departments, as well as drag and drop cards from one board to another. They can also share boards with other team members so that everyone has access to the same information in real-time.
• Lists – Wekan allows users to organize their cards into lists so that they are easier to find and manage. Lists also come with various features such as estimated completion times, sorting functions, categories, labels, etc., allowing users to get more out of the data stored in them.
• Calendar view – With this feature users can view their entire project timeline at a glance; this makes it much easier for them to focus on upcoming deadlines and prioritize their work accordingly. The calendar is also highly customizable— users can filter it based on last name, category, or any other parameter they define themselves. 
• Time tracking – This functionality tracks how long each task takes all team members involved in a project; this data can then be used to manage resources better as well as improve productivity levels over time with further analysis.
• Notifications & Communication – Wekan has an integrated chat feature that allows team members to communicate easily without having to switch applications or tabs —all within the same platform! Push notifications alert people about changes made by others even if they're offline; this helps keep everyone up-to-date about current happenings within the organization's workspace.
Benefits Of Using Wekan
1. Easy User Interface: Wekan has an intuitive user interface that makes it easy for new users to get up to speed quickly. The drag-and-drop feature allows teams to create boards, add cards, assign tasks, and shift task ownership with ease.
2. Simple Data Sharing: Wekan facilitates the sharing of data between team members without bogging them down in complicated tools or manual processes. This helps teams stay organized while quickly exchanging information via lists, labels, comments, and more.
3. Multiple Integrations: Wekan integrates with popular third-party services like Dropbox, Slack, Google Calendar, and more allowing teams to streamline their workflow using existing tools they are familiar with.
4. Improved Collaboration: Wekan encourages healthy collaboration within distributed teams through its notifications system enabling users to receive updates on changes being made in real-time without any lag from different locations across the globe.
5. Versatile Reporting Options: With advanced analytics features such as charts and reporting options based on assigned cards or recent activities performed by users, teams can easily track their progress over time so they can stay motivated towards achieving specific goals efficiently.
10 Best Wekan Alternatives in 2023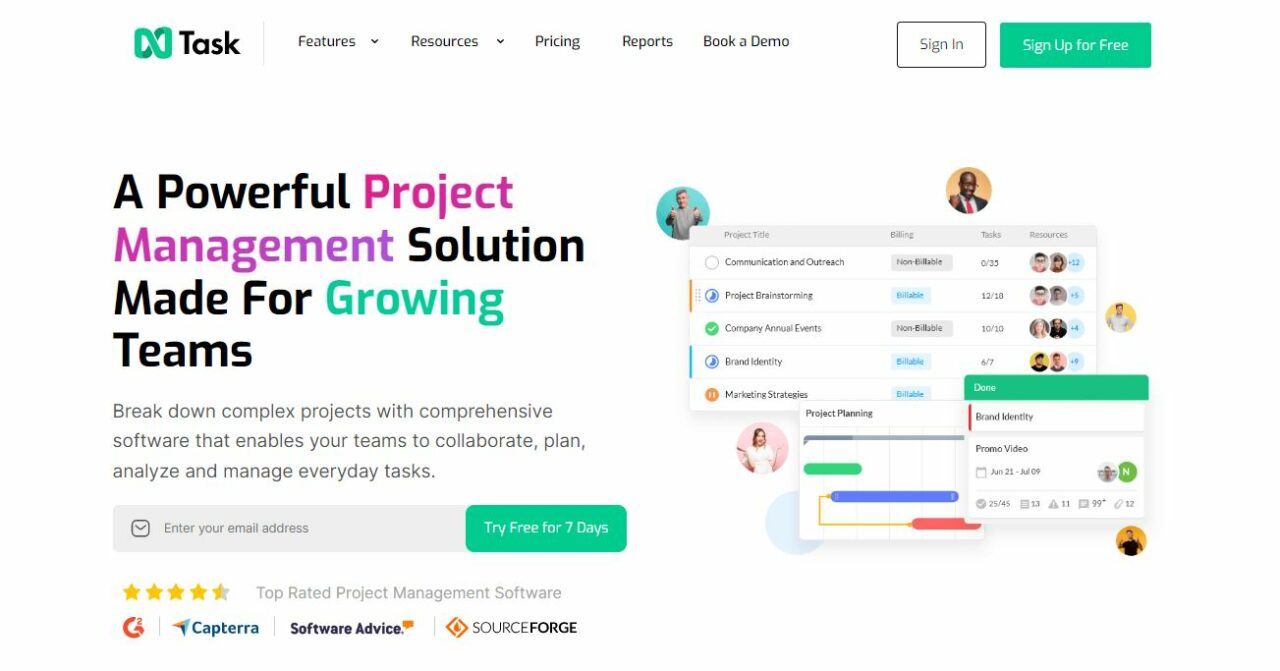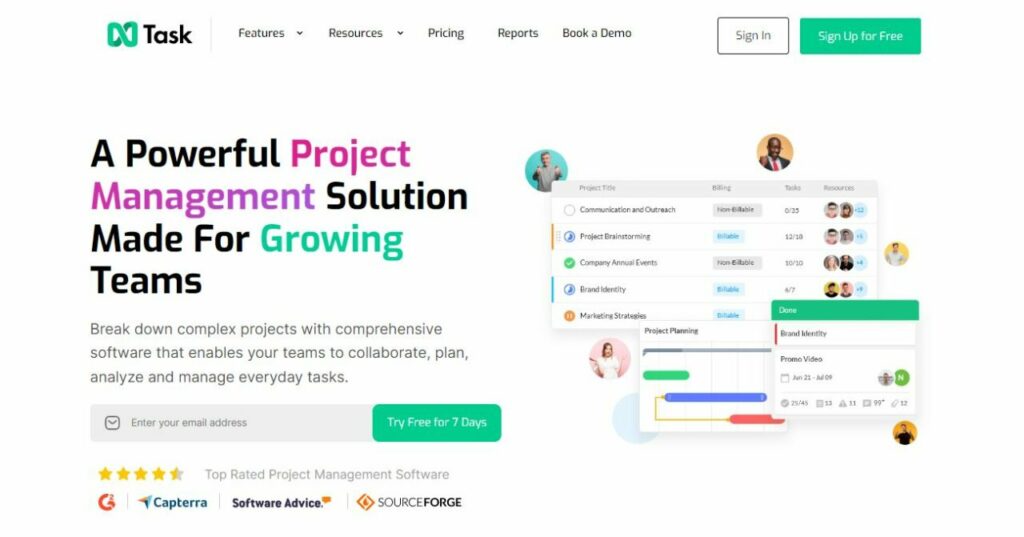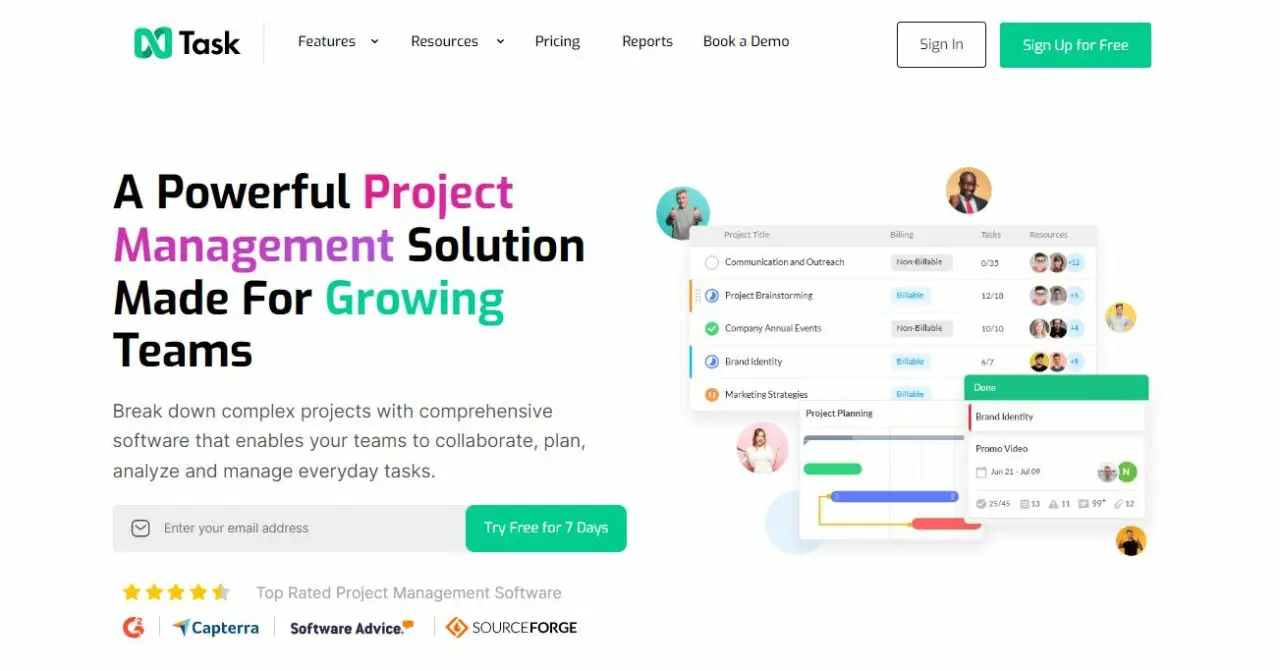 nTask is a cloud-based task management tool designed to help users easily create and track their tasks.
It offers an easy-to-use drag-and-drop interface that allows users to quickly add notes, assign tasks to multiple people, set due dates, add labels and even upload files.
nTask also serves as an alternative for Wekan which is another popular open source kanban board system for managing projects. It allows teams to visualize the progress of each project to identify any delays or hurdles during the development process.
nTask has powerful features like Gantt charts and timelines that make it easier for team members to see where they stand on any given project. Additionally, its built-in collaboration features such as real-time chats allow teams to effectively coordinate their efforts while working remotely from home or in different locations.
Features
Project & task tracking: Users can easily assign tasks and track progress with visual gauges for time spent/estimate remaining time on each task as well as due dates for each project or task.
Viewable activity streams: Users have access to a live view of all recent activities related to the project such as comments, attachments, etc., giving users insight into what's taking place in real-time.
Informative dashboards & reports: nTask provides powerful insights via its various dashboards (overview dashboard and individual area dashboards). Detailed reports are also available with flexible reporting options like filtering by date range and other parameters.
Customizable fields & settings: The product is highly customizable allowing you to define custom fields that fit your specific process requirements or tweak existing fields in response to changing needs during your project's life cycle.
Pros
Increases productivity by streamlining the process of assigning and monitoring tasks.
Offers effective communication between team members, allowing for efficient collaboration.
Entails easy access to data and resources which ensures improved decision-making capabilities.
Allows managers to hold employees accountable by tracking their progress on individual tasks as well as group projects.
Enhances clarity regarding who is responsible for what task and when it needs to be completed.
Cons
Difficult to use: nTask can be quite difficult to learn and use (*depending on users' tech-savviness), requiring users to have a good understanding of how the system works.
Pricing
Premium $3/user/month
Business $8/user/month
Enterprise custom/user/month
2. Smartsheet



Smartsheet is an online task management tool that makes it easier to plan, organize, and collaborate on multiple projects. It functions as a digital spreadsheet with rows and columns that can be organized into different views such as Gantt charts and Kanban boards.
Through this tool, users can create tasks, assign them to team members, track progress in real-time, generate reports, and make decisions quickly.
Additionally, Smartsheet also serves as an alternative to the open-source project management software Wekan for users who need more features than what Wekan has to offer. It provides tools for communication between team members so they stay informed about changes or updates occurring within their company/project.
Features
Dashboard: the Smartsheet dashboard allows users to quickly check progress and progress changes, access reports, and review notifications in one central location.
Automation: users can create repetitive tasks and processes through automated rules that are triggered by events such as due dates, assignees, or statuses of other related tasks.
File management: users can easily add documents, images, or spreadsheets to their worksheets directly from their device or cloud storage services such as Dropbox, Box, or Google Drive for easy collaboration among team members.
Communication tools: users have multiple ways to communicate within teams including comments on sheets/tasks, email forwarding options, and chat capabilities with colleagues right in the sidebar window of any task/sheet viewable by all team members involved in a project's timeline
Reports & Analytics: intuitive graphical reports make it easy to examine task performance across multiple projects while an interactive Gantt chart provides an overview of current task status helping prioritize goals while ensuring timely completion rates are met without missed deadlines slipping through the cracks.
Pros
Easy setup and intuitive user interface: Smartsheet task management tools have an easy setup process and the user interface is simple to use.
Access from any device: The tool can be accessed from any mobile or desktop device making it easy for users to manage their tasks in real time.
Automated reminders and notifications: Smartsheet allows users to configure automated reminders and notifications, ensuring the timely completion of tasks.
Task management collaboration features: The tool enables multiple users to collaborate on tasks through one centralized platform, allowing for greater visibility of progress and communication between team members.
Cons
Inability to link tasks across sheets: Smartsheet does not allow the user to maintain links between multiple tasks in different sheets. This can make it difficult for users to track related tasks and monitor project progress.
Limited customization options: The customization options are limited on Smartsheet and users may find making changes to the existing interface difficult or not possible at all.
Pricey subscription plans: Smartsheet offers different subscription plans with varied costs associated with them, depending on the type of features and usage needed by the user. Many users find this feature costly compared to other task management tools available in the market.
Pricing
Free $0/month
Pro $7/month
Business $25/month
Enterprise custom/month
3. Basecamp



Basecamp is an online project management tool that helps teams to collaborate and communicate more efficiently.
It can be used for everything from software development projects to creative tasks, giving users the ability to easily assign tasks, leave comments, attach files and documents, and set deadlines.
Basecamp also has a built-in chatroom where team members can interact with each other in real time, making it easy to quickly discuss updates on any project.
In addition, Basecamp serves as an alternative to Wekan – another popular open-source project management system – by offering a streamlined experience within its user-friendly interface.
With multiple views available such as timeline view or milestone view and plenty of organizational features such as task lists and notes, Basecamp makes it easier than ever for teams of all types to stay on top of their projects without any hassle.
Features
Task Assignment: Basecamp allows users to assign tasks and collaborate toward achieving a specific set of goals. Users can add comments and attachments related to the task, enabling a complete overview of all tasks and their progress.
Group Discussions: The tool enables group discussion boards where team members can post messages, and announcements, or ask questions to start conversations with their collaborators.
File Sharing: Teams can quickly share files across the platform, allowing quick access and collaboration on documents without having to switch services or use external tools.
Schedule Management: Team members can create timelines or schedules for projects and tasks which all other collaborators will have access to view. This ensures everyone is aware of deadlines that must be met before the completion date as well as any changes made along the way.
Integrations: The software integrates with many third-party applications such as calendars (Outlook Calendar, Google Calendar), file sharing (Google Drive), email marketing (Mailchimp), etc., so teams don't have to jump around multiple platforms to manage their project workflow effectively.
Pros
Easy to use interface: The user-friendly design of Basecamp's interface makes it easy for project teams to navigate, organize tasks, collaborate with team members, and view project progress.
Improved communication: Communication is emphasized in the app as users can upload files, have conversations within the app with all team members, and view a timeline of project activities.
Task Management Functionality: Teams can easily monitor task completion through the comprehensive tracking system which automatically updates as tasks are completed or delayed.
Cons
Proprietary Software: Basecamp is proprietary software, meaning that you do not have access to the code and cannot make any changes or customizations.
Limited Storage: The free version of Basecamp only provides users with 30MB of storage per project.
Limited Integrations: While Basecamp offers some basic integrations such as Gmail and Box, they don't offer advanced integration options like Zapier or Slack.
Pricing
Basecamp $15/user/month
Basecamp Pro unlimited $299/month

Ratings
4.5, 4.6
4. Paymo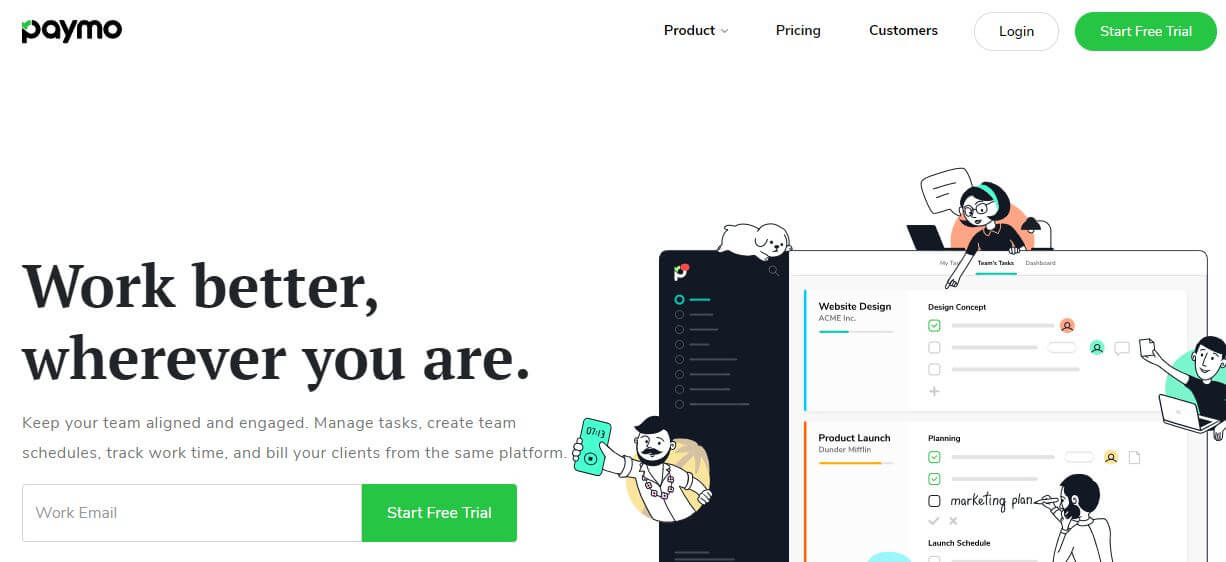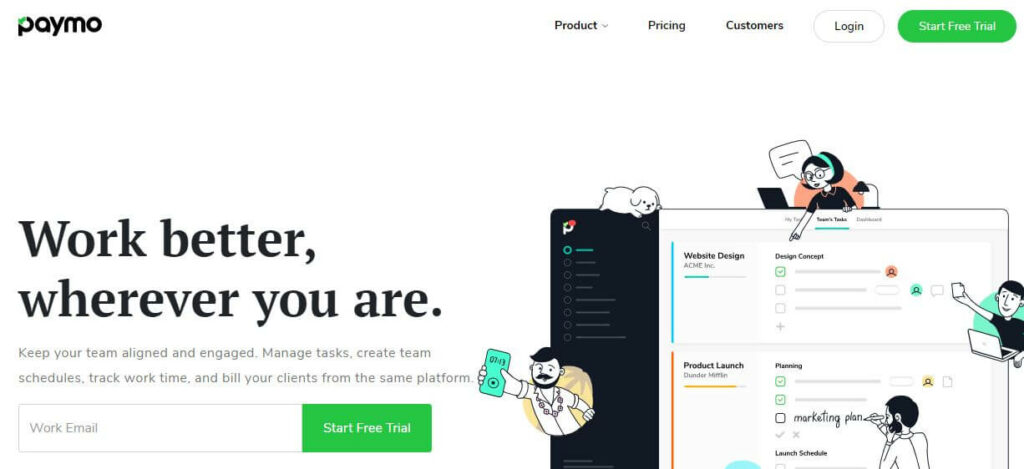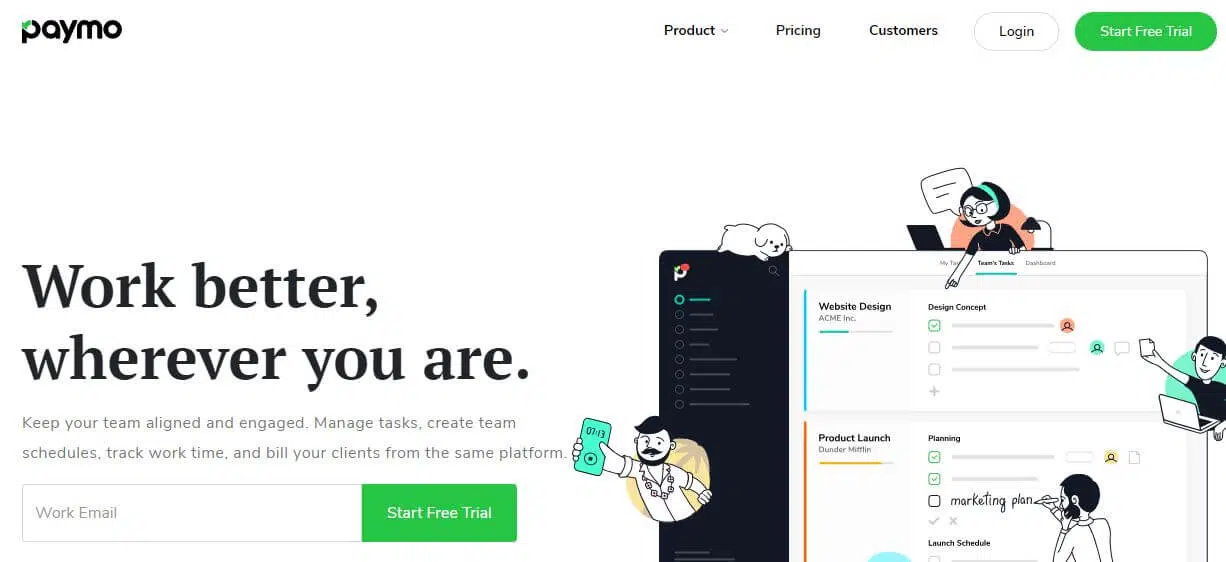 Paymo is an effective task management platform that serves as a great alternative to Wekan. It helps teams and individuals to better manage tasks, collaborate on projects, and stay organized.
With Paymo, users can easily define project requirements, assign tasks to team members or clients, track time spent on each task or project and easily generate invoices or reports.
It also has features such as interactive Gantt charts which allows users to see the entire project timeline quickly & intuitively; real-time notifications when someone comments/edits a task; shared calendar which enables everyone in the team to keep up with their activities and upcoming deadlines.
All these features make Paymo an ideal choice for anyone looking for one of the powerful Wekan alternatives.
Features
Task Management: Paymo's task management feature allows users to create and assign tasks, set deadlines, set priorities, keep notes on tasks, and monitor the progress of all tasks in one centralized place.
Project Management: Users can manage multiple projects at once through detailed planning, flexible scheduling, and timeline optimization tools, as well as get a comprehensive overview of their project's progress.
Collaboration Tools: Paymo offers powerful collaboration features like team chatrooms with file integration capabilities; real-time notifications for task assignments or updates; private or shared commenting threads for projects, teams, or tasks; and calendar sharing for all stakeholders in the organization.
Time Tracking Feature: The platform enables users to track time spent on each task with efficiency by allowing them to add time manually or automatically start/stop timers whenever they need it to stay organized and productive with their workflows.
Reporting & Insights: Organizations can generate custom reports based on different criteria (e.g., project performance data) and access actionable insights into team utilization rates, cost savings achieved through efficient resource allocation, etc., which helps them understand how their resources are being put towards achieving the organization's goals effectively and efficiently over time.
Pros
Streamlines task management for teams and individuals with features such as file sharing, reminders, comments, calendars, and more.
Automatically sync tasks with popular calendar systems like Google Calendar or Outlook.
Create project templates to quickly onboard new projects and get everyone up-to-speed faster.
Real-time updates on task execution help keep all parties informed and accountable for their work.
Cons
It has limited features compared to other task management platforms.
The user interface is outdated and clunky, making it difficult to use.
The syncing capabilities are slow and unreliable.
Limited integration options with other software or applications.
Reporting capabilities are lacking in some areas of the platform.
Pricing
Free $0/user/month
Starter $4.95/month
Small Office $9.95/user/month
Business $20.79/user/month
Ratings
4.6, 4.5
5. Monday



Monday is a task management platform designed to facilitate team collaboration and project organization.
It offers features such as task creation, tracking and updating processes, assigning tasks to individuals or teams, managing deadlines and priority levels, commenting on projects and tasks with @ mentions, file sharing (including integrated integrations of Dropbox/Google Drive/Box), notifications for progress updates, visual boards that can be customized in various ways with drag & drop capabilities.
Monday has many advantages over other popular platforms like Wekan: its UI is more intuitive which helps users quickly become familiar with the tool; it provides powerful analytics capabilities that help you easily measure performance; it's free when two or fewer people are using it – great for smaller teams; its integration functionality allows you to link Monday activities directly with other services and apps.
Features
Create Tasks: Users can easily create tasks for the day and set goals. They will be able to break down complex tasks into smaller, more manageable steps by creating subtasks.
Assign Priority: Users will be able to assign priority to their tasks, helping them prioritize which ones they should focus on first.
Manage Time: The platform includes a timer that users can use to manage their time better, allowing them to estimate how long each task should take and learn how much they are spending on each task throughout the day.
Track Progress: The platform also features a progress tracking system so users can track their progress over time and identify patterns in their work performance to improve it over the long term.
Add Notes & Reminders: Through notes or reminders, users will be able to keep an organized list of ideas or instructions related to each task that they may need help with later on or pass on to another team member for continued collaboration/support if needed from there onwards.
Pros
Easy-to-use user interface for simple task management and tracking.
Automated reminders for upcoming tasks and deadlines.
Customizable labels and filters help you organize tasks according to priority, type, or any other criteria.
Ability to collaborate with colleagues by sharing tasks, assigning due dates, exchanging comments, and marking progress on shared projects.
Reports that allow you to view progress over time to better understand project timelines and resource utilization.
Cons
Limited customization options, may make its usage difficult for businesses with unique workflows.
Lack of features to manage team tasks and individual task assignments.
Lack of integration with third-party applications, limiting how users can access and use data from other sources.
Weak reporting capabilities make it difficult to track progress on tasks or see the big picture.
Pricing
Individual $0/month
Basic $8/month
Standard $10/month
Pro $16/month
Enterprise custom/pricing
Ratings
4.7, 4.7
6. Asana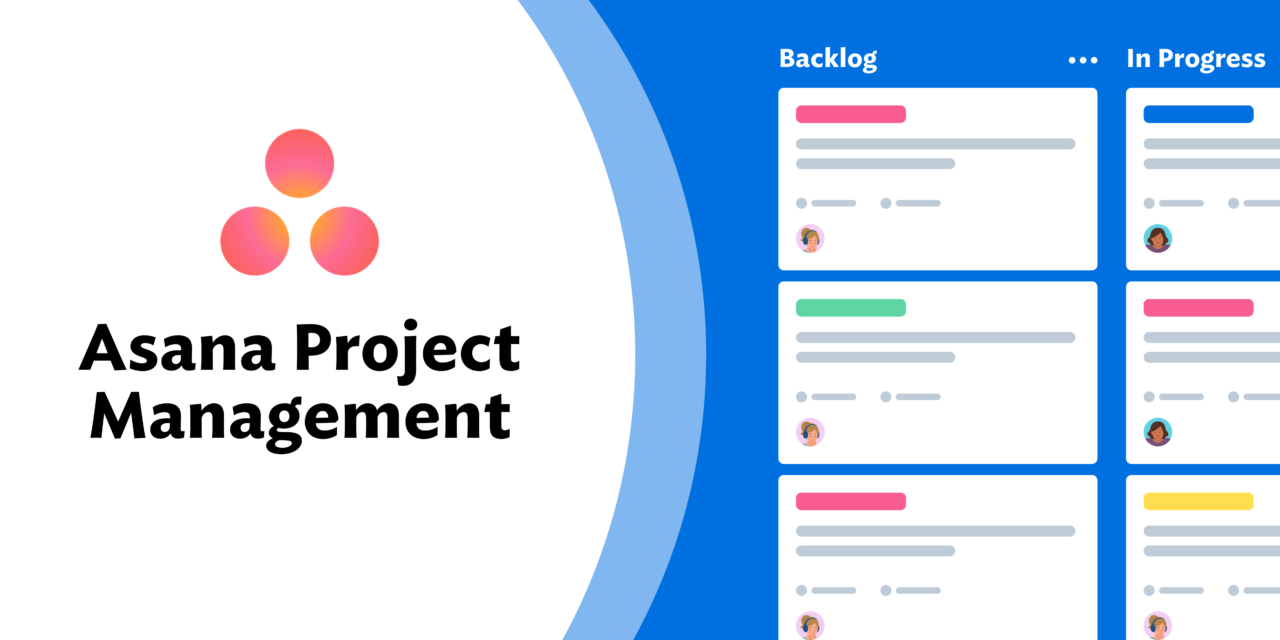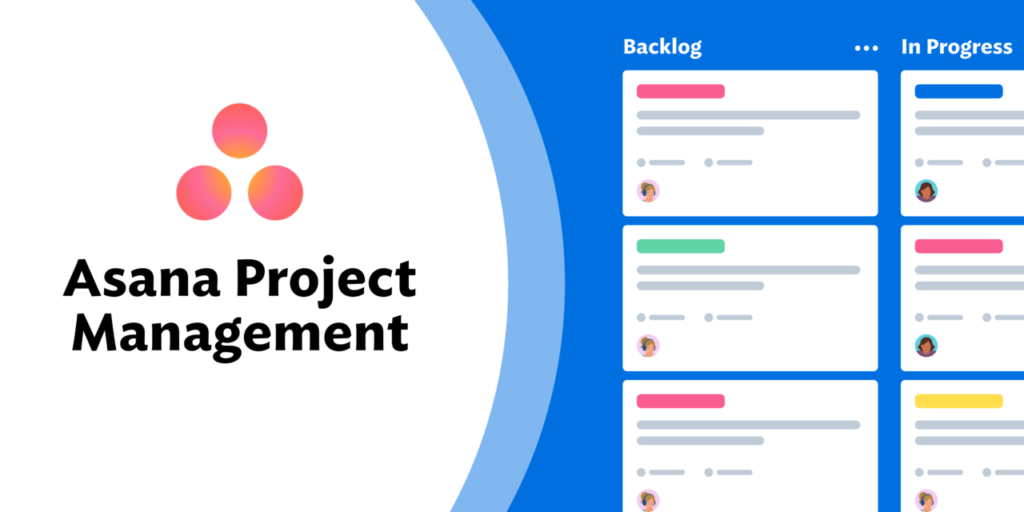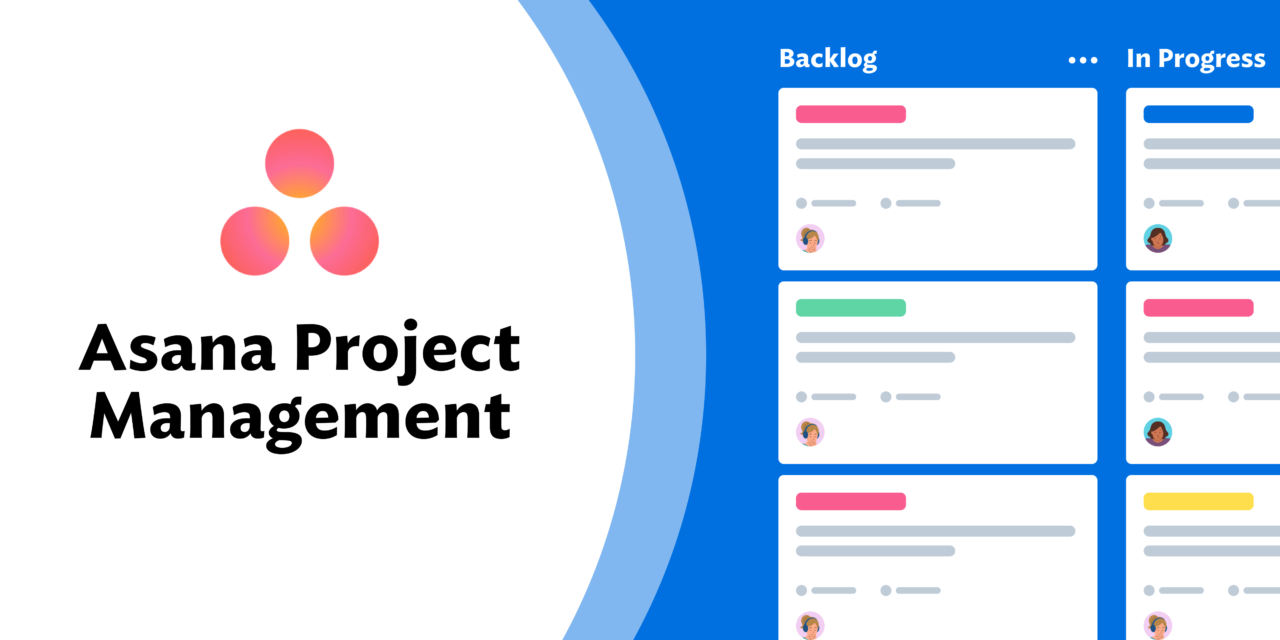 Asana project management platform is an online tool that allows businesses and organizations to manage their projects and tasks systematically.
This cloud-based software provides users with the ability to create workspaces, assign tasks, prioritize deadlines, and collaborate on projects, all within one unified platform.
The powerful features of Asana include task organization by the due date, assigning team members to any given task, creating boards for visualizing progress, tracking task dependencies across multiple workspaces, and setting project milestones.
Additionally, the user interface of Asana offers flexible layout configurations which allow teams to customize their Asana workspace according to their needs and preferences.
Furthermore, this project management platform comes with built-in integration with popular productivity tools like Dropbox and Google Drive so that users can easily transfer files between different applications.
Features
Task Management: Asana enables users to create, assign, and track tasks with due dates, notes, subtasks, tags, and more so that everyone has visibility into the progress of any project. It further allows teams to comment on tasks as well as attach files such as documents or images.
Workflow Automation: Asana comes with a built-in workflow automation feature that helps users save time by automating manual processes for recurring tasks or complex workflows across multiple teams or departments.
Team Collaboration: Asana is designed for team collaboration allowing team members to communicate with each other quickly within the platform itself rather than through emails or group messaging apps outsell times whether remote or in office locations.
Project Tracking: With custom dashboards and reporting tools in place, Asana lets users track their projects seamlessly throughout their lifecycle right from creation to completion providing complete control over the entire process.
Mobile Applications: Asana makes it easy to stay productive when on the go with its mobile applications available both on Android and iOS platforms enabling users to access their data anywhere anytime without any restriction.
Pros
Easy-to-use interface: Asana's user interface is intuitive, helping teams become productive quickly.
Enhanced team collaboration: Asana provides easy communication tools and real-time updates to keep everyone on the same page.
File sharing capabilities: Teams can easily upload and share documents through folders, comments, or direct messages.
Automated task reminders: Asana sends notifications when tasks are due or when conversations require a response from users.
Cons
Asana project management platform is not free, and its cost can be high for small organizations who want to use it.
Navigation within the app could be better as users may struggle when trying to locate certain features or tasks.
Customizing projects with different colors and labels can become tedious as each task will need to be adjusted individually.
Notifications of upcoming deadlines or changes in a project are often delayed or missed, reducing the effectiveness of their purpose.
Pricing
Basic $0/month
Premium $10.99/month
Business $24.99/month

Ratings
4.3, 4.5
7. Trello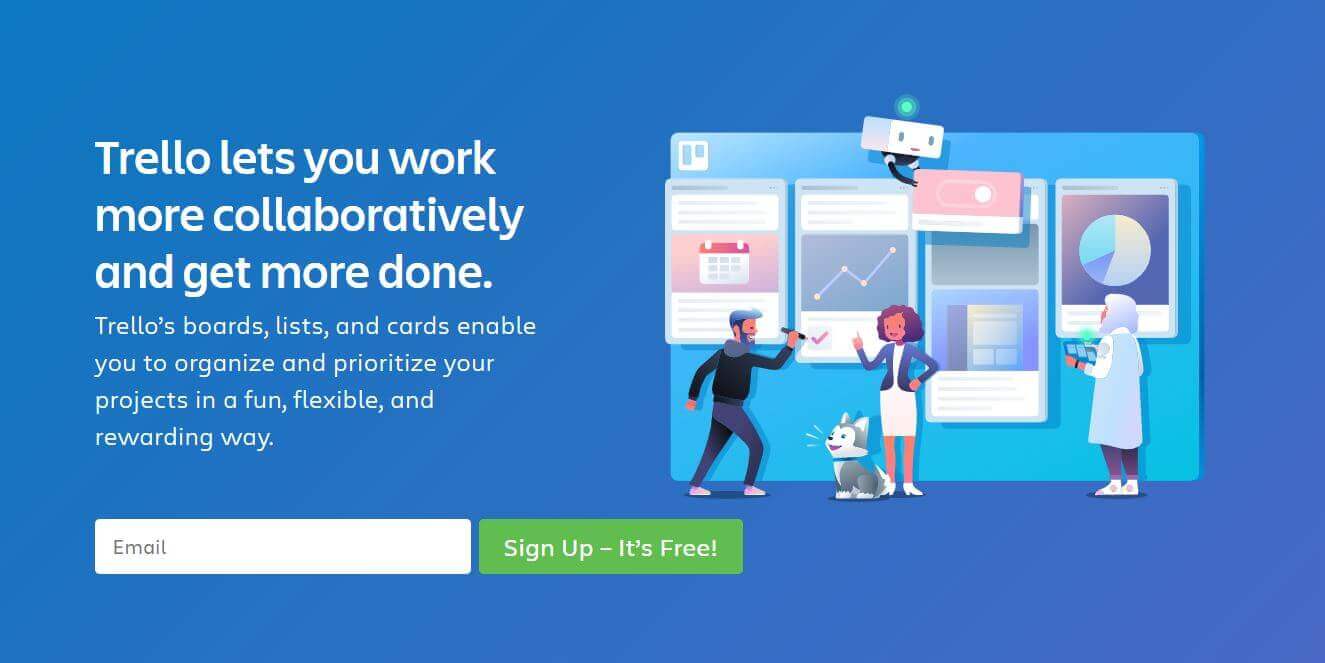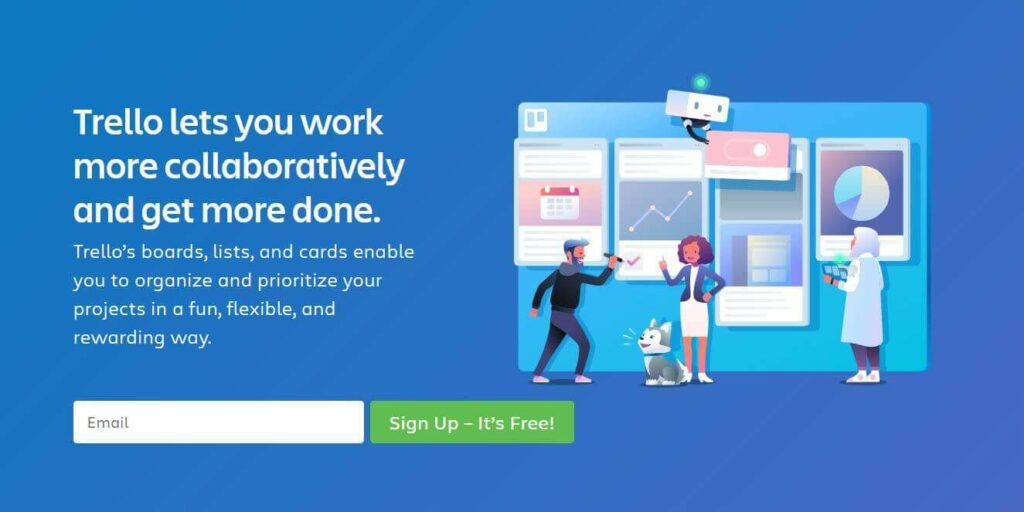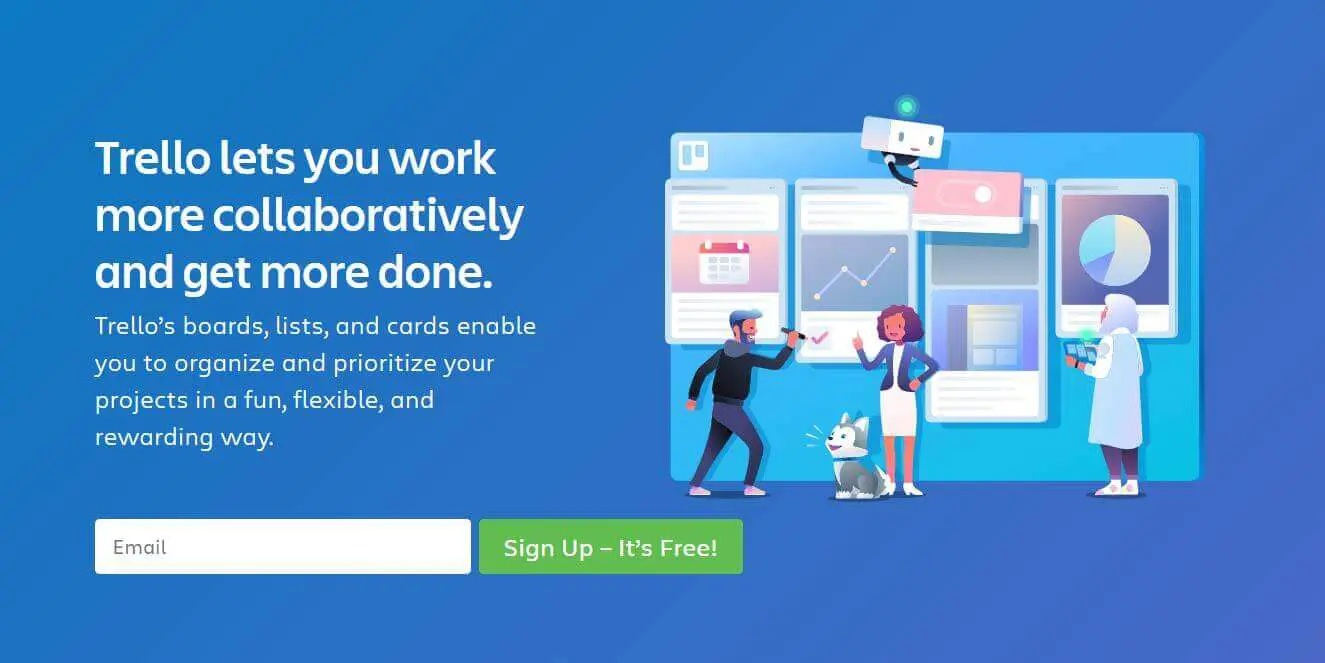 Trello is an agile project management tool that has revolutionized the way teams collaborate and complete tasks. It provides visual boards, lists, and cards to help teams organize projects and track progress.
With Trello's intuitive design, team members can easily assign tasks to each other, prioritize their work with labels and due dates, comment on in-progress tasks, attach relevant documents and files for reference, set reminders to stay on task, and more.
Additionally, real-time notifications keep everyone informed of changes as they happen. Ultimately Trello makes collaboration easier so that your team can focus on completing its most important goals promptly.
Features
Boards: This feature provides users with a way to create and organize projects by creating boards made up of cards that include tasks, notes, images, files, and even data from other integrated apps.
Checklists & To-Do Lists: Trello allows users to make checklists within the cards for sub-tasks or associated details related to each card's task. It also lets users assign deadlines, mark them as complete and track their progress in real-time.
Notifications: Trello notifies users via emails when their assigned tasks or due dates are approaching so users can keep on top of their project management workflow easily.
Collaboration: With this feature, multiple people can collaborate on a board at once or separately while staying organized by assigning different roles to different members (guest user or full editing rights). Teams can also share comments and feedback in an organized manner right on the boards themselves instead of using email threads which makes collaboration easy for everyone involved in the project.
Pros
Streamlined collaboration: Trello provides users with a platform to easily collaborate on projects in real time, assign tasks, share documents, and track progress.
Flexible organization: With its wide range of features and customizable boards, Trello allows users to create the perfect project management structure for their team or project.
Intuitive user interface: The drag-and-drop feature makes moving cards around your board easy while keeping everything organized.
Cons
Lack of flexibility in assigning tasks: Trello is not very flexible when it comes to assigning tasks, which can be problematic for teams with many moving parts.
Limited reporting capabilities: Trello does not have any built-in reports for project tracking or analyzing progress.
No native Gantt chart support: Trello cannot give you a visual representation of your project timeline in the form of a Gantt chart.
Dependence on third-party integrations: To be able to use some features like resource management, time tracking, and invoicing, users need to integrate third-party applications into their projects.
Pricing
Free $0/month
Standard $5/month
Premium $10/month
Enterprise $17.50/month
Ratings
4.6, 4.2
8. Todoist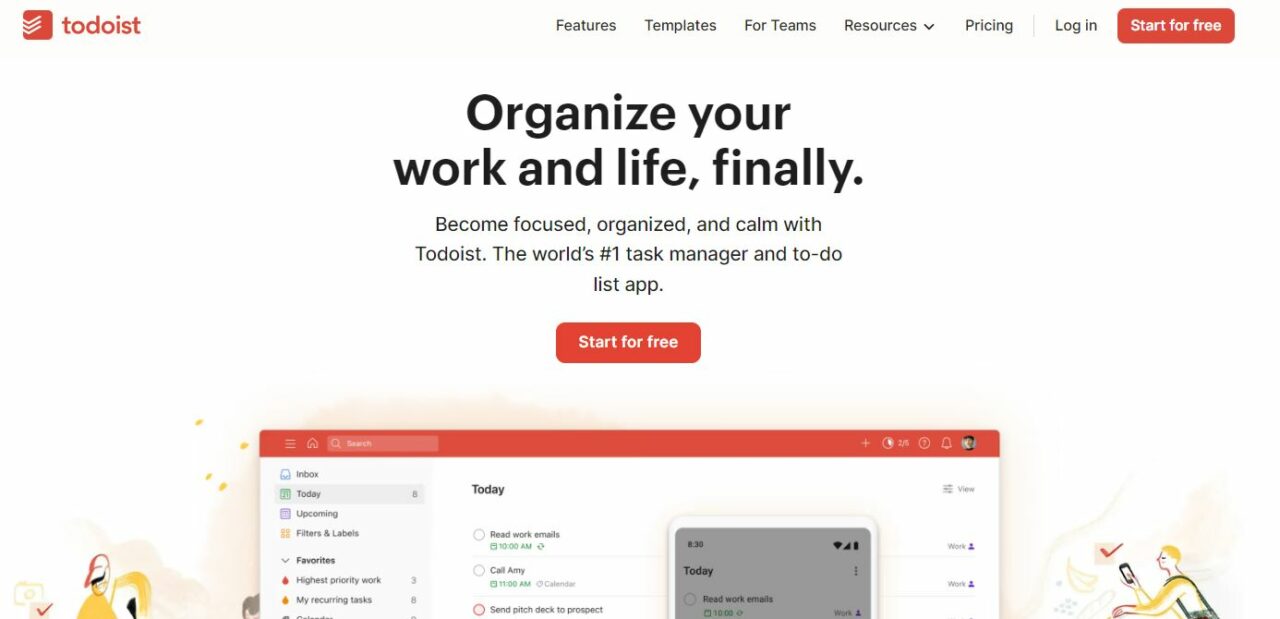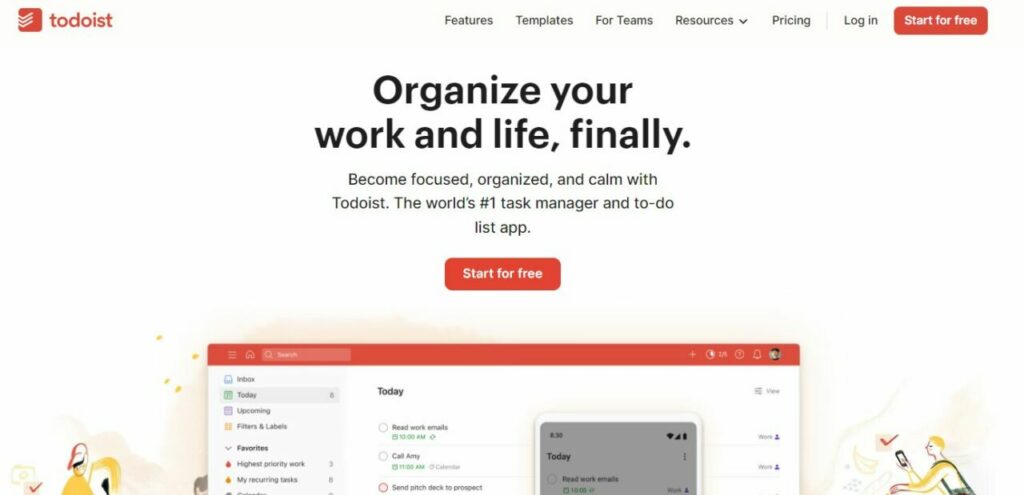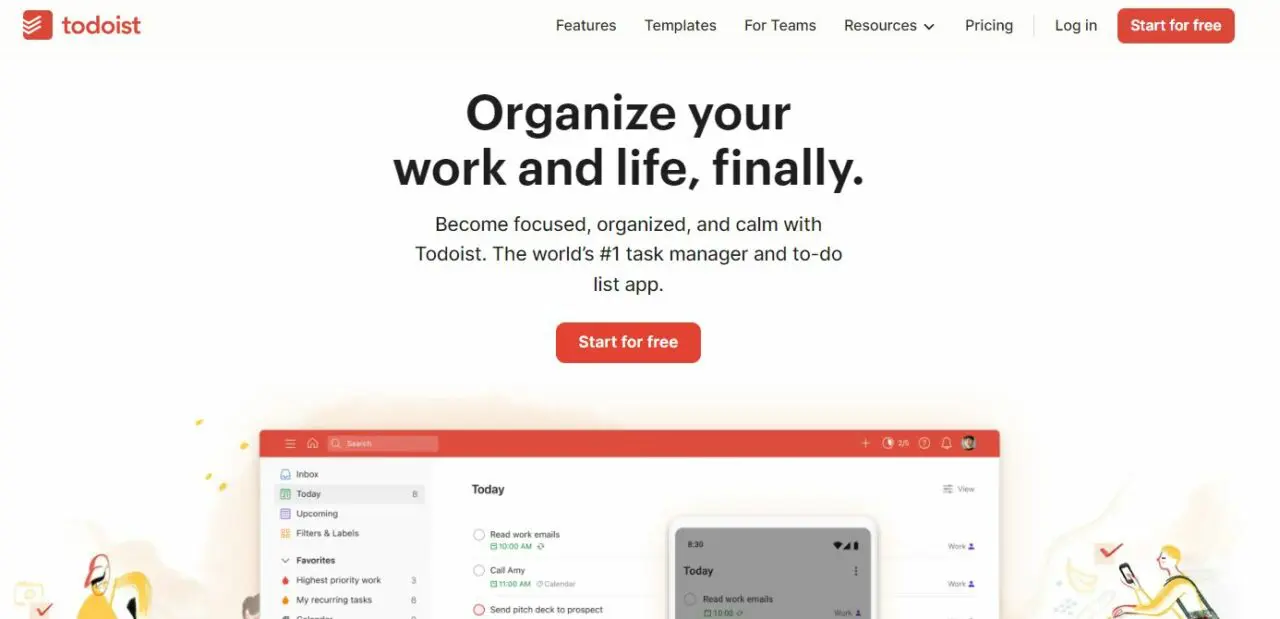 Todoist is a powerful task management tool designed to help users organize their day-to-day tasks.
It helps users create and manage tasks, prioritize them, and set reminders for important dates. It also has many useful features, such as sharing tasks with other people in a team, creating recurring tasks to keep track of ongoing projects or deadlines, integrating with other services like Gmail or Evernote, and more.
Todoist can be used as an alternative to Wekan which is another popular task-management tool that offers similar features. However, Todoist does have some advantages over Wekan due to its user-friendly interface and additional features like improved team collaboration tools and third-party integrations.
Features
Organization: Todoist allows users to organize tasks into separate projects and subprojects as well as assign labels to each task. This makes it easy for a user to quickly view all the tasks related to a particular project or subject.
Collaboration: Todoist provides collaborative features such as task sharing and commenting, allowing multiple people to work together on a single project or task list efficiently.
Reminders: With Todoist, users can set reminders for upcoming tasks so that they don't forget about them and miss their due dates.
Filtering & Searching: Users can filter and search through their lists of tasks by keyword, priority, label, and other criteria in order to quickly find the exact task they are looking for.
Notifications & Email Digestions: Users will receive notifications when assigned tasks are due or have been updated by another collaborator so that everyone stays up-to-date with any changes made. Additionally, users can opt into daily email digests which summarize all of their upcoming tasks for the day sent directly to their inboxes.
Productivity Tracking & Customization Options: Through its Karma feature, users can track their productivity over time using points accumulated from completing different types of activities in Todoist like creating new projects or adding comments on shared items.
Pros
Easy to use, intuitive interface: Todoist makes it simple for users to add tasks and organize their projects with drag-and-drop tools and other customizable options.
Automated reminders: Todoist automatically reminds users about upcoming due dates or tasks that need attention, helping them stay on top of their work.
Cross-platform syncing: With the mobile app and browser extension, users can easily switch between devices while keeping their work in sync.
Collaboration features: Users can tag teammates in comments or assign tasks to one another, making it easier to collaborate on projects.
Cons
Requires a paid subscription for full access to features.
Interfaces can be difficult to navigate for non-tech-savvy users.
Insufficient customization options are available on the platform.
Limited reporting capabilities for users to track progress.
Collaboration or communication tools are included in the tool, making it difficult for team members to work together efficiently.
Pricing
Free $0/month
Pro $4/month
Business $6/month
Ratings
4.5, 4.3
9. Wrike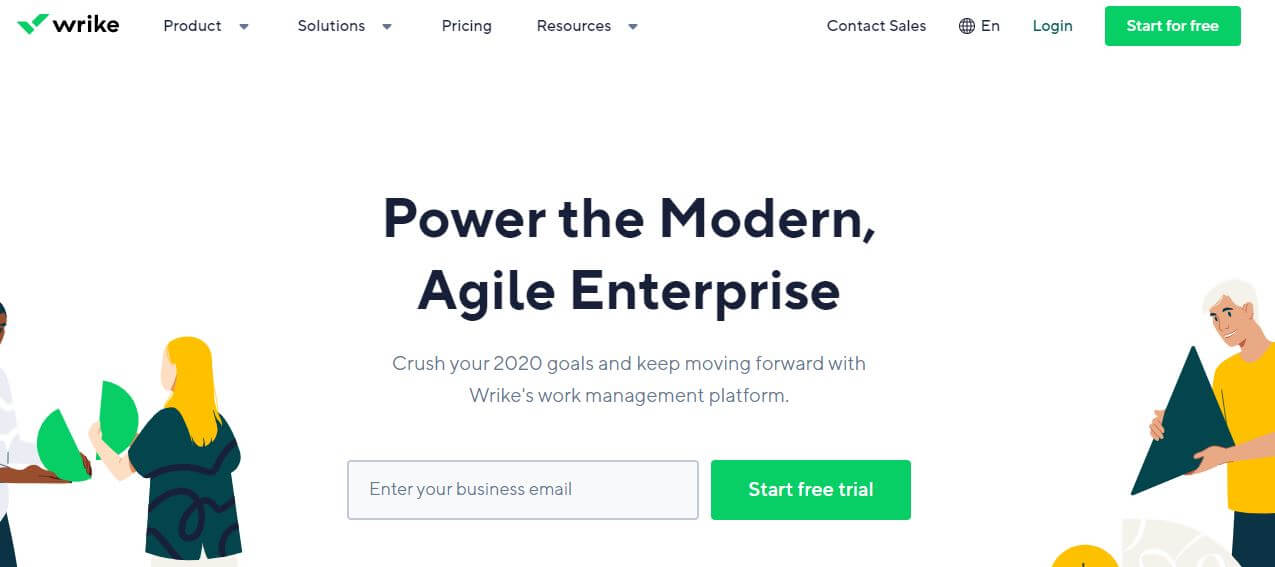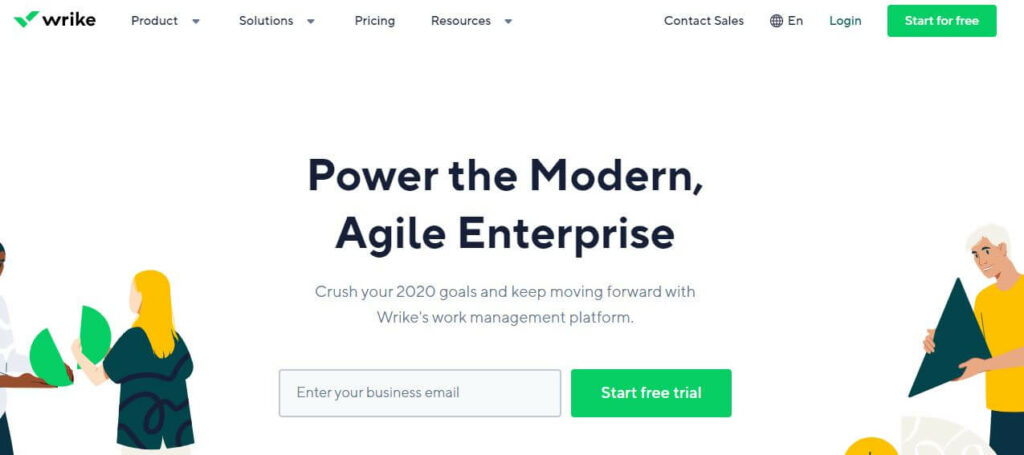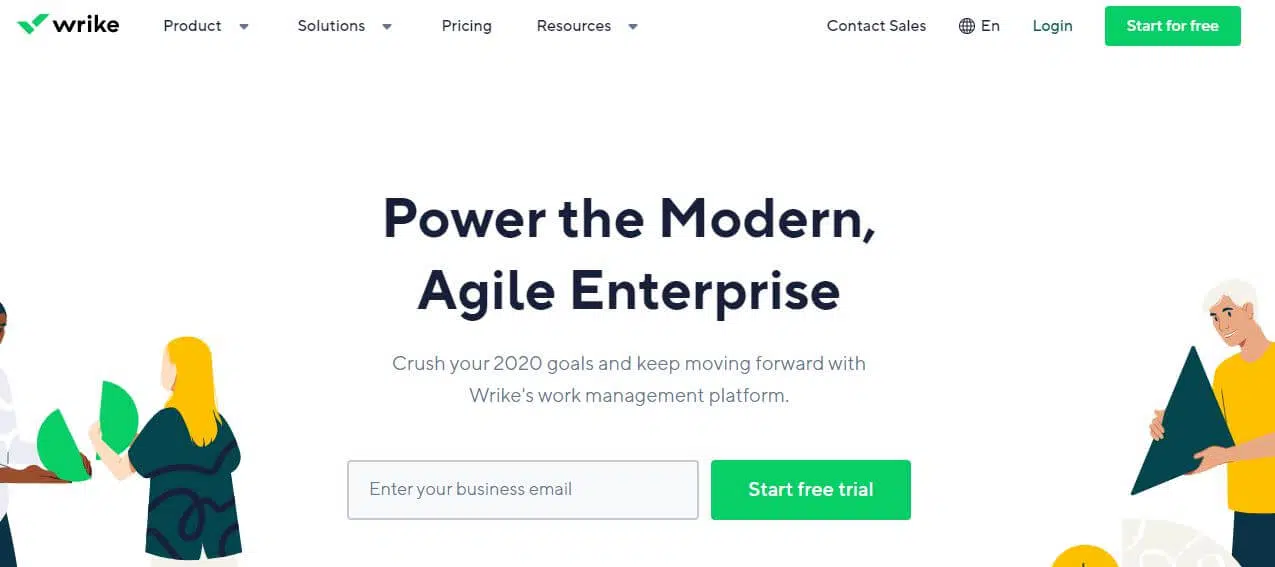 Wrike is a comprehensive task management platform designed to help teams manage their projects efficiently.
It provides tools and features that allow users to organize workflows, assign tasks, track progress, store documents, collaborate with colleagues in real-time, receive notifications and reports, etc.
With Wrike's versatile project management capabilities, it is easy for teams to see what needs to be done, who's responsible for each task, and how far along the project has gone.
The software also offers a mobile app so teams can access information on the go. This handy tool can help organizations become more efficient by streamlining communication and enabling project managers to gain insights into analytics about their team's performance over time – which can lead to better strategies for future projects.
Features
Automated Scheduling: Wrike enables users to quickly create tasks and assign them a due date. With the application's automated scheduling capabilities, users can automatically create recurring tasks and reassign tasks across group members as needed.
Task Management Dashboard: Wrike provides an interactive dashboard that gives users a high-level view of their ongoing projects while also allowing them to drill down into specific tasks. Users can search for information by task, project, or individual user in order to quickly find what they need.
Team Collaboration Tools: Wrike facilitates efficient team collaboration with features such as file sharing, chat functions, real-time notifications when edits are made in documents shared within the app, tagging for follow-up reminders, annotations for images and multimedia content uploaded to projects.
Customizable Workflows: Wrike allows users to configure custom workflows in which they define the steps according to their team's needs and desired results rather than trying to fit those requirements into generic predefined workflows.
Reporting & Analytics: Wrike offers detailed reports with customizable filters so that you can track performance against goals over different periods of time using metrics like progress rate, effort estimation accuracy and more from within a single platform.
Pros
Automated processes for streamlined workflow, including customizable timeline view and task assignments across multiple projects
Powerful collaboration features like team activity feeds and real-time chat that enable productivity and communication among teams
Robust notifications settings to ensure everyone is kept updated on tasks, deadlines, changes in status etc.
Extensive reporting capabilities such as embedded dashboards, Gantt charts and custom reports to keep track of progress
Cons
Difficulty getting up to speed with the software: Wrike's features can be complicated and difficult for new users to learn, which means a significant time investment may be required for proper use.
Limited customization options: Despite having many features, Wrike does not allow users to customize their workspace or design tools in any meaningful way.
Pricey compared to other task management platforms: Wrike is one of the most expensive task management platforms on the market, making it inaccessible to some users with limited budgets.
Pricing
Free $0/month
Team $9.80/month
Business $24.80/month
Enterprise custom/month
Pinnacle custom/month

Ratings
4.5, 4.6
10. BeyondSquare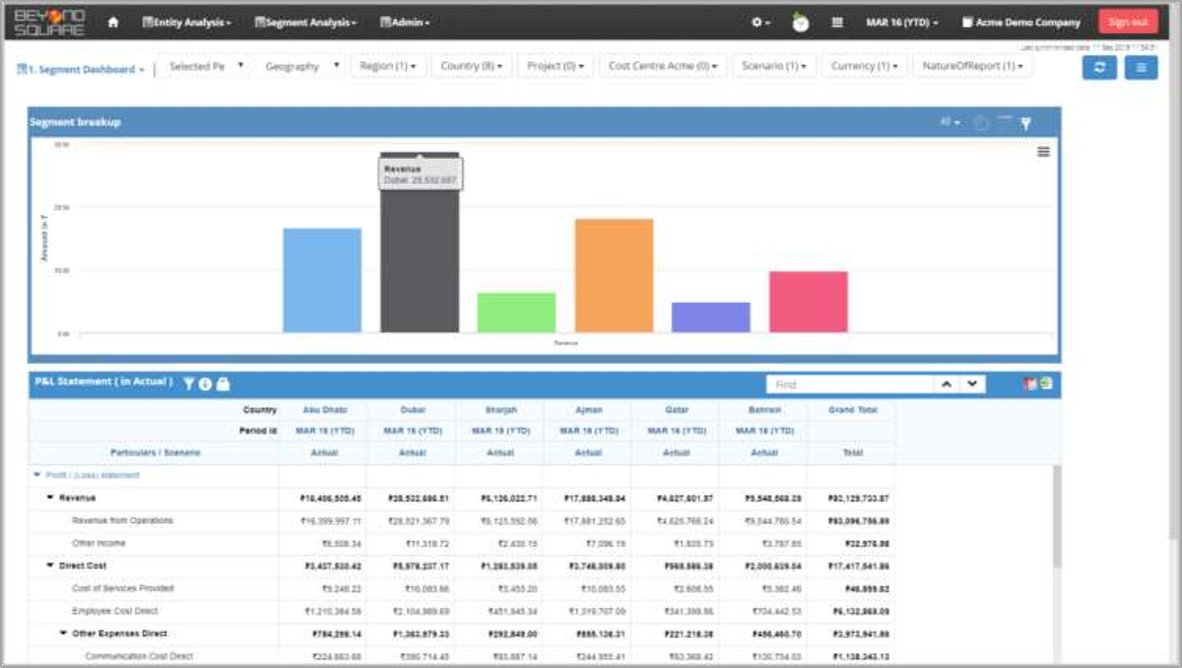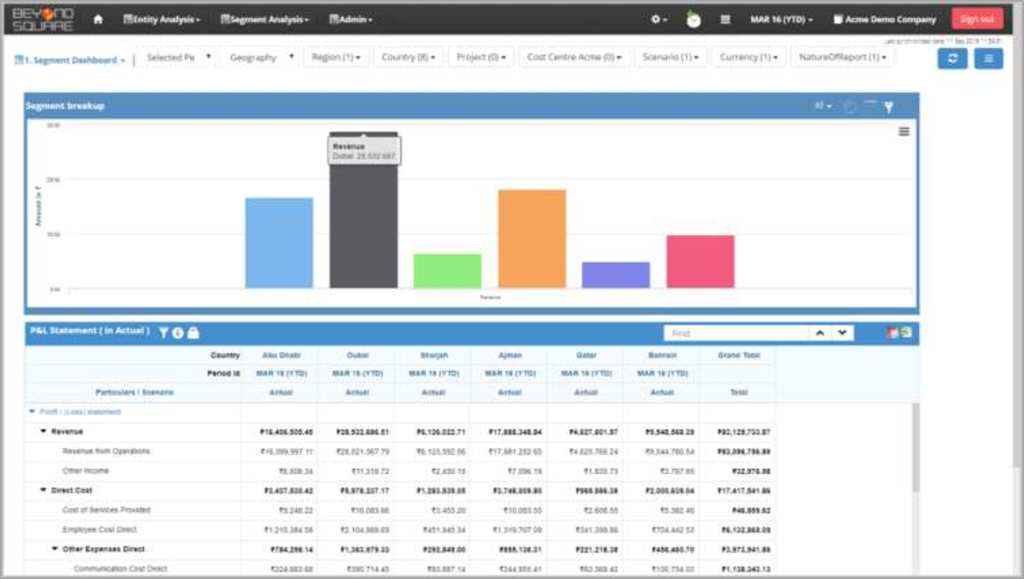 Also known as FinAlyzer, BeyondSquare is a cloud-based task management platform that enables businesses and individuals to organize, track, and prioritize tasks.
It allows users to assign tasks, receive notifications when deadlines are nearing, collaborate in real-time with team members and stakeholders involved in the project, generate reports for better decision-making, and more.
This comprehensive task management solution simplifies workflows from beginning to end. BeyondSquare offers powerful features such as timeline views of projects, sub-tasks (multi-level) support for detailed tracking of progress, and collaboration tools like chat rooms & message boards for improved communication between team members or external contacts.
Features
Project Management: It allows users to manage projects by setting up tasks, deadlines, and assignees. It also provides quality assurance tools such as project assessments and reviews for tracking progress.
Time Tracking: This tool allows users to accurately track time spent on each task or project, enabling teams to allocate resources efficiently and optimize their workflow.
Collaboration Tools: The platform helps foster effective collaboration between team members with sharing options, document storage, instant messaging, commenting, and notifications features that allow teams to communicate effectively.
Reporting & Analytics: This feature enables managers to generate reports based on the data collected from tracked activities within the system giving them insights into how efficient their processes are and where improvements can be made in order to enhance productivity levels amongst the team.
Task Prioritization & Automation: This feature helps streamline everyday activities within an organization with customizable dashboards that allow users to sort tasks by priority level ensuring that relevant tasks are completed on time while providing powerful automation capabilities so user can automate repetitive day-to-day tasks making it easier for employees to focus on more important issues at hand.
Pros
Provides a comprehensive framework for planning, organizing and conducting complex tasks.
Easily integrates with existing systems such as analytics, CRM and accounting tools.
Automates mundane and repetitive tasks to save time and effort.
Features an intuitive user interface that is simple to use even if unfamiliar with the system.
Has an extensive library of well-crafted workflows which can be customized quickly or reused as-is to accelerate project completion timelines.
Cons
Poor customer service response times: Customer service queries often go unanswered on the BeyondSquare task management platform, leading to customers feeling ignored and frustrated.
Limited features: The BeyondSquare task management platform does not offer many features compared to other platforms in the same space, limiting users' options and capabilities.
High cost of upgrading plans: Upgrading plans on the BeyondSquare task management platform can be expensive, pricing some customers out of being able to use its services.
3 Reasons why nTask is the best Wekan alternative
1. nTask provides users with a comprehensive and intuitive user interface, allowing for easy navigation and customization of workflow tasks. This makes it a great Wekan alternative as the interface is simple to use, yet highly powerful.
2. nTask offers options to collaborate with virtual teams no matter where they are located in the world. Team members can easily work together in real-time using voice or video chat, messaging features, and more – letting them keep conversations organized without having to be in the same place physically.
3. Not only does nTask provide essential project management features such as task tracking, resource allocation, and budgeting tools but also comes packed with features like Mind Map integration that allows teams to brainstorm ideas visually before putting them into actionable steps for success! With so many helpful capabilities under one roof – it's no wonder why many businesses have chosen nTask over Wekan for their organization's projects!
Conclusion
After reviewing 10 of the best Wekan alternatives in 2023, it is clear that there are many options available to those looking for a comparable project management tool.
From software with a focus on enterprise collaboration to applications designed for personal task tracking, the range of products available offers something suitable for almost any project or workflow.
Whether you require an online Kanban board, real-time collaboration tools, or automated reporting features, one of these Wekan alternatives can help you achieve your desired results.
FAQs
How to install Wekan on Ubuntu?
Installing Wekan on Ubuntu is a relatively straightforward process. First, ensure that your system is up-to-date; you can do this by running the command "sudo apt update" in the terminal.
Next, you will need to install Wekan's dependencies; use the command "sudo apt install curl PostgreSQL NodeJS npm" to do this. Once these are installed, you can begin installing Wekan; first download it from their website and extract it into your desired directory.
How do you run Wekan?
Wekan is an open-source project management and collaboration software, and it can be run through the command line or a web browser.
The installation process varies depending on the platform that you're running it on, but, you will need to install Node.js and MongoDB first. Once these are installed, various tutorials are available online to guide you through the installation process for Wekan specifically.