As a project management professional, your responsibilities far exceed the usual standards. You have to be on your toes all the time, keeping an eye on task statuses, staying updated with the latest developments, paying attention to your team members' performance, identifying and mitigating issues, and constantly improving processes for the future.
The enormity of the tasks under your management can certainly overwhelm you and make you feel like you are trapped in a never-ending cycle of struggle. The fight can get more crushing if you have to do everything manually. Keeping records of all tasks, physically watching over your employees, etc. is simply impossible in the contemporary world.
Thankfully, you do not have to work tirelessly to get your tasks done, you can depend on the products of technological transformation i.e., PMP software. PMP software free is specially designed to help PMs accomplish their tasks without any obstacles hindering their way.
Evolution Of Project Management in Recent Years
Over the past few years, seeing the steady demand for efficient project management, businesses all over the world, have started incorporating project management tools and techniques in their offices. The use of these tools, techniques, practices, and project management professionals has proven that project management is indeed a lucrative deal.
According to Wellingtone's annual report 2020, 89% of organizations have one or more Project management Offices (PMOs). It has also been noted that companies that have developed project management practices save 28 times more in finances than those that do not.
How PMP Software Transformed the Project Management Scene?
What makes project management more fascinating than ever are the tools that have taken over much of the manual labor and have offered cost-effective, efficient solutions for project management. The effectiveness of these tools is a fact considering there are 47% of companies that say using project management software has had a positive impact on the accuracy of project cost estimates.
Due to the increasing demand for software solutions, an astounding number of PMP software free have emerged over the past few years. While the emergence of new technologies is much appreciated, it also increases competition in the market and makes it difficult to pick and choose from the wide variety of options available in the market.
To save you from very much trouble, we have compiled a list of some of the most popular PMP software free in the world. We have listed the key features and pricing of each software as well to help you make a smart choice without having to spend your precious time exploring every option out there.
Without further ado, let's dive in!
List Of the Best PMP Tools in The World:
Table of Contents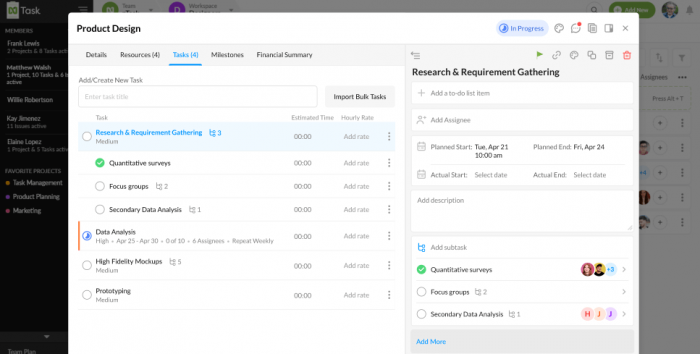 You might be doubting nTask's placement as the best PMP software but believe us it's here for a reason. nTask is a robust project management solution, armed with the latest, most advanced features. The tool is geared towards the improvement of management processes in an organization.
With a quick onboarding process, user-friendly interface, a fleet of advanced features, multiple modules, and cost-effective pricing, nTask has established its standing as one of the best (if not the best) PMP software free in the business world.
As of now, the tool is helping 250,000 teams across 150+ countries make a change in the way they do business. No one is perfect and that is why nTask continues to develop and add to its features. Since its inception, nTask has proved its worth with consistent developments and improved efficiency of its tools.
Key Features:
Planning your projects and creating workflows

Divide projects into tasks and subtasks
To-do lists with tasks
Task dependencies
Start and end dates for tasks

Resource allocation and collaboration

Assign tasks to resources
Real-time chat
File attachment and sharing

Tracking
Planning and budgeting

Billable and non-billable hours
Budget management
Assign roles to resources

Identify and resolve risks and issues

Identify and manage risks
Risk management
Bug tracking

Third-party integrations
Foolproof security
Mobile apps
Pricing:
Basic plan – available for free forever
Premium plan – $3 per user per month
Business plan – $8 per user per month
Enterprise plan – Custom pricing
Try one of the best PMP software

Manage tasks, issues, projects, Gantt charts, and risk, all in one place. Sign up today!
2. Wrike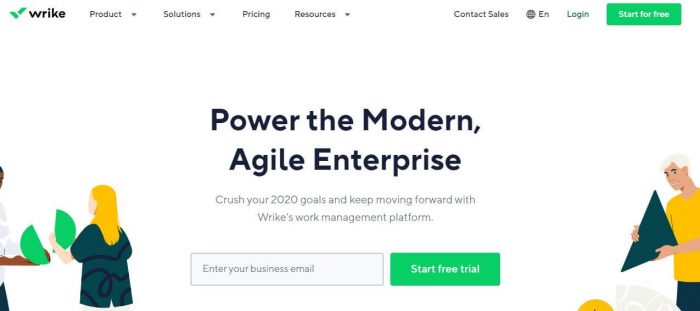 Wrike is our 2nd pick for the list of best project management software free. The tool is a robust solution offering a suite of advanced features for project management, monitoring, and much more. Wrike is equipped with the latest features so that you can ace every process in the project management game and win the game with the delivery of quality products at the right time.
Key Features:
Unified team communication
Create tasks and assign resources
User-friendly interface
Customizable workspace
Readymade templates
400+ software integrations
360-degree visibility across departments
Detailed, automatic report generation
iOS and Android mobile apps
Interactive timelines
Hordes of customization features
Share files and attachments
Drag-and-drop interface
Track time
Pricing:
Free plan – $0 per user per month
Professional plan – $9.80 per user per month
Business plan – $24.80 per user per month
Enterprise plan – Contact Wrike team for pricing
Related:
The 15 Best Free Wrike Alternatives To Use in 2023 (Free & Trial)
3. Jira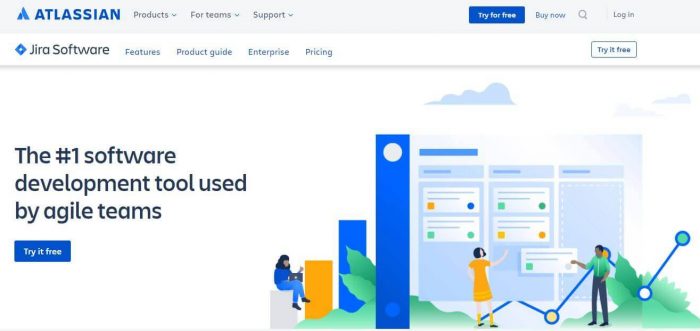 Jira is a top-tier project management tool, designed for the best of professionals. The software solution is ideal for software development teams. Teams can not organize and manage their tasks but also stay connected to communicate and collaborate on tasks.
Key Features:
Customizable scrum
Kanban boards
Actionable reports
Built-in automation
2-step verification security
Customizable workflows
Mobile apps
Pricing:
Free – $0
Standard – $7.50 per user per month
Premium – $14.50 per user per month
Enterprise – Pricing is available when 801 or more users are added
Find more Jira alternatives here:
Top 28 Jira Alternatives for Smarter Project Management
4. Scoro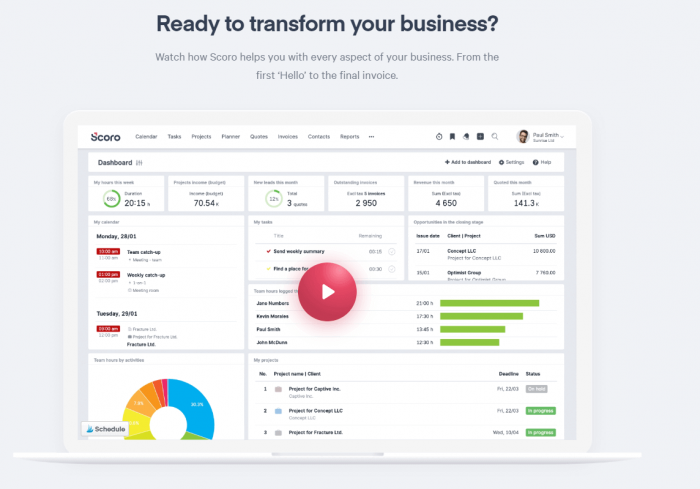 Scoro is another one of our favorite project management software. The project management solution helps businesses manage their work processes with simplified project management, budget management features, reporting, and much more.
Key Features:
Drag-and-drop Planner or Kanban task board
Shared calendars, timesheets, and a built-in time tracker.
Monitor billable and non-billable hours
Allocate resources
Track real-time progress, tasks, dependencies, events, etc.
Detailed overview of the project in one big picture
Automate routine tasks
360-degree view of customers
Simple quoting and billing
Track sales and performance
Real-time reports
Multiple integrations
Pricing:
Essential – $26 per user per month
Standard – $37 per user per month
Pro – $63 per user per month
Ultimate – Contact Scoro for custom pricing
5. Workzone

Workzone has landed on number six in our list of best PMP software free. Workzone offers a unified platform for the unification of work processes. The platform not only helps in project management but also helps in communication and coordination between team members.
Workzone is probably one of the oldest solutions, established in 2000. The tool has maintained its standing as one of the best in town with its efficient management solutions.
Key Features:
Project dashboard
To-do lists
Gantt chart
Status alerts
Project templates
Task dependencies
Project request forms
Workload reports
Time tracking
Group calendar
Document sharing
Personalization & security
API & integrations
Pricing:
Team – $24 per user per month
Professional – $34 per user per month
Enterprise – $43 per user per month
6. Trello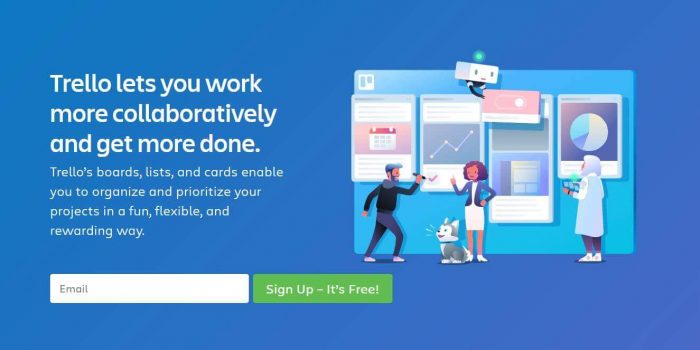 Trello is a renowned project management solution offering a horde of project management features for professionals. Trello's built-in robot, Butler simplifies project management with various automation options.
The tool has an easy-to-use interface to make it easy for you to get the most out of its features.
Key Features:
5 visualization options including, cards, lists, timeline view, calendar, and table view
Manage, track, and share Trello task cards
Automate recurring tasks
Integration with third-party apps
Reminders and notifications via email
Task organization with tags, labels, and categories
Drag and drop feature
Customizable workspace
Pricing:
Free – Free of cost
Standard – $5 per user per month
Premium – $10 per user per month
Enterprise – $17.50 per user per month
7. Basecamp

Basecamp is our next pick for the list of best project management software. The tool offers everything under the sun that you can use to optimize your project management. Basecamp helps reduce clutter by organizing everything and keeping everything in one place.
The tool makes it easy for you to access information and also, makes communication and collaboration quick and easy.
Key Features:
To-do lists
Interactive Gantt charts
Share files, images, documents, etc.
Real-time chat
Automate recurring tasks
Exclusive-Hill charts
Communication and collaboration with team members
Pricing:
Basecamp business – $99 per user per month
Basecamp personal – Free of cost
8. Zoho Projects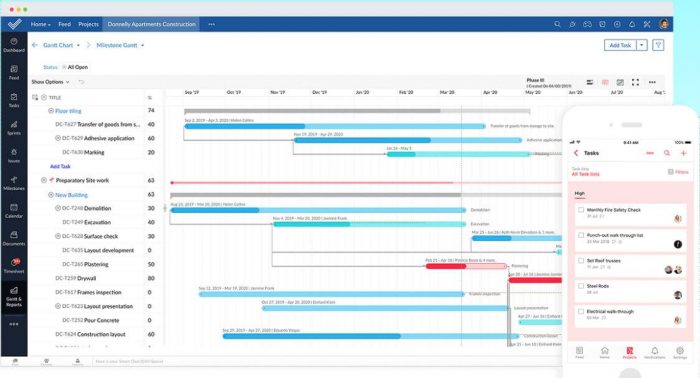 Zoho is our 8th pick for this list. Zoho Projects offers a suite of different solutions geared to help professionals in different aspects of project management. Zoho is packed with the best features helping you from the initiation of the project till the delivery of end products.
You can use the tool to efficiently plan your projects, track work efficiency, and communicate and collaborate with your team no matter when or where you are.
Key Features:
Easy-to-use interface
Integration with third-party software and Zoho apps
iOS and Android apps
Issue tracking
Team collaborations
Task dependencies
Pricing:
Free – available for free
Premium – $5 per user per month
Enterprise – $10 per user per month
9. Teamwork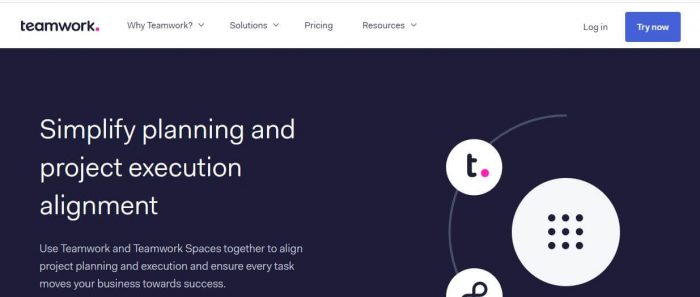 Teamwork has landed on number nine in our list, the tool is, nevertheless, a competent one. Its features are second to none. Its robust features allow you to manage everything from one unified place. Be it project management, budget management, or reporting – Teamwork is here to help you with everything.
Key Features:
Gantt chart view
Track and bill time
Collaborate with messages, chat, files, etc.
Resource management
Task list templates
Control visibility and access
Custom fields
Personalized dashboards
Filters
Pricing:
Free forever – $0
Deliver – $10 per user per month, billed annually
Grow – $18 per user per month, billed annually
Scale – Contact Teamwork for a price quote
10. Hive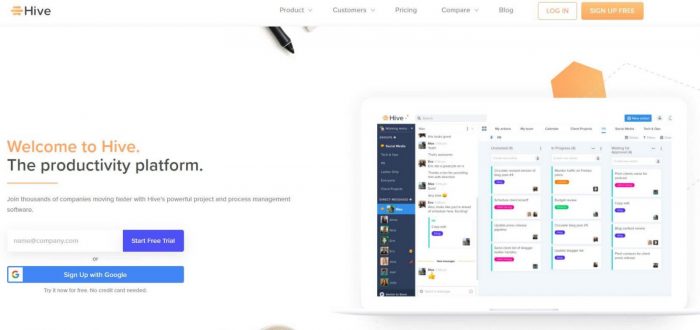 Moving on to our last pick for the list of the best software. Hive is a project management tool with which you can automate routine tasks and custom-build your workflows for increased efficiency.
Key Features:
Gant, Kanban, and calendar view
Focus mode
View all tasks assigned
Visualize the team's workload
Baselines help understand the development of a project over time
Create cards for high-priority tasks
Control access by adding members as read-only members, external members, or full-access members
Automation
Note-taking
Multiple integrations with various apps
Pricing:
Hive Solo – Free forever
Hive Team – $12 per user per month, billed annually
Hive Enterprise – Custom pricing
11. Celoxis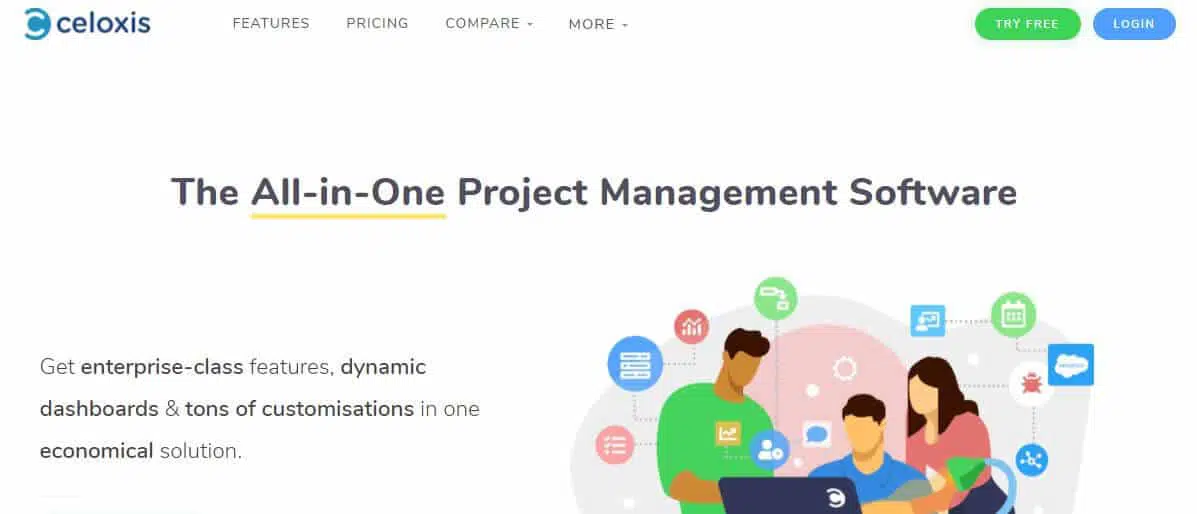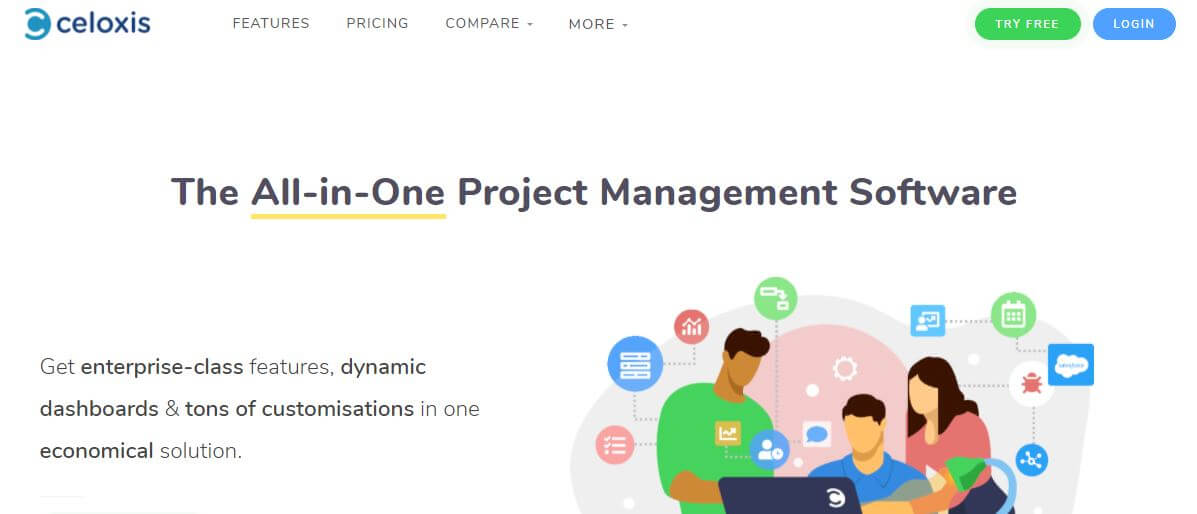 Celoxis is an award-winning all-in-one project management tool. It offers a comprehensive online project management solution for midsize to large businesses to help them plan and manage diverse project portfolios.
It has extensive collaboration features including a customizable free client portal. Its dashboards and reporting capabilities are superb and one of the best in the market. It is feature-rich, intuitive, and highly customizable.
Key Features:
Fully customizable portfolio dashboards
Easy drill down to the source of problems
Real-time reports
Time & Expense Tracking
Pricing:
Cloud – $25/user/month
On Premise – $450/user
And Scene!
There you go, this was a roundup of some of the best PMP software free in the market. We covered different key features of each tool along with their pricing plans. Almost all of the tools listed above offer free plans but with limited features. If you want to access advanced features, you will have to sign up for a priced plan.
Fortunately, almost all of these tools offer a free trial period so that you can learn to navigate through the tool and explore its various feature before formally investing in tool.
Which tool would you like to add to the list? Let us know by writing to us at info@ntaskmanager.com.
That's all from our side.
Till next time, Adios amigo!