If you are looking to charge your project management skills through, let's say, for argument's sake, the best Lucidchart alternatives you have come to the right place.
In this post, we will highlight why you may want to consider making the switch from Lucidchart as well as all the best available Lucidchart alternatives to choose from.
So, let's get right to it.
But first…
What is Lucidchart?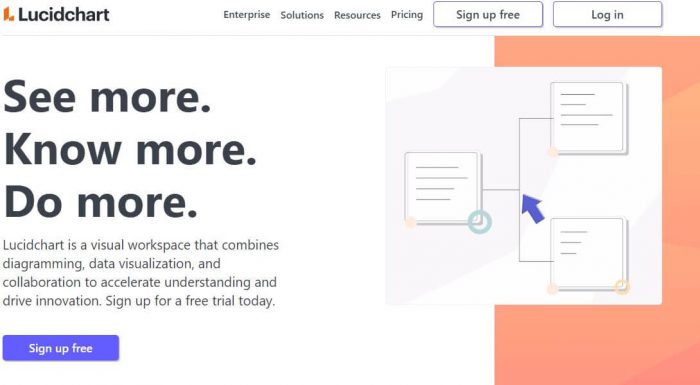 Lucidchart is a professional diagram software that provides a solution for visual communication and cross-platform collaboration.
You can create flowcharts and diagrams easily online, and integrate them with the software you are already using to streamline your processes.
Why Would You Want to Consider an Alternative for Lucidchart?
This brings us to the question, why even consider switching from Lucidchart.
While Lucidchart is a great option and preferred by many for their flowchart and diagram needs there are certain elements of the software that may not make it the best choice for everyone.
If you have been using Lucidchart you may be aware of their pricing plans. While Lucidchart offers a free plan for its users, users have found that this option can be limited and not provide everything they are looking for.
In contrast, the paid plans start from $7.95 for an individual user or $6.67 per user for a team. This could sum up to be quite expensive for some.
Moreover, the software has been seen to not work seamlessly with Microsoft Apps.
Therefore, besides the multiple things that Lucidchart has to offer, it may not be the best diagram software for you or your team.
That is why we have curated this list of the top Lucidchart alternatives that you can choose from. So, let's get to the list.
Best Lucidchart Alternatives Available
Here are the top alternatives to Lucidchart you can use today.
1. Creately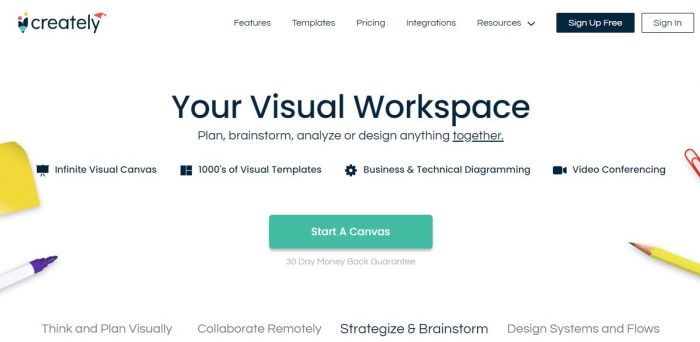 The Software Creately provides a wide variety and a huge library of design templates to choose from which makes creating diagrams and flowcharts a breeze.
Moreover, with Creately you have a roaster of drawing tools at your disposal that provide precise control to make the most professional diagrams that are sure to impress.
The software is also great if you are working with a team, it allows you to stay in sync and provides easy communication to collaborate with your team effectively.
Key Features:
Flowcharting
Organizational charting
Range of Templates to choose from
Data import and export options
Version control
Publishing and sharing abilities
Pricing:
Creately provides plans based on whether you choose to have the software on their cloud or get a desktop app
For the cloud, there is a free option available
The cloud options also offer a personal plan for $4.95/month
Or you could choose the Team plan for $18/month for three users
You could purchase the software for your personal use for $75
Or you could also purchase it for a team of three users for $225
2. Coggle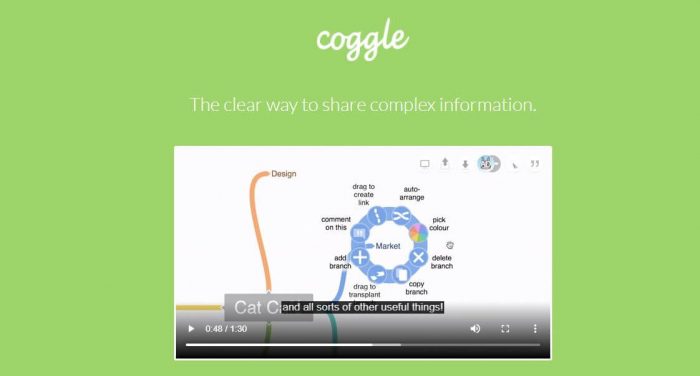 Coggle is a tool that allows you to create collaborative mind maps and flow charts. Coggle is unique in the way it gives you a better visual of your mind mapping with the way it creates branches while you brainstorm.
Coggle allows you to easily share the mind maps or flow charts you create but also allows you to invite other members to collaborate on a mind map with you.
Key Features:
Changes you make to a map shared with others will instantly show up in their browser
Unlimited image uploads
Creating flexible diagrams with loops and joining branches
You can create multiple starting points for your diagrams
Add floating texts and images to annotate your map
Pricing:
Coggle provides three pricing plans
One of the available plans for Coggle is free
You can choose the 'Awesome' plan which is $5/month
The 'Organizational' plan is for $8/month, per member
You can also choose Coggle for Enterprise, for a price quote contact the provider.
3. MindMup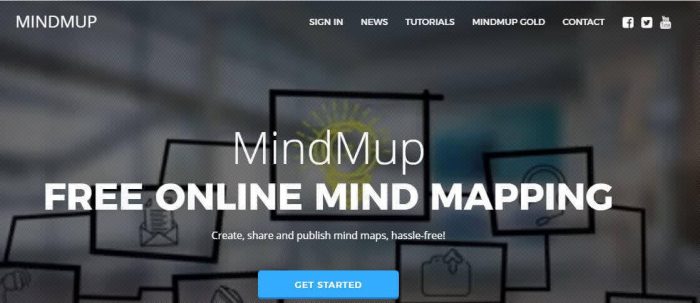 MindMup is a software that allows you to save your mind maps by storing them in the cloud. You can access them later at any time through any device.
The software has in-built keyboard shortcuts that allow you to jot down your ideas faster ensuring your ideas are not forgotten.
Moreover, the application is good for individual brainstorming, collaborations, or teamwork. You are provided the option to publish and share your maps online but also to convert your maps to other software that you choose including PDF and PowerPoint.
Key Features:
Brainstorming
Data import and export abilities
MindMup provides presentation tools
Plan your projects more easily
Pricing:
Free plan
Personal Gold plan for $2.99/month
Organizational Gold plan for $100 yearly
4. Draw.io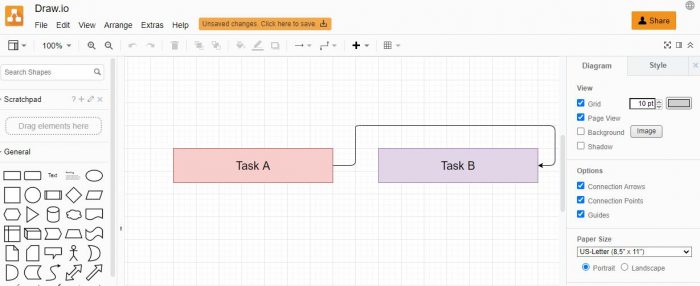 Draw.io comes packed full of features to help you create flowcharts, network diagrams, UML diagrams, ER models, Organizational charts, etc.
The app is easy to use with features that are simple to understand and a clean user interface.
Similar to Lucidchart, Draw.io has an offline mode so that your work does not get interrupted and you can get the most out of the software.
Moreover, with several integrations available, draw.io is a great choice to streamline workflow and help your team collaborate.
Key Features:
Data import and export options
Different templates available to choose from
Revision management
Text to chat
Pricing:
You have a free option available
The pricing plans for draw.io are based on the number of users
For up to 10 users $5/month
For up to 20 users $11/month
For up to 50 users $27.50/month
For other pricing, quotes check out their pricing
5. MindMeister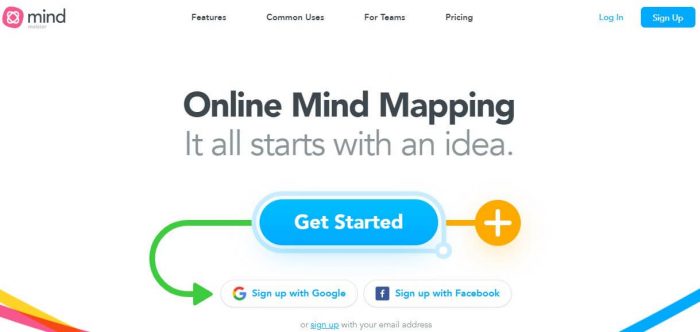 MindMeister is the next diagram software on our list. The tool has an intuitive interface which makes creating mind maps both easy and fun.
With the MindMeister tool, there are customizable features so that you can create diagrams just as you want them.
Moreover, the software is great if you are looking to collaborate with team members.
Key Features:
Web-based mind mapping solutions with 24/7 backup.
Create mind maps as a team, prioritize projects, and set due dates as deadlines come by.
Various project management functionalities, collaboration tools, integrated time stamps, and vice versa.
Different building tools for people who wish to create presentations. You can add business intelligence data in a WIP presentation to reflect accurate information in data graphs.
Embed MindMeister visuals in your webpages for online visitors.
Pricing:
You can use MindMeister's basic plan for free
The personal plan costs $2.49/month
The Pro plan costs $4.19/month
The Business plan costs $6.29/month
6. ProtoPie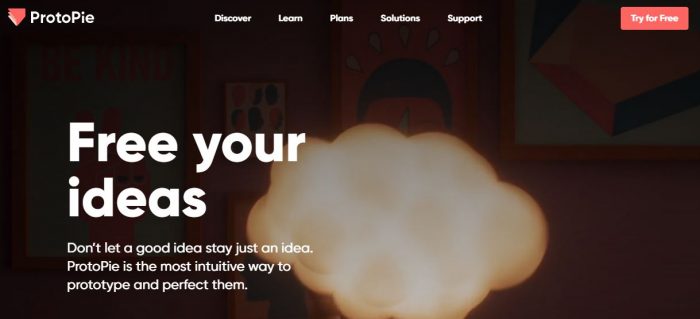 With ProtoPie's robust suite of tools, you can easily create high-quality prototypes and top-notch diagrams.
The tool is available for both iOS and Android making it a favorite among many users. It also offers integrations with the likes of Sketch, Adobe XD, and Figma which allow you to import design tools giving you the ability to make diagrams exactly like you want.
Key Features:
Collaboration tools
Version control
Software, UI, and UX prototyping
Animation features
Pricing:
Individual plan for $11/month
Team plan for $42/month
Enterprise plan, contact provider for a quote.
7. OmniGraffle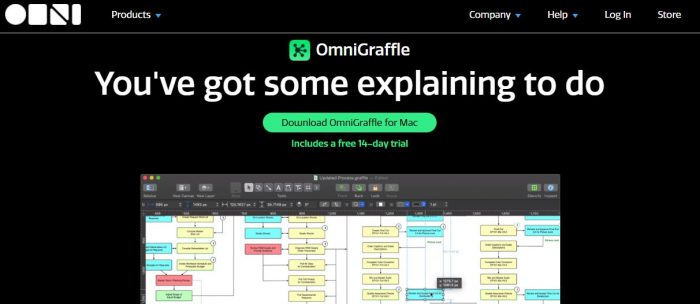 Next up on our list of possible alternatives to Lucidchart is OmniGraffle.
The tool is both versatile and effective, thus giving it space on our list of top picks.
The tool is only available for macOS and iOS but provides a load of features for these platforms.
With OmniGraffle, you have a load of templates to choose from, as well as a collection of reusable assets that can help you and your team to double their efficiency.
Key Features:
Provides the ability to collaborate with team members
Data import and export options
Variety of templates to help you get started
Organizational charting
Drag and drop functionality
Pricing:
You can purchase the tool for your iOS or Mac for $249.99
Or take up the subscription for $12.49/month
8. Microsoft Visio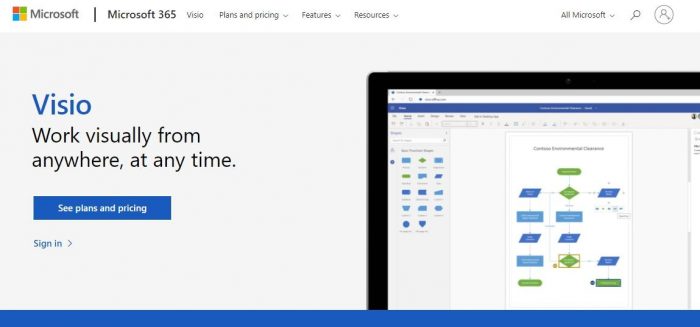 Microsoft Visio is often compared in its functionality to that of Lucidchart.
The application is a powerful diagramming tool that provides a great deal of flexibility to its users so that you can have the liberty to create diagrams you want and represent data in a vivid, visual format.
The tool is a great choice if you want to collaborate on diagrams with a team with its annotations, Skype integration, and co-authoring features.
Moreover, with Microsoft Visio, you can get to work faster with the range of templates available to choose from.
Key Features:
Real-time data integration
Easy shape customization
Collaborating features
Ability to import DWG files
Range of templates to choose from
Pricing:
You can purchase Visio standard for $280
You can purchase Visio Professional for $530
You also have the option to purchase subscriptions
Visio Plan 1 is for $5/user, per month
Visio Plan 2 is for $15/user, per month
9. Figma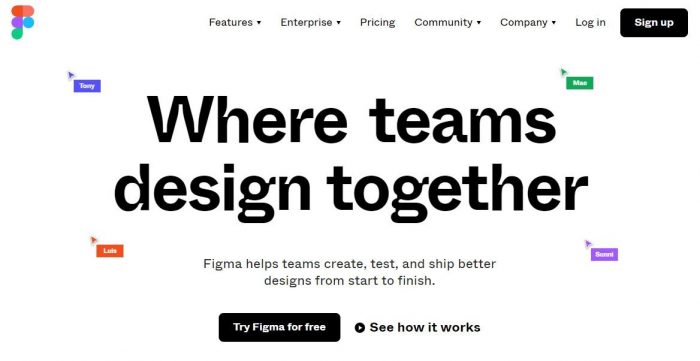 Figma is another diagramming software with an amazing user interface. It has a range of features to help with creating your diagrams while still being easy to use.
The tool is great to use if you wish to collaborate with your team. Figma provides team libraries that allow each member of your team to access files easily and contribute to them.
Key Features:
Collaboration features
Image database
Range of templates to choose from
Image editor
Version control
Usability testing
Drag and drop functionality
Pricing:
Starter plan for free
Professional plan for $12/month, per editor
Organizational plan for $45/month, per editor
10. XMind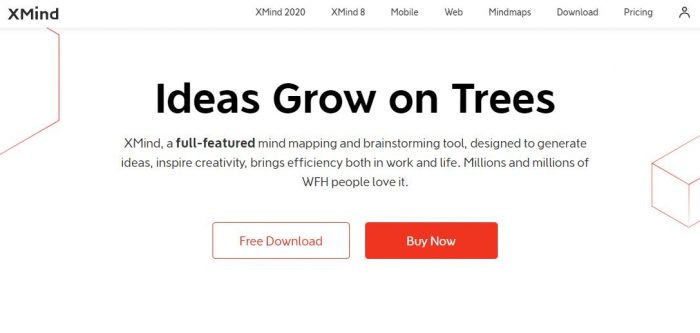 XMind is a great tool to help you create mind maps. The tool provides different templates to help create your diagrams.
The tool is great not just for mind maps, but can also create flowcharts and timelines.
Key Features:
Activity feed
Collaboration features
Status tracking ability
Workflow management
Pricing:
You can access XMind for $39.99 for 6 months
Or $59.99/year
Frequently Asked Questions
1. Can you use Lucidchart offline?
Lucidchart released a desktop application with an offline mode. This application is compatible with Chrome, Chrome OS, and OS X releasing soon.
2. Is Lucidchart owned by Google?
Lucidchart was developed by Lucid Software Inc. Lucidchart has however integrated with G Suite to help streamline your work and help you work more effectively.
3. How Much does Lucidchart cost?
Lucidchart offers a free plan, an individual plan starting at $7.95, a team plan starting at $6.67 per user, or a customizable enterprise plan.
---
Recommended Resources: