Good planning reaps good results, that's a no-brainer, but how do you plan effectively? How can you make sure your planning will bear good results? How do you organize your plans? Well, here's a little something you can do to make your planning more productive.
Get a daily planner.
You might already have a to-do list or sticky notes to keep tabs on your tasks, but daily planners are a class apart. These apps can simplify planning for you and make task management a walk in the park.
If you aim to make the most of your time and accomplish your goals on time, then getting the help of a daily planner app may be the right choice for you. The best thing about these apps is that not only do they help you with planning but also make sure that you stick to the plans.
What Is a Daily Planner App?
A daily planner app is a type of software that helps people organize their day, keep track of deadlines and appointments, and manage their time. These apps can be used on smartphones or tablets or accessed through a web browser. 
They can be as simple as a calendar with some basic features, or they may include additional tools such as task lists, reminder notifications, budgeting options, and more. The main idea behind a planner app is to give users insight into how they are spending the hours in their day so that they can better manage it for more productivity. 
This allows them to easily see what tasks need to be completed for the day and plan out how much time should be dedicated to each one. Additionally, with most planners, users can set reminders about upcoming events or commitments so that nothing slips through the cracks and everything gets done on time.
We know there are tons of options for the best daily planners and finding the right one might feel like finding a needle in the haystack. But don't worry because we have got you covered. In this article, we will go through 11 of the best daily planners. Just sit back, relax, and read through till the end. Let's go!
List of the 11 Best Daily Planners:
Let's have a look at some of the best daily planner apps you can adopt today to have a more productive week ahead.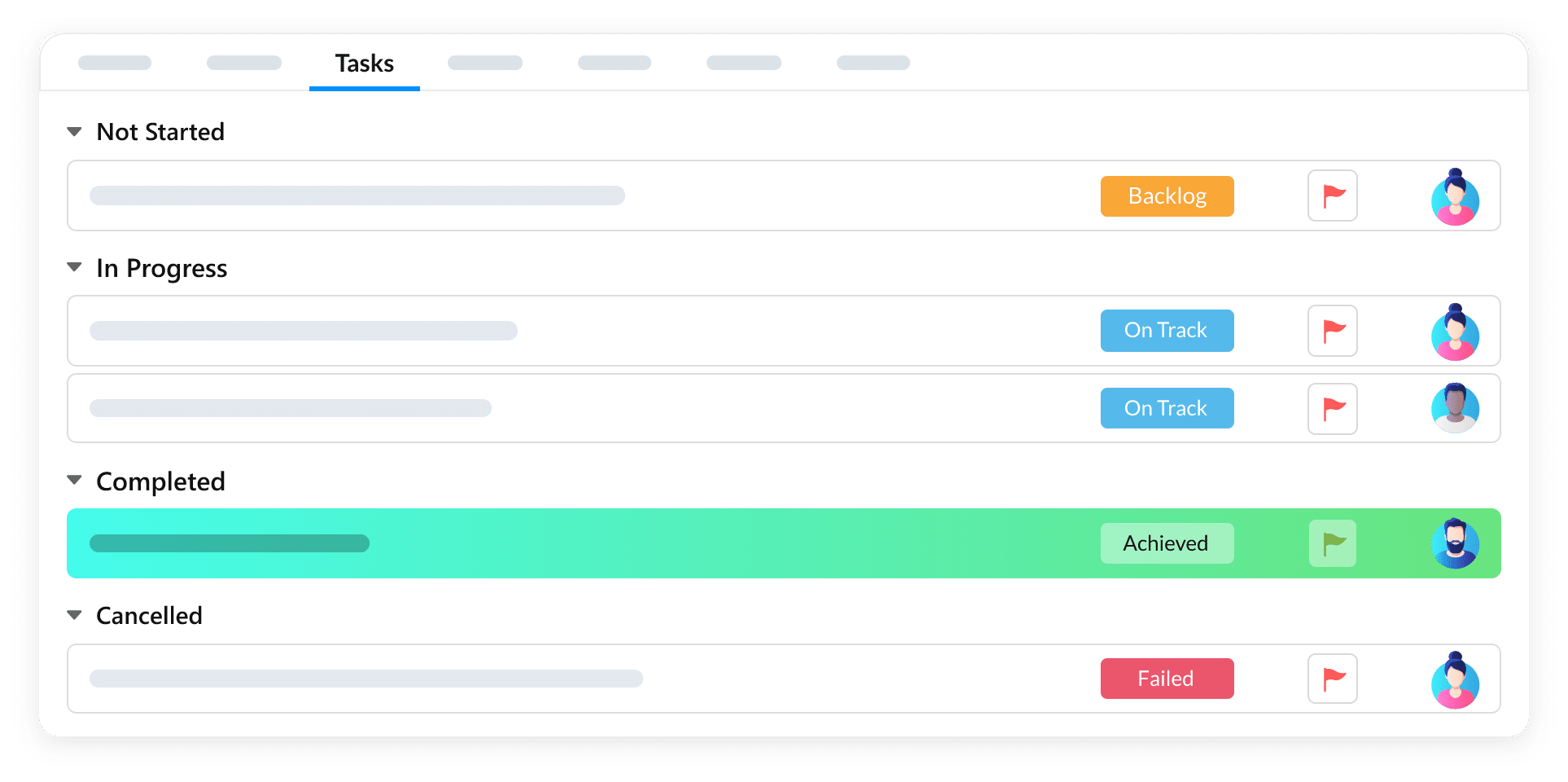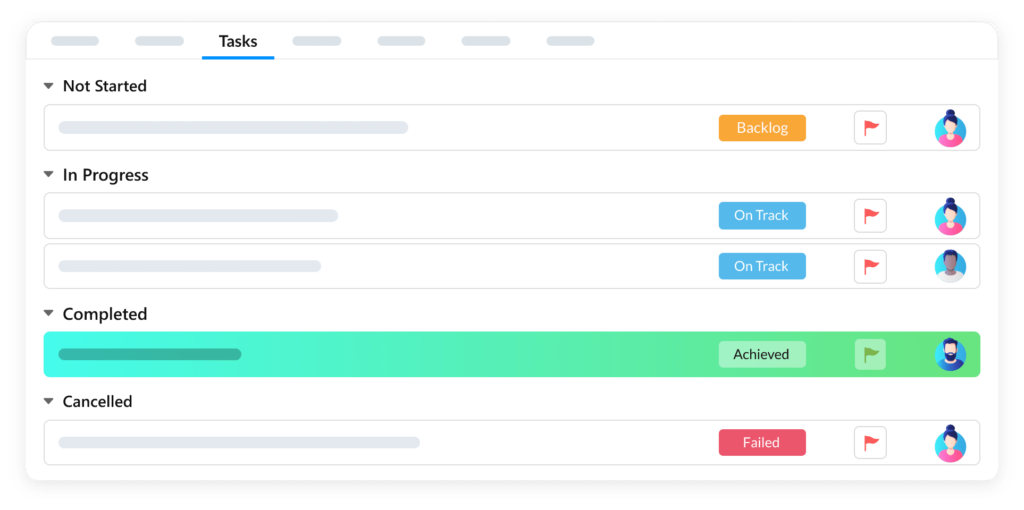 nTask is a feature-rich daily planner software that comes with comprehensive project management capabilities. This tool tops our list to help you get productive for all types of teams, either local or remote teams can use the nTask web and mobile apps to collaborate on their day-to-day activities.
The application doesn't require a long learning cycle, just signup and start your productive journey with nTask. It gives you multiple views to manage tasks in a grid, list, Kanban, Gantt, and calendar view. Moreover, you can integrate it with multiple applications you use daily to make it an all-in-one solution to avoid switching windows each time.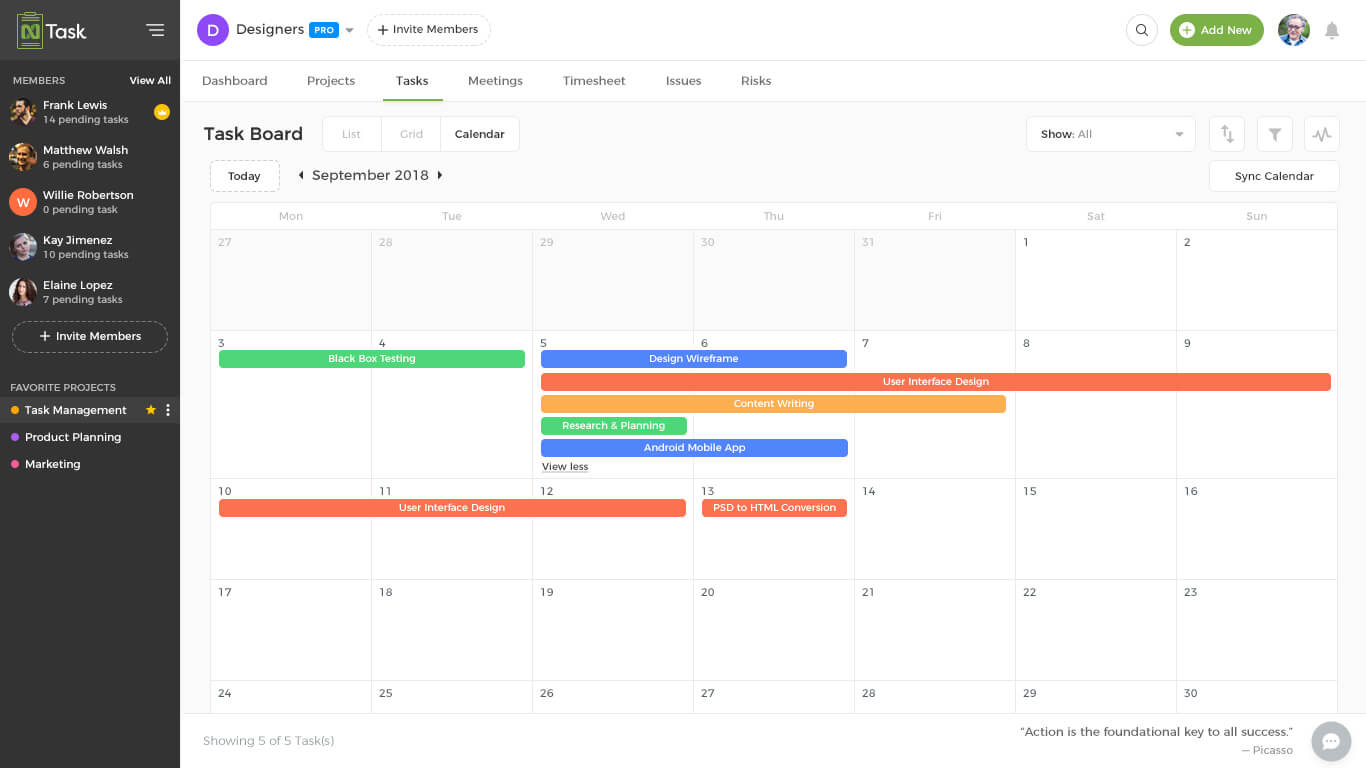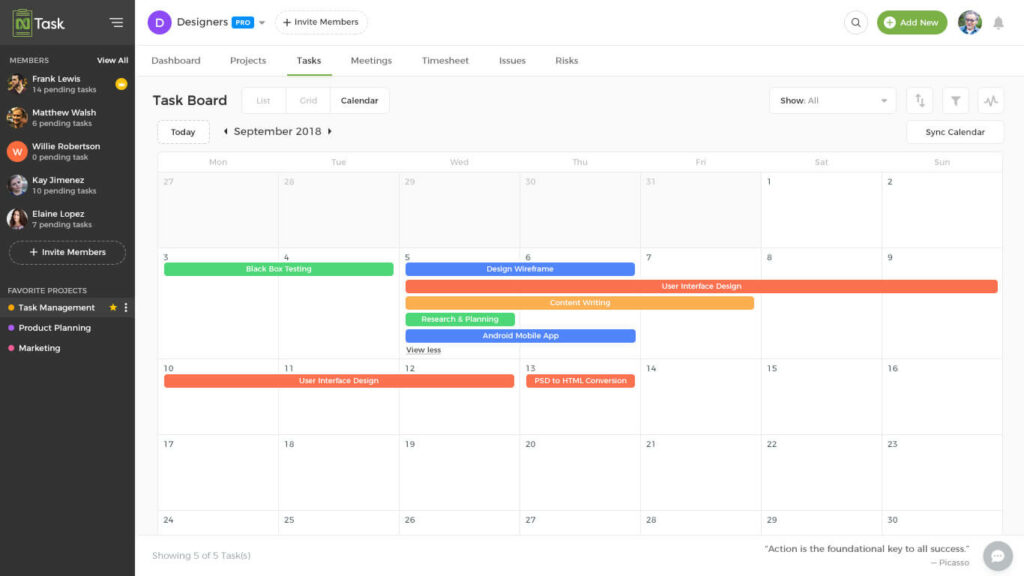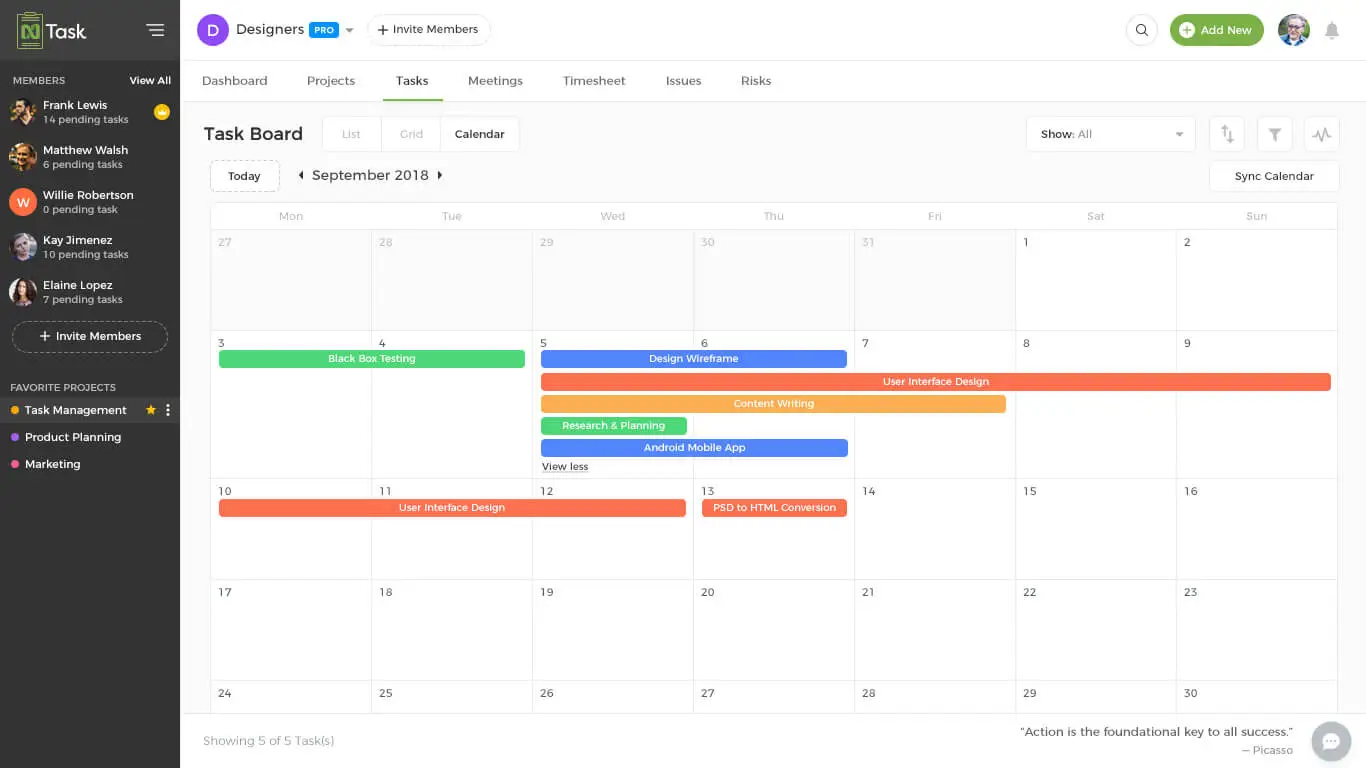 nTask is an ideal solution for personal task management by creating a separate workspace for yourself and for the teams for free. Easily create tasks, to-do lists, projects, and task boards (Kanban), visualize progress with the help of Gantt charts, manage issue logs, set meetings (with Zoom integration), keep meeting notes, and mitigate risk via the risk management module.
Key Features:
Set due dates (planned/actual) for task
Assign tasks to team members
Create and assign to-do lists to anyone
Progress tracking
Create enhanced projects
Project financial tracking
Time tracking and timesheets management
Issue tracking with logs
Risk management and risk matrix
Team collaboration with comments
File sharing, and document management
Color tags, and task filters
Custom fields
Use your workspace as a customized CRM
Integration with Zapier, MS Teams, Zoom, Google Calendar, Outlook Calendar, Slack, and more
Pricing:
Forever free plan: Up to 5 team members, unlimited tasks/to-do lists/workspaces.
Premium plan: $3 per user/month, unlimited projects, Gantt charts, Kanban Boards.
Business plan: $8 per user/month, risk management, custom fields, reporting, roles, and permission.
Enterprise plan: Custom plan available. White-labeling, dedicated support, and customized onboarding. Contact support to learn more.
2. Any.do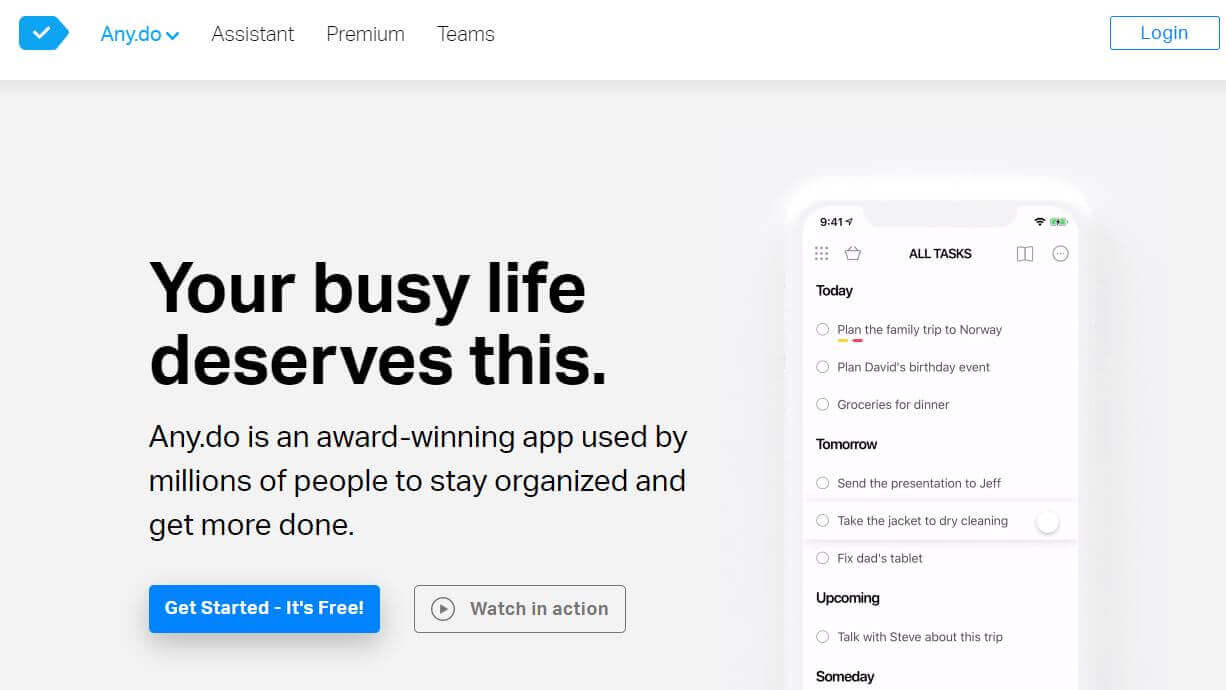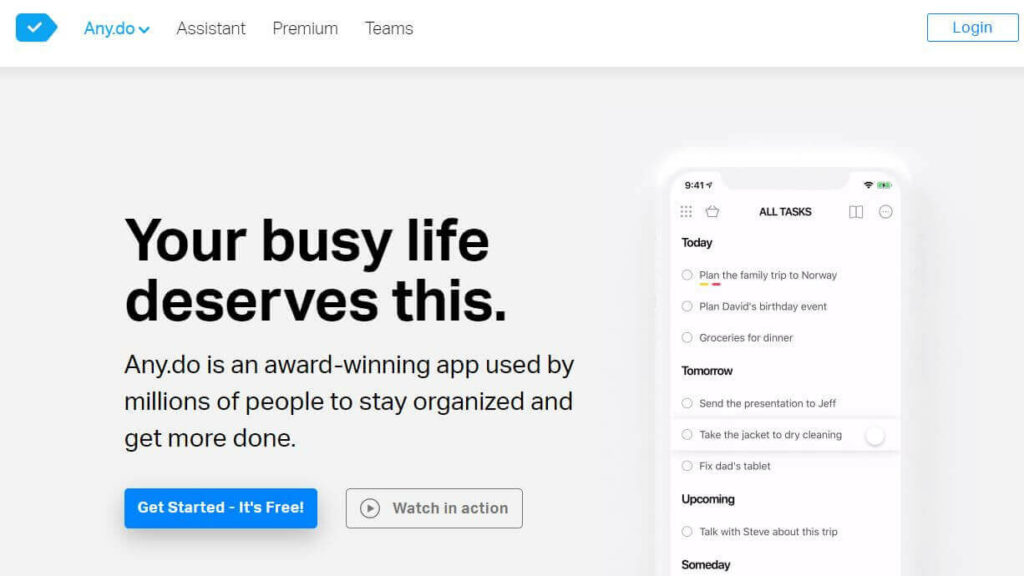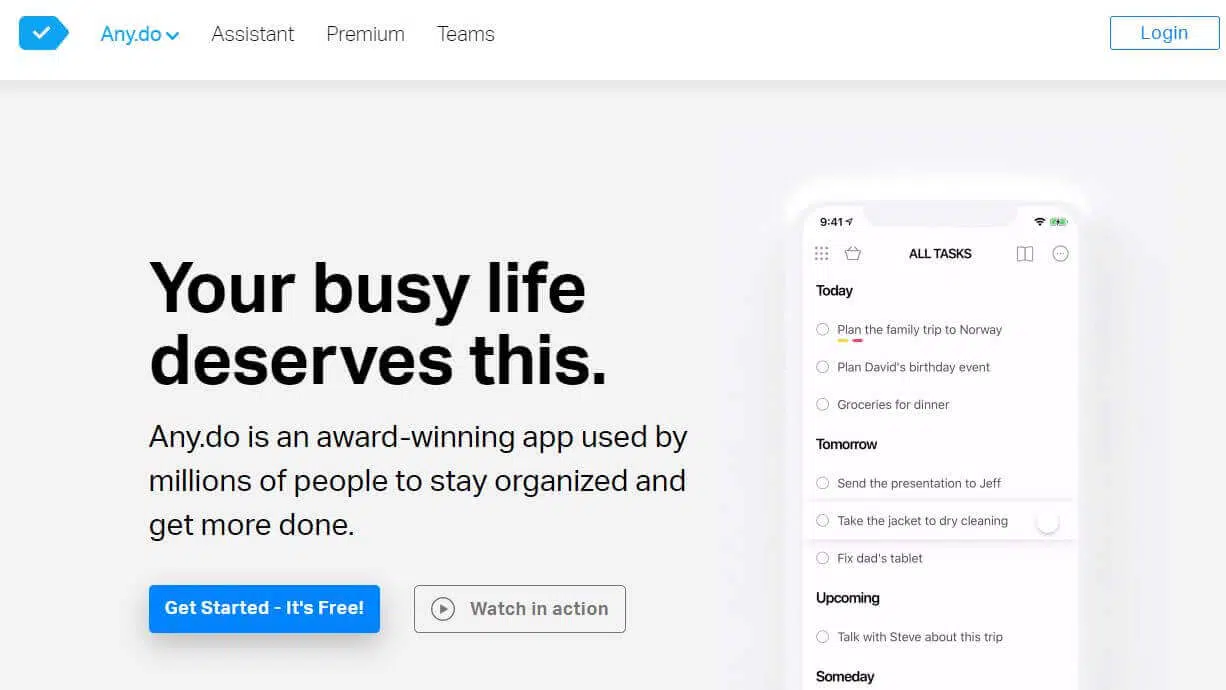 Any.do is a renowned management tool with tons of great features and a suite of advanced solutions. It ranks high in the list of best to-do list tools and is helping millions make their time more productive.
With Any.do's simple and easy-to-use interface, users can easily organize their tasks, make detailed plans and track their tasks with ease. Multiple viewing options allow users to change the way they want to see their plans.
The app is a great tool to use for personal as well as personal task management. You can sync data across all your devices and keep an eye on your plans from anywhere in the world. Moreover, with Any.do, you can share your plans with your colleagues, family, or friends.
Key Features:
Create to-do lists
Notes, subtasks, and attachments
Set due dates
Add reminders
Share to-do lists with others
Assign tasks
Track progress
Chat with others
Color tag to set priorities and organize tasks
Pricing:
Along with a free plan, Any.do offers three different pricing plans:
6 months – $4.49 per month, billed every 6 months
12 months – $2.99 per month, billed annually
1 month – $5.99 per month, billed monthly
3. ClickUp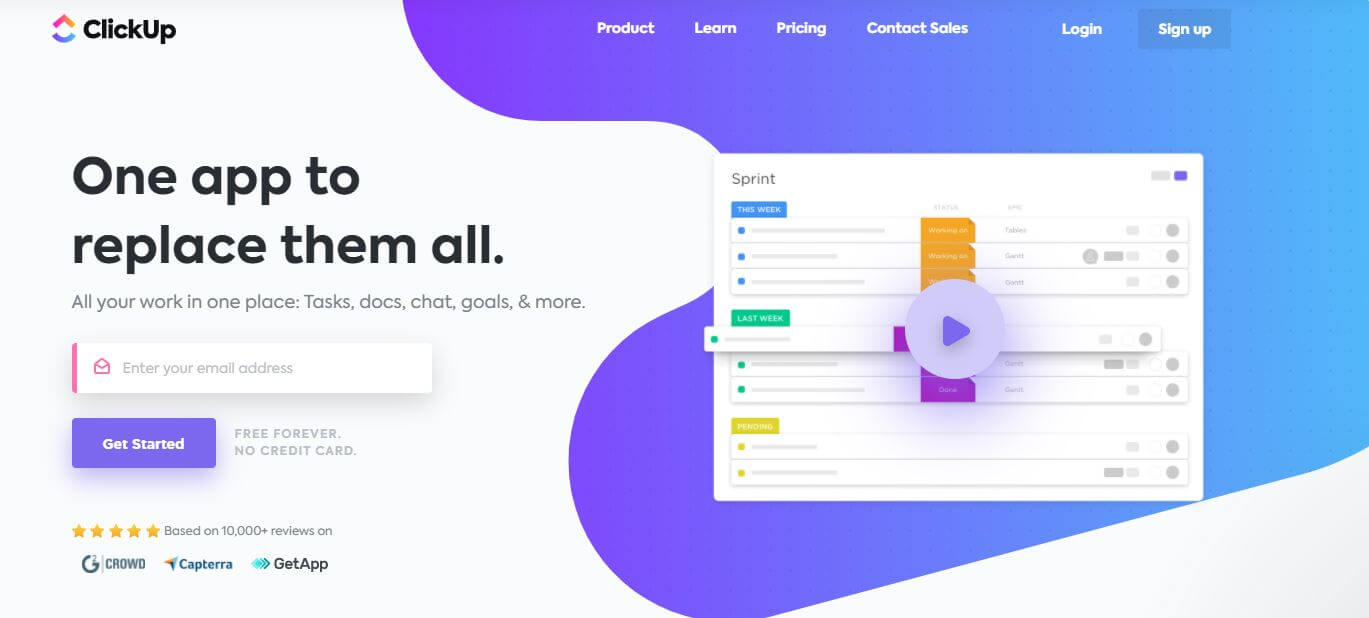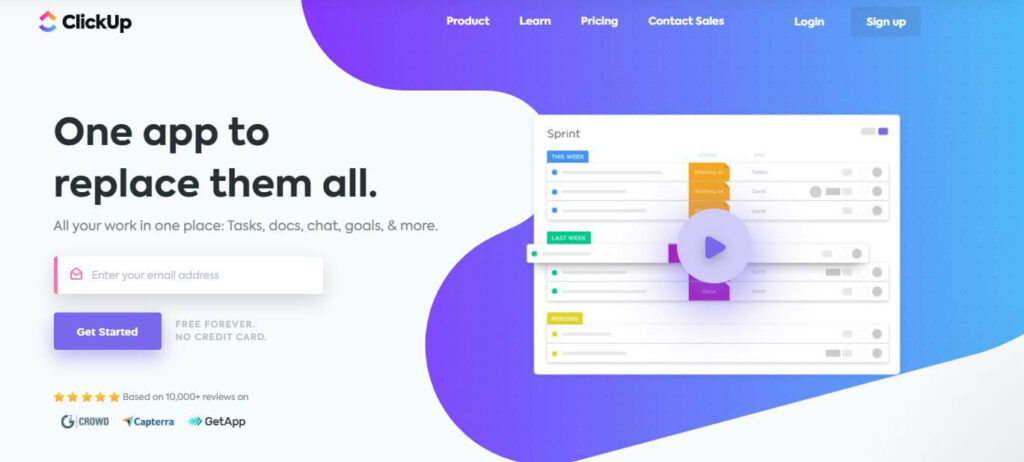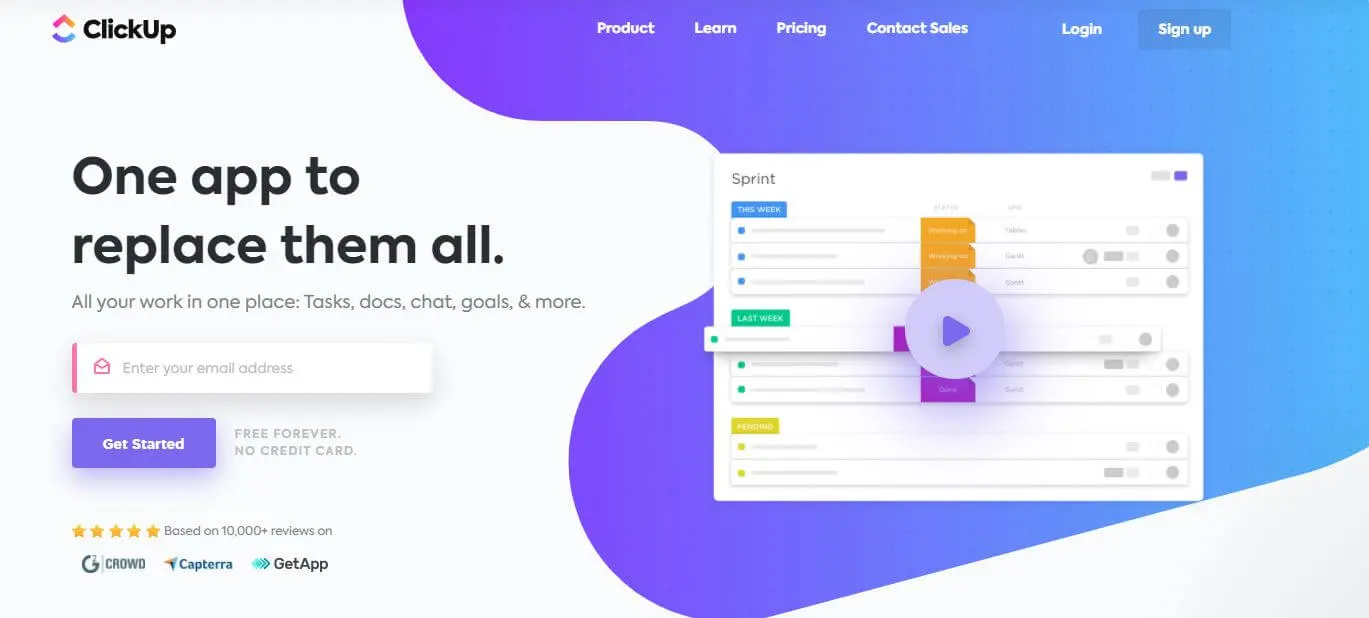 ClickUp is a feature-rich tool loved by millions of users all over the world. the tool is especially renowned for its user-friendliness and the variety of solutions it offers. The tool is loved by project managers, multinational organizations, individual users, and many more.
Its customization features and variety of viewing options make it easy to work with. You can use the app to manage your daily tasks, organize work projects, monitor progress, and much more. It's an all-in-one tool for enhancing your productivity and efficiency.
ClickUp can make task management a walk in the park for you with its advanced solutions. If you are looking for an all-rounder solution, then ClickUp is the right choice for you.
Key Features:
15+ viewing options
Customizable tasks
Subtasks and checklists
Ready-made templates
Automation
Time tracking
Integrations
Pricing:
Free forever – Available for free
Unlimited – $5 per month
Business – $12 per member per month
Business Plus – $19 per member per month
Enterprise – Custom pricing
4. Habitica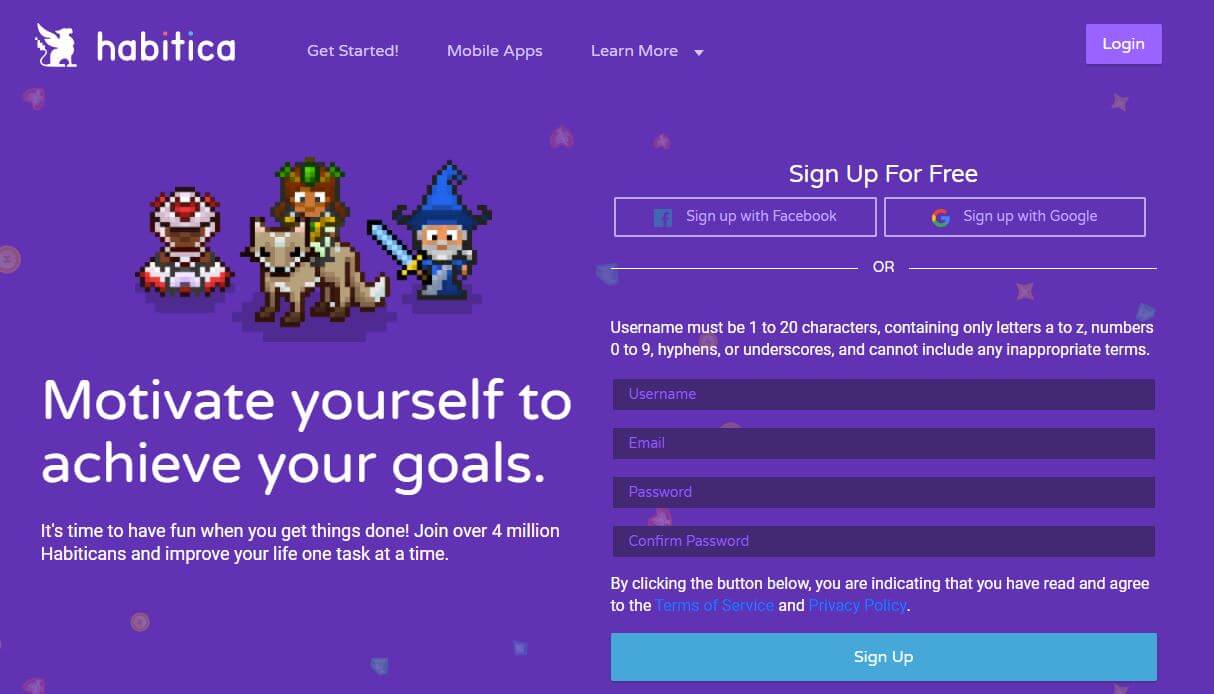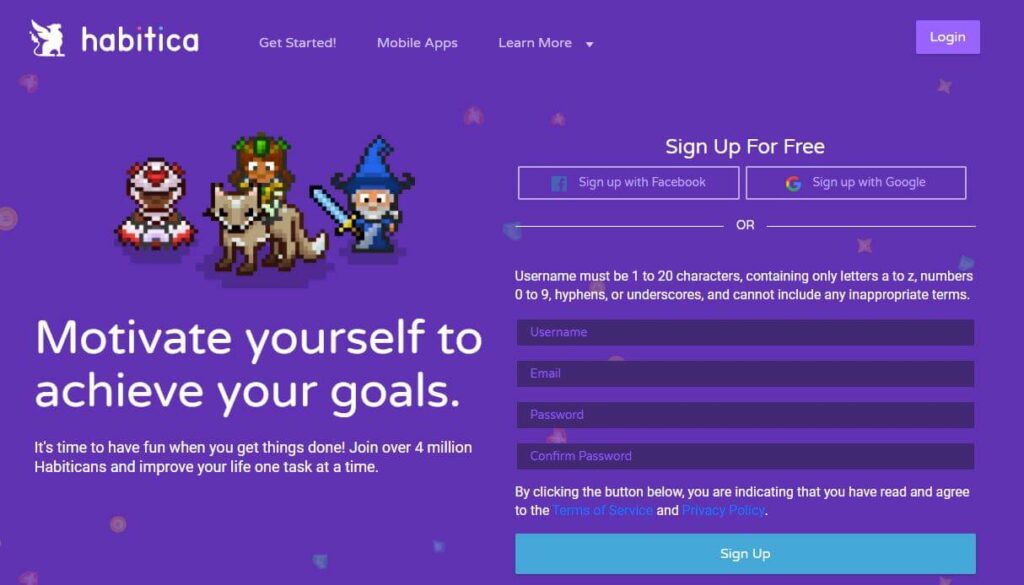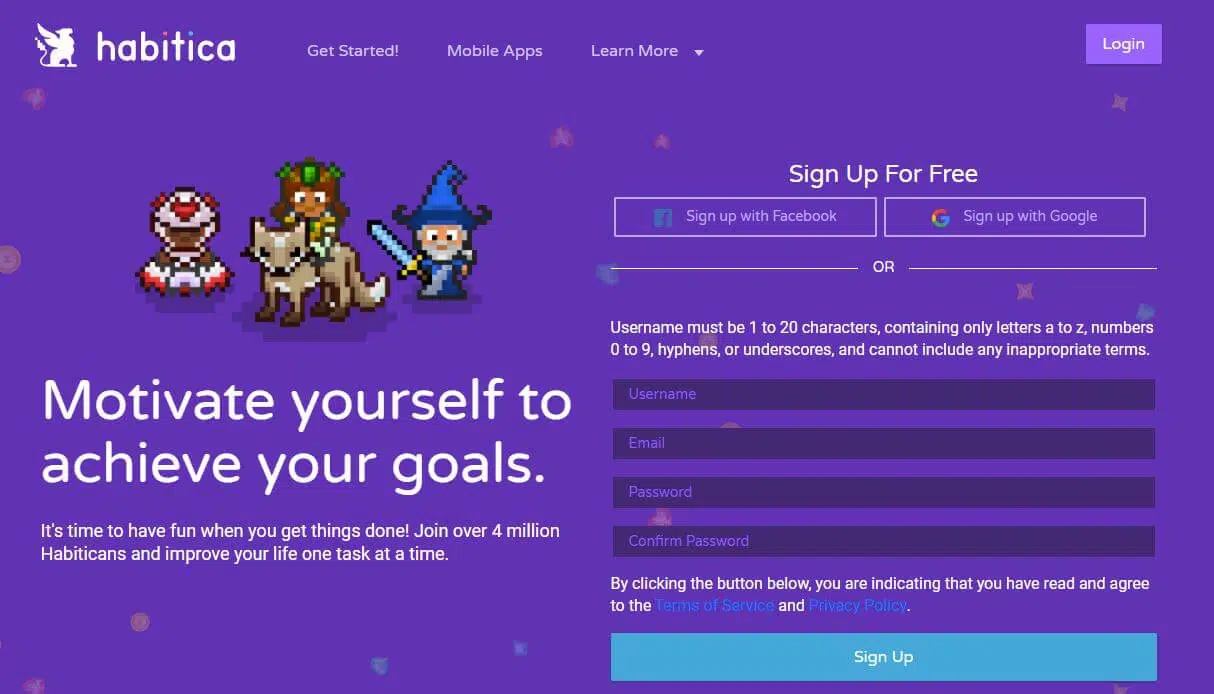 Habitica is the next tool on our list of best daily planners. The tool is a special experience for those who find it difficult to stick to their plans. It gamifies the task planning and management process, making it easier for users to stick to their plans and accomplish their goals.
If you are struggling with changing your habits and want to adopt a more productive lifestyle, then Habitica is the right choice for you. The tool encourages you with rewards and praise from the community.
Habitica motivates you to do better every time. Its elaborate social network and reward system is built to help you improve your productivity and make you more time efficient.
Key Features:
In-game rewards and punishments
Track habits, to-dos, and daily goals
Upgrade your avatar by checking off your tasks
Use the gold collected to buy in-game rewards
iOS and Android app
Engage with social community
Pricing:
5. Todoist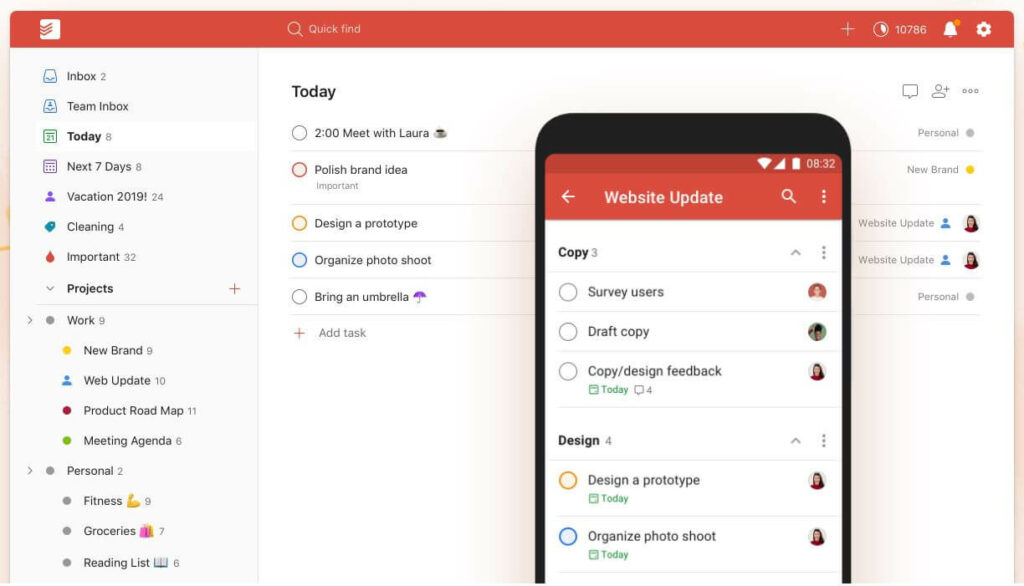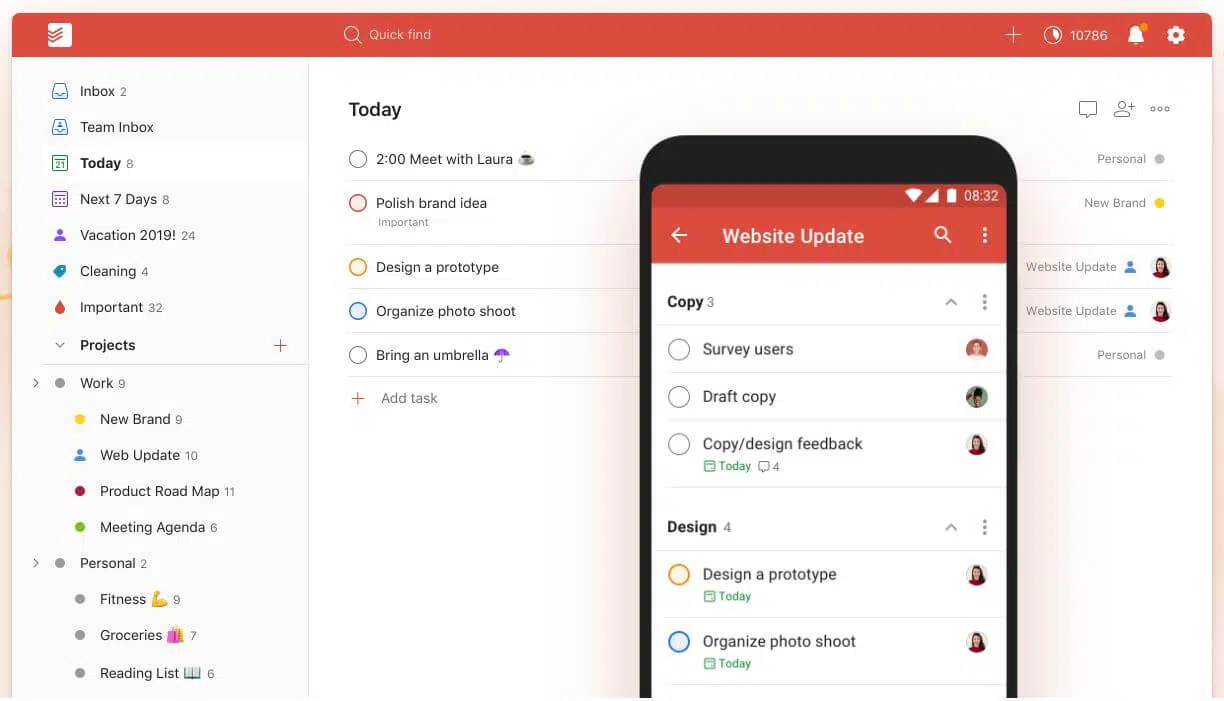 Todoist is perhaps the more efficient tool of all for daily planning and managing your to-do lists. The tool is an excellent solution for task management for it provides tons of features to make task management simpler and easier for you.
The tool is especially loved by organizations since it offers collaboration features that help teams stay connected. You can also integrate third-party apps to unify your workspace and manage everything from one shared space.
Not only does it help you plan and manage tasks but also helps monitor tasks so that you can gauge your productivity. It functions flawlessly as a team as well as an individual app.
Key Features:
Sections and subtasks
Recurring due dates
Priority levels
Reminders
Notifications
Labels and filters
Customizable themes
Productivity visualization
Pricing:
Free – Available for free
Pro – $4 per user per month
Business – $12 per user per month
6. Trello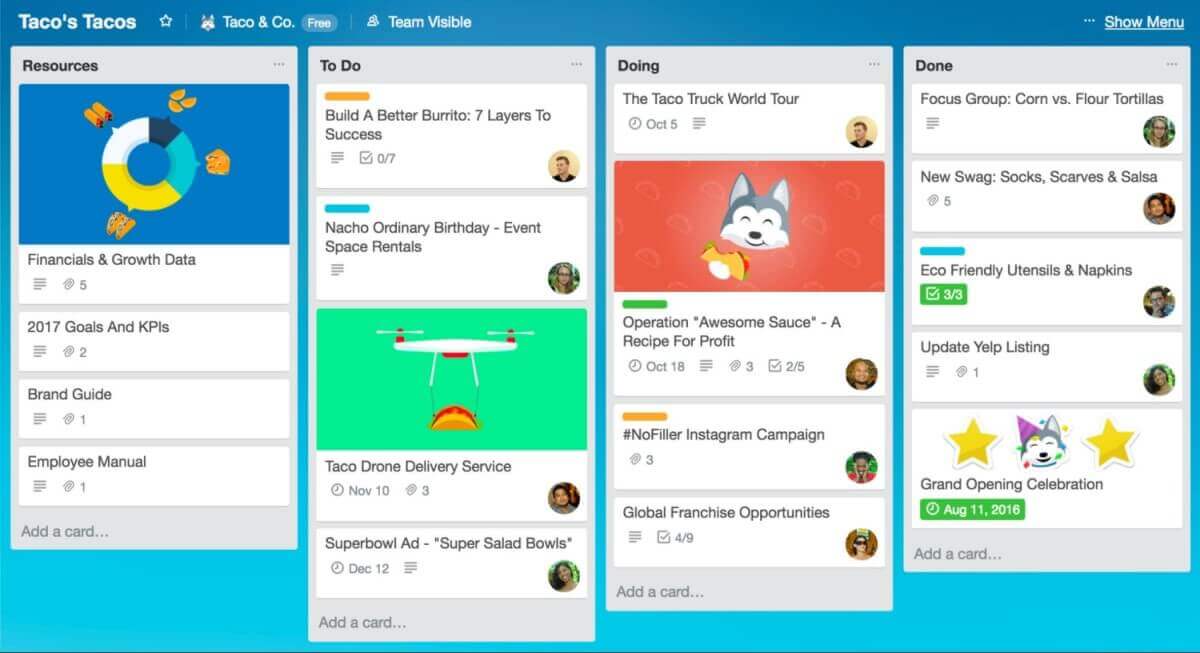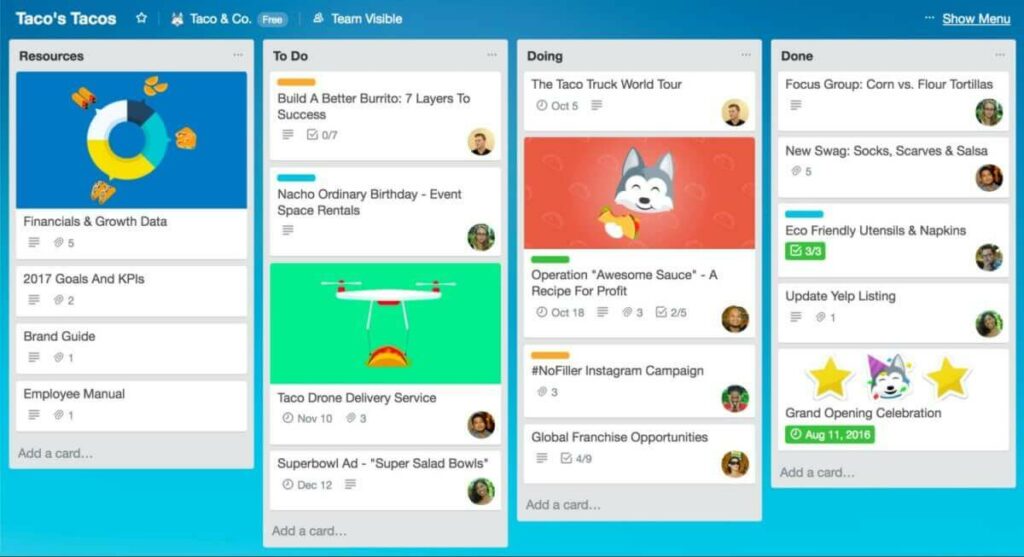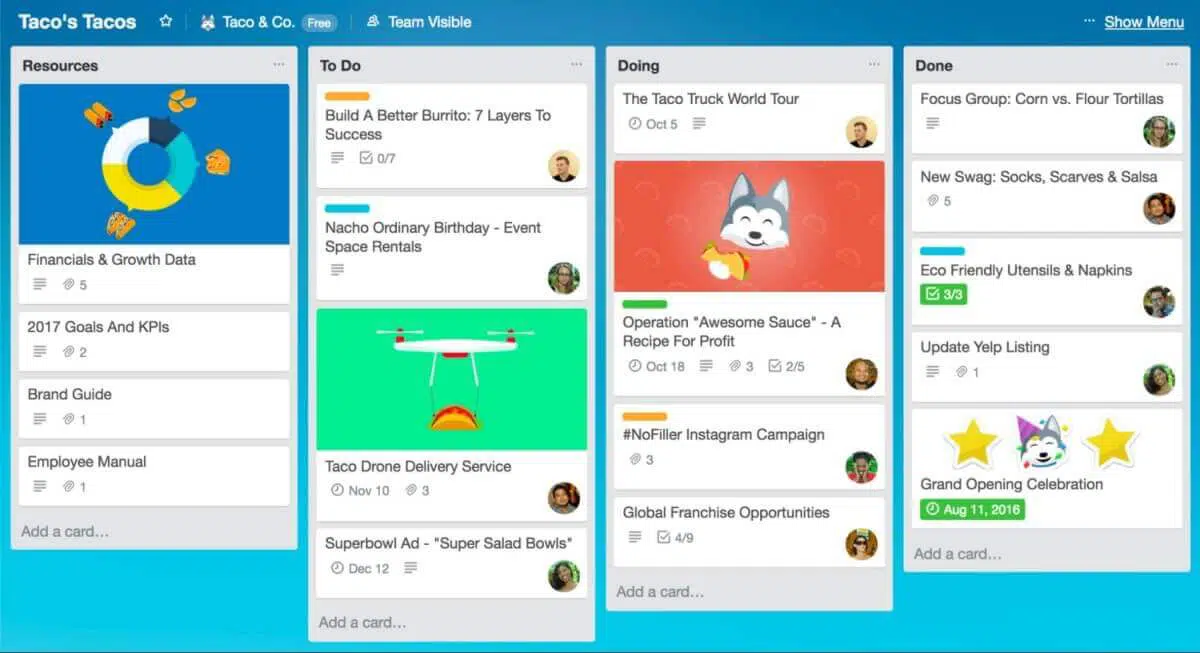 Trello is better known as a project management tool than a daily planner but that does not mean it is any less efficient than the others on this list. In fact, Trello offers tons of customizable features to help teams and individuals level up their productivity.
You can use the tool individually or collaborate with team members and manage tasks together. You can ass as many tasks as you like and measure your progress across time.
One of the best features of the tool is its Kanban boards that allow you to organize your plans and track progress. All in all, Trello is a great tool for those who wish to increase their productivity level beyond leaps and bounds.
Key Features:
Automation
Integrations
Built-in templates
Trello board
Drag and drop functionality
Sync calendar
Dashboard
Pricing:
Free – Free Forever
Standard – $5 per user per month
Premium – $10 per user per month
Enterprise – $17.50 per user per month
Related:
Slask Vs Trello 2022: Settling The Debate For Good
7. Planner Pro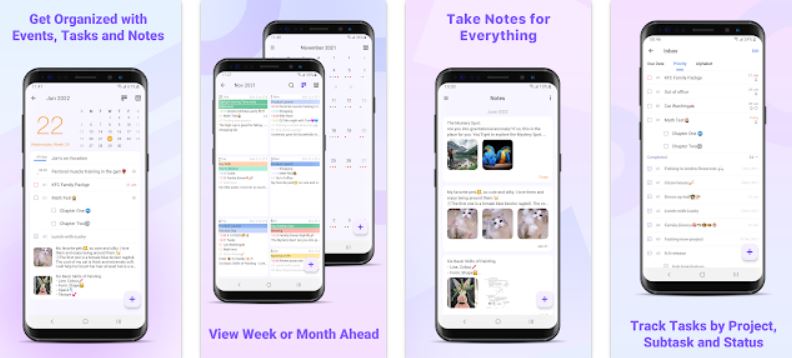 Planner Pro is the next tool on our list of best daily planners. It is a planner app loaded with tons of planning features. The app is specially designed to help users keep tabs on their tasks using their phones.
With Planner Pro on your phone, you can create and organize plans anytime, anywhere. The app offers a combination of event management, note-taking, and task management so that users can manage everything from one platform.
Overall, Planner Pro is a full-featured app that can help you plan better every day.
Key Features:
Events, tasks, and notes
Track tasks and subtasks
Task status
Sync devices
Switch between old and new styles
View plans for weeks or months ahead
Pricing:
The Planner Pro app is available for free.
8. ZenDay


ZenDay is our next pick in the list of best daily planners. If you put importance on visuals or want your apps to be visually pleasing, then ZenDay is the right choice for you. The app offers a 3D timeline of your daily tasks.
You can view one task at a time or scroll through all of your daily tasks at once. You can also color code tasks in order of priority. To make sure you complete your tasks on time, ZenDay changes the color of tasks with approaching deadlines.
ZenDay is an easy-to-use app that will help you take control of your daily plans and will certainly add to your productivity.
Key Features:
Sync multiple lists for each account
Select task lists to display
See urgent and late tasks
Color-coded tasks
Calendar sync
3D timeline
Pricing:
ZenDay app is available for free, but in-app purchases can cost between $2.99 to $19 each.
9. Notion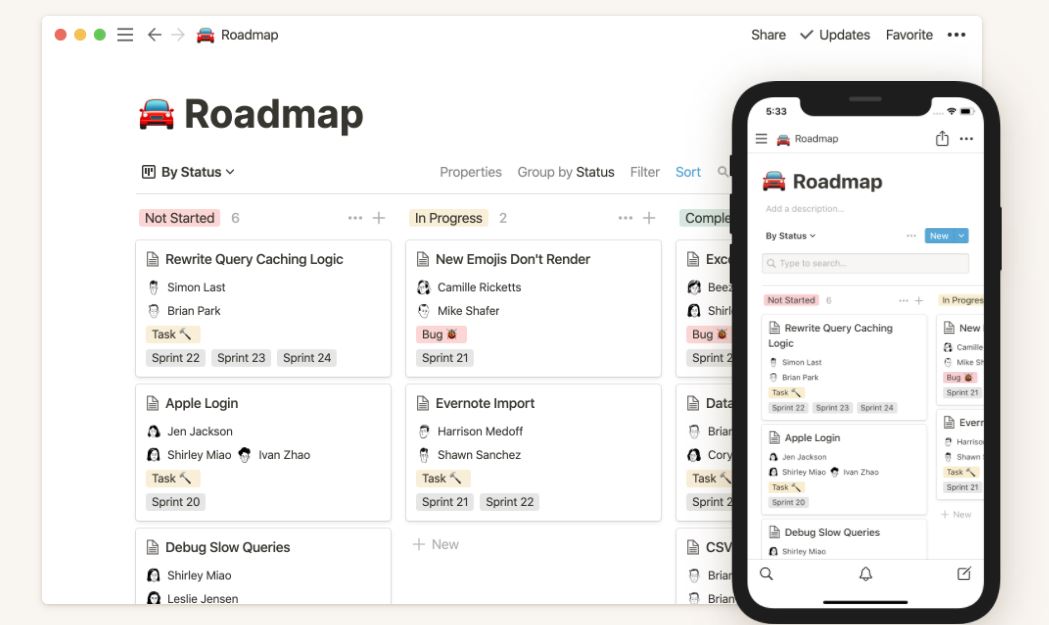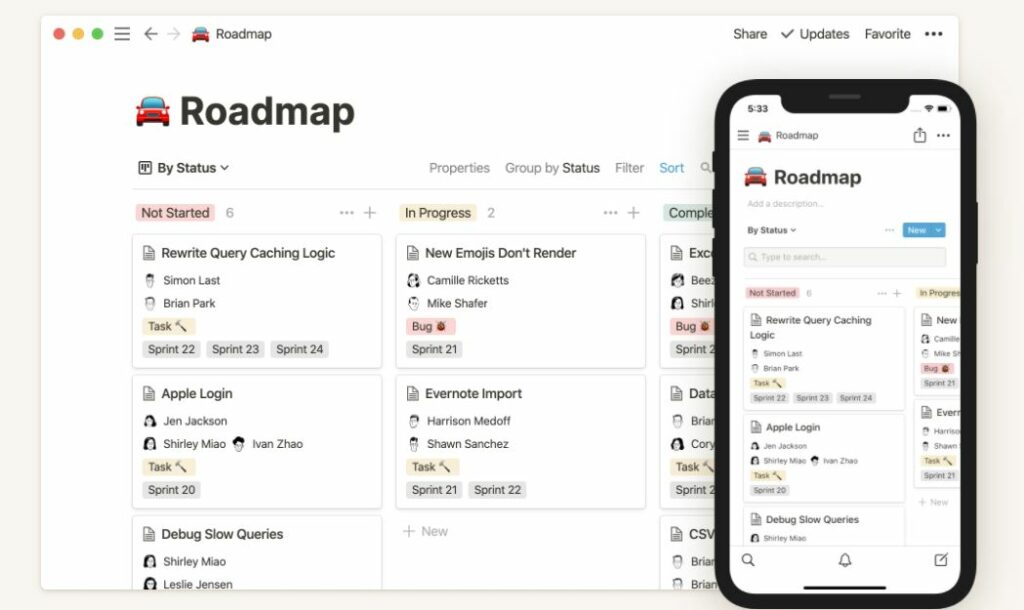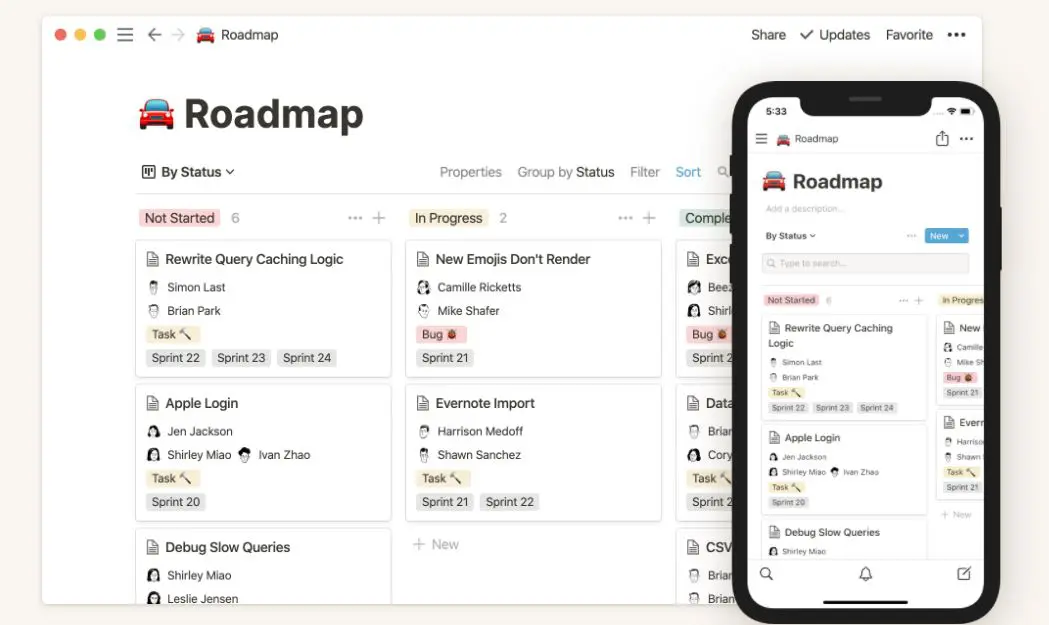 Notion is another popular tool used by teams all over the world to manage their workflows. The tool is a one-stop shop for a variety of features including task management, organization, note-taking, and much more.
To make sure you do not lose precious minutes setting up your workspace from scratch, Notion offers thousands of templates that can help you get started right away.
You can use the tool to seamlessly interact with team members, organize workflows, take notes, and much more.
Key Features:
Drag and drop functionality
Thousands of templates
Integrations
Seamless collaboration
Multiple views
Customization options
Pricing:
Personal – Free for individuals
Personal Pro – $4 per month, billed annually
Team – $7 per user per month, billed annually
Enterprise – Contact Team Notion for custom pricing packages
Also, see:
Notion Project Management Explained for Beginners
10. Google Calendar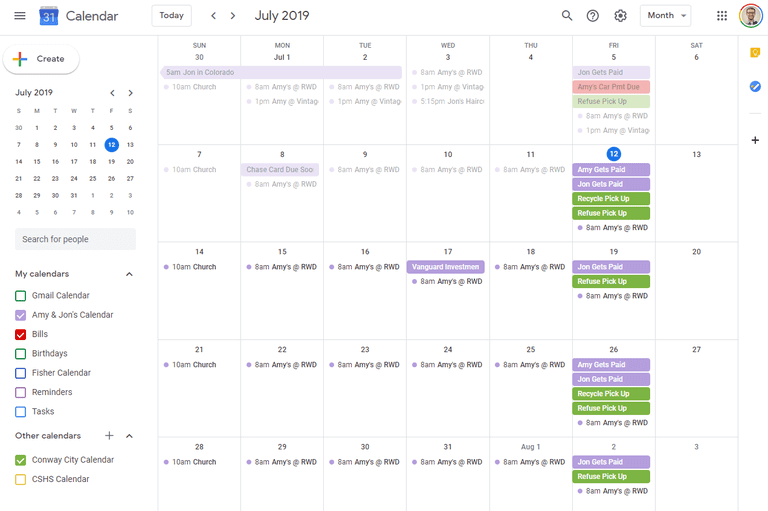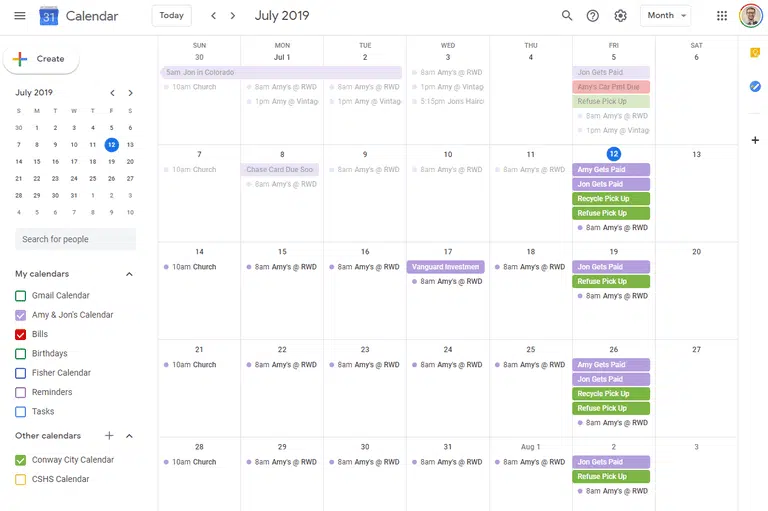 Whether it's the smallest, most insignificant query or a big, complex problem, we immediately consult google to search for the solution. In daily planning too, Google offers one of the best possible solutions in the form of Google Calendar.
If you cannot decide between different apps or are looking for a simpler solution, then Google calendar should be your first choice. The app not only helps with daily planning and scheduling but also helps you coordinate events by allowing you to share your calendar with your team members.
You can also integrate other apps with the calendar to unify the workspace and make task planning and management easier for you.
Key Features:
Easy search
Sync devices
Share calendar
Get notified of upcoming events
Schedule meetings
Change between monthly, daily, and weekly views
Pricing:
Google Calendar is available for free for normal users. For advanced features, users can sign up for a paid plan, starting at $5 per month.
11. Friday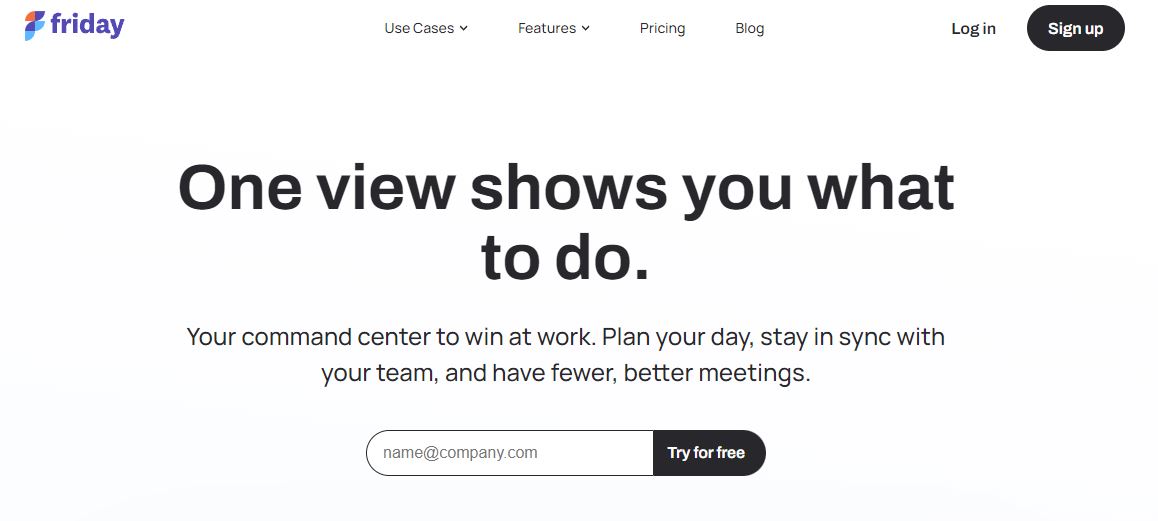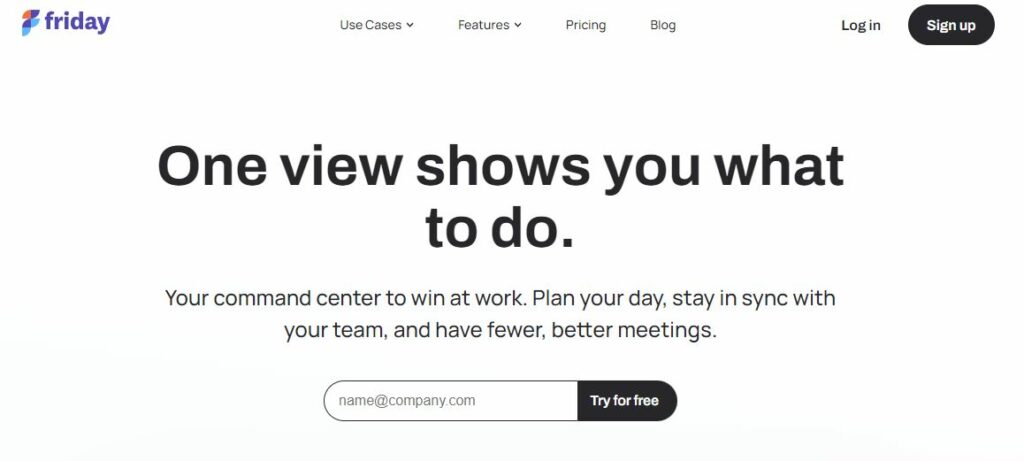 Friday is another great app designed to help you improve your productivity. Friday app is especially helpful if you find yourself unable to concentrate on tasks or have too many distractions. It blocks notifications and tracks time so that you can stay focused on the task at hand.
Friday functions as a daily planner app as well as a meeting management app since it allows you to seamlessly schedule meetings and communicates with team members.
Key Features:
Block distractions
Automatic team updates
Instant links to join video calls
Automate recurring tasks
Pricing:
Friday app offers a free version as well as priced plans starting at $4 per month.
Best to-do list planner apps with embedded calendars and timers
nTask: With its easy-to-use platform and versatile features, nTask is one of the most popular to-do list planner apps. It offers an embedded calendar feature that allows users to view their tasks in a monthly, weekly, or day view. Additionally, it has a countdown timer feature that you can use for tracking upcoming deadlines or just setting goals for yourself. 
AnyDo: If you're looking for a powerful yet simple tool to help stay organized then AnyDo may be your best bet. This comprehensive app lets you view deadlines in its built-in calendar which also includes notifications and snooze options – perfect if you need some extra time! Plus it has timers so you can keep track of how much time you spend on each task making sure you never miss your deadlines again! 
Trello: Trello is another great option when it comes to planning apps with built-in calendars and timers. It provides many different features like boards where tasks are organized by categories such as 'To do', 'In progress', 'Completed' etc., so that all information is accessible throughout the process from start to finish. 
You can even add due dates with associated colors directly into the board – something many find particularly useful as this helps create personal accountability for each task at hand! Additionally, Trello also supports Pomodoro tracking which makes it easier for users who prefer using this technique when managing their daily tasks efficiently.
Signing Off!
We just gave you a rundown of the best daily planner apps on the internet today. Which one is your favorite? Is there any app you would like to add to the list? If yes, which one? Don't forget to let us know.
That was all from our side. Signing off now.