Multiple agencies are handling a variety of different tasks on a day-to-day basis.
There are digital agencies that handle digital marketing, content creation, etc., advertising agencies that focus on marketing, PR agencies that help manage your public image, and many others.
All of these agencies have tons of things to deal with at all times. There are dedicated team members that handle every aspect of the business. From sales personnel to marketing, designing, and finance team, every step of the way is carefully planned and executed to make sure all the goals are accomplished without any hiccups.
Managing such a wide range of processes happening in the agency can be a bit tough and this is where agency tools can help you out the most. Having the right set of agency tools will empower you to complete all your tasks without any hindrance.
We have curated a list of some of the best agency tools that can help you handle different aspects of your business. Let's jump right in!
What exactly are advertising agency tools, and why are they necessary?
Agency management tools enable teams to plan and manage projects, schedule resources, track tasks, and complete projects on time and within budget. The right tools help teams plan, collaborate, and communicate more effectively in order to keep projects on track and meet deadlines. Agencies can work more productively and collaboratively in this manner, even if they are located in a remote location.
While many agencies may already use agency work management software, it is important to note that one tool may not cover all needs or solve all problems. For example, resource scheduling (creating work schedules for your team based on their availability) is still not widely used. According to a HubSpot report, while 80 percent of agencies use project management software, nearly half do not use resource scheduling or tracking utilization rates. 57 percent of team members at agencies with a dedicated resource scheduling tool believe their organization is effectively planning workload management.
Checklist for Selecting the Best Agency Management Tool:
If you're not careful, choosing the right agency management tool can be a minefield. With so many tools on the market, determining which one is the best fit for your agency's needs and budget is a difficult task!
Here are the four points to consider when looking for agency management tools for your team.
1. Convenience
This may seem obvious, but the tool must be simple to use.
If the software is overly complex and your team requires a full day of training just to understand the basics, this is a red flag. The best tools are simple to use and simple to learn, whether through a quick demo or onboarding videos.
2. Characteristics
One of the most critical aspects of selecting an agency management tool is ensuring that it is the right tool for the job. There are numerous "all-in-one" agency management solutions that claim to be the best at scheduling, project management, invoicing, and tracking progress.
3. Incorporations
If an agency management tool is to fit seamlessly into your workflows, it must be compatible with your other apps. Consider which integrations are "must-haves" and which are "nice-to-haves," as specific integrations may be a deciding factor in your agency management tool selection.
4. Costing
Finally, does the price of the tool fit within your budget?
It is critical to calculating both the cost of the tool and the amount of time you will save by using it. Check the feature list of a tool against similar tools to see if its capabilities match its asking price. Then, ensure that the tool's cost does not outweigh its value to your organization.
List Of The Best 7 Agency Tools:
We will review the top agency tools available to make your work more productive in this post.
Table of Contents
1. Best Project Management Tool – nTask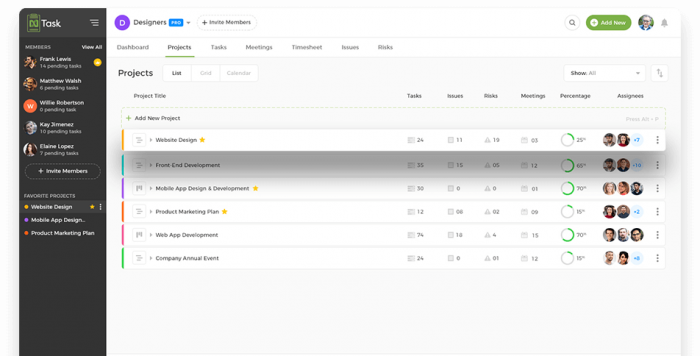 As an agency, you must have hundreds of tasks to deal with. While doing so, you also have to make sure that tasks are completed on time and the goals are accomplished. This requires the help of an efficient project management tool.
Enter nTask.
nTask is an all-in-one project management tool that can help you manage all aspects of your projects. It offers a wide range of features at incredibly low pricing plans. In addition, nTask has a user-friendly interface which makes navigating through the tool a walk in the park.
It's seven management modules can help you oversee all the processes. Not only can you keep an eye on the progress of your project but also get frequent updates, notifications, etc. That will keep you updated all day, every day.
Key Features:
Here are a few of nTask more promising features:
Helps you plan and create your workflow
You can allocate resources to different tasks
Set start and end dates as well as deadlines for each task
Set custom statuses defining the status of a task
Visualize your progress with Gantt charts and Kanban boards
Time tracking features help you keep an eye on the progress of your project
nTask mobile app is available for both Android and iOS devices
Offers multiple integrations with third-party tools
Provides foolproof security with two-factor authentication
Pricing:
Basic plan – available for free forever
Premium plan – $3 per user per month
Business plan – $8 per user per month
Enterprise plan – Custom pricing
Best Agency Management Tool, nTask

Manage tasks, issues, projects, teams and documents, all in one place. Sign up today!
2. Best SEO Tool – SEMrush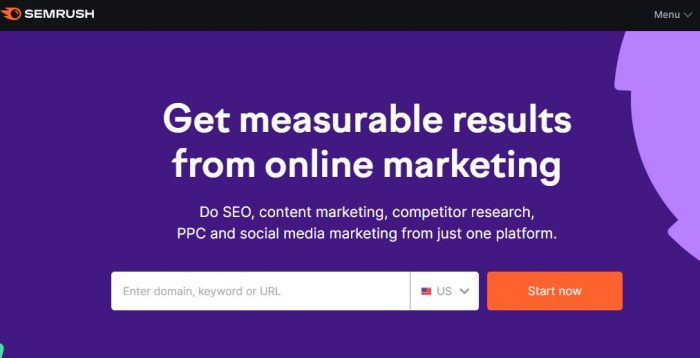 SEO is the newest trend in the business world. The growing competitiveness has pushed the boundaries of marketing and advertising to new dimensions, including search engines and this is where SEO tools for agencies come in.
Online presence and businesses' engagement are heavily reliant on SEO. In fact, according to 61% of marketeers improving SEO and developing their online presence is at the tops of their inbound marketing priority.
If you are looking for online marketing agency tools, then SEMrush is the top priority on your list. SEMrush is one of the most efficient tools for SEO. The tool can help you engage more customers by generating organic traffic and attracting backlinks.
SEMrush is widely popular among professionals since it offers insight into popular keywords, backlink opportunities, competitors' content strategies, and much more.
Key Features:
Discover the best keywords for attracting traffic
On-page SEO
Competitor analysis helps you plan more winning strategies
Helps develop more profitable content marketing strategies
Local SEO helps you optimize your content for local searches
Content marketing analytics help you analyze the loopholes in your performance so that you can improve your work
Optimize your content to generate more traffic
Pricing:
Pro – $119.95 per month
Guru – $229.95 per month
Business – $449.95 per month
3. Best Tool for Messaging – Slack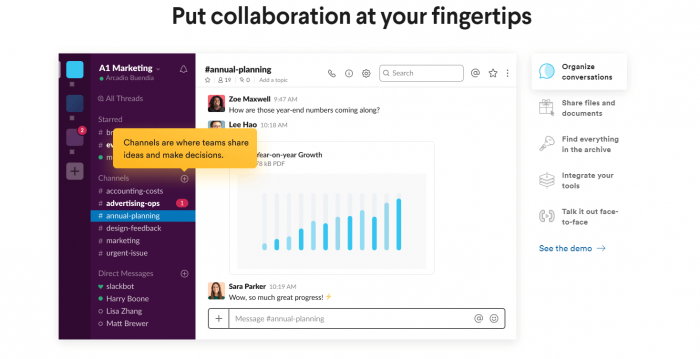 Communication and collaboration are the keys to success and the same goes for agencies. Agencies comprise different teams and team members; the successful flow of work is heavily dependent on effective communication and collaboration between team members.
You need efficient tools for an agency that can help your teammates communicate whenever wherever they are. Slack is one such tool that is popular in the business world for offering quick and easy communication. The app is used by over 12 million active users daily and the number of users continues to grow.
Slack helps smoothen communication by offering real-time video and audio calling features, chatting, direct messages, group chats, and much more.
Key Features:
Offers dedicated channels for different teams, projects, or topics
Searchable history makes it easy to retrieve information whenever you want
You can share a channel with vendors, partners, or clients to make sure that everyone is on the same page
Slack Connect lets you communicate with teams from other companies
Chat privately or in groups
Audio and video calls
Offers multiple third-party integrations
You can share documents, files, pictures, and videos from anywhere on your computer
Provides foolproof security to keep your data safe and secure
Pricing:
Free – $0 per month
Standard – $6.67 per month
Plus – $12.50 per month
Enterprise Grid – Contact Team Slack for custom pricing

Google Analytics is one of the most powerful web agency tools when it comes to analyzing data. The reports obtained from Google Analytics can help you identify the latest trends in the market as well as ways of enhancing engagement. This, in turn, can help you improve your performance and scale up your business.
The tool allows you to measure:
Website traffic
Visitor demographics
Impact of social media on traffic
Conversion rates
Pageviews
Bouncer rate
Percentage of new sessions
Goal completions
Average session duration, etc.
Key Features:
Visualization and monitoring tools that allow you to see the changes in the data over time
Offers powerful data filtering
Its predictive analytics can help you identify the future trends
Offers integration with various other tools
You can share the data via emails
Audience reports give you an insight into the demographics and geo-location of your targeted users
Custom reports help you generate reports the way you want
Pricing:
Google Analytics is available for free for small and medium-sized businesses but if you are looking for advanced features, you will have to sign up for Google Analytics Premium that costs about $12,500 per month.
5. Best Creative Tools – Canva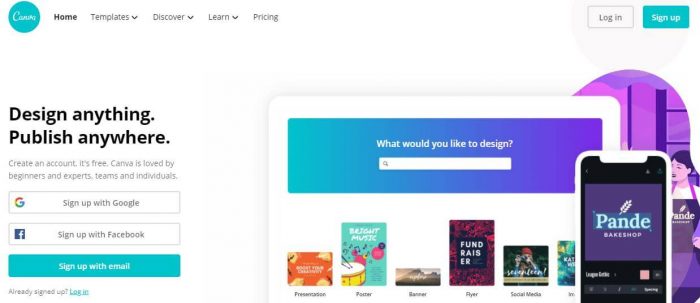 As an all-rounder agency, you might sometimes have to leverage creative web agency tools to design attractive web pages, presentations, etc.
Canva can help you with all its creative features that allow you to create something unique and attractive from scratch. The suite of features can help you design anything for your business.
Key Features:
Lets you import PDFs and edit them directly
You can create presentations and run live sessions with Canva Live
Text animations make your text more colorful and fun
Curve your text to give it a unique look
You can create designs for social media, professional use, and much more
Offers drag-and-drop functionality to make designing a piece of cake for you
Offers thousands of templates so that you can get started immediately
Pricing:
Free – Available for free
Pro – $119.99 per year for up to 5 people
Enterprise – Contact Canva for custom pricing
6. Best Time Management Tool – Time Doctor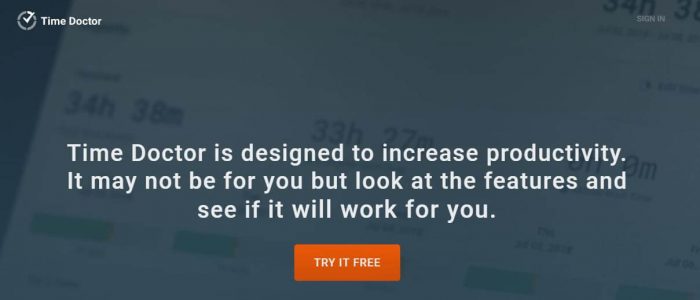 Time management is no secret in the business world. Accomplishing your tasks on time is the hallmark of success. The completion of your goals is only possible if all the tasks are completed on time. Time management tools can come in handy if you want to keep an eye on your time and how it is spent.
Time Doctor is one of the best time tracking software in the game. It has retained the top position on the time management tools list due to advanced tracking features and a user-friendly interface.
Time Doctor helps you keep track of the time spent on a different task, takes screenshots, and keeps a record of the applications and websites accessed by team members.
Key Features:
Takes automated screenshots that can keep you updated on the activity of employees. You can set custom time intervals to specify the time at which screenshots are taken.
You can give access to your client so that they can view screenshots and time tracking reports.
Time Doctor generates detailed reports that provide an insight into the working of your employee. These reports highlight hours, websites and application usage, task, and client breakdowns, and more.
You can also view the time spent by an employee on different websites and apps.
Time Doctor app is available on Android, Windows, Mac, Linux, etc.
Integrates with multiple tools to keep your work organized
Sends alerts to employees when they are sitting idle for too long.
Track breaks and time spent away from the computer.
Pricing:
Basic – $6 per user per month
Standard – $9 per user per month
Premium – $17 per user per month
Enterprise – Contact team Time Doctor for custom pricing
7. Best Marketing Tool – HubSpot

Coming to marketing tools, HubSpot is your best shot. HubSpot is one of the best, all-in-one online marketing agency tools that can make marketing a breeze for you. Its variety of different features are a cherry on top.
The tool can help you with marketing, sales, and service. It offers an eagle-eye view of your project via an easy-to-understand dashboard. Its reports help you analyze your team's productivity. With the data obtained, you can work on your weaknesses and improve your performance for the future.
Key Features:
Its marketing hub helps you attract a targeted audience and convert more visitors into customers.
You can also run complete inbound marketing campaigns to attract more traffic
Operations software helps you sync customers' data and also automates business processes.
Sales software focuses on helping you improve sales and hence profits
Customer services software strengthens customer relationships with flexible customer support and quick and easy onboarding.
Manage your content with HubSpot's content management software
Pricing:
HubSpot offers free and priced plans. The price plans differ based on different modules. You can visit HubSpot's official website to have an in-depth look at its pricing plans.
Conclusion:
That's all from our side. Which of these web agency tools do you think is the most important for your agency? Are you using any of the above-mentioned tools? Let us know by writing to us at fwilson@ntaskmanager.com.
Goodbye!