Managing your inventory can be tricky and troublesome. Every business needs the best and easiest ways to track inventory. It is indeed a crucial process and a minor mistake can cause a lot of dollars to the company.
Thus, over the years, businesses have started shifting towards inventory management software to handle their processes with much more flexibility and agility.
In this blog, we've also covered the 13 easy ways to track your inventory with the nTask. The best part is that you don't have to be a tech-savvy person to do it. All you need is a laptop and good Wi-Fi access and you're set to go.
So, let's start by looking at what inventory management is and why do we need it first. Moreover, we'll see the differences between manual and computerized inventory management also.
So, let's begin!
What is inventory management?
Inventory involves all the goods or materials kept in storage for future selling. Thus, inventory management is the process of organizing, managing, and keeping records of those goods to have better visibility. Also, to track the future demands better. When customer demands exceed more than what we can produce, there is always a great loss to the company. Therefore, it is pivotal to have an effective inventory management system in place.
Why do we need inventory management?
Inventory management helps to cut down any errors in calculating the number of goods left and the production capacity of the company. Thus, it is beneficial to have an accurate idea of the selling capacity of the company.
Manual vs computerized inventory management
Back then, companies used to manage their inventories manually. Even though it is a cost-efficient method but for companies with a bulk of stocks, it is hard to manage all that manually. For manual inventory management, card systems, pen and paper methods, or spreadsheets used to be it. However, maintaining long spreadsheets or counting numbers manually can lead to higher chances of errors.
Thus, a computerized system of inventory barged in. This system helped the companies to automate their inventory management processes and maintain better records. Now, one way or another we all must have heard some of the computerized ways to manage inventory. These include:
1. Barcodes
We are all aware of the term barcodes. Well, barcodes are the most effective method for tracking inventory. It is a specific number written on each product packing, once you scan it you get all the information related to that item. It is vital to keep information track of the outgoing information of the stock as well as to have updates on the stock levels.
2. RFID
RFID stands for Radio Frequency Identification. These tags are similar to barcodes but more like an advanced version of them. In RFID radio frequency technology is used and stored on a chip which can be written over and modified as well.
RFID is mostly used in the shipping and logistics industry and is more reliable than barcodes for rough handling. It's a popular form of technology in the market right now.
3. Inventory Management System
Now, this is where the technology kicks in!
You'll forget about spreadsheets and card systems once you get used to an inventory management system. It is software that helps you manage all aspects of your inventory in a computerized and automated way.
Therefore, you can keep a constant track of all your inventory from the ease of your computer screens. The software will not only provide you with accurate calculations but also real-time notifications each time a stock comes in or leaves the warehouse.
Thus, in this article, we'll see some awesome ways to track inventory with simple project management software. Sounds interesting, right?
Well, then wait till you read it.
nTask is an all-in-one project management software to handle all your business operations. Not only does it help to provide effective features to manage and streamline your projects but you can also customize it to suit any aspect of your business. In our case, it's going to inventory management.
So, let's begin!
13 ingenious ways to track inventory with nTask
With nTask you can manage all aspects of your inventory like you've never done before. Whether it's budgeting, product information, or sharing documents, you can do it all on one single platform.
Don't worry, because we're going to share a step-by-step procedure on 13 ways to track your inventory with the nTask.
Step 1: Create a separate Workspace
Go to the board's option on your top bar and choose the "Create New Board" under the name Inventory Management or however you want to go about it.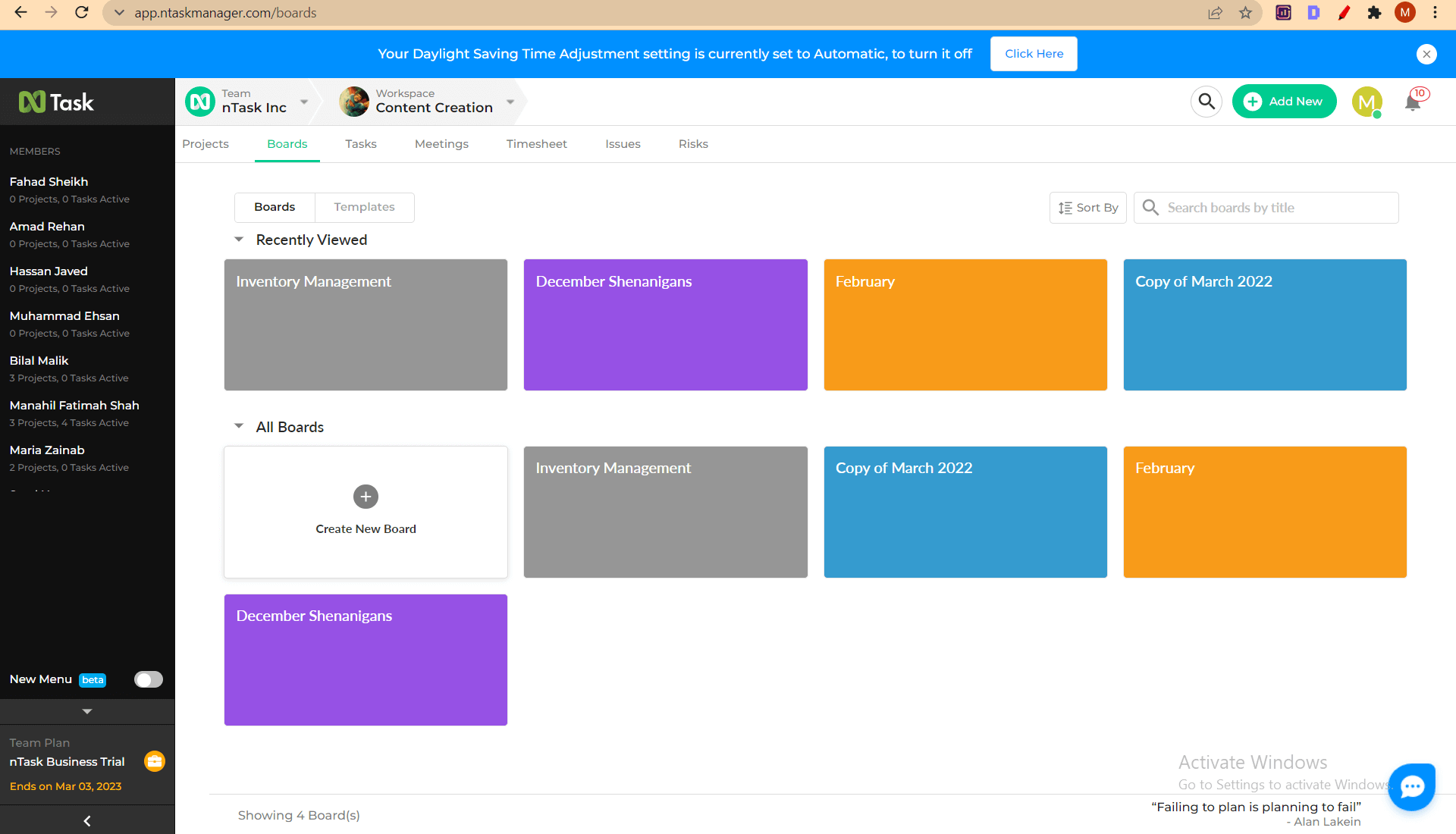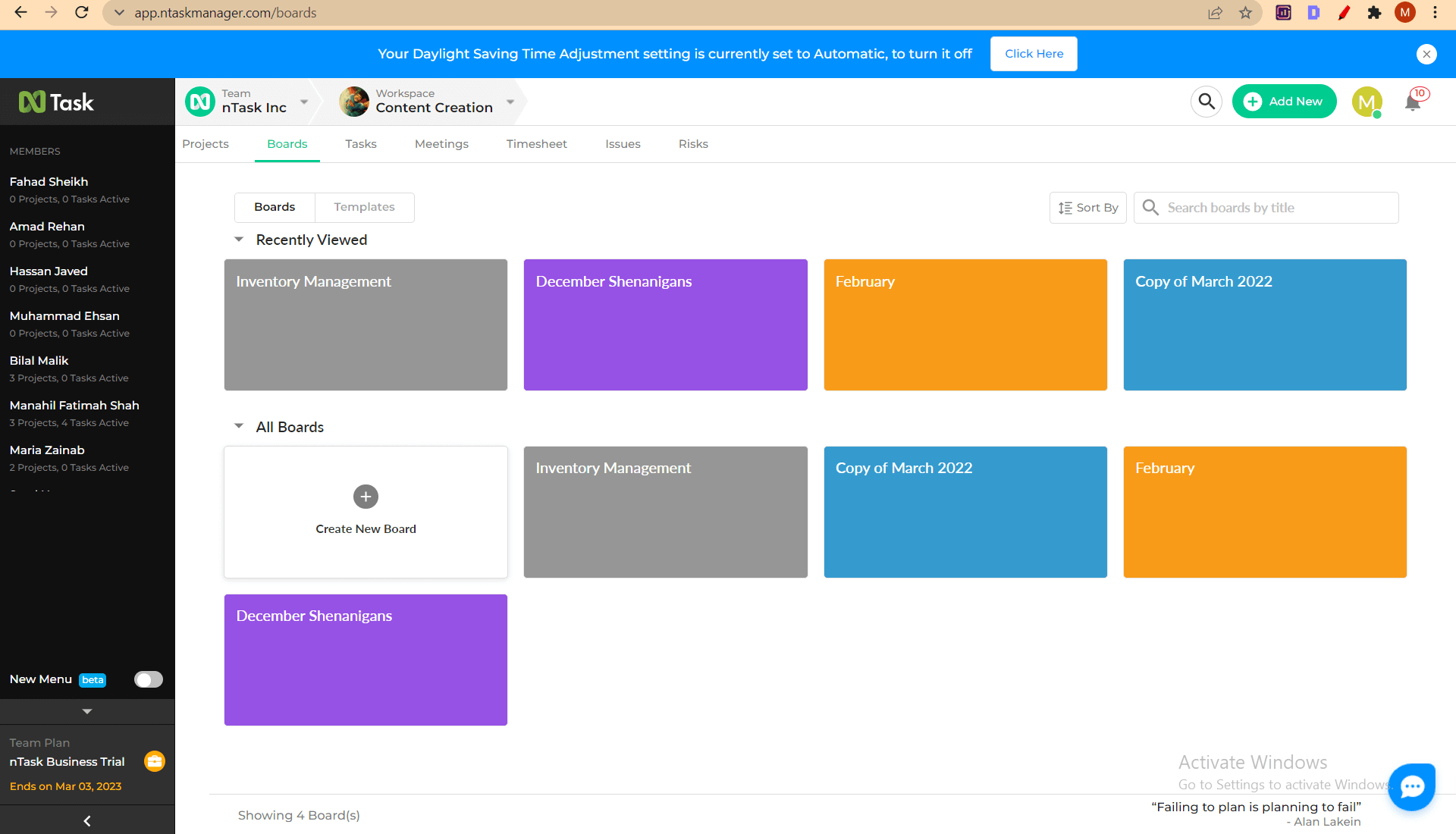 Step 2: Kanban Board View
Once you create a workspace, you'll enter into something like this. This board has five different sections to indicate each stage of your inventory success. You can also change the colors as you like.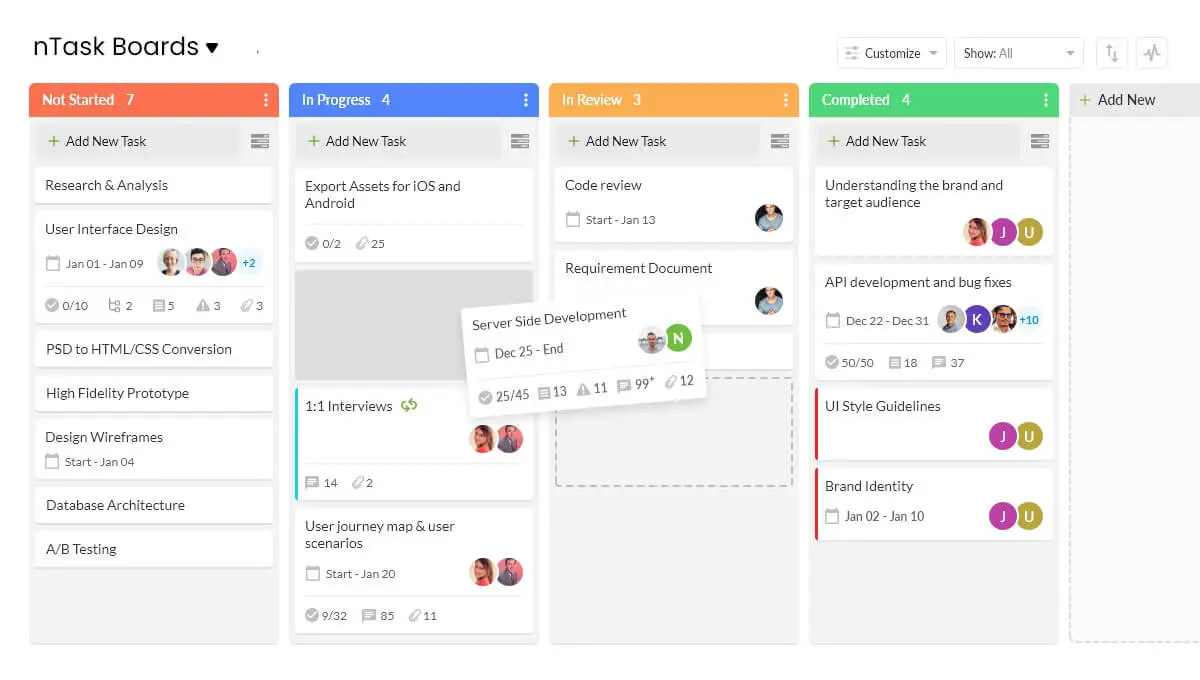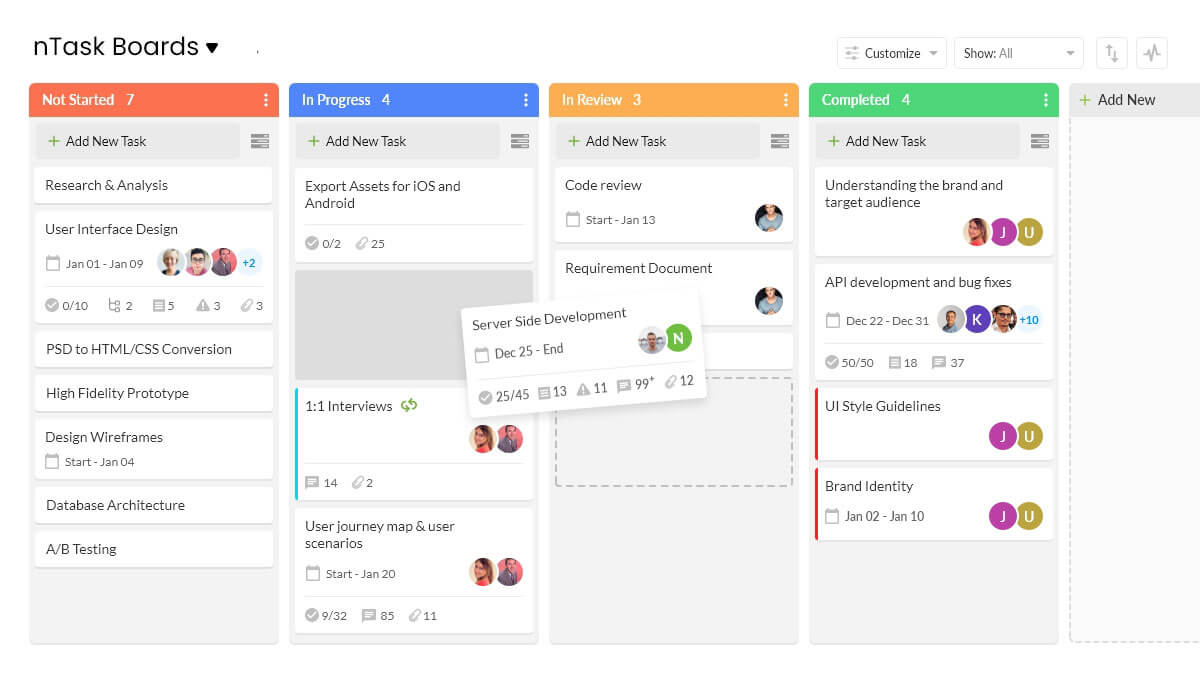 Step 3: Add a New Task
In this stage, you'll add a new task in the "not started" field or any other field as per the status of inventory. Note that you can add new tasks at any stage of your inventory management process.
In the image below, we already had one ongoing stock under the name Summer T-shirts and we've created a new one under the name "Tracksuits".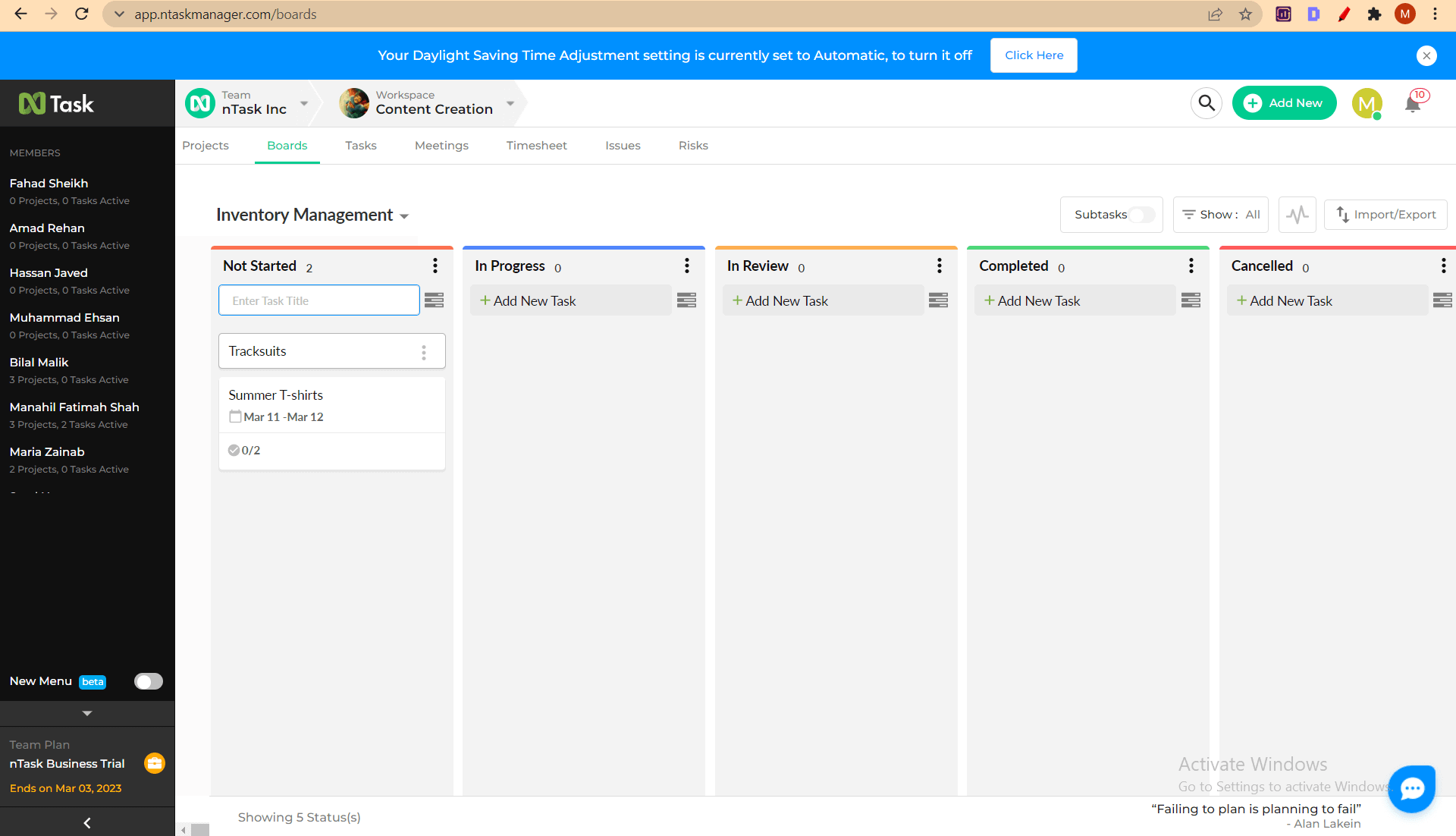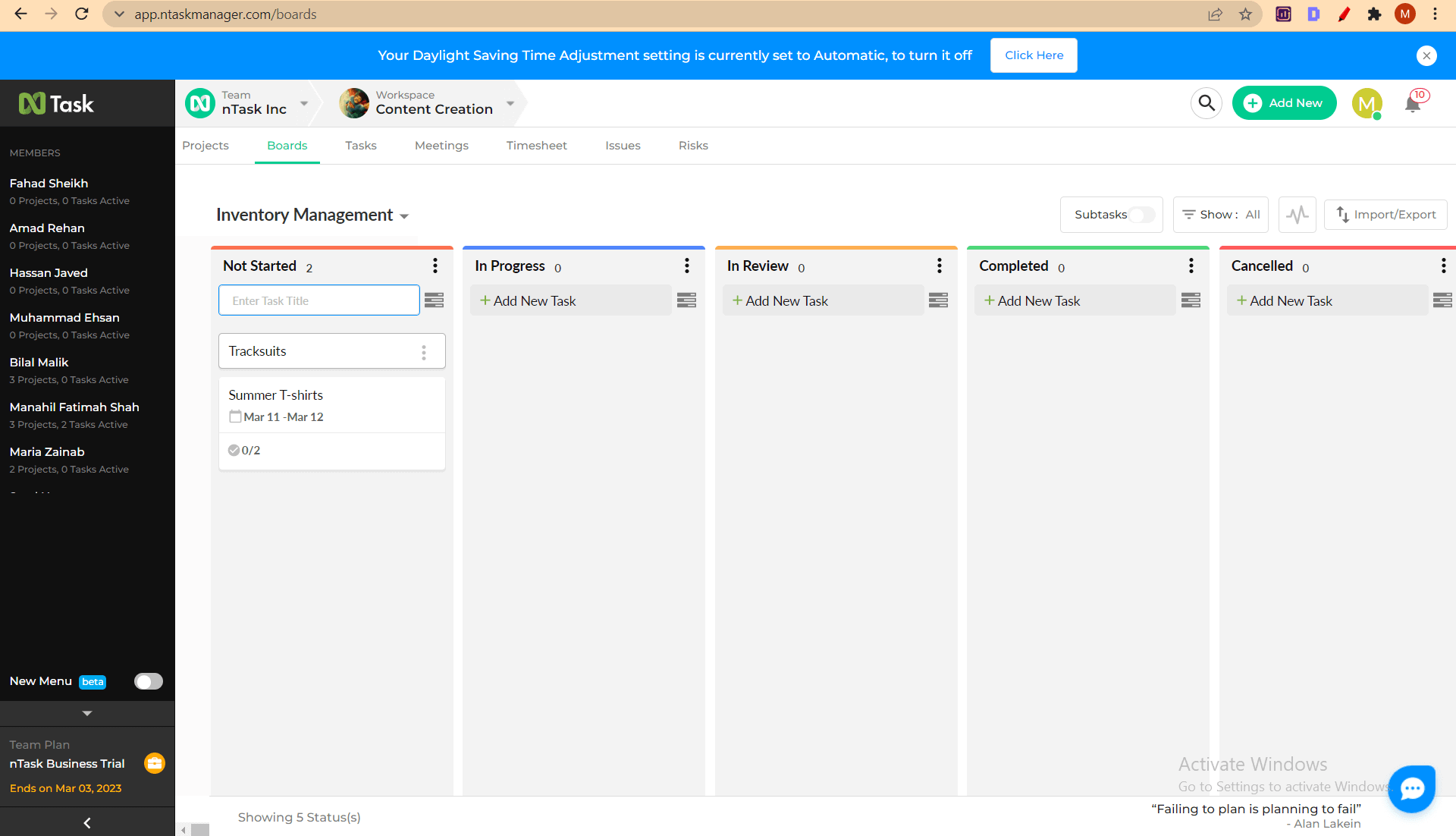 All you've to do is "Enter Task Title" under the tab "not started".
Step 4: Add Details to the Task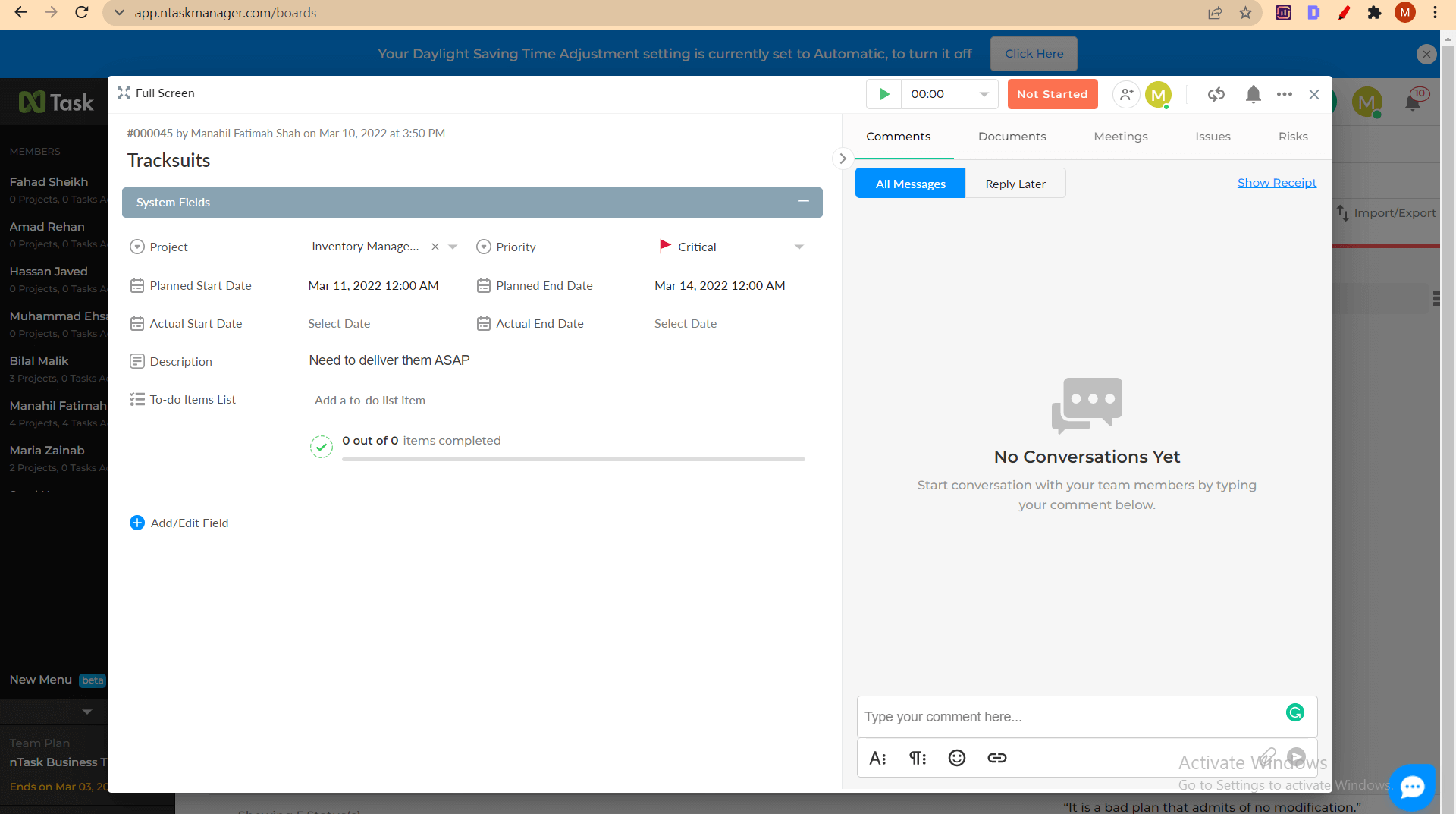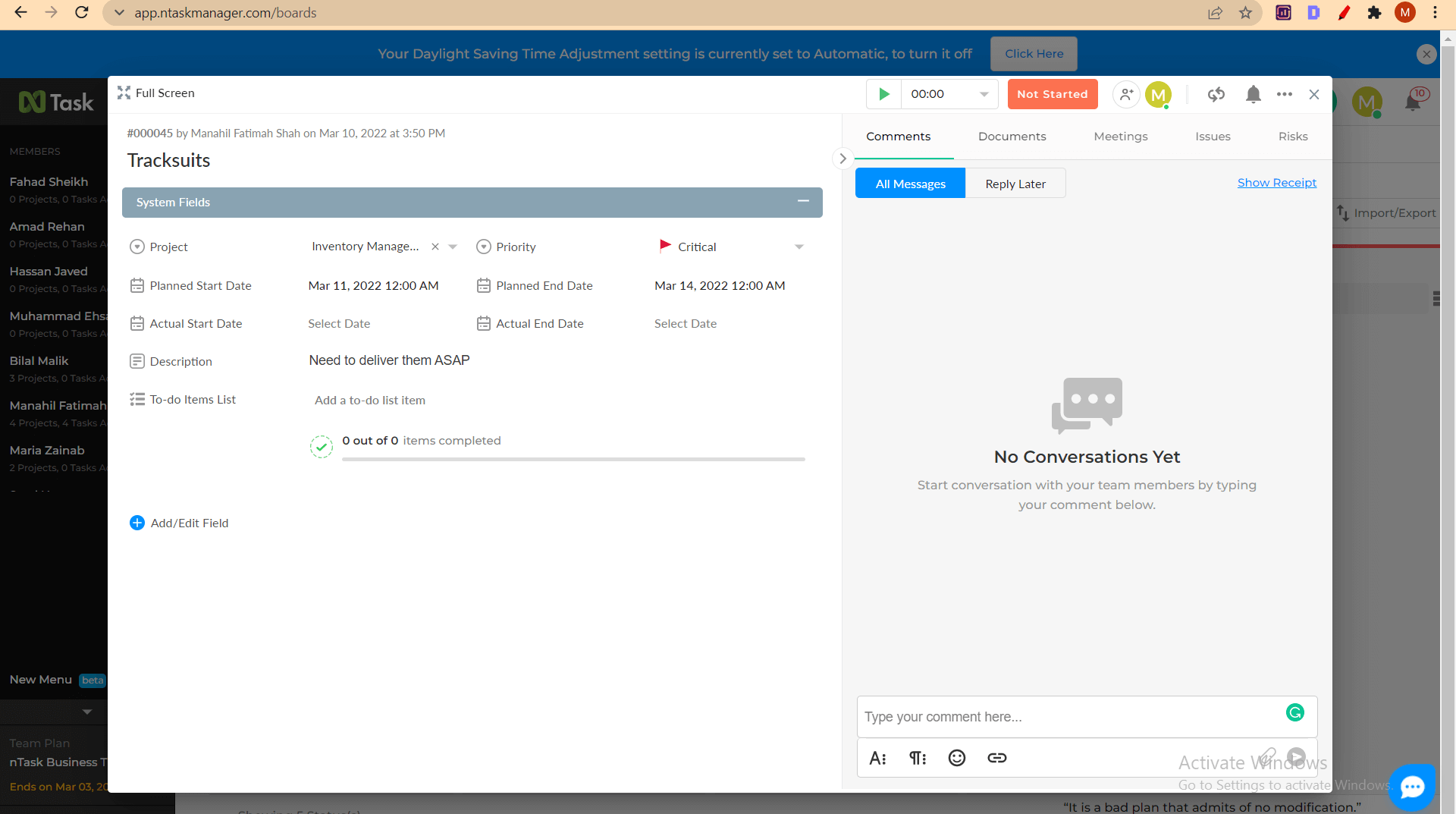 Over here you can see that you can add all types of details to your task. Start by entering the planned start date and planned end date first. You can also add any other important descriptions in the "description" tab.
On the top, you'd a subfield as "Project". Change the priority level according to your needs. From Critical, high, medium to low.
Step 5: Add To-do Items List
The next step is to create a to-do item list. For this example, we've added the different types of tracksuits that need to be delivered. That is "men's tracksuits" and "women's tracksuits".
Next to the "women's tracksuits", you'll see small tabs to add additional information. For example, you can assign the date when a specific item needs to be delivered along with the name of the assignee.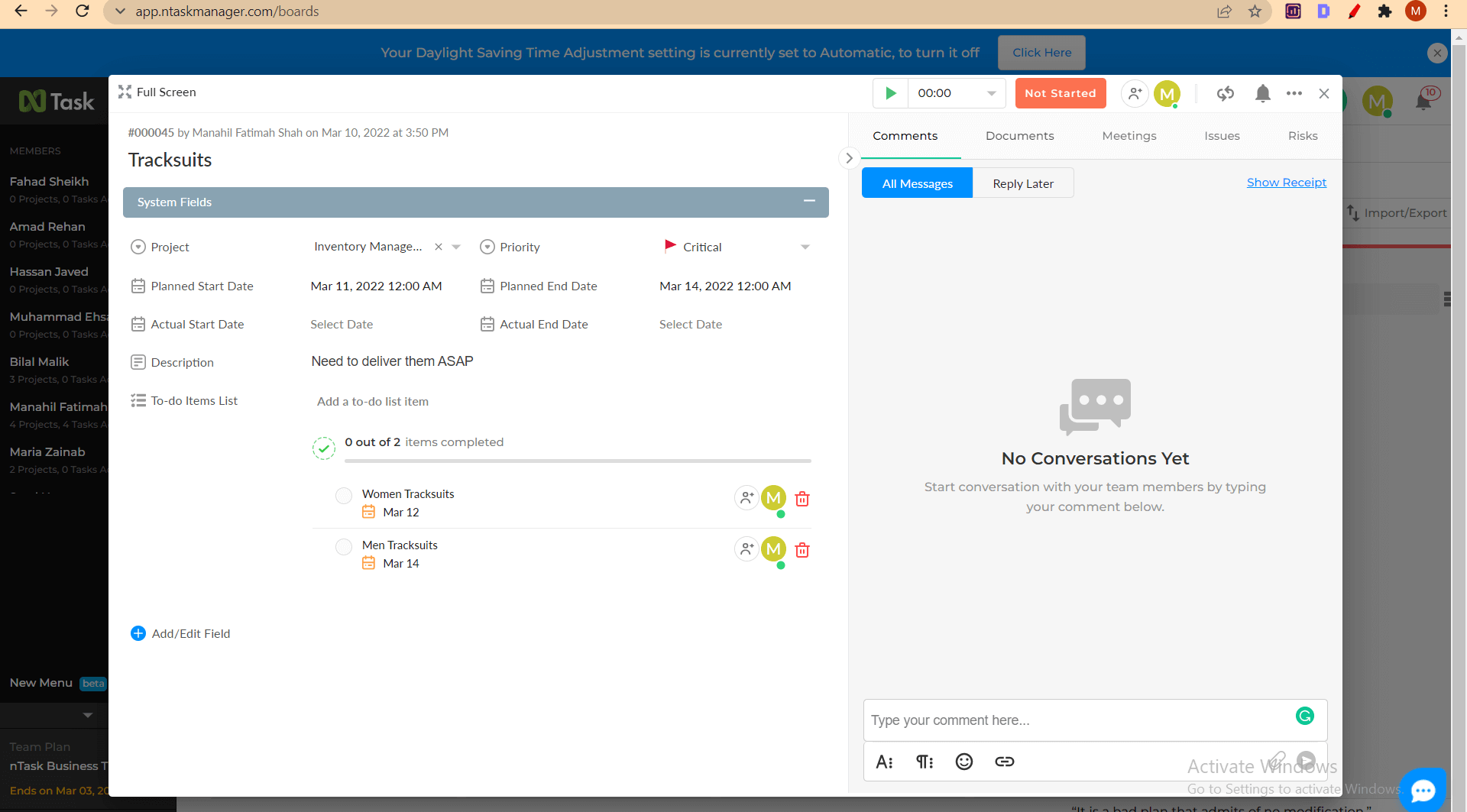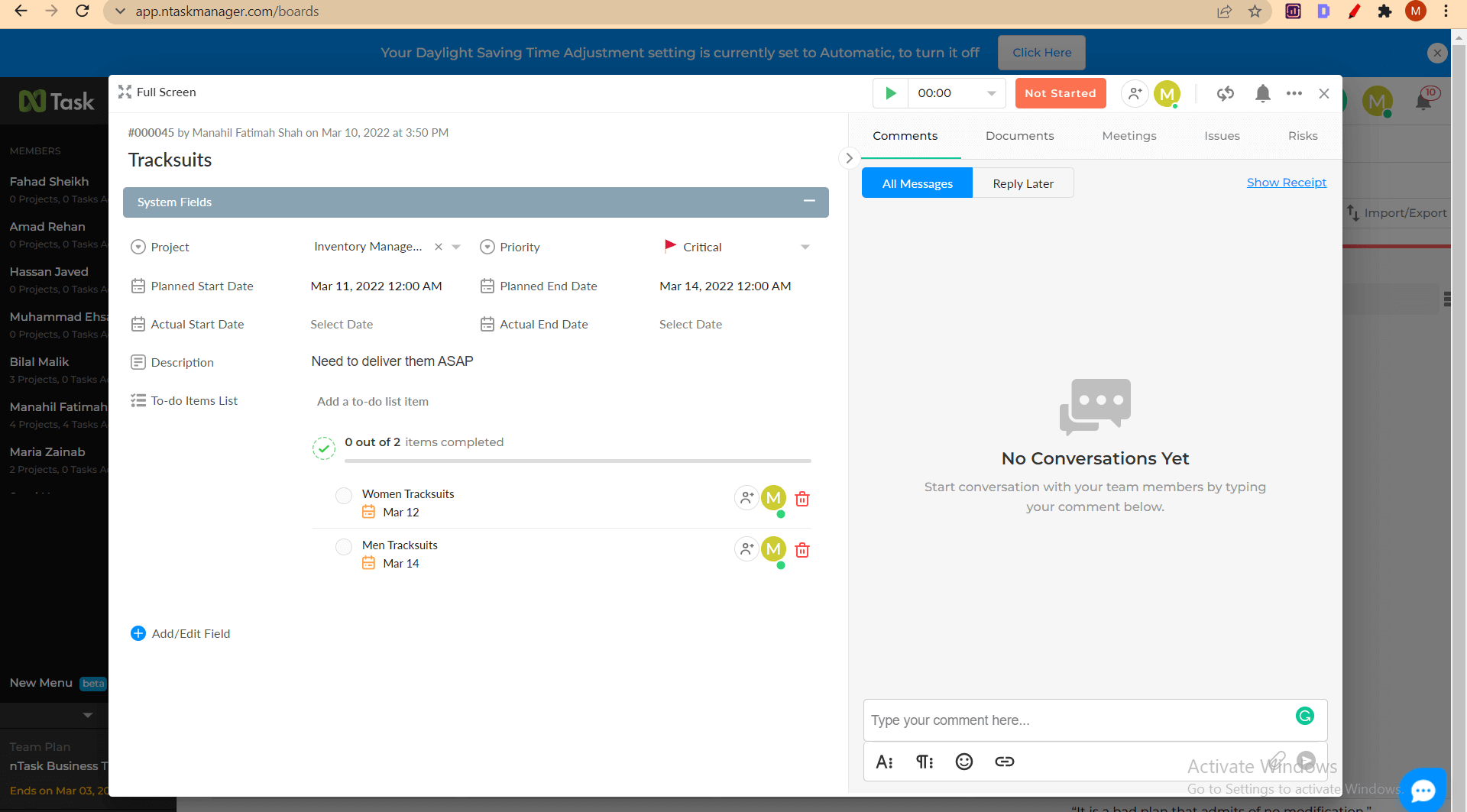 Step 6: Add/Edit Field
This is the most interesting and full of surprises step. You can add so many options in this area to manage your inventory better. Some of the great options are shown below.
And we'll take you through the major ones to help you find better ways to track inventory with nTask.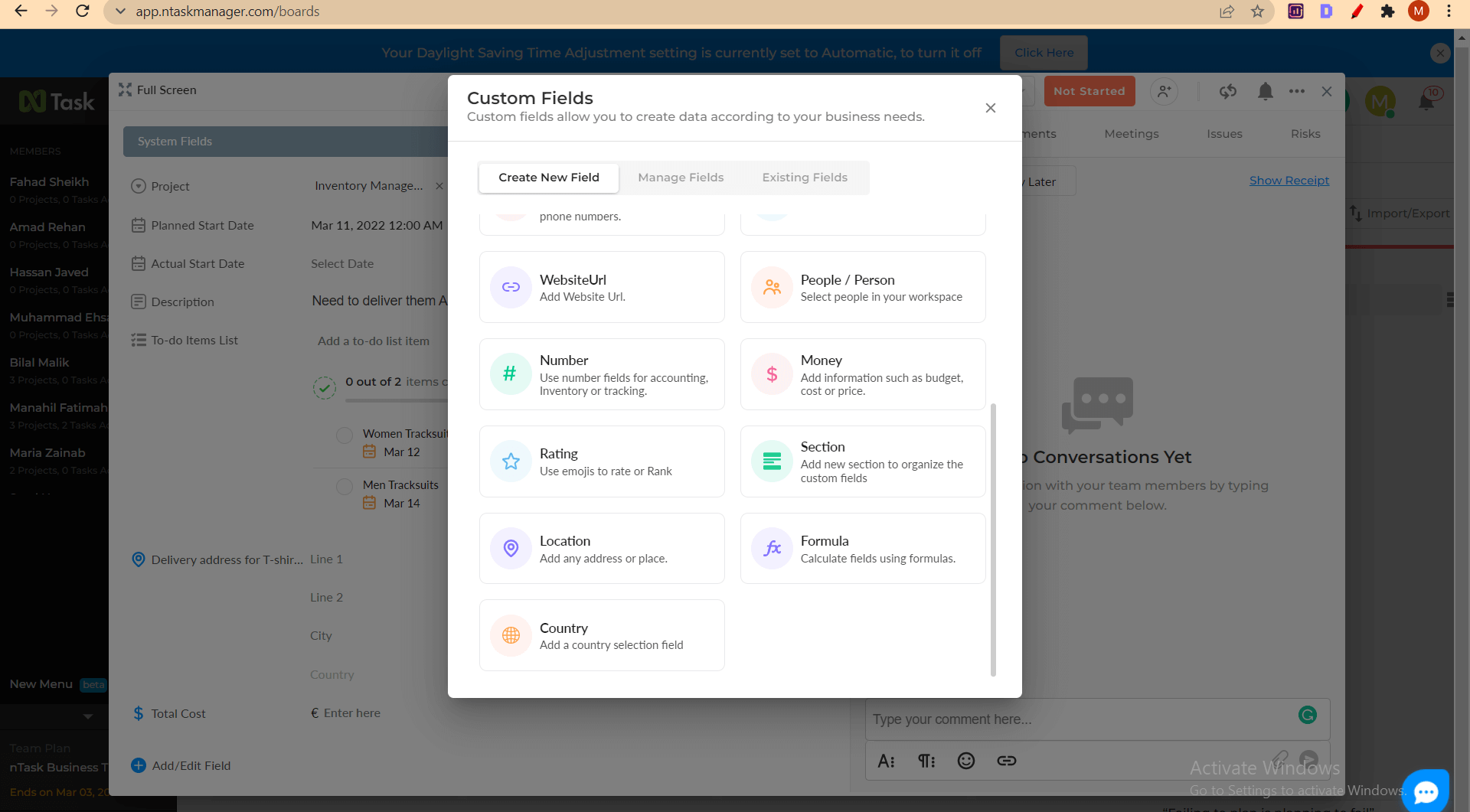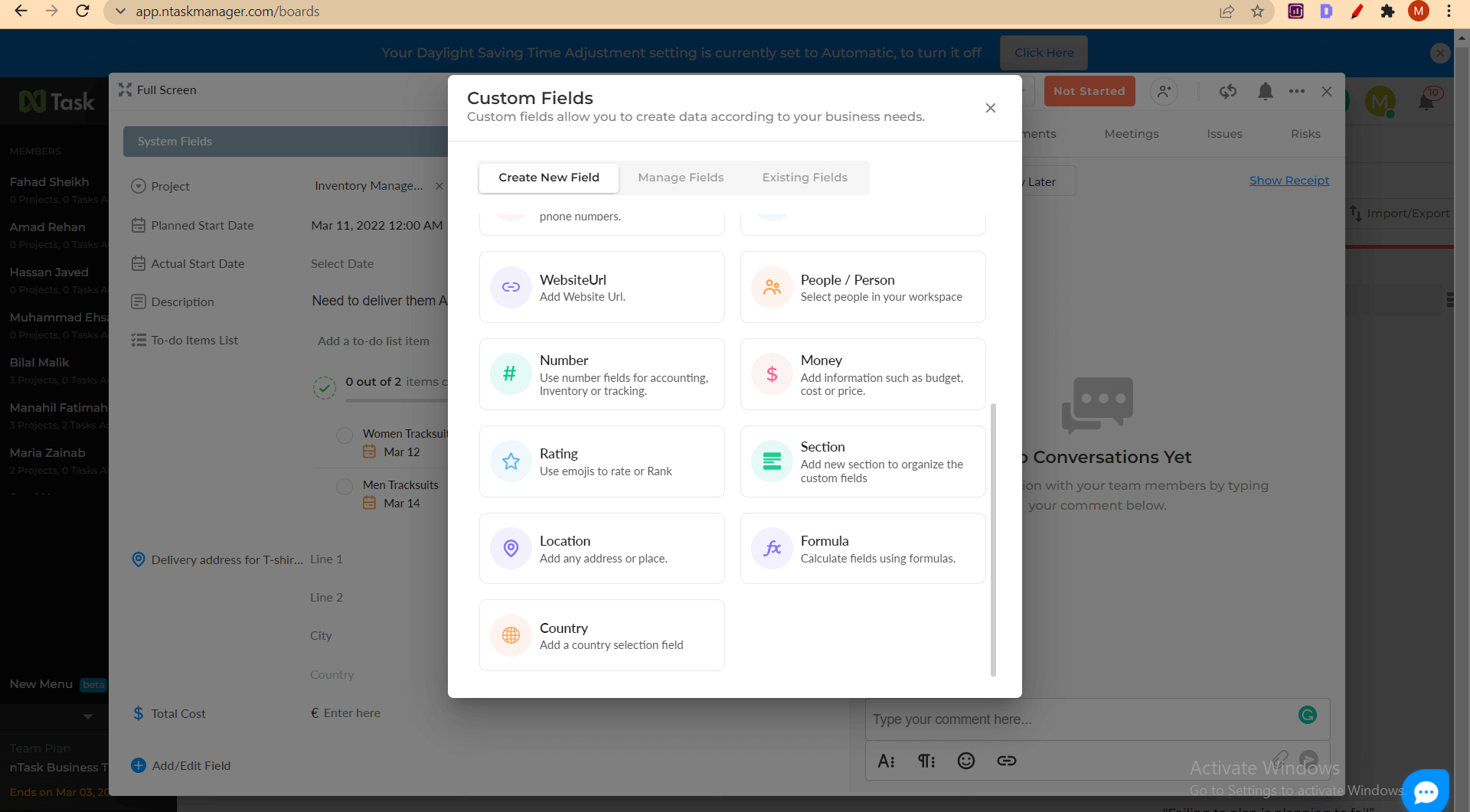 Step 7: Add Delivery Address
Add the relevant location for the delivery of the tracksuits. Enter the Field Name and choose "location" in the Field Type to add the relevant address. Once you are done with it, click "create field" and a new field will be entered in your task area.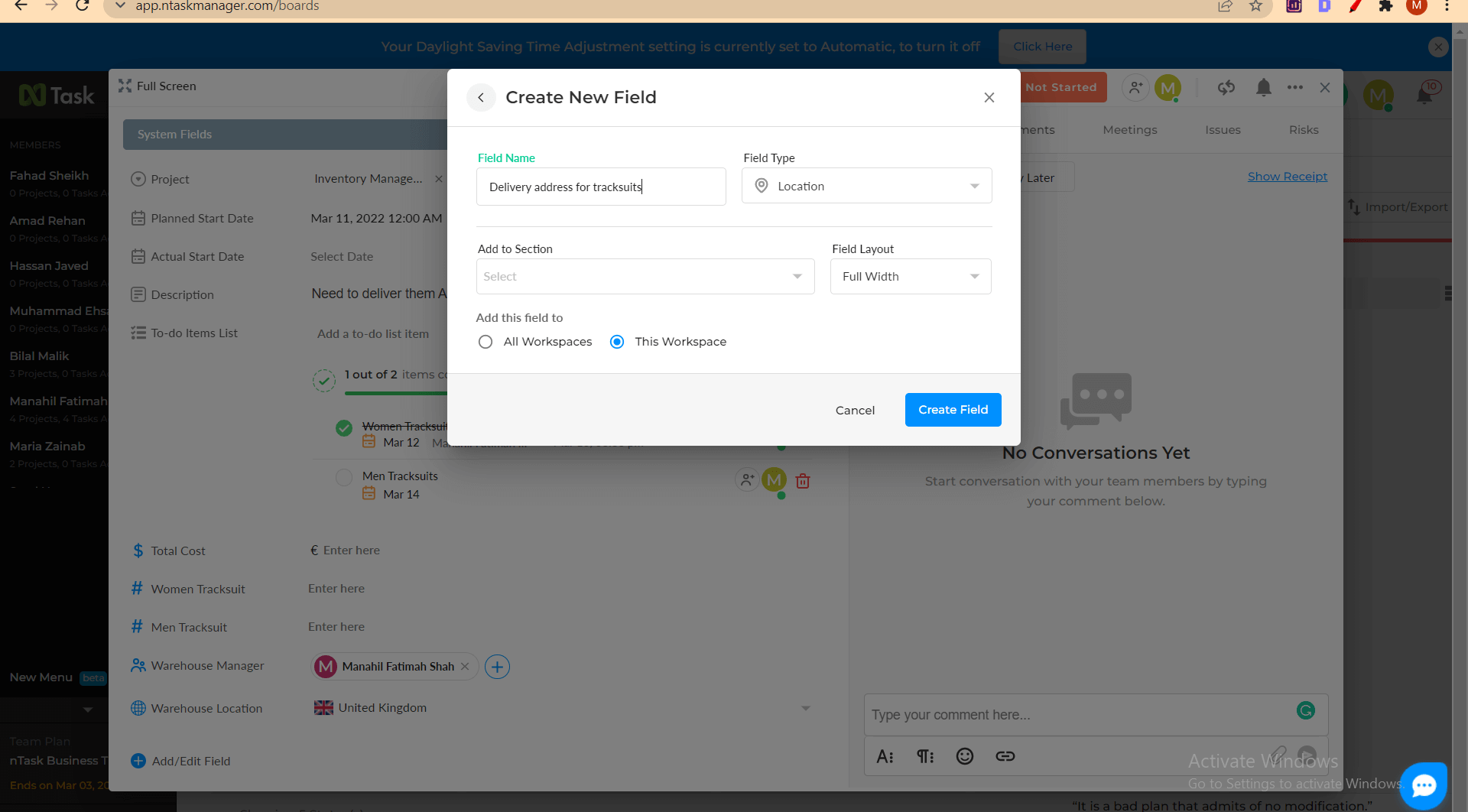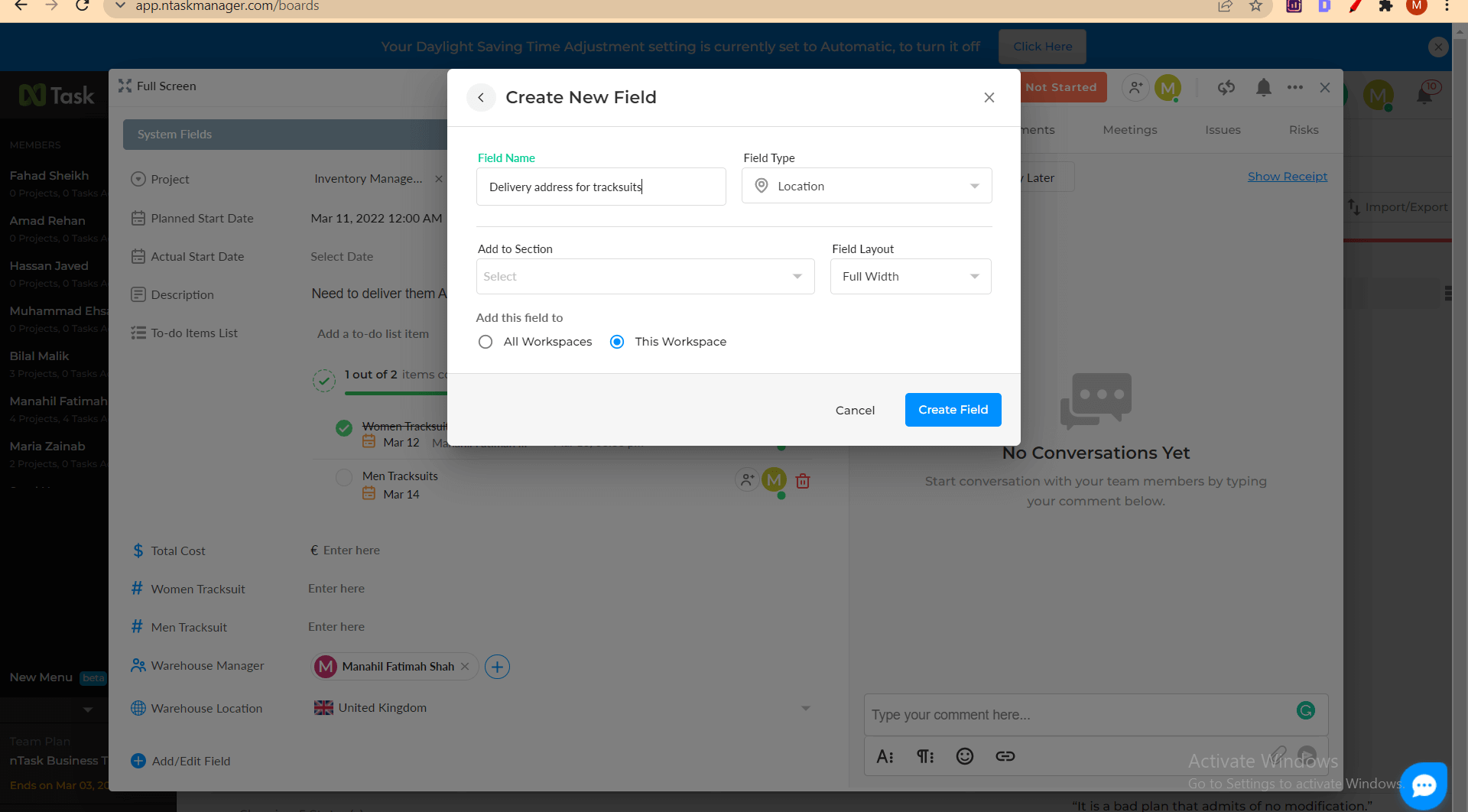 Step 8: Add Budget
Choose "Money" from the custom field area to add the total cost or budget per item. You can choose the currency of your choice and name the field accordingly.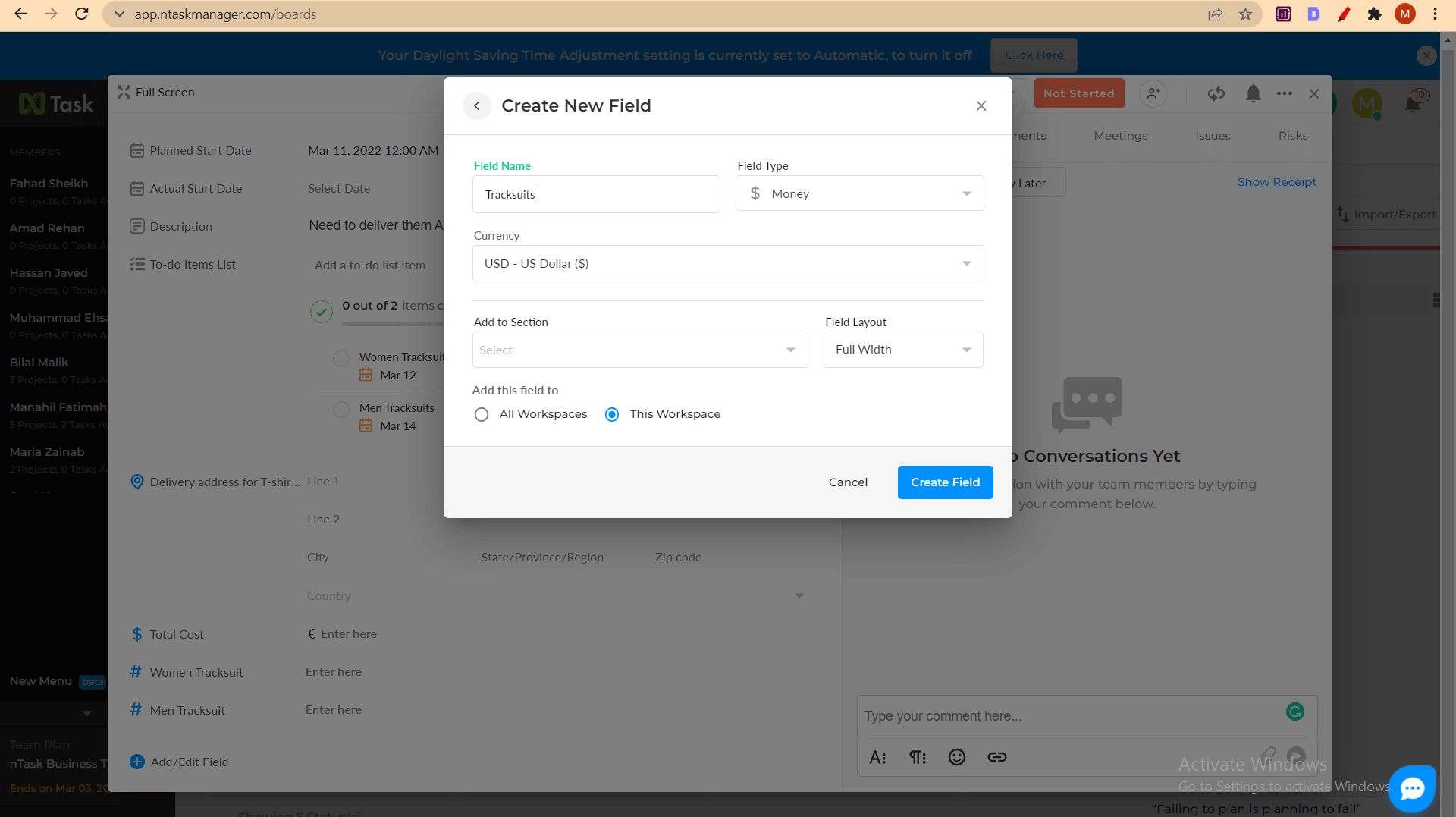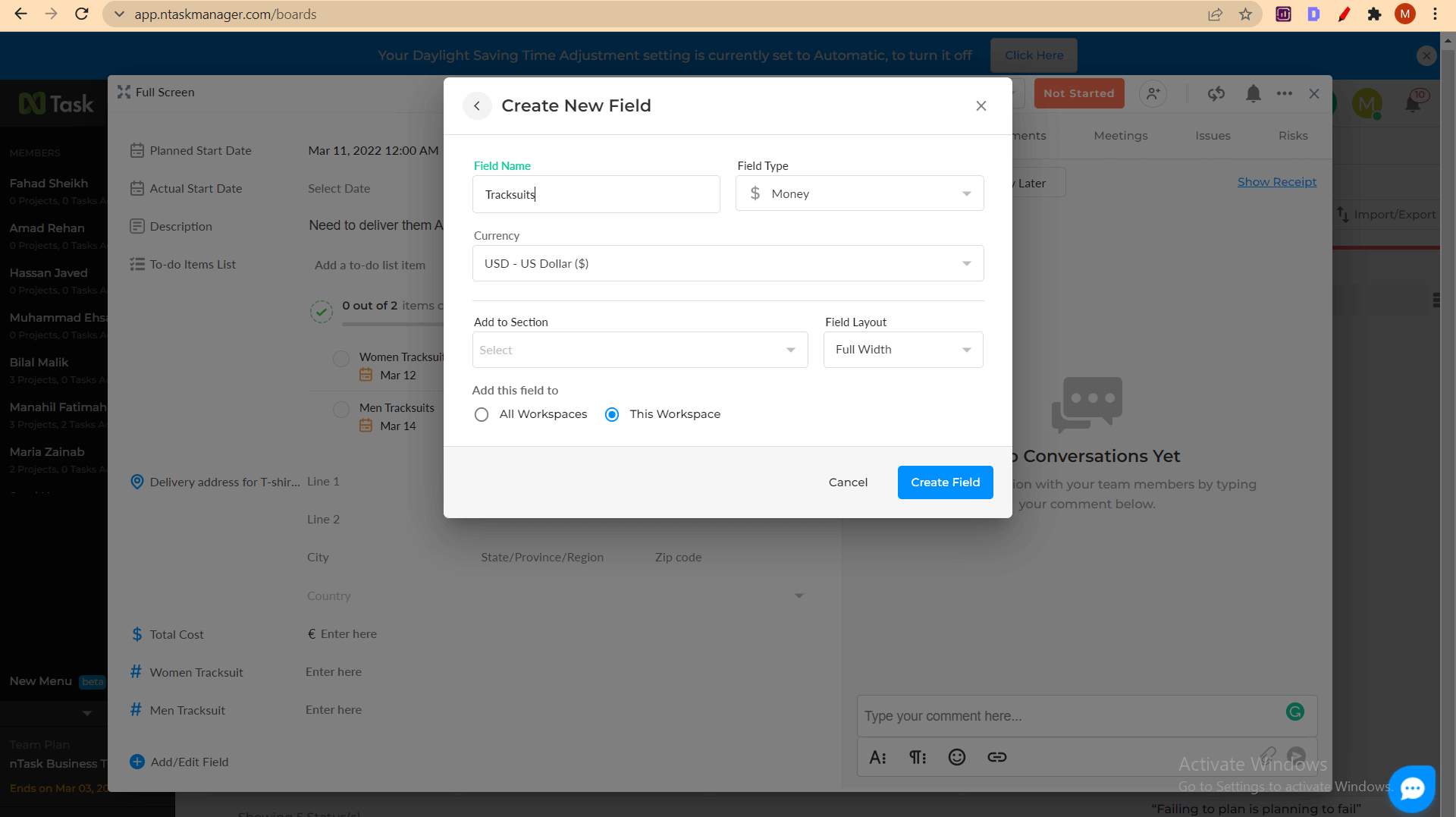 Step 9: Add Product Number
In this step, choose the "number" option from the custom field and add the product number as well the unit symbol in the relevant currency.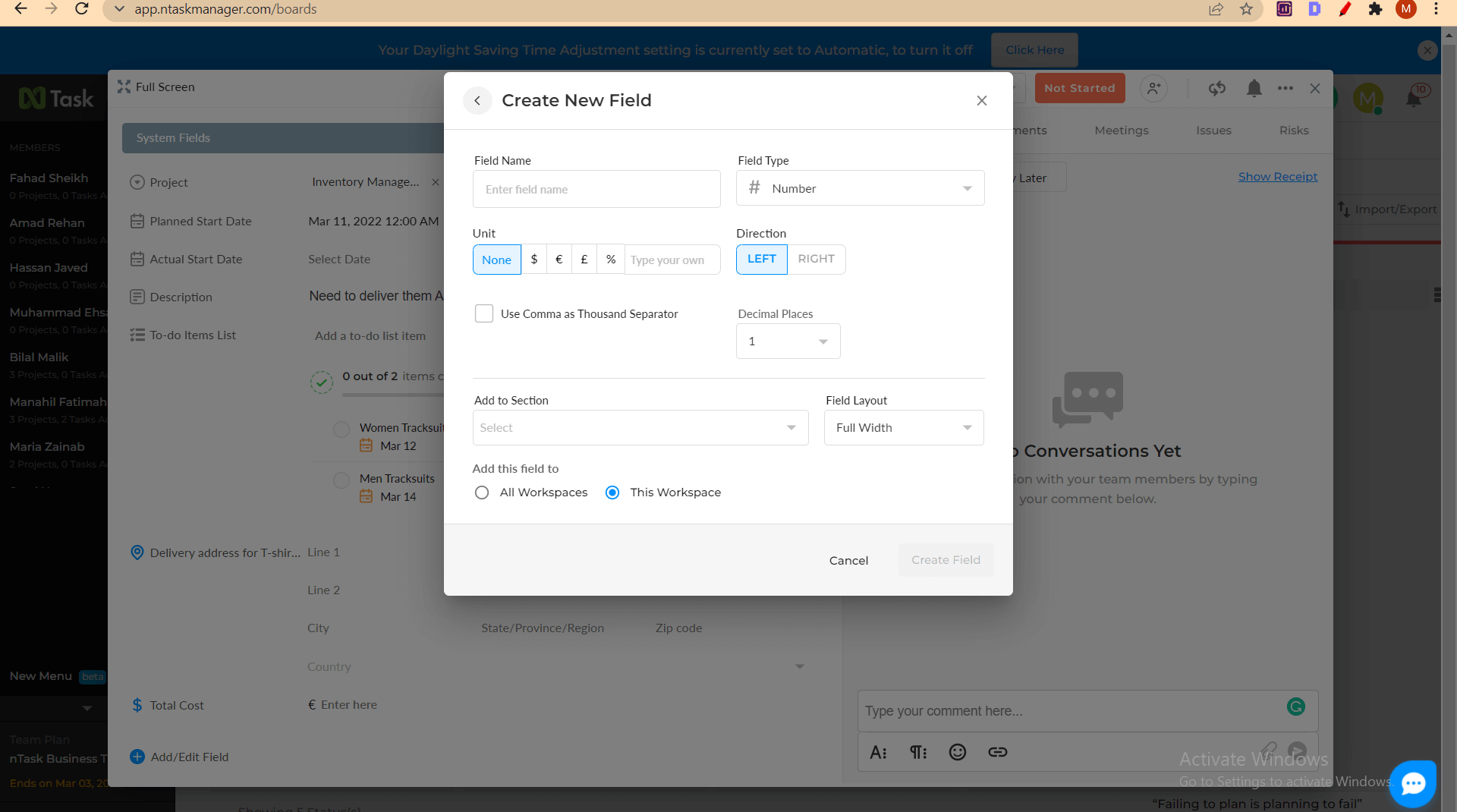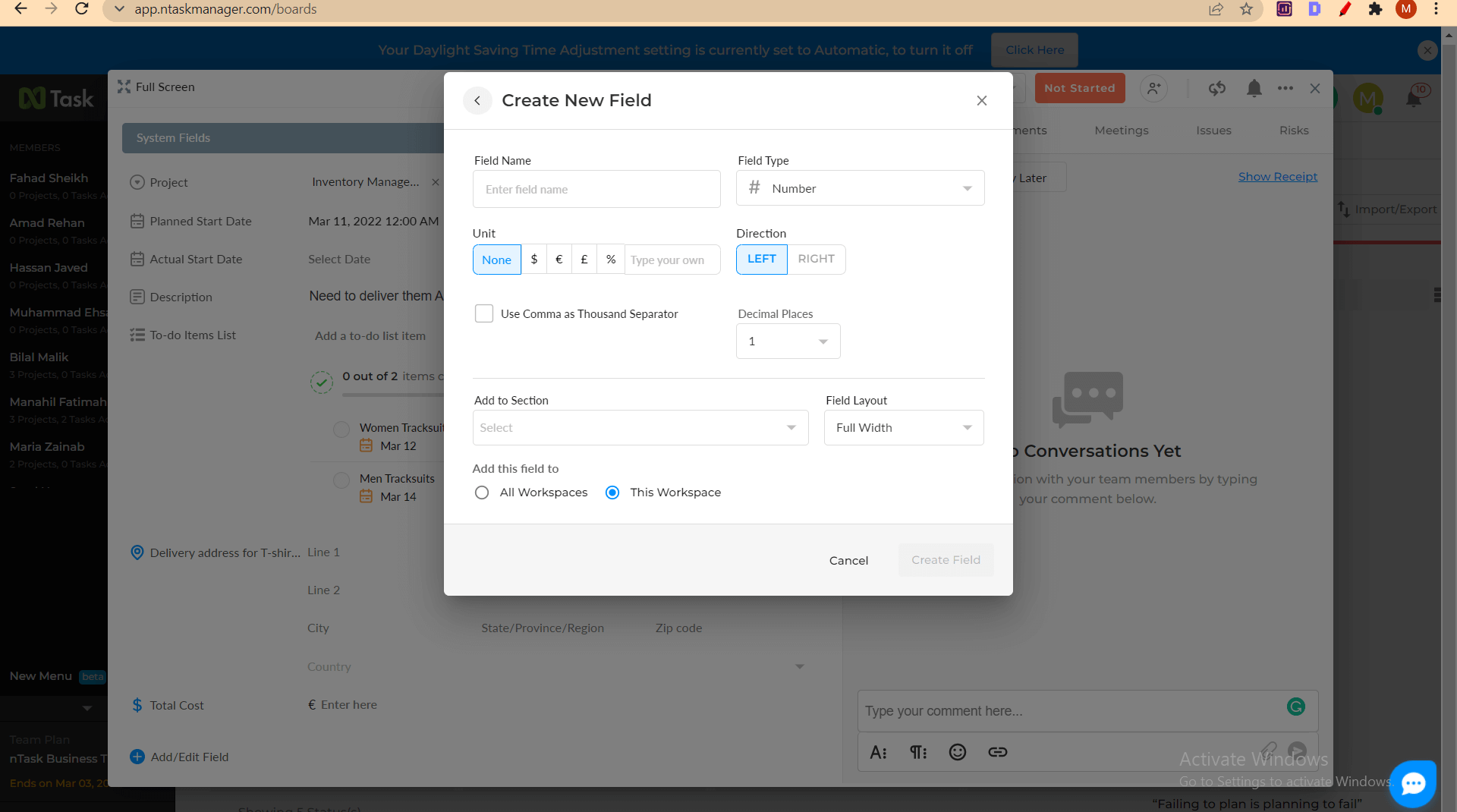 Step 10: Assign a Team Leader
In this step, choose the "Persons" field from the Custom field area and assign managers or team leads to your team. You can assign more than one person as a lead for a single task. In this example, we've chosen "Workspace Manager".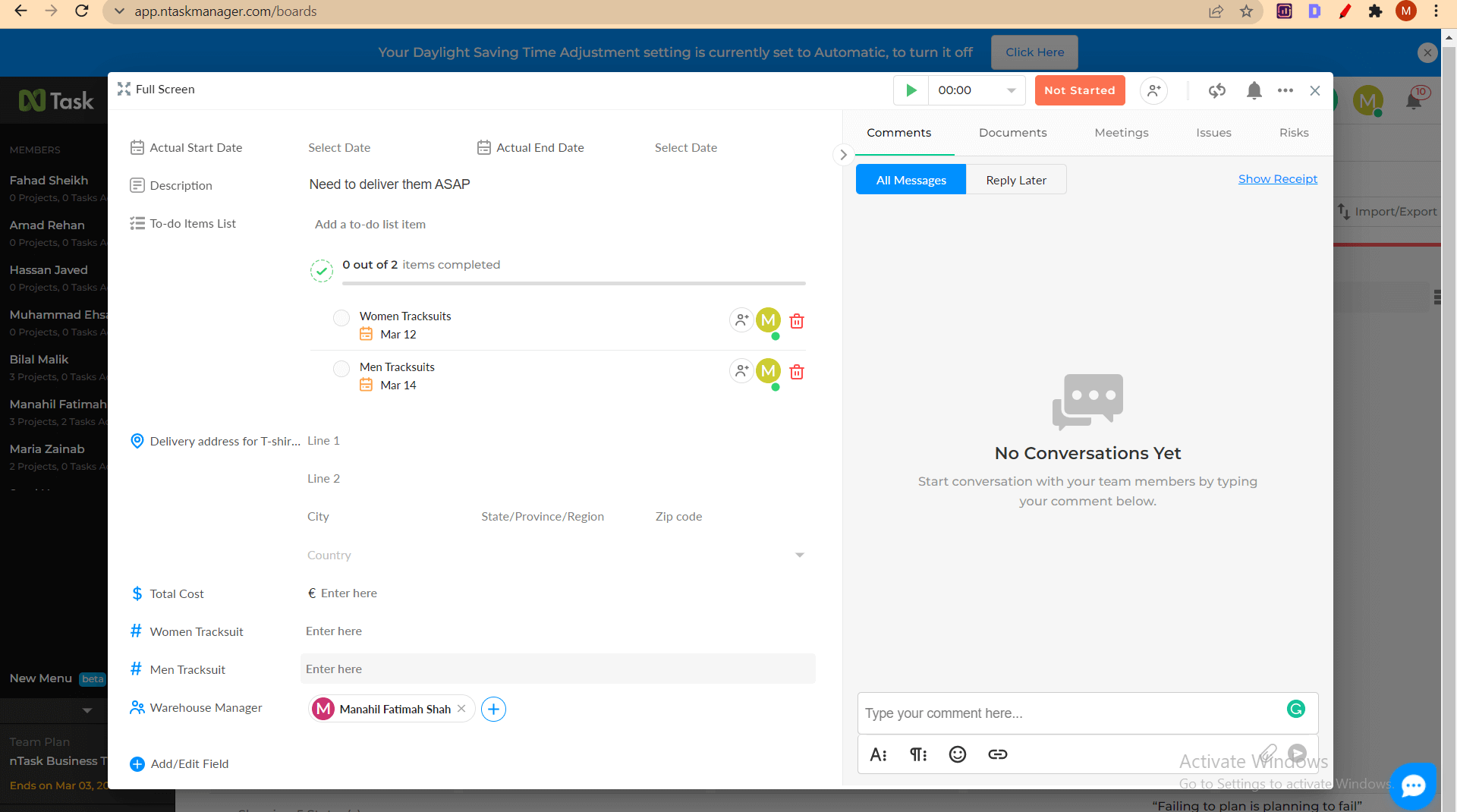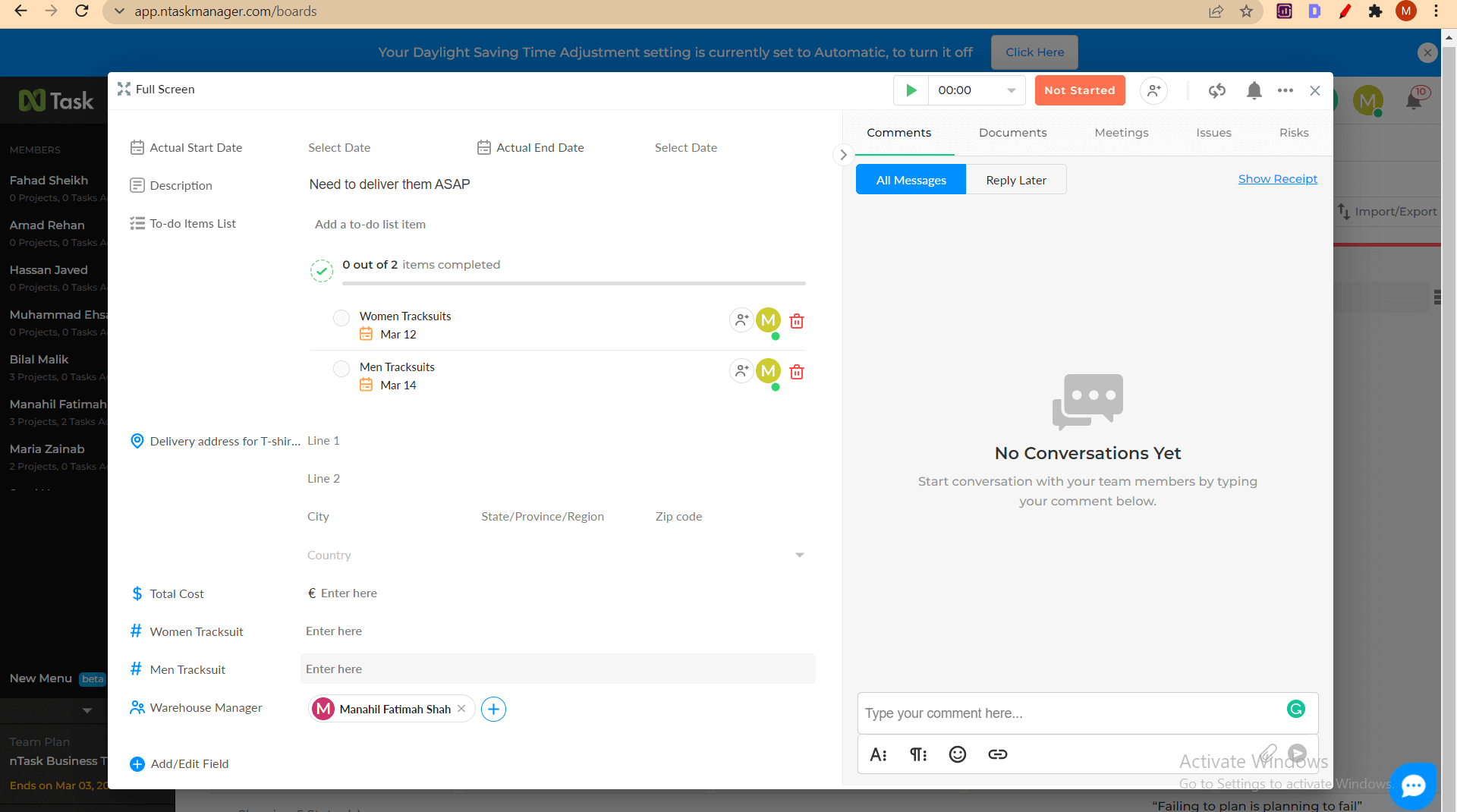 Step 11: Add Warehouse Location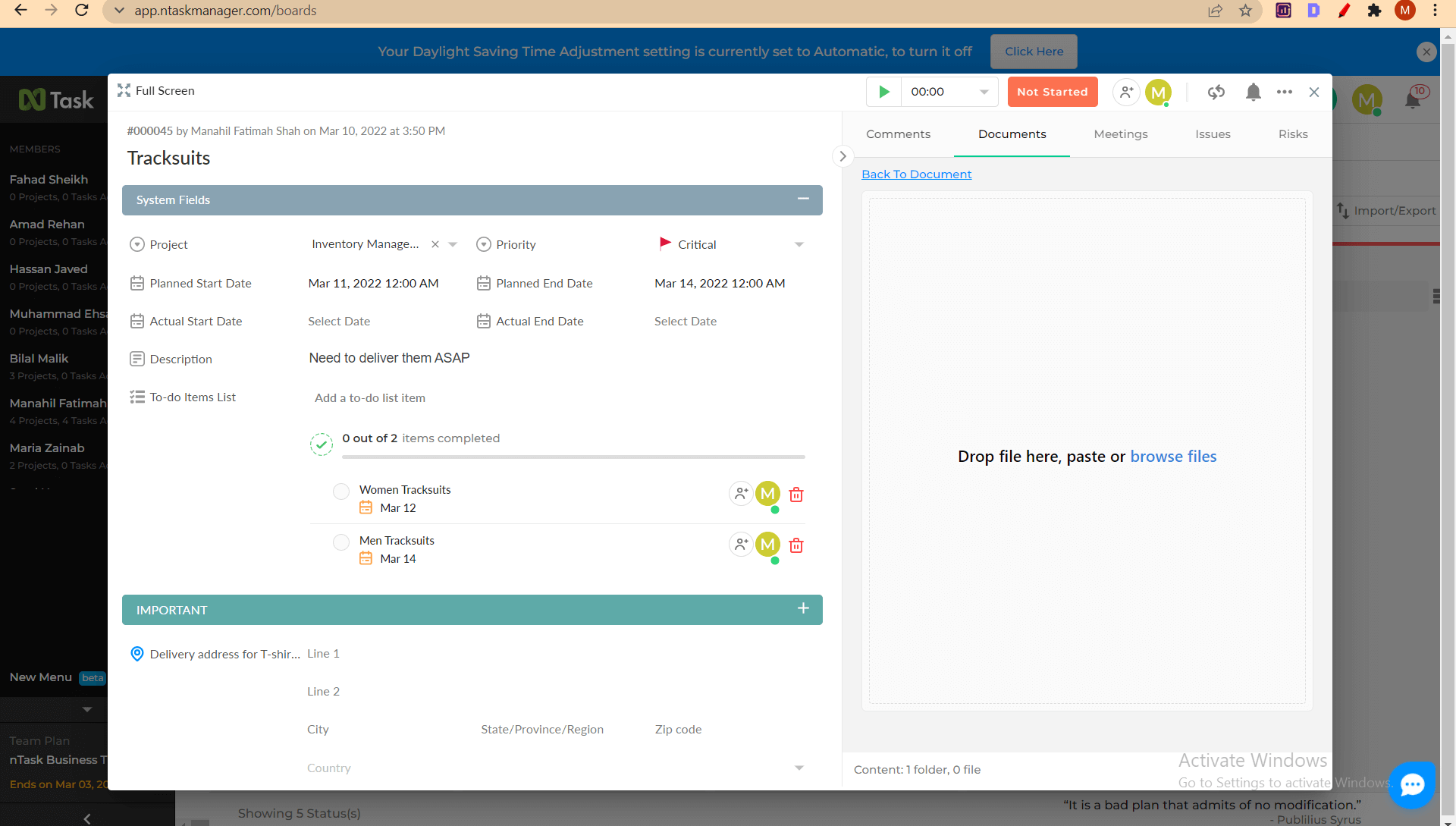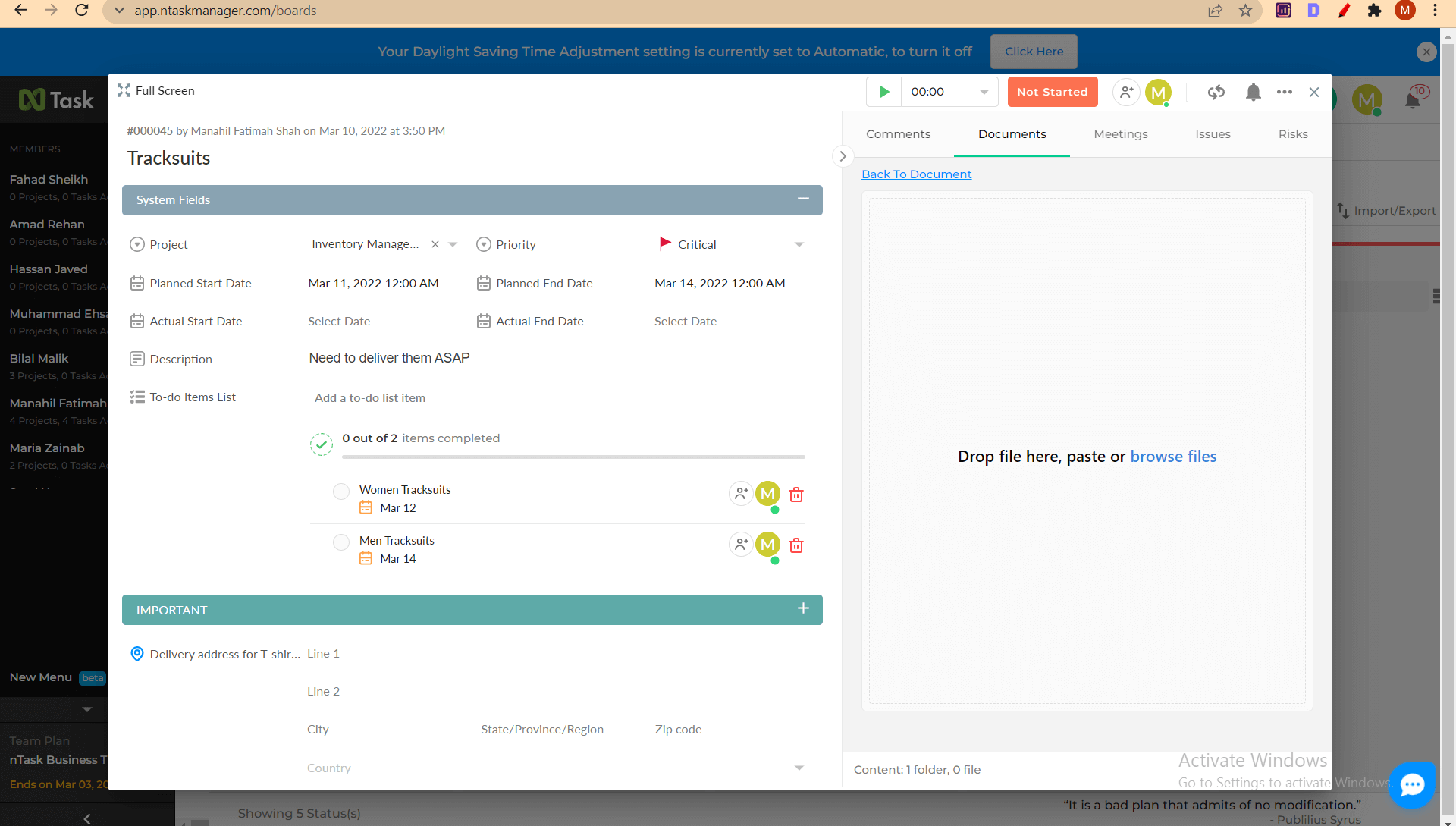 Choose "Location" from the custom field and the relevant location in this area. It can be the location of the warehouse or the port etc.
Step 12: Add files/docs
In this stage, you'll add the relevant field and docs like a letter of credit, invoice, bill of lading, etc. needed to process the delivery. Click on the Documents options in the right column and add the file you want to.
You can also create folders to add relevant documents in different folders.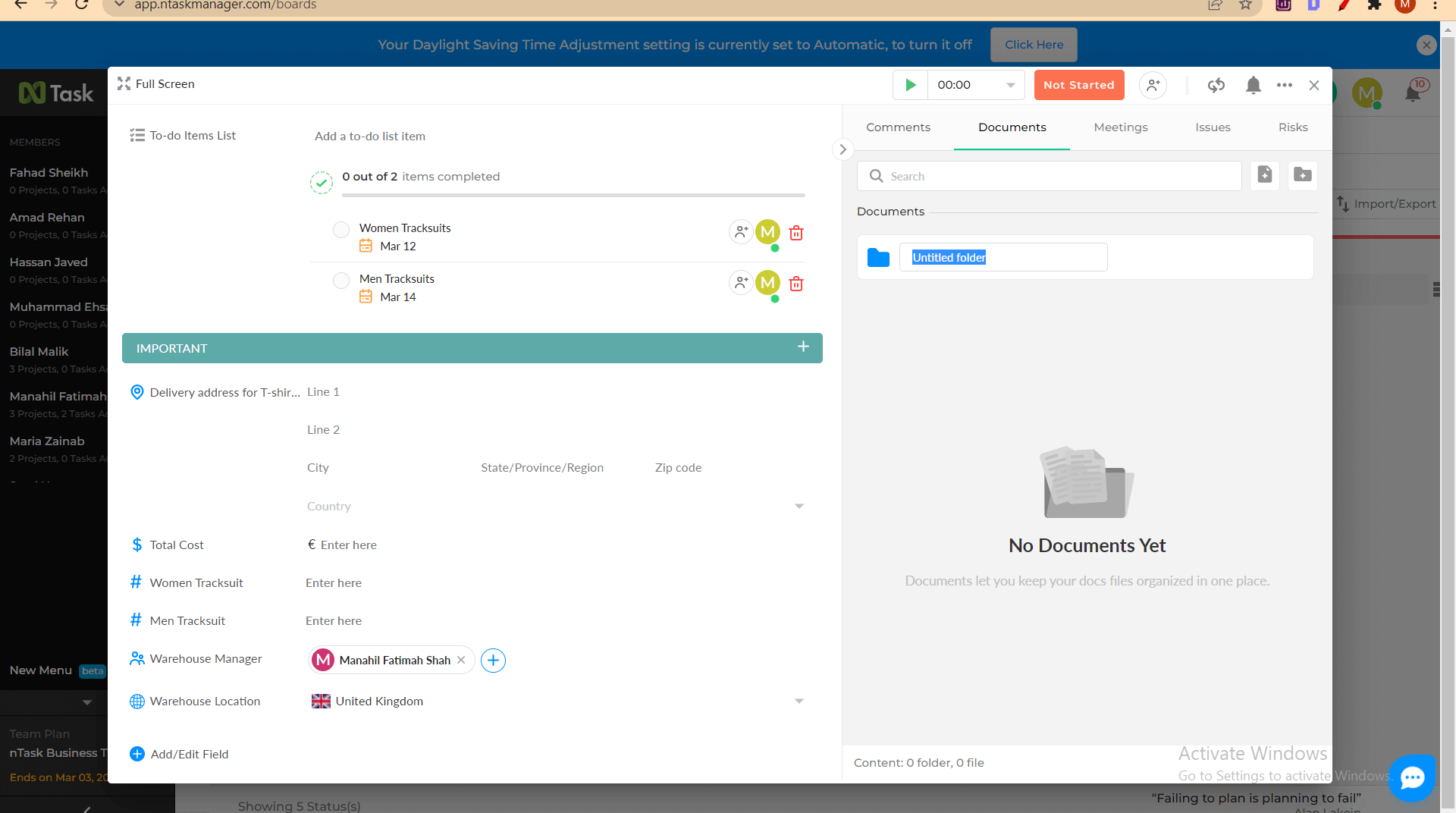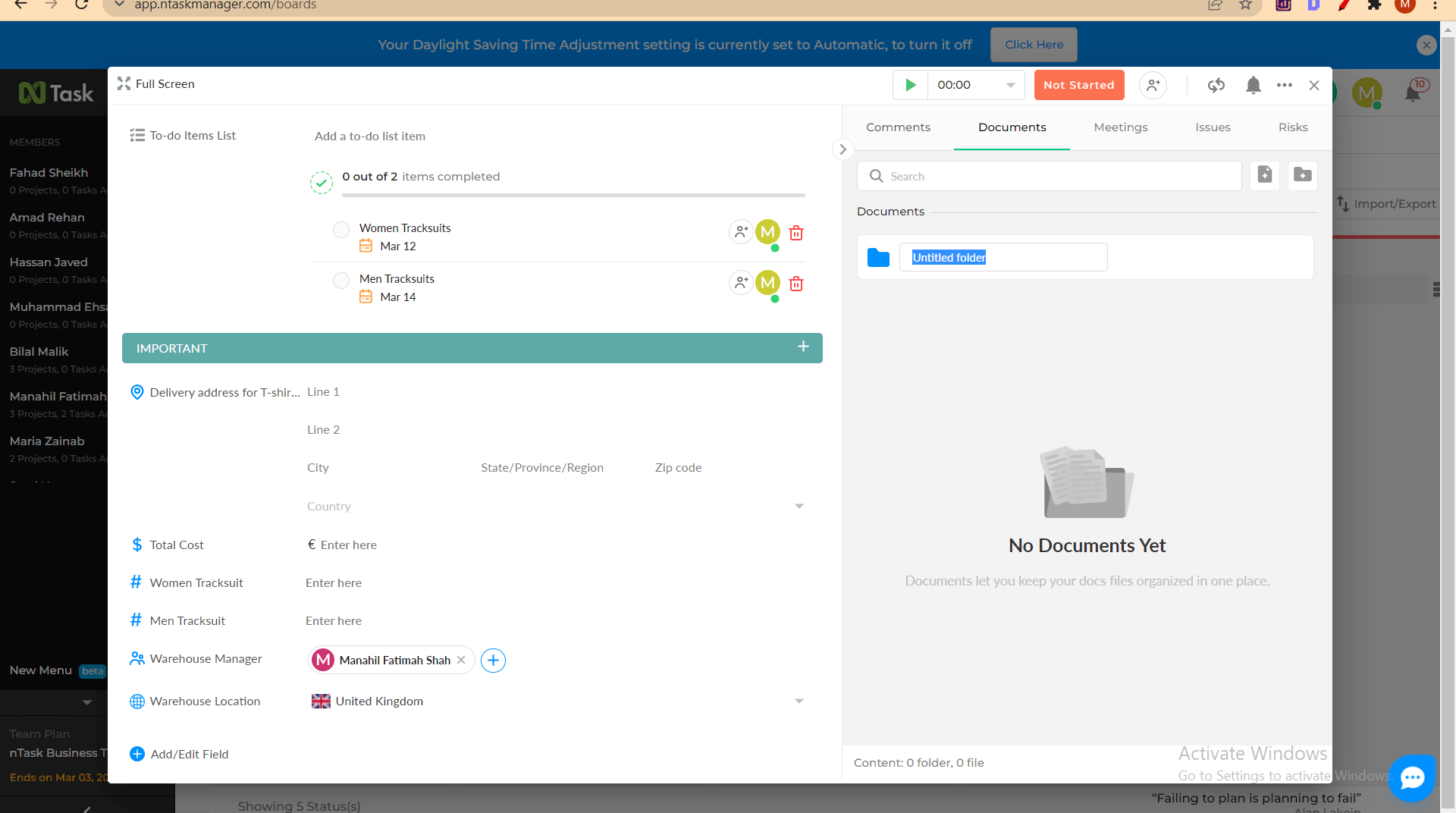 Step 13: Optimize your processes
In this step, we'll share some cool ways to optimize your inventory tracking process. Firstly, as you can see in most of the images "important" bar. You can create it simply by choosing "section" from the custom field tab and adding the sections you want in it. You can also change the color of each section.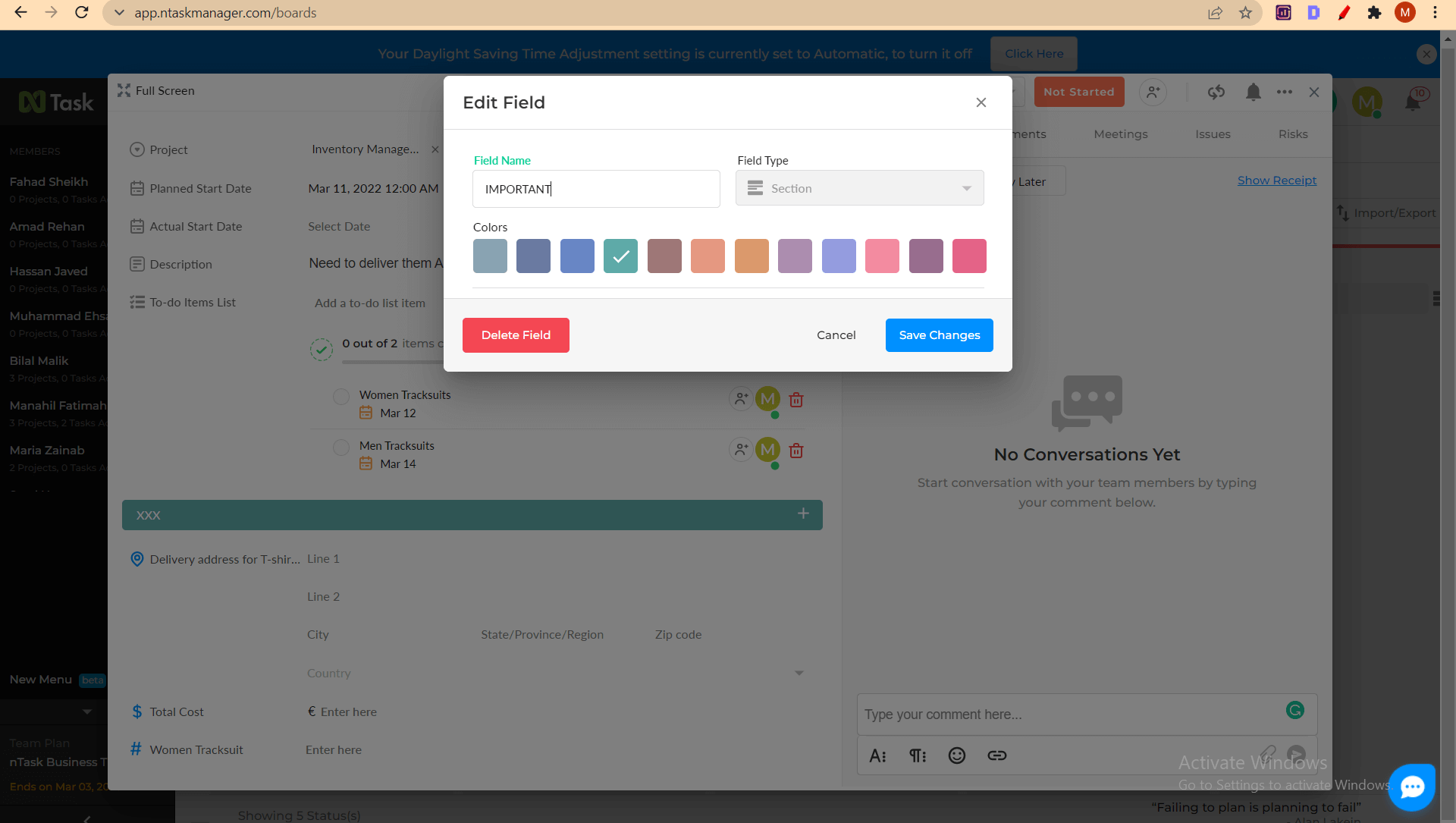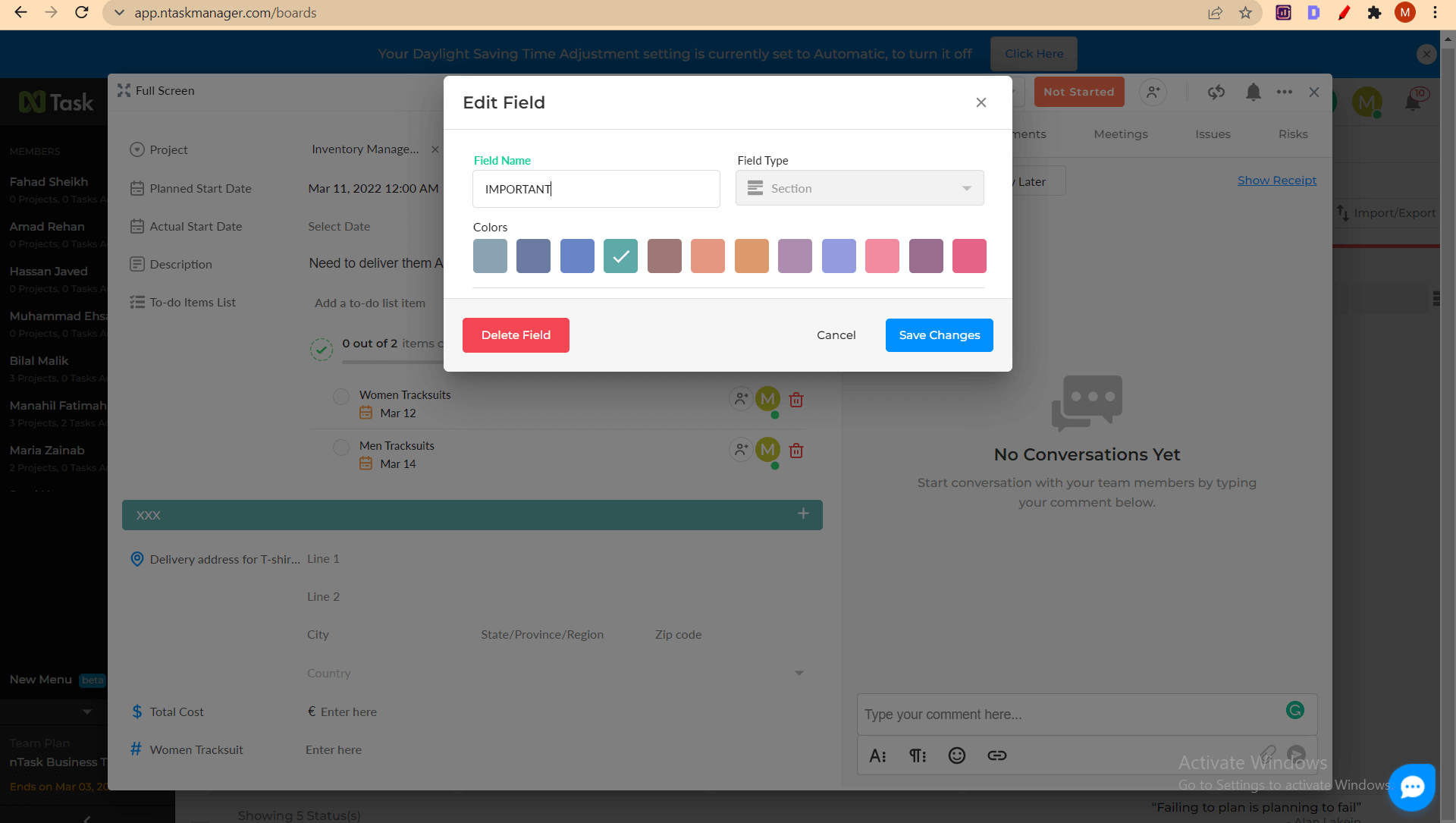 Secondly, the custom fields added to one task will automatically be added for all tasks in the same workspace. Thus, you don't have to repeat these processes again and again. For example, if you create another task under the name "Summer T-shirts", you'd view something like this.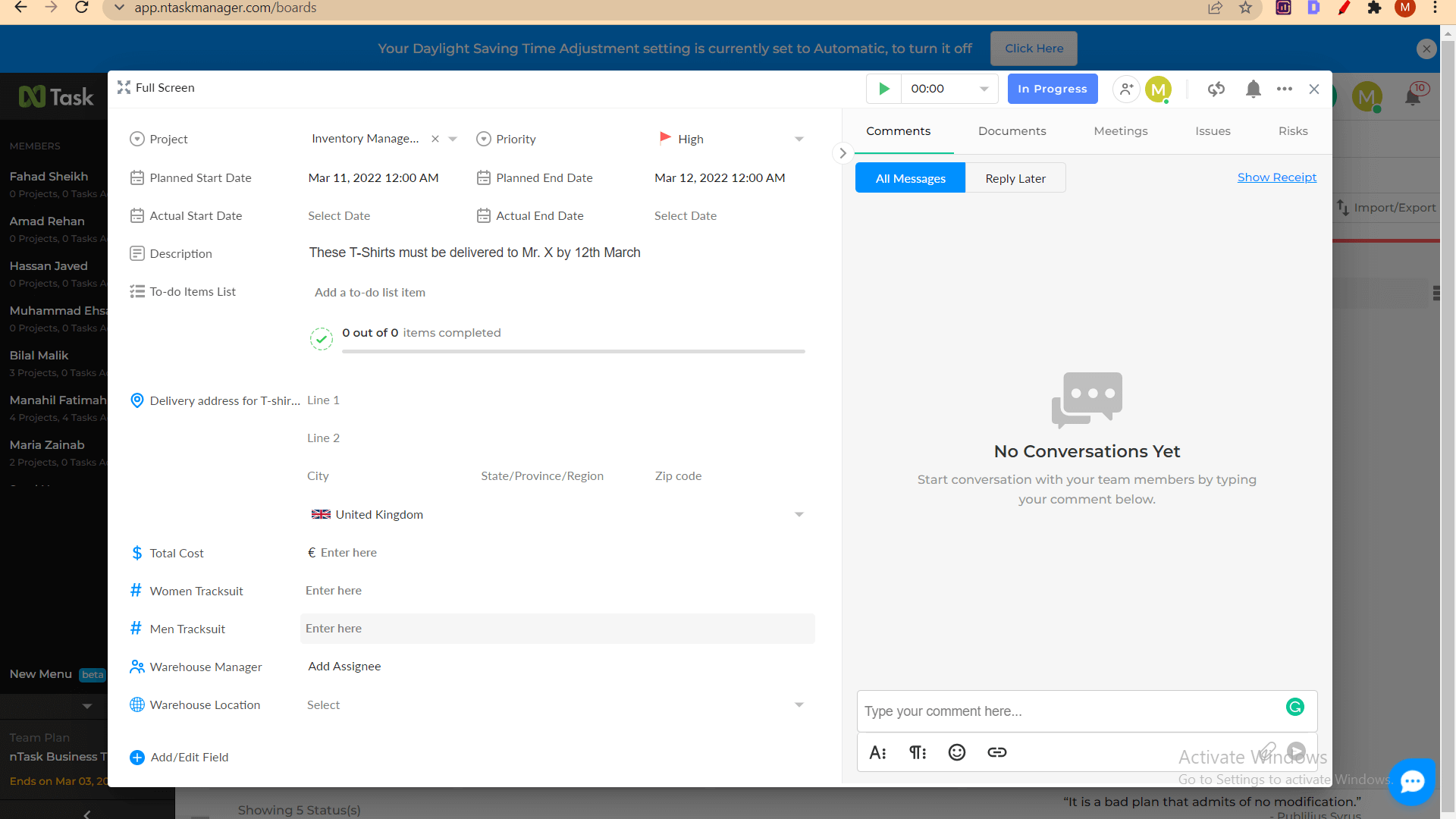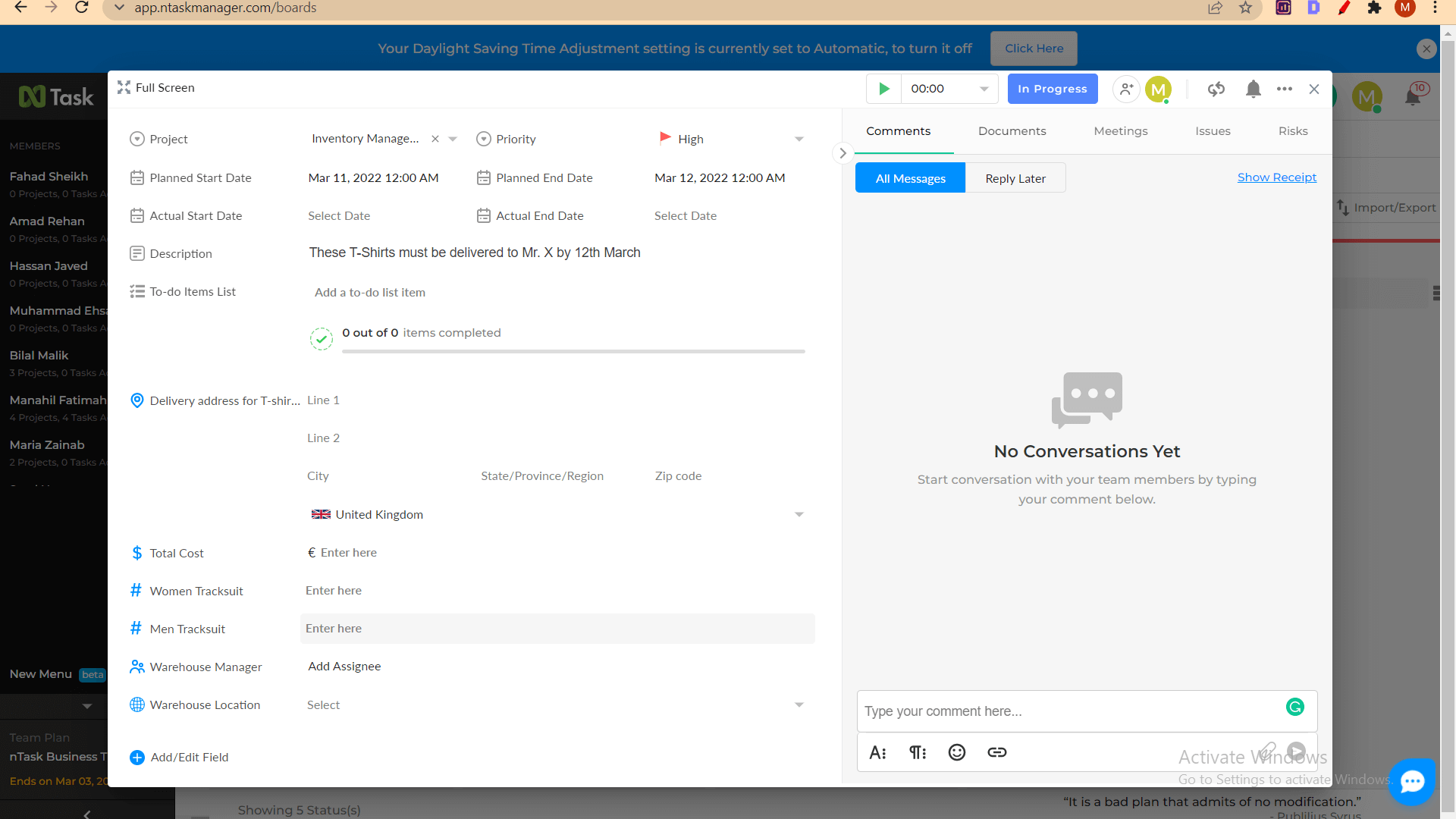 Once you are done with delivering one of the stock items, you can simply check it to cross it as done. Check the image below for it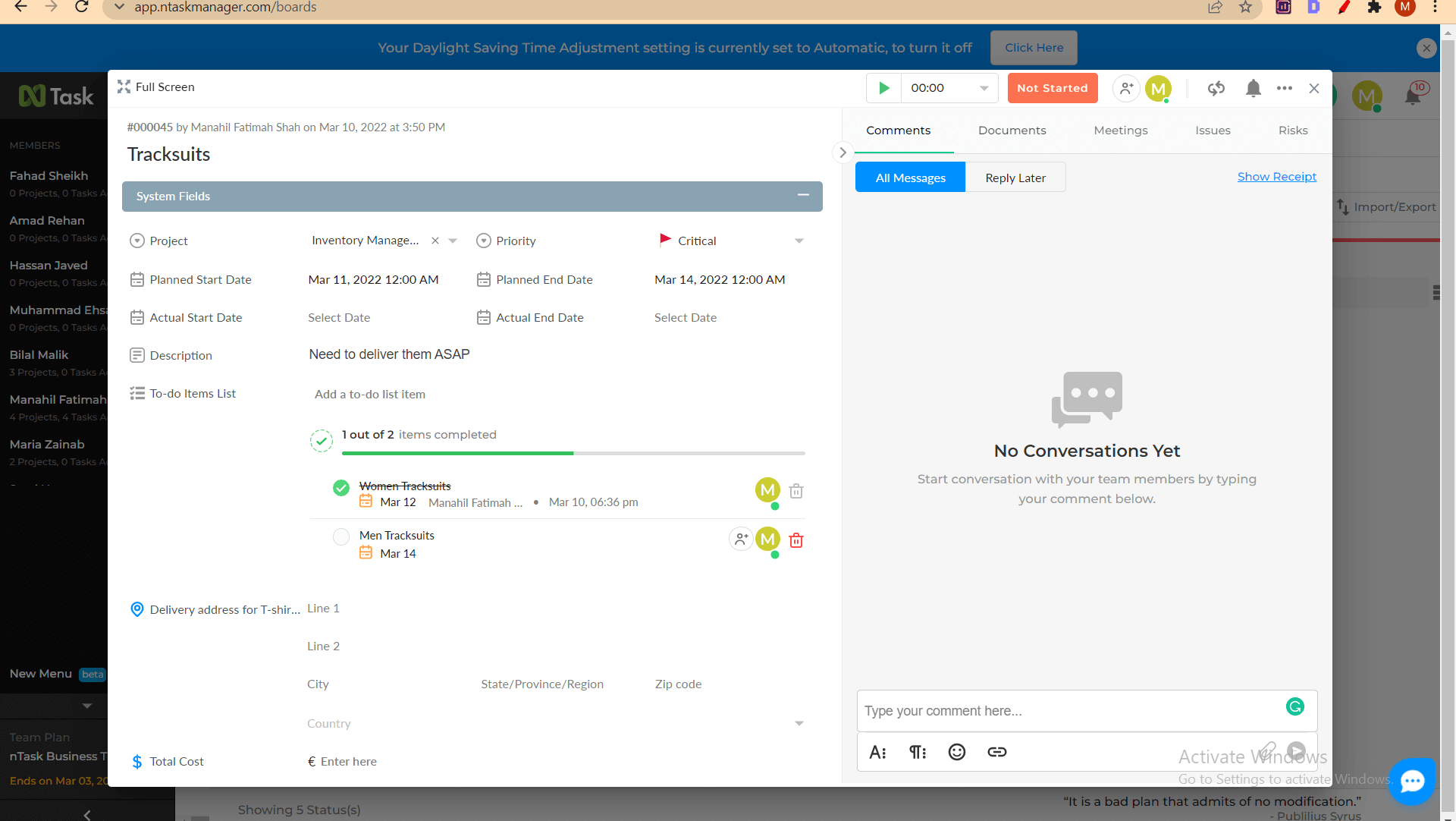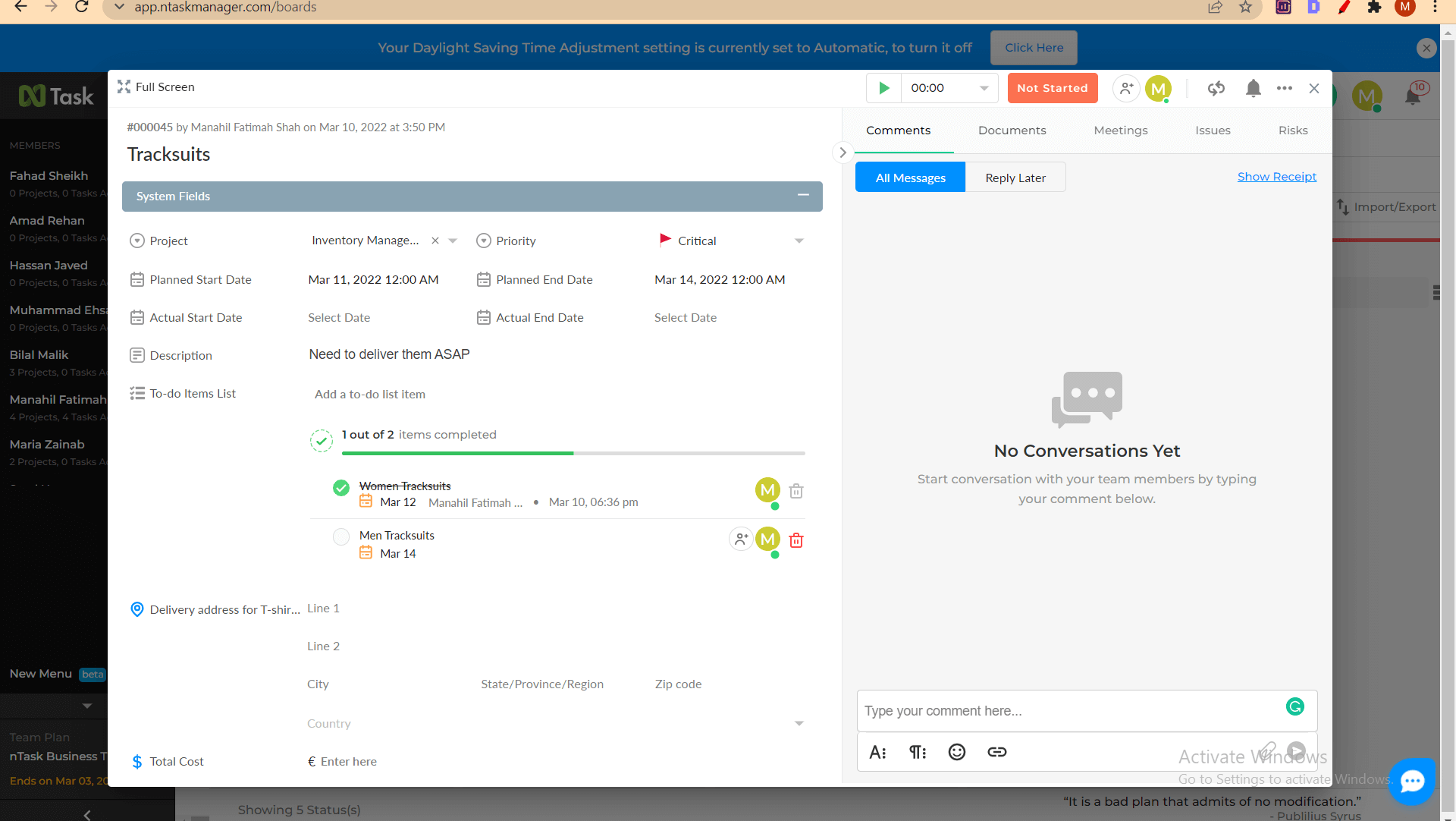 Lastly, keep on changing the status of each task and they'd automatically move on to the next section.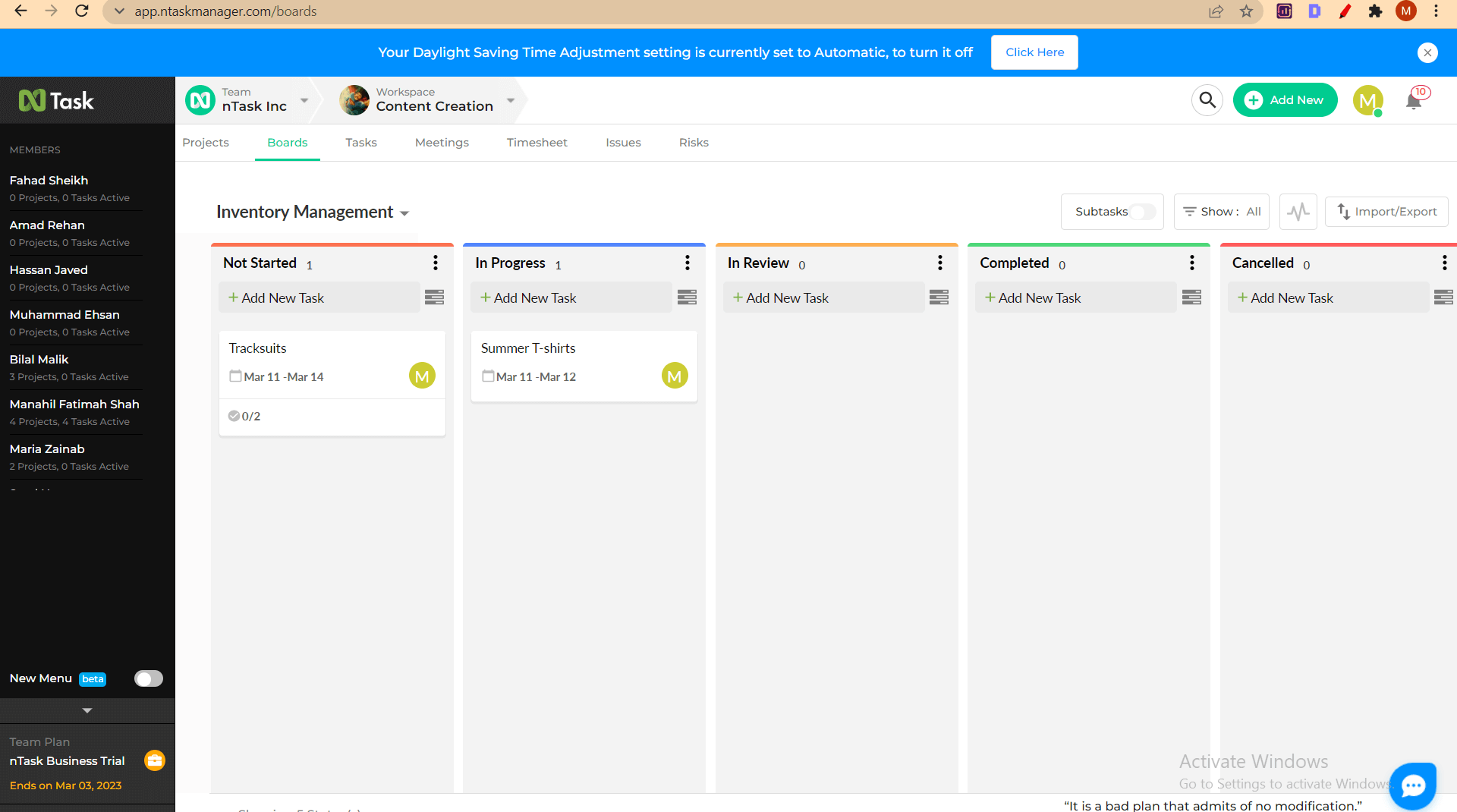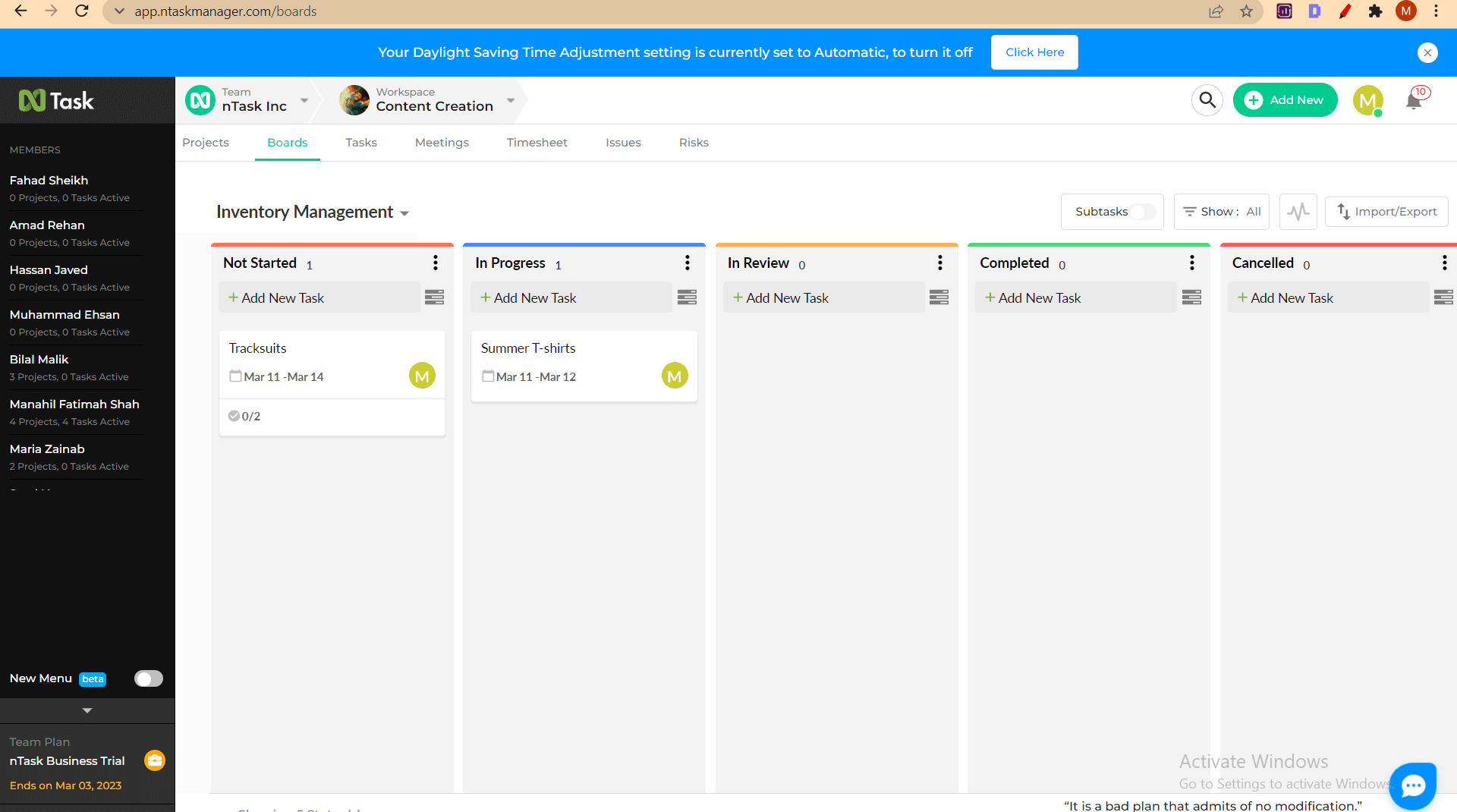 Voilà! There you've it. 13 simple ways to track your inventory in a way more effective manner with nTask.
In case you've any ambiguity, you can also sign up for a 14-day free trial or request a demo for nTask now for one-to-one assistance.
Conclusion
To conclude, inventory management is a critical process, and managing it manually is not only hard but also leads to higher chances of errors. Therefore, project management software is great to optimize processes and handling your stocks much more accurately.
Follow these 13 steps to track your inventory and keep your stocks up and running in the best way.
We wish you all the best!