Among the many challenges currently facing businesses is the move to either fully remote work or a hybrid model. Even before the pandemic, remote working had grown by a massive 91% over 10 years. This meant that around 3.4% of the US workforce was already working remotely prior to COVID-19 making that number soar.
Once the pandemic was here, around 88% of organizations globally moved to a remote working model, either mandatory or voluntary. And even as we, hopefully, move out of the pandemic, it's expected that the number of remote workers will double in 2021.
There are many benefits to remote working. Workers have less or no commute (offering substantial savings re. time and money), can be more flexible and achieve a better work-life balance, and many feel they're more productive in their own environment where they can relax when not concentrating on tasks.
But there are also challenges. Maintaining some form of 'team spirit', ensuring collaboration between staff remains high, looking at tech solutions to help staff do their work, and other considerations such as security mean we need to find the best ways to foster employee engagement.
We look at seven great ideas that will help keep your remote teams connected and engaged.
1. Define goals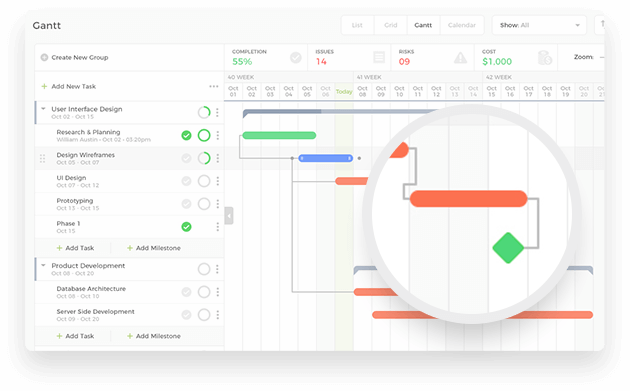 Define goals using nTask
It may surprise many people, but remote workers tend to have higher productivity levels. While you might think being in their home environment is counter-productive, the reality is that without the daily commute and distractions of office life (chats, noise, etc.), people work harder. To encourage this, they must have clearly defined goals.
By communicating exactly what is expected from your staff over a defined period, you prompt them to work toward the goals you have set. That may be task-orientated, as in a certain piece of work that has to be completed by a set date. Using an employee schedule template can help when it comes to defining hours and tasks.
There should be no real difference between what you expect of teams when office-based and what you expect when they work from anywhere else. And, although there may not be the same level of 'supervision' when working from home, you can implement regular communication, formal and informal, to overcome this hurdle.
2. Better communications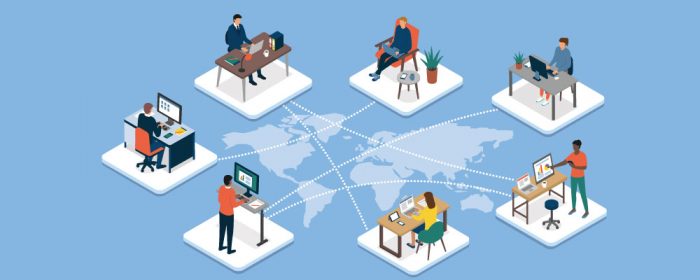 One thing that can be hard to adjust to is the change in how you communicate. Gone are the shouted requests across the office and off-the-cuff team briefings. That adjustment especially applies to management/owners. Changing how you communicate and having the tools to accommodate that change is essential in keeping your teams connected.
Thankfully, technology has stepped in to fill the breach. With a wealth of conference calling service providers available, even those weekly team meetings can be done with the click of a mouse. Using video conferencing software means that not only can you have team meetings but individuals can have both formal and informal chats with each other too.
Of course, you must ensure any software you use comes with adequate security to protect data. While you want your staff to be able to screen share online, you don't want the possibility of anyone else being able to see what's being shared!
You also want to find ways to make remote work meetings engaging.
3. Team building
While many prefer the idea of remote or hybrid employment, we must recognize that remote work can lead to feelings of isolation. Although regular communications from manager to staff and staff to staff can help, there may still be some loss of 'team feeling' and camaraderie.
When office-based, it was relatively easy to organize activities that contributed to building team spirit. These included social activities such as lunches or dinners or activities specially designed for team building such as paintballing and adventure courses. But how do you implement team building if you have a fully remote workforce?
Just as you have shifted other 'tasks' to adapt to the digital transformation, you can do the same with team-building exercises. Using the video or call technology you use in your business communications, you can bring your team together for virtual quizzes, board games, and other interactive challenges. A whole industry has now sprung up around virtual team building.
4. Personalization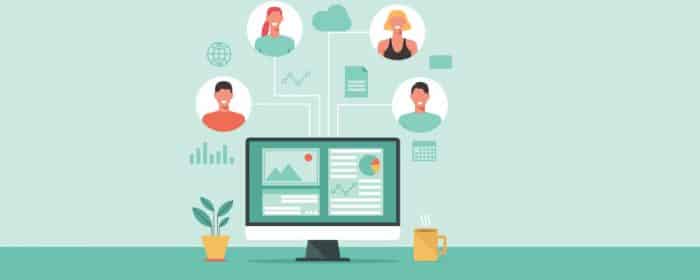 One of the advantages of office-based work is that strong relationships can be forged and maintained with relative ease. While remote working may offer challenges when it comes to this area, aiming to do the same as you would when office-based is crucial in maintaining good engagement and encouraging participation and productivity.
For inter-staff relationships, this is something that will most likely occur naturally, especially when relationships already exist. The onus in this area lies firmly with management. It's not just about work-related issues: it's about personalizing the relationship and making sure your team members feel valued and appreciated.
While the initial reason for communicating with your staff may be to do with work issues, don't end the call once these have been discussed. Have a conversation, ask them how they are doing, if they are experiencing problems, etc. This personalization can include little extras like calling a team member on their birthday or congratulating them on a piece of work.
5. Employee wellness
We've already touched on the potential of remote work to cause feelings of isolation. It's also possible for remote workers to miss out on other things, such as their former health and fitness regime. Even removing something as simple as that ten-minute walk to the station or using the stairs at the office can lead to a gap in their wellness schedule.
It may be the case that your office building has a gym that many staff used to use during their lunch hour. While most of your employees will find their own ways of approaching health and fitness, if it comes from the company, it can be another way to keep them engaged, encourage team building, and foster friendly competitiveness away from work.
Ask your employees what appeals to them. Something like yoga or fitness classes could be conducted via video conferencing. Or you could set team challenges such as walking/running a set amount each day. Or even something like learning how to cook healthy meals. You can also incentivize any wellness program with prizes or awards.
6. Collaboration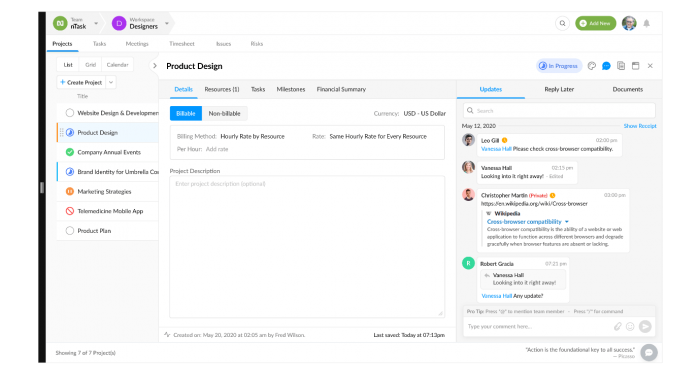 Chat and collaboration feature of nTask
Like communication, collaboration would appear to be something more easily achieved when working in an office space. A quick stroll to a colleague's desk or cubicle meant you could work together on problems and brainstorm ideas. How do you achieve that same level of collaboration if most or all of your staff are working remotely?
As with communication, technology is one of the keys to fostering collaboration within a remote team. Ensuring your staff has the necessary tools such as video call software, VoIP phones, or apps from companies like Twist means it's as easy for them to talk to each other as it was when they were office-based. These calls can be one-on-one or involve as many people as needed.
The other key is to make sure your company culture actively encourages collaboration. Show your staff what collaboration can achieve and how much you value it. Let them know, if relevant, that there are rewards/bonuses for ideas that come from collaboration. Ensure any company policies on collaboration align with remote working too.
7. Information
Another potential 'hazard' of remote working is that staff might feel they don't have access to the same information as to when they worked in the office. They may have accessed hard copy information or been able to use a central virtual repository of relevant information and data. Looking at how they can still access this is crucial to engagement and connection.
If you have a large amount of hard-copy information, try and digitize as much of it as possible. Gather all relevant info and create a knowledge base for your staff to utilize. Make sure that if they have remote access to company information, which may include sensitive data, you implement good security measures.
As well as any new and existing avenues of communication, consider setting up a secure company intranet where information can be shared or questions asked. Information, and how your staff access it, goes hand in hand with your collaboration and communication policies. Ensuring ease of access to required information makes your teams' jobs easier.
Auditing and planning
If you're only now looking at implementing a remote or hybrid working model, it may seem a little daunting. This can also apply to businesses who were 'forced' into such models and are still struggling to adapt as they had no time to plan. While our listed tips are good ones, they may not apply to every business type.
If you're in the position of shifting to remote working or if you already have and are struggling to adapt, your first step should be to audit the needs of you and your staff. Knowing what areas need to be worked on to make remote employment a success means it's easier to plan and identify solutions before moving to implement them.
You also have to accept that some of the changes needed will require investment in new technology and equipment. The other side of that coin is that some of your other costs may reduce. You might be able to downsize your physical locations and the equipment needed in them, and with less or no staff in your office, things like utility bills will decrease.
When it comes to planning, listening to your staff's needs is essential. You can then look at how your needs and their needs can best be met, especially when it comes to tech solutions such as a call management system.
If there is a need for a lot of information to be exchanged, it is also worth looking at other solutions such as cloud computing companies.
The takeaway
While it's relatively easy to find ways to improve the employee experience through technology, there also needs to be human input as far as things like policies and personalization are concerned.
Having transparency in your remote working policies is a key factor when it comes to making this successful. The world of business, especially eCommerce and digital, is constantly evolving and changing. Where we work, how we work, and when are all factors that have undergone major transformations in recent years and that will continue to change for the foreseeable future.
These changes bring both challenges and advantages. For businesses, remote working presents new difficulties in how you manage your employees. But, with the tools and resources available, there's no reason why remote employment shouldn't work for you, your staff, and your company as a whole.
With remote working here to stay, companies who cannot adapt will be left behind.
---
Post By: Victorio Duran
Victorio is the Associate SEO Director at RingCentral, a global leader in cloud-based communications and collaboration solutions. He has over 13 years of extensive involvement in web and digital operations with diverse experience as a web engineer, product manager, and digital marketing strategist.