Seamless communication, clarity, and transparency are the key essentials for the efficient completion of a project. Unfortunately, incorporating these fundamentals requires more than just your regular project management tools.
To fully grasp control over the progress of your project, you need a unique and innovative tool – Visual project management tools.
Visual project management tools are a step ahead of the usual project management tools since they increase teams' productivity by bringing in clarity, and transparency and ensuring a smooth exchange of information.
Visual organization software is a game-changer in the project management world.
These tools allow PMs and team members to visualize the progress of their projects. The visualization helps them take control of the future processes, and analyze their performance. Visual project management tools are also a means to identify issues in the process and make amendments wherever necessary.
Moving on to the big question – which project management tool should you use for your team? That's a million-dollar question and the answer to that is a bit tricky to find considering the hundreds of options available in the market.
Although these are tons of tools, some of them have made their mark in recent years and have emerged at the top. We have narrowed down the top 11 best visual project management tools and have compiled a list detailing the key features and pricing of each tool.
No dilly-dallying let's dive headfirst into the list.
List Of The Top 11 Tools For Visual Project Management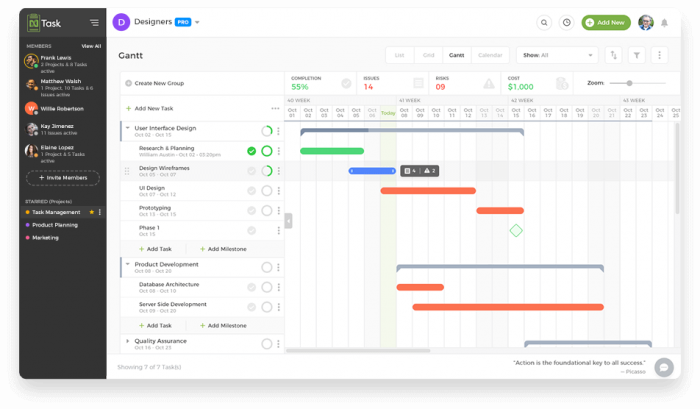 nTask is a relatively new project management software but with its advanced features and a highly friendly user interface it has become the dark horse of the project management world.
nTask has to offer a lot in terms of visual management of projects. Transparency and clarity are the hallmarks of nTask. It allows PMs to visually analyze the processes taking place in their project. It is also a life savor for team members since it gives them visibility into their work.
With the visual representation, both the PMs and the team members can easily identify their roles in the efficient completion of the project. nTask also makes it easy to analyze and identify bottlenecks allowing teams to resolve the issues before they occur.
In addition to the visual element, nTask also offers various other project management features that make it the ace of project management tools.
Key Features:
Efficient meeting management with features including recurring meetings, syncing with calendar, easy collaboration, etc.
Allows smooth exchange of information and helps establish seamless communication and collaboration with team members
Plan and create tasks, assign tasks to resources, set timelines for the completion of each task and time track the progress of each task
Get a visual representation of each task with nTask's Gantt charts and Kanban boards
Helps you keep your project organized for better workability
Issue and risk management features ensure the smooth completion of your projects without any hiccups
Regular notification, reminders, and alerts to make sure that your team is on the same page
Easy third-party integrations to avoid juggling between apps
User-Friendly Interface with easy adaptability
Pricing:
Basic – Free
Premium – $3 per user per month
Business – $8 per user per month
Enterprise – Contact team nTask to get a quote for the enterprise plan
Try The Best Visual Project Management App.

Manage all your tasks, projects, collaboration, resources and more in one place. Sign up today!

Moving on to the second-best tool in our list of the best tools for visual project management – Monday. Monday, formerly known as daPulse, has been in the game for a long time and has successfully established itself as one of the most efficient visual project management tools in the market.
Not only does Monday offer a clean visual representation of projects but also aids in effective communication, planning, and creating an organized workflow and helps efficiently manage teams, allowing companies to deliver the best results in optimal time.
Key Features:
Helps create and assign tasks
Set priority status for each task
Use one workspace to manage all your deliverables
Smart and easy visualization as a map, calendar, board, timeline, etc.
Allows you to set deadlines, milestones, dependencies, etc. for the efficient management of the project
You can customize your workflow according to your preferences and your work requirements
Smooth communication with team members for efficient collaboration
Third-party integrations for smooth working
Readymade templates to get you on the go immediately
Friendly user interface
Pricing:
Individual plan – free forever
Basic plan – $8 per user per month
Standard plan – $10 per user per month
Pro plan – $16 per user per month
Enterprise plan – contact team Monday for custom pricing
Related:
Asana Vs Monday Vs nTask: Which Project Management Tool Is the Best?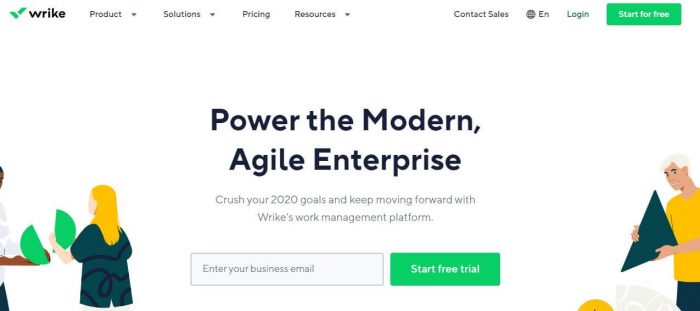 Wrike has snatched the third spot in our list of tools offering the best visuals for the project. Wrike's efficient features have made it the top choice of a number of big corporations including industrial giants like Google, Adobe, HTC, and many more.
Wrike unifies teams and allows them to coordinate without any hiccups. It also helps enhance productivity by allowing you to personalize your workflow and adjust the features according to your preferences.
Key Features:
Highly customizable work dashboard to adapt the workspace according to the requirements of your work
Generates reports to help you keep track of your progress and suggests insight to help you improve your productivity
Allows you to communicate with your team members as well as stakeholders for real-time communication
Offers foolproof security to make sure your data is safe and secure
Smooth third-party integrations to unify your workspace
Highly adaptable user interface
Allows smooth flow of information
Pricing:
Free – $0 per user per month
Professional – $9.80 per user per month
Business – $24.80 per user per month
Enterprise – Contact the Wrike team for pricing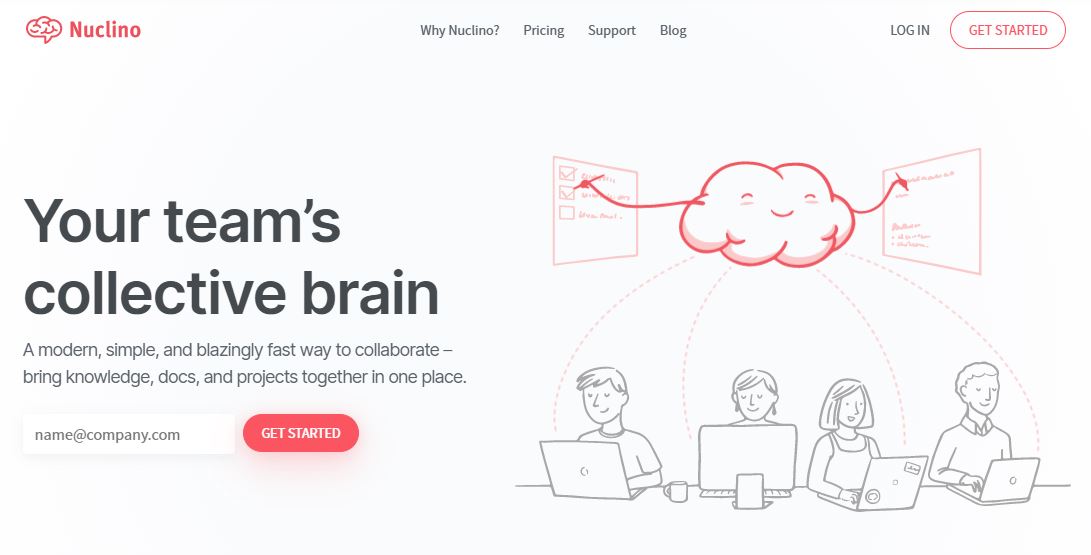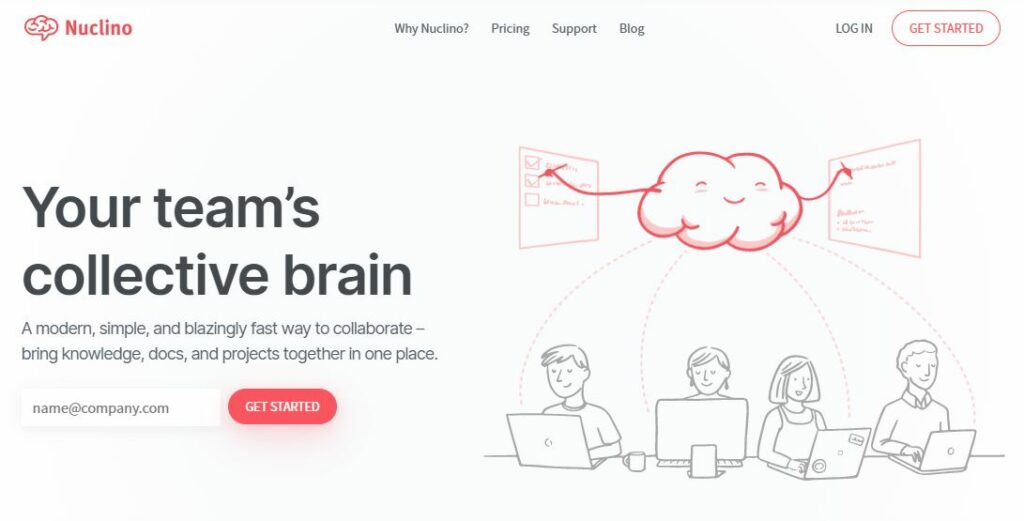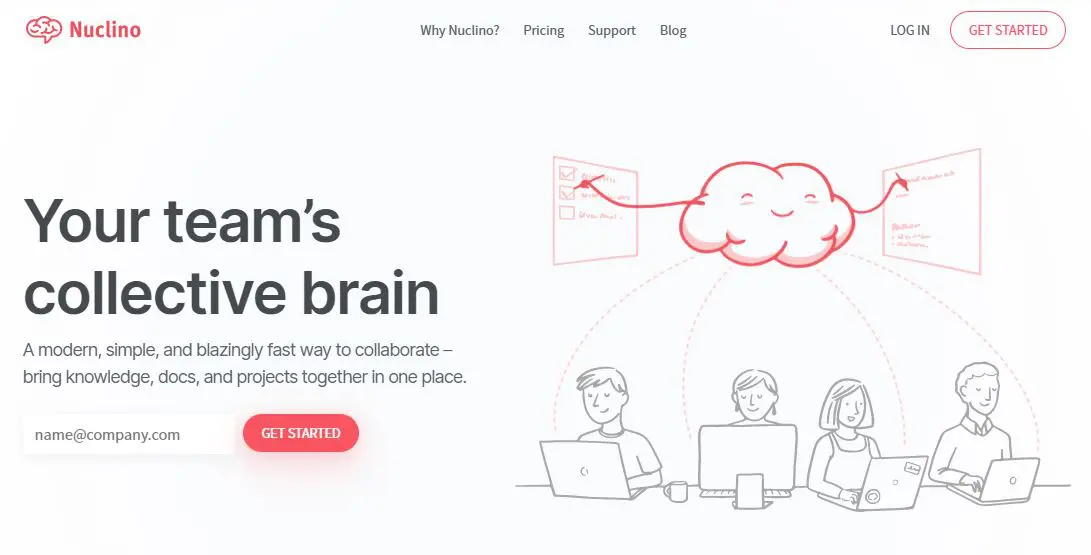 Next up on the list is Nuclino. Nuclino is a great tool for visual project management. It allows you to visualize your projects in a variety of ways, including a Kanban board, a hierarchical list, or a mindmap-style graph — whichever view best matches your workflow.
While Nuclino can be used exclusively for project management, it's a highly flexible app that allows you to organize all your work in one place. You can use it to build your company knowledge base, collaborate on documents, onboard new employees, and more — all in one simple, modern, and fast solution. Nuclino is versatile yet lightweight and designed to be as simple and intuitive as possible, with no clunky menus or needlessly complex settings.
Key Features:
Flexible data visualization options, including the Board, List, and Graph view
Real-time collaboration
Auto-save of changes with version history
Task lists and assignments
Custom fields for tracking assignees, due dates, tags, and more
Markdown commands and keyboard shortcuts
Drag-and-drop editor
Comments and @-mentions
Interactive media embeds
A quick search with advanced filters
API
Integrations with 40+ apps, including Slack, Google Drive, and Figma
Pricing Plan:
Basic free plan
Paid subscriptions start from $5 per user, per month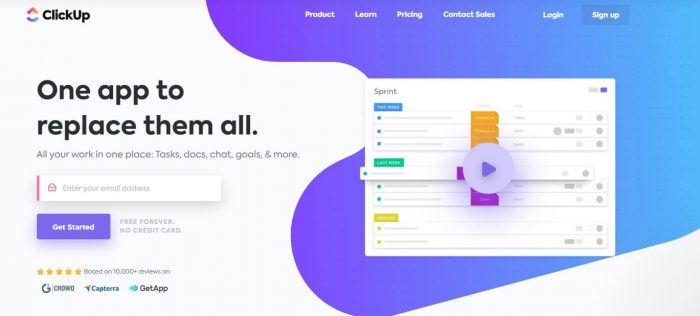 ClickUp is our 8th pick for software offering the best visuals for projects. It is an efficient project management tool that has gained momentum in recent years due to feature-rich modules.
With ClickUp you can easily customize and optimize your project management features. Its simple and easy-to-use interface is the biggest catch for teams.
Key Features:
Allows you to set task dependencies
Assign multiple resources to tasks
Customize statuses for your ease
Share files and attachments with your team members
Customize your workspace according to your requirements
ClickUp offers the most enriched project views such as list view, board view, box view, calendar view, and a bunch of others
Brings your team together by unifying the workspace
Pricing:
Free – Free Forever
Unlimited – $5 per user per month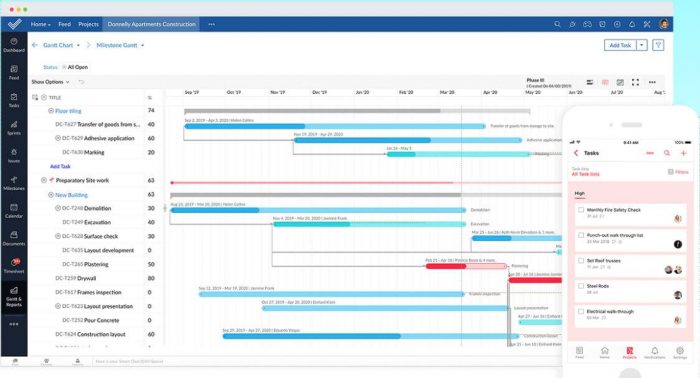 Zoho Projects is one of the best visual project management tools offering a wide range of options for all types of businesses.
The cloud-based visual project management tool offers hassle-free communication with its interactive feed and forums through which teams can exchange feedback and offer insights to increase efficiency.
With Zoho projects, PMs can create and assign tasks and also, keep an eye on how the project progresses over time. Zoho projects' Gantt charts are an efficient way to visualize your performance.
Key Features:
Allows you to plan your projects, closely track your performance, efficiently collaborate with your team, and complete your projects efficiently.
You can easily assign work to your team members, manage resources, and seamlessly communicate with your team to make sure you are one with your team
Gantt charts allow you to identify dependencies and alert you immediately in case of deviations
Easy-to-use user interface
Customizable themes to make sure you can use the software comfortably
Uninterrupted integration with Zoho apps and other third-party apps
iOS and Android apps
Pricing:
Free – available for free
Premium – $5 per user per month
Enterprise – $10 per user per month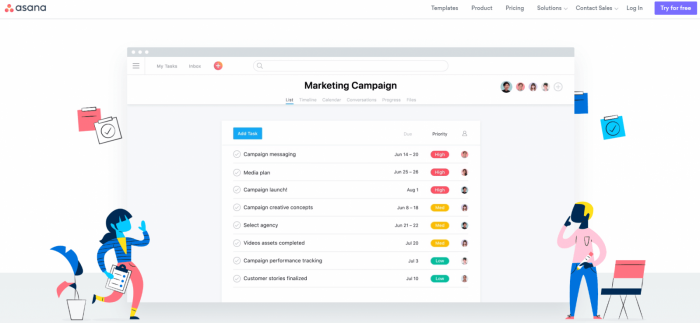 The next one in line is Asana. Asana is an all-in-one visual organization software with a wide variety of features that make project management a breeze.
Asana is your one-stop shop for all the things you need to efficiently manage your project. You no longer need to juggle between different apps to track your project, you can keep everything unified with Asana.
It allows teams to stay updated and informed about the latest developments in the project. It also provides efficient visuals for projects to help teams stay on track and complete their projects optimally.
Key Features:
Helps you stay on schedule by helping you map out your tasks and set priority statuses for each one of them
Streamlines communication by keeping everyone on the same page. You can communicate with your team members, vendors, and clients at the same place
Improve coordination by making sure that all the information and data is easily accessible to all the team members
Real-time updates to make sure you stay informed about the progress of your project
Digitally visualize your projects and see your tasks move towards the completion phase
Optimized workflow by helping identify bottlenecks
100+ third-party integrations
Customizable workflows for more easy management
Pricing:
Basic – Free forever
Premium – $10.99 per user per month
Business – $24.99 per user per month
Enterprise – Contact the Asana team for custom quotes.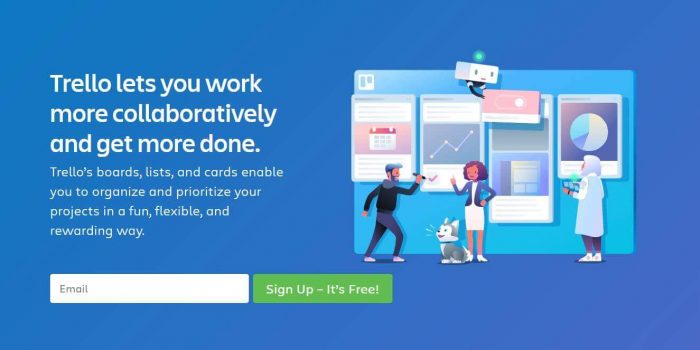 Trello has made it to number 6 on our list of the best visual project management tools with its top-notch features and a friendly user interface. With the use of Trello, you can easily keep track of who is working on what, how far has your project progressed and what are the latest updates.
Along with other innovative features, Trello also offers uninterrupted communication so that your team stays updated about their progress. Additionally, its highly functional Kanban boards are a cherry on top for businesses operating all over the world.
Key Features:
Trello's intuitive features allow teams to personalize their workflows
With Trello cards and board, you can easily organize your workflow, start from scratch and see your project move towards completion
Allows you to manage, track and share your cards with your team members
Automated Recurring tasks
Connect apps with your Trello account or add a power-up to make sure you have a smooth and seamless workspace
Android ad iOS mobile apps
Team collaboration and communication
Easy file sharing
Pricing:
Free – Free of cost
Business class – $10 per user per month
Enterprise – Contact the vendor for pricing details
Check this out:
Trello vs Monday.com: Which One to Choose in 2022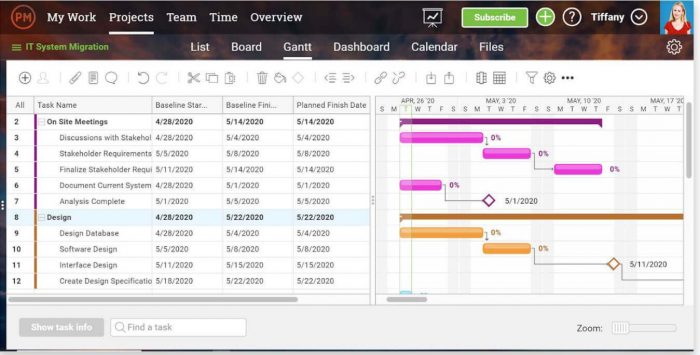 Project manager has landed on number 7 in our list. This visual project management tool is a favorite of professionals all over the world. Trusted by NASA, Volvo, University of Washington, and many others for efficient management of their projects.
Project Manager offers one of the most detailed project representations. Its planning and tracking features make it an ideal pick for PMs who want to keep an eye on their project at all times.
Key Features:
Interactive Gantt charts to help you plan, organize and structure your projects in real-time
Use project dashboards to visualize progress, costs, workload, etc.
Share project details with Project reports
Compatible with both Windows and Mac computers
Kanban boards to help you visualize small-scale projects
Use the drag-and-drop feature for easy scheduling
Easy communication on projects
1000+ third-party integrations
Pricing:
Personal – $15 per user per month
Team – $20 per user per month
Business – $25 per user per month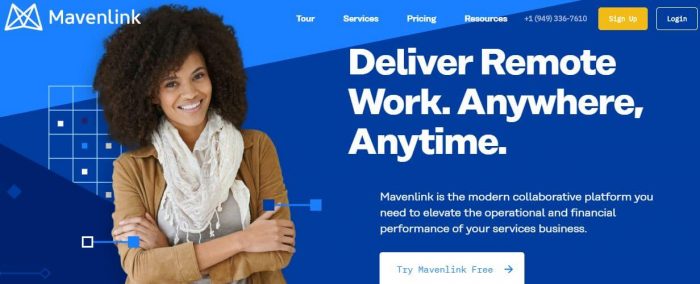 Mavenlink is a visual organization software that offers a combination of project management and Professional Services Automation (PSA) for professional organizations.
Mavenlink enhances productivity by efficiently managing resources. In addition, it also allows you to customize your templates and save them so that you can use them later.
Some of Mavenlink's most baggable modules include resource planning, advanced project management, collaboration, and financial management.
Key Features:
Helps you find the best resource mix by thoroughly analyzing demands, skills, etc.
Efficient visualization through project cards
Effective communication and collaboration with team members
Offers a complete view of your project portfolio
Quick access to the health and status of a project
Gantt chart for real-time visibility on your projects
Track your progress and enhance your productivity
Third-party integration for smooth working flow
Pricing:
Teams – $19 per user per month
Professional – $39 per user per month
Premier and Enterprise – Contact Mavenlink's team for quotes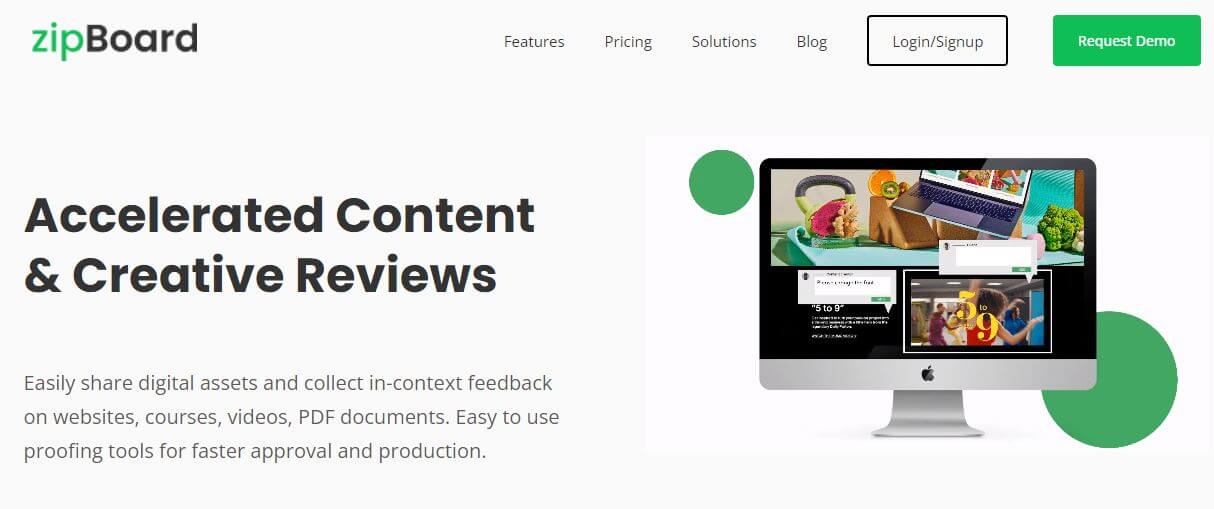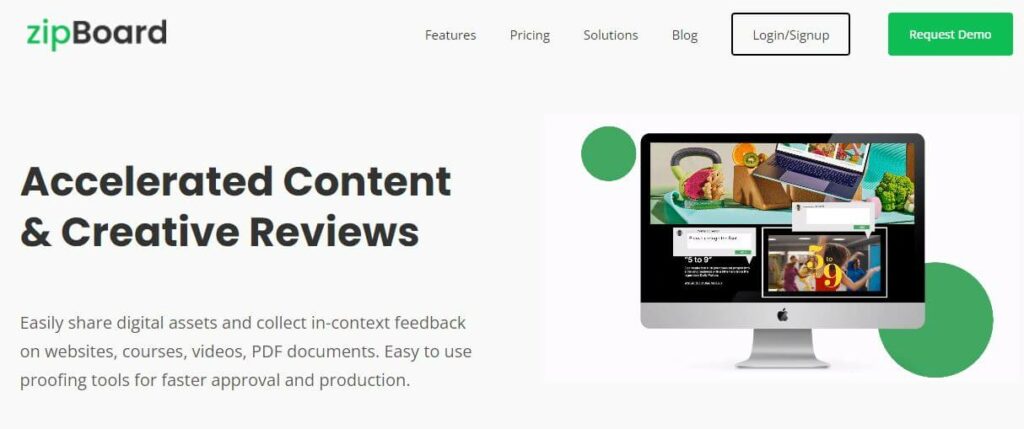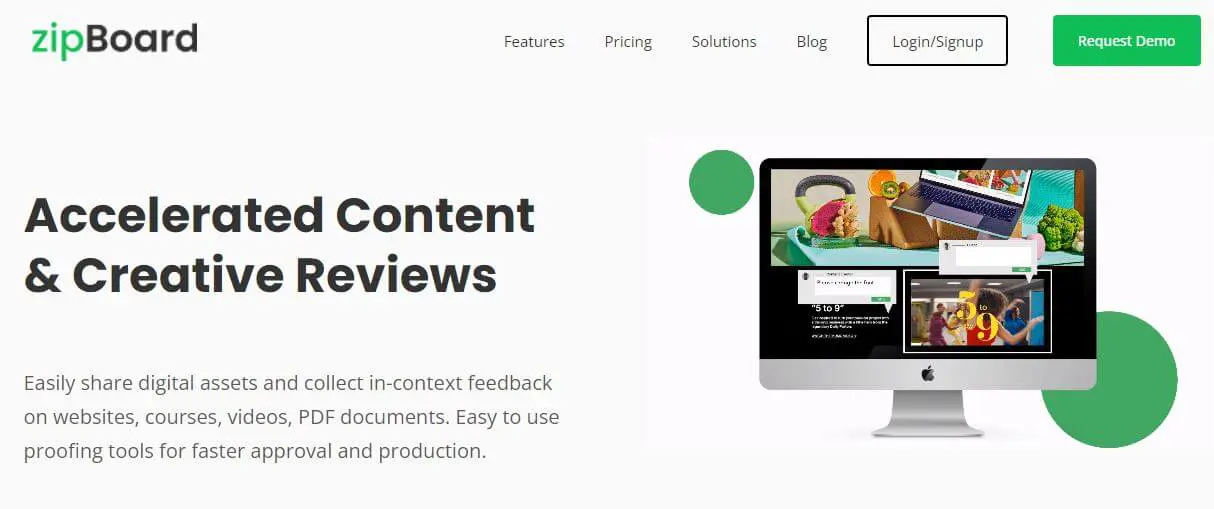 A collaborating and bug tracking tool for all your visual project management needs. zipBoard is a visual feedback tool that specializes in collaboration with all, be it, team members, clients, or other stakeholders.
It lets you annotate on web pages, SCORM, images, videos, and PDFs. Simplifying the collaboration process for a vast array of industries. From web developers and eLearning reviewers to construction reviewers and creative marketers.
With zipBoard, review all your online proofs on a centralized platform regardless of the digital content and get rid of the endless email chains and screen-sharing meetings.
Key Features:
Easy to use, simple UI, especially for non-technical people.
With multiple filters for reports, track your effort and plan your resources accordingly.
Traceability of all versions and changes and clear designation of roles.
Unlimited projects and collaborators right from the starter plan.
Integrate seamlessly with your ERP and create features based on your unique needs.
Guest reviewers need not log in and can start providing feedback right away, without an account.
Create custom APIs on demand.
Pricing:
The choice is yours now!
This marks the end of our list, but it's just the beginning for you. Carefully analyze the list and mark similarities between the features offered by each tool and the features essential for your project.
Make sure that the tool you choose has a friendly layout, and an easy-to-use interface, offers advanced features on top of the basics, has tools for real-time communication, and offers remote support. The availability of these features means that the visual project management tool is an efficient one.
Narrow down your choices and determine which one will be the best one. If you still find it difficult to make a definite choice, you can utilize the free trials to be sure.
Do your research before you make your call.
Best of luck!