Do you know what types of planners are available on the market today? If not, you're not alone.
Even experienced entrepreneurs can get confused by all the different types of planners out there. In this post, we will introduce you to the five main types of planners and their purposes.
After that, we'll give you a brief overview of each one so that you can decide which one is right for you. So put down that notepad and let us take you on a journey into the world of planners!
Importance of planners in project management
Project management is an important aspect of any organization or project. Planners play a vital role in making sure that a project runs smoothly and achieves its desired outcome.
Planners are responsible for developing a plan of action, managing resources, and scheduling activities that are necessary to complete the project within budget and timeframe. They also provide guidance to team members on meeting deadlines, setting goals, and executing tasks so that the project is completed on time and within budget constraints.
Planners must have strong organizational skills as well as knowledge of process control tools such as Microsoft Project, Gantt charts, PERT diagrams, etc., to successfully manage projects from concept to completion. These tools can help planners determine project progress, identify critical tasks ahead of schedule, and ensure quality is maintained throughout the lifecycle of the project. 
A planner needs to monitor all aspects related to the project cost estimation; financial planning; requirement specification; risk analysis & management; resource allocation & utilization; development & implementation process follow-up etc.; in order to ensure the successful completion of any given task or projects undertaken by their team members or stakeholders involved with it. 
Different Types of Planners
1. Daily Planner
A daily planner is a piece of paper or an app that helps you schedule your day and keep track of your commitments. It can be used to keep track of appointments, tasks, and other important events.
There are a number of different types of planners available on the market, but the most popular ones contain all the features you need to help you organize and execute your day effectively.
They also come with pre-designed templates so that you can get started quickly.
The best part about using a daily planner is that it can help you overcome some of the challenges that often plague people when they try to manage their time: stress, anxiety, and boredom.
By using a daily planner, you'll be able to better prioritize your tasks and stay on track throughout the day.
2. Weekly Planner
A Weekly Planner is a great way to organize your life and stay on track. It allows you to see each day in detail and make sure that you're doing what you need to do.
By taking the time each week to plan out your goals, you'll be able to better prioritize your tasks and achieve more in a shorter amount of time. You'll also be able to stay organized and avoid feeling overwhelmed by your commitments.
Here's how it works: each week, you write down everything that needs to be done that week. This includes both work-related and personal tasks, as well as anything that's scheduled for that day.
At the end of the week, you can review your plan and see where you stand — both physically and emotionally. This will help you stay on top of everything and make sure that everything is running smoothly.
3. Monthly Planner
The Monthly Planner is a popular productivity tool that was created to help you organize and manage your day-to-day tasks. It's a simple, easy-to-use planner that helps you stay on track and get things done.
The Monthly Planner is divided into three sections: the daily section, the weekly section, and the monthly section.
The daily section is where you write out your goals for the day. The weekly section is where you list all of your planned tasks for the week, and the monthly section is where you record all of your completed tasks from the past month.
4. Health and fitness planner
A Health and fitness planner is a computer program or app that helps you track your health and fitness goals. It can help you stay on track by tracking your weight, BMI, exercise habits, food intake, and more.
Health and fitness planners can be helpful in two ways: first, they can help you stay on track by keeping you accountable. Second, they can provide helpful tips and advice to help you achieve your health and fitness goals.
They may also recommend supplements or other treatments to help improve your health.
5. Planners for Special Occasions
Planners for Special Occasions is a business that helps people plan special events, like weddings and birthdays. They provide a wide range of services, from event planning to cater.
One of the biggest advantages that planners for special occasions have is their knowledge and experience in the creative industries. This means that they are able to create truly unique and memorable events.
They also have the ability to work with a wide range of budgets, which makes them ideal for anyone who wants to throw an amazing party without breaking the bank.
Different mediums a planner can be used in
1. Digital Planners
Digital planners are a type of planner that uses digital planner tools to help you plan your day, week, or month. They're often combinations of a calendar, diary, to-do list, and goal planner.
One of the biggest benefits of using a digital planner is that it makes organization and planning much easier. You can access your plans at any time and from anywhere in the world – which means you don't have to keep track of multiple paper copies.
Plus, if you need to make changes or additions, you can do so with ease.
Digital planners also come with some other handy features: they can be synchronized with other devices like phones and computers, so you always have your plans at hand; they allow for easy customization; and they provide an overview of your progress over time.
2. Paper Planners
Paper planners are a type of planning tool that helps you organize your thoughts and ideas. They come in different shapes and sizes and can be used to keep track of anything from daily tasks to long-term goals.
They're often seen as a helpful tool for people who are struggling with memory or organizing their thoughts, but they can also be helpful for people who want to stay on top of their work schedule and stay organized.
Some people even use them to keep track of their personal finances.
There are many different types of paper planners available on the market, so it's important to find one that works best for you.
Some popular options include the Day Runner, the Monthly Planner, the Weekly Planner, the Daily Checklist planner, and the Daily To-Do list planner.
3. Printable Planners
Printable planners are a great way to keep track of your tasks and commitments, and they're also ideal for making to-do lists. They're especially handy if you have a lot of things you need to do in a specific period of time.
One of the best things about printable planners is that they're easy to use. All you need is a printer, some paper, and an inkjet or laser printer.
Once you've downloaded the planner template that you want, just print it out on high-quality paper and start filling it in!
There are many different types of printable planners out there, but we recommend choosing one that fits your needs specifically. Some popular choices include weekly planners, monthly planners, daily planners, task planners, and more.
Just make sure that you find the right one for you so that you can stay organized and productive all year round!
4. Personal Planner Apps
Personal planner apps are a great way to keep track of your goals and priorities. They can help you stay on track by helping you create, organize and manage your to-do list.
There are a variety of different personal planner apps available on the market, so it's important to find one that suits your needs. Some people prefer app-based planners while others prefer desktop planners.
There are also mobile apps available that allow you to access your planner from anywhere in the world.
Paper Vs Digital Planners: Which Should You Choose?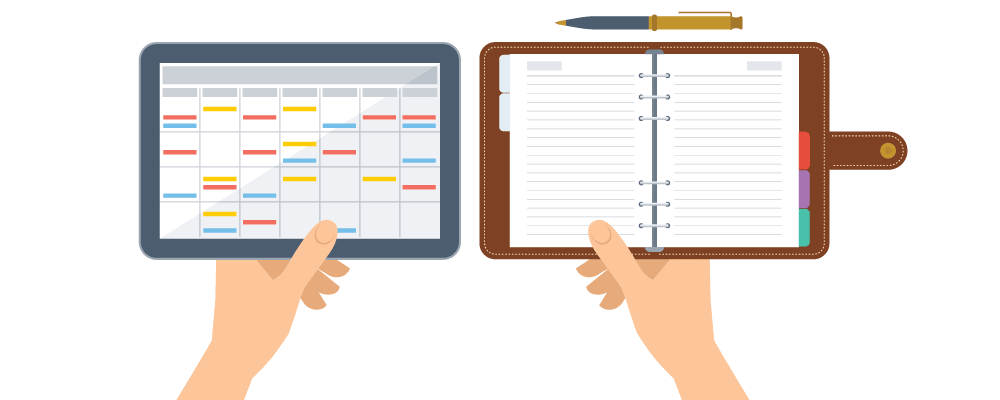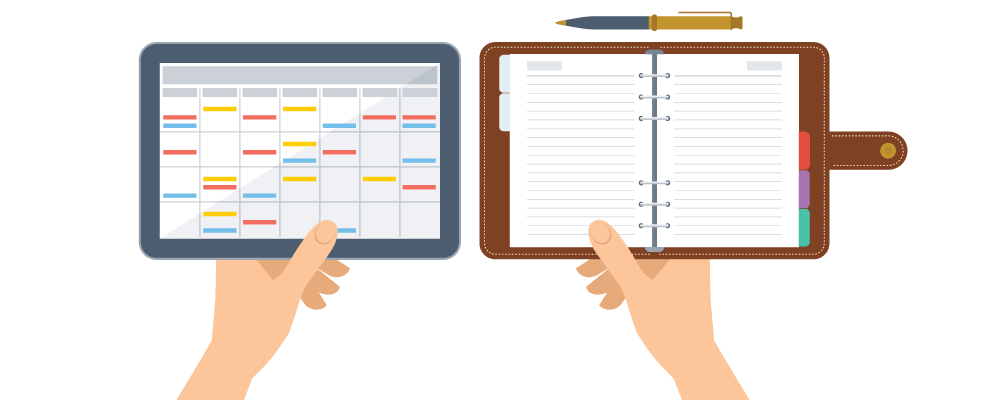 Both paper planners and digital planners can be useful tools for staying organized. While both have their advantages and disadvantages, it really comes down to personal preference when choosing which planner is best for you.
Paper Planners:
Paper planners are beneficial because they're tangible objects that you can easily carry with you on the go and make notes anywhere. 
Plus, seeing everything written out in front of you can help make tasks more concrete in your mind, which is especially helpful when trying to focus or stay motivated on a project. Some drawbacks include not having access to certain features that a digital planner could provide (like reminders) as well as needing constant updating if things change.
Digital Planners:
Digital planners offer more flexibility since they are easily modified with just a few clicks of a button — instead of having to rewrite entire pages like paper ones might require! 
These also typically come with additional features like event reminders, calendar views, and even analytics tracking options depending on the app you use. However, there's something almost nostalgic about the act of jotting down notes in an old-fashioned planner that many people enjoy.
Additionally, digital calendars may require subscribing to costly services or needing reliable internet access at all times — although some apps now offer offline capabilities too! 
Ultimately it comes down to what works for each individual person — whether it be paper or digital — but remember that switching up your planner format from time to time could also help keep your organization skills fresh and engaging!
What are the Different Uses of a Planner?
A planner can be used for a variety of different purposes. Here are just a few:
To organize your thoughts and ideas
To track your progress and goals
To keep track of your time and budgetary expenses
To design a timeline for a project or goal
To plan social events or gatherings
What are the benefits of using a Planner?
There are a number of benefits to using a planner, and these include:
It can help you organize and focus on your goals.
It can help you stay on track and make sure that you're making progress toward your objectives.
It can help you stay motivated and focused during difficult times.
It can keep you organized and accountable so that you always know what needs to be done in order to achieve your goals.
How to Choose a Planner?
There are a few things you need to consider when choosing a planner: the type of planning you want to do, the features that are important to you, and your budget.
Depending on what type of planning you want to do, there are different planners that would be better suited for you.
If you're looking for a goal-setting or time-tracking planner, then a spiral or grid planner may be better suited because they have gridlines or circles that help keep track of deadlines and tasks.
On the other hand, if you're looking for a diary or journal, then an A5 notebook would work best because it's large enough to write in but not too large as to be cumbersome.
Another thing to consider is the features that are important to you. Some planners come with daily outlooks, weekly outlooks, monthly outlooks, and even annual outlooks so that you can see at a glance how your plans are progressing. 
Others come with dividers so that different parts of your life (work, home life, etc.) can have their own sections. And finally, some planners come with alarm clocks so that you don't have to worry about missing any important deadlines!
Finally, your budget is also an important factor when selecting a planner. Not all planners are equal in terms of price – some may be more expensive than others – so make sure to research which
How do I get Started with a Planner?
There are a few different ways to get started with a planner. You can either buy one or make your own.
The easiest way to get started is to buy one. There are many different types of planners on the market, so it's important to find the one that's right for you.
Some popular options include those that are spiral-bound and have dividers for daily, weekly, and monthly tasks, as well as those that have monthly calendars and organizers.
If you're not interested in using a planner, you can also make your own. This option is perfect if you're someone who likes to be in control of their life and wants complete control over their schedules.
To make your own planner, all you need is some paper and some pens or pencils. You can then divide the paper into sections based on your day-to-day schedule, and fill in each section with specific information related to your tasks and goals.
Other Ways to Keep Organized
There are a number of other ways to keep organized that you may not have considered. Here are a few:
Use a digital calendar or planner: This is an excellent way to track your commitments and appointments, as well as plan your day and week ahead. You can also use this tool to track your ideas and projects, so you know exactly where they stand and when you need to schedule time for them.
Use a task manager: This is another great way to keep track of all the different tasks you have to do, and it allows you to prioritize them in order of importance. It can also help you stay on top of deadlines because it will remind you when important tasks need to be completed.
Use a document organizer: This can be helpful for storing all the different documents that you need access to – like contracts, recipes, and work proposals. You can also use it to store photos and videos, so everything is readily accessible when needed.
Conclusion
Planning is one of the most important tasks you can ever do in your life. And it doesn't get simpler than using a planner! You just need to choose the right type of planner that suits you best, based on your needs and work style.
As we mentioned above, there are five types of planners available. So which one should you go for? It all depends on how often and when you tend to plan ahead.
For instance, an annual planner or a month-to-month planner can benefit those who tend to make plans regularly! For others who prefer more flexibility, a daily planner can be just what they need.