Are you a project manager looking for the best tracking tools for project management to ensure that your team remains productive and on track? Are you unsure of how to fit them all into your day and make sure none of them slip through the cracks? 
Look no further!
This blog will provide you with an overview of the 10 best tracking tools that are sure to make managing any project easier. You will learn about their features, benefits, and how they can help your team reach its goals in the most efficient way possible.
With these tools, you'll be able to stay on top of tasks, collaborate better with colleagues or clients, organize resources easily, and much more. 
The all-in-one tracking tool
Use nTask today!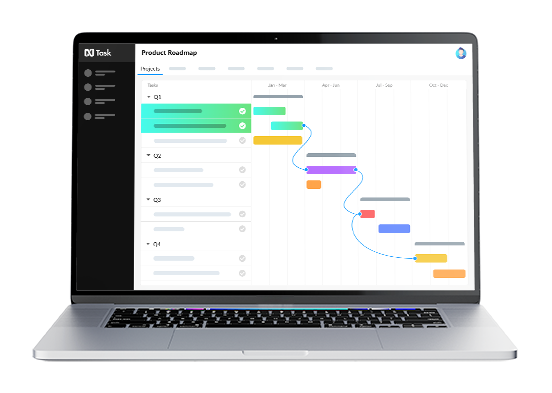 Get ready to take your productivity to the next level with these amazing tracking tools! Whether it's tracking tasks or managing resources, these powerful applications have you covered. Read on to find the perfect tool for your project management needs!
---
What Is A Tracking Tool
A tracking tool is a type of software that helps businesses and organizations keep track of their goals and objectives. It can help managers monitor the progress of projects, measure performance, analyze trends, and more.
Tracking tools come in many forms including Gantt charts, task lists, project management systems, KPIs (key performance indicators), analytics packages, spreadsheets, and databases. These powerful tools allow you to analyze both qualitative and quantitative information about your organization's progress toward its goals.
Tracking tools make it easier for you to visualize project progress over time so that you can identify areas where improvement or intervention may be necessary. They also enable better communication between team members by providing an overview of what needs to be done or accomplished at any given point in time.
With this information at their fingertips, they can better prioritize tasks efficiently while staying on track with deadlines and budget limits too.
Overall utilizing a tracking tool is beneficial for understanding trends within your organization as well as helping managers ensure projects stay on target effectively. It's important to take the time to choose the right one that meets your specific needs so you can reap all the rewards associated with having such an effective tool in place!
---
What Is Project Management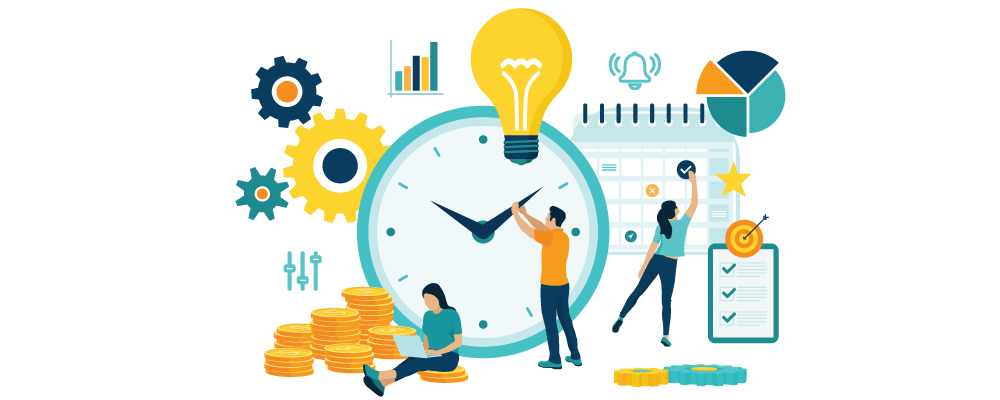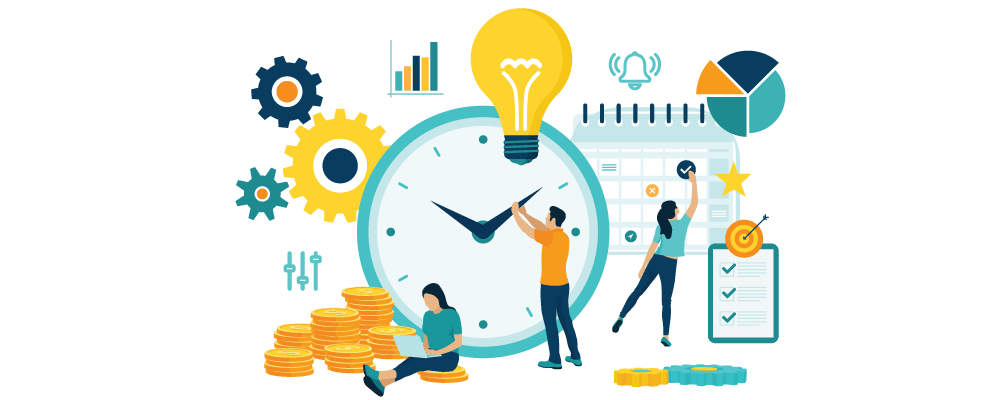 Project management is the process of coordinating and managing resources to efficiently complete a specific goal.
It involves planning, organizing, leading, directing, controlling, and motivating people and resources to achieve the project's objectives.
Project management typically includes components such as scheduling tasks, and assigning resources and costs associated with each task or activity within the project.
Projects are planned at various levels – from individual projects to larger initiatives that involve multiple teams working on different elements of larger projects at the same time. The success of any project depends largely on how well it is managed as well as how effectively resources are allocated to each task to complete it on time and within budget.
Project management software can help streamline processes by automating many of them such as resource allocation or budget tracking. This software also makes collaboration easier by providing an environment for team members to communicate freely about progress updates or potential problems that may arise during a project's completion period.
In addition, project managers use this software for performance reporting which allows them to more accurately gauge progress against goals set before beginning work on a particular project.
---
What Is A Tracking Tool For Project Management?
A project management tracking tool is an essential part of any successful project. A tracking tool helps teams stay on top of tasks, monitor progress, and make sure that everyone involved in the project is contributing their fair share.
The goal of a project management tracking tool is to provide team members with a clear list of what needs to be done and by when. It also creates transparency within the organization so that everyone can see who is responsible for each task and how it's progressing.
Tracking tools also provide important metrics such as time spent working on tasks, resource utilization, cost estimates, and other metrics to help teams track the success rate of their projects over time. This information can then be used to identify areas where improvements need to be made or additional resources may be required.
Most tracking tools provide a visual representation of progress so that stakeholders can easily understand it. It may be in the form of Gantt charts, spreadsheets, or other graphical presentations. They may also allow users to sort data by project milestones or divide projects into multiple tasks. This makes it easier for managers to oversee development more effectively while providing better communication among team members who are working on different aspects of a project.
Tracking tools also often include features such as notifications when important events occur (like approaching deadlines), automated time tracking and report generation functions that help streamline processes such as payroll and invoicing, and reporting capabilities that allow a robust analysis of projects to identify areas where improvements can be made or strategies adjusted for future success.
---
Benefits Of Project Management Tools For Tracking Progress
These tools are invaluable in planning, controlling, scheduling, and managing projects of any size or complexity. They help you to keep your projects on track and complete them within the set deadlines. These are some benefits to know the importance of project management tools for tracking progress;
1. Improved Efficiency: Project management tools provide an efficient way to track progress and ensure that tasks remain on schedule. By having a centralized system for tracking tasks, planning timelines, and assigning responsibilities, teams can stay organized and keep projects on track.  
2. Increased Productivity: With better task delegation, project managers can reduce the amount of time spent managing individual tasks while ensuring they get done promptly. This improved productivity can lead to greater results overall, as more work gets completed in less time with fewer resources.  
3. More Visibility & Accountability: With project management tools, it's easier to see who is responsible for specific tasks at any given point in time. Everyone involved will be able to keep track of the progress being made on all necessary components of the project without having to manually look into each one individually.  
Additionally, this increased visibility leads to increased accountability across teams since employees can easily be held responsible for their contributions (or lack thereof).
4. Improved Communication & Collaboration: Using project management software also makes it easier for team members from different departments or offices around the world to collaborate on projects together in real-time even if they are not physically present with each other at every turn of their project process journey which helps foster smoother communication between them all which is key when working together towards shared goals  
5. Better Decision-Making Abilities: Having access to data about how a certain task or group of tasks is progressing allows managers and executives to make better decisions when it comes to evaluating what needs attention and adjusting resources accordingly so that they can prioritize pursuing opportunities that have greater chances of leading them success instead wasting precious time/resources chasing after dead ends or causes doomed failure right from the start before investing lots effort into them further down line. 
6. More Effective Reporting: With data conveniently centralized into one system, reporting becomes exponentially easier. As opposed to sifting through piles of information dispersed among various channels, managers gain access in seconds to all relevant details they need concerning timelines, budgets, issues needing further attention, etc. 
---
How Do Tracking Tools Work In Project Management
Project management tracking tools are digital systems that companies or individuals use to monitor and manage their projects. These tools help in planning, organizing, and controlling every aspect of a project's lifecycle from its inception to completion.
Tracking tools provide an integrated system that allows you to keep track of tasks, resources, and activities associated with the project. It helps users visualize each phase within the project timeline to identify any problems before they arise. These systems have several advantages such as collaboration, better communication among team members, optimization of resources, and tracking progress over time.
The most common way for tracking tools to work is by establishing benchmarks that track progress toward reaching goals or completing tasks within a set timeframe. The tool will also often highlight any deviations from the established target so it can be quickly addressed by managers or team members if necessary.
Additionally, tracking tools allow individual team members to keep tabs on their performance as well as see how it compares with others' performances relative to the same project goals. This encourages accountability while simultaneously motivating employees with measurable results showing them what they need improvement on and which areas they excel at.
These benefits demonstrate why using a good tracking tool for your projects is so important; not only does it save time and reduce costly mistakes but also provides opportunities for greater success through improved communication between all stakeholders involved with the project's development process – making everyone's jobs easier!
---
10 Best Tracking Tools for Project Management
Keeping track of project tasks can be a challenge, especially when teams are spread across different time zones or working on different tasks at once.
To help project managers keep their projects in check, there are many tracking tools that they can use to keep the whole team organized. Below is a list of 10 best tracking tools for managing projects:
Discuss the features, pros & cons, pricing, and ratings (g2, capterra)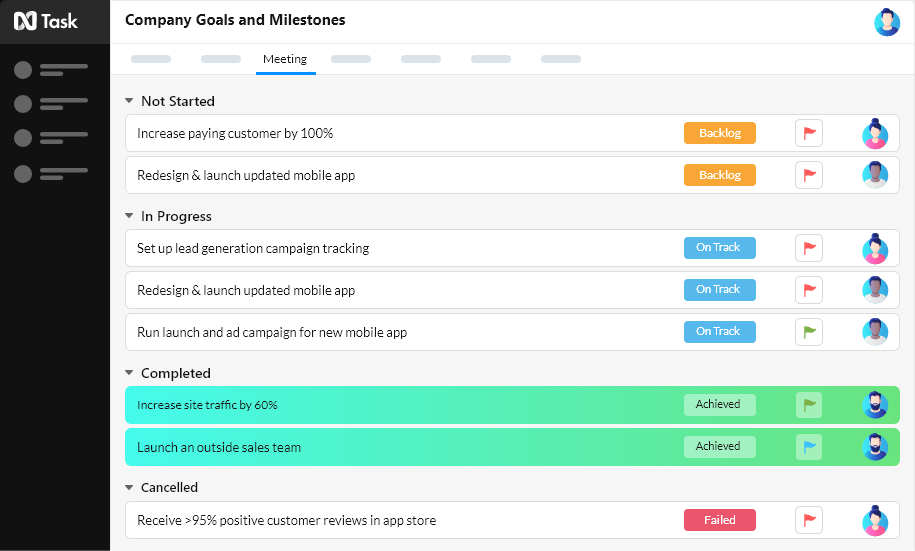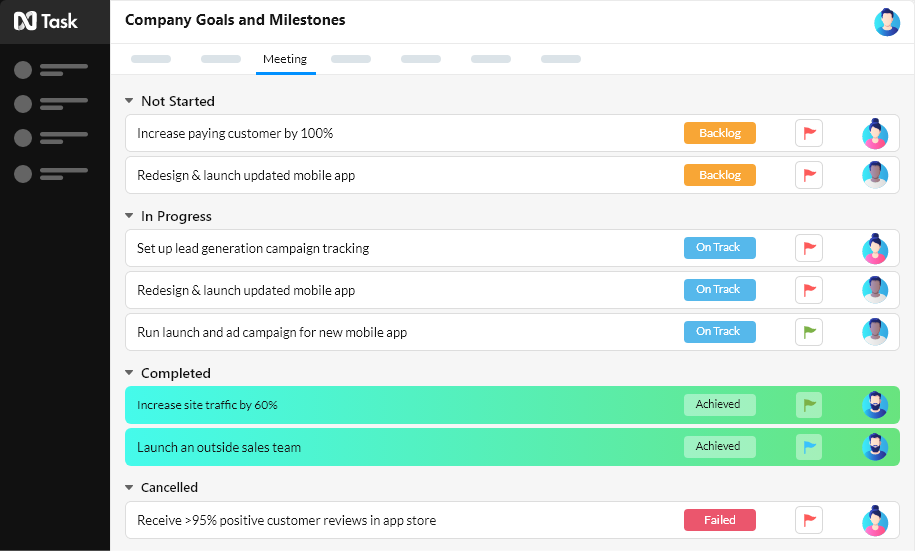 nTask is a web-based task and project management tool that has quickly become one of the most popular solutions in its field.
It's designed to help you organize, plan, and collaborate on tasks and projects with ease. With nTask, you can easily assign tasks to team members, set deadlines, manage resources and track progress in real-time.
The user interface is highly intuitive; it makes it easy to focus on what matters most – completing your tasks and projects quickly and efficiently. You'll find everything you need at your fingertips while also having access to additional tools such as Gantt charts for more complex planning scenarios.
Plus, all data is securely stored in cloud storage so everyone involved can keep up with changes as they happen without lag times or miscommunication.
Overall, if you're looking for an effective solution that helps manage your workload so that you can increase productivity and decrease stress levels within your business then look no further than project management with nTask!
Features:
Itemized lists: makes it easier to track and check off tasks as they are completed.
Sorting and filtering options: allows for quickly finding relevant tasks or sorting them according to priority, due date, complexity etc.
Prioritization tools: helps in the ranking and setting of task priorities.
Notifications: keeps team members informed about specific deadlines or updates on assigned tasks.
Automation capabilities: automates certain processes that would otherwise require manual work, thus saving time and resources.
Collaboration features: eases communication between teams by allowing for sharing files, messaging, integration with other systems, assigning tasks etc.
Detailed reporting and analytics tools: visualize task completion progress or identify any areas where improvements can be made..
Deadline reminders and tracking: helps ensure that deadlines are met by providing notifications of upcoming deadlines as well as tracking progress against them. 
Integration with existing systems: allows data from one system to be shared with others so that everyone is working off the same set of information instead of duplicating efforts across multiple systems 
Pros:
Easy to track progress
Allows for efficient time-management
Can help boost morale and productivity
Easier to complete than complex tasks
Does not require a lot of time or resources
Helps hone skills in areas that may be new to the individual
Cons:
• Too many tasks can lead to feeling overwhelmed or distracted
• May limit creativity if tasks become too rigid 
Ratings:
Capterra: nTask has a 4.7/5 star rating on Capterra with 948 customer reviews and is considered one of the top rated project management software among its peers.
G2: nTask has a 4.2/5 star rating on G2 with 379 customer reviews and is praised for its intuitive interface and ease of use, making it great for businesses of all sizes.
Pricing:
$3 per user/ per month for premium plan
$8 per user/ per month for business plan
---
2. ProofHub 



ProofHub is an online project management software that helps teams assign tasks, manage resources, plan projects, track progress and collaborate around projects effortlessly.  
It offers multiple features like Gantt charts for planning out timelines for each task or milestone, Kanban boards for creating efficient workflow pipelines, and calendars to keep everyone up to date about upcoming deadlines.  
The software also has powerful collaboration features like real-time messaging through its workspace chats along with file sharing options which make communication much more efficient during remote team collaborations or have distributed teams working from different locations.
Additionally, it also includes Proofing tools through which you are able to leave feedback comments around designs created within the platform itself such as PDF's or images making workflows simpler even amongst distributed teams.  
Overall Proofhub provides many useful functions specific towards integrating seamless steps of tracking tasks both internally within teams as well as being able to give visibility across larger groups whether they are local or remote allowing everyone be on top of their game while keeping up with deadlines in a fast paced environment 
Features:
Easily assign tasks, prioritize them as per need, and set deadlines to ensure progress on time.
Gather feedback from everyone involved in the projects and collaborate more effectively.
Measure the amount of time spent on each project or task and track employee performance accurately.
Allot resources (team members, budget, etc.) efficiently without overcommitting people or going over your budgets.
Generate comprehensive project reports to understand where your team spends their time, how much budget is consumed, and how many tasks are completed every day/week/month.
Chat with team members on Proofhub directly, send out direct messages, and set up alerts for repeating tasks or event reminders to increase productivity.
Pros:
Easy to use interface which is helpful for non-tech savvy users\
Automatically sets reminders, so you can easily keep track of tasks and deadlines
Offers excellent virtual collaboration tools such as discussion threads, real-time messaging, and file sharing
Excellent customer service with prompt response times to inquiries
A wide range of integrations is available with other applications like Google Drive, Dropbox, etc.
Cons:
Limited reporting capabilities which can be unhelpful for larger projects
Costs more than some competitors' options  
Task management system can seem a bit simplistic for more complex projects
Ratings:
ProofHub is an online project management and collaboration platform, rated 4.7 out of 5 on Capterra and 8.6 on G2
Pricing:
Proofhub provides three different pricing plans: Basic, Premium and Ultimate.
The Basic plan starts at $45/month with a minimum of three users and offers unlimited projects, 10GB storage space as well as Gantt Charts, Proofing & Approvals and Task Management.
The Premium plan is priced at $85/month with 35 users and comes with additional features such as Custom Reports & Dashboards and full Calendar synchronization capability.
The Ultimate plan is the most comprehensive one which costs $150/month for 125 users, providing customers access to advanced features like Time Tracking, Timesheets & Resource Management.
---
3. Scoro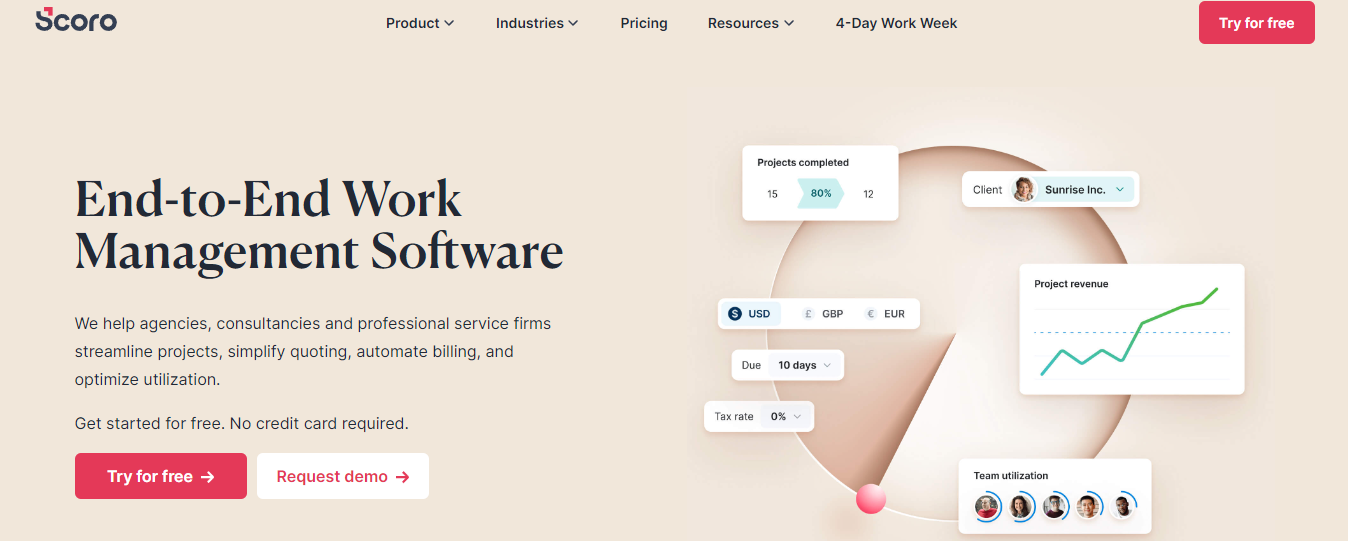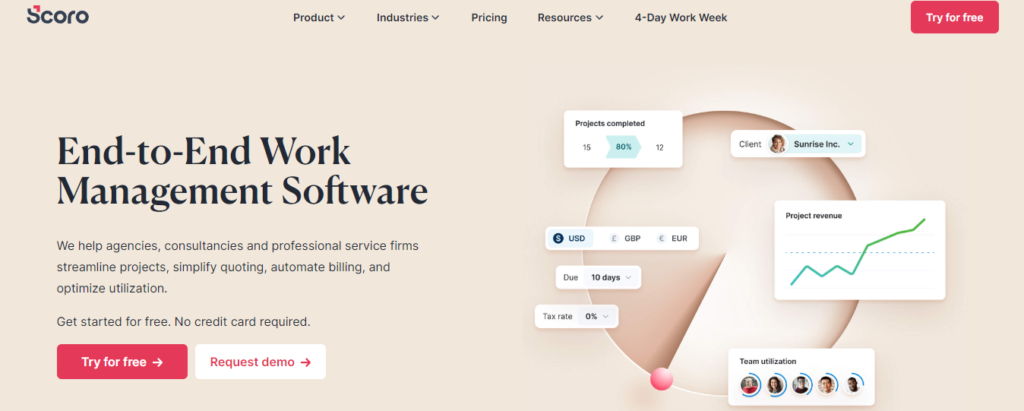 Scoro offers a wide range of features that make it easy for you to plan, assign and track projects.  
You can create detailed reports for each project so that everyone involved knows exactly which tasks need to be completed and when they need to be done. It's also possible to view progress in real time with the intuitive dashboard feature.
With Scoro, you can easily keep your workflow on track by assigning individual tasks or entire projects with due dates and reminders.
This way, everyone involved knows exactly what's expected of them and when it needs to be done in order for the project to stay on schedule. Even if team members are located in different offices or countries, this feature makes it easy for everyone involved in a specific project or task to stay updated on its status no matter where they are physically located.
Scoro also allows you access to comprehensive data analysis tools so that managers can get accurate insights into every phase of their projects: resource planning, budgeting, forecasting, etc.
This enhances decision making as well as provides better visibility into the performance of both employees and teams within an organization.
Features:
Scoro enables users to easily manage tasks and projects, allocate resources, monitor progress, analyze results, and ensure the efficient completion of all allocated tasks.
With powerful time tracking tools included in Scoro, users can ensure that they use their time wisely while completing each task with maximum efficiency.
By using financial insights and reporting capabilities provided by Scoro, businesses can get a better understanding of their finances for informed decision-making.
To facilitate seamless collaboration among teams members, Scoro offers features such as messaging boards and file sharing capabilities.
Users have the option to customize reports generated from data analytics tools or create personalized dashboards to better visualize performance analytics.
All data is protected by top-level encryption protocols ensuring maximum security while using the platform.
Pros:
Simple and user-friendly interface
Advanced project management capabilities
Robust reporting tools for tracking progress
Email integration for streamlined communication
Integrated customer relationship management (CRM) capabilities
Ability to customize settings and add-ons to meet specific needs
Cons:
Initial learning curve can be steep
No budgeting feature built-in
Pricing plans can be pricey depending on the features desired
Ratings:
It has a 4/5 stars rating on Capterra with over 400 reviews.
Scoro has an overall satisfaction rating of 9.4/10 based on 745 reviews from G2 users.
Pricing:
Scoro offers three different pricing plans to meet the needs of your business: 'Starter,' 'Growth,' and 'Pro.'
The Starter plan is available for $29/user/month
The Growth plan is available for $49/user/month
The Pro plan is available for $99/user/month
---
4. Filestage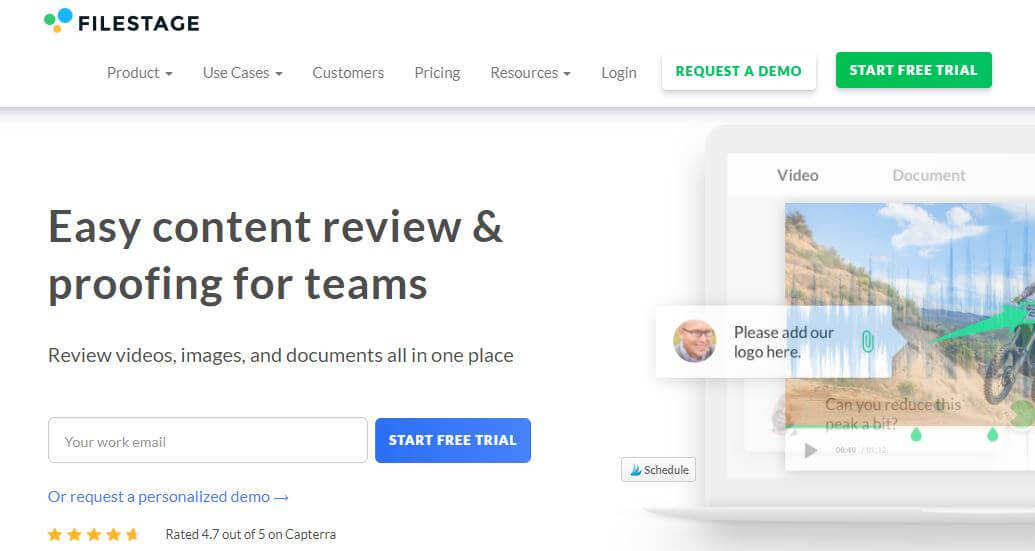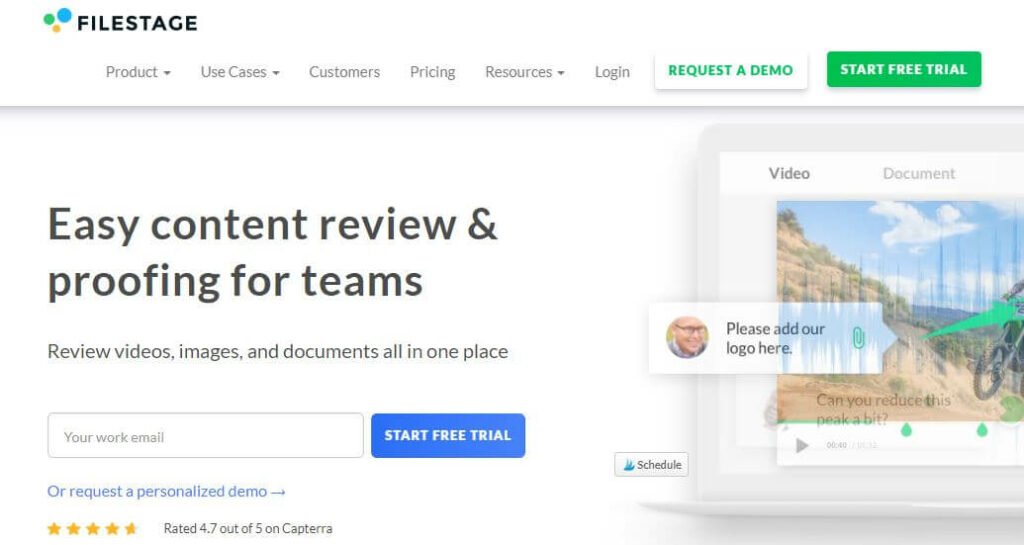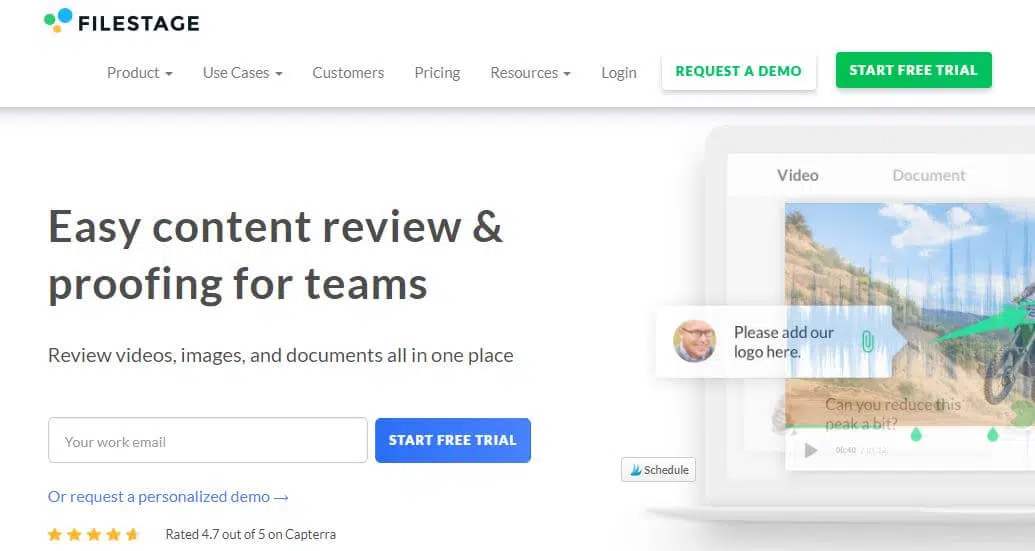 FileStage is a cloud-based collaboration platform that simplifies the process of managing projects.  
It streamlines communication, helps organize tasks and data in a single place, and keeps everyone on the same page throughout the entire process.
Plus, it works seamlessly alongside other collaborative tools like Slack and Dropbox—so you don't have to worry about switching between disparate programs or uploading files into multiple platforms just to get started.
With its intuitive user interface (UI) and easy-to-follow navigation system, getting up and running with FileStage couldn't be simpler—even for team members who haven't used project management software before.
Ultimately tracking your project management with FileStage will help your team stay organized even amidst larger challenges like highly distributed workforces or rapidly changing demands from clients or customers.
Features:
Easily track and manage changes to your team's documents with automatic versioning.
Set up a custom workflow tailored to your team's specific needs.
Ensure files are only accessed by the right people with a secure, cloud-based sharing platform.
Allow multiple users to edit documents in real-time from anywhere in the world.  
Streamline document approval processes with customizable electronic signatures.
Receive notifications when documents are edited or require approval so you can stay on top of changes quickly and easily.
Pros:
Easily access, store and share files
Simplify collaboration across departments or organizations
Eliminate the need to manage multiple versions of a file
Streamline audit trails, allowing users to access detailed information on document changes and approvals
Reduce risk with secure storage, complete accountability, digital tracking, and notifications.  
Cons:
Requires commitment from users in order for it to be effective
May require an initial setup period as well as regular maintenance
Can be expensive depending on the number of features included
Security policies may not always be enforced due to human error
Ratings:
Capterra gives Filestage an overall score of 4.7 out of 5 stars and 92% of users have rated it 5 stars.
On G2, Filestage has a 4.8 / 5 star rating from over 645 reviews from satisfied users. It also won the 2019 G2 Highest Rated Product award, with a satisfaction score of 99%.
Pricing:
Basic Plan – $0/month: Allows up to 5 users and offers 1 GB of storage
Professional Plan – $10/month: Allows up to 10 users and offers 10 GB of storage
Business Plan – $20/month: Allows up to 15 users and offers unlimited storage
Enterprise Plan – Contact for pricing: Unlimited number of users and custom solutions tailored to businesses.
---
5. Proprofs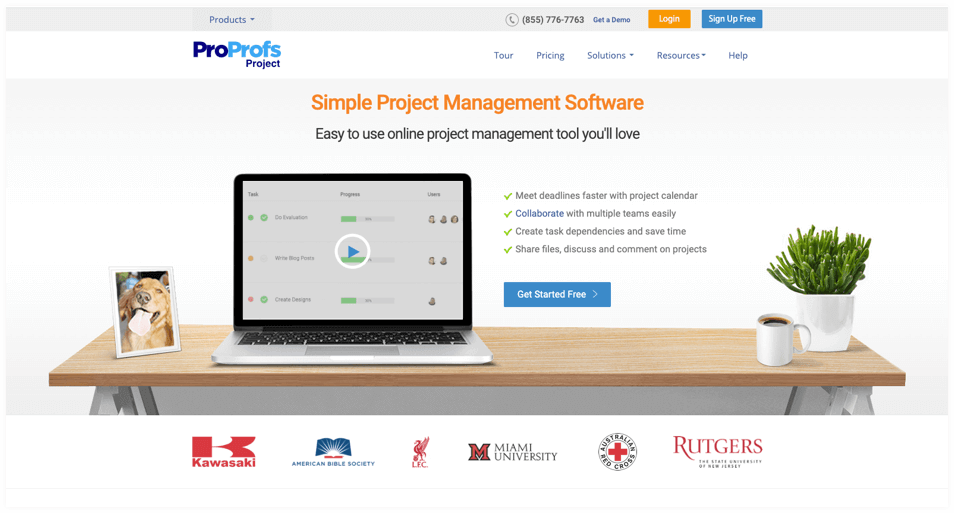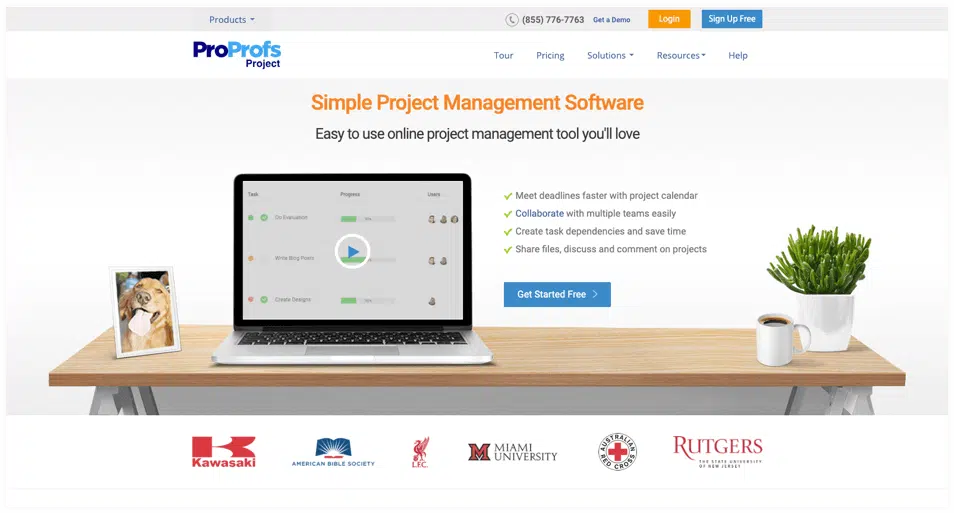 Proprofs offers an easy-to-use project management tool that can help make the process simpler and more organized.  
Proprofs is a comprehensive, cloud-based platform that helps users effectively manage their projects in one place. With its intuitive user interface, it enables users to easily track progress and identify potential issues or delays before they arise.
The platform also offers tools for creating detailed task lists, setting up notifications for key milestones, delegating tasks, and monitoring team performance across multiple projects.
Project managers can easily assign tasks and set deadlines with Proprofs' visual timeline feature. This way everyone involved can keep tabs on their own responsibilities as well as those of others throughout the project.
Additionally, Proprofs has powerful reporting features that allow managers to generate reports quickly in order to better assess how their projects are progressing against planned timelines or deadlines.
Features:
Easy-to-use drag-and-drop interface for creating quizzes and exams.
Accessible on all major browsers, devices and operating systems.
Ability to create detailed reports on individual quiz takers or groups of quiz takers.
Automated grading system to quickly and accurately grade multiple choice questions.
Option to customize multiple question types such as true/false, fill in the blank, etc.
Ability to assign point values according to the difficulty level of a particular question type.
Integrate multimedia into tests including videos, audio files, images, documents, etc.
Real-time analysis with charts and graphs that can be used for evaluations & performance tracking.
Time management options including timers for different sections or pause periods during longer tests
Secure user accounts with unique logins for each student or team member taking the test
Pros:
Easy to use interface.
Comprehensive question bank.
Support for multiple language options.
Ability to customize tests and quizzes with images, audio, and video.
Advanced reporting capabilities.
Cons:
Limited access to certain features in the free version of the platform.
Certain advanced functionality is not available without purchasing a paid plan or add-on feature package.
Ratings:
It has a 4/5 stars rating on Capterra with tons of reviews.
The tool has an overall satisfaction rating of 9.4/10 based on 745 reviews from G2 users.
Pricing:
Starter Plans start at just $29/month and offer access for up to 50 users.
Professional Plans cost $99/month and comes with additional features like exams, surveys, and certifications.
Enterprise Plans are tailored to the customer's specific needs and come with added benefits such as unlimited storage space, dedicated accounts reps, custom branding etc.
Educational Plans are designed specifically for schools, universities, and other educational institutions offering discounts on bulk purchases.
---
6. GanttPRO 


GanttPRO is a project management tool designed to help teams stay organized and on track with complex projects.  
It offers powerful features such as custom Gantt charts, flexible task management, collaboration options, resource scheduling, reporting, and more. With GanttPRO you can easily manage multiple tasks across different teams.
You'll be able to plan out entire projects from start to finish and make sure that your team stays on track throughout the entire process.
Features:
GanttPro offers an intuitive drag-and-drop interface, allowing users to easily create and manage complex project timelines.
GanttPro integrates seamlessly with popular applications such as Asana and Trello for easy collaboration on projects.
Advanced resource management capabilities allow users to allocate tasks and resources according to the specific needs of their project.
Automated notifications keep everyone on the team informed about important deadlines or changes in task status.
An integrated chat feature facilitates communication between individuals working on a project from multiple locations or time zones.
Users can access detailed analytics and reports that display progress in real-time, helping them make more informed decisions about their projects.
These reports can be customized so that only relevant information is presented in a clear format for decision-makers or stakeholders to quickly assess current status of the project.
Pros:
Intuitive and user-friendly interface
Comprehensive Gantt chart views with unlimited projects, tasks and resources
Time-, resource-, budget-management feature to monitor project progress
Multi-project collaboration tool allows task assignment, discussion boards, and file sharing
Automated reminders ensure deadlines are met on time.
Ability to set dependencies between tasks to plan workflow accurately.
Cons:
Limited customization for charts compared to other similar tools.
No unique features compared to other competitors.
Ratings:
GanttPro has been awarded a 4.8 out of 5 stars review score on capterra.
G2 rating is 4 out of 5 stars.
Pricing:
Starter Plan: $8/month, includes 3 Projects and 5 users included
Pro Plan: $24/month, includes 15 projects and 25 users included
Business Plan: $48/month, includes unlimited projects and 50 users included
Enterprise plan: custom pricing depending on company individual needs
---
7. Chanty



Chanty is an award-winning AI-powered team communication platform that combines chat, task management and file sharing all in one place.  
It's perfect for project teams who want to streamline the way they track their projects.
With Chanty, you can create highly customizable tasks with detailed descriptions and deadlines, set up task boards to easily visualize progress, assign tasks to individual team members or multiple people at once and monitor who is responsible for each action item.
You can also attach files such as documents and spreadsheets directly to a task so everyone has easy access to all of the project information they need.
Chanty allows users to communicate effectively within their workspace by making collaboration easier through chats and messaging channels. All conversations are securely stored so you can reference them when needed.
Features:
Create and manage tasks in an intuitive, visual way with Redbooth's project & task management tools.
Easily collaborate with teams on documents, files, and conversations in a secure space.
Stay up to date on what's important with customizable notifications.
Keep your tasks organized into projects and workspaces for better visibility across the team.
Integrate Redbooth seamlessly with popular software like Google Drive, Zendesk and Dropbox.
Access your work from anywhere at anytime – on the web or through our mobile app for iOS & Android devices.
Pros:
Best for team communication and collaboration
Easy to manage conversations on one platform
Comes with secure end-to-end encrypted messages and data transfer
Offers voice and video calls, as well as screen sharing feature
Gives users access to unlimited message history
Intuitive and clean user interface, making it easier to use
Cons:
Limited customization options in terms of design or layout
Does not offer integrations with popular apps like Gmail or Slack
Fewer features than many other messaging platforms
Ratings:
Capterra rating of 4.8 out of 5 stars
G2 rates an impressive 4.6 out of 5 star
Pricing:
Chanty offers four pricing plans: Free, Basic, Team and Enterprise
The Free plan gives users access to unlimited 1-on-1 conversations with basic search capabilities
The Basic plan is priced at $5 per user/month and includes all of the features in the Free plan plus advanced search capabilities
The Team plan provides enhanced collaboration tools such as video chat, group chats and integrations with Slack for $8 per user/month.
Lastly, the Enterprise plan is customized to meet the needs of large businesses and includes additional features such as priority support for $12 per user/month.
---
8. Redbooth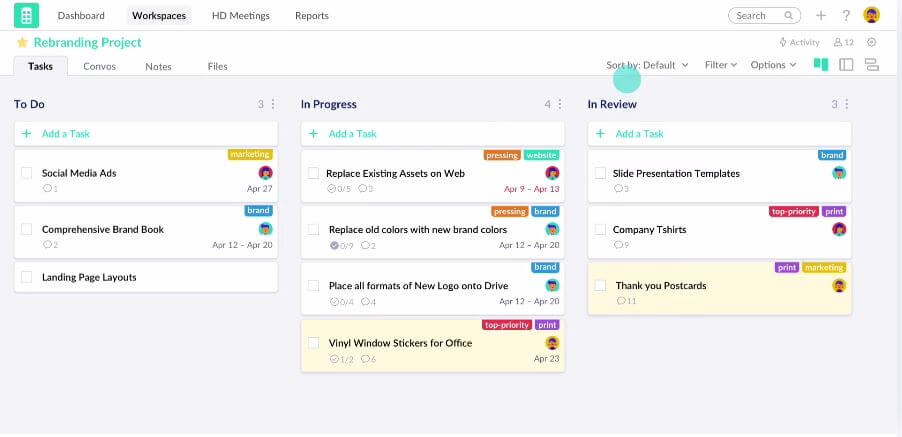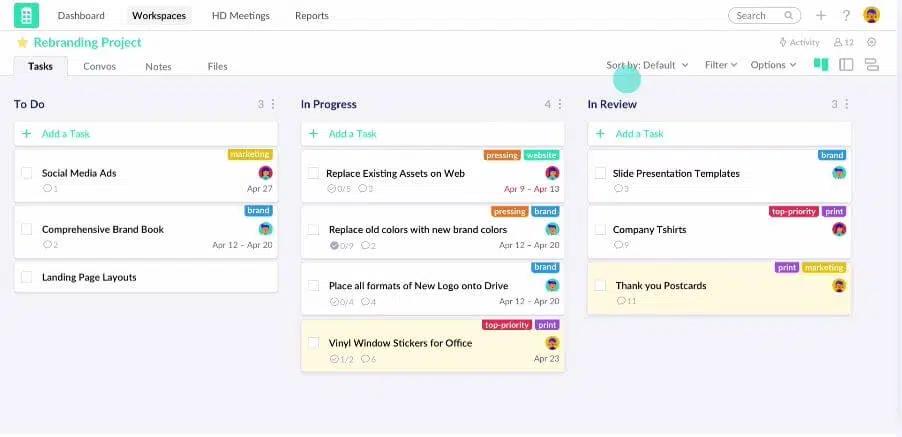 Redbooth is a cloud-based project management platform that offers tools for planning, tracking, collaboration and communication.  
You can create tasks, assign them to team members, set deadlines and follow up on progress all within its user-friendly interface. It also allows you to create custom views for better organization of tasks and milestones. With these features combined together in one unified platform, managing projects has never been easier!
The real benefit of using Redbooth comes with its integration capabilities. It integrates seamlessly with popular services like Slack, Google Drive & Dropbox so that data flows smoothly between systems when needed.
This makes it easy to sync documents across teams or even keep track of changes made by team members while they work on different versions of the same document at the same time.
With Redbooth's drag & drop timeline feature, users can quickly view their entire project timeline including upcoming deadlines in a single glance – giving them greater insight into their progress over time than ever before!
Features:
Create and manage tasks in an intuitive, visual way with Redbooth's project & task management tools.
Easily collaborate with teams on documents, files, and conversations in a secure space.
Stay up to date on what's important with customizable notifications.
Keep your tasks organized into projects and workspaces for better visibility across the team.
Integrate Redbooth seamlessly with popular software like Google Drive, Zendesk and Dropbox.
Access your work from anywhere at anytime – on the web or through our mobile app for iOS & Android devices.
Pros:
Easy to use task management system
Ability to assign tasks and set deadlines
Highly customizable and easy to tailor for individual teams
Offers powerful collaboration tools like file sharing and in-app messaging
Seamless integration with other productivity software like Google Apps and Zapier
Cons:
No free version available, only paid plans are offered for use
Can be expensive if you have a lot of users who require access
Reports don't have very extensive features or capabilities
Not as feature rich compared to similar software solutions such as Asana or Trello
Ratings:
Redbooth has an overall rating of 4/5 stars from more than 25 verified customer reviews on G2.
Pricing:
Starter Plan: This plan includes 1 private project, 2GB of storage, and up to 3 users for $4.99 per month.
Professional Plan: This plan includes unlimited projects, 10GB of storage, and up to 10 users for $14.99 per month.
Business Plan: This plan includes unlimited projects, 100GB of storage, and up to 25 users for $29.99 per month.
Enterprise Plan: This plan is tailored to the particular needs of larger organizations with more advanced collaboration requirements for an individualized price quote.
---
9. Celoxis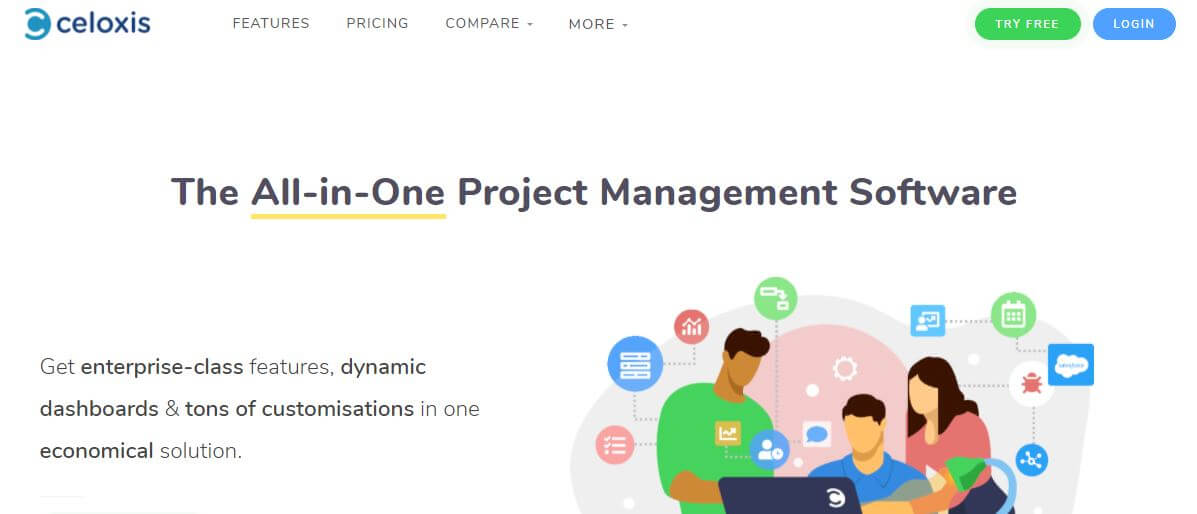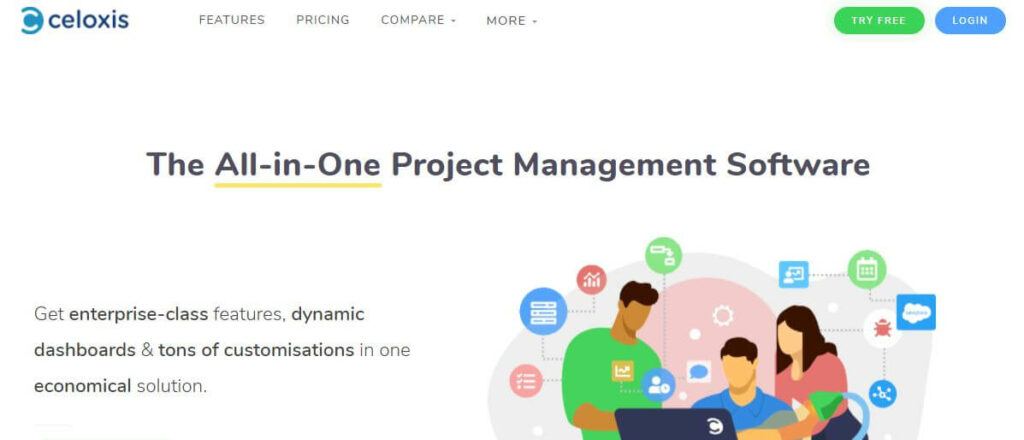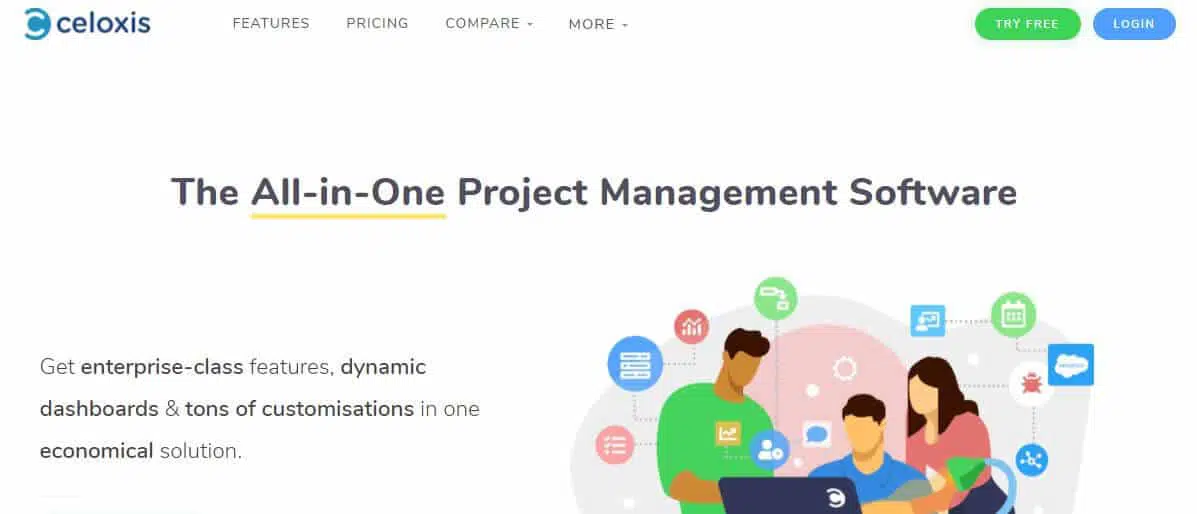 Celoxis is a great tool for tracking projects and ensuring that you stay on top of deadlines and goals.  
With Celoxis, you can easily create tasks for users with due dates, assign resources to specific tasks, track cost estimates against actual expenses, communicate with team members throughout the project timeline and get real-time insights into your progress.
Celoxis offers easy-to-use features designed to help streamline the entire project lifecycle.
Users can further measure success by visually tracking progress made against planned objectives using charts and graphical analysis tools which are available in Celoxis' comprehensive dashboard feature.
This helps managers make smart decisions during each step of a given project based on reliable data instead of relying solely on intuition or gut feeling.
Features:
Celoxis provides an all-in-one project management and collaboration platform.
It offers features such as resource planning, task scheduling, Gantt charts, timesheets, cost tracking, purchase orders and reporting.
It also has powerful features to help you manage projects better: real time dashboards for status updates; automated workflows; document management; cloud integration with Google Drive/Dropbox; dynamic custom fields for tracking custom data types and project templates to quickly start new projects from existing plans.
Additionally it integrates with popular tools like JIRA, MS Project Online and Salesforce to give users an end-to-end view of their complete workflow.
Pros:
Easy to use interface
Powerful project management features
Highly configurable with various customization options available
Cuts down overhead costs and simplifies resource planning
Flexible in terms of scalability, allowing for both small and large organization use
Cons:
Limited integration options with third-party platforms
Reporting capabilities are limited
Can be complex to configure without proper help or guidance
Ratings:
(Not available at the moment)
Pricing:
Individual plan: $25/month, billed annually at $300 or billed monthly at $30
Team plan: Starts from 10 users at $200/month, with additional users charged at an extra cost of $20 per user per month
Enterprise plan: Custom plans are available on request and can include features like custom branding and single sign-on integration
---
10. TeamGantt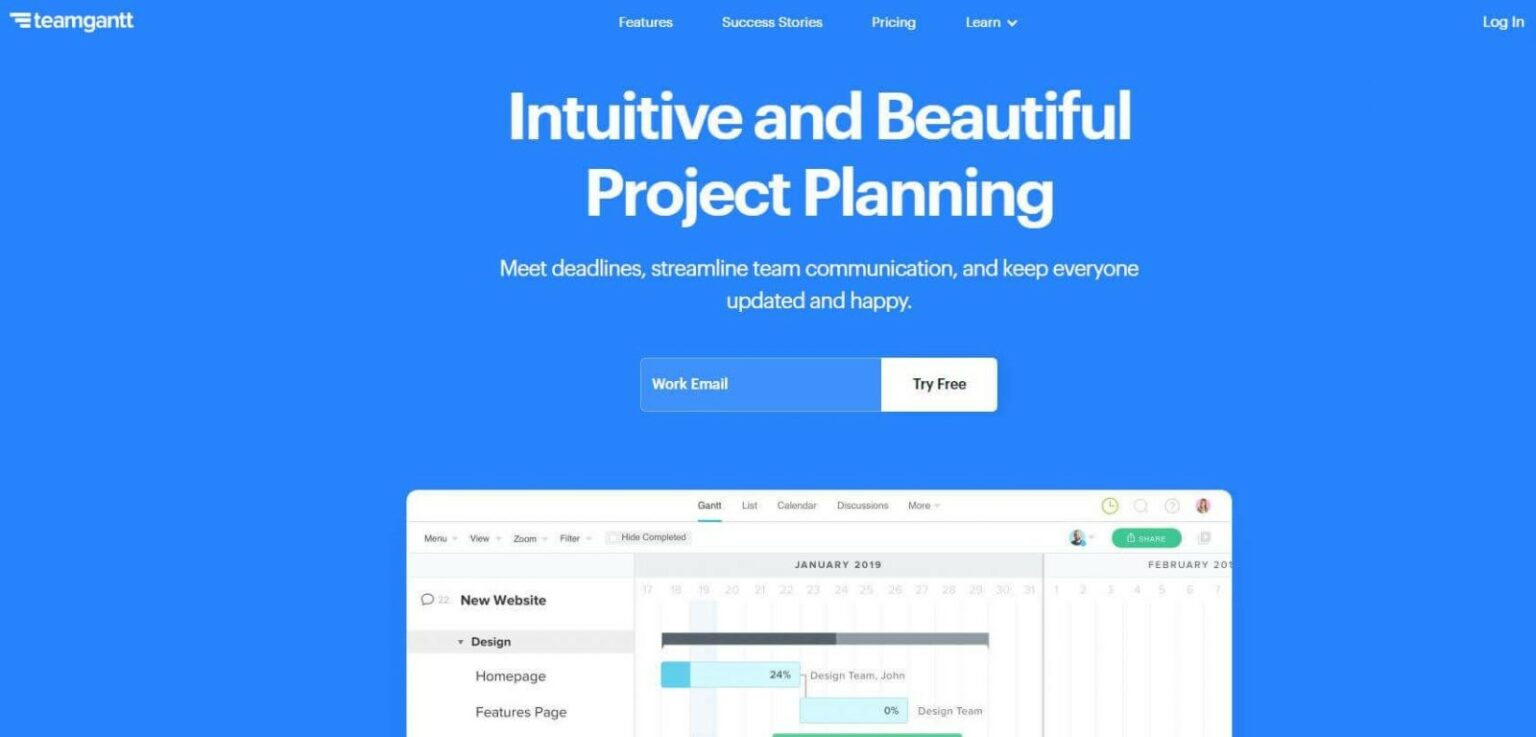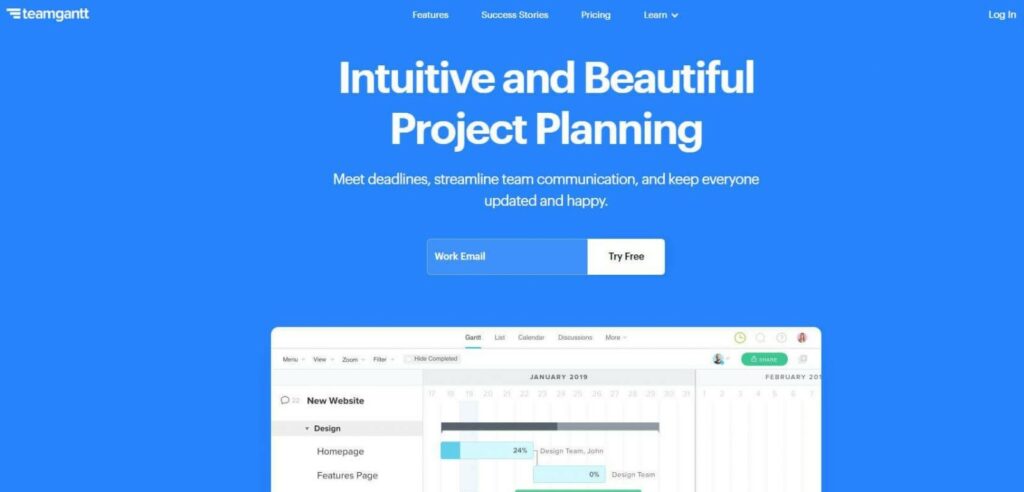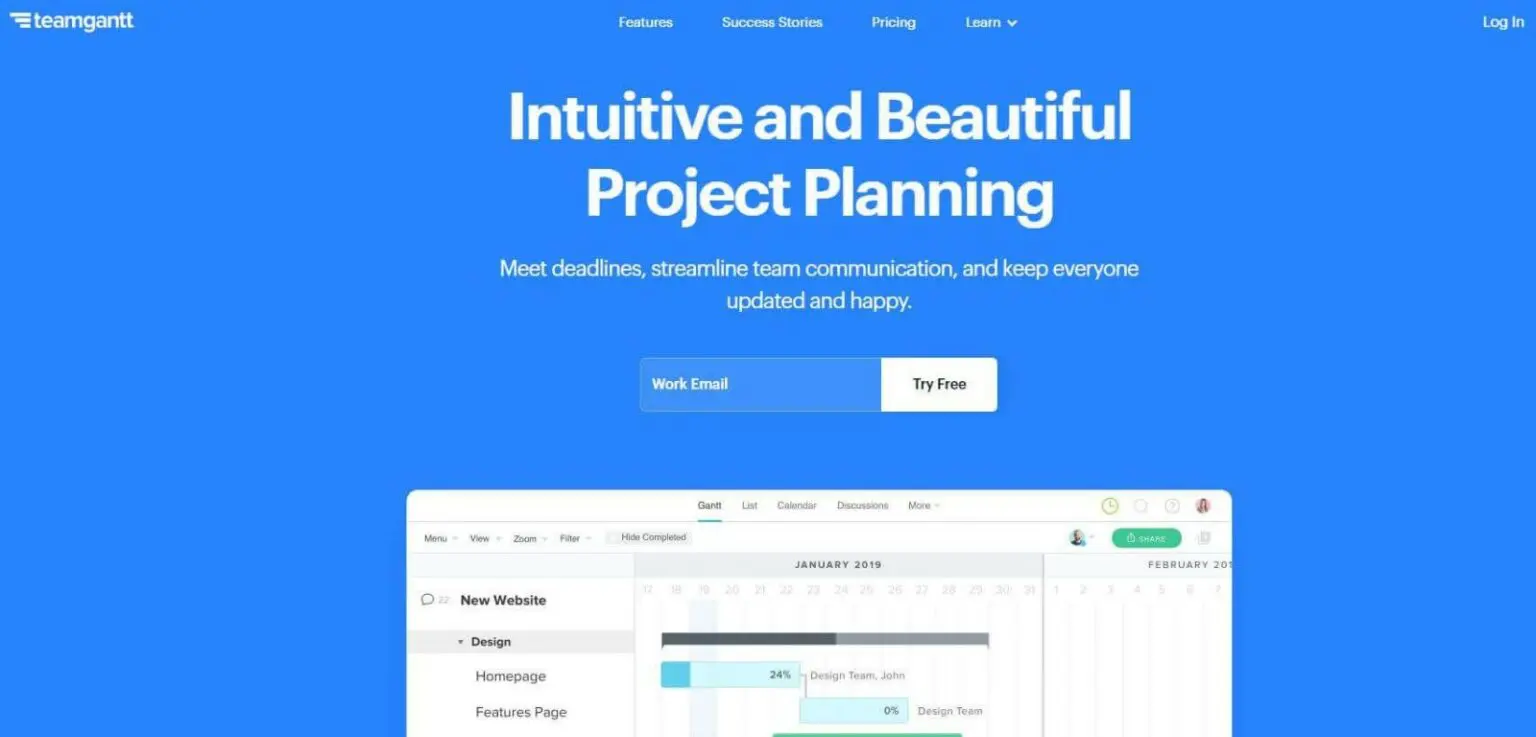 With TeamGantt, project managers can easily share tasks across teams, visualize project timelines, and track the progress of their projects. Keep reading to find out more about what TeamGantt has to offer project managers in terms of tracking and managing projects. 
TeamGantt is an intuitive web-based system designed specifically for project managers looking for an effective way to monitor the progress of their projects.
With its simple yet powerful interface, it's easy for users to quickly create detailed visualizations representing their timeline goals, as well as assign tasks that help keep everyone on task throughout the duration of the project.
The system also shows helpful details such as time estimates and deadlines so team members have all the information they need when it comes time to finish each task or milestone within a timeline.
Additionally, users can integrate third-party services such as Slack and Outlook Calendar into their accounts for even more convenience when planning and completing single tasks or entire agendas from start to finish.
Features:
Create Gantt charts to visualize project timelines & dependencies
Organize projects into folders for easy organization and navigation
Set milestones within your project timeline as necessary
Assign tasks to team members with deadlines and work estimates
Receive updates when tasks are completed or behind schedule
Tag tasks so they can be sorted, filtered, and reported on easily
Use a variety of views to track the progress of projects at any given time   
Generate detailed reports to quickly analyze current project status
Pros:
Easy to use, intuitive drag-and-drop interface
Track team workloads at a glance
Color coding for simplicity and customization
Brings transparency and accountability to team efforts
Adaptable for projects of all sizes
Cons:
More expensive than some other providers in the same space
Limitations on attachments within tasks/comments
No automatic time tracking feature built in
Ratings:
Teamgantt currently has a 4.6/5 star rating from over 2,500 customer reviews on Capterra.
The current rating for Teamgantt on G2 is also very positive at 4/5 stars based on over 120 user reviews submitted so far.
Pricing:
Free Plan: allows up to 5 users, includes activity tracking and Gantt charts for up to 3 projects – no credit card required.
Pro Plan: All features included in the Free plan plus unlimited projects, priority support and more starting at $9/month per user.
Business Plan: All features included in the Pro plan plus premium support, advanced security, customization and integration options starting at $20/month per user.
---
How Do You Track A Successful Project?
At nTask, our team of professionals are dedicated to helping you manage and track the progress of any project. Here's how you can use the nTask app to stay organized, on top of deadlines, and ensure the successful completion of projects.
Step 1: Create Tasks – The first step is setting up a project structure in the form of tasks. Any task or series of tasks can be broken down into milestones using 'sub-tasks'. This helps create clarity as well as predictability in completing the project within a set time frame.  
Step 2: Assign Tasks – Once your task list is ready, assign individual tasks to personnel that has already been added to a group from your contacts list or organization directory. All members will now be aware of their assigned work along with its respective deadlines.  
Step 3: Prioritize And Track – It's also important to prioritize urgent assignments so that completion comes before anything else. Upon assigning priority levels for all assigned tasks, you can now track each member's progression by simply checking their status report throughout the day! 
Reminders – If certain tasks need further attention closer to the deadline date then you can easily set up reminders according to pre-selected intervals such as 'Daily' or 'Weekly' etc.. Any missed assignment by personnel would trigger off an automated email notification immediately so that there's never any confusion about who's working on what and when something needs doing!  
Step 4: Analyze Reports – With 'Project' reports available at all times it becomes easier for team leaders/managers to recognize upcoming trends regarding workload distribution among other members & generate data-driven insights into better decision-making while keeping an overall tab on precisely how much has been completed so far & how much more remains pending until completion! 
---
FAQs
What to track in Project Management? 
In project management, there are a few key elements that need to be tracked to ensure successful outcomes. These include:
1. Milestones – tracking the completion of major tasks by dates;
2. Resources – tracking project resources such as time and materials;
3. Financials – tracking costs associated with the project;
4. Progress – monitoring team progress towards the overall goal;
5. Deliverables – identifying objectives that must be met for the successful completion of a project;
6. Communication- keeping stakeholders updated with regular communication throughout the process, and ensuring everyone has access to necessary information or documents they may need throughout a project cycle
What are project coordination techniques?  
Project coordination techniques are approaches used by project managers and teams to effectively manage the various tasks, resources, people and timelines associated with a project. These techniques can range from simple dos and don'ts to more specific tools and processes. Popular project coordination techniques include:
1. Establishing Clear Priorities: When a project has several tasks that need to be done quickly, the team leader or manager needs to set priorities clearly so that everyone knows which tasks need to be completed first for the overall goal to be achieved.
2. Breaking Up Tasks: It often helps with organization if large projects are broken down into smaller manageable chunks. This will make it much easier for everyone involved in the project to keep up with their individual roles within the whole process.
3. Time Tracking & Scheduling Tools: Time tracking tools help teams stay organized by providing an easy way of tracking time spent on each task as well as when they are due by; this helps prioritize workloads and ensure deadlines are met on time every time. Similarly, scheduling tools provide a visual aid of who is responsible for what work during certain times—greatly simplifying communication efforts between team members regarding when certain goals should be achieved by whom..
4 Communication Protocols & Reporting Standards: Establishing clear communication protocols—such as daily check-ins or weekly meetings—help maintain visibility among team members while also improving accountability across departments or teams involved in any given initiative; reporting standards also come in handy here so that all information relevant to progress needs can be monitored at all times throughout the life-span of any given undertaking initiative.