As a product manager, you're constantly faced with new challenges and opportunities. To stay ahead of the curve and make sure that you're taking the best advantage of all the tools at your disposal, it's important to have a strong toolkit at your disposal. That's where this blog comes in – to highlight the best tools for product managers in the market right now.
From task management software to data management tools, we've got you covered. So what are you waiting for? Start using these tools to boost your productivity and help you achieve your goals as a product manager!
What Are Product Management Tools?
Product management is an essential component of any business. It's essential to have the tools to efficiently manage products, identify and track customer feedback, and make informed decisions about what to develop and sell. There are a variety of tools available to product managers, so it's important to select the right ones for your business. Some of the most common tools include customer surveys, market research, and analytics software.
Collect data from customers and analyze it using the tools to make informed decisions about what products to develop and sell. Product managers use these tools throughout their careers, from startup businesses to larger companies with multiple products. So, whether you're just starting out as a product manager, or you're in the early days of your career, having the right tools at your disposal is key to success.
Things to look for in a product management tool?
Product management is a critical role in any business, and a tool that can help you effectively manage resources and track progress is essential. Luckily, there are a number of product management tools available on the market that meet these requirements.
In addition to features to help you track progress and manage resources, a good product management tool should also have features to help you collaborate with team members and improve communication.
Additionally, it should be easy to use so that everyone on the team can utilize it effectively. The best product management tools offer integrations with other software programs, so you're not stuck juggling multiple tools.
There are a few key things to look for in a tool. Here are some of the most important factors:
Robust data storage and analysis capabilities
Ability to integrate with other tools and software platforms
Easy user interface that is accessible on multiple devices
Proactive communication features that help keep team members up to date on progress
Top 9 Product Management Tools
The role of a product manager has changed dramatically in the past few years. Gone are the days of simply planning and scheduling projects. Today, product managers are responsible for a lot more – from tracking user behavior and feedback to measuring conversion rates and more.
To be successful, you'll need to use the best tools available to you. In this article, we'll outline the essential tools for product management and recommend 9 of the best tools for the job.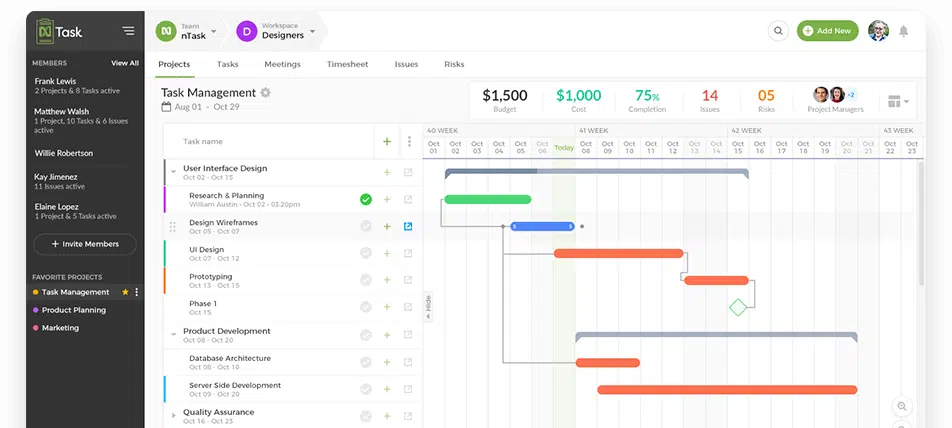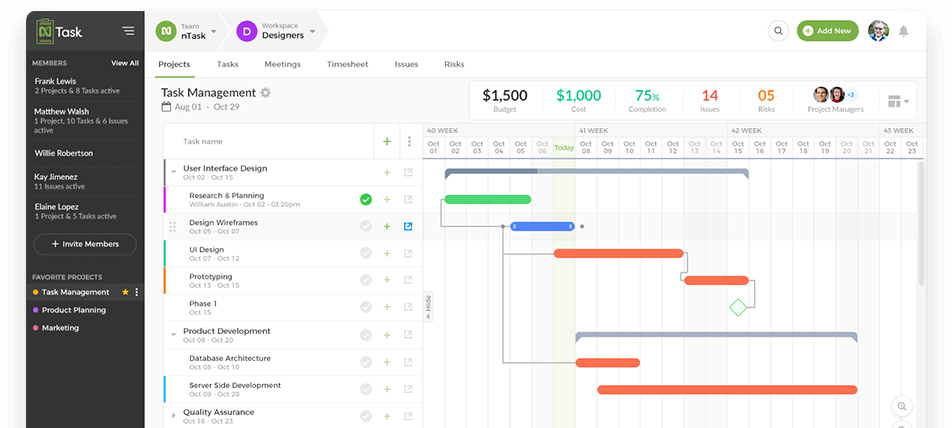 Product management is a critical role in any company, and keeping track of your work and managing tasks throughout the product life cycle is key to success. Luckily, there are tools available to help with this task. nTask is one such tool that offers features like team management, project tracking, and portfolio analysis. Being able to see your progress both visually and quantitatively is key for product managers; with nTask, you can do just that. By streamlining your process, you can free up time to focus on strategy instead of paperwork!
nTask is a versatile and affordable product management tool that can help you manage all aspects of your product development process. nTask offers features such as project planning, product backlog grooming, resource allocation, and more. It also allows you to track progress and performance across different stages of the product life cycle. So whether you're just starting out with product development or you've been using another tool for years, give nTask a try!
Features:
Some of the main benefits of using nTask include:
It makes project management more efficient by automating many common tasks;
It facilitates communication between team members by providing an integrated communication platform for project teams
It allows you to track progress and performance throughout the entire product lifecycle
It ensures accurate estimates by creating templates for common tasks and by integrating with popular software
Manage product roadmaps using Gantt charts
2. ProductPlan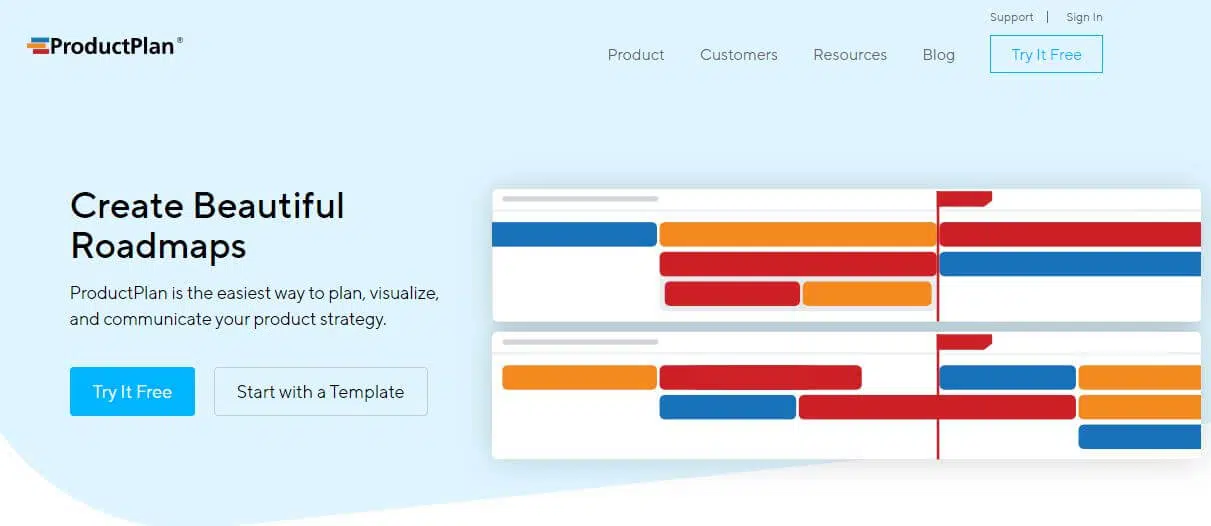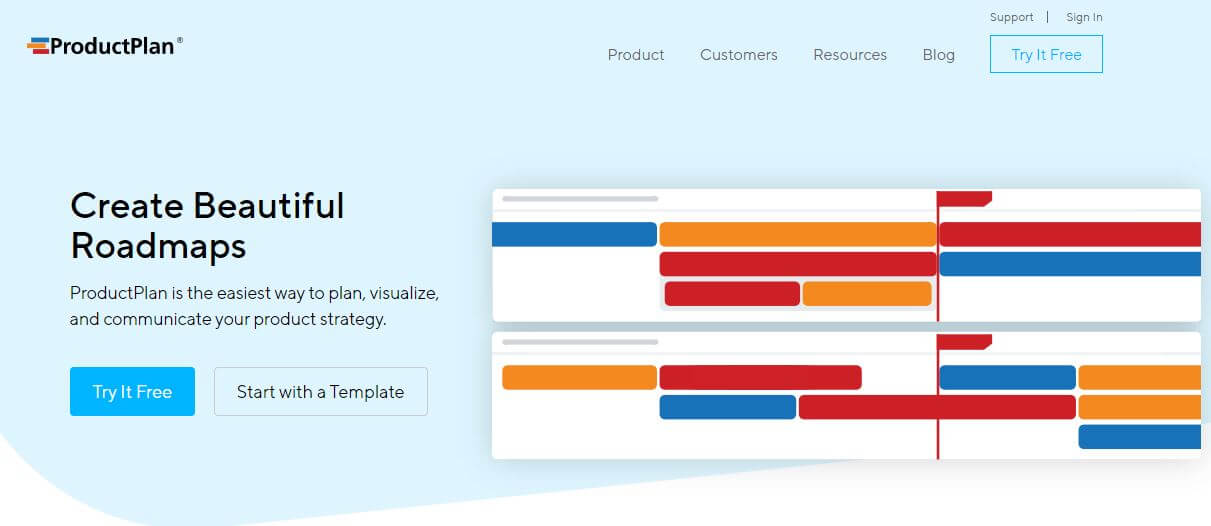 Product management is a critical task for any team, and the tools that a product manager uses can make or break their workflow. Fortunately, there are a variety of tools available that can help make the task easier and more efficient. Some of the most common tools include Gantt charts, Trello boards, Excel spreadsheets, and Kanban boards. However, it's important to find the right tool for your team and to use it effectively. Doing so will help to improve team collaboration, planning, and management. So, make sure to check out ProductPlan to get started on the tool that best suits your needs!
Features:
Some of the key features include:
A drag-and-drop interface for creating product specifications
A visual representation of your customer base and your sales territories
The ability to assign tasks and track progress through deadlines
Allows you to analyze your performance using charts and graphs
3. Jira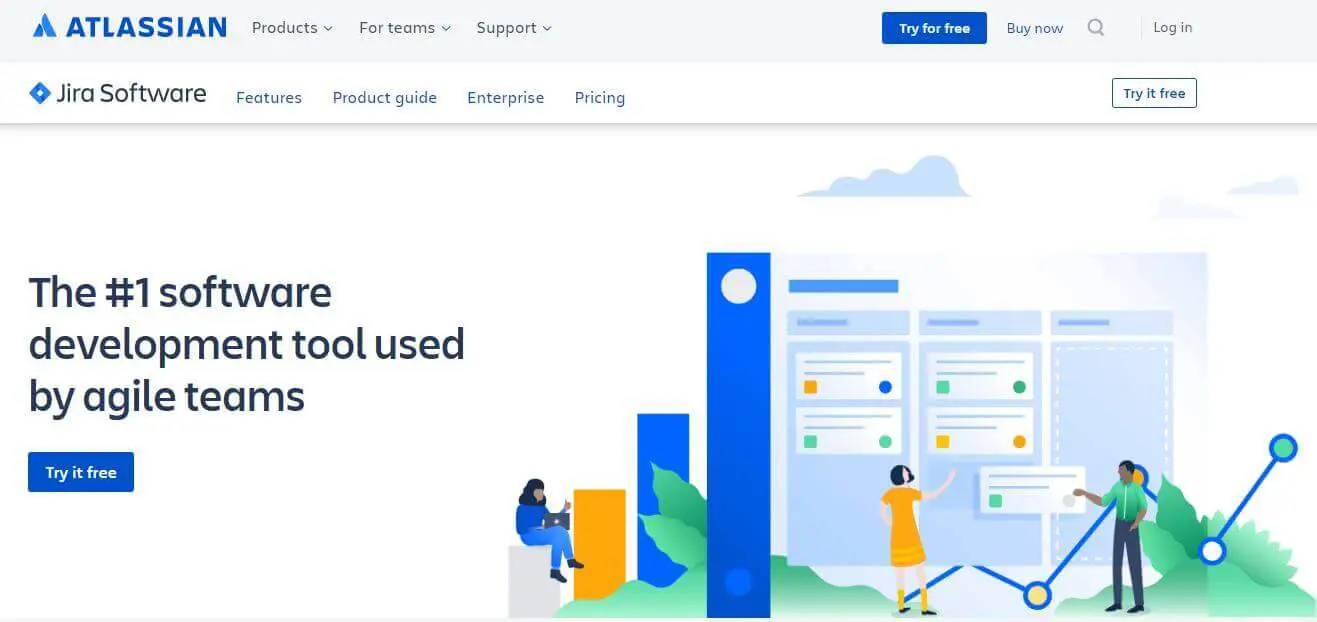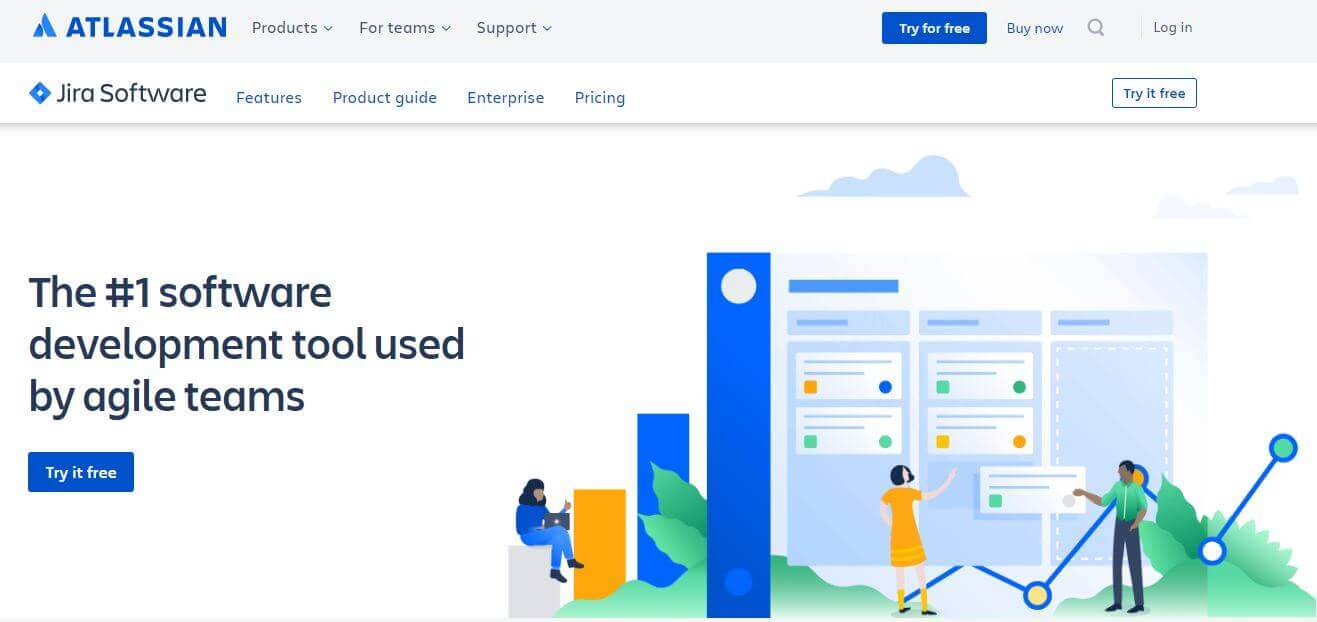 Product management is a critical function for any business. That's why it's essential to have a tool like Jira to help track and manage projects. Jira also has a project management feature that makes it easy to keep track of deadlines and tasks. Plus, with all the features it has to offer, it's a great choice for product managers in November 2022. So why not give it a try today?
Features:
Here are some of the most important ones:
Jira allows you to track and manage all aspects of a product, from concept to launch. It has extensive functionality for tracking progress, gathering feedback, and making changes as needed.
Jira's issue tracker enables you to keep track of all issues related to your product. You can assign different priorities and assign owners (typically team members) for each issue so that it is effectively managed. This makes it easier to identify which issues need attention first and ensures that they are dealt with properly.
The Kanban board feature helps you visualize how work is progressing along various stages or steps in the development process. This helps you make better decisions about when things should be moved from one stage to another, and whether any delays are likely due not just lack of resources but also incorrect assumptions about what needs to happen next.
4. Trello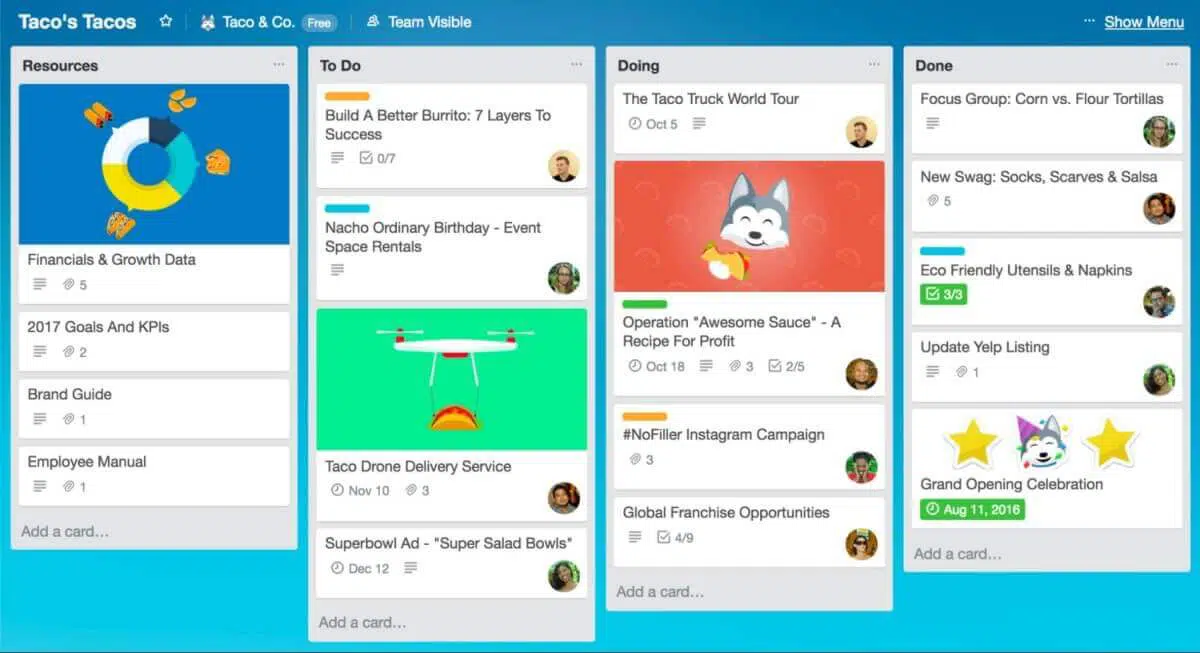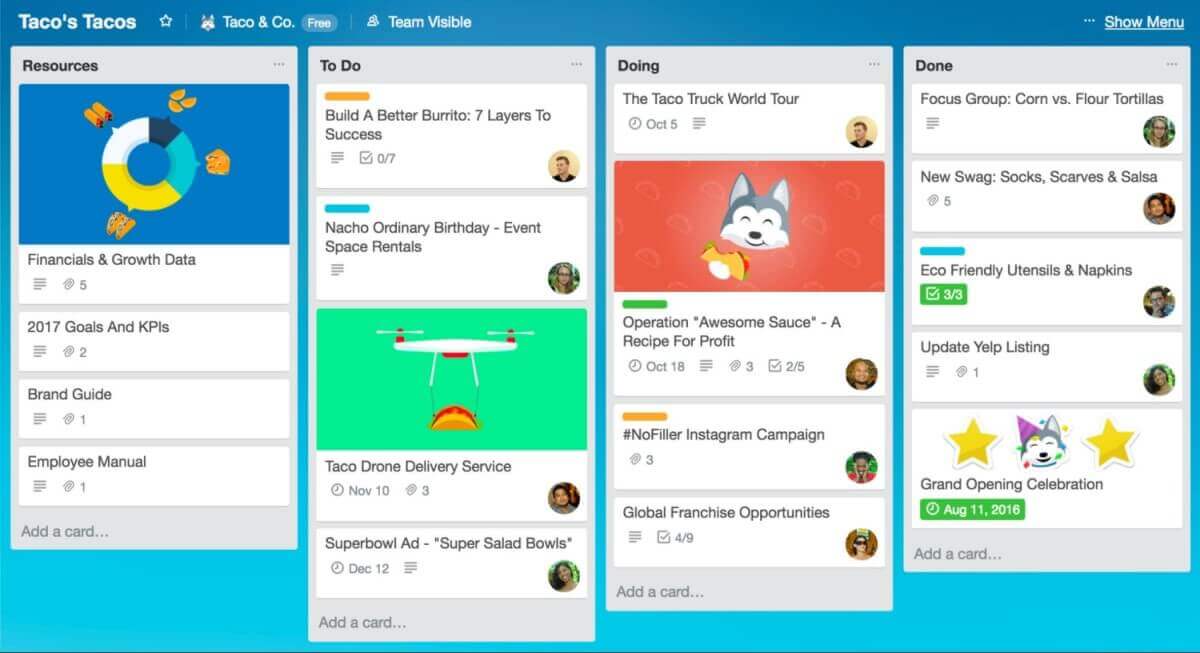 Product management is a critical role in any company, and Trello is a great tool for managing projects. Its visual project management platform makes it easy to track progress and manage tasks. Cards and checklists make it easy to track progress and keep track of due dates. The Reports feature allows you to see how your products are performing overall. Overall, Trello is a tool that is easy to use, customizable, and helpful in managing projects.
Features:
What are the key features of Trello?
Trello is a product management tool that helps teams track and manage their work. It allows users to create boards, lists, cards and comments to organize their information.
Boards can be used to store specific types of information (e.g., products, tasks), or they can serve as a way for team members to collaborate on projects together.
Lists can help you group related items together (for example, all the products in your inventory), while cards let you capture specific details about an item (title, description, due date).
Comments allow teammates to discuss items privately or share feedback with others within the Trello community.
5. ProductBoard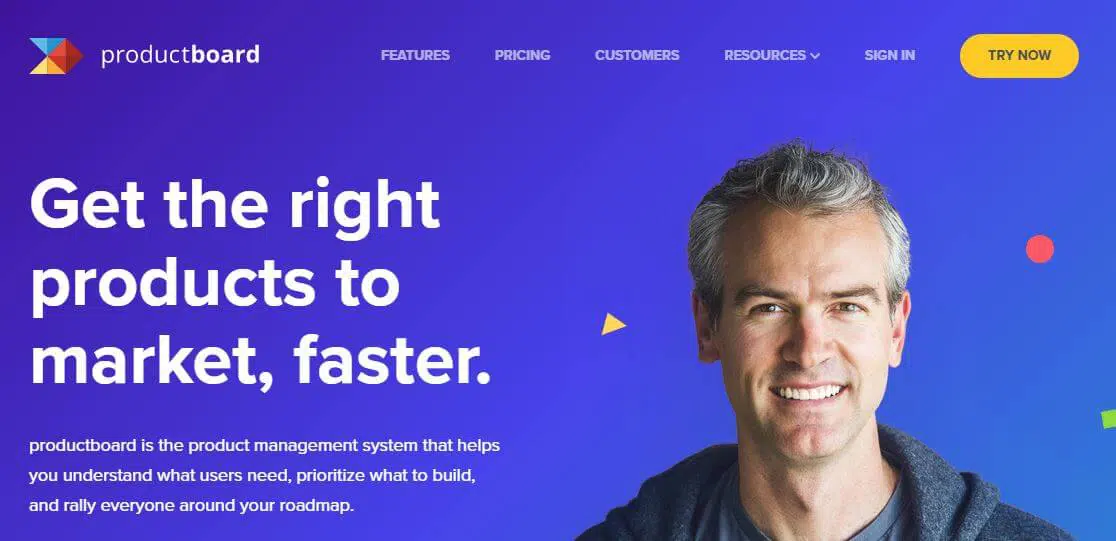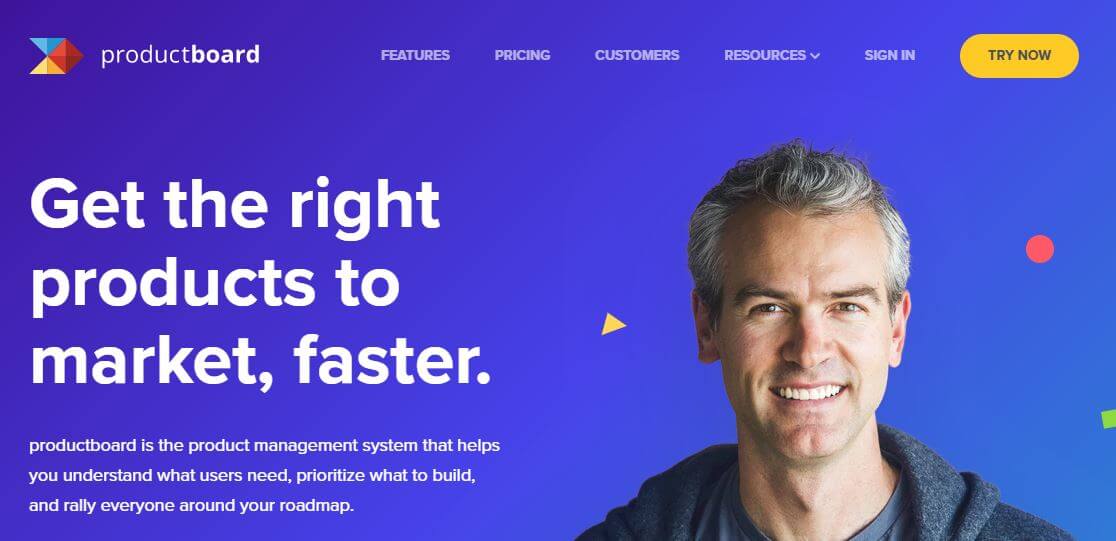 Product management is a key role in any business, and it's essential that product managers are organized and have a system in place for tracking their products. One tool that is ideal for this task is ProductBoard. It's easy to use, helps visualize data, and has valuable features such as product analytics and user feedback channels. By using these tools, product managers can manage their projects more efficiently and effectively.
Features:
It has several features that make it an excellent choice for businesses of all sizes.
Productboard offers users a comprehensive view of their product portfolio, from trend analysis to customer insights. This information can be used to improve decision-making and optimize strategy execution.
The product manager can create custom reports based on any criteria they choose, including sales data, competitor activity, and more. These reports help them stay informed about market trends and identify potential opportunities or threats to their business.
Productboard allows you to quickly assign tasks to team members in order not only to communicate ideas but also to ensure the timely completion of work goals. This helps reduce time wasted due to miscommunication or inaction on the part of team members.
As with most good software applications, Productboard offers integrative capabilities with other systems (such as accounting), which makes it easier for managers to track progress and keep tabs on expenses associated with product development
6. Asana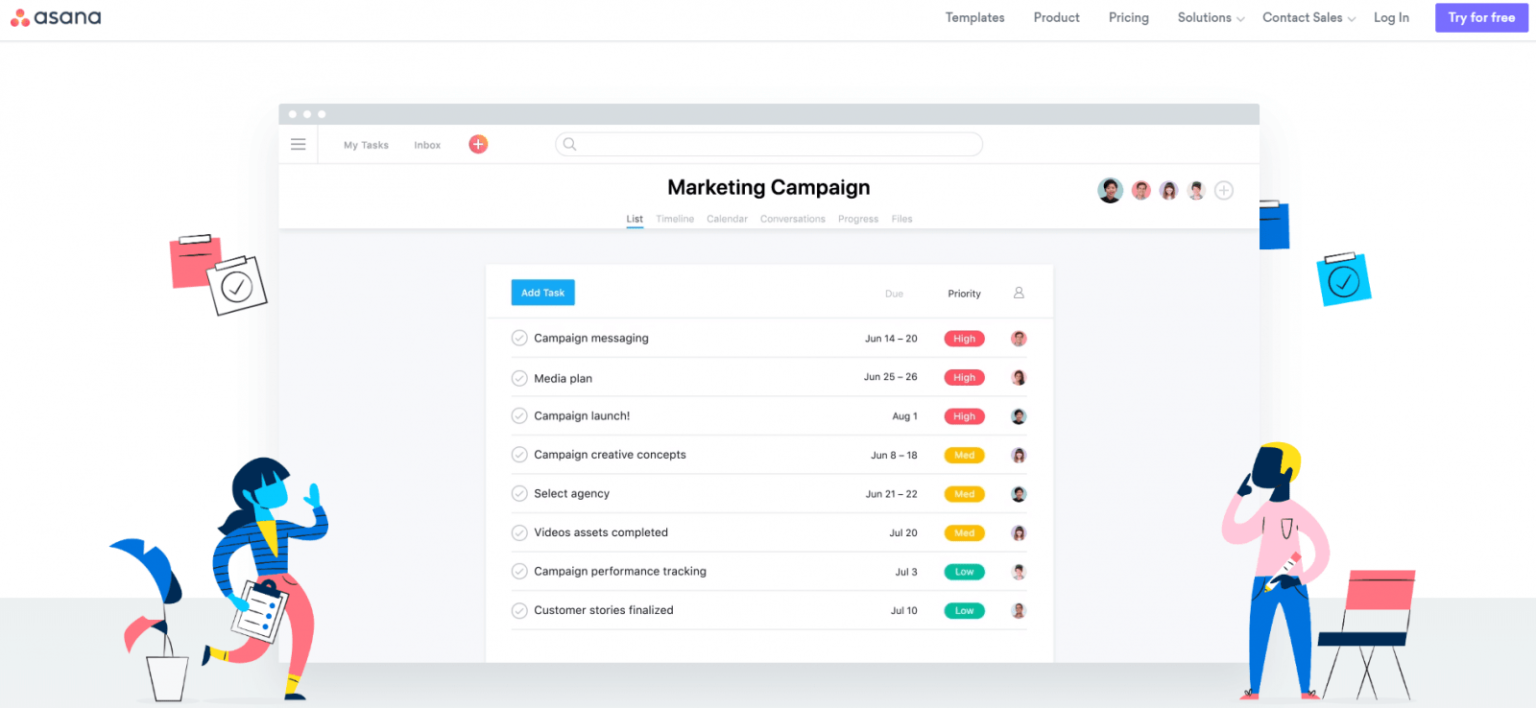 Product management is a challenging task that requires a lot of planning and coordination. Luckily, tools like Asana make it easier and faster to get things done. Asana is a software- as well as a collaboration-based tool. It helps you organize your work and keep track of deadlines. It also allows you to track progress and communicate effectively with team members.
Additionally, Asana offers a variety of integrations so that you can easily connect with other apps and software programs. So, whether you're looking to track project milestones, track project progress, or track project stakeholders- Asana has got you covered!
Features:
Some of the key features include:
Projects and team members are organized into boards, which makes it easy to track who is responsible for what.
Features such as kanban boards (for tracking tasks and resources) and burndown charts make it easy to see how work is progressing.
Automatic email notifications let you know when changes or updates are made to project data, which can help keep everyone on track.
The ability to export data into various formats allows you to share information with other team members or remote collaborators.
7. Aha!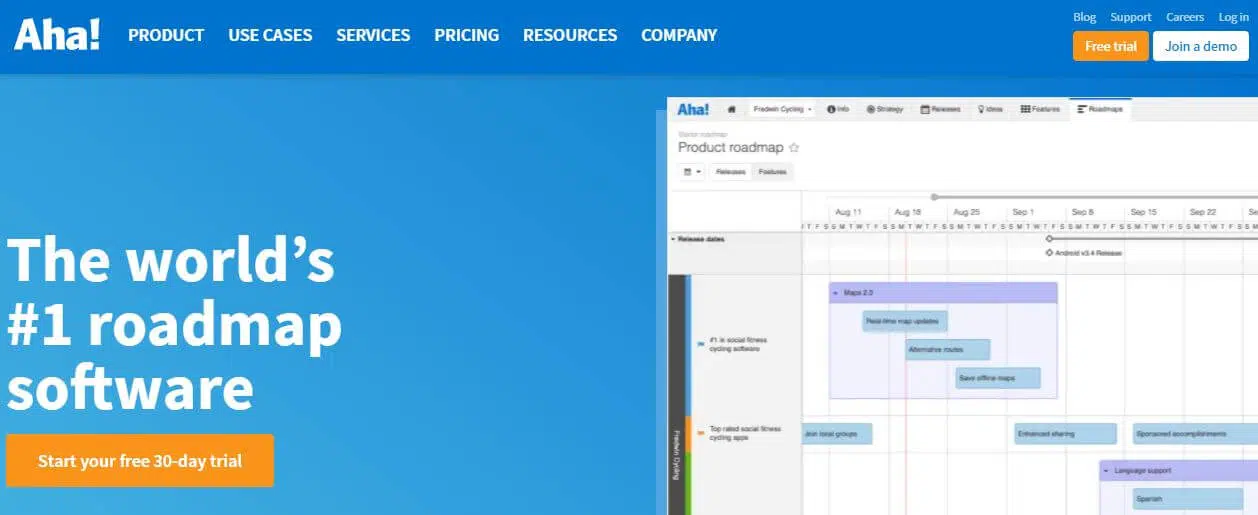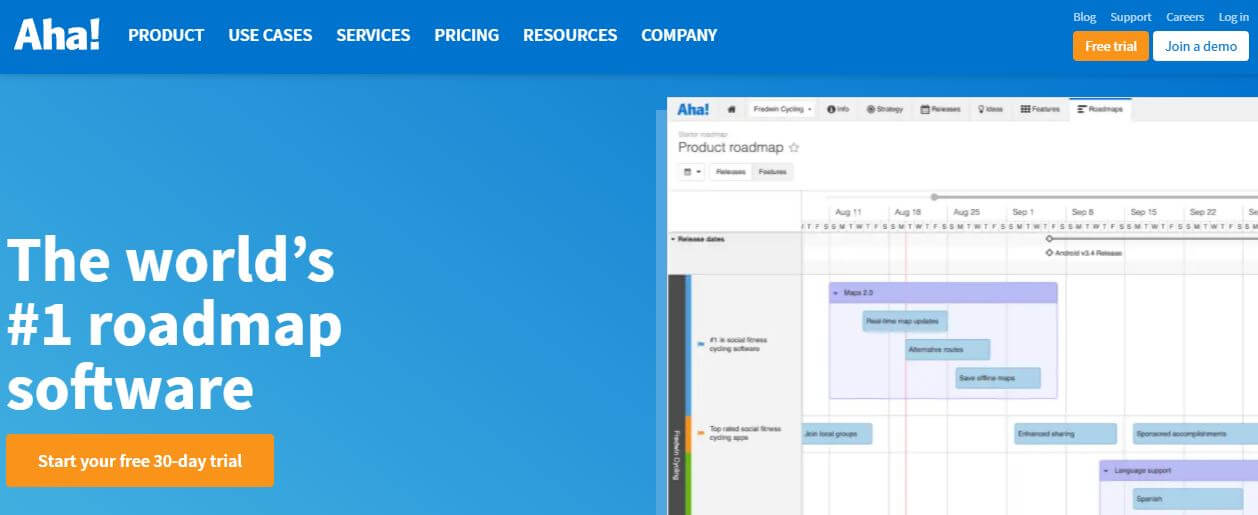 Aha! is a powerful product management tool that helps organizations manage their products and portfolios more effectively. It offers users several features that can help them manage their product development process, track progress, and resolve conflicts more efficiently.
Some of the most important features of Aha! are its project management tools, which include requirements gathering and user feedback tracking capabilities. These tools make it easy for managers to identify and address any problems early on in the development cycle. Additionally, Aha!'s integrated defect reporting system ensures that issues are detected and fixed as soon as they arise.
Features:
Here are some of its features:
Aha! includes an inventory system to track and monitor your product's supply, demand, and status. This helps you make informed decisions about production quantities and ensures that you always have the right amount of stock on hand.
The pricing module allows you to set prices for your products based on market conditions or customer demand. You can also optimize your prices for seasonal changes or specific markets.
The shipping module enables you to calculate shipping costs, plan shipments, generate shipment reports, and more. You can also customize your shipping routes based on customer location or quantity ordered.
The reviews module lets you gather feedback from customers before they even buy a product from you, which will help improve the quality of future sales transactions.
These features alone make Aha! one of the most powerful tools available for managing products in today's market economy
8. GoodData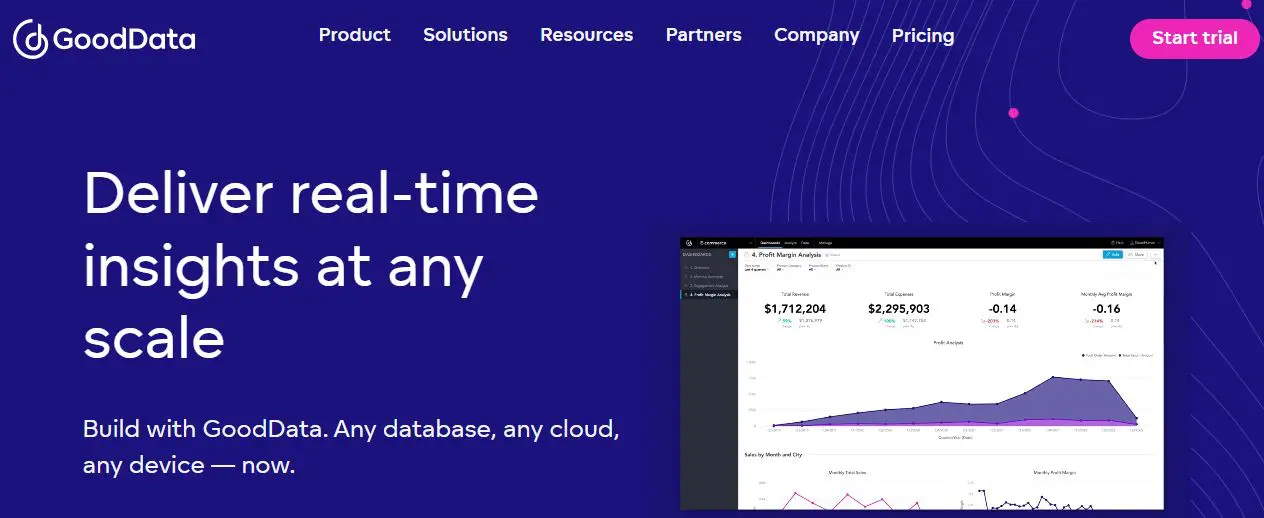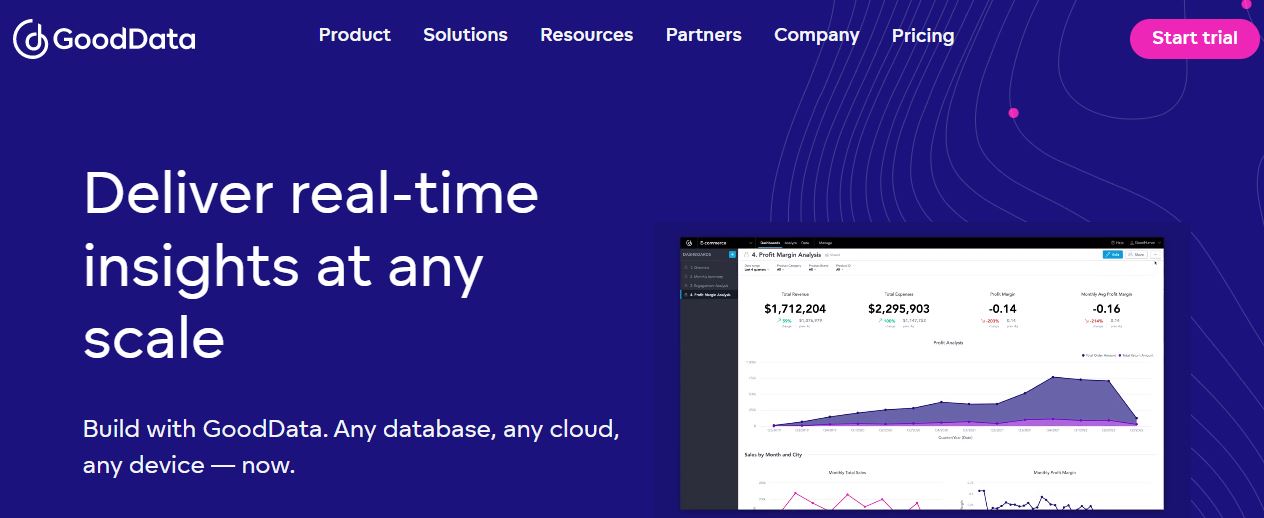 Product management is a critical role in any business, and success depends on the effective use of data. GoodData is a data-driven marketing platform that can help product managers track progress and measure results.
This enables them to make informed decisions about what to do next with their products. Overall, GoodData helps product managers achieve success by providing the tools they need to succeed!
Features:
Here are just a few:
Product catalogs to keep track of all the products in your portfolio, including detailed descriptions and images.
A product timeline to see how each product is performing over time, and make adjustments as needed.
Charts and graphs display key performance indicators (KPIs) for each product or category, so you can see where improvements need to be made.
Communication tools that allow you to message customers directly about their orders, refunds, or other issues related to your products.
9. Mockplus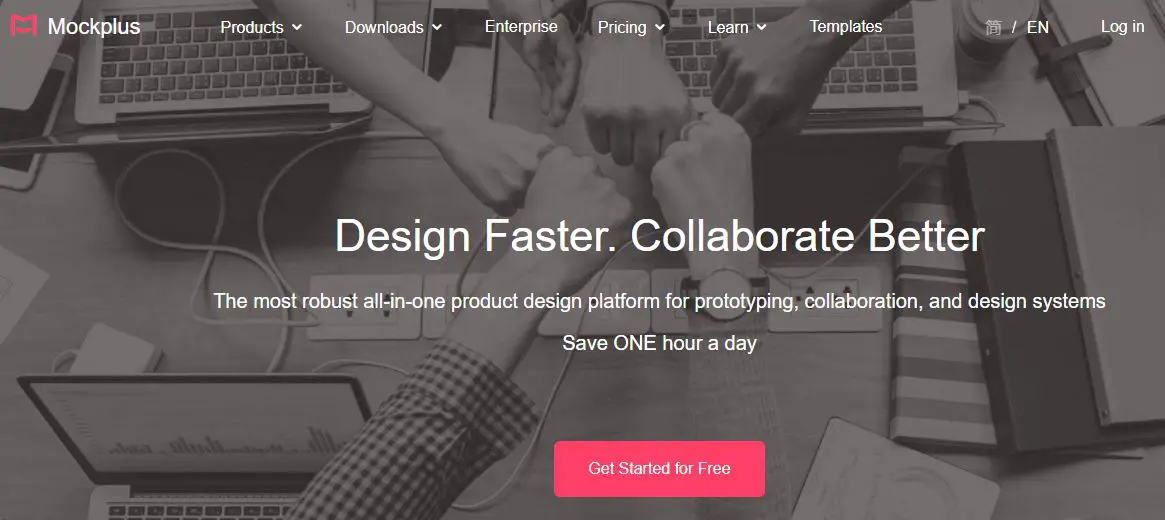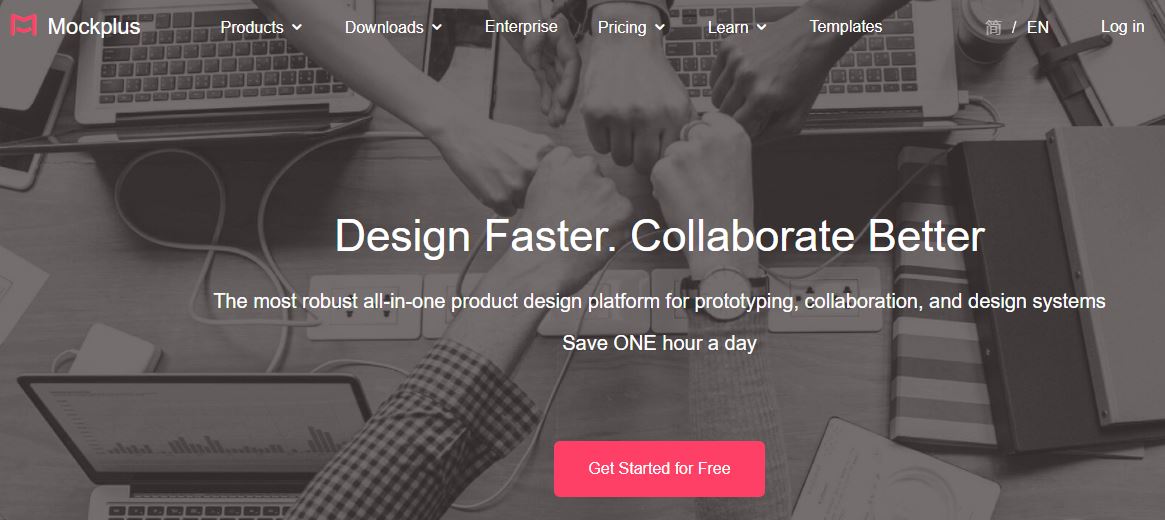 Product management is a critical role in any company, and it's important to have the right tools to help you work efficiently. One of the best tools out there is Mockplus. This platform allows product managers to test designs quickly and iterate on user experience.
Additionally, Mockplus has features that help with data visualization and collaboration between team members. Finally, Mockplus is fast and easy to use, making it great for managing projects on the go. If you're looking for a powerful tool to help you work smarter, not harder, Mockplus is the perfect tool for you.
Features:
Some of the features included in MockPlus include:
Create new products, add attributes to existing products, customize product images, and more.
Track your progress toward goals with milestones and Estimated Process timesheets.
Keep track of every step in your process with tasks/tasks lists, action items/action item lists, and labels/labels sheets.
View data visualizations that help you understand how your products are performing
The growing demand for advanced product manager tools
The demand for advanced product manager tools is on the rise, as companies become increasingly dependent on them to manage their products and services.
Advanced product manager tools can help companies track and predict customer behavior, optimize product offerings for customers, and ensure that their products are meeting customer needs. They can also help managers improve team productivity by providing them with insights about how each member of the team is performing.
As a result of all this data collection and analysis, advanced product manager tools have made it possible for managers to make better decisions and take more effective action in order to meet customer expectations. In short, they're essential for businesses of all sizes who want to stay ahead of the curve.
How good are free retrospective tools compared to paid ones?
There is no single correct answer to this question because it depends on the specific needs of the business. However, some experts believe that free retrospective tools are not as good as paid ones because they don't offer as many features and they're not as reliable.
One reason why free retrospective tools may not be as good as paid ones is that they're often unreliable. This means that they may not actually capture all the data that you need, which can lead to inaccurate analyses. Additionally, paid tools allow businesses to track more detailed information such as employee performance and customer feedback. This helps ensure that your strategic decisions are based on accurate data instead of assumptions or guesses.
1. What makes nTask one of the top tools for product managers?
nTask is one of the top tools for product managers because it makes it easy to track and manage your product roadmap. It helps you plan and execute updates to your products as well as measure their impact on your business goals. nTask also provides valuable insights into how users are using your products, which can help you make better decisions about future updates.
2. What are the best analytics tools for product managers?
There are a variety of analytics tools available that can be used by product managers. Some of the most popular include:
1. Google Analytics
2. nTask
3. Mixpanel
4. Intercom
5. Segment
6. Amplitude
Conclusion
In this blog, we have shared 9 top tools that are essential for product managers. With these tools at your disposal, you will be able to track progress, plan work, and track milestones. Make sure to check out our website for more information on these tools and how to best use them for your business. Thank you for reading!
---
More Resources You May Like: