As the digital workplace evolves, so too do the tools and systems that help manage and track employee performance.
In this article, we will explore the 11 best employee management tools of 2023 that can help you build a successful team, optimize processes, and enhance productivity. Read on to find out more!
What Are Employee Management Tools?
Employee management tools are essential for any organization that wants to maintain an organized and productive workforce. These tools help to streamline and automate tasks related to onboarding, payroll, scheduling, performance evaluations, and more.
With the right employee management tools, employers can easily manage their workforce while ensuring they have the resources they need to succeed. In this blog post, we'll be exploring the 11 best employee management tools of 2023.
We'll start by taking a look at why employee management tools are so important for modern organizations. Employee management tools provide an efficient way to organize and manage data related to a company's employees.
This helps employers quickly access relevant information such as payroll records, training materials, and contact information for each employee.
Additionally, these tools can automate certain aspects of the human resources process such as onboarding new hires or creating performance reviews. This saves time and money while also improving accuracy in data collection and analysis.
How Do Employee Management Tools Work?
Employee management tools are designed to streamline the process of managing employees, enabling businesses to increase their efficiency and productivity.
These tools allow employers to track employee performance, monitor attendance, manage tasks and projects, and store employee data in one convenient place.
In this blog section, we will explore how employee management tools work and the 11 best tools for employee management of 2023. 
Employee management tools can be divided into two main categories: human resources (HR) software and project management software.
HR software is used to manage all aspects of the employee lifecycle such as recruitment, onboarding, performance reviews, payroll processing, and more. 
Project management software is used to plan projects, assign tasks, monitor progress, and measure performance. Both types of software are essential for effective employee management.
Need For Employee Management Tools
As the business world evolves and technology advances, so too must the tools used to manage employees. In today's competitive business environment, having the right tools for managing employees is essential to a company's success.
Employee management tools provide visibility into employee performance, help improve efficiency, and can even boost morale by enabling better communication between employers and employees.
With all these benefits, it's no wonder why more and more businesses are turning to employee management tools to stay ahead of the competition.
The need for employee management tools is now more urgent than ever before due to the growing complexity of managing large teams of people.
As companies become larger, it becomes increasingly difficult for managers to keep track of every employee's performance, tasks assigned, and progress made towards goals.
Without a centralized tool or system in place, it can be nearly impossible for a manager to properly monitor their team's work and ensure that everyone is staying on task.
Types Of Employee Management Tools
Human Resources (HR) Software: This type of software is used to automate recruitment, payroll and benefits management, performance reviews, and other HR functions.
Time Tracking Software: This tool is used to accurately track employee hours worked so that accurate payroll calculations can be made.
Attendance Tracking Software: This helps managers ensure employees are clocking in and out at the right times, keeping attendance records organized and up-to-date.
Employee Scheduling Software: Used to create staffing schedules quickly based on employee availability and preferences while factoring in shifts, breaks, vacations time off requests etc., this software also offers conflict resolution capabilities when necessary.
Learning Management Systems (LMS): A web-based platform for businesses to manage their training programs including creating modules or courses; tracking progress through completion; allowing feedback from users; administering tests & quizzes; monitoring certifications etc., this ensures employees stay up-to-date with essential knowledge for their role within the organization – resulting in satisfied customers & improved revenue streams for the business overall!
What To Look For In Free Employee Management Tools
User Friendly Interface: Look for an employee management tool that is easy to navigate, with a user-friendly design and clear steps for each task.
Data Security: Ensure the employee management tool has proper encryption methods and data security protocols in place to keep your company's information safe from malicious activity.
Cost Efficiency: Check out different pricing plans and features to determine which one best fits your budget while still providing all of the features you need.
Needs Assessment: Determine what specific needs your business has when it comes to managing employees, such as payroll processing, leave tracking, employee onboarding and more.
User Support Services: Verify that customer service representatives are available if any technical issues arise while using the software.
Versatility & Integration Capabilities: Make sure the free employee management tool can interface with other programs or systems you use in order to maximize efficiency and workflow.
11 Best Tools For Employee Management Of 2022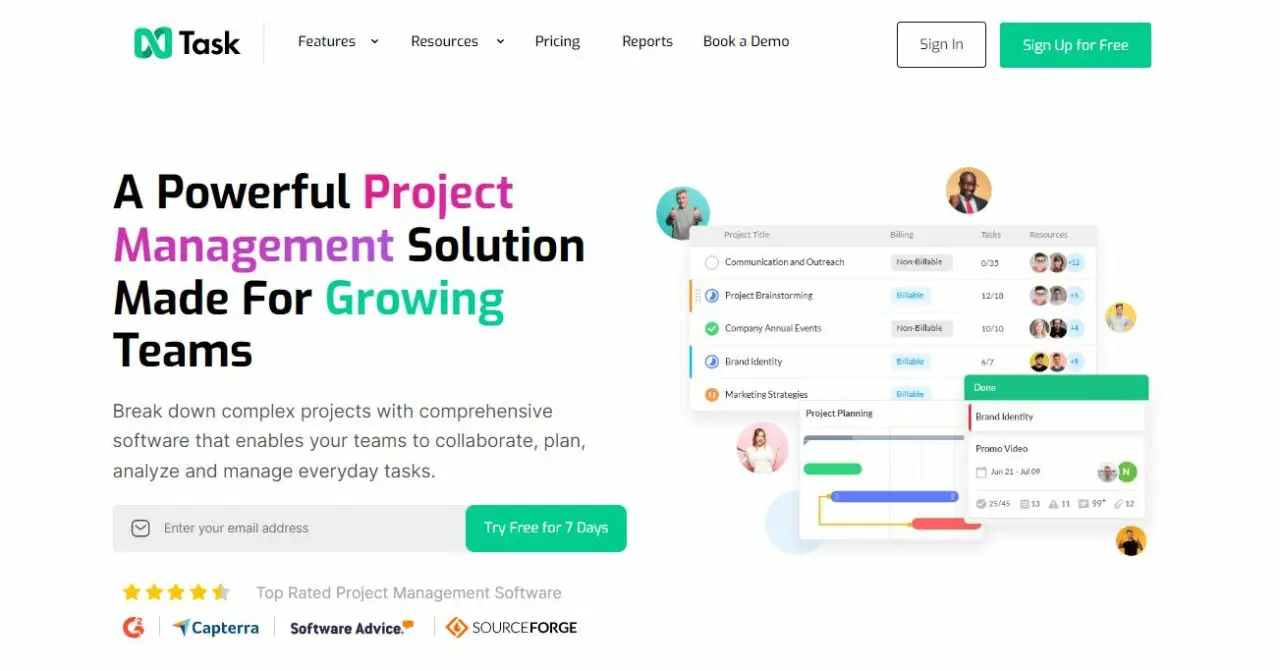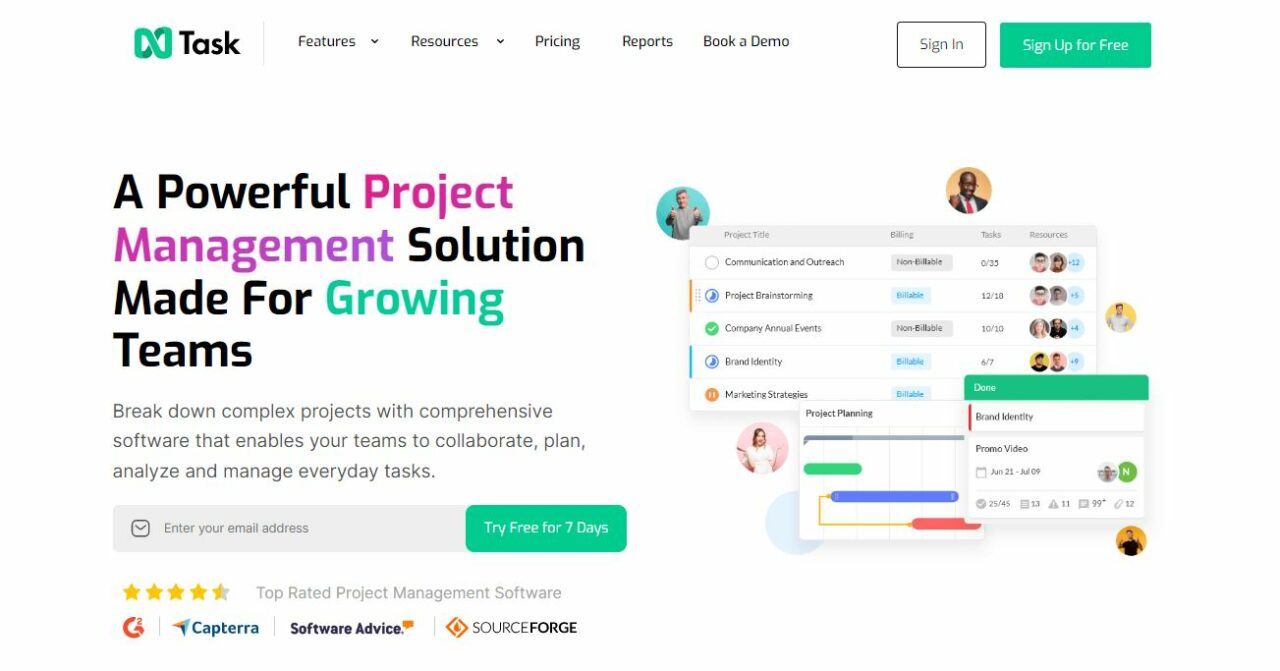 nTask employee management tools can be used to simplify and streamline the process of managing teams and gaining insights into employee performance.
These tools are designed with a variety of features that allow organizations to effectively track, monitor, and evaluate the progress of their employees.
This includes tracking projects and tasks assigned, generating reports for workloads, monitoring time spent on tasks and activities, tracking employee hours worked along with attendance information, and recording any feedback from managers or peers. 
Simplify project management
with nTask today!
Additionally, employee management tools also provide essential features such as internal messaging systems for communication between teams/departments; access control rights; automated performance reviews; data analytics capabilities to inform better decision-making; training records; onboarding processes; job descriptions; workflows to automate repetitive tasks or processes; resources library for sharing documents or project notes among team members.
By utilizing these functions in an efficient manner employers can save time while ensuring that their workforce remains productive, efficient and compliant.
Key Features,
Employee Database: A comprehensive database of employee profiles, including department and position information, contact details, salary history, performance track record etc.
Employee Scheduling: Create and manage schedules for each employee effortlessly with ability to allocate tasks and roles in advance. Ensure that critical tasks are assigned to the right employees on-time every time.
Time tracking tools: Track how much time each employee spends on various tasks like meetings, lunch breaks etc., thus enabling managers to manage resources better by making accurate payroll calculations and effectively distributing workloads between teams or projects.
Leave Management System: Automated system for recording leaves such as sick leaves, vacation leaves etc., ensuring data accuracy while avoiding manual errors due to paper-based systems or spreadsheets. 
Performance Appraisal Process Based On Objectives & Goals: Set objectives & goals for each team/employee at the start of any project or assignment so that their performance can be monitored periodically and evaluated against set goals at the end of the period in order to improve overall efficiency and productivity of the organization/team as whole by providing timely feedback/incentives if needed
Customizable Reports & Analytics Dashboard: Generate reports which include detailed analysis on time spent on various tasks; attendance status; leave history; appraisal ratings etc., along with graphical representation via intuitive dashboard for quick insights into employee progress towards organizational goals
Pricing,
Pro $3/month
Business $8/month
Enterprise custom/month
2. Leapsome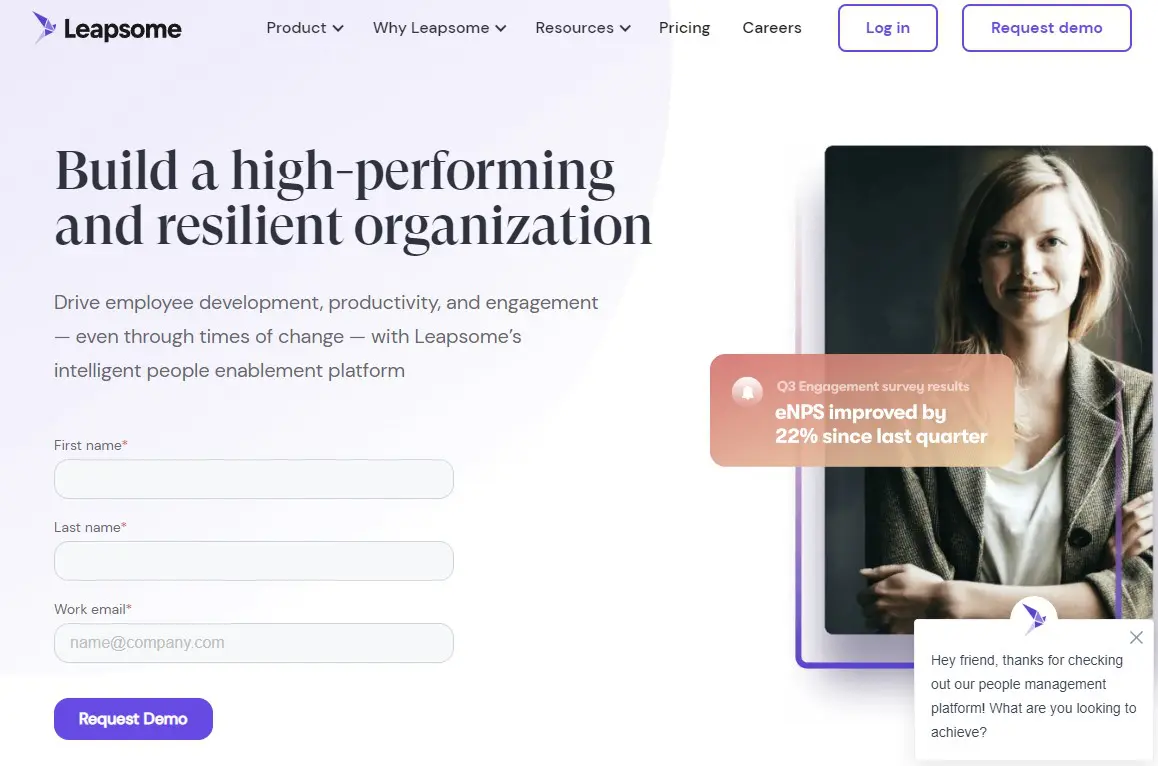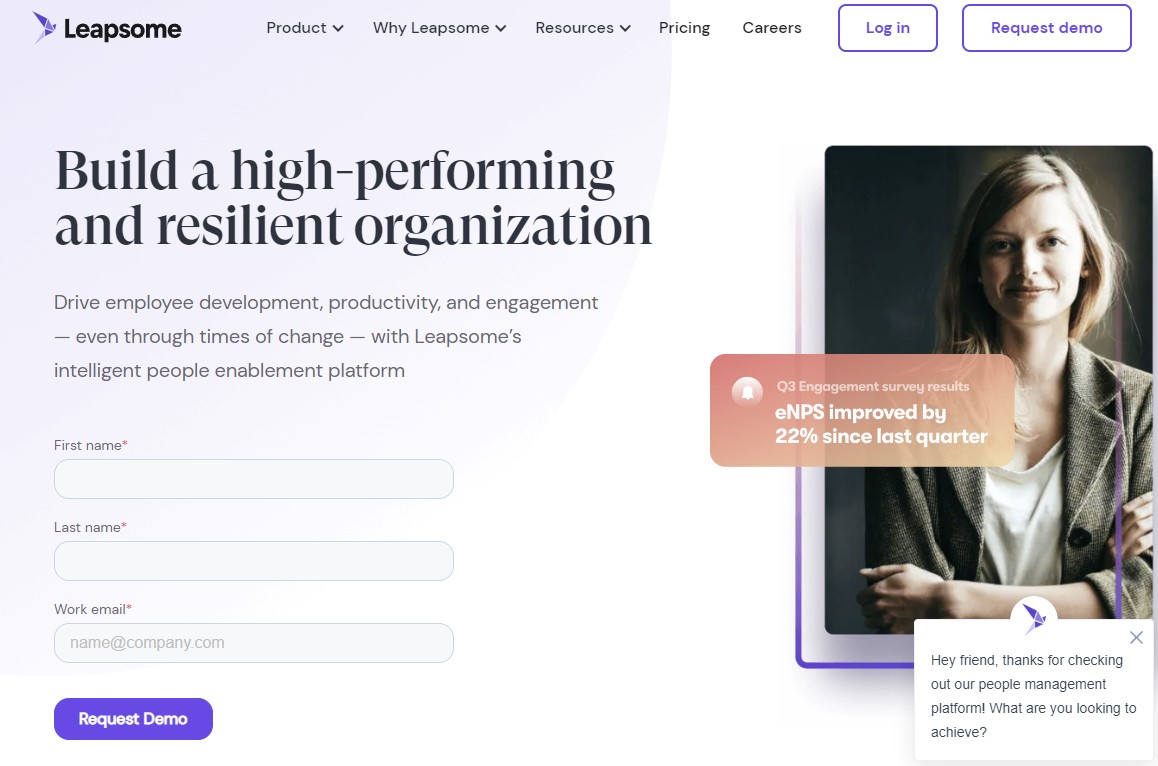 Leapsome is an innovative employee management tool that helps businesses optimize their processes and improve team productivity. 
With the help of Leapsome, businesses can streamline employee onboarding, performance reviews, goal setting, feedback loops, and other essential HR activities.
The user-friendly platform makes it easy to manage every facet of the employee lifecycle from one central hub. 
Additionally, it provides insights that can be used to track progress and measure results.
Leapsome provides a comprehensive suite of features designed to make employee management more efficient so that you can focus on nurturing your team's success.
Key Features,
Performance Management: Leapsome allows organizations to easily track the performance of their employees and measure it using customizable metrics that align with company goals.
Goal Tracking: Leapsome's goal tracking feature enables employers to assign and review goals for each employee as well as group objectives, so progress can be monitored on an individual or team-wide level.
360° Reviews: Users are able to give feedback and ratings on a variety of topics including work ethic, communication, and contribution levels in order to accurately assess employee performance holistically.
Engagement Surveys: Employers have the ability to customize surveys which focus on aspects such as job satisfaction, collaboration levels, etc., in order to gain insights into what motivates employees and how they feel about their role within the organization overall.
Real-Time Insights & Reporting: With powerful AI analytics tools built into its platform, users are provided real-time visualizations of data related to employee engagement trends, goal progressions, and ratings distributions across staff members in order facilitate informed decision-making from top management teams regarding future strategies for furthering success at their workplace.
Pricing,
3. Monday.com


Monday.com is an employee management platform designed to make managing staff easier and more efficient. With its intuitive drag-and-drop interface, managers can easily assign tasks and track progress in real-time. 
It also integrates with other tools like Google Calendar, allowing users to manage their teams without having to switch between different platforms or programs.
Additionally, Monday.com offers comprehensive reporting features to give managers insight into how their team is performing and areas where they need improvement or additional training.
Further, the platform allows for customizable workflows that automate tedious processes so employees can stay focused on what matters most – getting things done!
Key Features,

Customizable dashboards – Users can customize their dashboard with easy-to-read visuals, including charts, graphs, and other types of visualizations that make it easy for managers to track progress against goals or projects.
Calendars – Managers can quickly view tasks assigned to team members using the calendar feature which allows for quick overviews of upcoming work assignments.
Action items – Monday.com's action item feature allows users to assign tasks with due dates and other necessary information, as well as monitor staffers' activity levels and task completion rates in real time.
Workflows & Automation – By automating tedious manual processes such as creating new tasks, setting reminders, assigning priorities or assigning ownership of specific tasks, managers can save valuable time while improving efficiency within the workplace.
Assignments & Reports – Users can upload documents associated with assignments directly into Monday's platform such that executives and team leaders can view staff reports along with full documentation in one convenient location.
Pricing,
Individual $0/month
Basic $8/month
Standard $10/month
Pro $16/month
Enterprise custom/month
4. Deel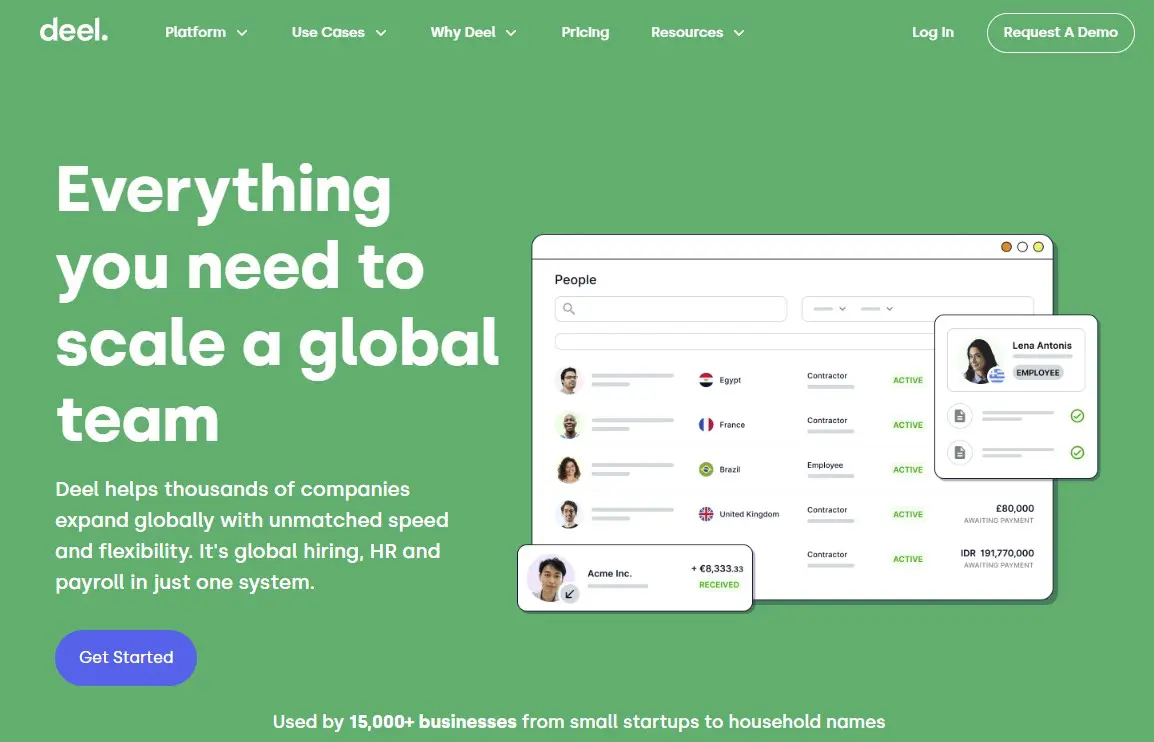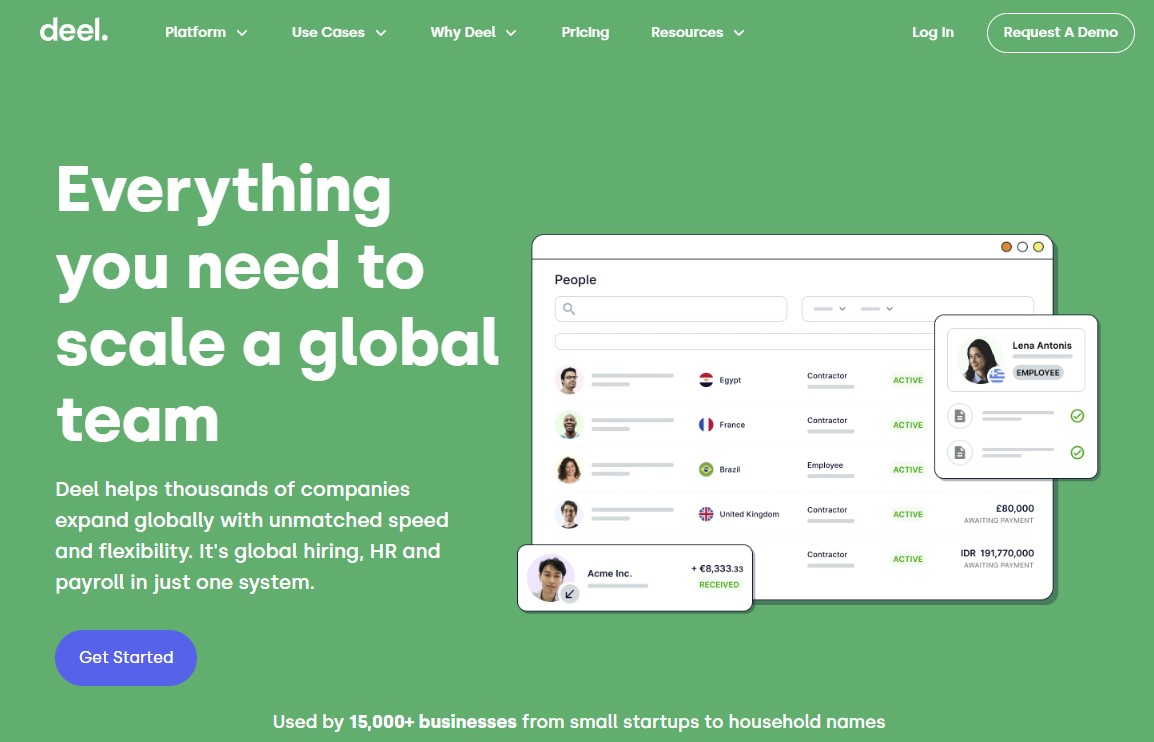 Deel Employee Management Software is an innovative software solution designed to help businesses effectively manage employee records, tasks, and performance. 
It offers a comprehensive suite of features including employee profiles, task tracking and management, automated performance evaluations, data analytics & reporting tools, time-tracking capabilities for payroll purposes, and document uploading and sharing capabilities for onboarding new hires quickly and easily. 
This software can be used to track hours worked by employees on specific tasks or projects as well as overtime hours put in.
It enables employers to set up custom policies related to work schedules such as vacation days or leave time allowances for their teams. 
Moreover, it helps managers create targeted goals for employees along with incentives that motivate them to complete objectives successfully. 
Additionally, Deel Employee Management Software facilitates collaboration across multiple departments and monitors compliance with labour laws such as wage & hour requirements.
Key Features,
Employee Information Management: Track important details such as employee name, address, job title and salary. Easily search and view custom reports that provide comprehensive data analysis.
Time & Attendance Tracking: Record employee attendance with automatic time-clock integration. Monitor work hours in real-time, calculate overtime wages, authorize leave requests and generate payroll reports.
Performance Management: Establish objectives, conduct performance reviews and measure professional development progress all within the same user interface. Generate meaningful performance metrics for each individual employee or review the overall contribution of each department to the company's success.
Scheduling & Rostering: Streamline the process of creating rosters with automated shift scheduling capabilities that consider availability constraints while keeping overtime costs low. Covers multiple sites with multi-level approval processes, rostered days off (RDOs) tracking and timesheet creation capabilities.
Recruitment & Onboarding: Manage essential documents like employment contracts or Offer Letters securely online – no more paper filing! Automate onboarding activities like background checks and verify educational qualifications directly from universities for faster hiring processes without compromising accuracy or quality standards.
Messaging & Communication: Keep employees informed of company policies by sending messages to large groups with one click through a centralized platform that also allows private conversations between managers and their teams.
Pricing,
Hire a contractor $49/month
Premium $99/month
Shield Get a quote.
5. Rippling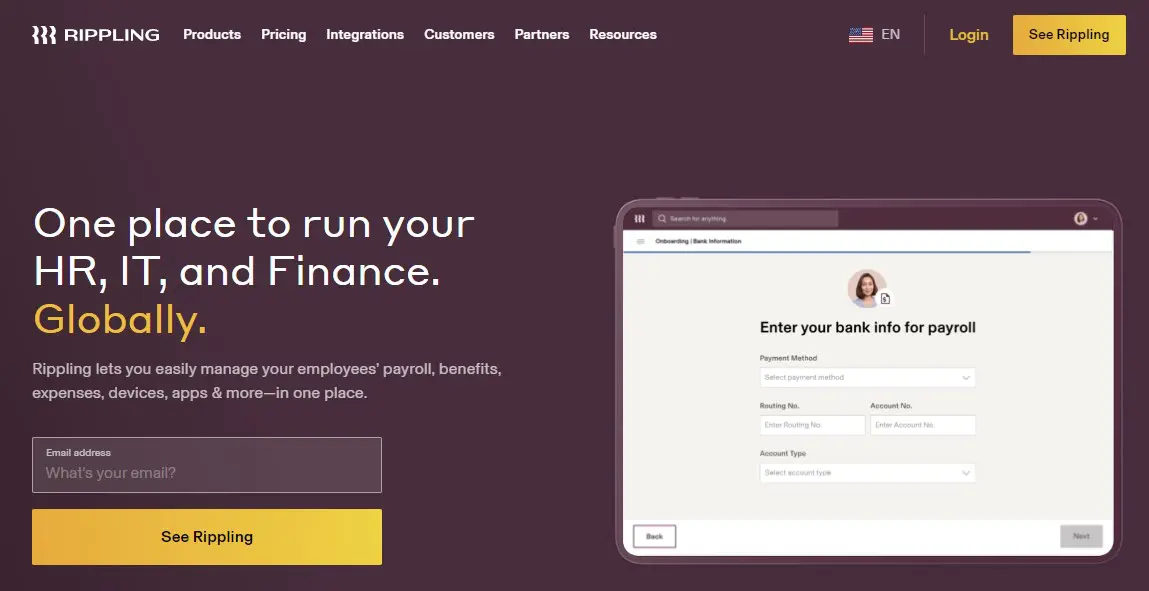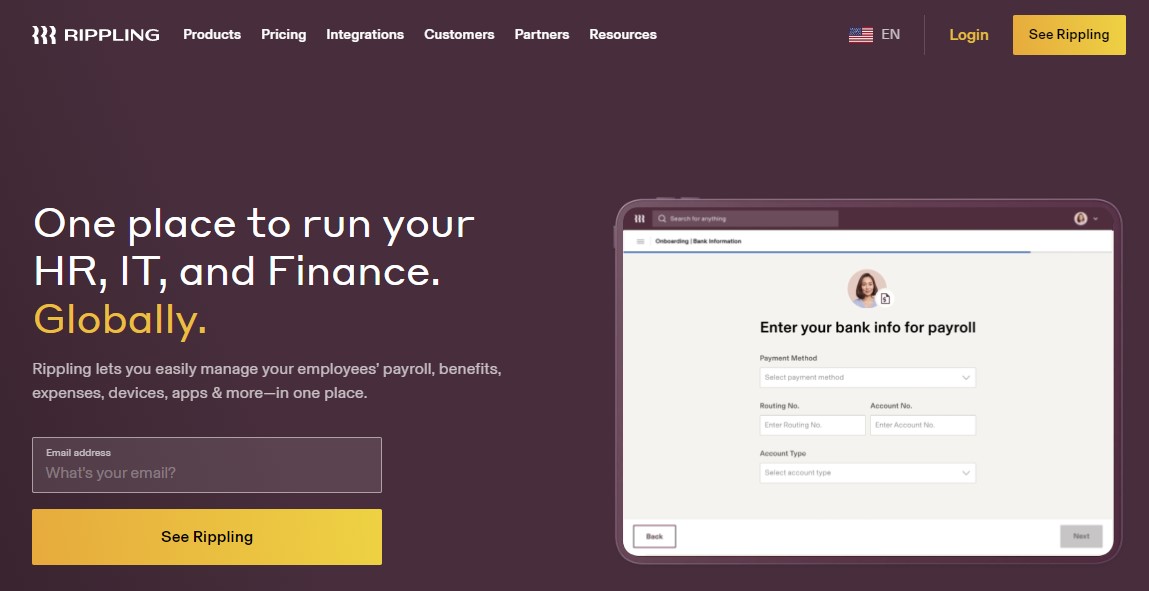 Rippling tools are useful for any organization, big or small. In the case of employee management, they can be invaluable in gathering and analyzing data on employee performance and task completion. 
These tools provide key insights that help managers make informed decisions on how to optimize their workflow and assign tasks accordingly.
Additionally, they can track productivity levels, helping managers assess employee performance over time to monitor progress and identify areas needing improvement.
The ultimate goal is to ensure that all resources are utilized efficiently in order to maximize organizational success.
Key Features,
Automated recruitment and onboarding processes: Automation of the hiring process helps to streamline recruiting efforts while reducing time-consuming manual work. This approach allows organizations to quickly find qualified candidates by leveraging keyword searches, custom job postings, résumé filtering options, applicant tracking systems and automated reference checks.
Skill gap analysis: With the ability to analyze skill sets across departments, these tools help organizations identify areas of need so they can better utilize their employees according to individual strengths.
Workforce analytics: Integrate employee data into comprehensive reports for accurate predictions about the performance of your workforce over time by utilizing expected key performance indicators (KPIs).
Performance management: Track goals from initial assessment up through completion with a simple yet effective tracking system that provides real-time feedback on progress towards desired outcomes; data collected during this process serves as a baseline for setting realistic objectives moving forward – thus helping ensure high productivity levels among both new hires & seasoned veterans alike! 
Pricing,
6. Justworks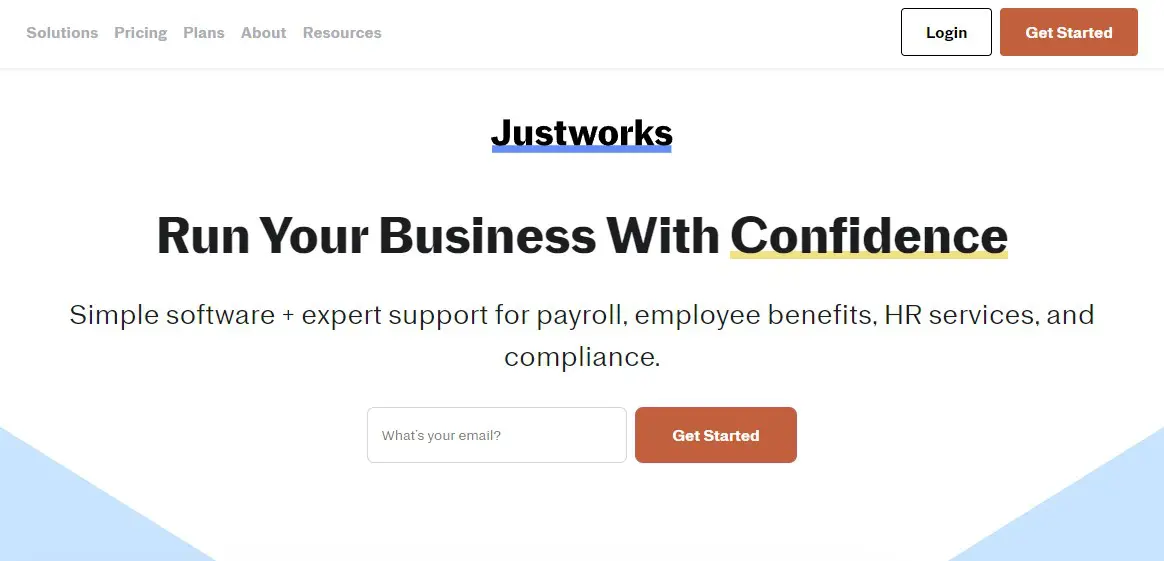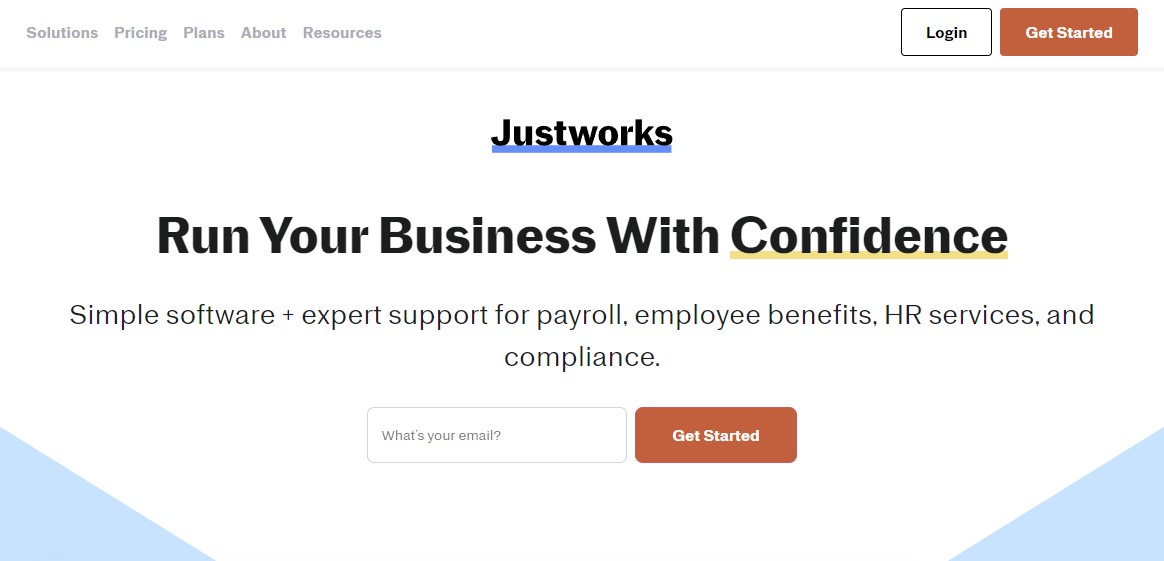 Justworks provides an innovative suite of tools to help businesses manage their employees. Their cloud-based platform offers a range of features and software solutions for tasks such as payroll, onboarding, and benefits administration. 
The software is designed to save companies time and money by automating the processes associated with employee management.
With its intuitive interface, the Justworks platform makes it easier for business owners to get up and running quickly while providing security and accuracy in all facets of their employee management needs.
Additionally, users have access to 24/7 customer support should any issues arise along the way. Overall, Justworks is a powerful resource that empowers business owners with the resources they need when managing their staff.
Key Features,
Payroll Management – Justworks offers a comprehensive payroll management system to help employers easily manage and process their employee payments, deductions, taxes, and more. The platform allows users to enter information about their employees' pay periods and details of their compensation packages so that it can automatically calculate all the required deductions from each paycheck. It also provides access to reports for quick analysis on enterprise finances and compliance with government regulations.
Time Tracking – With this feature, employers are able to monitor the hours worked by each employee throughout the week via an online dashboard or mobile app. The platform makes it easy for them to keep track of hours worked for overtime pay calculations as well as paid time off balances for every employee. Additionally, Justworks allows administrators to export multiple reports from this data in various formats such as CSV or PDF which helps with overall financial planning at a company level
Benefits & Insurance – This tool provides companies with access to benefit plans like health insurance and other voluntary benefits such as 401(k) savings plans which can be administered through Justworks itself or one of its many partners depending on the needs of different businesses. This includes both traditional health insurance options plus special programs like yoga classes and subscription services that could be offered as part of an overall package depending on an employer's preference
Compliance Support – To ensure employers are always up-to-date with labor laws related to hiring practices and wages across US states, Justworks tools provide full support when it comes to legal compliance issues regarding employment conditions or new regulations coming into effect.
Pricing,
Basic $59/month
Plus $99/month

7. Bamboo HR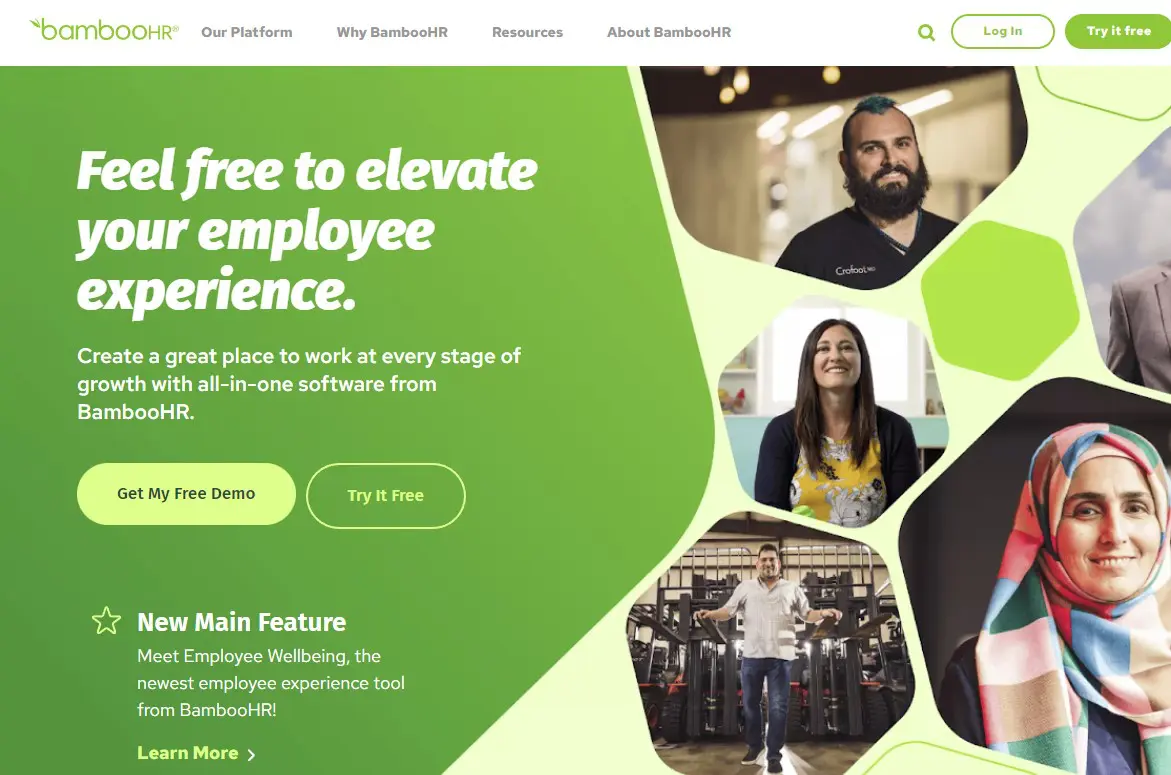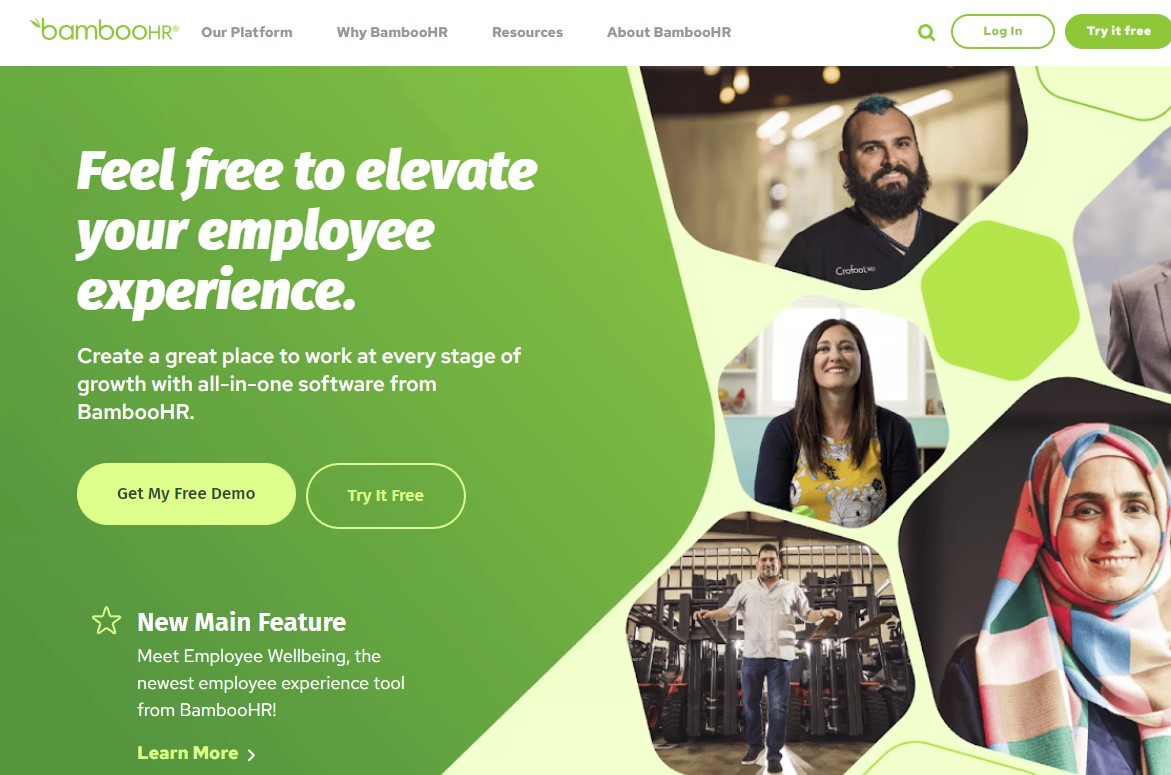 Bamboo HR is a comprehensive set of tools for business owners to manage their employees.
It provides a centralized platform with customizable dashboards to track employee information, including contact information, skills and competencies, salary history, and performance reviews. 
Additionally, it offers automated onboarding processes and compliance reporting to simplify the process of bringing new employees into an organization.
Bamboo HR also features robust role-based permissions that allow staff members to access specific areas of the system only when necessary.
With its analytics capabilities, organizations can monitor key performance indicators in real time and gain insights into trends in their workforce. Finally, Bamboo HR's mobile app allows users to monitor their teams while on the go.
Key Features,
Streamline employee onboarding and profile management with customizable forms
Automatically generate custom reports to track key performance indicators
Manage time off requests and attendance tracking quickly and efficiently
Generate employee engagement surveys to monitor job satisfaction levels
Improve communication between HR and employees using secure messaging capabilities
Monitor payroll details in real-time, with detailed records for auditing purposes
Utilize automated workflows for hiring, onboarding, performance reviews, and more
Track training progress with easy-to-use online tools
Provide oversight of employee benefits packages from a single platform
Design custom alerts to remind managers when tasks or milestones are due
Run targeted searches to find specific pieces of information from employees' records
Pricing,
8. Workday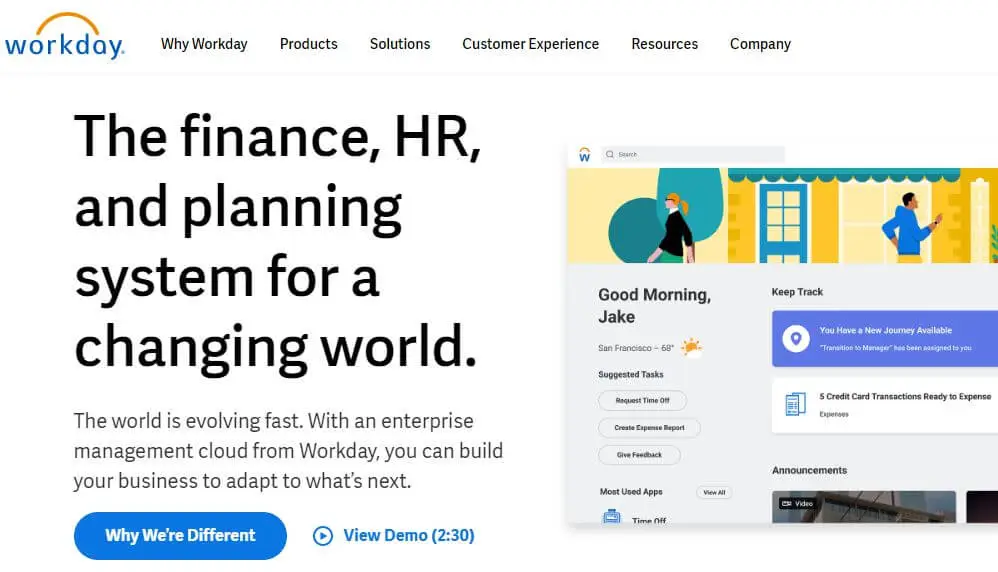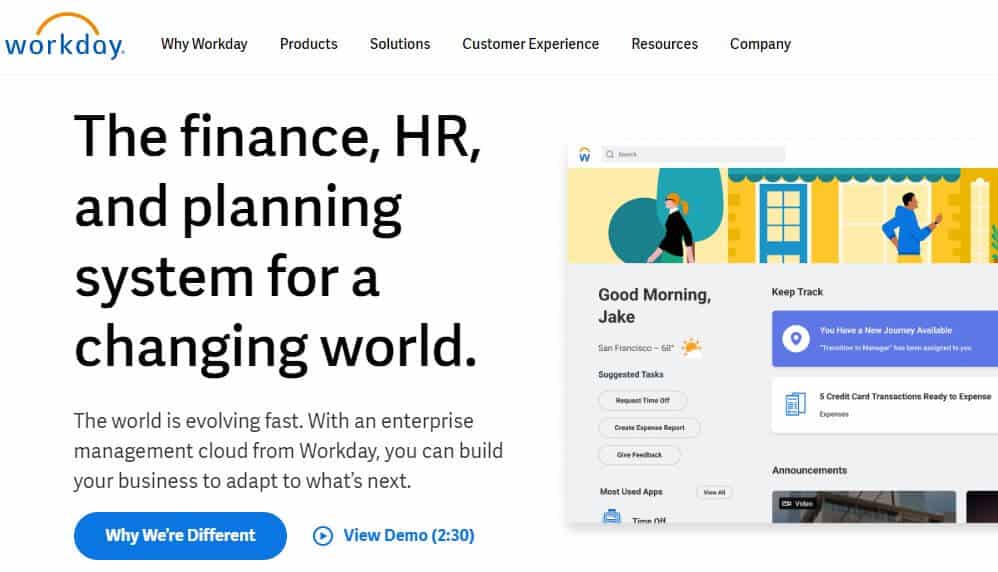 Workday tools are an integral part of employee management, providing a streamlined and automated way to manage employee information. 
The Workday platform offers comprehensive solutions that include payroll, benefits administration, recruitment and onboarding, performance management, time and attendance tracking, workforce planning and analytics.
Each tool is designed to be intuitive for users to access the features they need quickly and easily.
With its cloud-based architecture, Workday enables organizations to efficiently manage their HR operations from any device with an internet connection.
It also allows them to integrate with other third-party systems such as enterprise resource planning (ERP) or reporting software via APIs or connectors so they can take advantage of automation in the HR processes.
With Workday's user-friendly interface that allows customization according to your business needs, it provides a unified platform for all aspects of employee management.
Key Features,
Automated onboarding and offboarding of staff: streamlines the process of welcoming new employees and transitioning departing ones, including tracking necessary documents like employment contracts and background checks.
Streamlined payroll processing: provides the administrative tools for calculating wages, taxes, deductions and other income adjustments in an efficient manner.
Time-off tracking: makes it easy to track employee vacations, sick days or any other type of absence in one central system.
Performance reviews: enables companies to reward good performance or address areas of improvement with feedback surveys or simple checklists.
Learning management systems (LMS): provides educational resources to help employees develop their skill sets through interactive training materials, certification courses and more.
Self-service HR portal: allows employees to take more control over their own personal information by managing their contact details, updating tax information and submitting leave requests from a single dashboard.
Pricing,
9. Connectteam


Connectteam is a comprehensive and easy-to-use employee management tool that simplifies complex HR processes and helps to save time.
It provides powerful features such as onboarding, recruitment, training and development, performance reviews and much more. 
With this cloud-based tool, users can manage their workforce faster with automated workflows to ensure key tasks are completed in time.
This will help organizations get better visibility of employees' activities resulting in improved productivity.
Furthermore, Connectteam offers personalized dashboards for easier monitoring of each employee's performance data along with custom reports for a better decision-making process. 
The user-friendly interface makes it easier for non-technical users to quickly set up the system without prior technical knowledge or expertise.
Ultimately Connectteam helps organizations simplify HR operations, maximize employee engagement and supercharge collaboration resulting in improved team productivity.
Key Features,
Automate employee onboarding processes and paperwork: streamline the new hire welcome experience with automated forms, emails, and notifications.
Create employee profiles to quickly review key information: store employee details like contact info, salary record, performance reviews, team membership records etc. in one place.
Monitor leave & attendance status: keep track of employees' holiday and absence requests along with their current attendance status so teams can plan ahead.
Leave & Attendance tracking: set specific policies for different leave types and manage them easily in one dashboard – monitor who took sick days or whose overtime was approved.
Receive real-time notifications & alerts: create automated rules and get notified when certain conditions are met or triggered ensuring smooth operations at all times.
Generate comprehensive reports: generate accurate HR reports related to expenses, payrolls, training sessions etc for better insights into employees' performances.
Pricing,
Operations expert $99/month
Operations advanced $49/month
Operations basic $29/month
Small Business $0/month
10. Eddy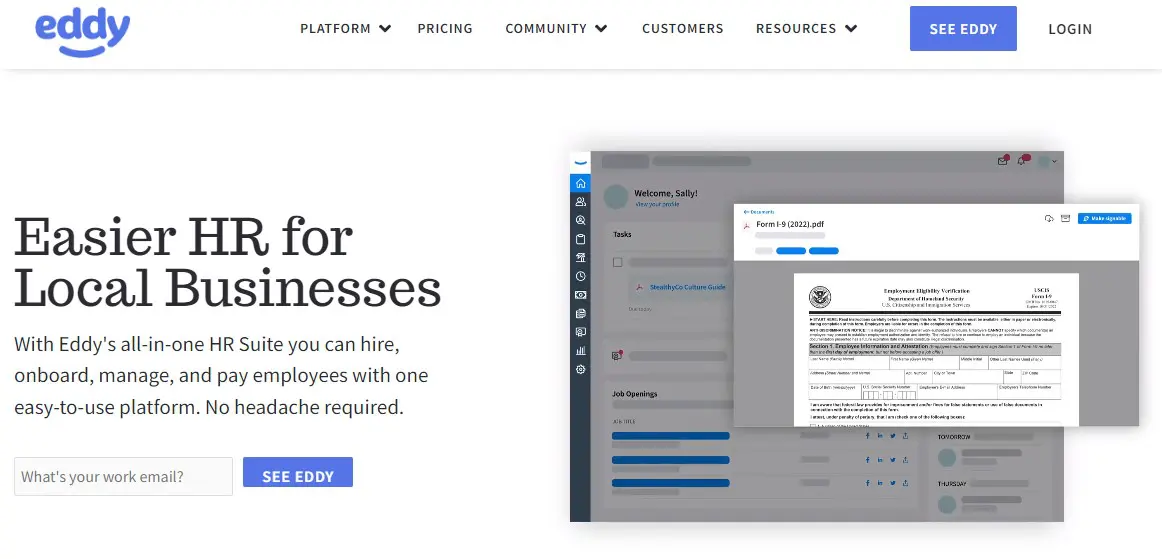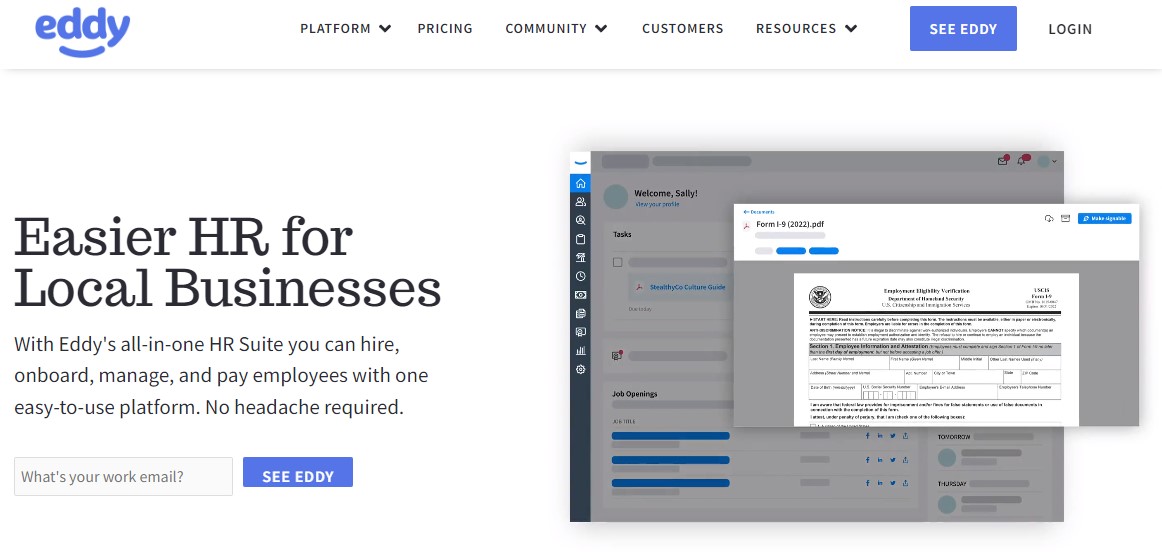 Eddy is an employee management tool designed to help businesses operate efficiently. By combining modern technology with innovative software, Eddy simplifies the task of managing employees and streamlining workflows. 
With Eddy, businesses can manage attendance records, schedule shifts, approve leave requests and manage payrolls in one place.
The user-friendly design makes it easy to access information quickly and accurately. Additionally, powerful analytics provide useful metrics that enterprises can use to make informed decisions about their workforce.
Ultimately, Eddy provides businesses with the tools they need to optimize employee productivity for maximum results.
Key Features,
Automated Onboarding: Eddy employee management tool provides automated onboarding with onboarding workflows, digital document storage, automated task creation, and more. This feature allows businesses to quickly and efficiently onboard new hires on their own schedule.
Performance Appraisal: Eddy employee management tool enables employers to easily track and evaluate employees' performance in real time with customizable performance appraisal templates and reports. Furthermore, users can send reminders for upcoming reviews or praise for exemplary performances via email or text message notifications.
Leave Management: Eddy employee management tool offers a centralized view of all your team's leave requests including past records, pending requests as well as future application processes such as approval/rejection of leaves across departments/teams/individuals in the organization with easy tracking tools & features like applying filters & categories etc.,
Employee Directory: With the help of the Employee Directory feature in Eddy employee management tool users can look up information about current or past employees such as contact information, job titles, departments they belong to etc.. making it easier to manage team members without needing multiple resources or applications
Customizable Reports & Dashboards: Users are able to customize their reports with personalized data points that measure any metric related to people operations from hiring trends and skills gaps through absenteeism rates and compensation benchmarks based on industry norms.
Pricing,
11. Gusto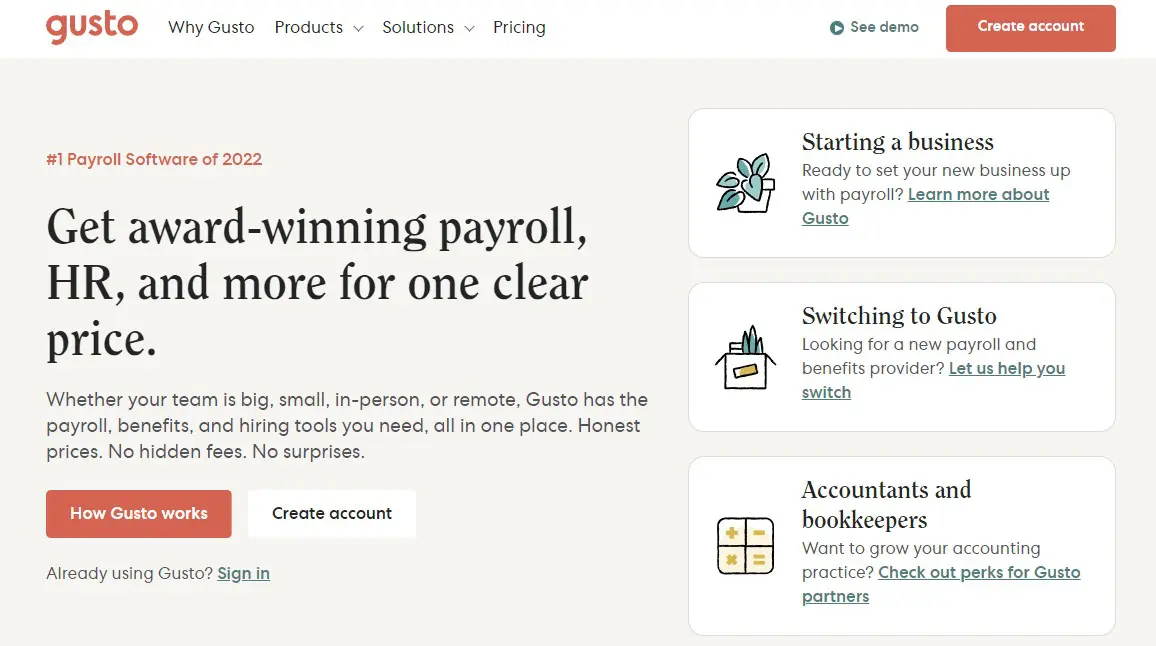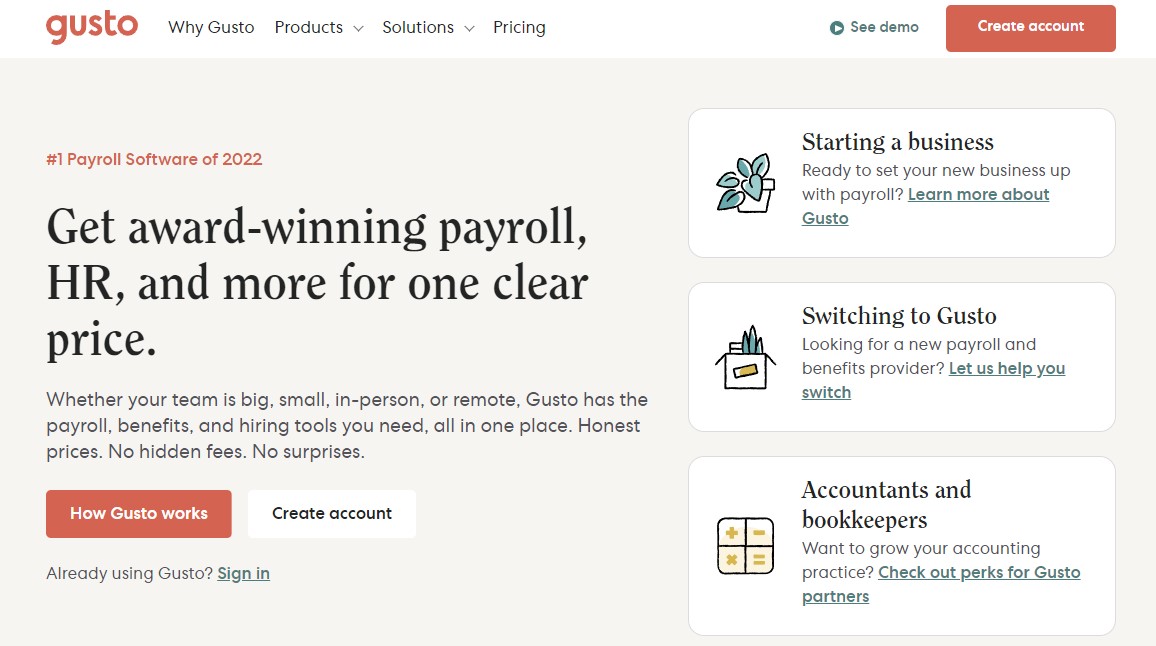 Gusto is an employee management tool that simplifies common payroll, tax and HR tasks. It automates many of the administrative functions associated with paying staff, freeing up time for employers to focus on their core business activities. 
Gusto also provides step-by-step guidance on how to comply with local labor laws, complete employee onboarding processes and enroll employees in benefit programs.
It can handle direct deposits for employees or pay them via paper checks and automatically process tax payments at the federal, state and local levels.
Additionally, Gusto offers access to a network of insurance providers and discounts on benefits packages such as retirement plans and health coverage. By providing all these vital services in one convenient package, Gusto helps make managing your workforce simpler than ever before.
Key Features,
Streamline payroll with automatic tax calculations, direct deposit payments, and digital pay stubs.
Easily track employee work hours to ensure accurate compensation.
Create and manage vacation & sick leave policies to comply with regulations.
Automatically generate year-end statements of earnings for employees.
Automate onboarding processes from pre-employment forms, training videos, job postings, and more.
Customize informational HR resources like a company dashboard and employee directory
Enable remote tracking of time off requests in real-time notifications for managers & administrators
Offer multiple plans tailored to business needs such as unlimited pay runs or a specific number of active users per month
Keep track of any changes in employment status (such as termination or promotion) for accurate record keeping
Generate detailed reports on labor costs and other important metrics
Pricing,
Simple $40/month
Plus $60/month
Premium Exclusive pricing
Conclusion
In conclusion, employee management is an important part of running a successful business. It is essential to have the right tools in place to ensure that your employees are managed properly and efficiently.
The 11 Best Tools for Employee Management of 2023 outlined here offer a great starting point for businesses who would like to maximize their workflow and productivity within their organization.
With these tools, businesses can easily create meaningful processes that will streamline employee management in order to realize increased efficiency and better work outcomes.
FAQs
What is an employee management system?
An employee management system (EMS) is a software used to track and manage employee details, including payroll, timesheets, proficiencies, job roles, leave requests and other personnel information. It can also be used for performance reviews and analytics. EMS provides an overall organizational view to effectively manage team productivity through timely insights into employees' performance data.
What is the best way to manage employees?
The best way to manage employees is to be consistent, treat everyone fairly and equally, set clear expectations, and give timely feedback. It's important to maintain a professional but approachable demeanor in order to foster a productive and positive working environment. Additionally, regularly communicating with your team members can help open the door for improvement opportunities so that they have the resources and support they need to do their best work.
What are employee experience tools?
Employee experience tools are software and/or hardware tools that help organizations manage the employee's journey from recruitment to retirement. These tools provide a comprehensive view of an employee's engagement, satisfaction, performance, and skills. They give employers the ability to capture insights from their employees and use those insights to improve processes, create a better work environment, and identify areas for growth.
What are the tools used by the HR department?
The Human Resources (HR) department typically utilizes a variety of tools and software to manage employee records, track performance metrics, and handle employment procedures. These tools often include human resources information systems (HRIS), payroll management software, time tracking programs, applicant tracking systems, employee engagement platforms, and scheduling programs.