In the organizational paradigm, Time is the factor that can make or break your company. Everyone has some big ideas that can catapult the company's reputation and value to the next level, but the teams that are the most time-efficient always separate themselves from the rest of the crowd.
Time is always a precious resource in any field of work in today's world. You've got a limited number of hours every day to make your decisions and execute them into a working product before someone else takes the lead. You can't have any more of it and you can't pause time like a YouTube video.
So, what can you do? Be more efficient in time management.
Time is the main element behind every aspect of running a successful project or business and if you want your strategies to work, you have to become a pro and managing it properly.
Whether it's procrastination, repetitive corrections, or just dumb strategies, time is not going to stop, and you will see someone take your success and make it their own.
So what do you do to prevent that from happening? You become the best at time management and make it your ally. Here are 6 of the Best Time Management apps you can use to increase productivity for you and your team. Let's dive right in.
6 Time Management Apps For Productivity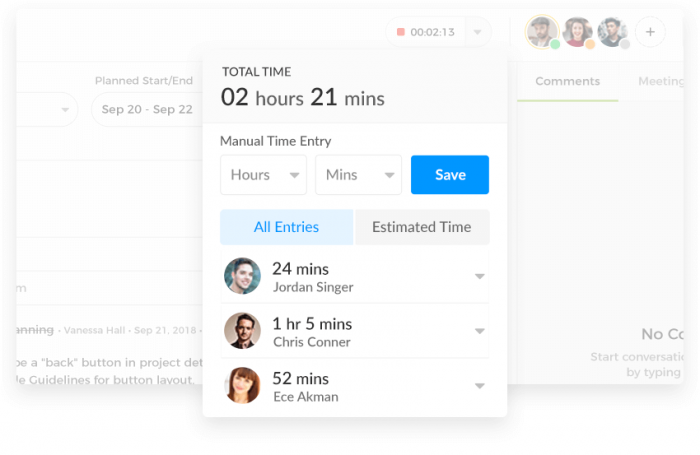 nTask's task management features are the ones you need to make all of your project management activities happen on time. The application is an amazing project management software that helps you manage all of your tasks on the dashboard which you can further delegate to other people.
Whether you're a team member or a project manager, nTask is the best tool you can get in the market that enables you to add all of your project, teams and their communications among them, to be added into the application giving you strong control over all of those tasks.
Key Features
nTask provides a transparent way to assign all of the tasks related to your projects, to the relevant team members
You can create recurring tasks and set different intervals for them like daily, weekly, monthly and yearly
You can add time estimates for all of your tasks, add start and end dates for them and you can also give them custom labels to identify them later
The application lets you attach different attachments to the tasks
You can track the time it takes to perform and deliver tasks from the embedded timer
Pricing
Free: Unlimited timesheets, time tracking, 5 team members, and tasks.
Premium: Starting at $3 with unlimited projects, Gantt Charts, bulk actions, and more.
Robust Time Management with nTask

Manage tasks, documents, timesheets, collaborate, and share files, at one place. Sign up today!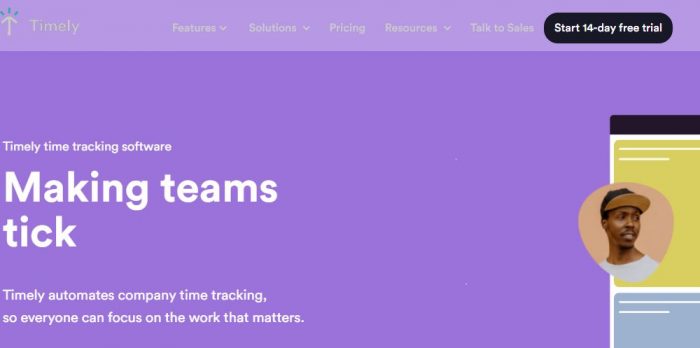 Timely is an amazing application that can automatically track how much time is taken to complete the projects. It also organizes your workweek very efficiently. It requires that you input all of your tasks into the application and it will let you know in advance how much time all of these tasks will eventually take to be completed.
This application is available on Android, Windows, iOS, and even as a browser application for all those personal computer fans out there.
Key Features
Timely records all of the tasks that you work on using its amazing Magical Tracker feature
The application will hold you accountable for all of the time you wasted not working
Create reports of everything you do which you can easily share with anyone
The application will give you a more realistic idea of how projects eat up your time without you knowing
Pricing
Starter Plan: $8/month
Premium Plan: $14/month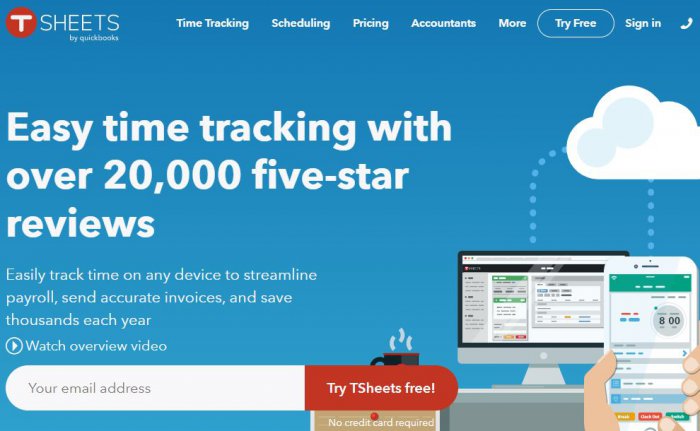 TSheets is an amazing time management app brought to you by the folks over at QuickBooks. With this application, you can track time on any device you like regardless of the size of the team. TSheets enables your employees to mark their clock in/out times through the mobile application, from a computer or even from their computer.
Key Features
TSheets creates the schedules of the employees on the basis of their jobs or shifts
You can easily hook up your accounting or payroll software with this application
The application will create Real-time reports
You can generate an insanely fast payroll
Pricing
Free
Business: $4/ month/ user
Enterprise: $80 base price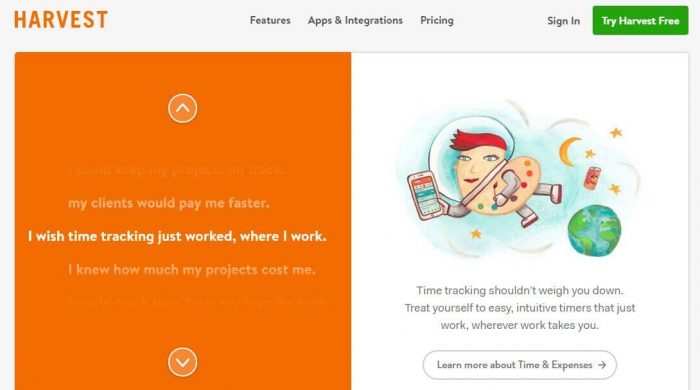 Harvest is a time tracking app that also tracks your expenses to answer the most essential question in your mind as a professional, "Where is my time going and how can I utilize it more effectively?" The application has some very iron-clad features that you can experience seamlessly on a very smart interface.
Key Features
This application lets you track the billable hours and instantly generate invoices so that you can share them with your clients
Using this application, your time data will be updated seamlessly on a weekly basis
Generate strategies that would make more time for your team to complete your planned projects and not waste that time procrastinating
Pricing
Unlimited Projects at a price of $12/ user/ month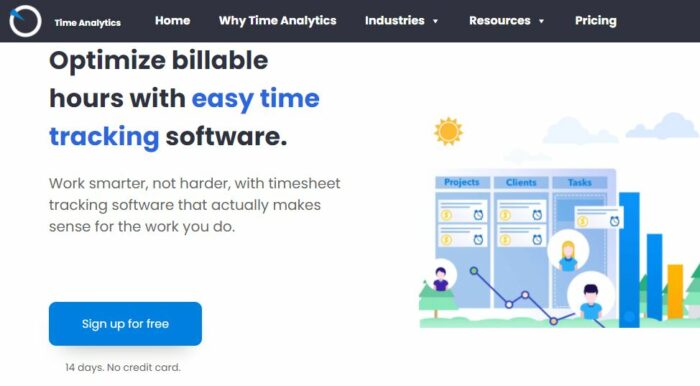 Time Analytics is a comprehensive timesheet tracker for making smart business decisions.
It tracks the hours spent per customer, employee, and service line, as well as their movements over a given period (day, week, month, and year).
Time Analytics allows its users to improve its business in a number of ways – by identifying the best contractors, profitable projects, and clients who are more likely to move you forward.
Key Features
Time Tracking – A simple yet powerful scheduling system that takes minutes to complete and provides powerful reports

Performance management – track time utilization per project and calculate efficiency depending on the project or team.

Invoicing assistant — prepares invoice data, based on solid facts and time usage

Calculation of billable hours, total costs, and cost rate per client, activity, and project
Pricing
Free

Starter: $4.99 monthly per user

Optimum: $6.99 monthly per user

Premium: $12.99 monthly per user

Wunderlist is an incredible application that manages your to-do list online. This time management application lets users track their tasks both personal and professional. They can also track their goals, complete them and share their sheets to anyone they like.
Key Features
Easily collaborate on your work and share it with your team
Create personalized notes to make sure that all your precious insightful ideas are stored safely
Set both the start and end dates of your projects
Pricing
Wunderlist Pro: $4.99 per month
Conclusion
Time Management is your best ally and your worst enemy when it comes to pretty much every activity that you need to perform regarding your work or business. It is something that you can never stop but you can be the master of managing it by using the applications mentioned in this article.
Every application has some unique features attached to it which can help you or make no difference to your business, so it's your job to find the best fit for you in an ever-changing market, that will fulfill your needs and requirements perfectly. Happy Hunting.