Agile project management has become one of the most efficient methodologies, and it continues to rake in huge profits for companies. In fact, research showed that adopting the Agile methodology helped 60% of companies increase their profits.
Owing to the ease of use and efficiency of the methodology, countless companies worldwide are slowly adopting the methodology, preferring it over waterfall methodology.
Although businesses are transitioning from traditional methodologies to Agile, the change can be overwhelming, especially if it is your first time with Agile. The most significant problem people often face is adapting the methodology for their project.
Agile sprint planning is one of the foundational processes of Agile. Knowing the ins and outs of sprint planning should be your priority if you are taking a fresh start. However, you might find the process a little overwhelming, considering your unawareness of the process.
Fortunately, you have got us watching your back.
In this post, we take you on a ride where we explain everything about the sprint planning board and how you can optimize your project's sprints. But let's start with the basics.
What Is Sprint Planning?
The production process is broken down into smaller chunks called sprints when using Agile project management methodology. Sprints are short durations during which a specific developmental process must be completed.
To ensure that work in each sprint is divided appropriately, companies hold sprint planning meetings. Three aspects of each spring are identified and covered during each meeting – the sprint's goals and the sprint backlog.
The goal of the sprint is what you aim to achieve by the end of the sprint. While the sprint backlog is a list of tasks that can help you accomplish the goals. Usually, the product owner chooses the backlog items, and meeting those requirements is the team members' job.
There are typically three leading players in sprint planning:
Product Owner: The product owner decides the sprint backlog, sets priorities for tasks, and defines the sprint's goal. He is the stakeholder who decides whether a sprint is successful or not.
Scrum Master: The Scrum Master acts as a facilitator in the sprint planning meeting, ensuring that everyone has clarity on the sprint goals and that the discussion is effective and fruitful.
Team: The team involves all the members who will play a pivotal role in accomplishing said tasks with their skills and experience. Team members decide how they will be completing the product backlog. The presence of all team members in the meeting is necessary to make sure everyone is on board.
Spring Planning Board – How to Make One for Your Project?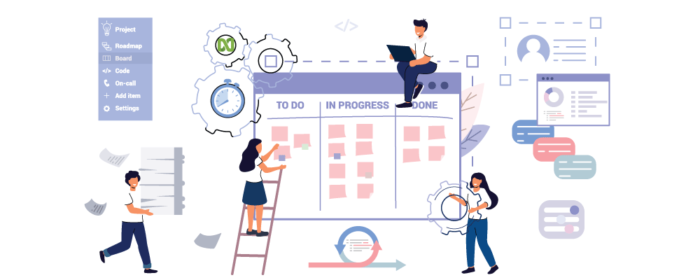 Planning sprints and executing the takeaways can be nerve-wracking if you are working manually. Thankfully, you have the support of project management tools that can take over a lot of stress off your shoulders and make it super easy for you to plan and execute sprints with a dedicated board displaying all the information.
With a project management tool, you can easily design and create a sprint planning board of your own. Most of the tools offer templates from which you can pick and choose the one that suits you best, change a thing or two to completely customize it to your needs, and then start working right away.
However, if you want to set up a personalized board, that is also no problem. In the upcoming paragraphs, we will guide you on making a board for yourself. Let's get into it right away.
Groups: Start by making different groups for each sprint. Within each sprint, you can create subcategories representing sprint backlog.
Tasks: Once you have set groups for each sprint, you can add tasks into the groups. The completion of each task will take you one step closer to accomplishing the sprint goals.
Columns: Now that you are done creating the most board pillars, you can add details by adding as many columns as you need on the board. Each column showcases a specific detail of the task such as priority status, resource assigned, etc.
Drag and drop: Once you have created an outline of the sprint planning board, you can add different details with simple drag and drop functionality, assign resources, move tasks around, and play with the board until it is entirely the way you want to be.
Automation: One of the biggest perks of using dedicated software is its automation features. You do not have to invest your time and money in repetitive tasks.
Multiple views: Most tools offer various viewing options such as sprint planning in Kanban boards, Gantt charts, calendar view, list view, and many others. You can choose the view of your choice and customize it accordingly.
Track: Once everything is set, you can just sit back and monitor your team's performance to ensure everything stays on track. Tracking features allow you to identify and mitigate risks whenever you encounter one. Tracking is also a great way of making sure sprints are completed on time, and the goals are accomplished without any difficulty.
When teams start working on a project using Agile methodology, they develop a sprint plan by dividing different aspects into tasks and assigning relevant resources to each task. While the project is underway, the sprint planning tool will help you keep an eye on the process to ensure no hiccups are hindering your way.
Having the help of the right tool can completely transform your experience with sprint planning and execution. In the next section, we provide you with some valuable tips to optimize your sprints and generate more value.
Tips To Optimize Your Sprints
If your sprints are not producing the results you want, then it is time that you review the way you plan your sprints and make changes wherever necessary. Identify ways that can help you optimize your project sprints so that you can extract maximum value from each sprint.
To make sure you make the most of your sprints, keep the following pointers in mind while planning sprints:
1. Develop A Well-Formed Backlog:
The backlog identifies and defines all the tasks to be completed in a sprint. The items in the backlog are arranged in order of priority. The completion of each task leads you one step closer to completing the sprint itself.
A good backlog means you have already clarified all the steps with the minutest details. All that is left now is the execution of the tasks. When creating the backlog, ensure that all details are filled accurately, such as the resources assigned for each task, the duration allotted to each item, their priority status, etc.
Accuracy and precision in creating backlogs can help you a lot in the long run.
2. Sprint Goals:
Some of the nastiest issues arise due to the ambiguity of goals. Each member of the team has to have a clear understanding of what they want to achieve with this sprint and how they are going to do it. So, clarifying your goals from the get-go is absolutely necessary.
Not only do you have to make sure everyone is on the same page, but you also have to define the parameters that will determine the success of each goal. You can make sure that all members are on the same page and their goals are one with the team.
3. Engage Team Members in The Sprint Planning Process:
Your team members have to eventually work on the work items, so their engagement is absolutely crucial to the project's success. Welcome your teammates to the discussion and make sure they can contribute their ideas and opinions openly and without hesitation.
This is also why it is often insisted that all members participate in the sprint planning meeting. Oftentimes, team members' contribution helps you avoid serious problems and can accelerate your progress.
4. Incorporate Feedback:
Feedback is essential to improve the processes and enhance the quality of your work. You can get feedback from stakeholders, customers, or any team member.
Getting feedback is not the primary goal. The main goal is to improve your performance with the feedback obtained.
5. Set Realistic Goals:
Setting realistic, achievable goals is the key here. We tend to overestimate our capabilities when planning for the future and set very high goals for ourselves. This is what you have to avoid while planning your sprints.
If you set unrealistic goals from the get-go, not only will it lead to failure in the end, but it will also dampen the spirits of your team members. Setting achievable goals and then successfully accomplishing them will motivate your team to do better in the future.
6. Use A Project Management Tool: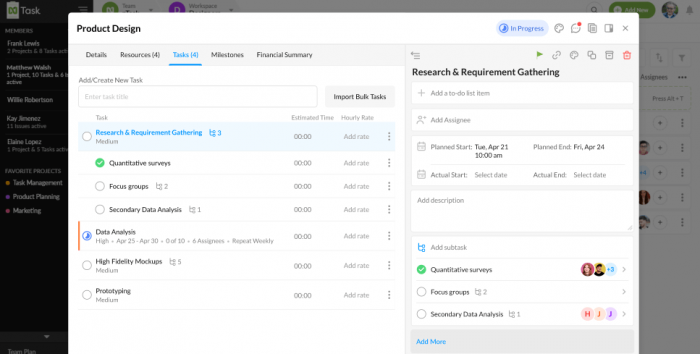 The world has advanced to a great extent. It's time that you do too. A project management tool, like nTask, can relieve you of the burden by taking things into its own hands (or should we say software?) Instead of doing everything on your own, we suggest taking the help of an appropriate project management tool that will do everything for you.
nTask, for example, is a robust tool offering multiple features for its users. From the most straightforward task to complex projects, nTask can organize and manage everything for you. Its management solutions allow teams to manage every aspect of the business without hassle.
Moreover, nTask's intuitive interface, cost-effectiveness, ease-of-use, etc., make it a viable option for all kinds of management processes. The tool also offers visual tools, using which you can create a sprint planning board of your own and get multiple views as well.
With the right tool in hand, you can conquer the business world quickly.
Active Sprint Planning with nTask

Manage tasks, issues, projects, teams, risks and documents. Sign up today!
Wrap-Up!
With all the tips listed above, we hope you will make wise decisions for your business and create a highly efficient sprint planning board. In the end, we will again suggest using a tool for the process because it will make your life so much easier and more fun.
What tips do you have for the optimization of sprints? Do you think we missed any? Let us know by writing to us here. We would love to hear from you.
---
Also, see: