If you're looking for the perfect software to help you manage the changes in your business, then you've come to the right place. We've compiled a comprehensive list of the 11 best software for change management that will help you achieve your goals in 2023*. Read on to discover our top picks!
What Are Software For Change Management?
Change management is the process of managing an organization's transition from one state to another. It involves assessing, planning, and implementing changes to ensure that the organization can properly adjust to new policies, procedures, and practices. Software for change management can help make this transition smoother by providing tools to plan and track progress.
Software for change management includes a variety of applications that can help organizations manage their transitions. These applications provide features such as project management tools, reporting capabilities, budget tracking, and more. With these tools in place, organizations are able to measure progress against goals and identify areas of improvement throughout the transition.
The Different Types Of Change Management Software
Enterprise Change Management Software: This type of software helps organizations plan, initiate and manage changes in the workplace at an enterprise level. It offers features such as process automation, workflow management, approval tracking, resource allocation, and access control.
Issue Tracking Software: This software is used to record details about potential problems or issues that arise during a change process. It also allows users to assign tasks related to the issue and monitor their progress.
Business Process Improvement Software: This software helps organizations streamline existing business processes in order to improve overall operational efficiency and reduce costs. It provides tools for analyzing organizational structure, performance metrics, and decision-making processes. 
Document Management Software: This type of software provides secure storage for documents relating to the change process. It enables users to organize files by category or version number; track changes made; create alerts when a document is updated; and facilitate collaboration between team members.
Risk Management Software: This software is used by organizations to identify potential risks associated with proposed changes and then determine how best to mitigate those risks through monitoring programs or safety regulations.
Why Does A Business Need Change Management Software?
Streamlines the creation and implementation of change management plans across diverse business environments
Automates tracking of requests, progress, and approvals related to change processes
Facilitates onboarding of new staff by quickly acquainting them with organizational changes
Increases visibility into changes happening in an organization by allowing stakeholders to track progress
Helps minimize the risk associated with various changes taking place within a business by ensuring that all stakeholders are aware and properly informed throughout the process
11 Best Software For Change Management For 2023
Here are some of the best software for change management you can try out today!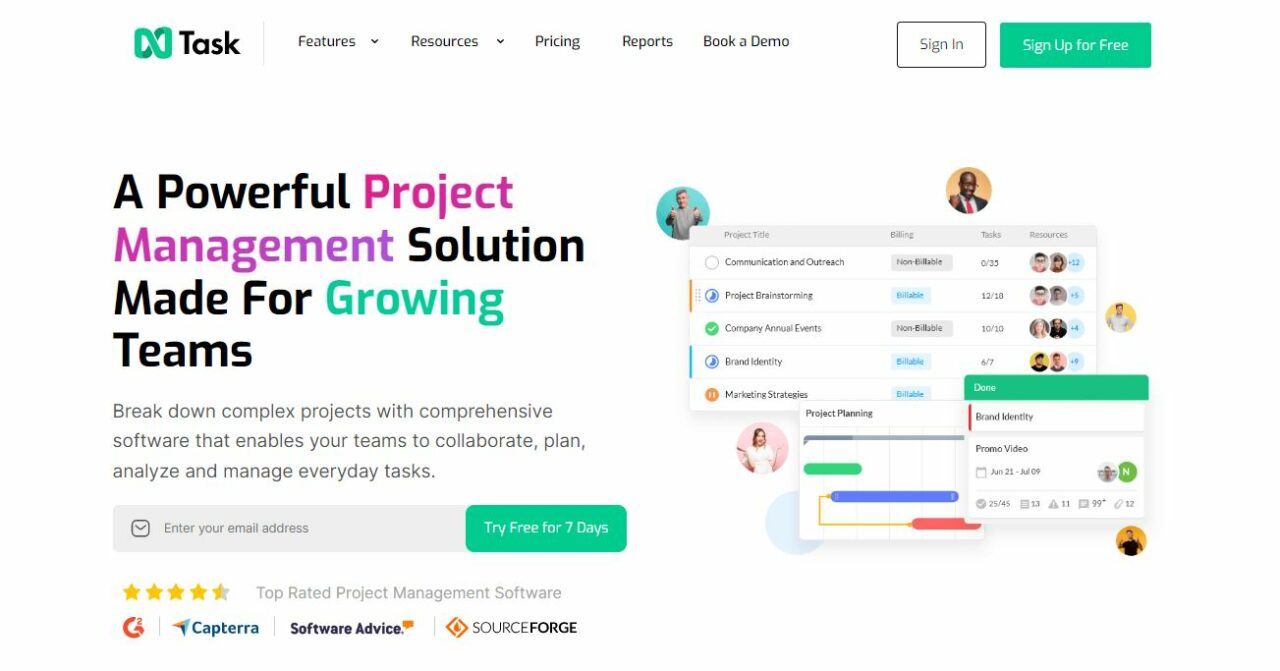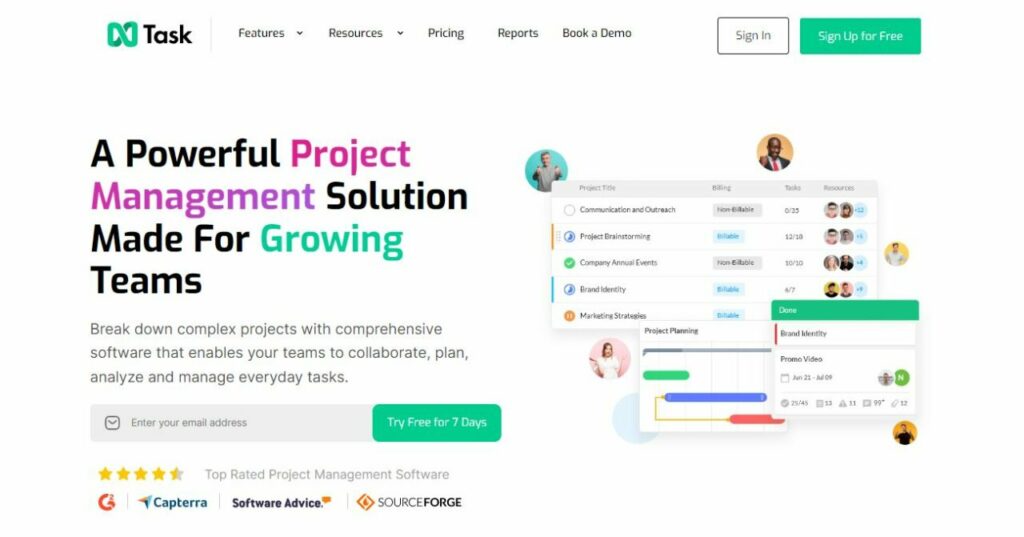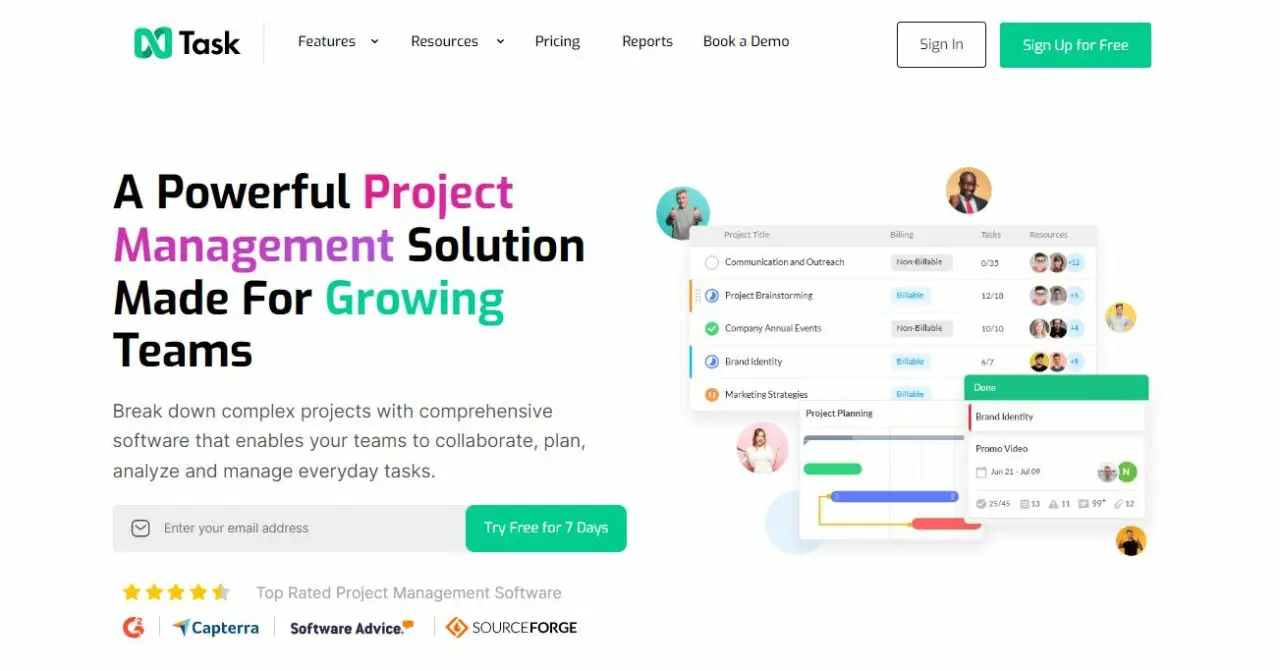 nTask software can be a useful tool for streamlining change management within an organization. It allows the organization to track and monitor all changes, irrespective of scale. By setting up automated notifications and processes, large-scale changes can be implemented quickly, allowing for faster reaction times to current market situations or new regulations.
Additionally, nTask software also helps in tracking progress towards goals within an organization by providing real-time visibility into tasks and activities assigned to each individual on a given project.
This access to information helps departments coordinate with each other more effectively in order to produce better outcomes from their efforts. Overall, task software is a great way for organizations to improve their change management process and maximize the efficiency of their operations.
Key Features
Task Tracking: Track and complete tasks using automated workflow processes, ensure that the required actions are taken and accountable individuals are assigned to each step of the process.
Issue Identification: Identify issues with current processes or services related to changes and provide an efficient way to coordinate activities between project teams seeking resolution.
Automated Notifications: Generate automated notifications when a task is open, in progress, or completed, alerting stakeholders of relevant information in real-time so they can react quickly if necessary. 
Compliance Monitoring: Monitor compliance with change management regulations throughout the process, helping organizations stay on top of industry standards while managing their resources efficiently and reducing the risk of non-compliance fines or penalties for mistakes made during the implementation phases of changes.
Reporting & Analysis: Utilize reporting capabilities to analyze data from prior cases as well as operational performance metrics from executing change management activities in order to gain insight into potential areas for improvement or optimization opportunities within the organization's overall process structure.
Pros
Identify areas of improvement and devise action plans to bring about a desired change
Analyze current processes, procedures, and activities to identify potential areas for improvement
Assist with the implementation of process changes, including training staff members on new systems or processes
Manage multiple projects, timelines, and stakeholders in different departments across the organization 
Develop project schedules and track progress, ensuring events are completed according to the plan
Utilize data analysis tools like spreadsheets for tracking and reporting performance metrics
Cons
Requires significant investment of time and resources to set up
Demands user adoption and accountability from all stakeholders 
Possible difficulties in training employees and other stakeholders on the use of the software. To counter this, nTask is offering free product demos to anyone who wants to use the platform.
Pricing
Pro $3/month
Business $8/month
Enterprise Custom/month
Integrations
Zoom
Google/Outlook/Apple Calendar
Microsoft Teams
Google Meet
Manage Change Requirements
Using nTask!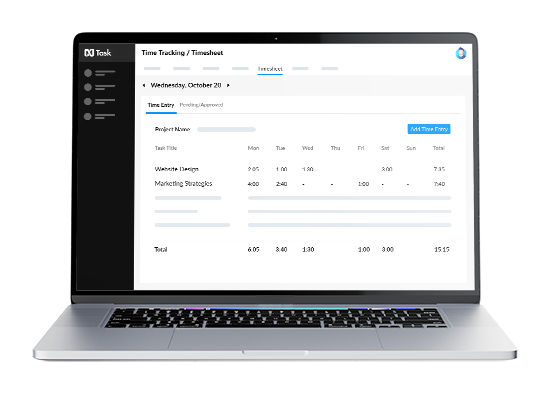 2. Giva


Giva Software for Change Management is a powerful and intuitive solution built to enable organizations to streamline their IT change management process. It provides a single platform for approvals, notifications, monitoring, and reporting of IT changes across the enterprise.
Giva Software for Change Management offers a wide range of features including workflow automation, integrated change tracking and scheduling tools, customizable dashboards, visibility into the impact of changes on services and applications, and more. 
With this software in place, IT teams can create effective processes that ensure controlled implementation and compliance with internal policies as well as external regulations. Giva Software makes it easier for businesses to stay on top of their ever-changing IT environment while providing insights into underlying operations that help reduce risk.
Key Features
Automate and streamline change, configuration, and process management to reduce cost and risk
Customizable workflow engine to manage the entire lifecycle of changes
Intuitive dashboard with advanced analytics for tracking, monitoring, and visualizing processes
Ensure service continuity by tracking dependencies between changes
Receive notifications about potential problems before they occur
Categorize changes for easy identification, sorting, and reporting
Manage multiple stakeholders in one platform without creating additional administrative overhead
Utilize powerful auditing capabilities to improve compliance
Create comprehensive reports related to change management activities
Integrate seamlessly with existing IT systems such as service desk solutions
Pros
Robust change management module, including workflow and document collaboration features
Streamlined change request and approval process
Automated notifications to alert stakeholders of proposed changes
The easy-to-use user interface for tracking the progress of changes
Comprehensive reporting tool to monitor performance metrics and trends
Customizable templates for creating new procedures or evaluating existing ones
Ability to integrate with other enterprise systems, such as HR or ERP
Cons
Increased complexity: Giva's software for change management requires considerable setup time and can be challenging to navigate.
Learning Curve: Users may require extensive training in order to understand how the software works, making it difficult for new users to get up to speed quickly.
Expense: The cost of implementing the software may be expensive depending on the size of your organization and the services you require.
Limited Features: While Giva provides a range of features in its change management system, some organizations may need more specialized functions that are not available through Giva's platform.
Pricing
Starting from: $49.00/month.
Pricing model: Subscription.
Free Trial: Available.
3. Walkme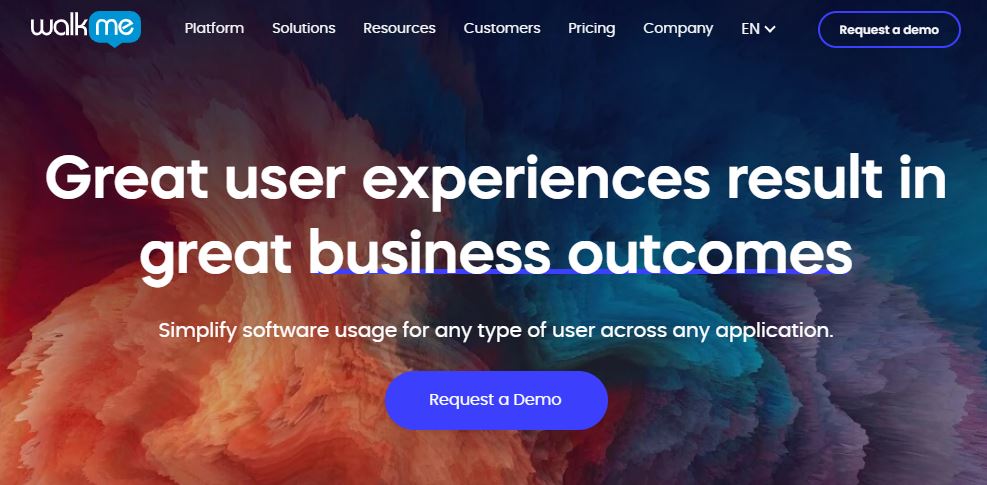 Walkme Software is a cutting-edge software solution that helps organizations effectively manage change in their systems and operations. It provides users with an interface to easily configure, test, and deploy changes quickly on any scale. With Walkme, businesses can have more control over the pace of change while ensuring compliance with industry standards. 
The software also features advanced analytics to help identify potential issues before they arise, allowing companies to remain proactive in mitigating risks associated with the changing environment. Finally, Walkme makes it easy for teams inside the organization to collaborate and share best practices across departments or locations so everyone is on the same page when it comes to change management processes.
Key Features
Automation of change process: Walkme software automates the change management process by creating a digital workflow that allows tracking tasks, updating content, and keeping a record of changes made throughout the entire change process.
Intelligent recommendations: Walkme provides intelligent recommendations based on user actions so that users can quickly identify and correct any issues or mistakes in their workflows. 
Real-time update notifications and tracking: The system offers real-time notifications to alert all stakeholders when changes occur, as well as tracking capability to monitor progress over time and help ensure the accuracy of data entered into the system by users.
Easy customization options: Users have control over how the system works and looks for their specific operations; they can customize settings such as colors, sizes, fonts, etc, giving them flexibility when it comes to managing change within their organization.  
Robust reporting features: The reporting features provide detailed insights about workflow activity and help stakeholders make informed decisions about change processes quickly and effectively
Pros
Offers automated conversations and alerts to streamline communications and ensure that users are on the same page 
Helps identify user needs, quickly analyze data, and provide best practices for successful change management 
Gives real-time performance tracking with detailed insights into user adoption rates across different types of changes
Generates reports on key metrics such as time spent per task or process completion timeline to help measure the success rate 
Facilitates collaboration among team members in different locations so changes can be made quickly and efficiently  
Cons
Increased learning curve: The complexity of the software can make it difficult for users to understand and use its features. 
Costly: A full license of the software may be expensive, making it unsuitable for companies with limited budgets.
Difficulty integrating with other systems: Walkme is designed primarily for customer support, so it may not always integrate easily with other applications or systems already in place.
Limited scalability: As an all-in-one solution, Walkme offers limited scalability options as business needs increase. 
Loss of control over data security: As a cloud-based application, there is a risk that data stored in the system could be compromised by hackers or other malicious actors if not properly secured.
Pricing
Integrations
Salesforce
Amazon
Segment
CSV
Gamesight
Gsuite
LiveChat
Zendesk
4. jTask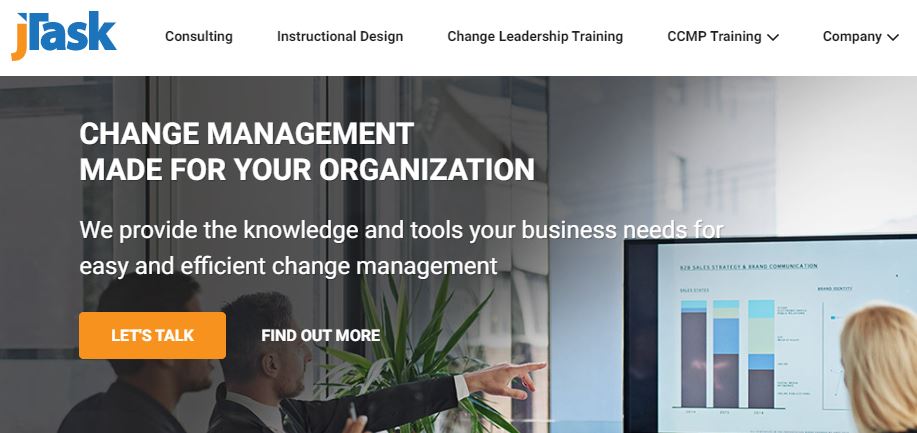 jTask is designed to help streamline change management processes and ensure that all changes are tracked, evaluated, and implemented in an efficient manner. It allows organizations to easily capture each step of the process from initial request to final approval, as well as analyze data associated with each change for potential improvement opportunities. 
The software is ideal for teams working on multiple projects at once, or for those looking to reduce disruption caused by changes in plans or systems. jTask also comes with a variety of support tools including a notifications library and an approvals hub to make sure stakeholders stay up-to-date throughout the entire process.
With jTask's intuitive interface and detailed reporting capabilities, it's easy to uncover insights into change management processes so you can quickly implement effective strategies that increase efficiency and reduce risk.
Key Features
Automated Change Requests: jTask Software for Change Management provides an automated workflow for handling change requests and ensuring that they are tracked and efficiently managed throughout their life cycle.
Risk Assessment Tools: jTask includes a sophisticated set of risk assessment tools to ensure that changes do not negatively impact the organization's systems or operations.
Auditing & Reporting Capabilities: The software provides extensive auditing and reporting capabilities that allow users to easily track changes made to systems, as well as feedback from stakeholders related to each change request.
Customizable Approval Processes: The platform allows users to customize the approval process for each type of change request according to their organizational needs, ensuring that all necessary parties are involved in the decision-making process before any action is taken. 
Flexible Access Controls: jTask offers flexible access controls so administrators can control who has access to specific features of the software and assign permissions accordingly with ease and precision.
Pros
Automated system for tracking changes in projects, applications, and processes
Streamlines communication between stakeholders involved to ensure a smooth transition of tasks
Real-time analytics provide critical insight into progress and potential issues 
Ability to track workloads, objectives, deadlines, and resource utilization 
Advanced alerting capabilities that notify relevant parties of any changes 
Custom reports provide visibility into the entire change process 
The comprehensive audit trail provides data on when a change occurred, who requested it, and what impact it had on the system
Cons
Requires a significant amount of manual input from users in order to track change requests
Difficult to set up and configure, requiring significant technical knowledge 
Limited functionalities compared to more complex systems 
Outdated user interface that fails to meet modern user experience needs 
Expensive, especially for organizations not need the full range of features available
Pricing
Enterprise $1499/month
Enterprise unlimited $1999/month
5. Rocket Aldon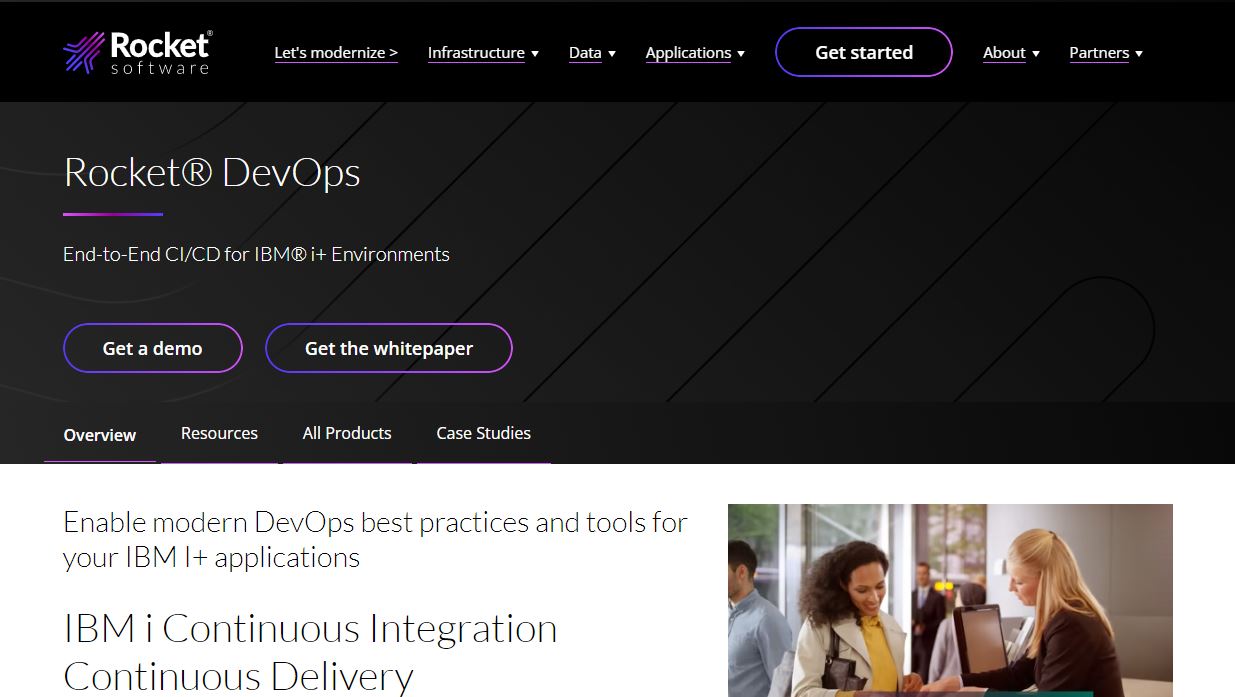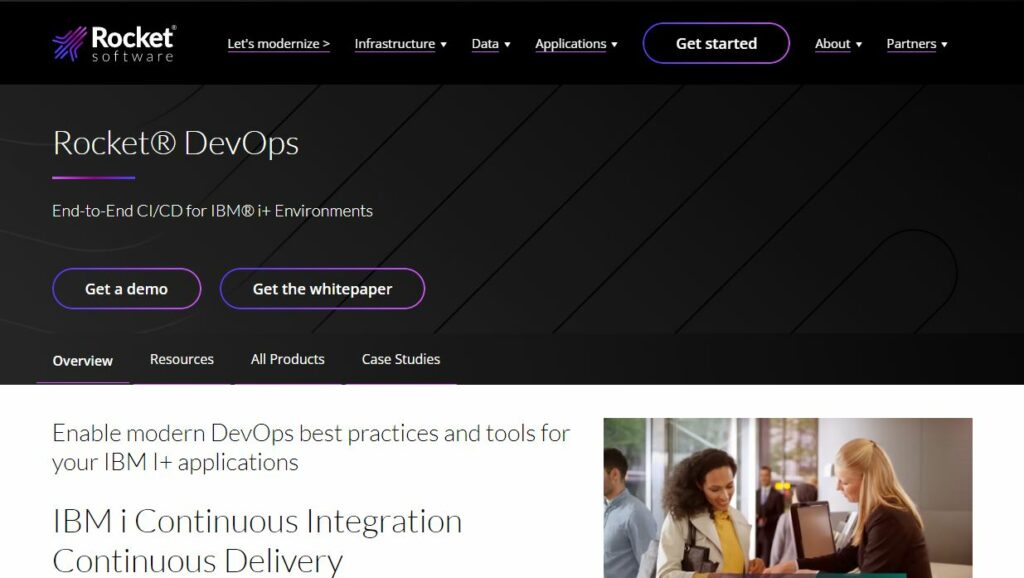 Rocket Aldon Change Management Software is a comprehensive platform for managing organizational changes. It helps enterprises to manage IT operations, configure systems and automate processes more efficiently. It features an intuitive web-based interface that lets administrators quickly design and deploy complex configurations while ensuring compliance with industry standards. 
Its powerful tracking and reporting capabilities provide detailed insight into the current state of your environment. Rocket Aldon's automated process flows help streamline the implementation of changes across multiple environments, giving you complete visibility and control over your entire IT infrastructure. With this software, organizations can easily standardize change management processes in order to reduce risks as well as optimize their operational performance.
Key Features
Automated Workflow: Rocket Aldon Change Management Software allows users to create automated workflows that streamline processes and keep track of changes made throughout the system. This keeps any manual steps required in check, reducing potential errors.
Reporting and Analysis: Users can generate customizable reports on the changes made throughout their process to gain visibility into project progress.
Access Control: With Rocket Aldon, users can manage user access levels within their system based on role or responsibility level to ensure secure control over data and assets within an organization.
Auditing & Monitoring: All activities performed using the system are tracked and audited for full accountability of any changes that occur over time.
Integration with Other Systems: The software integrates with other existing systems, ensuring a streamlined transition for existing users when making the change from legacy management systems to more modern solutions such as Rocket Aldon Change Management Software
Pros
Easy-to-use interface, allowing for efficient and effective change management 
Automated data logging and workflow tracking for streamlined review processes 
Feature-rich platform with built-in customization options to suit a variety of organizational needs 
Comprehensive reporting dashboard for comprehensive insights into the status of projects  
Ability to customize roles and access rights that allows team members to manage their own permissions as needed  
Effective version control system to ensure versions are kept up to date in collaboration with multiple teams. 
User-friendly support tools enable users to get help quickly when needed.
Cons
Complicated setup and installation process: Setting up Rocket Aldon Change Management Software can be complicated for users with little technical
Limited customization options: The software does not provide many customization options, which could limit its ability to meet individual business needs.
High cost: The software is fairly expensive compared to other similar products on the market, making it difficult for some businesses to afford.
Impersonal customer service: Some users have complained about a lack of personal attention from customer service representatives when they need help with the software.
Pricing
Get a quote on their site
6. Whatfix


Whatfix Change Management Software is a powerful tool designed to help businesses manage changes in their infrastructure and operations. The software helps automate and manage various change-related tasks such as authorization, notification, validation, scheduling, and tracking of changes. It provides a comprehensive set of features for processes involving manual control as well as automated deployment. Whatfix also allows the user to monitor the progress of their changes with real-time reports and analytics. 
Additionally, it includes an integrated knowledge base that stores common answers to frequently asked questions about change management processes. This ensures that all team members have access to up-to-date information at all times. Overall, Whatfix Change Management Software is an invaluable asset for any organization looking for improved efficiency and quality control when managing large-scale projects or transitioning through multiple stages of development.
Key Features
Customization – Whatfix's Change Management Software allows businesses to customize their change processes and workflow, making it easier to track progress and keep the team informed. 
Automation – The software automates many tasks involved in change management, such as triggering notifications or updating documents during every step of the process. This eliminates manual errors and saves time for other tasks at hand. 
Reporting & Analytics – With detailed reports, businesses can view trends over time and identify opportunities to make improvements or develop better strategies in the future.       
Integration with Third-party Platforms – Whatfix users can integrate third-party platforms, such as Slack or Salesforce, into their existing processes and workflows for more effective collaboration across teams and departments. 
Security – Whatfix incorporates robust security protocols that ensure data protection at all stages of a business change management initiatives through encryption, user authentication methods, and encrypted storage capabilities
Pros
Offers easy and fast change management with streamlined processes     
Automates manual tasks, saving time and labor costs                     
Quickly resolves issues with a centralized view of all changes           
Helps in tracking the entire history of changes made across IT systems    
Simplifies scaling changes by providing visibility into servers and applications 
Reduces errors and improves governance by enforcing standard procedures 
Identifies security risks early on through proactive risk assessments    
Enables organizations to remain compliant with regulatory requirements  
Provides alerts for potential problems within the system              
Enhances collaboration between teams through comprehensive reporting
Cons
Does not offer a comprehensive range of features compared to other software in the same category.
Support provided by Whatfix is limited and may not be adequate for large businesses.
Is more expensive than some other change management software options on the market.
Has a steep learning curve, making it difficult for non-technical users to use all of its features.
Reports produced are generally basic and lack detail and customization options.
Pricing
Integrations
Salesforce
SAP
SurveyMonkey
Power BI
Slack
Google Sheets
7. Gensuite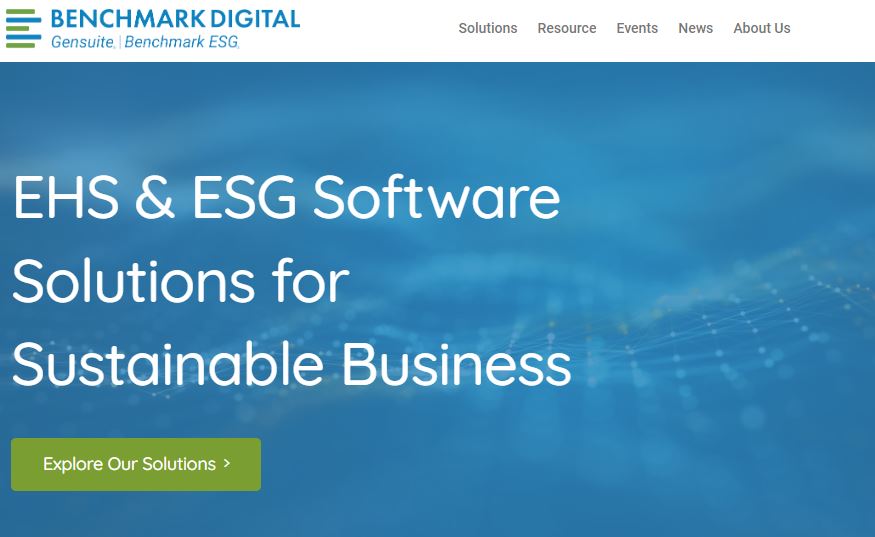 Gensuite Change Management software provides effective solutions for companies to optimize their workflow, whether it is in the form of project management, task management, or document control. It centralizes change requests and captures process information for better visibility and review.
This allows businesses to quickly analyze any incoming changes and track them through different stages of development. Gensuite offers customizable templates for documenting all types of changes, including those related to organizational structure, technology upgrades, or safety protocols. 
The software also includes robust reporting capabilities that can be tailored to meet the needs of individual organizations. By utilizing Gensuite's Change Management software, businesses can ensure compliance with internal policies while improving efficiency when making necessary changes.
Key Features
Fully customizable workflow: Gensuite Change Management Software allows users to customize their workflow according to their unique needs. It includes features such as amendment tracking, review and approval cycles, and automated notifications for stakeholders. 
Track changes with ease: The software provides an easy-to-use interface that allows users to track the entire process from initiation of a change request through to acceptance and closure.  
Clear audit trails: Gensuite Change Management Software stores all activities in a secure and searchable repository, providing comprehensive audit trails that simplify compliance monitoring. 
Automated Email Notifications: The software's automated email notification system ensures stakeholders are kept up-to-date on new or pending changes which saves time on manual communication processes. 
Document Uploads & Attachments: Users can upload documents associated with the change management request, ensuring all records are easily accessible by other stakeholders involved.
Pros
Streamlined processes for creating and enforcing change requests: Gensuite Change Management Software enables you to quickly create and manage change requests, eliminating manual paperwork and streamlining the entire process. 
Comprehensive tracking of changes across your organization: With Gensuite Change Management Software, you can easily track all changes within your organization, including their status, associated impact evaluation data, and any actions taken to meet compliance requirements. 
The cloud-based solution ensures secure data storage: All information is stored securely in the cloud making it easy for authorized personnel to access relevant data at any time from anywhere. 
Real-time audit trail captures activities during the entire process: A comprehensive audit trail allows users to review each step of every change request with accuracy by capturing each activity performed during the entire cycle. 
Automated alerts ensure timely response times: Automated alerts enable users to stay informed on critical events within their organization, such as deadlines or missed milestones; thereby improving response times and helping prevent unnecessary delays.
Cons
Requires a significant investment in time and money to set up 
The complicated user interface can be difficult to navigate 
Inflexible regarding customization of features, processes, and workflows  
Not designed for organizations requiring multiple layers of approval or delegation of tasks 
Unable to track progress or document changes which can lead to failed implementations
Pricing
8. Scribe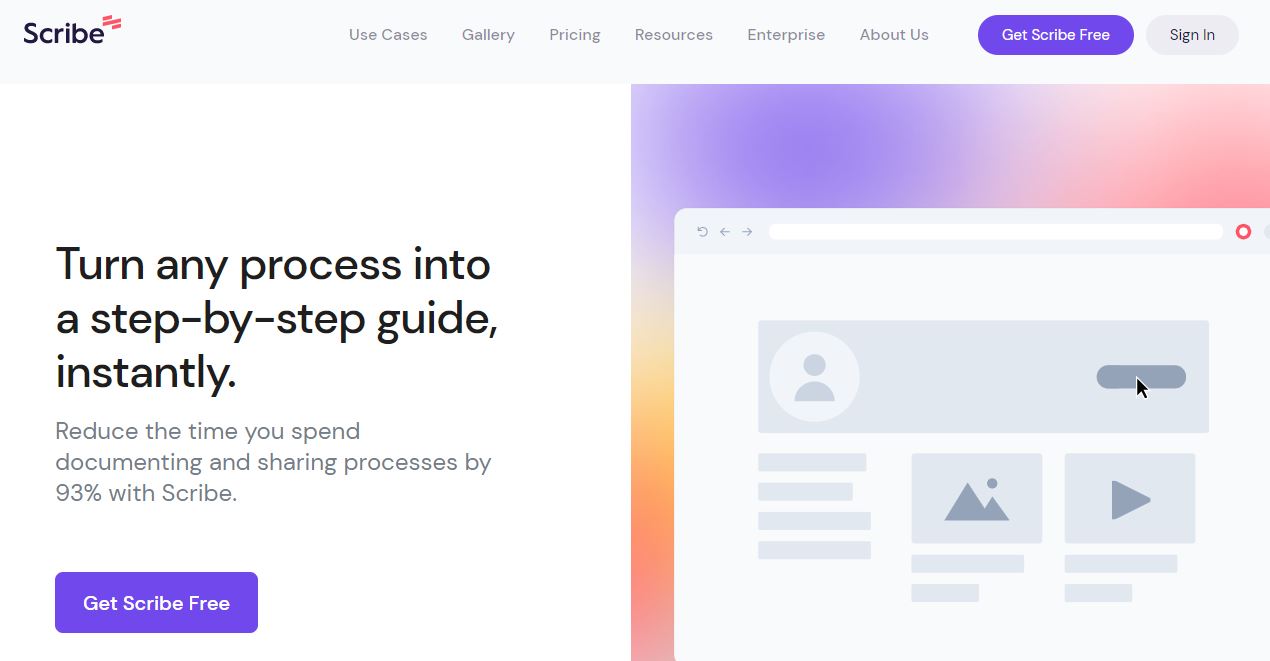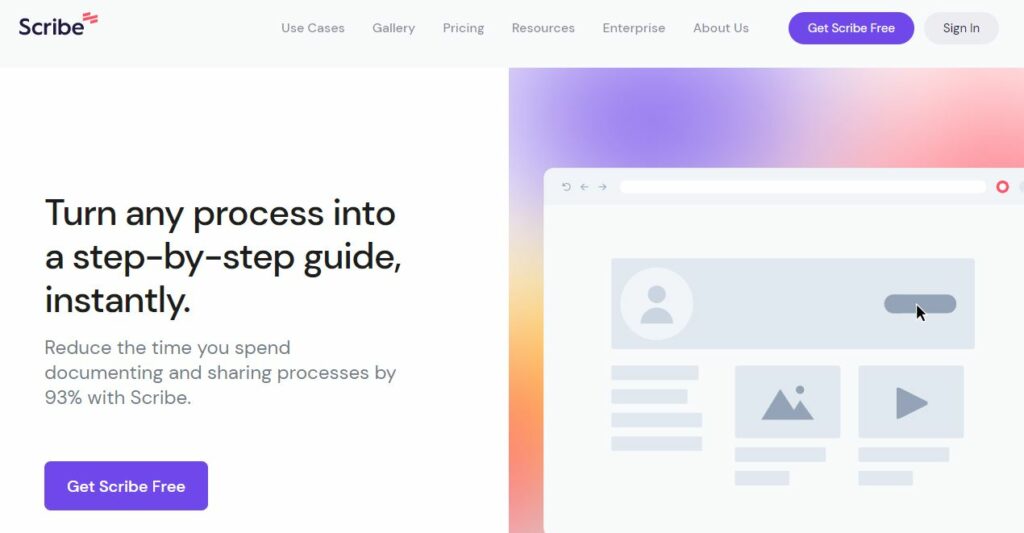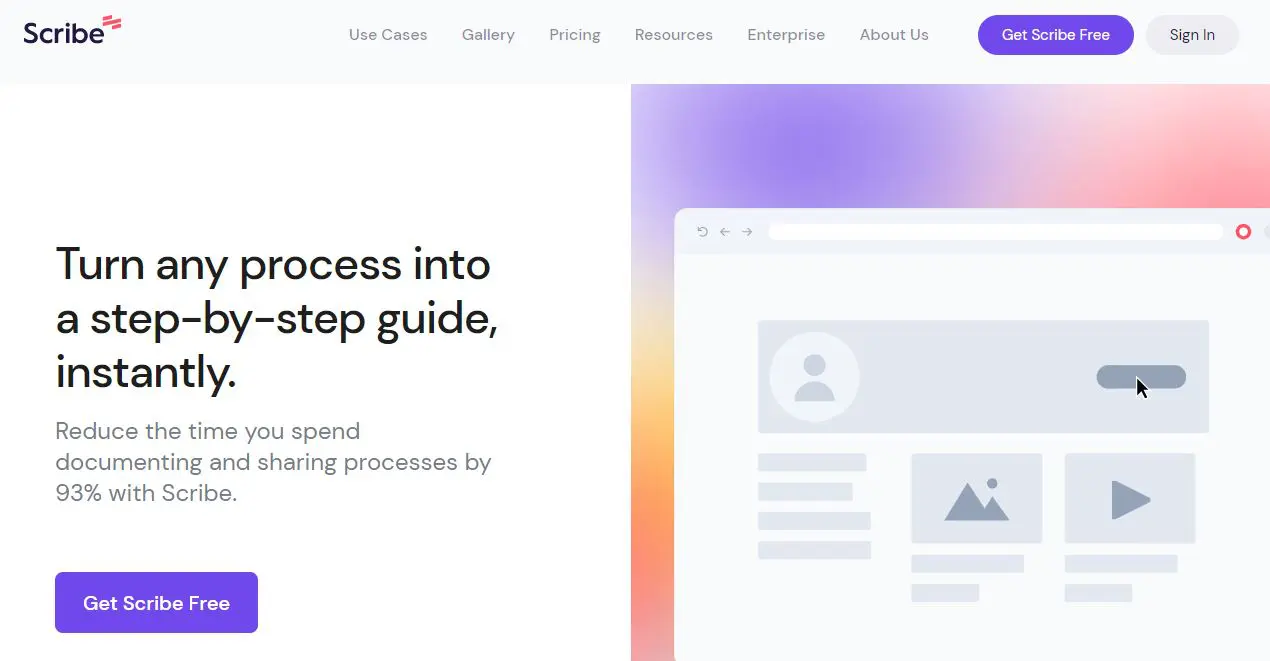 Scribe Change Management Software is a complete software solution designed to help organizations keep track of and manage changes within their business environment. It helps streamline the change management process, from creation to implementation, making it easier to implement new changes while tracking current ones.
This software offers an intuitive interface, which makes implementing and managing change more efficient by providing visual representations of organizational models. The user-friendly dashboard allows administrators to view trends in the data, identify problem areas quickly and make informed decisions when making changes. 
Additionally, it offers reporting capabilities that allow users to document all aspects of a particular change for better documentation and compliance requirements. Scribe Change Management Software also integrates with existing systems such as ServiceNow or JIRA for simple system integration tasks as well as project management tools like Microsoft Project or Trello for effective team collaboration.
Key Features
Change Request Tracking: Track all changes that occur in an organizational environment, including requests, approvals, and rejections. Identify who made the request, when it was requested, what was requested, and its impact on the environment.
Automate Workflows & Approvals: Streamline the workflow process by automating manual tasks such as notifications and approvals with pre-defined rules. This enables teams to remain compliant with policies while freeing up resources for more complex tasks. 
Auditing & Reporting Tools: Monitor changes via audit logs which provide detailed information about every action taken in response to a request or incident (deletion of files or server updates). Generate reports that present data in various formats for easy analysis of changes over time or against other criteria for improved decision-making capabilities. 
Real-Time Alerts & Notifications: Receive automatic alerts when certain criteria are met (such as unauthorized access attempts) enabling quick reactions to threats or suspicious activity before damage can be done by malicious actors or other nefarious intentions
Pros
Easy to use for any user
Steep learning curve
Add team members to the boards
Easily create workflows and share them with the team
Cons
Requires certain technical knowledge to operate effectively
Can be a steep learning curve for tech novices
Reports can be difficult to interpret without proper training 
Updating the software or making changes can be time-consuming
Support services may not always be available when needed
Pricing
Basic – free
Pro $23/month
Enterprise custom
9. Wrike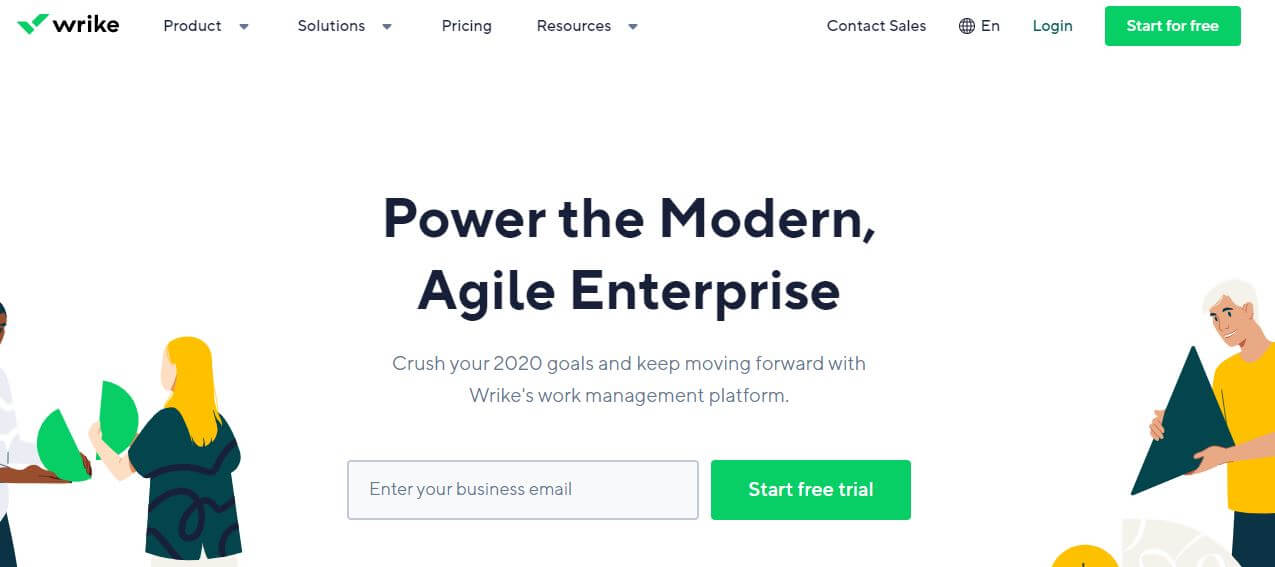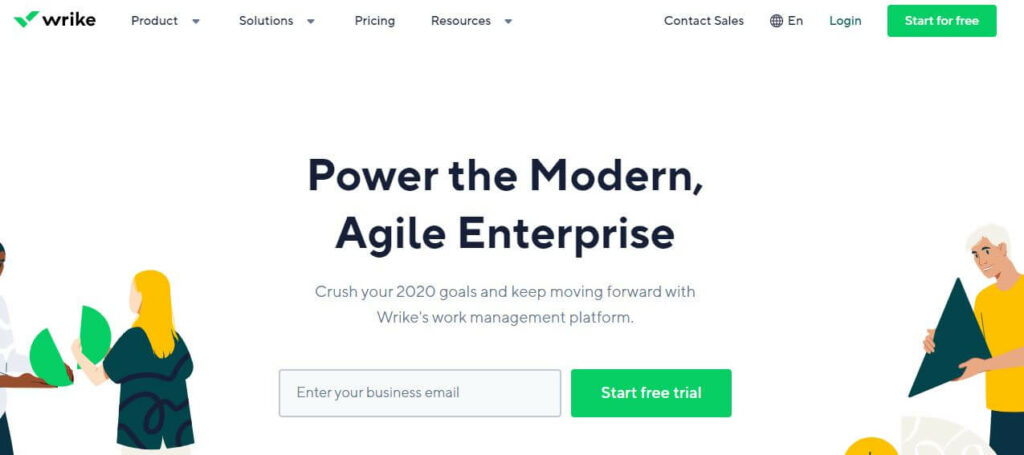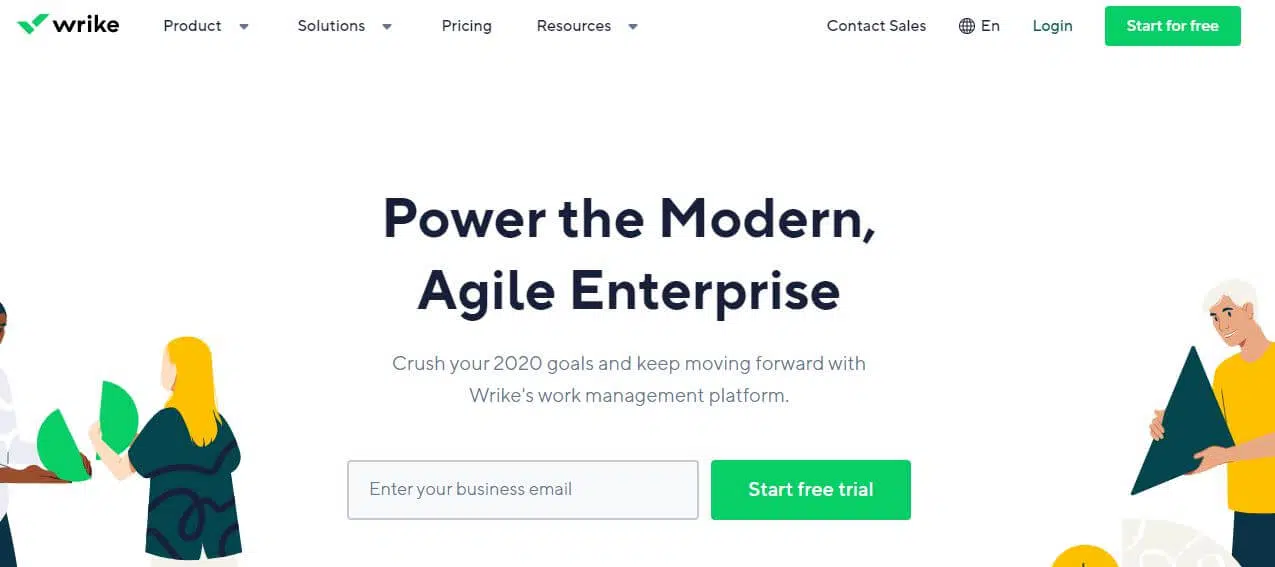 Wrike Change Management Software is designed to help organizations and teams keep up with the ever-evolving changes and tasks that are needed in their industry. Wrike streamlines change requests and help companies easily manage their teams, workflows, and resources. This user-friendly software allows users to prioritize tasks, assign roles, track progress, check off milestones, set deadlines, and more. It also offers real-time collaboration tools making it easier for everyone to stay on top of changes quickly while working together as a team. 
Wrike's dashboard provides clear visibility into project status with detailed reports that enable effective decision-making when addressing change requests. With features like automated notifications and integration capabilities with other apps and services, Wrike makes managing changes simple for individuals or large teams alike.
Key Features
Project tracking and planning for users
Time tracking and Kanban boards
Task assignment for team members
Multiple boards to manage different projects
In-depth reporting for projects
Task management with deadline management
Issue tracking and change requests
Pros
Automated Change Tracking: Wrike's Change Management software provides automated change tracking capabilities that allow organizations to easily track and control changes throughout the business. This includes tracking of changes made in documents, databases, or other systems.
Configurable Workflows: Wrike's Change Management software allows organizations to create configurable workflows to manage any type of change request within the organization. This includes creating custom steps and stages for each type of change request and setting automatic approvals when certain criteria are met.
Detailed Reports & Analytics: With detailed reports and analytics generated by Wrike's change management software, managers have the ability to get a better understanding of how well their organization is managing its changes as well as identify areas for improvement in order to develop more efficient processes moving forward.
Collaboration Tools: Built-in collaboration tools within Wrike's Change Management software help teams stay connected by providing real-time updates on progress towards objectives or tasks associated with each change request so all stakeholders can stay informed at all times about what is happening with an initiative or project across departments or external partners/contractors if needed.
Mobile Accessibility: The mobile app version of Wrike's Change Management Software provides users access from anywhere – including smartphones & tablets – allowing team members to review progress on requests regardless if they are working remotely or in-person at the office any time during the day
Cons
Costly subscription plans may be prohibitive for smaller businesses and organizations
Lacks integration with customer relationship management (CRM) software
Can be difficult to navigate if you are unfamiliar with the system and its terminology 
The absence of a freemium plan makes trial versions restricted 
Limited customization options available for reports and dashboards
Pricing
Team $9.80/month
Business $24.80/month
Enterprise Contact/month
Pinnacle Contact/month
10. The Change Compass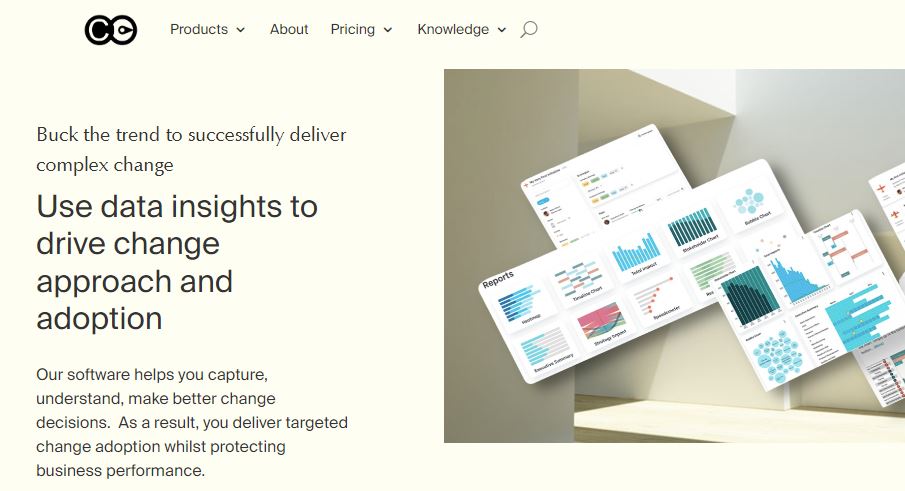 The Change Compass Change Management Software is an intuitive, cloud-based platform that enables organizations to manage their complex change initiatives with ease. It features powerful capabilities such as a central repository that stores all change projects, the ability to quickly access essential documents and project data in one place, and organized process steps for communication and collaboration between stakeholders. 
Additionally, Change Compass offers automated alerts to notify project teams when critical tasks need attention or help is needed from senior leaders. It also includes customizable reports for tracking progress, as well as integrations with existing third-party applications. As a result of its comprehensive features, the software has become popular among businesses large and small that need insight into their complex change initiatives.
Key Features
Task Administration: Allows users to easily create and assign tasks, monitor progress against deadlines, and document the necessary steps for successful completion.
Automated Notifications: Alerts users when changes have been made or tasks are near their completion deadline. 
Instant Reports: Generates customizable reports that show the impact of change management efforts. 
Risk Management: Identifies potential risks associated with change projects and helps users prepare contingency plans if they arise. 
Support Library & Knowledge Database: Contains tools such as templates, checklists, articles, videos, and other resources to help guide change management processes. 
Communication Tools: Features such as discussion boards and team chat enable effective communication between stakeholders throughout a project's lifecycle.
Pros
Offers an easy-to-use platform for managing change initiatives
Supports multiple change processes, including agile and waterfall methods 
Helps to create transparency through clear communication and task tracking
 Visualizes data in interactive timelines and diagrams to facilitate understanding of the change process 
Includes features such as self-service reporting, real-time analytics, and risk management tools 
Enables collaboration among stakeholders with secure document-sharing capabilities  
Features a customizable user interface that can be tailored to meet specific organizational needs
Cons
Change Compass software does not have an intuitive user interface, making it difficult for new users to understand.
Training and support are necessary for users in order to utilize the Change Compass Change Management Software effectively. 
The installation process is complex and time-consuming, with many steps required for successful implementation.
The cost of the software is relatively high when compared with other change management tools on the market. 
Limited customization options may limit its effectiveness in certain scenarios. 
There may be compatibility issues between different versions of the Change Compass Change Management Software, making upgrades difficult or impossible without manual intervention.
Pricing
SMB $495/month
Business custom/month
Enterprise custom/month
11. Viima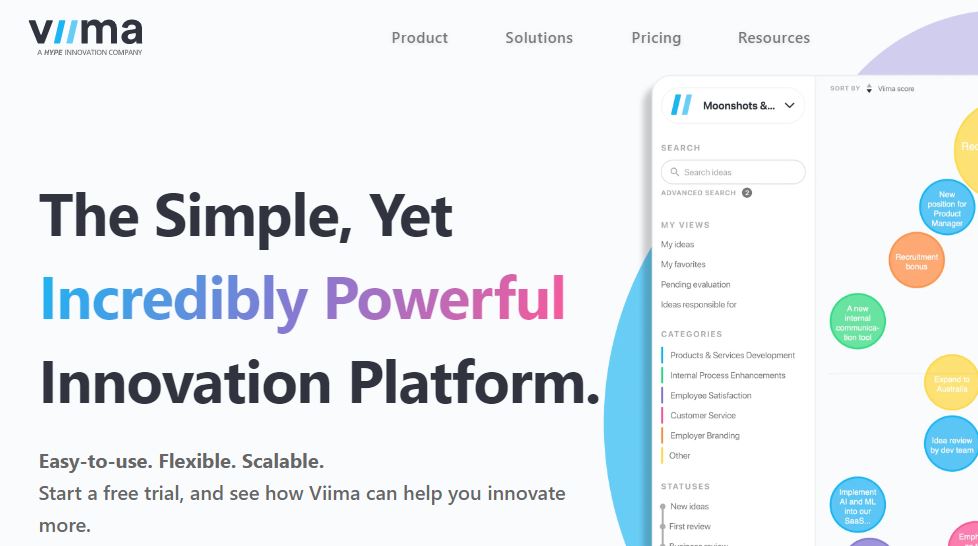 Viima Change Management Software is a comprehensive solution for managing change and innovation within any organization. It provides an intuitive platform for teams to capture, organize and implement ideas and strategies quickly. 
Team members can track their progress in real-time, operate more efficiently on tasks and access analytics to measure the impact of their work. With a range of features from task management to workflow automation, Viima helps team collaboration so users can focus their energy on results-driven activities.
Key Features
Visual Change Tracker: Viima Change Management Software provides a visual way to track changes in an organization, allowing users to easily follow the progress of changes being implemented over time. 
Automated Approvals: Set up automated approval steps that ensure all changes are reviewed and approved by different levels of stakeholders before they're executed.
Real-Time Notifications: All users are notified in real-time when any change is created, assigned, or completed ensuring complete visibility throughout the change process. 
Customizable Workflows: Create custom workflows tailored to individual projects and business needs with flexible settings for review cycles and approval processes. 
Audits & Reports: Generate detailed reports on user activity and audit trails for complete transparency into every aspect of change management processes within your organization.
Pros
Easily customizable: Viima allows users to customize features and workflows, allowing teams to tailor the software to their own individual needs.
Streamlined workflow: Viima streamlines change management processes for quick and efficient implementation of changes.
Comprehensive records: The system captures detailed logs of each step in the process, making it easy for teams to review progress at any point in time.
Automated notifications: Automated emails keep stakeholders informed about updates as they occur throughout the change management process, ensuring everyone is kept in the loop from start to finish.
In-depth analytics: Viima provides comprehensive insights into user behaviors and trends that can help teams better understand how changes are impacting their organization over time, providing valuable data-driven insights into decision-making processes.
Cons
Requires significant upfront time and effort to set up
Limited customization options
User interface can be challenging to navigate
No project collaboration features available 
Slow response times for support requests 
Data synchronization can be unreliable
Pricing
Basic $39/month
Pro $399/month
Unlimited $1799/month
How To Choose The Right It Change Management Software For Your Needs?
Assess your current IT Change Management process: Understand what your current status is and what challenges you are facing. 
Research different Change Management software options: Compare features, services, pricing, scalability, and other important factors. 
Identify key stakeholders and get their input on the requirements: Make sure all stakeholders have a voice in evaluating potential solutions. 
Establish objectives for the new system: Consider future growth, compatibility with existing IT infrastructure, budget constraints, and more. 
Evaluate system performance against objectives: Test how well the software functions in meeting your established goals. Look for feedback from users as well as reports of any errors or issues that arise during testing.  
Select the solution that best fits your needs: When evaluating any potential solution – not just change management software – consider its return on investment (ROI).  STake into account license fees, training costs, customer service availability, and more to determine if it's a good fit for your organization's long-term success
FAQs
What are OCM tools?
OCM (Organizational Change Management) tools are a range of activities, processes, and technology solutions used to plan, manage and implement changes in an organization. These tools help organizations ensure the successful adoption of new initiatives by enabling them to anticipate, prepare for and mitigate risks associated with change.
They also help organizations measure the progress of change initiatives, track objectives, and milestones, assess the effectiveness of organizational change activities, and identify any areas that need improvement.
What is OCM in ERP?
OCM stands for Organizational Change Management and is a component of an Enterprise Resource Planning (ERP) system. It is responsible for managing the transition process from one state to another, such as when introducing new software or processes.
The OCM component of ERP enables organizations to monitor change progress and assess outcomes, helping to ensure the successful integration of new systems and procedures.
What is OCM in agile?
OCM stands for Organizational Change Management, and it refers to a set of processes designed to help an organization transition to higher levels of effectiveness when introducing new Agile practices.
OCM focuses on the human side of organizational change, utilizing communication strategies, stakeholder alignment, and resistance management tactics to ensure the successful adoption and integration of Agile methods.
What are the OCM skills?
Organizational Change Management (OCM) skills involve a set of techniques and processes used to help ensure the successful adoption of change within organizations.
OCM skills include stakeholder engagement, communication planning and execution, training, change impact assessment, resistance management, culture management, sponsorship program development, and implementation, coaching for change readiness, and transition management.
What are change management models?
Change management models are frameworks used to help organizations plan, implement and manage successful changes in their business structure.
These models provide a systematic approach to identifying, analyzing, and anticipating the effects of change on the organization's people, processes, and technology. Key areas that are addressed by change management models include planning, communication, training, adoption, and evaluation.
Conclusion
Change management is a critical component of any successful business. With the right change management software, businesses can easily create and implement effective strategies to ensure smooth transitions during times of transformation.
The 11 best software options presented in this blog are designed to make change management simpler, faster, and more efficient for businesses of all sizes. Whether you're looking for an agile approach or a full-scale system, these powerful solutions provide the necessary tools to help your organization successfully navigate through times of change.