If you're like most business owners, you're probably always looking for ways to improve your workflow. Perhaps you're trying to find ways to streamline your sales processes or create a better customer service experience. Whatever the case may be, improving your workflow is an essential part of achieving success.
In this article, we'll discuss five tools and tips that can help you enhance your SEO workflows and task management.
So read on, and start making more efficient and effective use of technology to help you reach your business goals!
What Is SEO Project Management?
SEO project management is a process that helps organizations manage their SEO projects effectively and efficiently. It includes the use of systematic planning, tracking, and reporting to ensure the timely execution of the SEO campaign goals. Additionally, effective project management can help minimize any potential risks associated with your SEO efforts.
The goal of SEO project management is to ensure that your website remains ranking well in search engines while also meeting your business objectives. By following a systematic approach and keeping track of all aspects of the campaign, you can maximize the success of your efforts.
Why Is Task Management Important For SEO?
Task management is important for SEO because it helps you focus on specific tasks and goals, and track your progress. It also allows you to stay organized and keep all of your strategies in one place. With task management, you can easily see how well your campaigns are performing, identify any changes that need to be made, and measure the results over time.
Task management can help improve your overall productivity by making it easier to get things done quickly. It can also help you avoid wasting time chasing down irrelevant links or going off track altogether. By taking the time to set up an effective task management system, you'll be able to effectively optimize your website for search engines!
Importance Of Task Management Software For SEO Workflow
Task management software is an essential tool for any SEO worker. With it, you can efficiently manage your workload and stay on top of deadlines. Here are a few reasons why task management software is important for SEO work:
It helps you organize your tasks by category or project, so you know exactly what needs to be done and when it needs to be done.
The software keeps track of your progress and updates you regularly on how far along you are toward completing each task. This provides clarity and reassurance as to whether or not you're meeting the expectations set out in your plan.
It allows you to easily track who has worked on what, which can help avoid conflicts and ensure that all tasks are completed properly.
Without a good system for managing your workflow, it could become increasingly difficult to complete all of the necessary tasks in a timely manner.
Task management software makes perfect sense for those working in the field of search engine optimization!
6 Best Task Management Software To Enhance SEO Workflow
There are a number of task management software options available on the market today, each with its own features and benefits. Whether you're looking to improve your workflow or just get organized, here are six of the best options: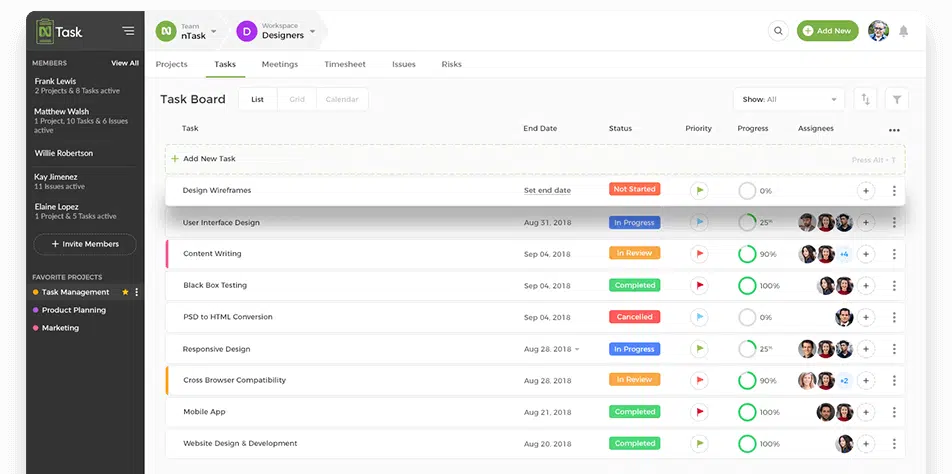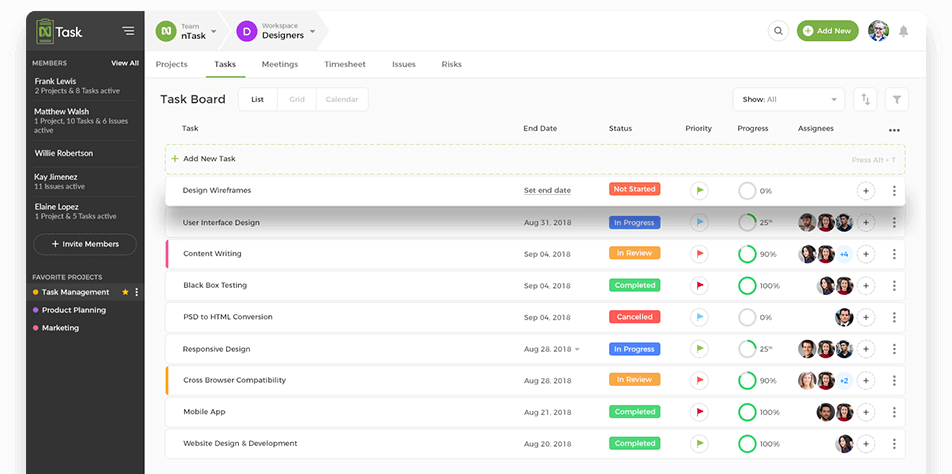 There's a reason why nTask task management software is such a popular tool for SEO professionals. It streamlines the workflow and makes tasks easier to track, ensuring that all your efforts are concentrated on producing results.
nTask allows you to create subtasks and assign them to team members, collaborators, or even specific goals. This way, everyone involved in your project knows what needs to be done and when it needs to be done. You can also set up alerts so you're notified whenever any tasks need attention.
Plus, nTask integrates with several different platforms (including Google Calendar), which means you can easily access your data from anywhere in the world. So not only does it help keep everything organized and manageable – but it also helps make collaboration much easier!
Key features
Some of the key benefits of using nTask include:
Easily manage your tasks by categorizing them into projects, lists, or sublists.
Filter your tasks based on criteria such as time, status, and other important details.
Add notes to any task to help you remember why you need to do it.
Organize your tasks into folders so they are easy to find.
Get notifications when someone else updates or completes a task that you are working on (or have completed).
Pricing
nTask offers three plans. Starting from $3 per month.
2. Wrike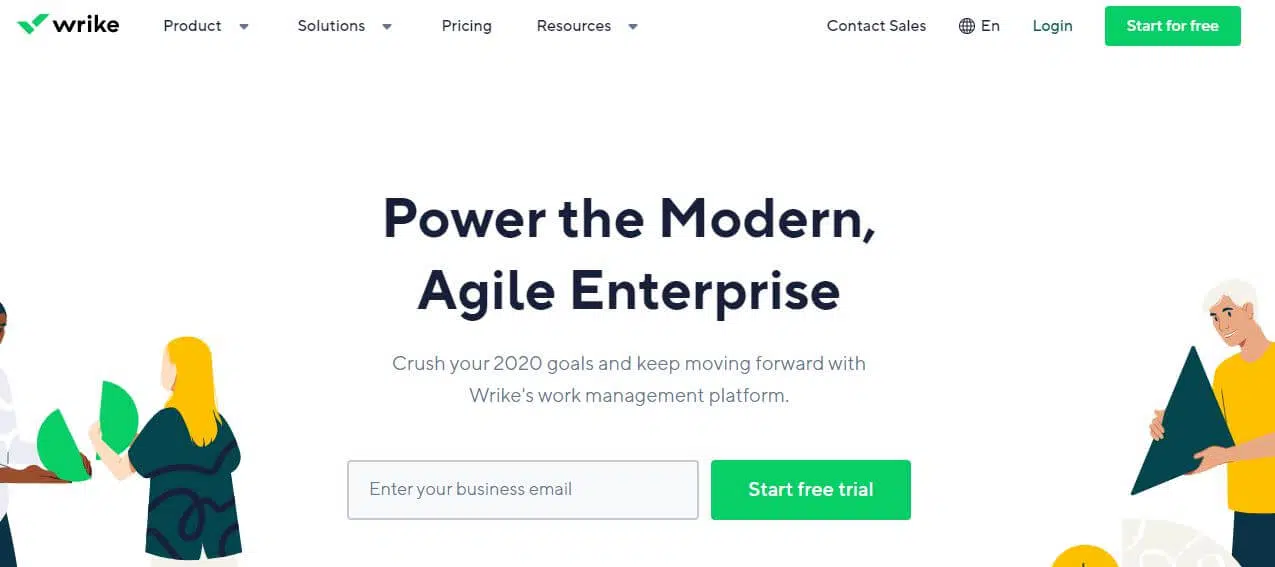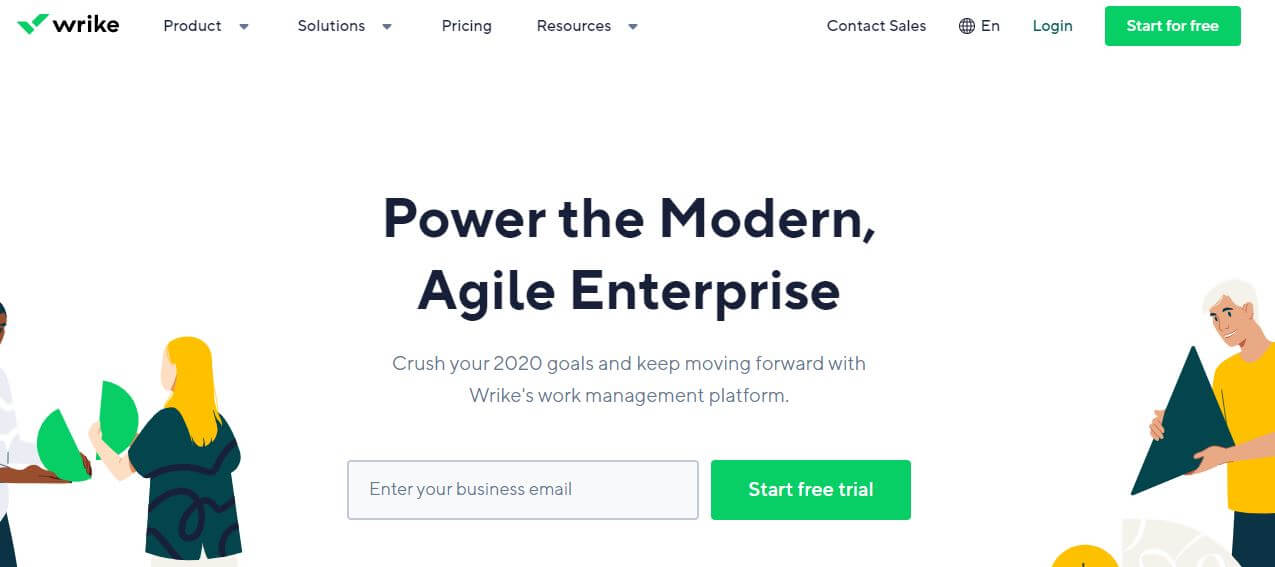 Wrike is a popular task management software used by SEO professionals to keep track of their workflows. It offers flexible project management features and an easy-to-use interface that makes it perfect for tracking online campaigns, managing client relations, and organizing team tasks.
One of the most powerful aspects of Wrike is its ability to connect to various SEO tools and platforms, such as Google Analytics, Moz Local Search Pro, Raven Tools Site Audit Report, Ahrefs Domain Rating Tool, etc. This allows you to capture all your data in one place and analyze it properly.
Key features
Here are some of the key features of Wrike:
A user-friendly interface that makes workflow management easy and intuitive.
The ability to create, edit and manage text files in a variety of formats (including Microsoft Word, Excel, PDFs, and images).
Multiple tools for tracking projects from beginning to end (including project planning tools, task lists, progress charts, etc).
The ability to share files with other team members or collaborators easily via the platform's secure file-sharing feature.
Pricing
Professional at $9.80 per user per month.
Business at $24.80 per user per month.
Wrike offers a Free Plan with limited features.
3. Airtable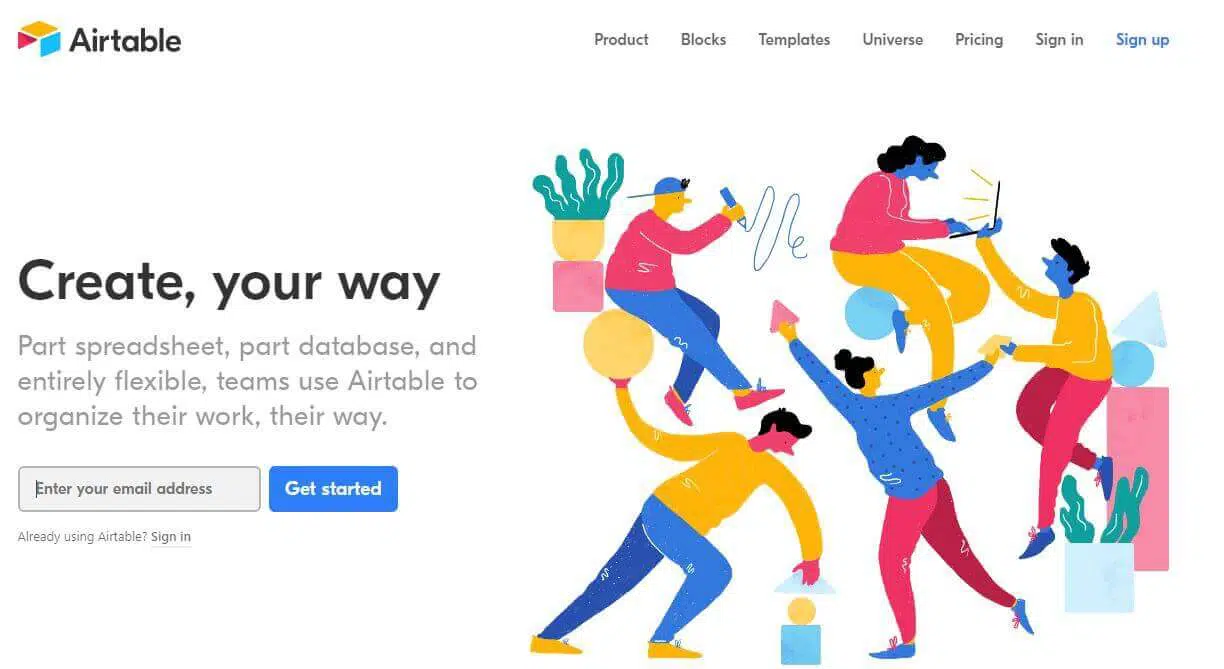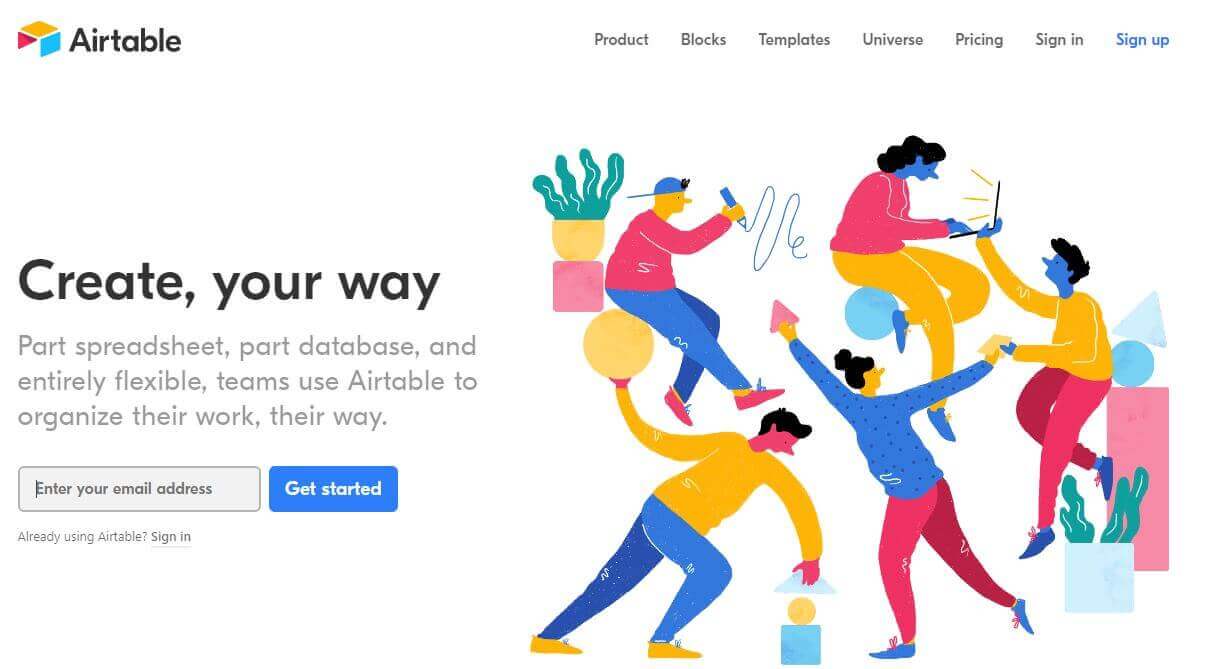 There's a reason why Airtable is such a popular task management software – its easy-to-use interface makes it perfect for busy professionals who need to keep track of their work assignments, deadlines, and progress. With Airtable, you can create simple or complex tasks with customizable fields and labels, assign tasks to team members easily via drag-and-drop actions, monitor the status of all your tasks in real time from any device or browser, manage communication between team members using messaging features, and much more.
If you're looking to improve your SEO workflow by automating mundane tasks and managing data effectively then Airtable is definitely worth considering!
Key features
It offers several key features that make it stand out from the competition:
Airtable provides a secure and private file-sharing system for users to share files with each other. Files can be shared privately or publicly, and they are automatically backed up so that you never lose any data.
Airtable also includes collaborative tools like chat rooms and discussion boards to help team members stay organized and interact with each other more easily. You can even add notes or annotations to documents so everyone can understand what was discussed when working on them.
Document management in Airtable makes it easy to manage all your documents in one place by including powerful document search capabilities as well as automatic syncing between devices (via iCloud).
Pricing
The Pro plan is Airtable's most popular and most value-packed package. At $20/month per user/seat
4. ClickUp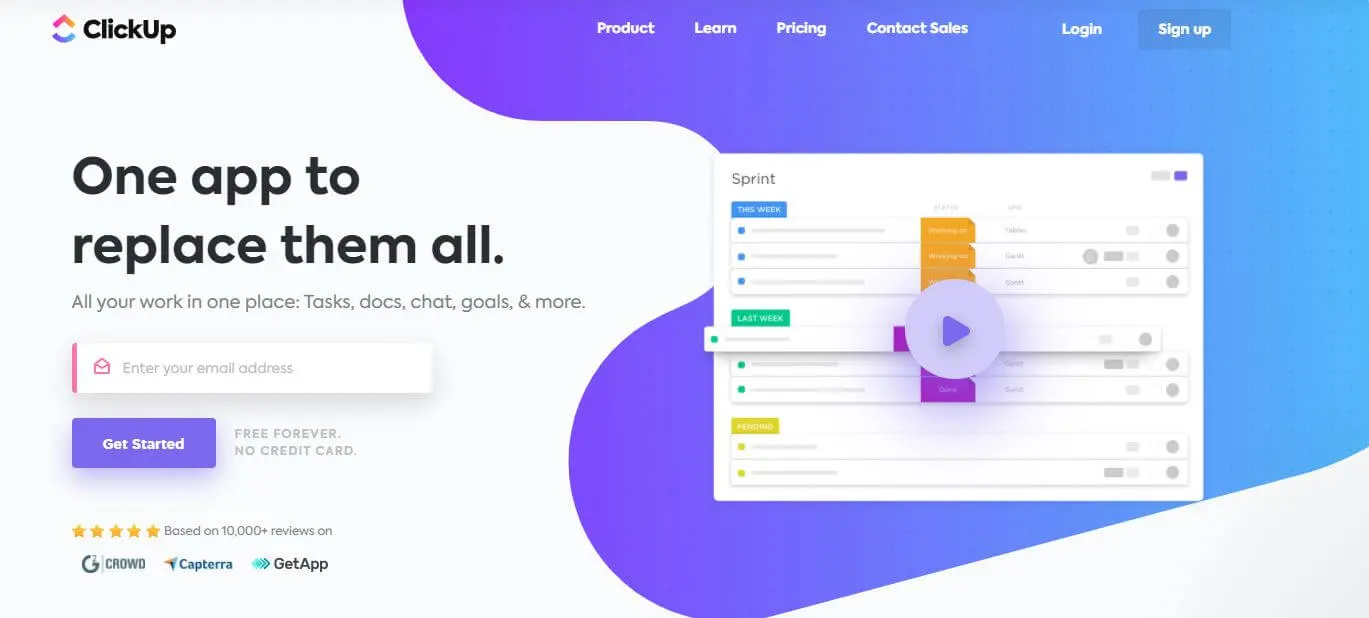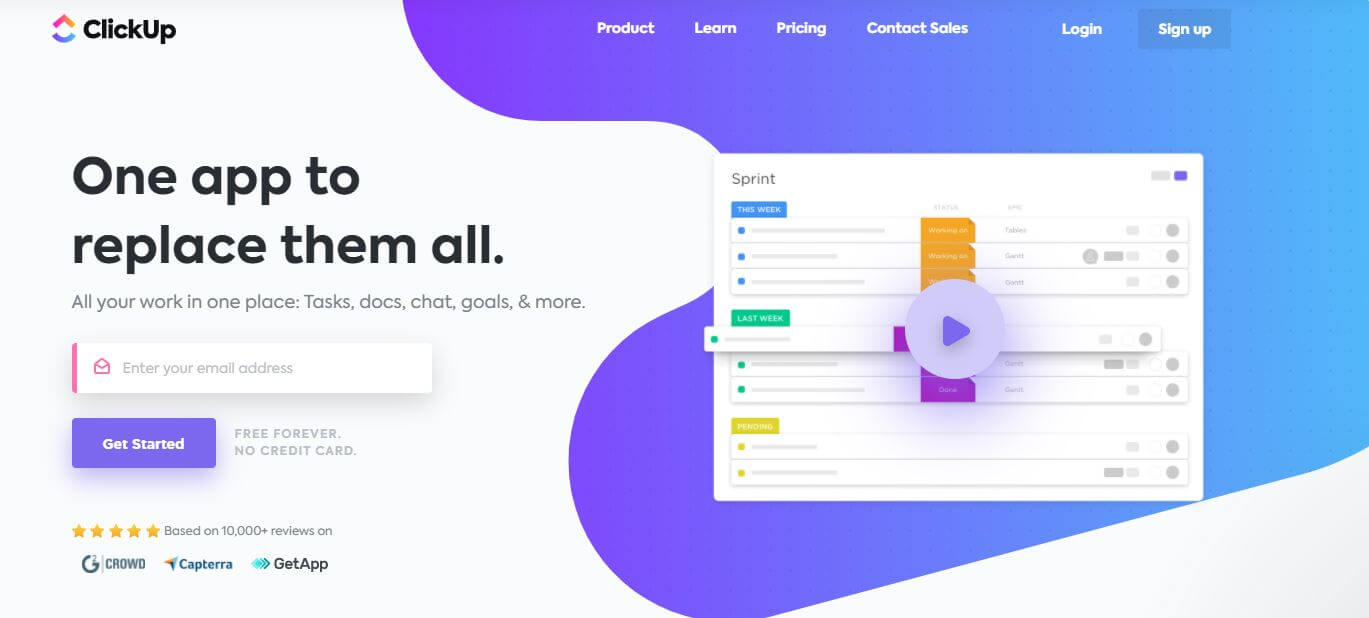 Task management is one of the most important aspects of effective SEO work. Without a system for tracking and managing your tasks, you can quickly become overwhelmed.
ClickUp is the perfect task management software for SEO professionals. It provides a streamlined workflow that makes it easy to track your progress and keep on track with your goals. Plus, its intuitive interface makes it easy to find what you're looking for no matter how chaotic your workstation may be.
With ClickUp, you'll never again feel lost or frustrated when trying to manage your SEO efforts efficiently and effectively.
Key features
Here are some key features of ClickUp:
Send engaging and effective emails without having to spend time creating them yourself. Just enter your list of recipients, choose the type of campaign you want to create (email blast or drip), set your preferences for content quality and frequency, and click "Create Campaign."
Keep track of all the leads generated through your campaigns with ClickUp's comprehensive lead management system. You can track conversion rates, and contact details (including addresses), and even generate reports on progress over time.
Create custom landing pages in minutes using ClickUp's drag & drop builder interface. Pages can be optimized for SEO purposes using keyword tags and other metrics specific to your industry or niche marketer Mind Maps
Pricing
ClickUp has 5 plans including the free plan. The pricing starts from $5 per month.
5. Asana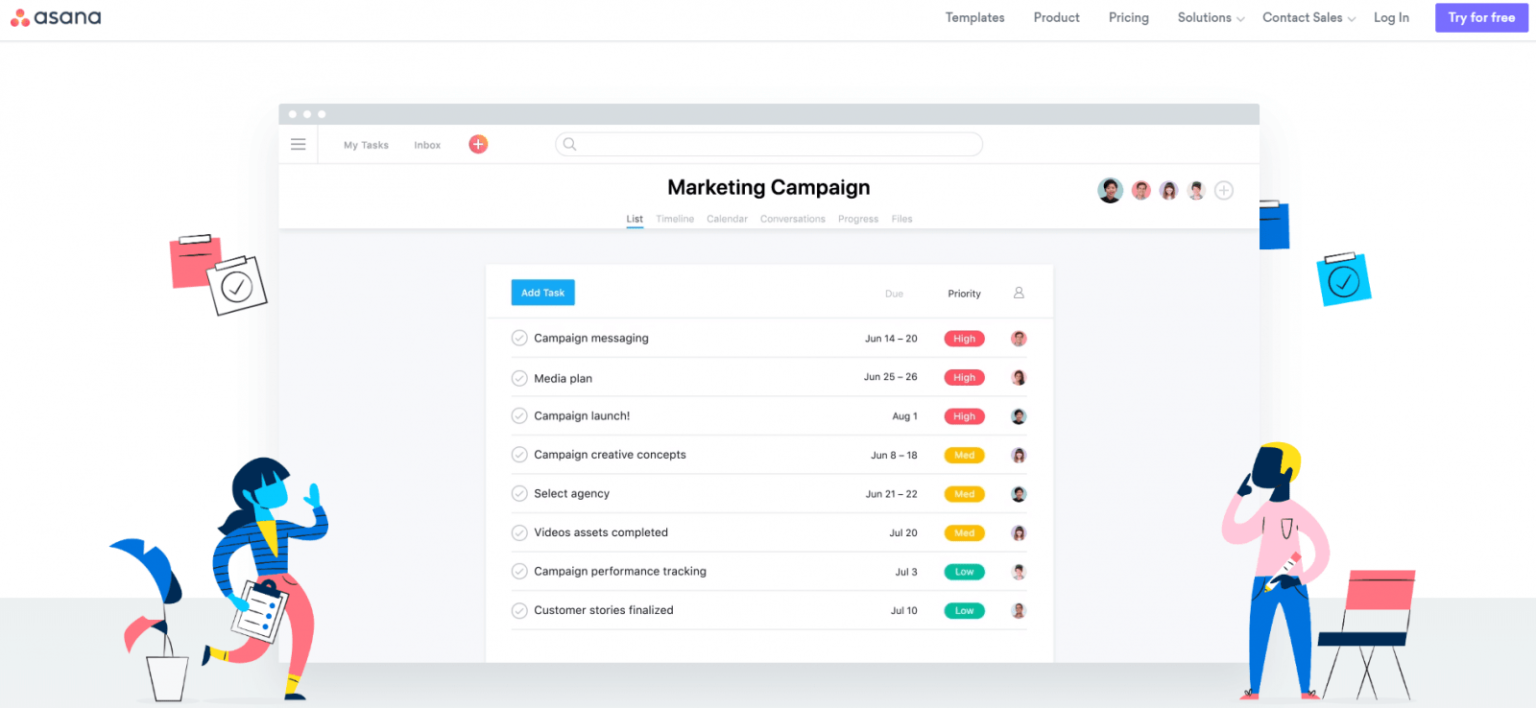 Task management software is a great way to keep your work organized and concise. Asana is one of the most popular task management applications on the market, and it works well for SEO workflows.
Asana allows you to create separate tasks for each stage of your SEO project- research, content writing, keyword research, etc. You can also allocate specific amounts of time (or "tasks") to each stage, so you know exactly how much time you are spending on each activity. This helps you stay focused and prevent needless distractions from other parts of your business.
Another great feature of Asana is its integration with Google Drive and Dropbox. This means that all your documents (research papers, articles, etc.) are automatically saved in both places whenever they are edited or updated in Asana. This makes it easy to access them anywhere without having to search for them manually every time!
Key features
Here are some of its key features:
Asana is designed for busy professionals who want an intuitive, fast, and simple solution for managing their projects. Its user-friendly interface makes it easy to get started with project planning and tracking, no matter what your experience level may be.
With Asana you can customize your work environment to match your specific needs and preferences. You can set up separate workspaces for individual tasks or teams, invite collaborators easily, and control access levels so only authorized people to have access to important files and data.
Keep track of all your progress in real-time with push notifications sent directly to your phone as changes are made in any part of the application. This way you always have complete visibility into everything going on with your projects!
Pricing
The free version of Asana is available for teams of up to 15 people. Asana Premium costs $10.99 per user per month when billed annually
6. Jira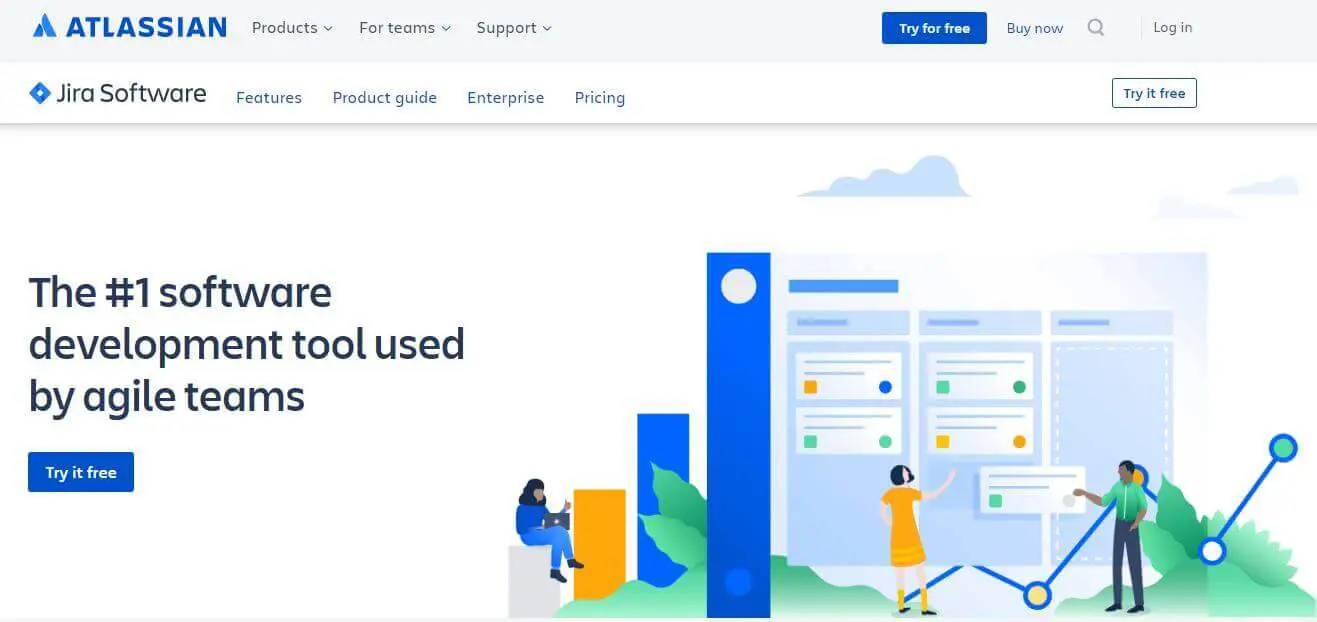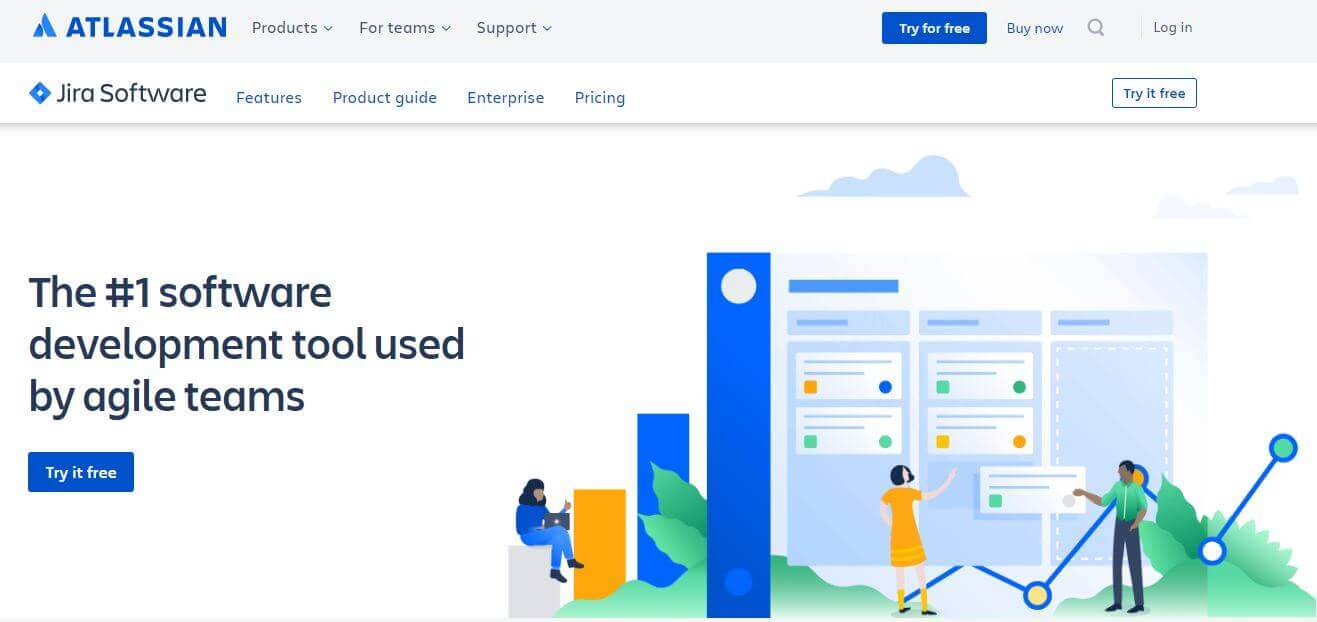 JIRA is one of the most popular task management software packages on the market today. Its user-friendly interface makes it easy to manage your projects, and its integration with Google Documents makes it a great choice if you want to collaborate with other team members.
JIRA also has several features that are helpful in SEO work-related tasks, such as content monitoring and keyword research tracking.
Key features
Here are a few of the most important:
Jira is easy to use and can be accessed from any computer or device.
It has a robust Task Management system that makes it ideal for coordinating work across multiple team members.
Projects can be tracked and monitored in real-time, making sure everything is on track both technically and schedule-wise.
Pricing
Jira has 4 plans including the free plan.
The pricing starts from $7.75 per user a month.
5 Tips For Enhancing SEO Workflow And Task Management
Here are 5 tips that can help you enhance the SEO workflow and task management;
1. Prioritize your tasks
Start with the most important tasks, and work down from there. If you're having trouble prioritizing your work, try using a task management system like Asana or Trello to help you keep track of your progress.
2. Use keywords in titles and tags
Make sure that all of the text you use for search engine optimization (SEO) is focused on promoting your site's content rather than advertising yourself or ranking higher in search engines' results pages (SERP). This includes title tags, meta descriptions, and other elements included in a website's HTML code.
3. Check spelling and grammar
Mistakes can lead to frustrated Google searchers who will quickly move on from a page if they find too many errors. Keep sentences short and easy to read while still including correct spelling and proper use of grammar rules!
4. Think outside the box
When it comes to SEO, don't be afraid to experiment with different marketing strategies or creative content ideas. The sky's the limit when it comes to finding ways to improve visibility for your site!
5. Track results regularly
Be sure to check back periodically so that you can see how changes made to your SEO campaign are affecting traffic levels (and therefore revenue!)
FAQ's
What are the four steps in the SEO process?
1. Search engine optimization (SEO) is a method of increasing the visibility and ranking of a website or online resource in search engine results pages (SERPs).
2. There are four steps to SEO: targetting, research, planning, and implementation.
3. Each step must be completed in order for your website to be successful with SEO.
4. The more steps you complete, the better your site will look and perform in the search engines.
How do I write for SEO in 2023?
Writing for SEO in 2023 will likely be different than writing for SEO today. While the fundamentals of good content remain the same, there are many new tactics and technologies that you need to be aware of in order to stay ahead of the competition.
One important trend that you need to pay attention to is AI-enabled content marketing. This includes using algorithms and artificial intelligence (Ai) to produce high-quality articles or blog posts on a given topic. 
Can you learn SEO in 3 months?
According to experts, learning the concepts of SEO takes one to three months, while mastering the art fully takes a year or more. There are a number of variables that influence how long it takes to understand SEO fundamentals.
Conclusion
In case you have been following the steps we have mentioned above, then your SEO game will be at a whole new level. You can expect great results if you keep these tips in mind. Even if all of them are not followed, there is still no harm in trying some of them to see how things turn out for you.
Just make sure to track what works and what doesn't when it comes to improving your SEO workflow and task management!
This article has everything that one needs for managing their work efficiently! Thanks for reading, and good luck with your new venture!
---
More Articles For You: