Search engine optimization (SEO) can also be one of the biggest contributing factors to online success. There's a strong reason why SEO is one of the most searched services by businesses and has an expected $83.7 billion market reach by 2025.
If you rank higher in search results of a competitive keyword, you always get more site visits. And increased site visits expand brand awareness, lead to more conversions and boost credibility.
A well-planned SEO campaign is your best chance of getting on top of the organic results. And for SEO agencies, this is one of the most important of proving relevancy and worth to your clients. The truth about SEO campaigns is that it has many moving parts, so it is sometimes difficult to keep on top of it all.
According to research, a whopping 68% of online experiences begin with a search engine. In addition, 53.3% of all website traffic comes from organic search, and SEO drives 1000%+ more traffic than organic social media. Such researches prove that search engine optimization (SEO) is a big business, with more and more companies investing in SEO tools and expertise. SEO is a highly young field that has grown heavily in the last 5-6 years.
Everybody wants to rank higher in the search engine results. However, securing that coveted spot not only requires skill and strategy but also requires SEO projects and priorities. That's where SEO Project management comes into play.
What is SEO project management?
It's precisely what it looks like, project management for SEO. It involves coordinating and overseeing any project related to SEO. SEO project management is the process of planning, executing, and evaluating an SEO campaign. SEO digital marketers, SEO professionals, and content creators all participate in implementing SEO tactics.
Understanding the different stages of SEO projects and how to manage them effectively is essential to the success of any SEO campaign. Perhaps your company wants to evaluate all your existing blog content and optimize your blog posts for popular keywords. With an effective SEO strategy, your site will be one of the top rankings when a consumer searches for services or products related to your business.
You could right in with identifying keywords and refreshing random blog posts. But, that haphazard approach is bound to be counterproductive, not to mention stressful. It's a mess, but SEO project management brings some much-needed organization and structure to your SEO-related projects, making them as efficient and effective as possible.
Why is project management for SEO so important?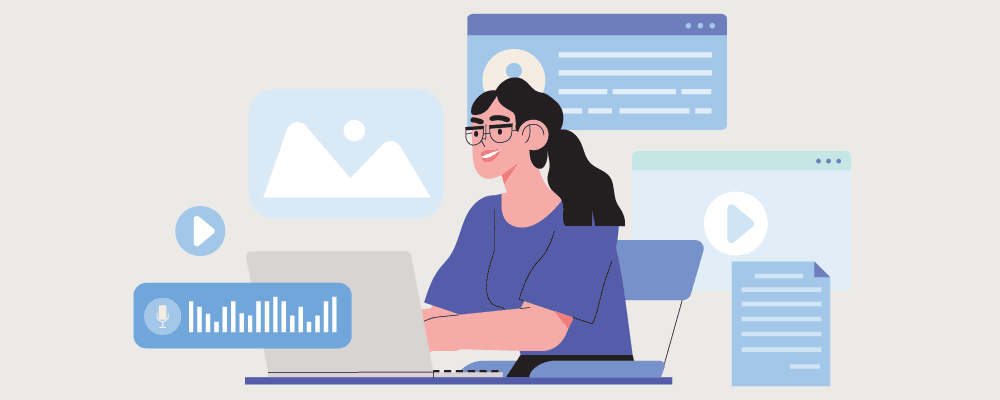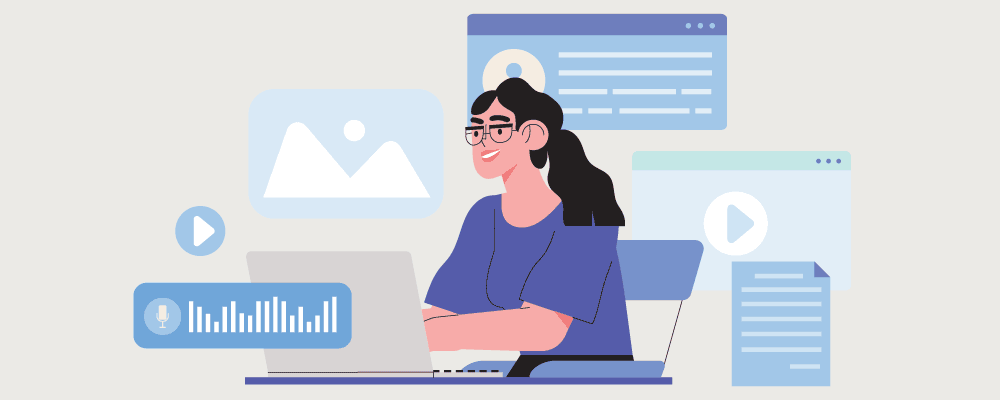 A lot goes into an effective SEO strategy, such as analytics reports, keyword research traffic, competitive analysis, backlink opportunities, content calendars, and much more. Not to mention all the factors that play a role in boosting the search engine rankings.
A structured approach makes juggling these aspects a lot easier. Here are some top benefits of SEO project management. Let's take a look:
Deliver more quality projects: It's easy to get lost, especially when you are up to your eyeballs in keyword research. Effective project management will always bring your team back to the original goal, so you don't waste resources and energy on tasks that don't contribute to your objective.
Prioritize effectively: There is no shortage of keyword targets you could pursue. SEO project management assists you in what projects you must begin with and how you can methodically tackle them.
More efficiency: Time to break free from chasing down people for the keyword report you need or scrolling through emails to find the list of backlink opportunities. Project management helps organize tasks and resources in one place, so everyone can find what they need.
Communicate better: SEO projects depend more on the SEO team, but they certainly aren't the only ones involved. Depending on the specific project, you might have to loop in the marketing, web development, or even legal teams. Effective project management will keep all essential stakeholders in the know.
How to build a successful SEO project management plan for your agency?
Now that the basics of SEO project management are behind you, it is time to delve into the implementation details. The best projects start with a bullet-proof plan.
We are here to show you everything you need to build a great project management plan.
1. Set objectives with your clients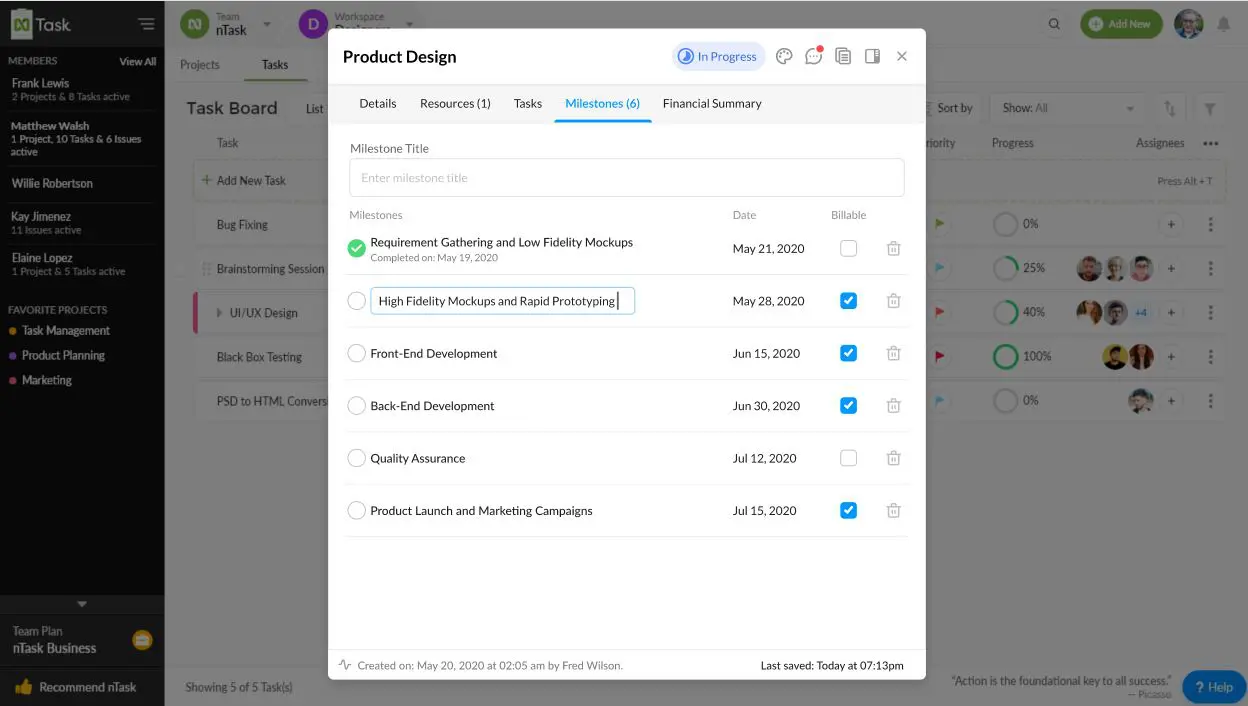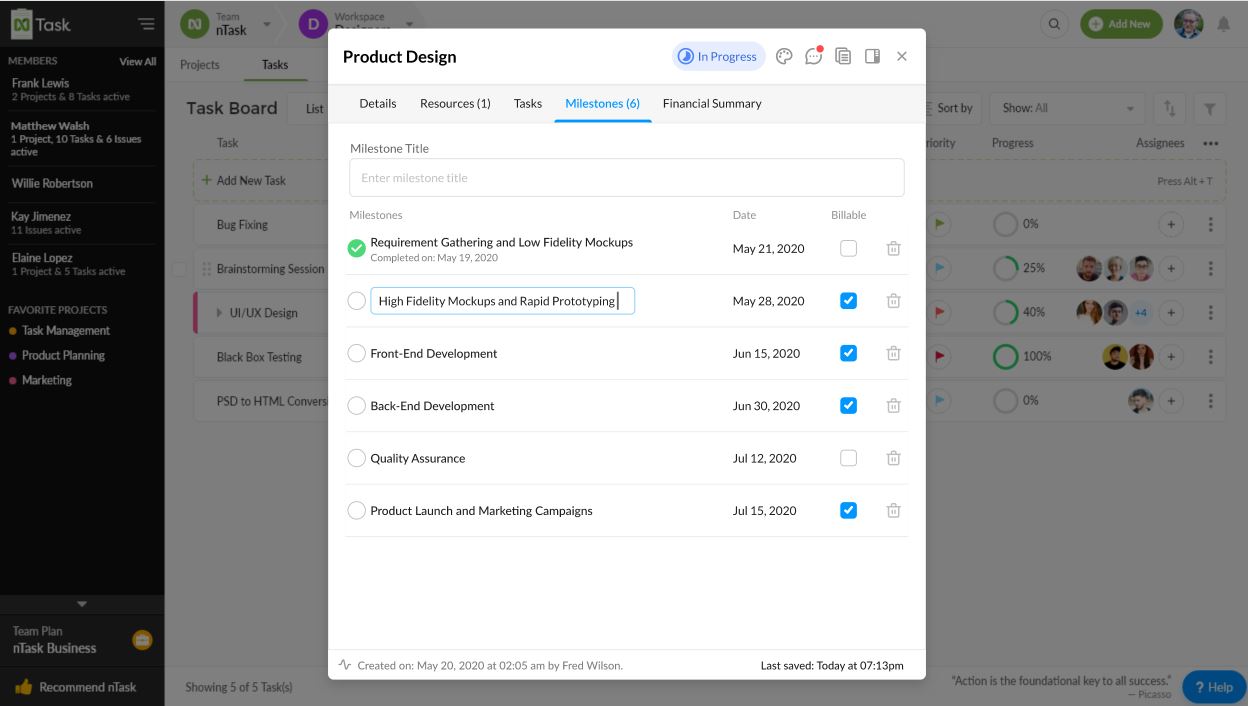 Before you kick off any SEO project, it's important that you clearly outline your goals. Start by consulting your client and finding out what they want to accomplish. The goal should be to satisfy the specific needs of your client's business.
Construct an SEO strategy that is designed to help you hit your targets. Aim for realistic, measurable objectives that can be broken down into further tasks and subtasks. Some examples of potential SEO include,
Increase blog traffic by X amount month on month
Rank on page one for X primary keywords
Optimize your highest performing pages
Decrease bounce rates by X%
Build X amount of new backlinks to your site each month
More likely than not, if you manage any SEO projects for a client, you have to show the progress of the results.
2. Identify the resources you need to achieve those goals
After setting out your goals, start identifying what you need to complete them. Some of the top factors you will need to consider are how you collaborate and connect with clients.
You need the full support of all the parties involved to make your project successful. These stakeholders include the content manager, the outreach manager, tech SEO, SEO strategist, etc. They must practice good communication and ensure that everyone knows what their team members are doing. They need to be completely informed of your ideas, as making effective communication is the key.
Start with project management software to better collaborate with your clients. You can easily communicate over a task, use internal messaging, and work conveniently with your clients from a centralized project management hub.
3. Structure your tasks with clear deadlines
The next step is structuration. Every task you set out to complete must be tied back to the project's overall goals. Some of your duties would include gaining site traffic, boosting brand awareness, or increasing sales. Always ask yourself how the task your team is working on is getting you closer to your original goal.
For instance, if you plan to increase your website's traction, examine how that fits into the bigger picture. Break the goal into SMART, actionable tasks and into much smaller subtasks. They will look something like this,
Competitor research
Link acquisition
Improve internal linking
Testing the page speed
Updating meta tags
You can easily track updates and progress by breaking down goals into smaller chunks.
4. Repeat, repeat and repeat…
Google trends and updates for search engine algorithms always call for adjustments to your SEO strategy. Therefore, making it to the top of the SERPs is no child's play. Then, maintaining visibility requires a lot of time and effort.
Looking at the reporting and analytics to inform your optimization is essential. Repeat your strategy accordingly if it has an undesirable outcome you did not anticipate. Any potential SEO project manager knows how to look at the data and identify whether the strategic efforts are off-base or successful. Later, they repeat them to boost the rankings and the overall SEO performance.
5. Choosing an SEO project management software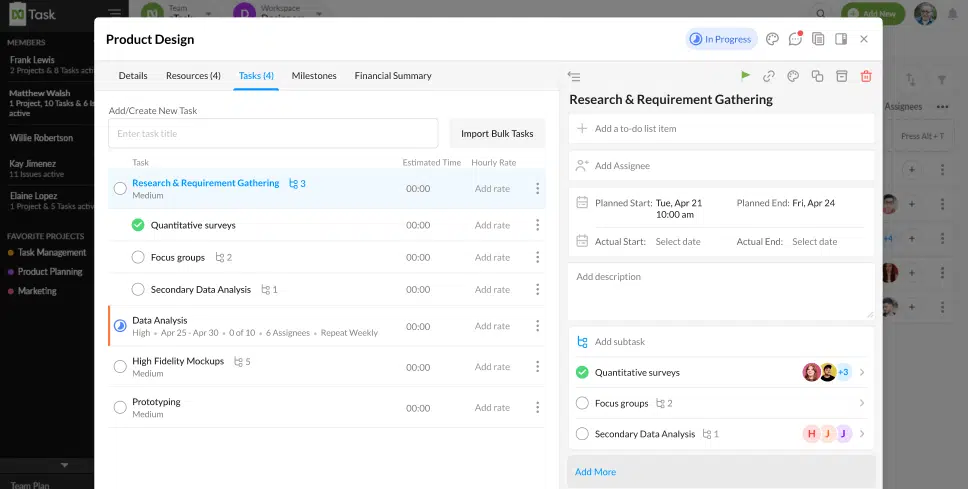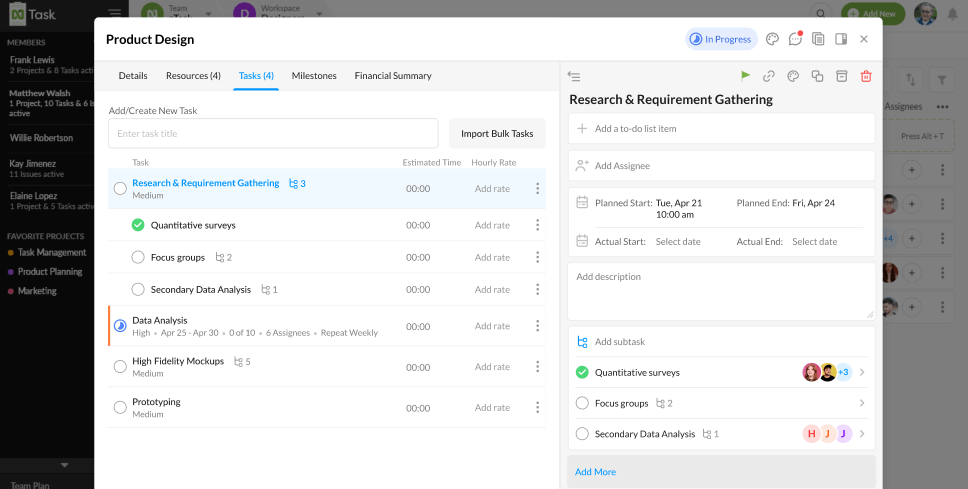 Having the right SEO tools can assist you and your content strategy team with 24/7 monitoring of essential data such as site performance and API functionality. There are some key elements to look out for when choosing a project management software for your SEO campaign.
One of the top functions that SEO software can have is a user-friendly interface. Effective SEO software can compile the insights into easily digestible dashboards with graphs or spreadsheets. This compilation of valuable data allows team members outside the technical SEO team to quickly understand and take action on the information. nTask is a project management software that enables the team to connect anytime, share project updates, and share document files.
This software automation can eliminate human error and identify potential SEO strategy and management problems.
6. Properly allocate your available team resources
While you may be managing the entire project, that doesn't necessarily mean that you will be doing all the work as the team lead. Who will get the job done? This is where you figure it out. SEO is a challenging and complex task requiring more than one pair of hands.
SEO project management's features such as resource planning make it super easier for project managers to check whether the team members are underutilized or overwhelmed. With larger SEO teams, it pays to take the time to figure out who is needed to complete the task, regardless if it's an SEO, copywriter, or developer. With the help of historical data, it is easier to spot productivity trends on your team and check whether a specific client is demanding the work of two SEOs.
7. Consider inviting your clients to the Platform
Transparency and honesty are the keys to any great and lasting client relationship! Invite all your clients to the software for free, and easily communicate and collaborate in a single central space with your clients to ensure that everything is on track and smoothly executed.
Most agencies have limited resources and hours in their week to complete all of their projects, especially for SEO projects which need hours to complete the site crawls or content audits. Allow your clients to directly interact on the project platform and share progress reports with them. Project managers have complete control over a client's access to a project board, including time budgets, updates, and logs. If a client is looking for automated email updates whenever a task is completed, all project managers can change the assessment setting and make it visible.
Kick start your SEO project management
Now that you have looked at all the steps involved in embracing the art of effective SEO and optimizing your organic reach, it's time to implement whatever you have learned so far. Climbing to the top of search engine results is not an easy feat, and it will probably not happen by accident.
Prepare a strong and effective strategy and an organized approach to ensure you are crossing off those tasks and reaching your goals. A well-strategized SEO project enhances the chances of accomplishing your goals quickly. Even after the project completion, the work and efforts need to continue. SEO project management is so important: you can cater to your needs in a more focused and structured way.