If you're like most people, you're juggling a lot of tasks at once. That's why project task tracking software is so important. This type of software helps you keep track of all the different details involved in your projects – from scheduling to tracking progress to managing risks. It helps to track your tasks and deadlines, but it also provides helpful insights into your progress.
Not only that, but project task tracker software is also easy to use and lets you collaborate with other people on your projects. So whether you're a solo entrepreneur or part of a team, this is the project task tracker software you need to help you get your projects done on time and on a budget!
The 12 Best Project Task Tracking Software in 2023
Do you need a software solution to help you keep track of your projects? If so, you'll want to check out our list of the 12 best project task tracking software in 2023.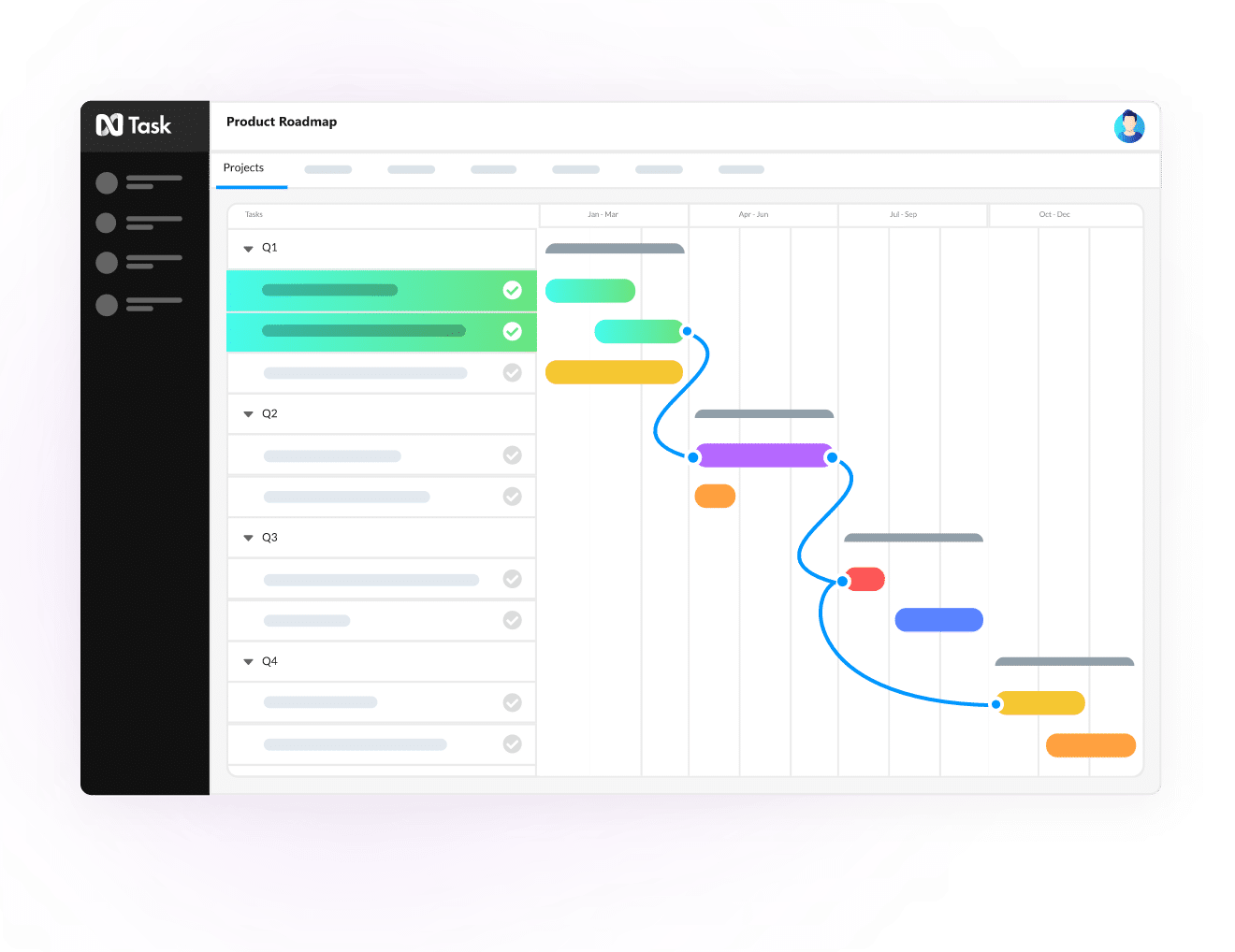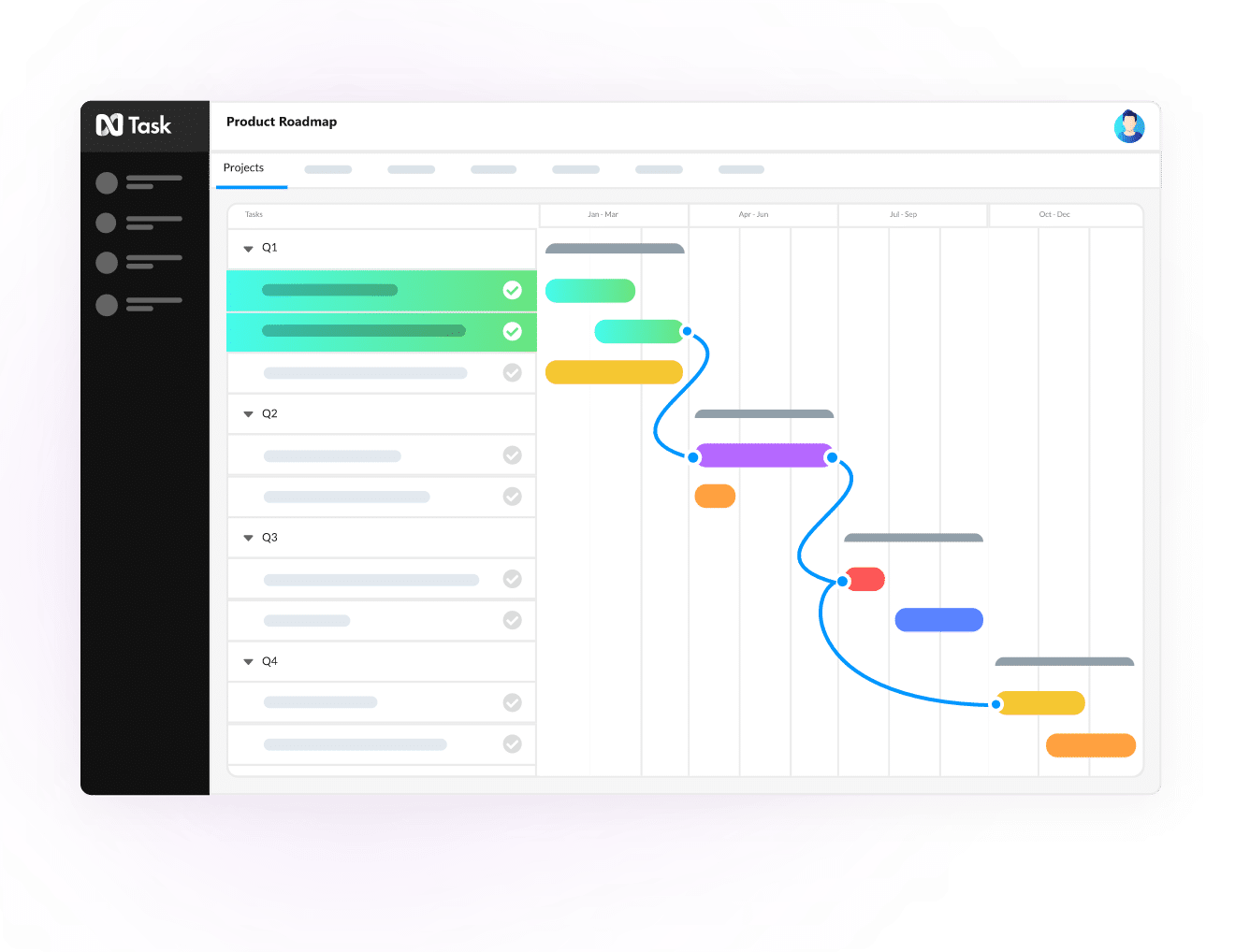 nTask is a project task tracking software that lets you manage your to-do lists and tasks in a simple, easy-to-use interface. It's perfect for people who want to stay organized and get their work done quickly.
nTask lets you create, add, delete, and prioritize your tasks easily. It also provides a calendar that lets you see when your tasks are due and how much time you have left until they're finished. nTask also has a messaging system that lets you communicate with other people involved in the completion of your tasks.
Features
Customizable task manager – That lets you manage your tasks by category or by project.
Calendar helps you plan your day and track your commitments.
Email notifications – When you've got new tasks waiting for you.
Automatic sorting and filtering of your tasks so that they're easy to find.
A notification system that alerts you when important deadlines are looming.
Add notes and reminders to any task, so you don't have to remember everything yourself.
Pricing
Regardless of the features or the program, nTask offers a free 7-day trial for all programs.
nTask pricing can be used in a number of ways, including:
Basic plan is free.
Premium starts at $3/month/billed annually
Business starts at $8/month/billed annually
2. Paymo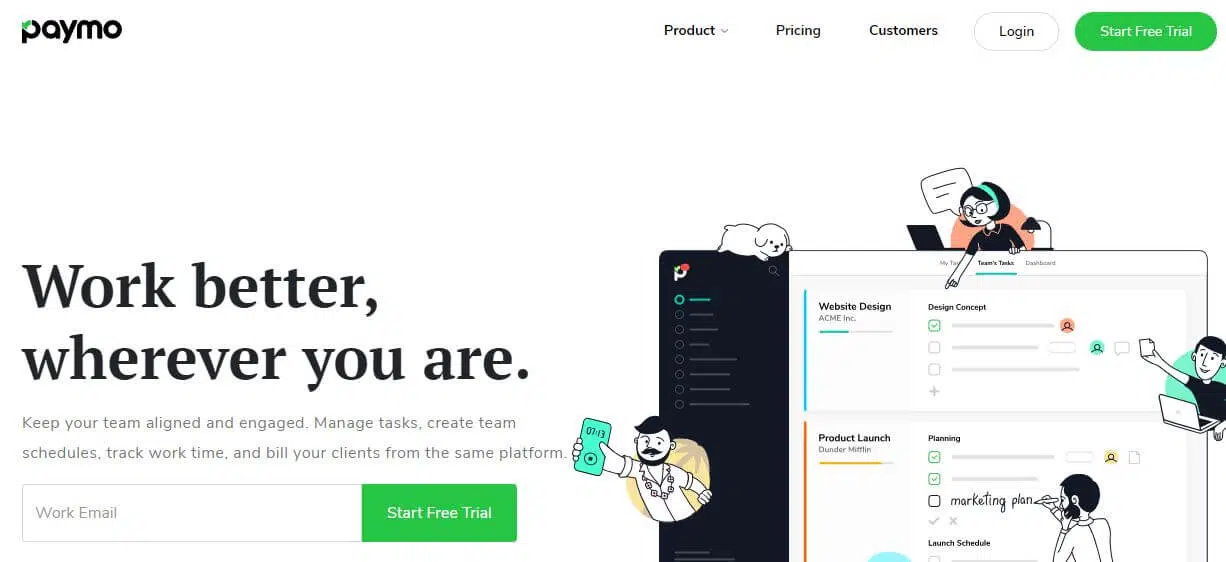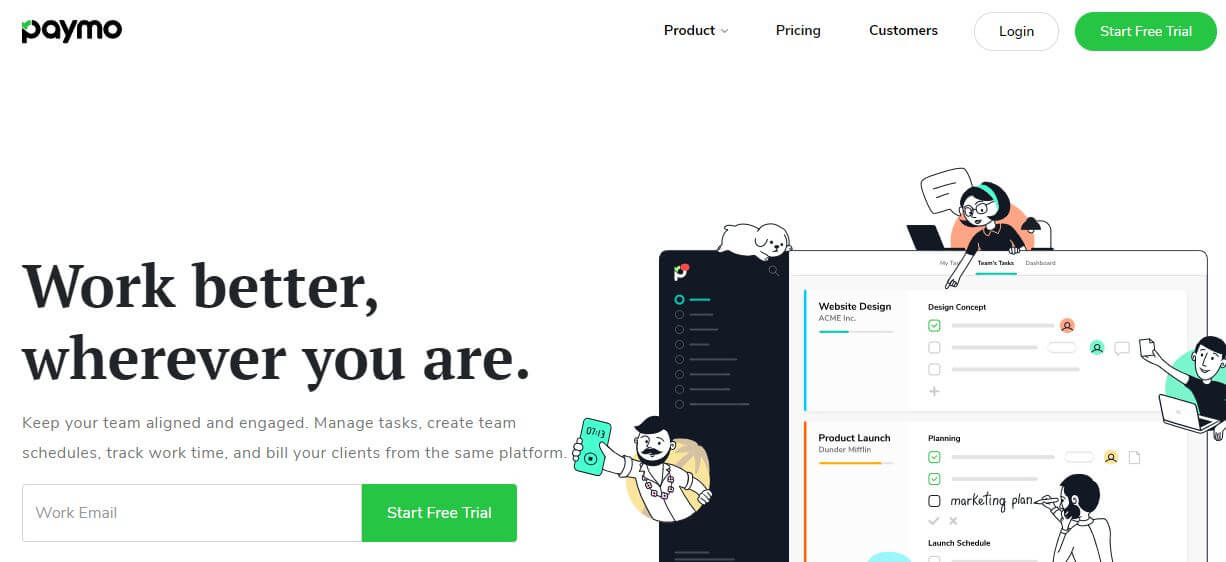 Paymo project task tracking is a platform that helps you track your tasks and deadlines as they progress. It also provides you with detailed reports that make it easy to see where you stand and what needs to be done in order to meet your goals.
One of the great things about Paymo project task tracking is that it's user-friendly. Anyone can use it, regardless of their experience or knowledge in project management. All you need is a computer and an internet connection.
Features
A robust timeline that allows you to track the progress and timeline of your project from beginning to end.
Built-in communication tools that allow you to keep everyone on track, and resolve any issues as they arise.
A secure platform that ensures all data is kept confidential and secure.
Automatic updates that ensure your software is always up-to-date, with the latest features and bug fixes.
Help you stay productive by keeping you accountable for your work.
Time and attendance tracking is another great feature that helps businesses keep tabs
Pricing
Paymo generally comes with four payment plans, such as:
Free version, a basic version for the users
Starter, $4.95/month/user, best for freelancers
Small Office, $9.95/user/month, for small teams
Business, $20.79/user/month, for medium and large teams
3. Asana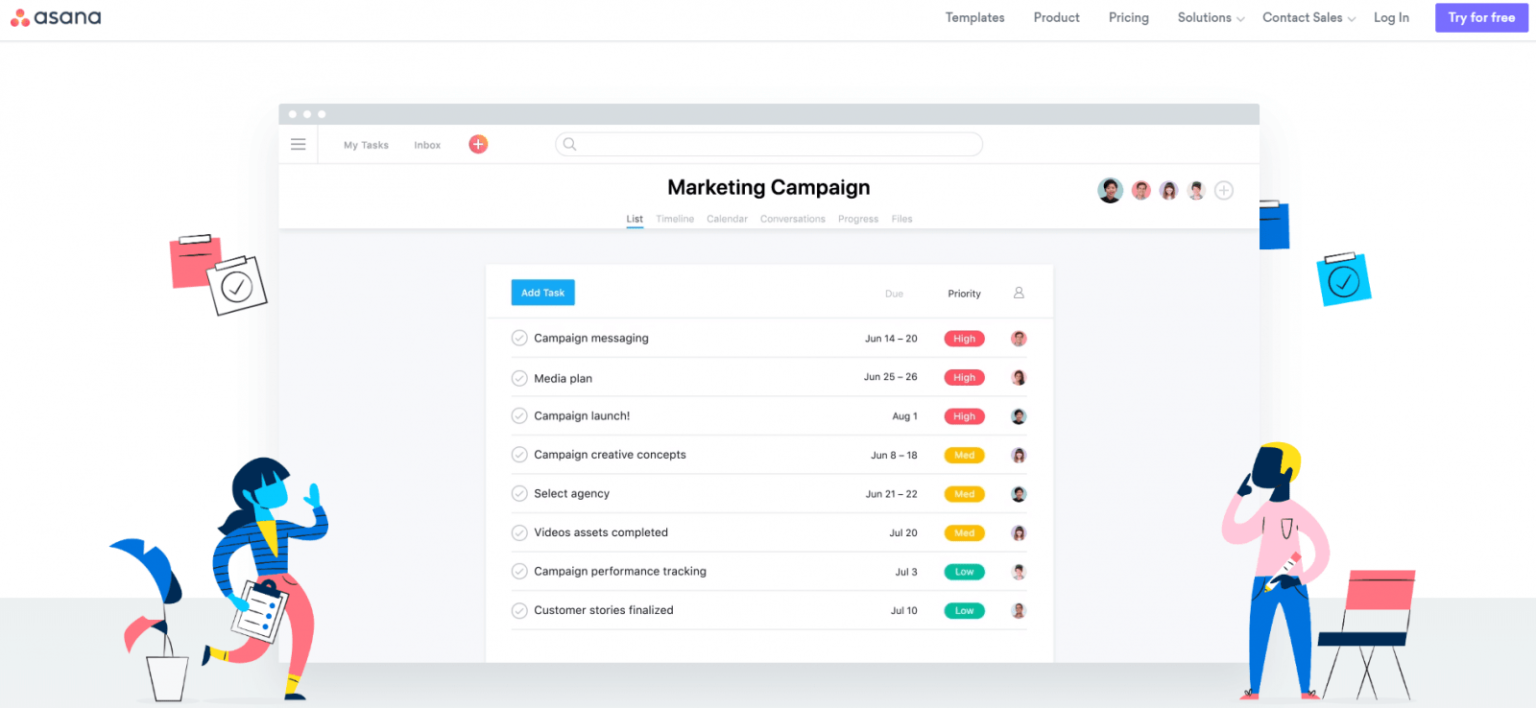 Asana is a cloud-based project management software that helps you manage your work, tasks, and deadlines. It's incredibly user-friendly, making it easy to get started even if you're not familiar with project management software.
Asana also offers some great features for team collaboration. You can create projects and assign tasks to teammates easily, as well as track their progress and get updates on their status. Plus, you can manage communication between teams more effectively by setting up channels for alerts and notifications.
Features
Workflow Automation: Asana allows you to automate your workflows to make them more efficient and error-free. This makes it possible to complete tasks with less effort, which saves time and prevents mistakes.
Collaborative: With Asana, you can work on projects with multiple people at the same time without any conflicts or delays. You can also share files and collaborate on tasks directly from within the tool.
Timing & Deadlines: Asana provides accurate timing and deadlines so that you know when each task needs to be completed. This helps ensure that projects are completed on time, without any surprises.
It integrates with many other services, so you can keep everything organized in one place.
Pricing
Asana starts with $24.99/month for larger teams.
4. Trello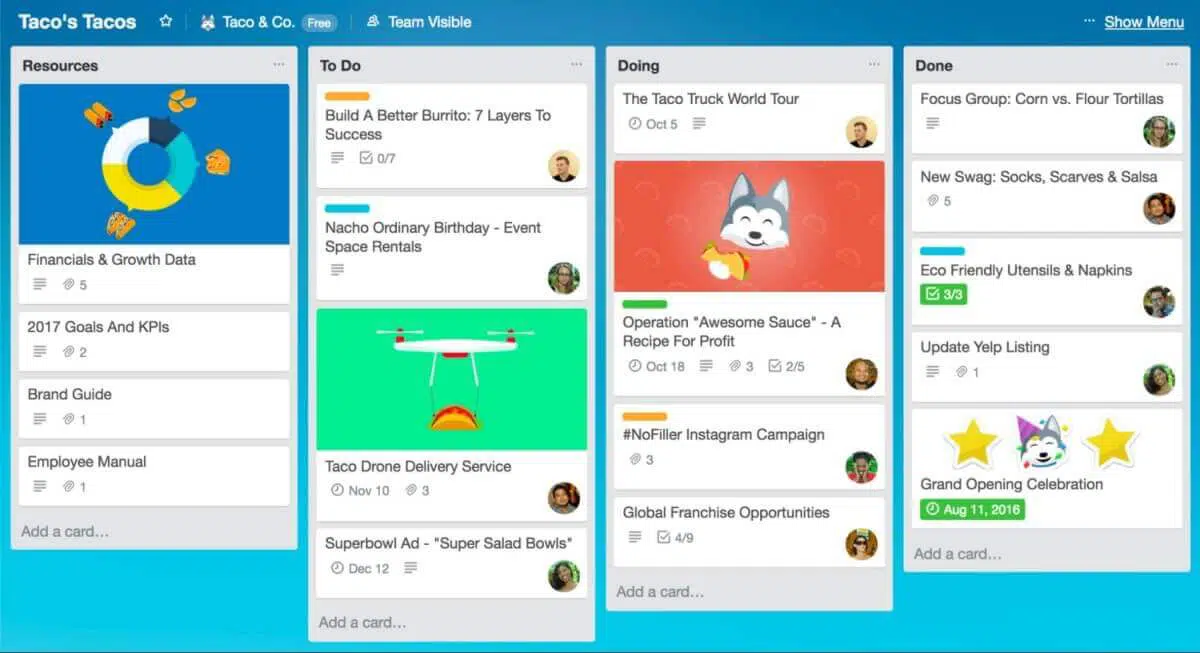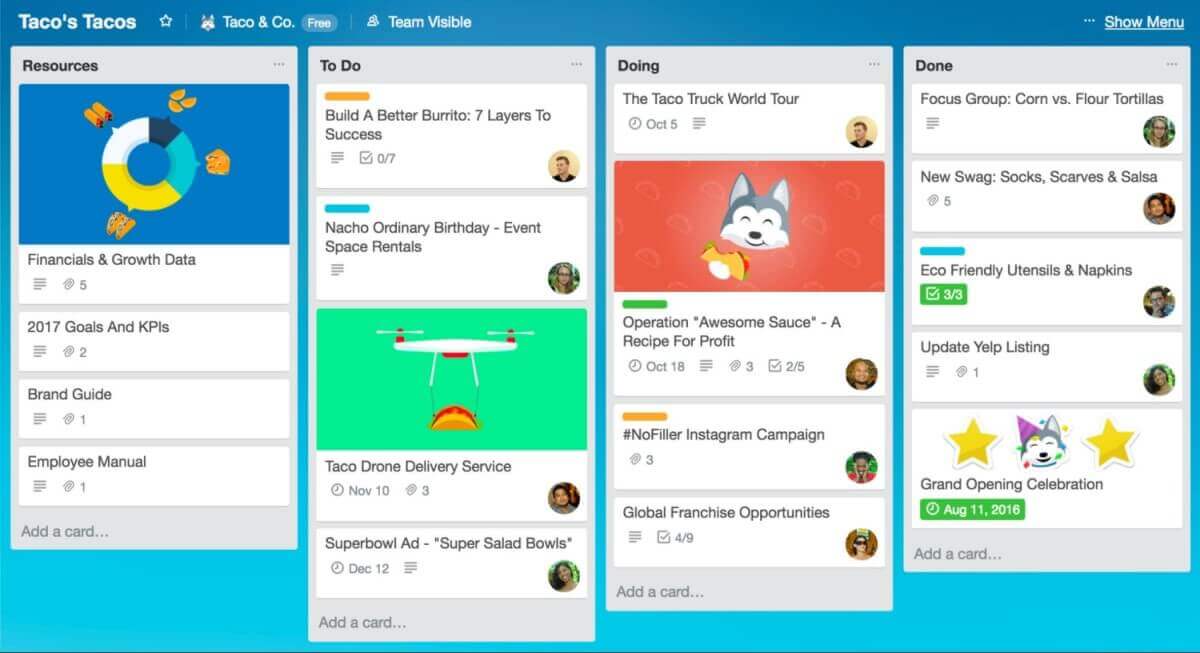 Trello is a popular project issue-tracking software that allows you to manage your projects and tasks in a collaborative way. Trello works on a board-based system, where each card represents a task or project. You can add information, comments and due dates to each card, and other users can add cards to the same board as yours in order to help you with your work.

Overall, Trello is an excellent tool for managing complex tasks and coordinating teamwork. It's easy to use and versatile enough for any type of project. If you're looking for an efficient way to manage your projects, then Trello should be your go-to platform!
Features
Boards: Trello boards are the central focus of your Trello account. You can create as many boards as you need to organize your projects and tasks, and each board can have any number of cards.
Cards: A card is a visual representation of a project or task, and it includes important information like its title, due date, and other notes. Cards can also be arranged in lists, which makes them easy to navigate and manage.
Reports: You can access reports that show you how well your cards are performing (by statuses, labels, comments, etc.), how many people have worked on them, and more.
Assignments: You can assign cards to other users or groups so that everyone involved with the project knows what's been assigned to them. This makes it easy to keep track of who is responsible for what!
Drag & drop: Moving cards between boards are easy with Trello's drag & drop feature – just click and drag wherever you want the card to go!
Integrations: Trello has numerous integrations with popular tools like Slack, Asana, Zapier, etc., so you can easily send cards from one app to another or vice versa.
Pricing
Standard plan – $5/user/month
Premium $10/user/month
Enterprise $17.50/user/month
5. SmartTask


SmartTask is a cloud-based task management and scheduling service that helps you organize and prioritize your tasks. It allows you to create multiple "projects" (which can include anything from a single task to an entire project) and assign different tasks to each project. You can also add "tasks" (smaller goals that need to be completed within a certain time period) and "due dates" (dates by which the task must be completed).
SmartTask keeps track of all your deadlines, notifications, and progress updates, so you always know what's going on with your tasks. Plus, it has a user-friendly interface that makes it easy to find what you're looking for.
Features
Automatic task creation – You can easily create new tasks by filling out some basic information, like the task's title and its due date.
Task tracking – You can track the status of each task, including its completion percentage and any notes you may have added. This will help you stay on top of your progress and avoid delays or missed deadlines.
Project management – SmartTask allows you to manage multiple projects at once, giving you complete control over their timeline, resources, and goals.
Collaboration tools – You can team up with other people on tasks or projects, which will help to streamline the process and reduce duplication of efforts.
Pricing
Premium plan, $5/per month
Business plan $8/per month
6. Nifty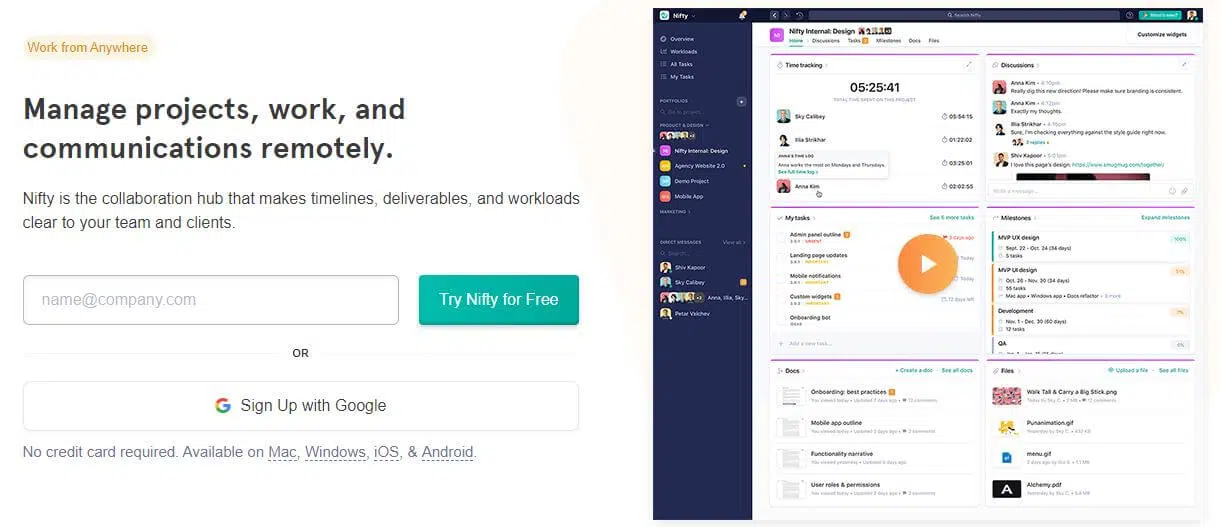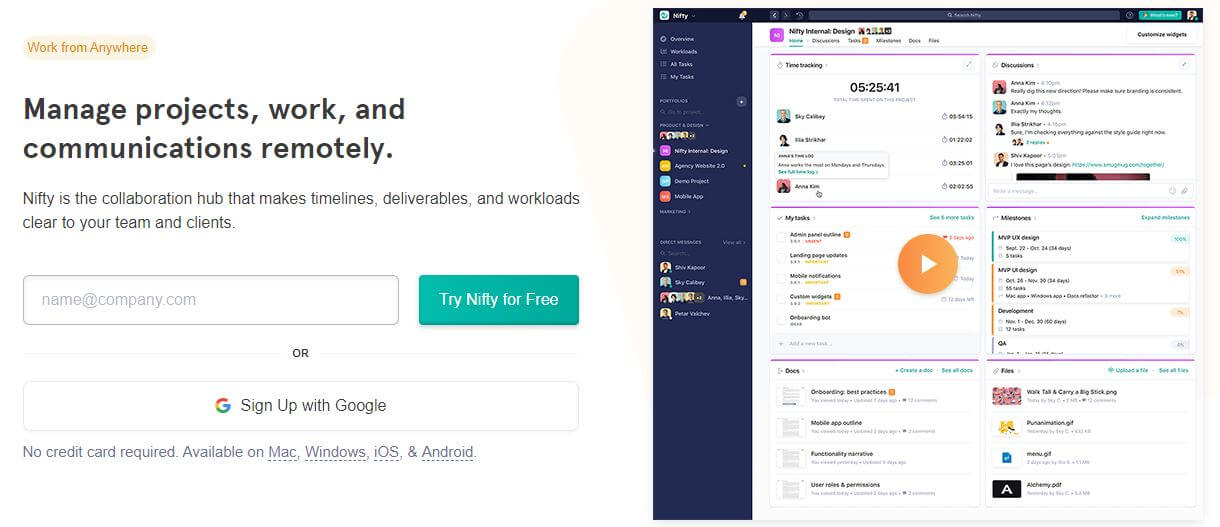 Nifty project management is a method of managing projects that uses a structured, sequential, and ultimately goal-oriented approach. It ensures that all stakeholders are aware of the project's objectives and progress at all times, and that deadlines are met without compromising quality or safety.
Overall, Nifty project management is an efficient way to manage projects, and it can help to ensure that deadlines are met without compromising quality or safety. If you're looking for a method of managing your next project with precision and efficiency, then Nifty project management may be right for you!
Features
A project timeline that shows you when each stage of the project is due, and how long it will take to complete.
A Gantt chart that displays all the tasks and deadlines in a graphical form.
Automatic notification of changes or updates to tasks, so you're always up-to-date on what's happening.- A fully customizable task list that lets you prioritize your work according to specific criteria.
Immediate feedback on your progress so you can stay on track even during difficult times.
Pricing
Starter plans at $39/month
Pro plans at $79/month
Business plans at $124/month
Unlimited $399/month
7. Teamwork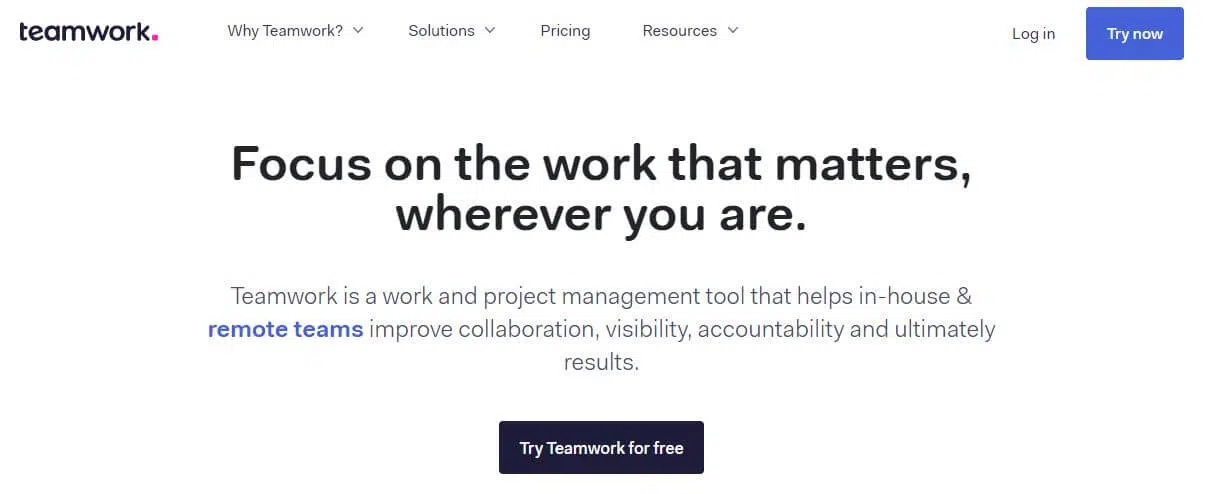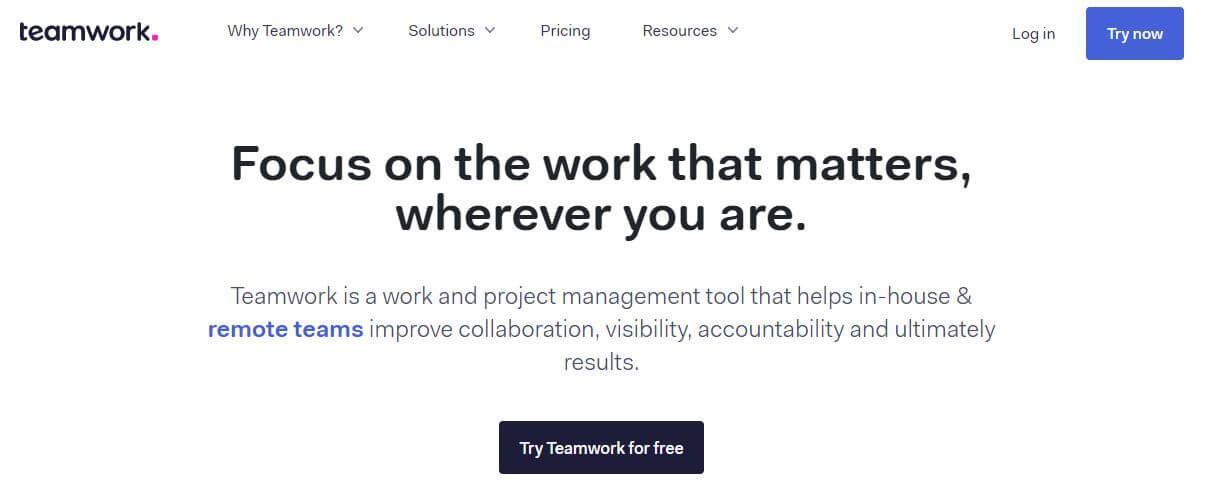 The Teamwork project management tool is a software application that helps teams manage their projects more effectively. It can help to streamline the process by providing a central location for team members to track and manage all the tasks associated with a project.
Teamwork project management tools can also help to keep everyone on track by automating certain parts of the process. For example, it may be able to generate deadlines and tracking reports automatically based on the milestones that have been set. Additionally, it can keep track of who has completed what task and when, so that everyone knows exactly where they stand and whether they still have any work left to do.
Features
It allows you to manage and track tasks, deadlines, and progressions.
It provides a forum for communication between team members.
It makes it easy to assign roles and responsibilities.
It helps you keep track of files, documents, and resources.
Pricing
Deliver starts at $9.99/month
Grow starts at $17.99/month

8. Airtable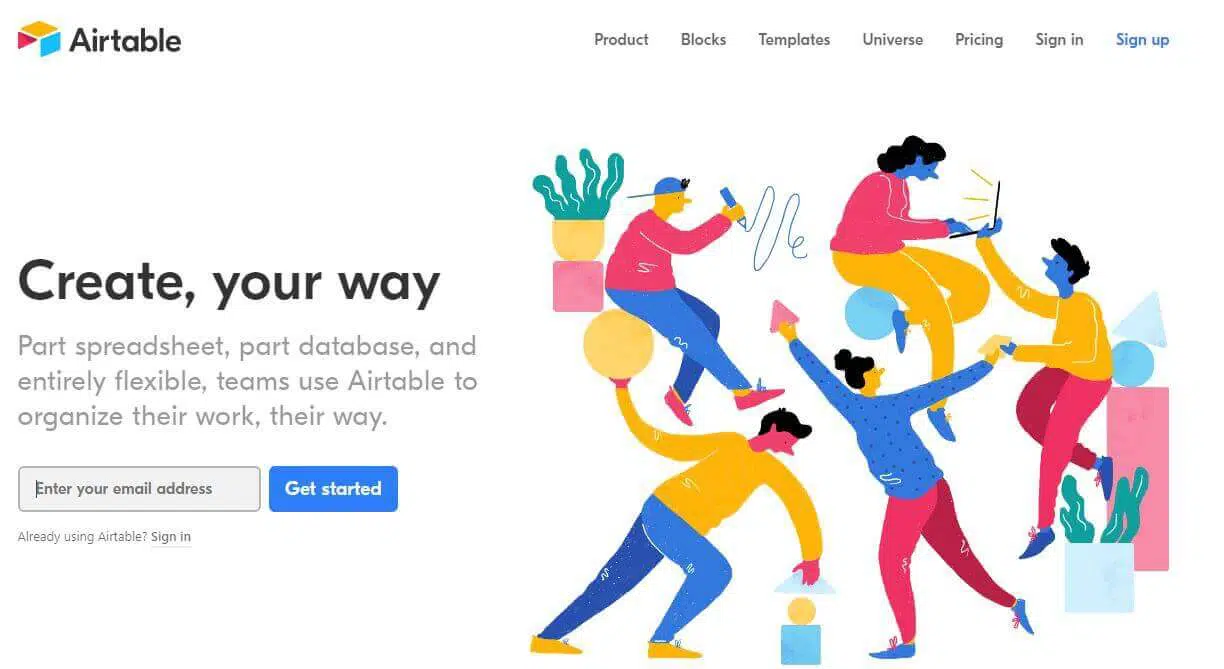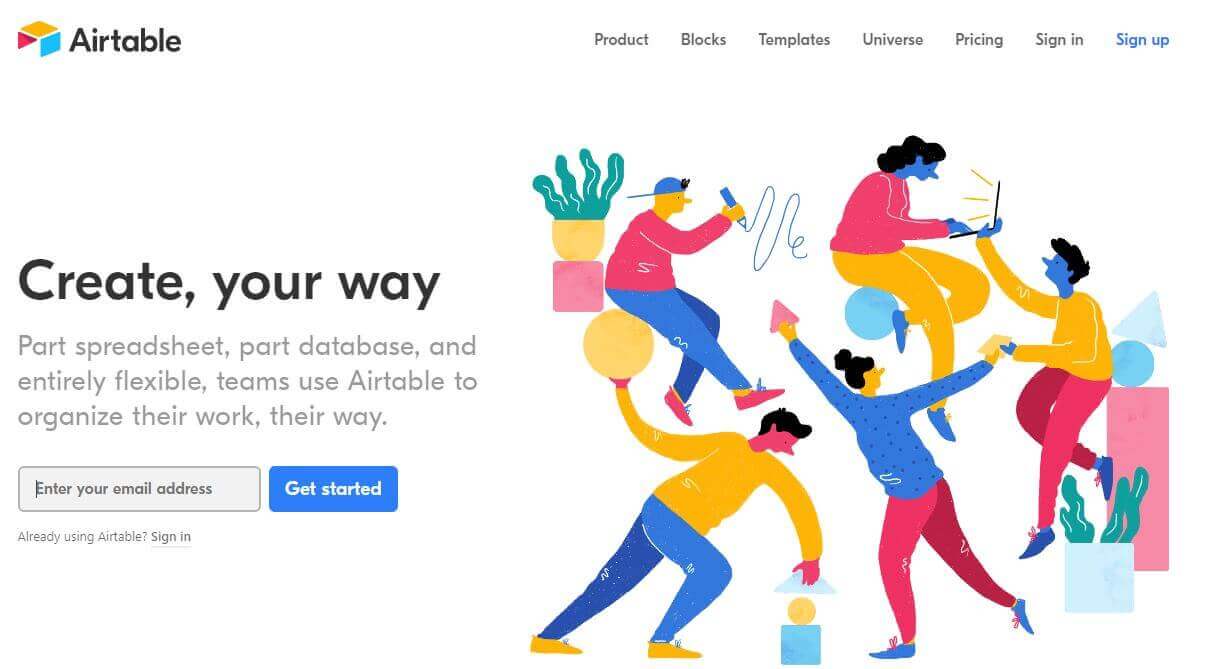 Airtable is a project management tool that allows users to manage their projects and tasks in an organized and efficient way. It also offers capabilities for tracking deadlines, managing resources, and creating reports.
One of the great benefits of Airtable is that it's easy to use. You can create a project with just a few clicks, and then add various tasks and files related to that project so that everything is easily accessible. You can also attach photos, videos, and other files to your tasks so that you have all the information you need right at your fingertips.
Features
A search engine that makes it easy to find information about any project or file in your database.
Timelines that help you keep track of when tasks are due and how much progress has been made.
Collaboration tools that allow teams to work on projects together easily.
Versioning and rollback functionality so you can always go back to previous versions if something goes wrong.
Reporting tools that let you see how your projects are performing overall, as well as detailed reports regarding individual items within them.
Pricing
Plus a $10/month
Pro a $20/month
Enterprise Call for details
9. ClickUp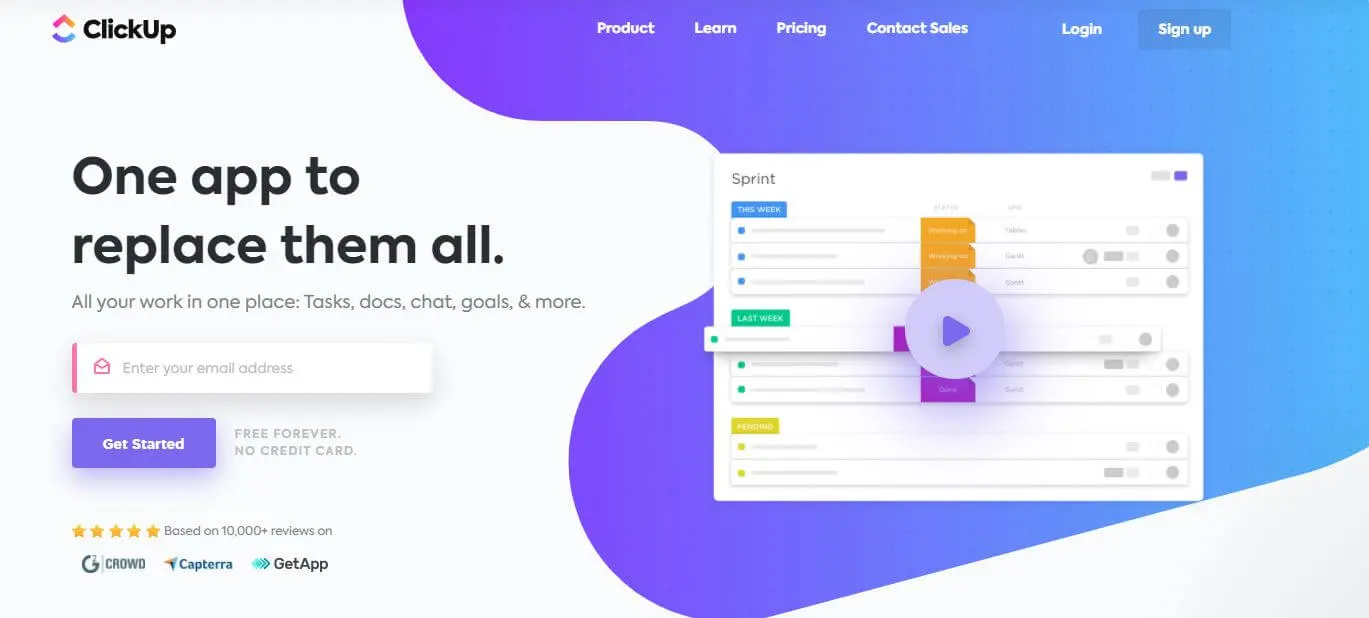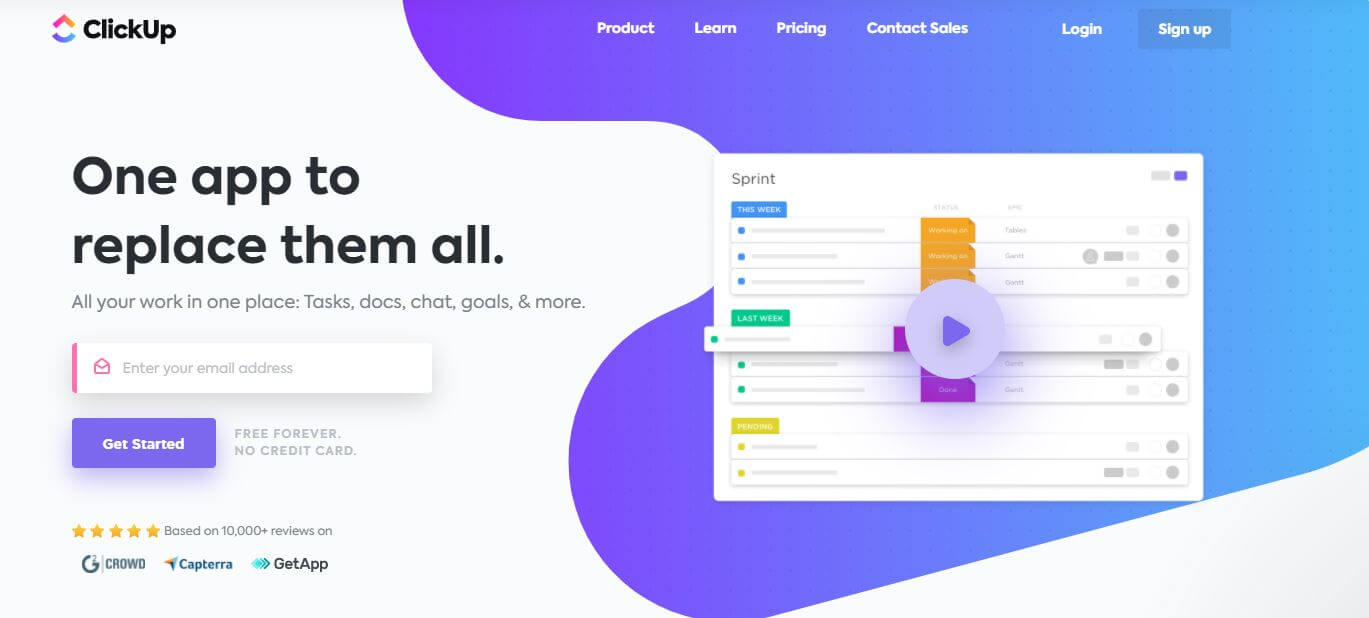 ClickUp is a project management platform that allows teams to collaborate and track their work in real time. It helps to streamline the process by providing a central location for all team members to access, as well as a set of tools that make it easy to manage projects.
One of the biggest benefits of using ClickUp is that it provides transparency into project status. This means that everyone on the team can see at a glance how things are going, and they can make adjustments as needed. It also makes it easier to resolve conflicts and optimize team productivity.
Features
Structured reporting that gives you detailed information about your projects, including progress reports and status updates.
Automatic work tracking and task management that makes it easy to keep track of who's doing what and when.
Collaborative task management that lets you work with other people on the same project simultaneously.
Automatic email notifications so you're always aware of changes or updates, even if you're offline.
Resource allocation tools that help you allocate the correct amount of time and resources to each project, ensuring they are used efficiently and effectively.
Pricing
Unlimited $5/per month
Business $12/per month
Business Plan $19/month
10. Basecamp


Basecamp is a popular task management software that's used by entrepreneurs, freelancers, and small businesses to manage their projects. It allows users to track their progress, assign tasks and deadlines, and communicate with team members easily.
Basecamp is extremely user-friendly and easy to use, which makes it perfect for busy professionals who need a simple way to manage their work and stay on top of their deadlines. It also has a wide range of features that makes it suitable for a variety of different purposes.
Features
Projects: Basecamp allows you to manage multiple projects at once, which makes it easy to see what's been done, what's still pending, and how much progress has been made.
Tasks: You can easily create, assign, and track tasks with Basecamp. You can also add notes and milestones to each task so you know exactly what needs to be done when.
Collaboration: With Basecamp, you can easily share your projects with friends or colleagues for feedback and support. You can also merge or split tasks so everyone working on them gets their own copy without confusion.
Reports: You can easily generate reports that show you how your project is doing overall (progress percentage-wise, time taken, etc.).
Pricing
Business $99/month
Nonprofits $89.10/month
11. Flow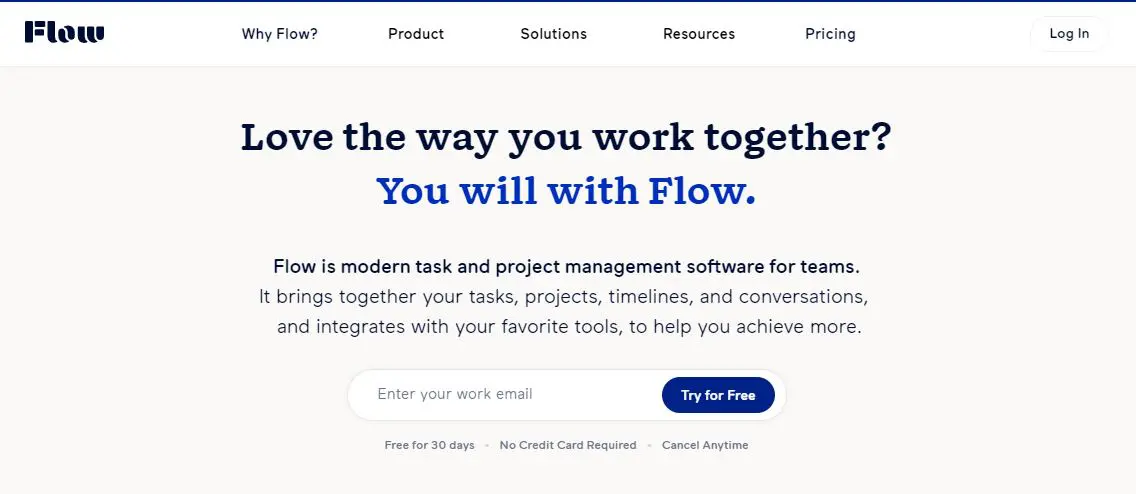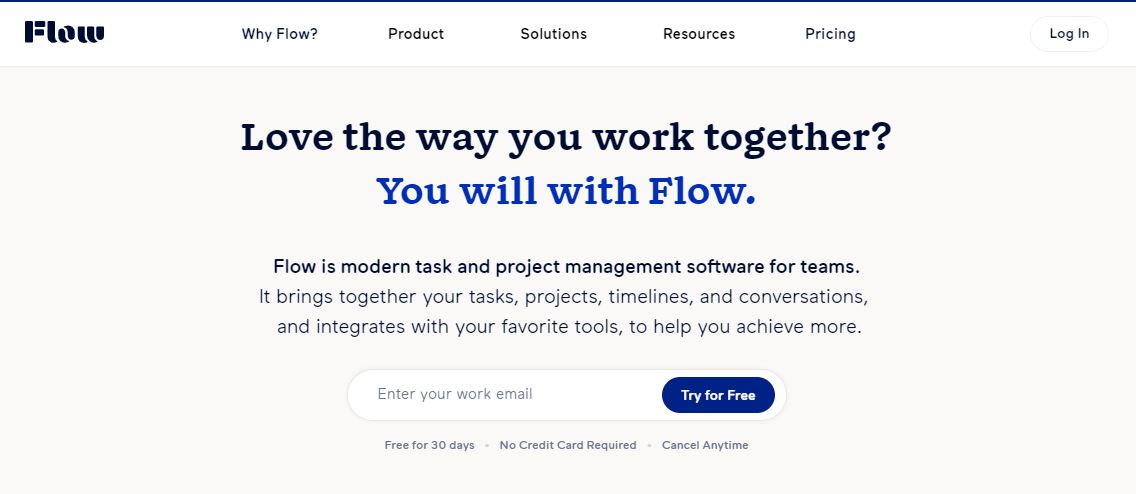 Flow project management software is a digital tool that helps you manage projects and tasks more efficiently. It provides a centralized environment in which you can track all your projects and tasks, as well as monitor their progress.
Flow also allows you to assign different roles to different team members so that everyone on the team has a clear understanding of what they're responsible for. This ensures that everything gets done on time and with the proper level of quality. And, if there are any problems or issues that arise, they can be easily resolved.
Features
Real-time tracking and reporting of project progress
Integrated communication tools that help you keep everyone up to date on the latest developments
Automated task management that helps you get your projects completed on time and within budget
Integrated resource management makes sure you have the right people working on the right tasks at the right times
Pricing
Basic $6/month
Plus $8/month
Pro $10/month
12. Proofhub


ProofHub is a project management software that helps you manage your projects and tasks in an effective and efficient way. It offers a comprehensive set of features that makes it ideal for managing different types of projects, from small ones to large-scale projects.
Some of the key features that make Proofhub stand out include its easy-to-use interface, its powerful task management system, and its advanced communication tools. The project management software allows you to track all your progress and milestones as well as monitor your budget and timeline. It also has integrations with various other platforms, so you can easily connect to your team members and collaborators across different industries.
Features
It has an intuitive user interface that makes it easy to manage your projects and track progress.
It integrates with numerous other applications, making it easy to keep track of your work across different departments.
It has an embedded chat feature that allows you to communicate with team members in real-time.
It offers a variety of reports and analytics that will help you understand your performance and optimize your workflow.
Pricing
Essential $45/month
Ultimate control $89/month
Why Do Teams Need Task Tracking Software?
Task tracking software is a valuable tool for teams because it allows them to keep track of their work in a consistent and organized way.
When tasks are tracked, it makes it easier for team members to know what they're supposed to be doing and when they need to do it. This prevents overlap and confusion, as well as wasted time and effort. It also makes sure that tasks are completed on time, which can save money and improve productivity.
What are the Features of the Best Task Tracking Software?
Automatic task syncing: This feature allows tasks to be automatically updated in real-time, so you always know what's been done and where it stands.
Efficient organization: The software should be easy to use and navigate, so you can quickly find whatever you're looking for.
Reporting and analysis: You should be able to see how your tasks are performing and how they're related to each other. This will help you track your progress and make better decisions about where to allocate your resources.
Customizable profiles: You should be able to create separate profiles for different users in your team, so everyone has their own set of data that's easily accessible.
Why is nTask the Best Free Free Project Task Tracking Software?
nTask is a free project task tracking software that helps you track your tasks, projects, and calendar events. It has a user-friendly interface that makes it easy to add, edit, and manage your tasks.
nTask also has features like automatic synchronization between all your devices, priority rules for your tasks, and customizable alerts for when your deadlines are approaching.
Frequently Asked Questions (FAQs)
How do you keep track of project tasks? 
When you're working on a project, it can be easy to lose track of what needs to be done and when. One way to keep track of your tasks is by using a task management system like nTask. You can also use these systems as online tracking tools in order that you are always aware of where the project stands. This will help ensure that deadlines are met without any surprises later down the line. Additionally, if someone else is working on the same project as you, they'll be able to access your lists and get started sooner rather than later!
How do I keep track of tasks for multiple projects?
One of the best ways to keep track of tasks for multiple projects is to use a project management system (PMS). A PMS allows you to create, manage, and track all your team's deadlines and tasks in one place. You can also customize the system to reflect your company's specific needs and preferences.
Some popular PMSs available today include nTask, Asana, Trello, Basecamp, Imagineer Systems' JIRA Cloud Edition, and Microsoft Project Server 2010 or 2013. It is important to choose the right platform based on your needs as well as those of your team members.
What is the best software for project schedulers? 
There are many different software options available for project schedulers, but one of the best is nTask. This program offers a wide variety of features that can help you to schedule and track your projects efficiently. Some of the most popular features include time management, resource tracking, project communication, and task coordination.
Additionally, nTask integrates with other platforms such as Google Drive and Slack which makes it easy to share information between team members or across multiple teams.
As It Turns Out:
By now, you must have understood that there is a new era of task management tools in the market. After reading all the features and benefits of the best project task tracking software, we are sure that you have enough reasons to select any of it.