In this blog, we will look at the best Pipefy alternatives you can use this year.
What Is Pipefy?
Pipefy is a workflow management platform that helps businesses of all sizes streamline their processes and increase efficiency. It is an easy-to-use solution with both drag-and-drop features, along with automated workflows to quickly create, build, and manage pipelines to optimize workflow events. With Pipefy, users can easily design custom forms without coding knowledge, while integrating additional tools like Zapier or Slack for added convenience.
Additionally, the platform offers various features such as templates to get started quickly, visual analytics to track progress against goals, activity monitoring to ensure tasks are completed on time, and more. Ultimately, Pipefy provides organizations with the necessary tools to digitize their operations in order to deliver better customer experiences and faster results.
Limitations Of Using Pipefy
Pipefy's customization options can be limited at times, requiring additional tools to achieve particular goals.
The user interface has some inconsistencies compared to other platforms which may create a learning curve for inexperienced users.
The platform's scalability is somewhat limited; while individual workflows can be scaled in terms of complexity, multiple workflows cannot easily interact with each other, meaning complex tasks may require the creation of several separate flows.
While there are pre-built templates and task cards available on Pipefy, advanced features such as automation and project tracking require considerable amounts of setup time and manual effort which could become costly over time.
Furthermore, certain features such as task discussions are not currently supported within the system but would need to be handled externally.
5 Best Alternatives For Pipefy
Let's take a look at the best Pipefy alternatives.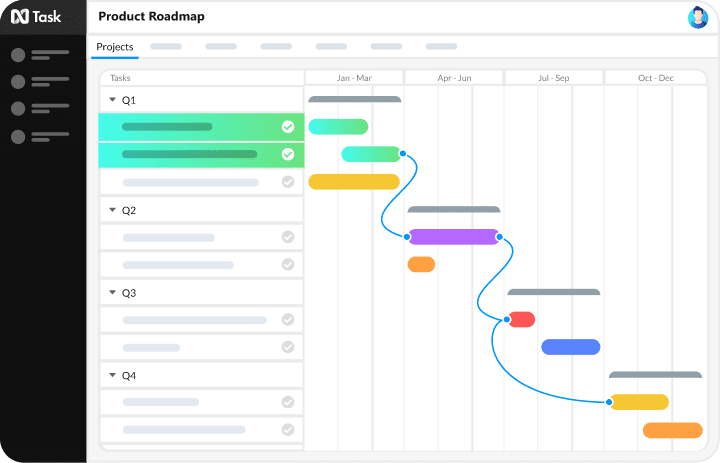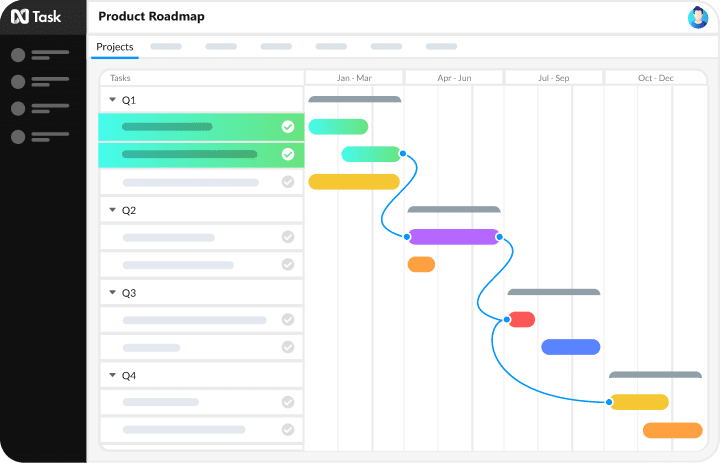 nTask is a powerful team organization software that can help businesses of any size manage their projects and tasks with ease. The software offers features like task tracking, project management, workflow automation, and resource management. In addition to these features, nTask also provides users with tools to collaborate better and make their workflows more efficient.
Given its comprehensive project management capabilities and cost-effectiveness, nTask is one of the leading Pipefy alternatives in 2023. Businesses looking for an effective way to manage their projects should definitely consider this powerful platform as an option. With its ability to help teams collaborate more efficiently, reduce waste and streamline processes – nTask is sure to become a leading tool for teams everywhere in the coming years!
Features
Task organization: Allowing users to create, assign, and manage tasks in order to meet deadlines
Calendar integration: Allowing users to sync events on their calendars with task schedules for easy tracking
Goal setting: Users can set long and short-term goals for their projects as well as individual tasks
Collaboration tools: Features such as chat rooms, shared documents, and whiteboard sessions make it easier for teams to stay organized and communicate effectively
Data analysis: Powerful reporting tools let administrators track project performance over time
Customizable workflows: Users can tailor their workflows using preset templates or building their own from scratch.
Integrations
Some of the top integrations of nTask include,
Zoom
Google Calendar
Outlook Calendar
Apple Calendar
Microsoft Teams
Google Meets
Pricing
Premium $3/month
Business $8/month
Enterprise Customized pricing
Customer Ratings
2. Notion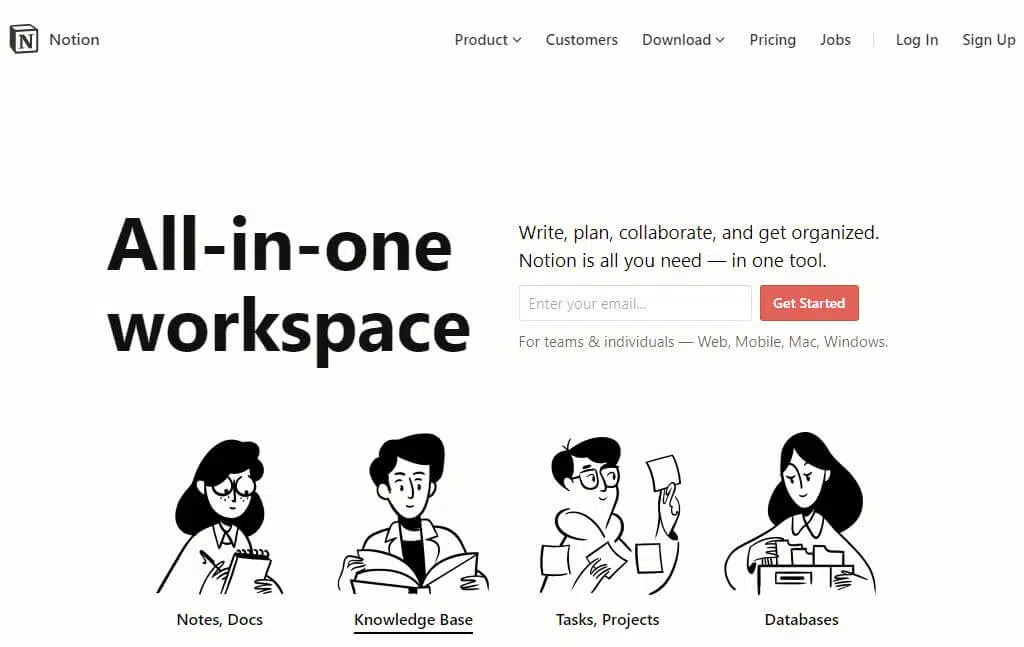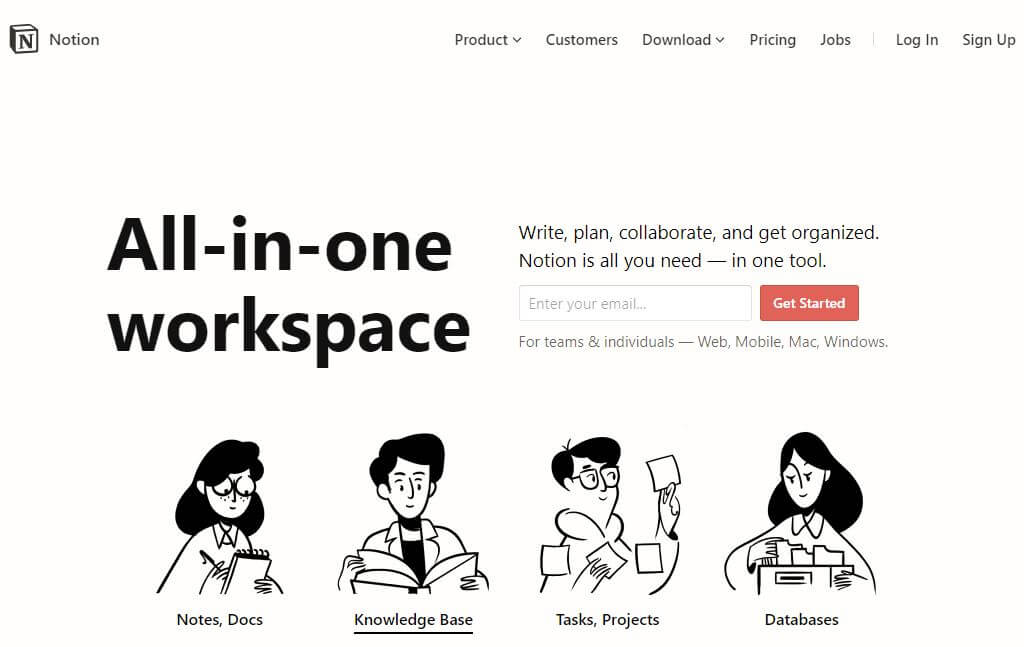 Notion is a popular project management app that helps users stay organized and accomplish tasks more efficiently. With Notion, users can create projects, set goals, assign tasks to team members, track progress, and monitor performance. By centralizing all the information related to a task or project in one place, Notion makes it easier for teams to collaborate and get things done.
Notion allows users to customize their workspace according to their needs by adding boards, tables, and lists. It also has an intuitive drag-and-drop interface which makes it easy for anyone to create workflows without coding experience. Furthermore, its robust version control system lets teams keep track of changes made over time in order to ensure everyone is working from the most up-to-date information. 
Features
Task Management: Notion provides a range of task management features that make it easy to keep track of projects, tasks, and deadlines. It's possible to create kanban boards for visualizing progress, workflows for collaboration, and automation for automating processes.
Note-Taking: Notion is designed with note-taking in mind. It allows users to create rich notes using text, images and embeds from other services like YouTube or Twitter, as well as tools like tables and calendars.
Calendar Integration: Notion integrates with Google Calendar so users can view their tasks on the calendar side by side with other events they need to remember.
Document Sharing & Collaboration: Notion makes it easy to share documents between team members and collaborate in real-time on documents shared through the platform's secure servers.
Data Storage & Backup: Notion also stores all files securely on its own cloud storage platform for safekeeping should any device become lost or damaged
Integrations
Asana
GitLab
Box
GitHub
JIRA
Trello
OneDrive
FIGMA
Dropbox
Slack
Google Drive
Pricing
Free Plan
Plus $8/month
Business $15/month
Enterprise Custom/month
Customer Ratings (G2, Capterra)
3. Zenkit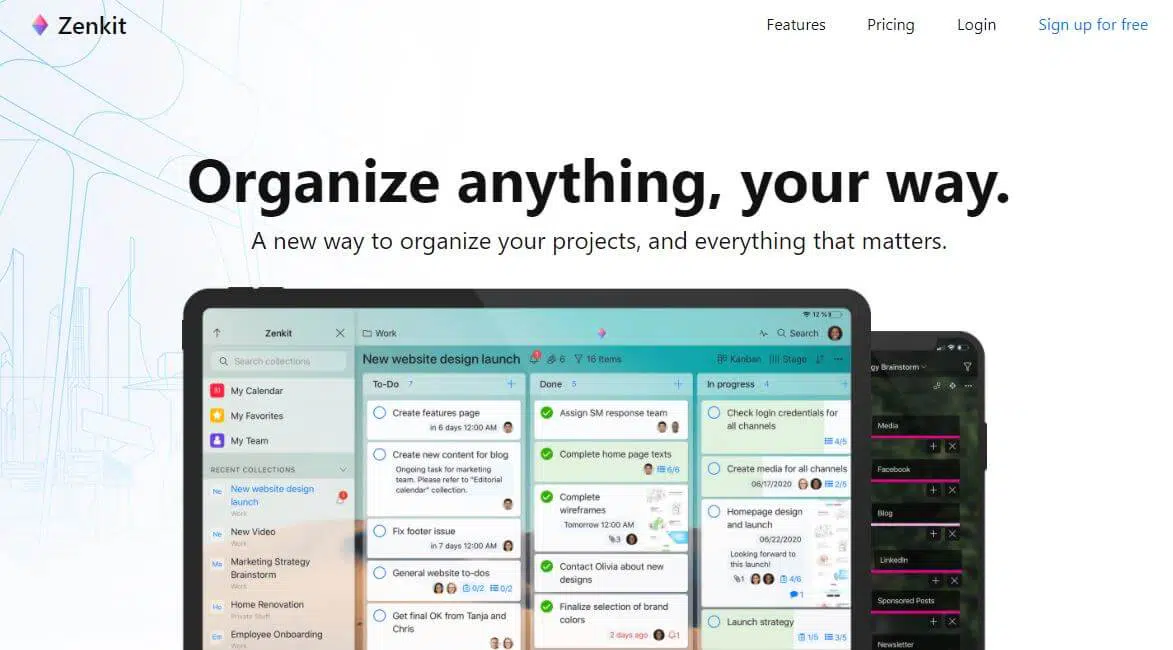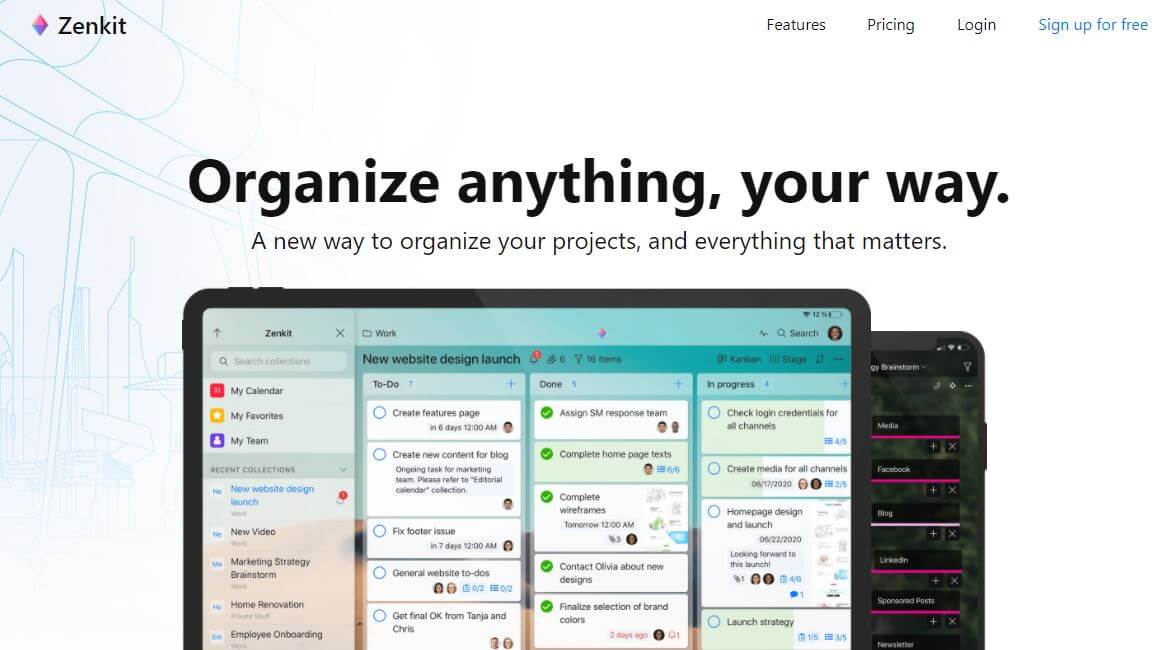 Zenkit is a task management tool that boasts "a clean design and an easy-to-use interface." It gives users the ability to create tasks, assign tasks, set deadlines, track progress, and review completed tasks—all from their desktop or mobile device.
For those who need to plan ahead and stick with their schedule, Zenkit makes it easy to prioritize tasks by giving users the option of assigning categories like "Urgent" or "High Priority." Users can also sort through their current projects with a robust search feature, as well as filter out overdue or completed tasks so they don't get lost in the mix. The user dashboard displays all of your active projects at once so you can move quickly from one project to another without having to switch screens.
Features
Automated scheduling and reminders: helps manage workflow by setting up automated triggers for tasks, events, and deadlines with personalized alerts.
Comprehensive task lists: create detailed lists of tasks to prioritize and manage daily activity.
Resource management: Assign resources to tasks, track progress in real time, and adjust workloads accordingly.
Customizable workflows: Streamline processes with customizable fields that provide structure around complex activities.
Task delegation: Assign specific tasks to team members with the ability to provide feedback or request changes while monitoring progress.
Collaboration tools: Enable teams to collaborate on the same project within the same platform using shared workspaces, chat rooms, file-sharing tools and more.
Searchable history & reporting capabilities: Create reports across projects and view historical data for easy tracking of project performance over time.
4. Parabola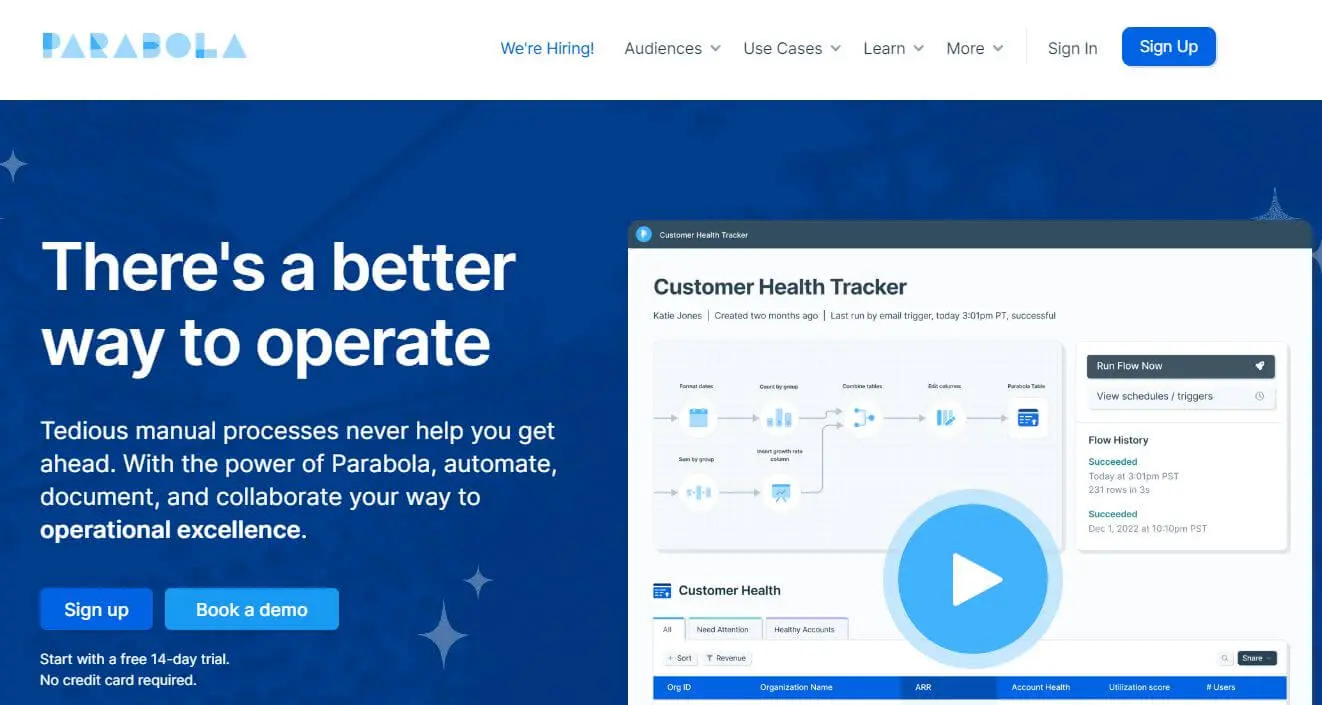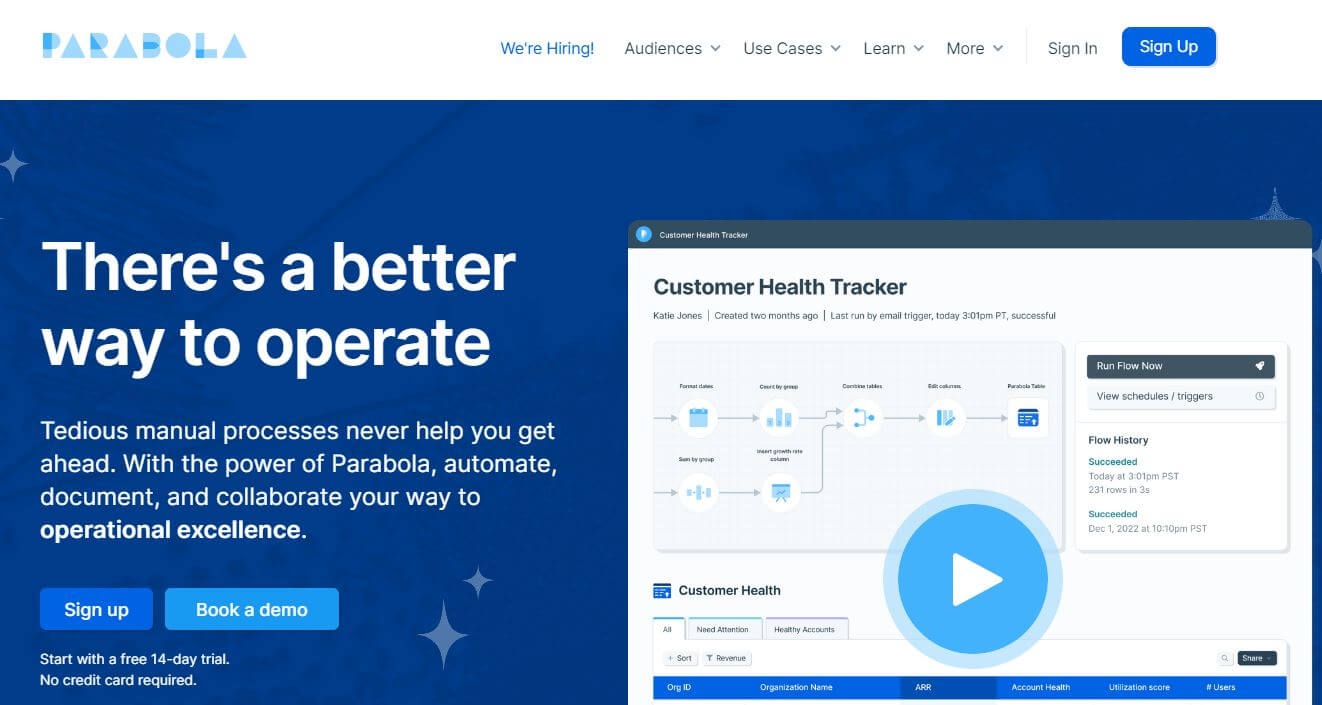 Parabola is an innovative project management software solution that helps teams stay organized and efficient. It streamlines workflow processes, allowing users to manage their projects from conception to completion in one central platform. From the initial planning stages to the rollout of a product, Parabola ensures that everyone involved is well-informed and on task.
The main features of Parabola are its intuitive interface, which makes it easy for even novice users to set up and manage their projects; its drag-and-drop functionality; automated notifications; customizable templates; integration with various third-party tools such as Slack or Zoom; and data visualization tools. All these features help teams save time by quickly finding important information, prioritizing tasks, tracking progress in real-time, and more.
Features
Create multiple projects and assign tasks: Parabola allows users to create an unlimited number of projects and individual tasks within each project, giving them complete control over their workflow.
Robust reporting system: The software provides a comprehensive set of reports that can be tailored to user needs, such as tracking progress on specific goals or analyzing time spent on various tasks.
Gantt chart views: Parabola's Gantt view is an intuitive way to visualize and manage complex schedules. Projects can be broken down into smaller, more manageable parts which are represented clearly in the chart format so that progress can easily be tracked from start to finish at a glance.
Collaboration tools: Users can assign tasks directly to team members, with files being shared easily through the platform for quick collaboration between colleagues no matter where they are located.
Direct messaging features also allow teams to keep up with all communication in one place and work together efficiently without any delays or misunderstandings.
Custom workflows & processes: Parabola allows users to customize their own unique workflows by creating pipelines that match their specific requirements – such as setting automated triggers when milestones have been achieved or creating scripts for repetitive tasks like document review or product testing cycles
Integrations
Some of the top Parabola integrations include,
Box
Bubble
CSV File
Copper
Databox
Drip
Dropbox
Excel
Facebook Ads
Pricing
Basic – Free
Plus $80/month
Advanced Contact Sales
Customer Ratings (G2, Capterra)
5. Flow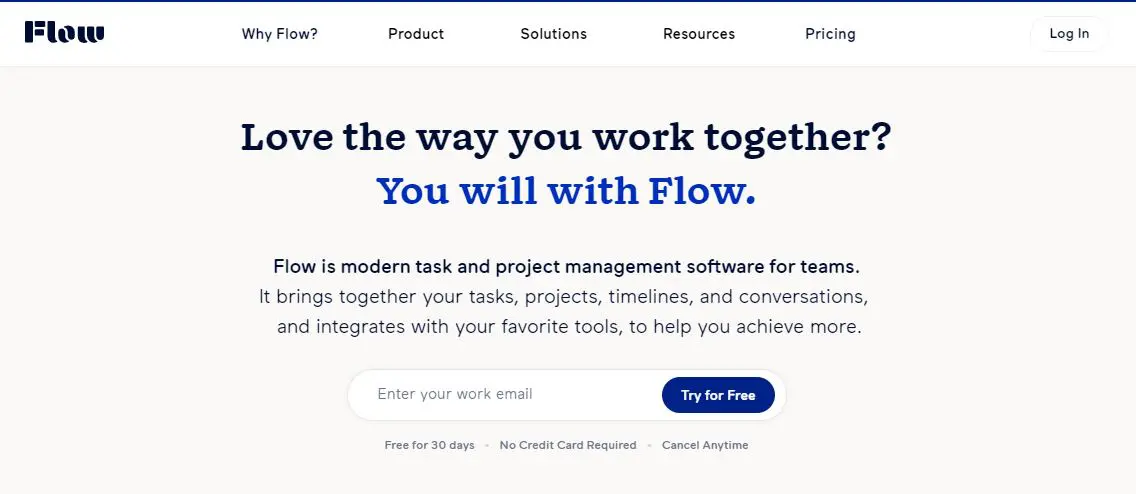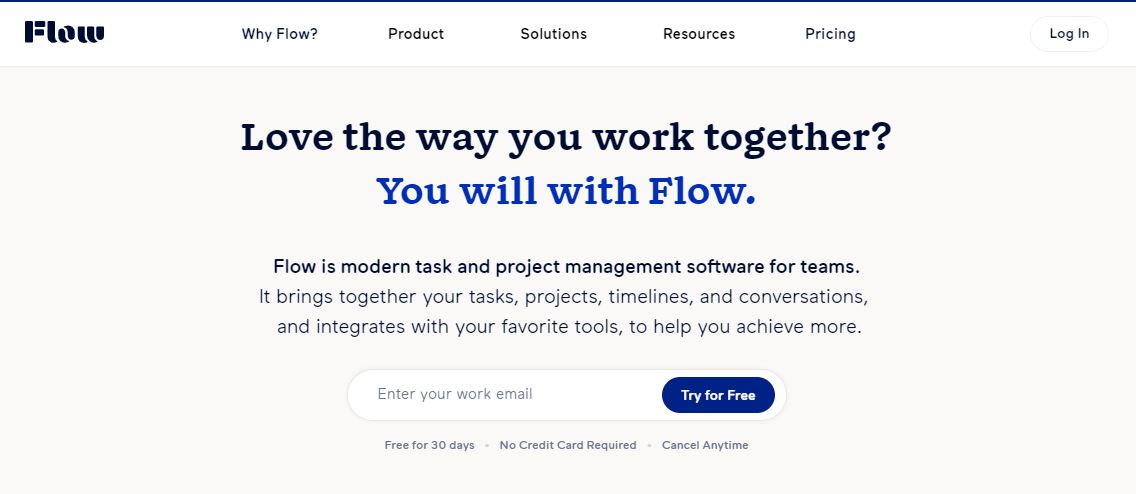 The Flow project management tool is an innovative and efficient way to manage projects. It provides users with a comprehensive range of features, including task tracking, time tracking, calendar synchronization, resource scheduling, budgeting, and reporting. It's easy to use and allows virtually anyone to become a productive project manager in just minutes.
Flow enables users to easily create tasks that are assigned to team members according to their expertise. This ensures that the right person is completing the correct activity at the correct time. All tasks can be tracked from start to finish with progress updates sent automatically when milestones are achieved or tasks are completed within expected timelines.
Flow also makes it easy for team members to communicate about their work by allowing comments and conversations on any given task so that everyone can stay up-to-date on the progress being made toward getting the job done.
Features
Organize and manage tasks: Flow allows users to easily create teams, assign tasks within those teams, and track progress in real-time.
Automate recurring tasks: Set up repeatable processes with automated workflows that keep your team on the same page while taking some of the tedious manual labor off their plate.
Streamline communication: Easily collaborate with your team members through discussions, comments, @mentions, and more for better project visibility and faster response times.
Track time accurately: Record important task information including start/end date and use color coding for quick reference without needing to manually enter data into external files or spreadsheets.
Easily share projects with stakeholders: Create a comprehensive overview of any project from its details to completion status so clients can stay informed without having to contact you directly for updates every time.
Integrations
Slack
Dropbox
Google Drive
OneDrive
Sharepoint
Box
Harvest
Google SSO
Microsoft SSO
Pricing
Basic $6/month
Plus $8/month
Pro $10/month
Customer Ratings (G2, Capterra)
5 Features That Make nTask The Perfect Pipefy Alternative
1. Flexible Pricing: nTask offers flexible, pocket-friendly pricing plans that are tailored to fit the budgets of large businesses, small teams, and individual users. All plans come with an unlimited number of users and an unlimited number of projects.
2. Intuitive Interface: nTask has a user-friendly interface that is intuitively designed to make managing tasks easy, without any prior experience or technical knowledge. It provides a neat overview of your progress so you can easily see what needs to be done next and how far along you've already come in achieving the task at hand.
3. Automated Workflows: With its automation feature, you can create automated workflows for recurring tasks or specific parts of your project process — reducing time spent on mundane tasks so that your team can focus their energy on more complex ones instead.
4. Collaboration Tools: nTask is equipped with powerful collaboration tools like group discussion boards, drag & drop file sharing capabilities, and comment threads — making it easy for teams of any size to collaborate with each other effectively no matter where they're located in the world.
5. Customizable Reports & Dashboard Views: Get insight into how well your team is doing by generating customizable reports based on categories such as task priority, project status, or type; plus keep track of all open tasks at once with a unified dashboard view that displays all ongoing activities across multiple projects simultaneously!
Conclusion
In conclusion, Pipefy is still a great tool for those looking to improve their business processes. However, with the emergence of new technologies and more competition in the market, there are now some great alternatives available that offer similar features and functions.
The five best Pipefy alternatives in 2023 are nTask, Flow, Parabola, Zenkit, and Notion. Each of these tools offers something unique but all provide an intuitive user experience that can help users streamline their processes and increase productivity. Ultimately, it's up to you to decide which one works best for your particular needs.