How do you know if your employees are working efficiently?
Simple, you monitor their performance. But what KPIs do you use to gauge their performance? How often do you conduct performance reviews? What are the standards you follow? The answers to all these questions define and streamline performance management for your company.
Performance reviews have a twofold function. On the one hand, they help top management track the performance of the employees, and on the other hand, they help employees identify the gaps in their performance. Both parties take away something beneficial from the review.
Traditional performance reviews, however, have become outdated. 59% of employees feel that these reviews are not worth the time invested in them, while 56% believe that the review they receive does not offer feedback on the gaps in their performance. Also, 95% of HR leaders have expressed dissatisfaction with the traditional performance reviews.
The problem with traditional performance reviews is that they are conducted annually, and the feedback is often outdated. Employees, these days, are on the lookout for performance management that helps them improve their skills, adds to their knowledge, and makes them better at their job.
They need an environment that fosters their performance for the betterment and allows them to grow. For this purpose, they expect regular feedback, set strategies to guide their performance, and appropriate tools and techniques to get the wheels in motion.
And here, enter performance management tools!
What Are Performance Management Tools?
Performance management tools are dedicated tools designed to track employees' performance. These tools help top management identify whether individual goals are aligned with organizational goals or not and whether employees are moving in the right direction.
The best thing about such tools is that they engage employees, helping them track their performance. With all the info in hand, employees can then make changes in their performance or find ways to direct their efforts in the right direction.
A study revealed that instead of improving performance, traditional performance reviews made it worse one-third of the time. Since traditional reviews have lost their effectiveness, it is time to change the way we do things, and a performance management tool is one way of doing so.
Top 5 Tools for Performance Management in 2023:
Like you, we are determined to find the best solution for efficient performance management. In the succeeding section, we have listed the 5 best tools for the purpose, along with their features and pricing details. take a look at these tools and choose your pick.
Whether you are working on-site, remotely, or have a hybrid workspace, you can employ any of these tools for performance management in your organization and make the process a walk in the park for yourself and your employees.
1. 15Five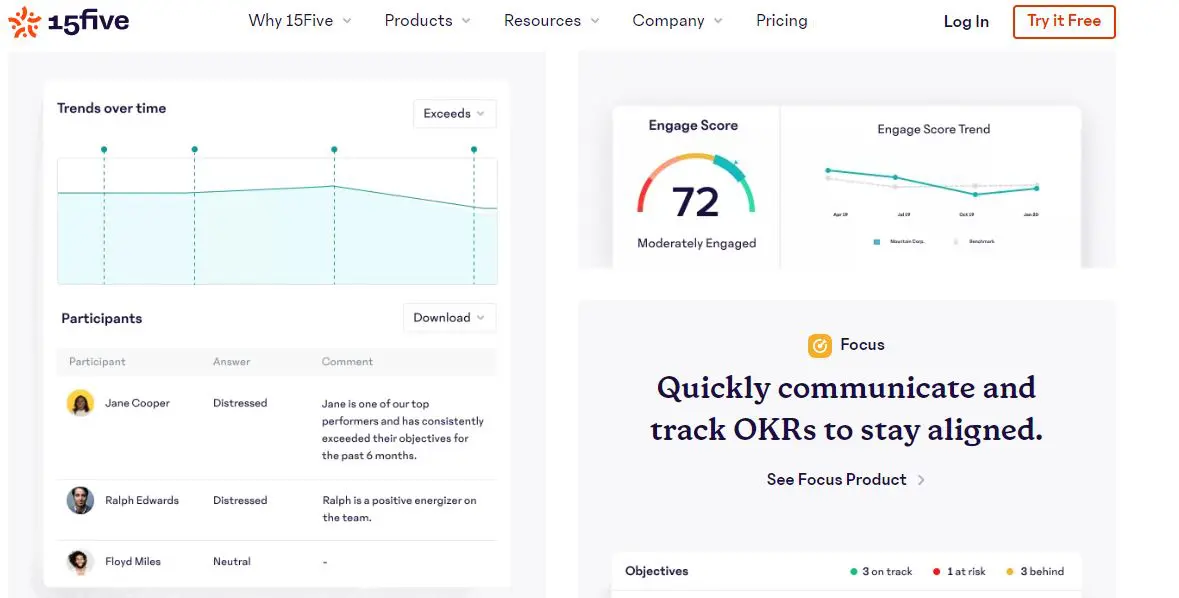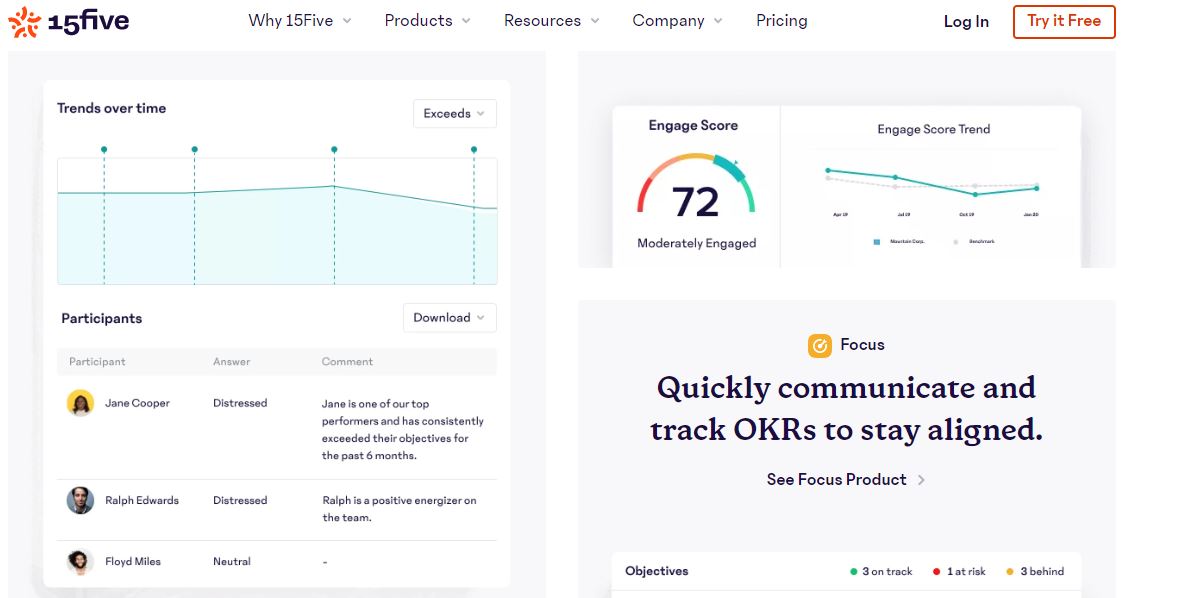 15five is a performance management tool that offers holistic performance and engagement solutions to help HR leaders with performance management. It engages employees and managers to bring out their best performance.
In addition to powerful performance management features, the tool also offers coaching and learning to empower individuals and help them reach new heights of success.
Key Features:
Evidence-based engagement assessments and easy-to-use tools for analysis
Detailed performance reviews
OKRs and goal-setting features
Training and coaching for managers
Third-party integrations
Free iOS and Android apps
Easy to use
Pricing:
Engage – $4 per user per month (billed annually)
Perform – $8 per user per month (billed annually)
Focus – $8 per user per month (billed annually)
Total engage – $14 per user per month (billed annually)
2. Engagedly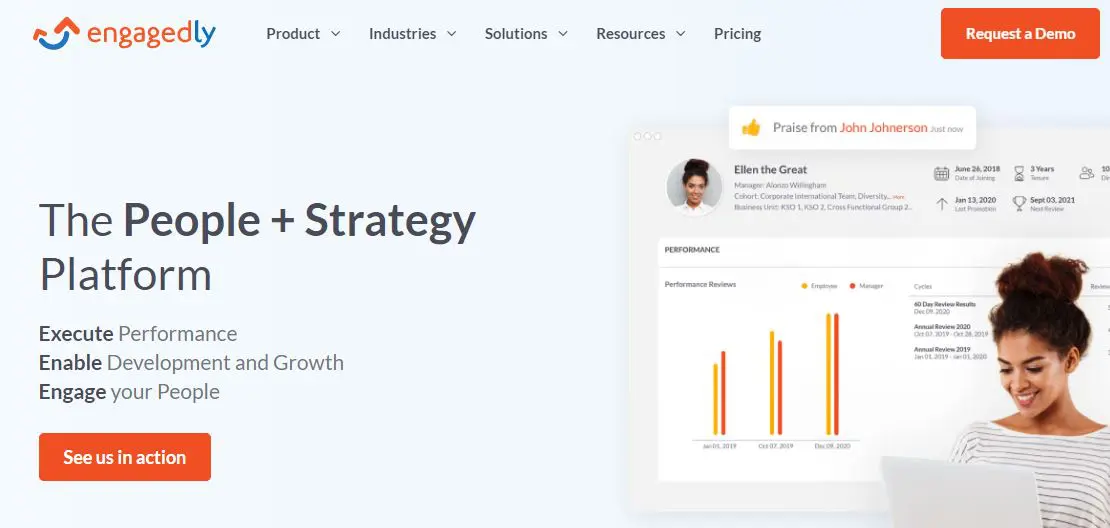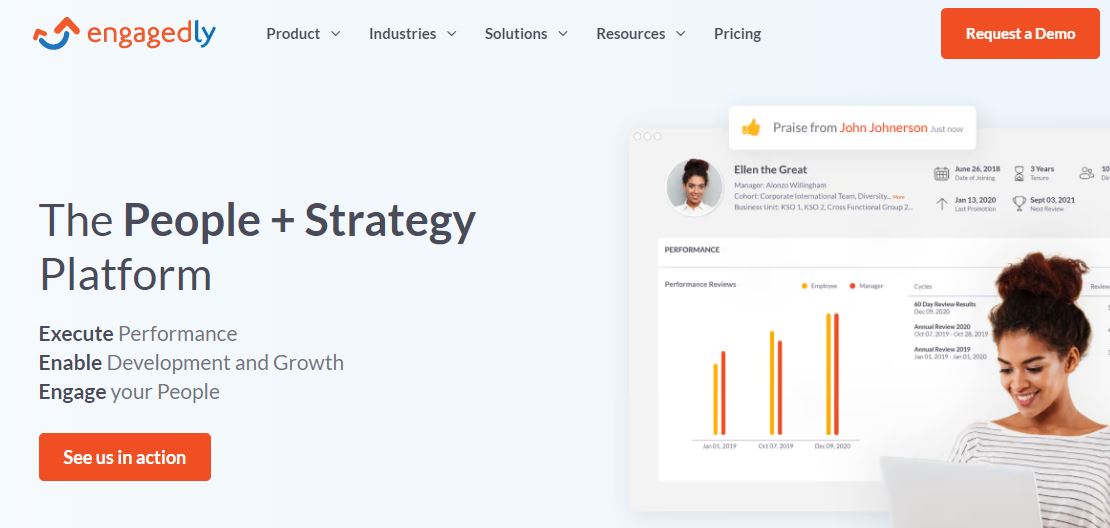 Engagedly is our second pick for the list. The performance management tool says they help, "Execute performance, enable development and growth, engage your people". It offers a variety of advanced features, including 360-degree feedback, goal management, etc., to help monitor and manage performance.
With the use of Engagedly, 90% of users see an increase in their employee engagement levels. It is also rated 4.8 out of 5 in terms of onboarding satisfaction.
Key Features:
Detailed dashboards
Informative real-time dashboards for the C-Suite employees
OKRs and goal alignment
Easy, effective, and comprehensive performance reviews
Real-time feedback
Comprehensive feedback from different stakeholders
Encourage online learning with training programs
Use Mentoring Complete to find the right Mentors for your employees from within the organization
Improve communication and collaboration
Surveys
Gamify behaviors
Pricing:
You can get in touch with Team Engegedly for pricing details.
3. BambooHR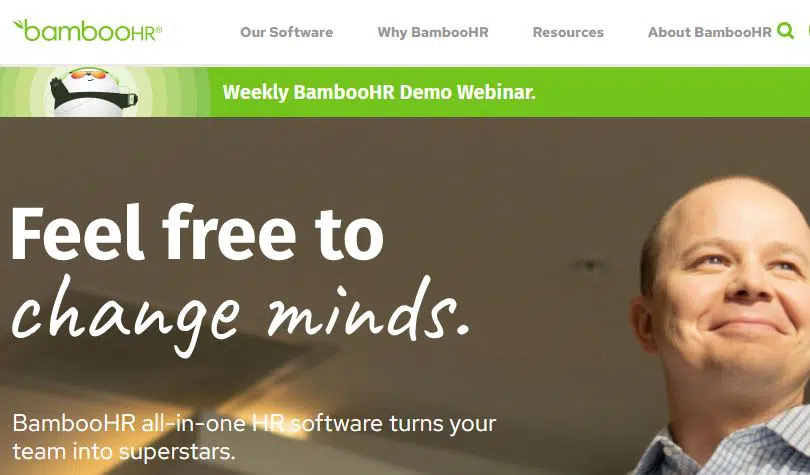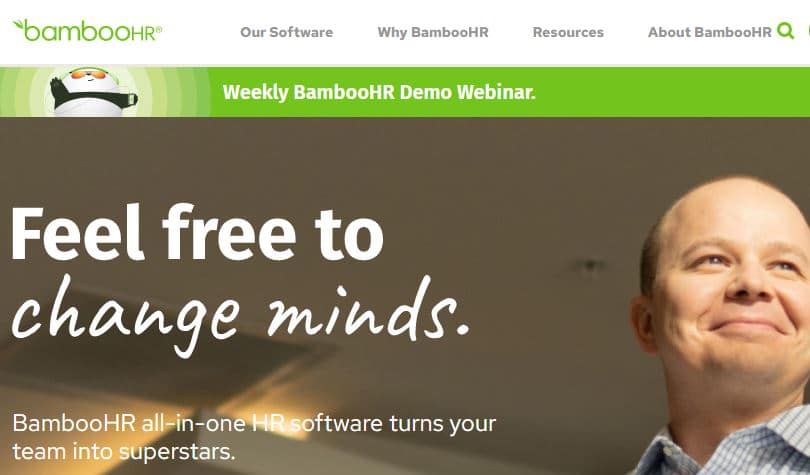 BambooHR is a dedicated tool designed to help with the onboarding process. The HR software also offers comprehensive solutions for performance monitoring and management.
It helps with the collection, maintenance, and analysis of data, improves the way talent is hired, makes the onboarding process easier, manages compensation, and develops your company culture.
Key Features:
Collects and organizes data and analytics
Applicant tracking system
Mobile hiring app
Employee records
Onboarding checklists
E-signatures
Time-tracking
Payroll
Measures employee satisfaction, wellbeing, and performance
Pricing:
You can contact team BambooHR to get a free price quote.
4. Synergita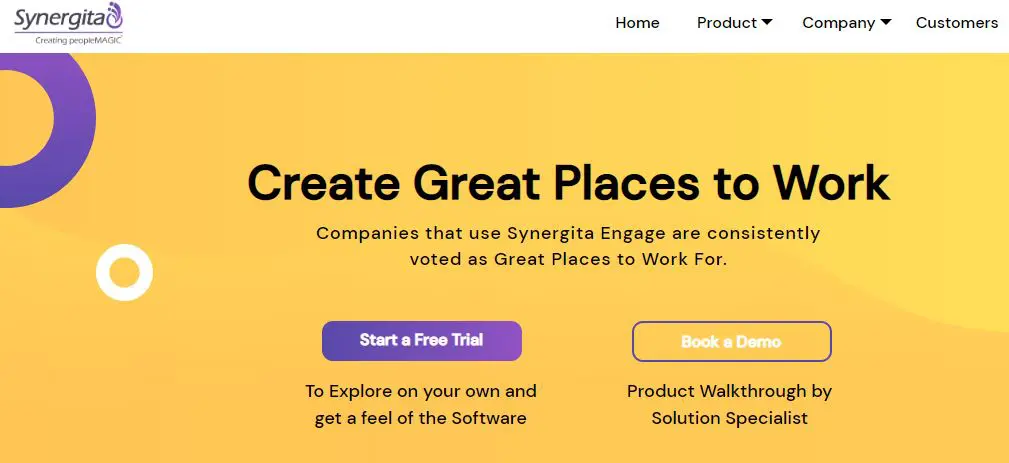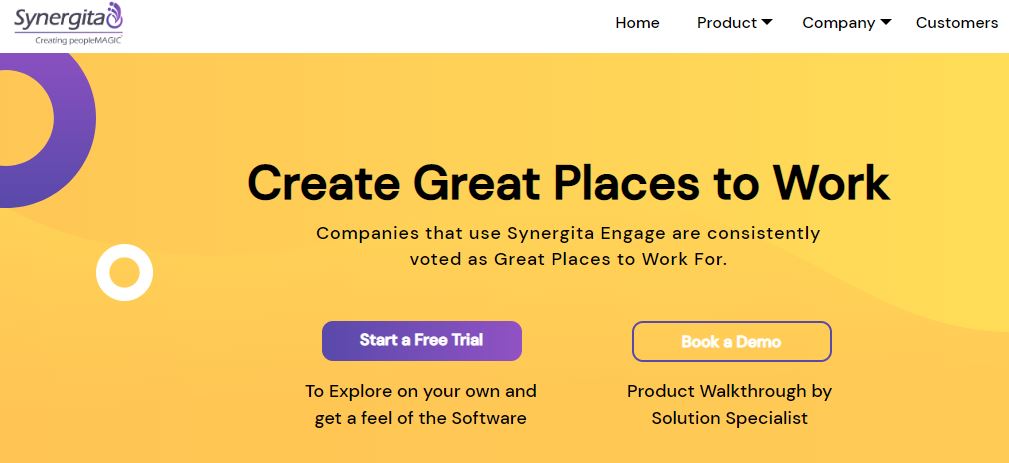 Synergita is a renowned performance management tool that offers businesses performance management, engagement, and OKR solutions. The tool is trusted by 350,000+ users worldwide for its robust features and efficient solutions.
Key Features:
Manage employee information
Set and manage goals
Continuous feedback
Rewards and recognition
Company culture score
360-degree feedback
Performance reviews
HiPo rating
Employee development plans
Skill training
Smart Job promotion features
E-communication via emails
Detailed reports
Employee engagement surveys
Pricing:
Synergita Engage – $2 per employee per month (billed annually)
Synergita OKR – $4 per employee per month (billed annually)
Synergita Perform – $4 per employee per month (billed annually)
Synergita Perform Plus – $7 per employee per month (billed annually)
5. Namely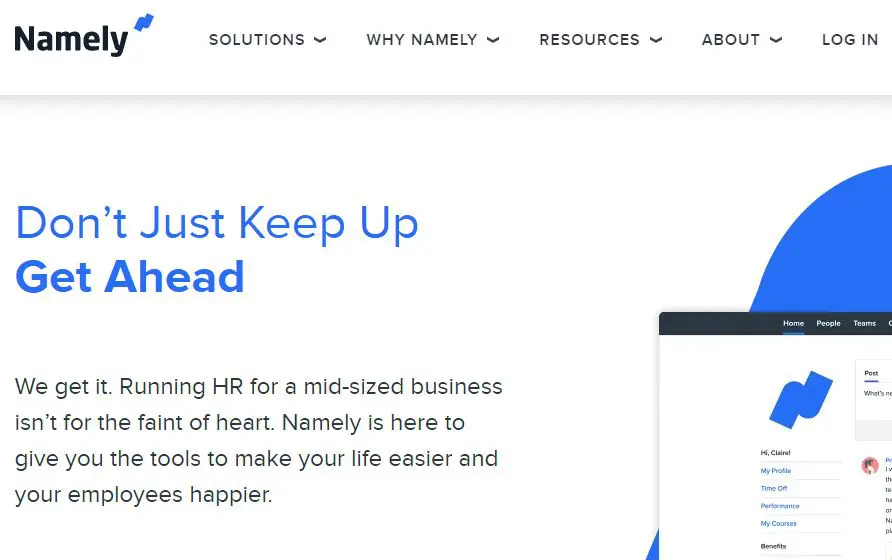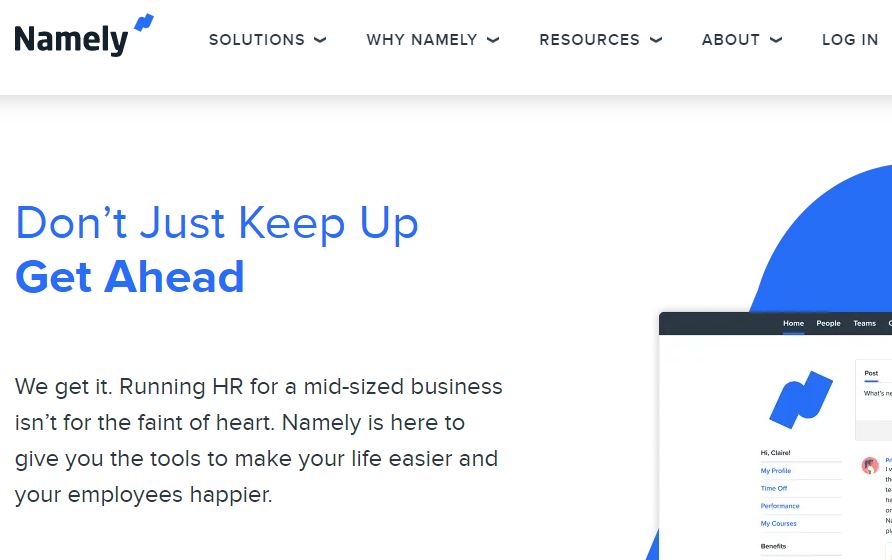 Namely is the last performance management system we will review in this article. The tool is an all-in-one solution designed to help HR teams and individuals with performance overview and management. The tool is specially designed for mid-size companies.
Namely organizes HR data into a single platform and offers a user-friendly interface customized to the needs of the business. it offers a combination of expert HR professionals and competitive, modern technology to give you a leg-up over your competitors.
Key Features:
Automate tasks
Store new hire forms
Collects eSignatures
Employee recognition
Performance reviews
HR analytics and reports
Compliance Library
Helps with payroll and recruitment
Integrations
Pricing:
Request a call with Namely's team to get a quote.
Benefits Of Using a Software for Employee Management:
The main purpose of performance management is to find a balance between the organization's goals and the employee's performance. Performance management software helps you with that by tracking employees' performance and helping them improve their productivity.
The following will help you see how beneficial an employee management system can be for an organization:
Employee Engagement: Since you are reviewing an employee's performance, they must be included in the discussion. A visual overview of their performance and regular feedback keeps them in the loop all the time. Tools for performance management help you engage with the employees.
Employee Recognition: Although some employees evade performance reviews, most look forward to the evaluations since they help them improve their performance and give them the recognition they deserve. With tools, you can involve them in the process, motivating them to do better.
Regular Feedback: One of the downsides to traditional reviews is that they are conducted annually. Modern tools, however, have gotten rid of this problem with regular feedback given to the employees to improve their performance.
Collaboration: The best takeaway of a good performance management tool is that with all the employees engaged in the process and increased interaction, collaboration becomes more efficient throughout the organization. Communication becomes easier and more frequent.
Accurate Reports: Tools rely on data gathered over time, so the reports generated by these tools are also accurate. You can use these reports to make better decisions in the future and improve the existing processes.
Goal Management: Performance management aims to align individual goals with organizational goals to make sure efforts are streamlined for better productivity. With performance management systems' goal management features, you can ensure that everything is on track and progress is smooth.
Criteria For the Choosing a Performance Management Software:
Although we have listed the top-tier tools here, you might be confused about determining which is the best for your organization.
Well, since we have taken the matter into our own hands, we will guide you through the process. In the proceeding paragraphs, you will find the criteria for a performance management tool. All you have to do is, read through the text and compare your requirements with the tool's features.
User-friendly: No matter what tool you choose, ultimately it will be used throughout the organization. Before you decide on a particular tool, make sure that it is user-friendly. A complex tool will only make the matters worse. You can also request a demo or start with a trial to test whether the tool is easy to use or not.
Flexible: Since you will be using the tool in your organization, it has to be flexible enough so that it can cater to the requirements of your organization. Customization options are a must if you want to mold the tool according to your company's standards.
Pricing: Your company will be paying for the tool you choose so its pricing has to be within the limits of the budget assigned by the company. If it's expensive, it will put a burden on your budget but also, do not compromise on quality. Don't worry, there are plenty of good tools available at affordable pricing.
Effectiveness: Whichever tool you choose at the end, its customer services should be top-notch so that you can always get in touch with them, whenever need be.
Employee Performance: Employee performance software should not be limited to monitoring performances but should help with improving the performances of employees.
Conclusion:
We have covered performance management tools in detail in this post and hope you have learned something significant. Which of these tools do you think will work best for your organization? Is there any other tool you would like to add to the list?
---
More Resources You May Like: