Note-taking is a crucial part of any professional designation. Whether you are a member of the project development team or the project manager of that development team, taking notes is always going to help make sure that you and your team are well-informed about the work that you have to do.
As we know that one of the best note-taking applications in the market right now is Microsoft OneNote. The application helps all sorts of people to retain the information they might need for another day and makes sure that they have access to that information from all over the world.
But as with everything, there are many different alternatives to MS OneNote as well, that can help you to improve your note-taking processes even further.
In this article, we are going to talk about those alternatives and help find out the crucial importance of those alternatives, if you want to switch from OneNote.
13 Best OneNote Alternatives to Use in 2023
Here is a list of the alternatives that we are going to about in this article.
Table of Contents
Top OneNote Alternatives for 2023
Let's take a look at all of the wonderful OneNote alternatives in detail and find out how they are more useful and beneficial than OneNote.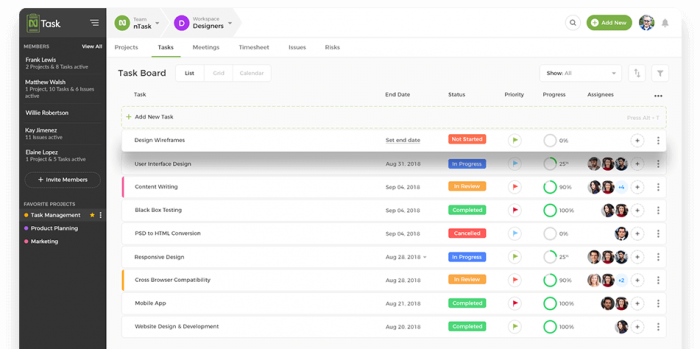 One of the very best things about any software or tool is its ability to multitask. You have heard about nTask as one of the very best project management and task management application in the market right now, but what you may don't know is that it is an incredible note-taking app too.
The applications help make sure that all of the tasks and processes that you are working on, using the application are properly documented, and all of the little notes and important things that you need to write down, are properly stored and accessed from all around the world.
Here is a list of features that this incredible OneNote alternative has to offer to its clientele.
Key Features
Task Management
Note-Taking
Comments
Increased Collaboration
Resource Management
Time & Expense Tracking
Pricing
Basic free plan
14-day free trial for Premium and Business plan
The paid pricing for this incredible OneNote alternative starts at $3/month
2. Evernote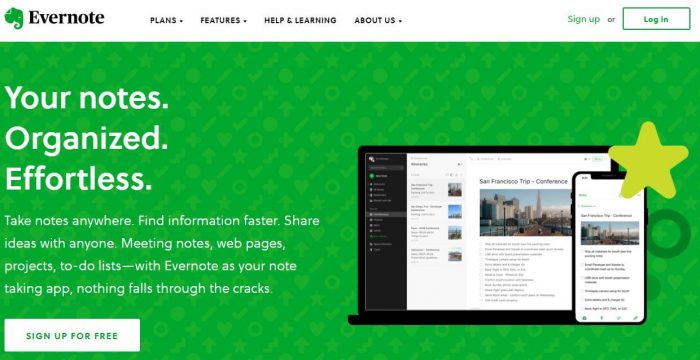 As we know that the reigning champion of note-taking applications for a while now has been Evernote.
The application is an incredible note-taking and documentation management application that allows you to keep in touch with every little information regarding your project, from all around the world.
The application is a masterpiece when it comes to bringing all of the best note-taking features from all around the apps in the marketplace, in a single interface.
Key Features
Access Controls
Collaboration Tools
Document Storage
Mobile Access
Filter
Version Control
API
Permissions management
Communication Management
Document Management
File Sharing
Search
Task Management
Pricing
There is a free version of the application if you want to use the tool without the full arsenal of features that the application has to offer
The paid pricing plans for this incredible OneNote alternative start at $7.99/month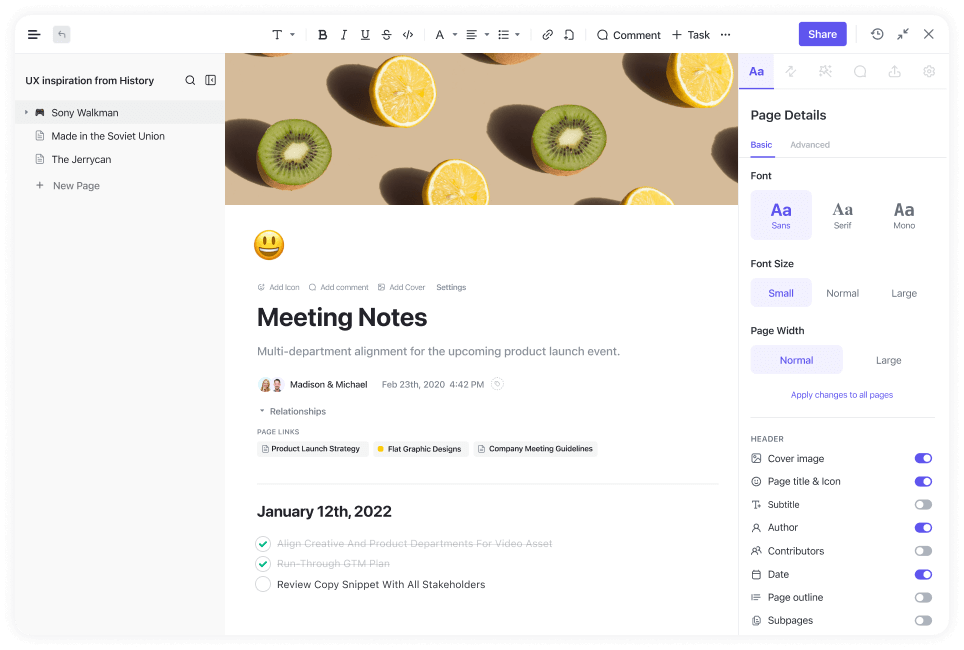 ClickUp is an all-in-one productivity tool for teams across industries to manage projects, collaborate smarter, and bring all of your work into one place. ClickUp is known for its feature-rich experience and customization capabilities; manage your workload, monitor project updates, and communicate with the team—no matter what project style you use.
ClickUp offers intuitive and powerful note-taking features, making it an ideal OneNote alternative. Create beautifully outlined wikis, knowledge bases, roadmaps, agendas, and more with ClickUp Docs. Additionally, real-time editing in ClickUp Docs and Whiteboards allows the team to work alongside each other, while ClickUp's Notepad lets store notes and checklists, format with rich editing, and transform your notes into trackable tasks. Download ClickUp's Chrome Extension and mobile app to keep your Docs and Notepad handy wherever you go.
Key Features
User friendly with drag and drop functionality
Fully customizable
Advance note-taking features
Search and filtering abilities
Collaboration detection
Custom permissions and sharing
Real-time editing and reporting
15+ view options
Global time tracking
Integration capabilities
Mobile app
24/7 customer support
Pricing
Add unlimited members and tasks and get 1,000 MB of storage with the Free Forever Plan
Get access to more advanced features with paid plans starting at $5
4. Notion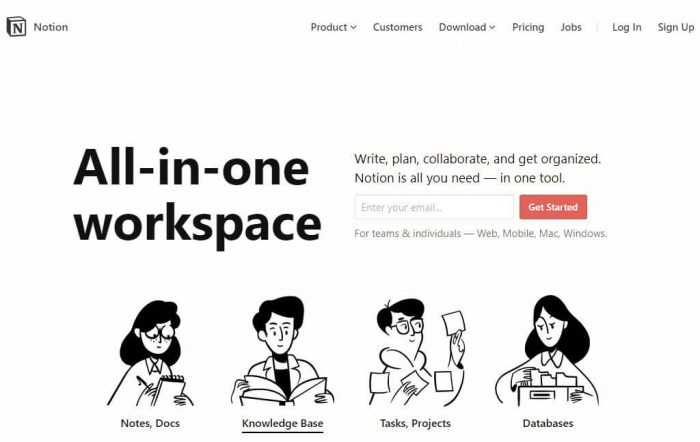 Another fantastic project management application that can be used as a note-taking application is Notion. The application is a tool that allows you to create a different project, pick all of the assignees for the right tasks and processes, and also add many different types of documents to the interface.
The application also supports different checklists, note history, team collaboration, and list items for greater visibility.
Key Features
Filters
Android and iOS apps
Smart notifications
Intelligent Grouping
Question surfacing
Intelligence Layer/ Auto learning
Highlights
Highlighting important emails
Smart Multi-Swiping
Snooze
Pricing
There is a free trial available if you want to check out the software without spending any money
If you want a paid subscription with the full arsenal of features, then you have to contact the company so that they can custom create a subscription for you according to your needs and requirements
5. Laverna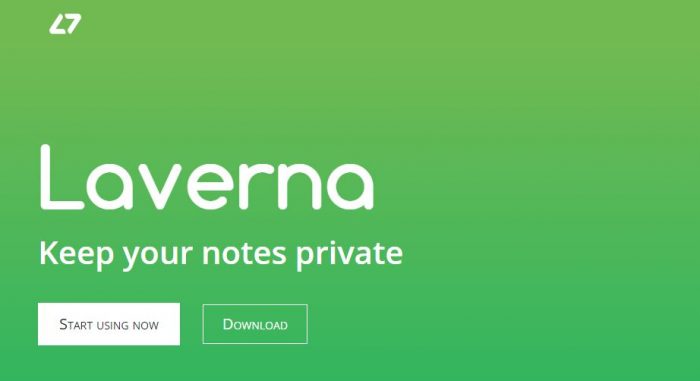 If you want a note-taking application that was purpose-built to maintain your privacy, then you need to check out Laverna. The application is an open-source note-taking application that brings end-to-end encryption and password protection to all of your notes in the interface.
Let's take a look at all of the different features that this amazing OneNote alternative has to offer to its clientele.
Key Features
No requirement for registration
Allows client-side encryption option
Create or manage to-do lists and notes both online and offline, so that if you are off the grid, you can still access all of your notes
Easy and free download for Windows, macOS, and Linux
Provides cloud storage synchronization
Pricing
This incredible note-taking application is free for all of its users around the world
6. Bear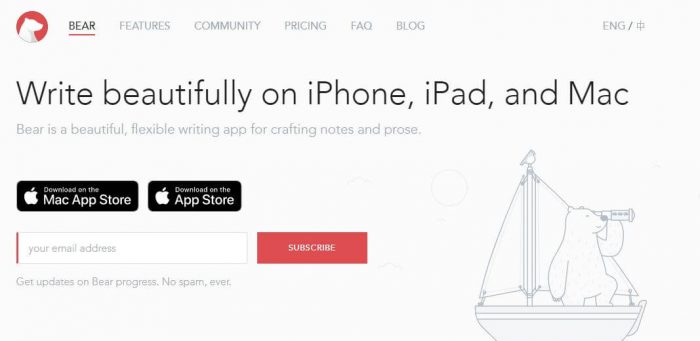 If you are an Apple fanatic and you need a note-taking application that is exclusive to the Apple ecosystem, then Bear is the application for you. The software, for many people, is the most beautifully effective note-taking application on the market right now.
Key Features
Advanced markup editor to make sure that the application is understands over 150 languages, simultaneously
Smart data recognition of all of the links and email addresses being input into the interface
Hashtags to find out specific notes from long lists
Focus mode to hide all of the notes that you don't want to see
Regular updates to make sure that all of your writing material is current and accurate
Pricing
The paid pricing plan for this incredible OneNote alternative starts at $14.99/per year
7. Zoho Notebook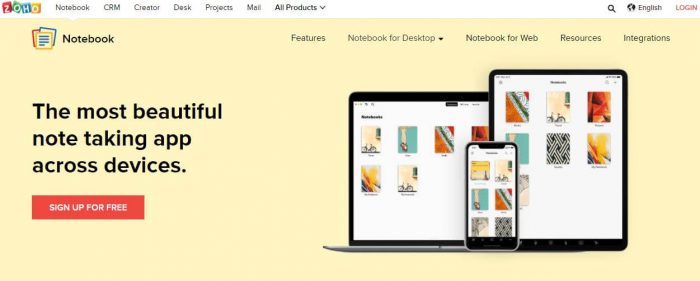 Zoho Notebook is an amazing OneNote alternative that allows you to take all of the notes that you want to take for your personal and professional life. Also, it can help you make checklists, record audio, and also to capture other moments that you deem important.
Key Features
Organize Notes
Notable Gestures
Find Notes
Sketch Functionality
Take Notes
Sync Notes
Customize Notes
Share Notes
Pricing
The application is free to use for all of the different clients that it has around the world
Check this out:
24 Best Zoho Alternatives to Use in 2023
8. Asana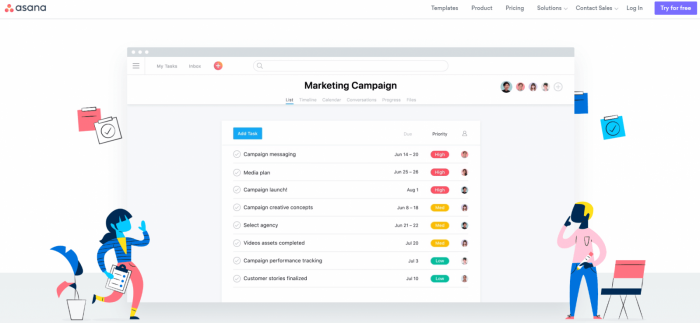 Another incredible application that you can use as a note-taking application and project management software is Asana. The application helps make sure that all of your tasks and processes are properly organized and managed.
The application can be used to manage all of the initiatives that you take as a company, create as many different projects as you want, and then complete different tasks within these projects.
Key Features
Add assignees, attachments, and hearts to tasks
Create custom calendars and views
My Tasks list and Focus Mode
Get notifications and reminders
Multiple workspaces
Real-time updates
Activity feed
Automatic updates to email/inbox
Email bridge
Track tasks and add followers
iPhone support, HTML5 mobile site
Project Sections and Search Views
Pricing
There is a free trial of this incredible software available for use if you want to check all of the features out, before spending any money
The paid plans for this incredible software, which includes all of the different features that it has to offer, are priced at $9.99/member/month
If you want the Enterprise model, that can house your big company, then you need to contact the company so that they can custom create a subscription for you
9. Notability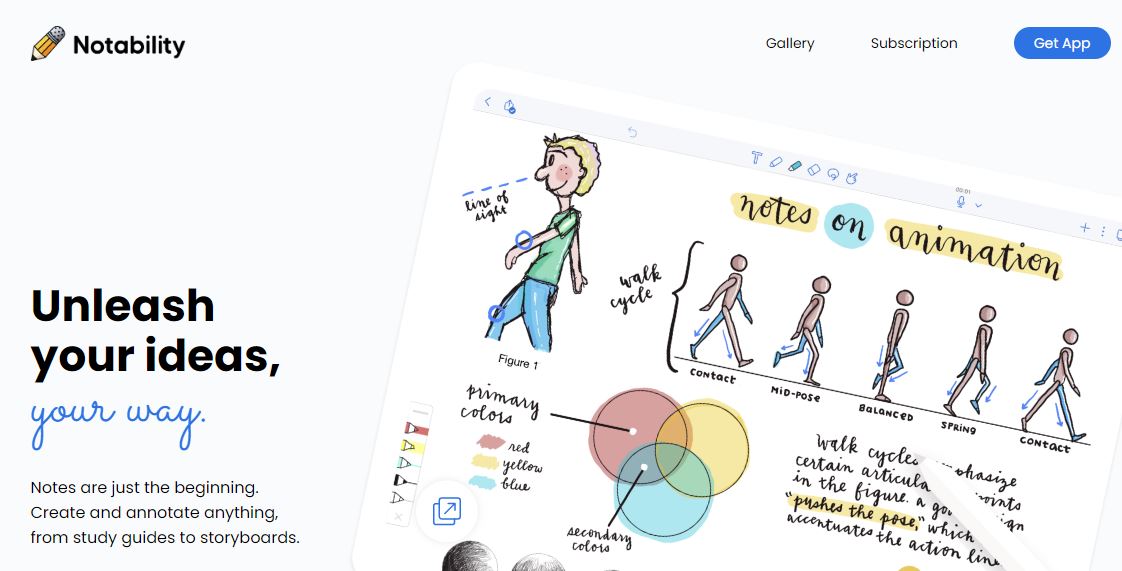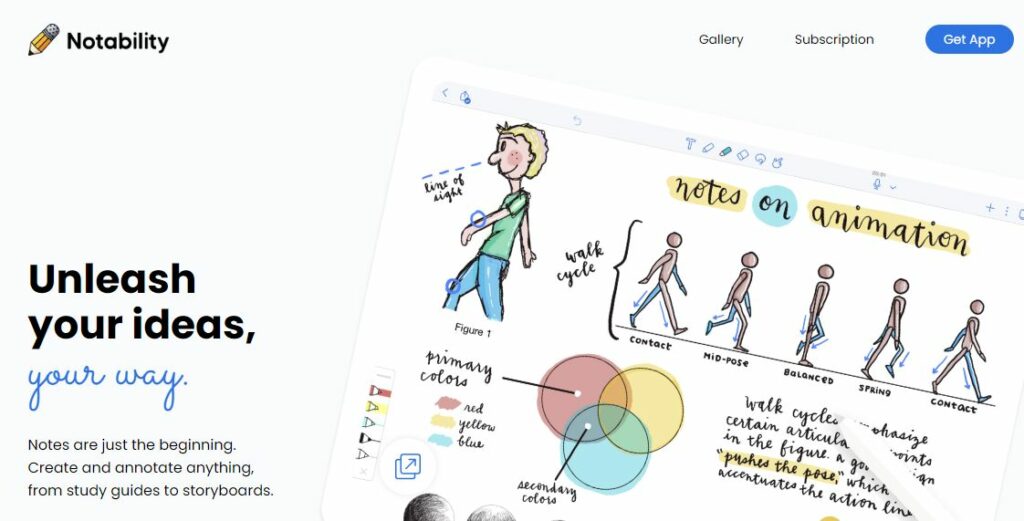 Another incredible OneNote alternative that you can find on the market right now is Notability. The application is a mobile-based note-taking tool that allows you to collaborate and manage different projects using PDF annotation tools and sketching.
The application also allows users to create hand-crafted notes with graphics, different web pages, or even image attachments. You can also organize these notes as per your needs and requirements.
The application also helps users to combine different sketches that they have created or the outlines that they have put forth, and share them with all of the relevant people that they work with or even with the people close to them in their personal life.
They can share these notes with their team members using different applications like Google Drive, Dropbox, AirDrop, and much more.
Users can also create different types of content as per their requirements, receive verbal or written comments from their colleagues, and playback different audio recordings by clicking on the required note in the interface.
The application also enables users to highlight different docs, photos, imported textbooks, and lecture slides, among many other things.
Key Features
Collaboration Tools
Data Import/Export
Drag & Drop
Handwriting Recognition
Notes Management
Annotations
Commenting/Notes
Document Generation
File Sharing
Meeting Notes
Project Management
Pricing
The application offers no free version or free trial that can enable you to enjoy the features that this application has to offer without paying anything, and if you want to use the application, you can pay a one-time payment of $10.82
10. Roam Research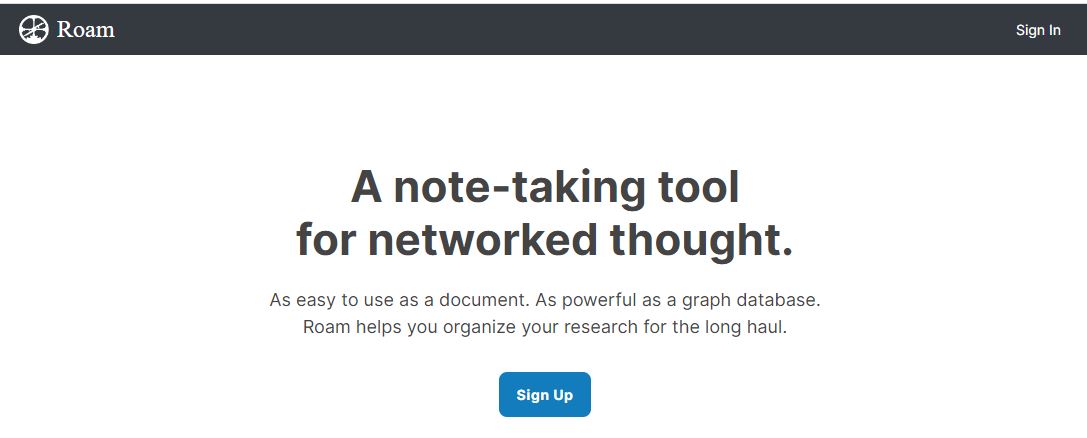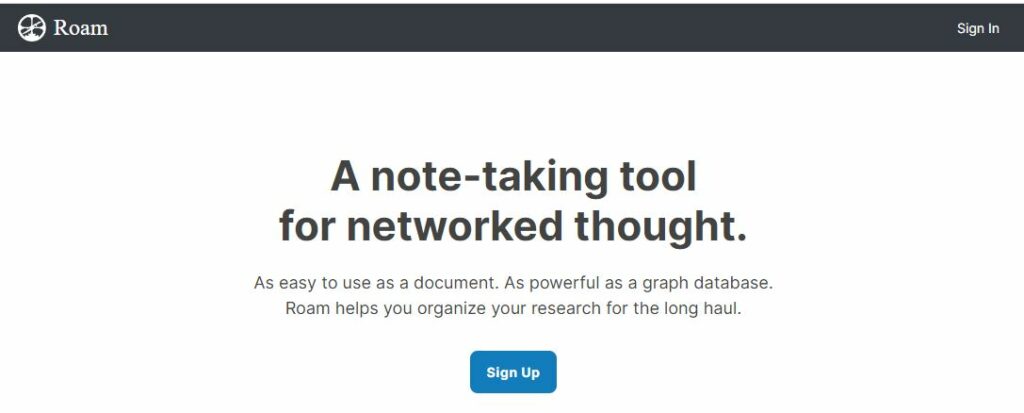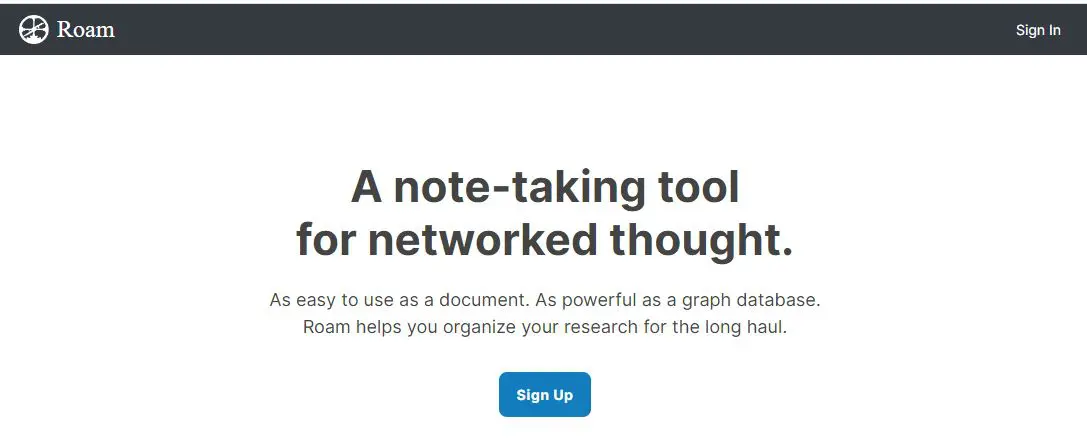 Roam Research advertises itself as "a note-taking tool for networked cognition," and it enhances mind mapping with bi-directional links: a node becomes a note that users may access by clicking on it.
Each note can have its own in-text links as well as be linked to other notes to establish connections. Roam Research's interface, in essence, mirrors how human thoughts work.
Because the formats are so dissimilar, OneNote users may struggle to interpret Roam Research.
Unlike OneNote, each Roam page is an outline made up of hierarchical blocks of text and visuals. As a result, unlike with OneNote, there are no notebooks or sections to open sequentially.
Features
For networked thinking, graph database connection
The basic package supports an infinite number of contributors
Writers, researchers, product managers, and graduate students are the most likely to utilize this note-taking application
Bidirectional connecting features enable the creation of mind maps from pages or related topics
Pricing
Roam Research provides a free 31-day trial
Pro plan starting at $15/month
Believer plan at $500/5 years
11. Apple Notes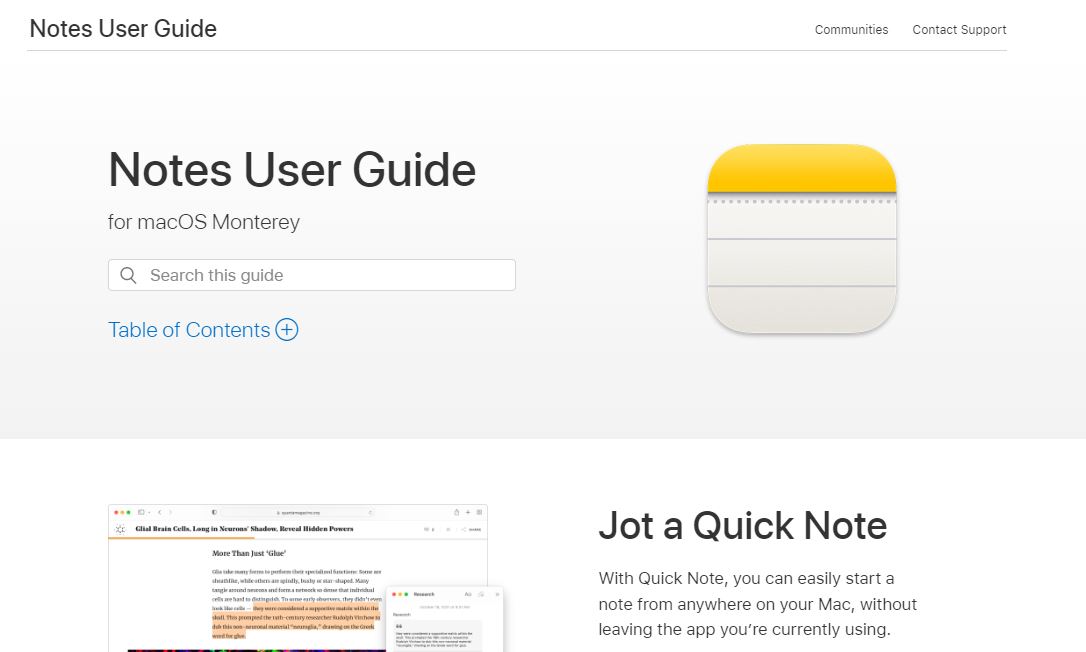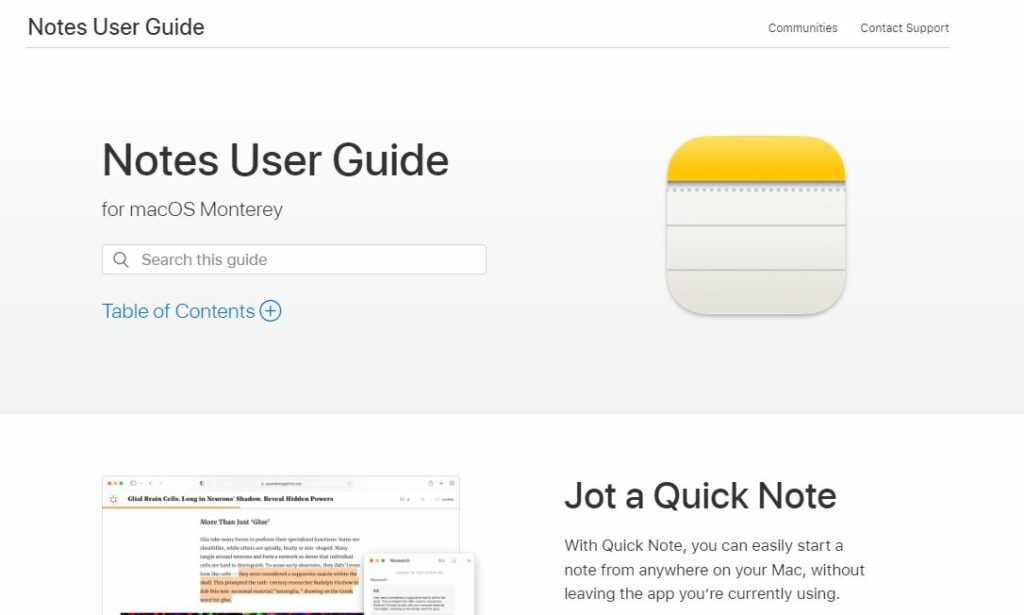 Apple Notes is the most secure software for taking notes on the go, whether you use FaceID, TouchID, or a password. Apple Notes works with all Mac and iOS devices. In recent years, Apple Notes has seen substantial improvements, making notes more accessible across all Apple devices.
While Apple Notes might be the first logical choice for Apple users, its note structure is quite restricted when compared to Microsoft OneNote's notebooks, sections, and pages.
Features
An Apple Pencil and a compatible iPad may instantly generate a note from the Lock Screen
Gallery display, allowing users to quickly discover the note they are looking for
iCloud sync across all Apple devices is automatic
Pricing
12. Milanote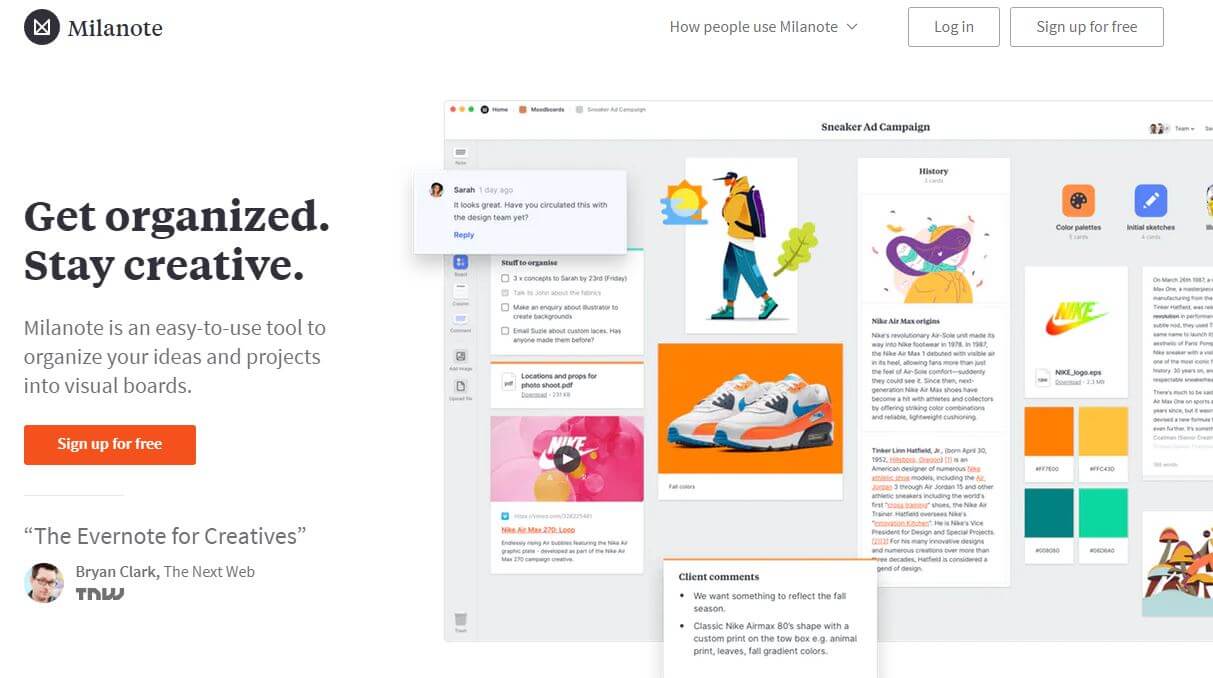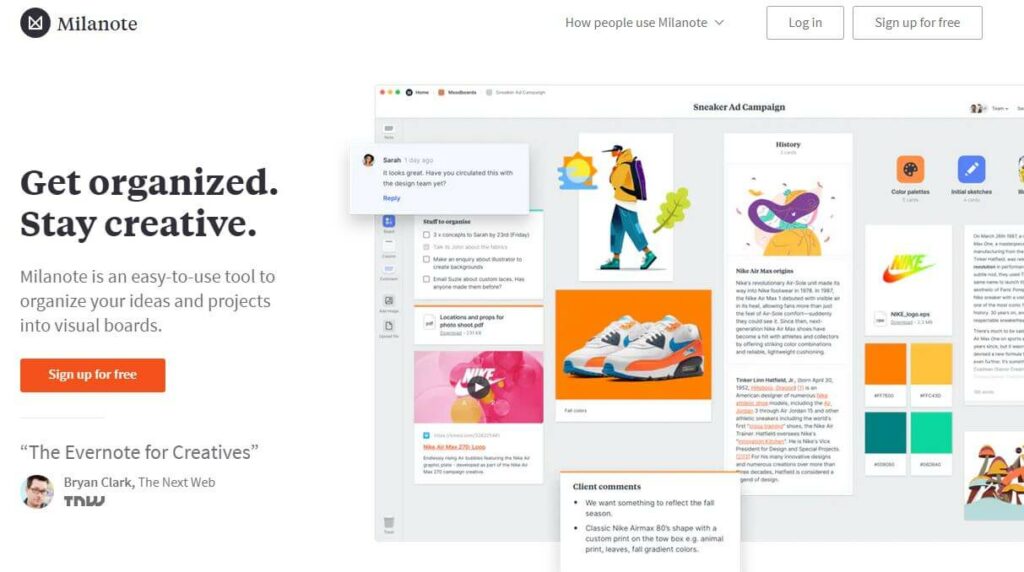 Milanote is a web-based program for visual collaborators such as product designers and photographers. It is a dynamic visual workspace for creating mood boards, taking notes, and getting feedback on design concepts.
The drawback is that Milanote may be tough to master if you are not used to a scrapbook-style layout. You may easily squander hours organizing notes and figuring out a strategy that is not intended for how you think and take notes.
Features
Secured notes both at rest and in transit
Videos, animated GIFs, typefaces, and other formats are supported
Built-in templates available
Pricing
Free
Paid plans from $9.99
13. Confluence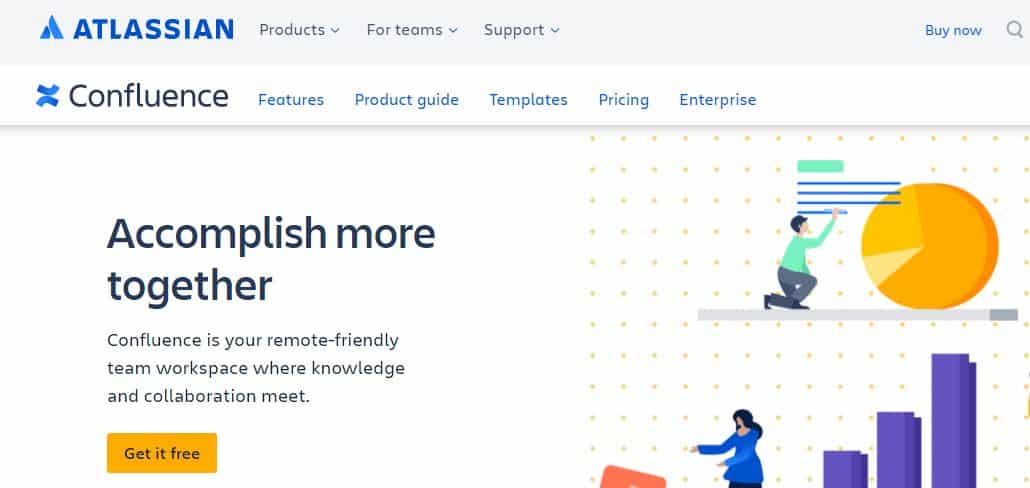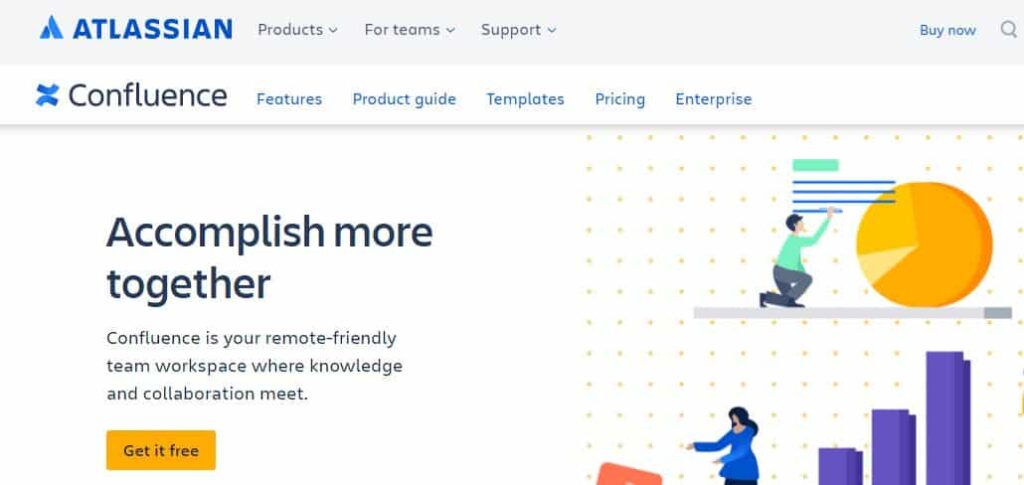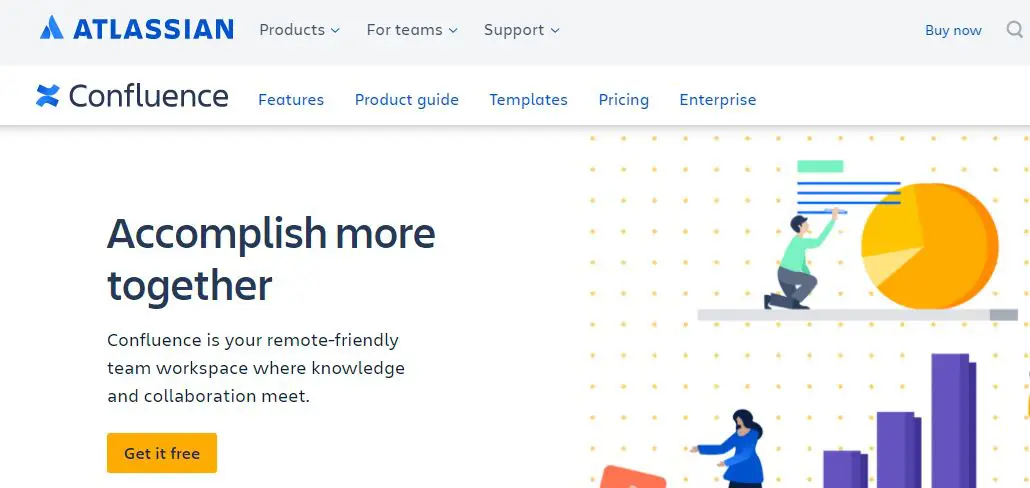 Another Microsoft OneNote alternative on our list is Atlassian's Confluence, a remote-friendly note-taking tool that also serves as knowledge management and project collaboration workspace.
Users can begin by developing a project plan from scratch or by using one of the 100+ accessible templates.
Work organization features such as roadmaps, Jira issues, and Trello boards may be added to Confluence documents.
Organizations with large staff would benefit the most from Confluence. When compared to OneNote, however, this tool would be too much for personal use or with a small number of team members.
Features
Open &linked structure.
All work is centralized.
Compatibility with over 3,000 Marketplace applications
Pricing
Confluence has free
Premium options start at $5.50 per user per month.
Bonus Alternative: GoodNotes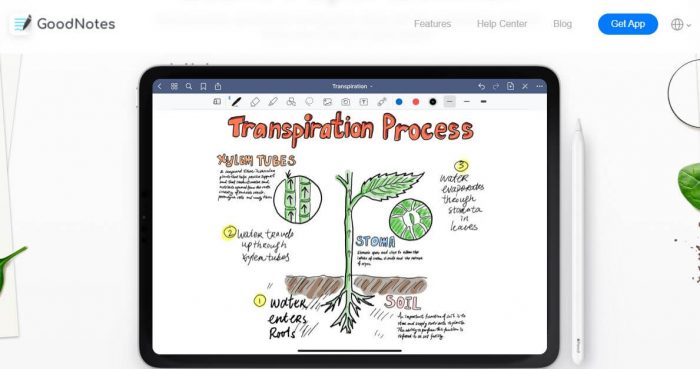 Another great application that is very different from all of the applications that we discussed in the article is GoodNotes. The application is primarily an iPad note-taking tool that provides support for the Apple Pencil that you get with the iPad.
The application provides many different features to its clientele like handwriting recognition for feasibility and security, PDF annotation, and document scanning to make sure that you can make copies of the notes that you want to keep with you.
The application also provides different templates for creating documents and other files that you might need to work on in your project development process.
If you are an Apple ecosystem fanatic, then you would love this application because it provides support for all of your different Apple devices. So, if you are working on your iPhone or Mac, you can access the GoodNotes application and work on all of your notes easily without opening your iPad.
Conclusion
These were our top picks for the best Microsoft OneNote alternatives on the market right now. If you think that we missed something, or if you think that we mentioned something in the article that is factually incorrect, then do write to us, and we will get back to you ASAP.