Are you looking for the best office management software to make your team's workflow smoother and more efficient in 2023? Look no further – we've got you covered!
In this article, we'll explore the five best office management software solutions that are sure to help your business reach new heights of success. Keep reading to learn more about the top software picks for 2023.  
Office management
made easy!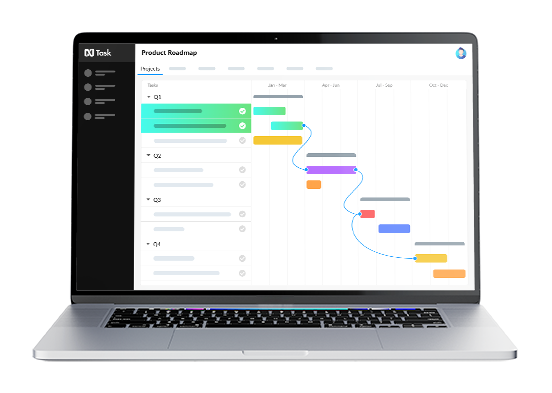 ---
What is office management software?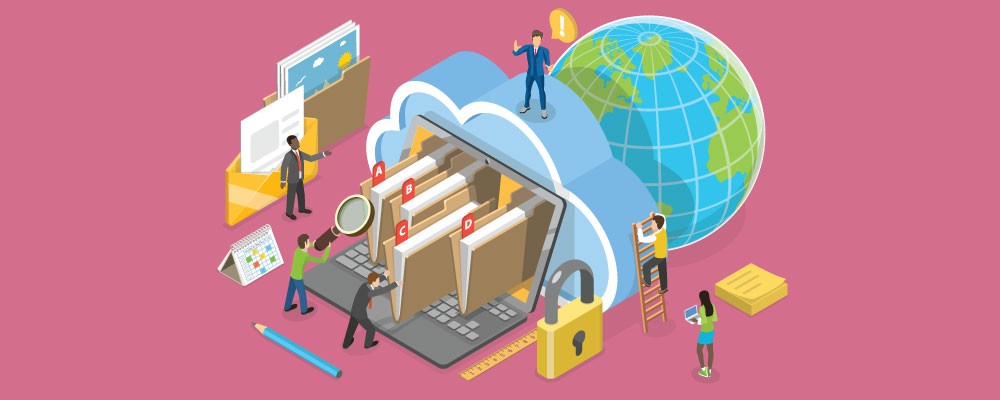 Office management software is a type of computer program designed to help businesses and organizations manage their day-to-day activities. It usually includes features that enable users to store and access documents, create reports, track customer data, and more. By using office management software, a business can streamline its operations by making more efficient use of employee time and resources.
Additionally, it can reduce paperwork by eliminating the need for manual record-keeping. Using office management software allows businesses to keep up with changing technology trends while staying organized and productive.  
---
Importance of using office management tools
1. Automated Processes: Office management tools can automate many administrative tasks such as data entry, invoice generation, and filing documents that would otherwise require manual work.
2. Improved Efficiency: By leveraging advanced features such as task automation and workflow coordination, office management software solutions can dramatically increase operational efficiency in a way that manual processes cannot match up to. Additionally, it gives more visibility into day-to-day operations enabling managers to track progress on projects more effectively over time leading to improved performance outcomes in terms of both cost savings and quality control measures for each project or job handled by employees or contractors alike if need be.
3. Secured Data Storage & Easy Accessibility: With the variety of options available for data storage there is easy access from different devices thereby saving time spent searching for important information stored away somewhere else offline like a physical file cabinet rather than having all your crucial documents/files organized electronically 'at your fingertips'.  
---
What functionalities do apps for office management offer?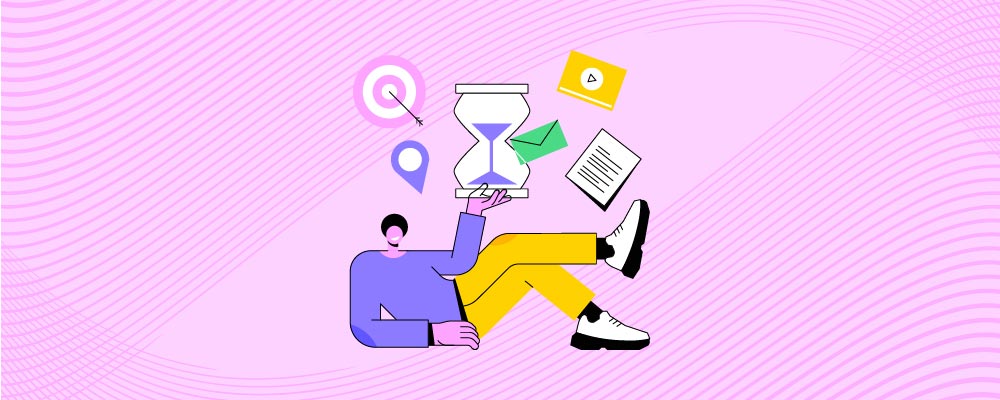 Modern apps for office management offer a wide range of functionalities that can help to streamline the day-to-day operations of an office.  
These applications typically allow users to track workloads, manage customer and client interactions, assign tasks to staff members, store customer and employee data, track production costs and inventory levels, and automate bookkeeping processes. 
Examples of office management systems and procedures
Scheduling: Establishing an efficient schedule ensures all employees have access to the resources they need when they need them. It also keeps everyone on task with deadlines or other responsibilities.
Document filing/records management: This system helps organize information related to the office such as financial records, customer orders, client data or legal documents into logical categories for easy access when needed by authorized personnel.
Security policies: Implementing security protocols limits access to sensitive data while safeguarding it from potential misuse or unauthorized modifications at multiple levels within the organization's network infrastructure.
Administrative tasks: Creating routine administrative tasks such as updating databases regularly ensures smooth daily operation of the office while keeping track of important changes in personnel or operations which could affect workflow trajectories over time.
Human resource management (HRM): HRM helps manage employee attendance tracking, payroll processing, and review processes consistently across departments for more organized operations overall. 
Time management strategies: By encouraging effective time-management strategies among team members, this system can motivate employees to stay productive with assigned tasks during set working hours.
---
5 best office management software in 2023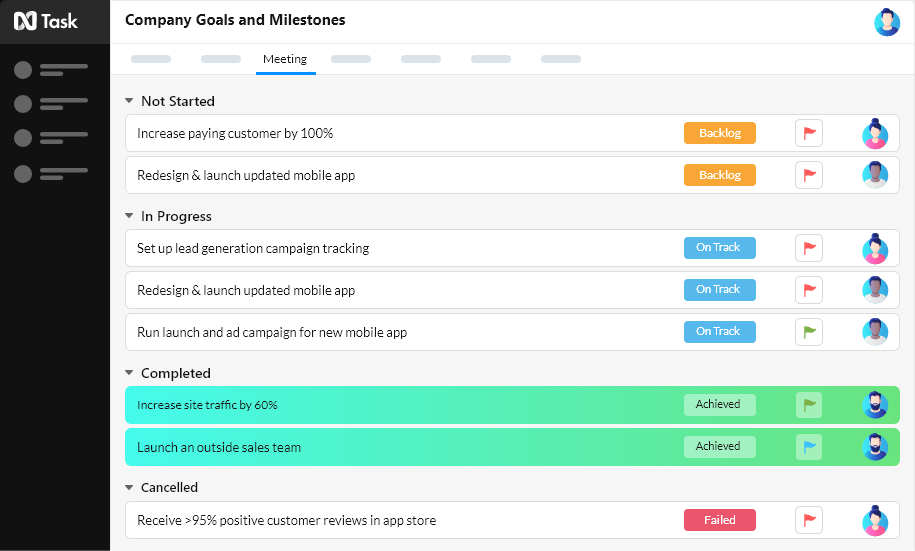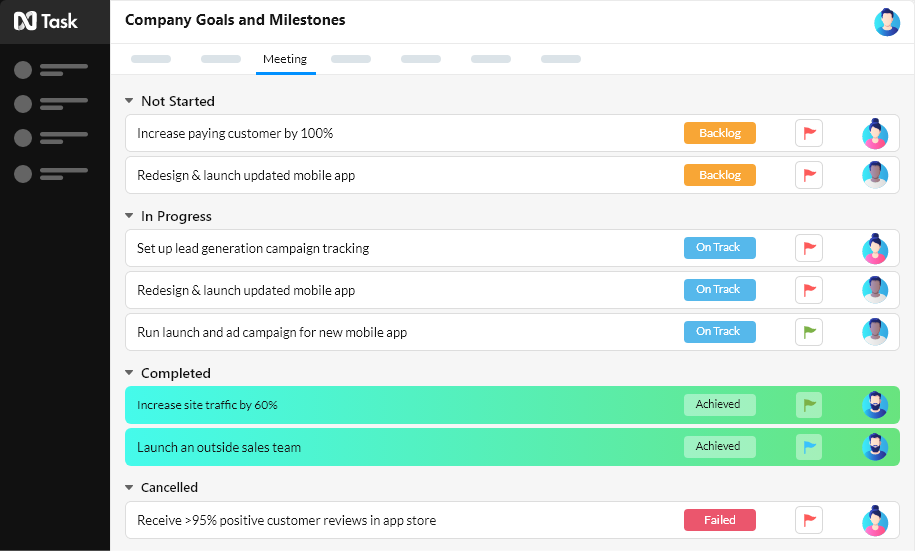 nTask task management software is an essential tool for anyone dealing with multiple tasks at once. It keeps track of your tasks and makes sure they're completed on time, while also providing reminders, reports, and other features to make managing projects even easier.
With this software, users can stay organized and prioritize their important tasks faster and more efficiently. The user-friendly interface helps ensure that all necessary information is easily accessible. Additionally, nTask task management software allows users to customize the way they track their tasks by setting deadlines, delegating responsibilities, auto-scheduling meetings, tracking progress against objectives and generating reports for review.
The streamlined design makes it easy to view a project's progress in one place without needing to jump from page to page. Overall, Task task management software helps you manage your workload better so that you can deliver the best results with fewer hassles than before.
Features
Dashboard: Provides a centralized view of all current tasks and upcoming deadlines, with an easy-to-read graphical representation of workloads.
Task Assignment: Allows users to assign tasks to team members, set deadlines, and monitor progress quickly and easily.
Notifications: Automated notifications alert users when a task is assigned or updated so that everyone stays on the same page from start to finish.
Collaboration Tools: Users can comment, attach files, or tag other team members within specified tasks to ensure collaborative projects are completed efficiently and accurately.
Reports & Analytics: Generates valuable reports and insights on project performance to improve productivity in the future.
Pros
Streamline organizational processes with automated task and project tracking. 
Monitor project performance in real-time with detailed analytics. 
Configure custom workflows and set reminders to ensure deadlines are met. 
Promote collaboration by enabling team members to share task updates in one place. 
Automatically generate reports on task completion, overdue tasks, and more. 
Cons
Task management software can be confusing and overwhelming, lacking in user-friendly features.  
Task management software may lack key features for certain business processes or operations.
The cost of purchasing a task management system can be prohibitively expensive for small businesses.
Software installation, maintenance and upgrading can require significant technical effort and resources.
Cross-platform compatibility issues mean that some tasks are not supported on certain operating systems or platforms. 
Pricing
Pro $3/month
Business $8/month
Enterprise Custom/month
---
2. Asana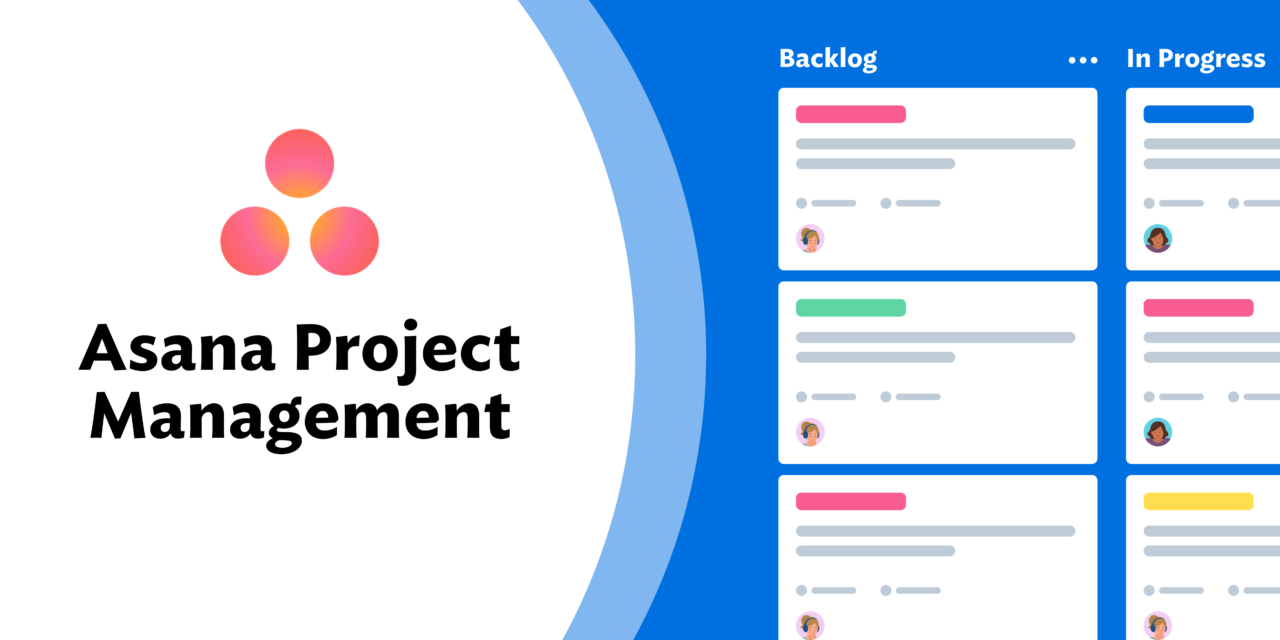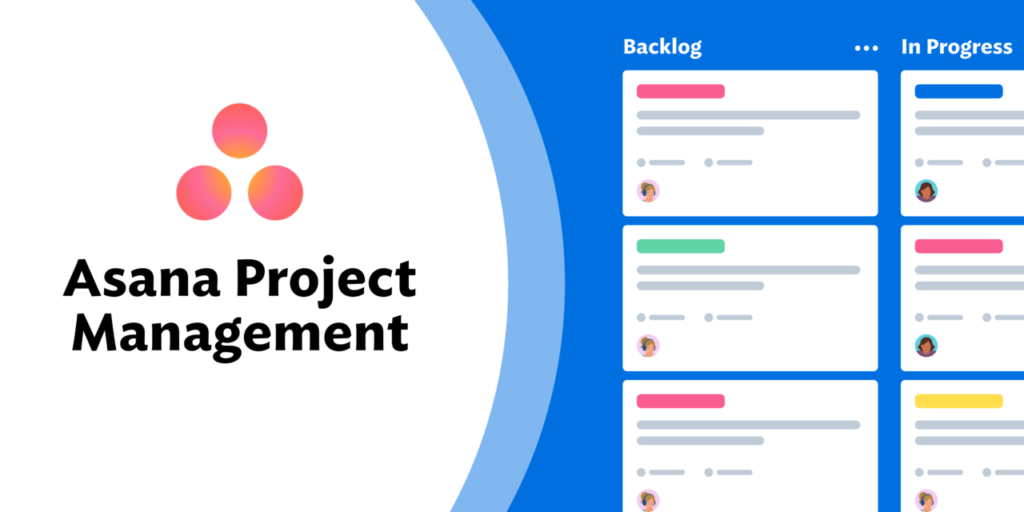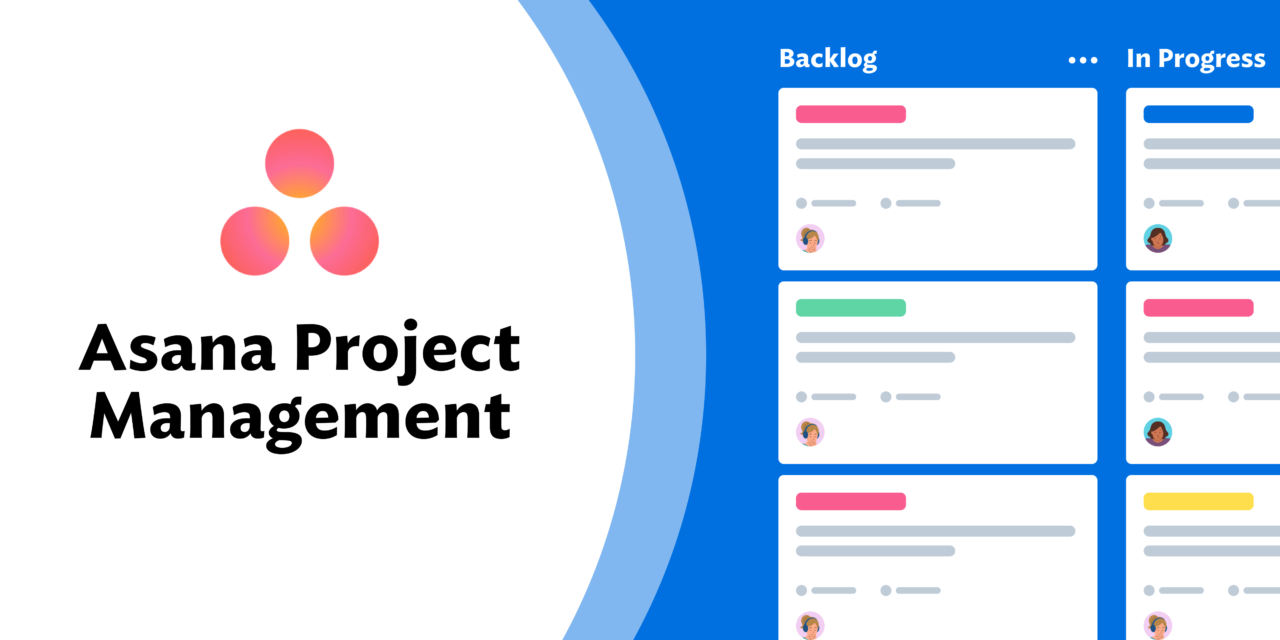 Asana office management software is an online tool that allows businesses and organizations to manage their projects and tasks in a systematic way.  
This cloud-based software provides users with the ability to create workspaces, assign tasks, prioritize deadlines and collaborate on projects, all within one unified platform. The powerful features of Asana include task organization by due date, assigning team members to any given task, creating boards for visualizing progress, tracking task dependencies across multiple workspaces and setting project milestones.
Additionally, the user interface of Asana offers flexible layout configurations which allow teams to customize their Asana workspace according to their needs and preferences. Furthermore, this project management platform comes with built-in integration with popular productivity tools like Dropbox and Google Drive so that users can easily transfer files between different applications.
Features
Task Management: Asana enables users to create, assign, and track tasks with due dates, notes, subtasks, tags and more so that everyone has visibility into the progress of any project. It further allows teams to comment on tasks as well as attach files such as documents or images.
Workflow Automation: Asana comes with a built-in workflow automation feature that helps users save time by automating manual processes for recurring tasks or complex workflows across multiple teams or departments.  
Team Collaboration: Asana is designed for team collaboration allowing team members to communicate with each other quickly within the platform itself rather than through emails or group messaging apps outside the system. It also provides real-time updates on task statuses enabling everyone to stay in sync at all times whether remote or in office locations.
Project Tracking: With custom dashboards and reporting tools in place, Asana lets users track their projects seamlessly throughout its lifecycle right from creation till completion providing complete control over the entire process.
Mobile Applications: Asana makes it easy to stay productive when on-the-go with its mobile applications available both on Android and iOS platforms enabling users to access their data anywhere anytime without any restriction.  
Pros
Easy-to-use interface: Asana's user interface is intuitive, helping teams become productive quickly.
Enhanced team collaboration: Asana provides easy communication tools and real-time updates to keep everyone on the same page. 
File sharing capabilities: Teams can easily upload and share documents through folders, comments, or direct messages. 
Automated task reminders: Asana sends notifications when tasks are due or when conversations require a response from users. 
Cons
Asana project management platform is not free, and its cost can be high for small organizations who want to use it.
Navigation within the app could be better as users may struggle when trying to locate certain features or tasks.
Customizing projects with different colors and labels can become tedious as each task will need to be adjusted individually.
Notifications of upcoming deadlines or changes in a project are often delayed or missed, reducing the effectiveness of their purpose.
Pricing
Basic $0/month
Premium $10.99/month
Business $24.99/month 
---
3. Trello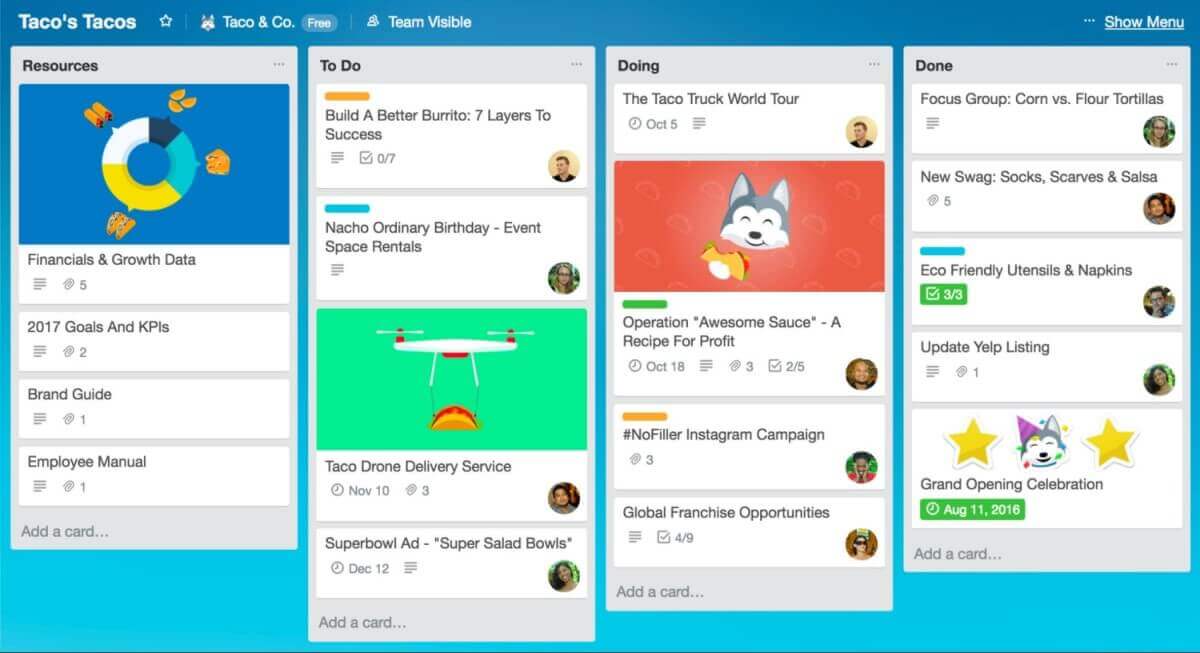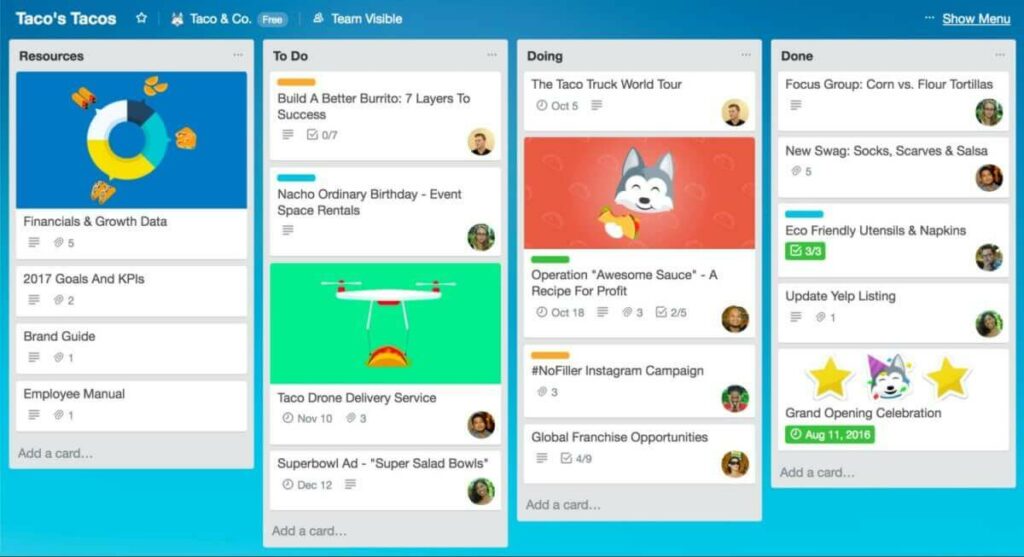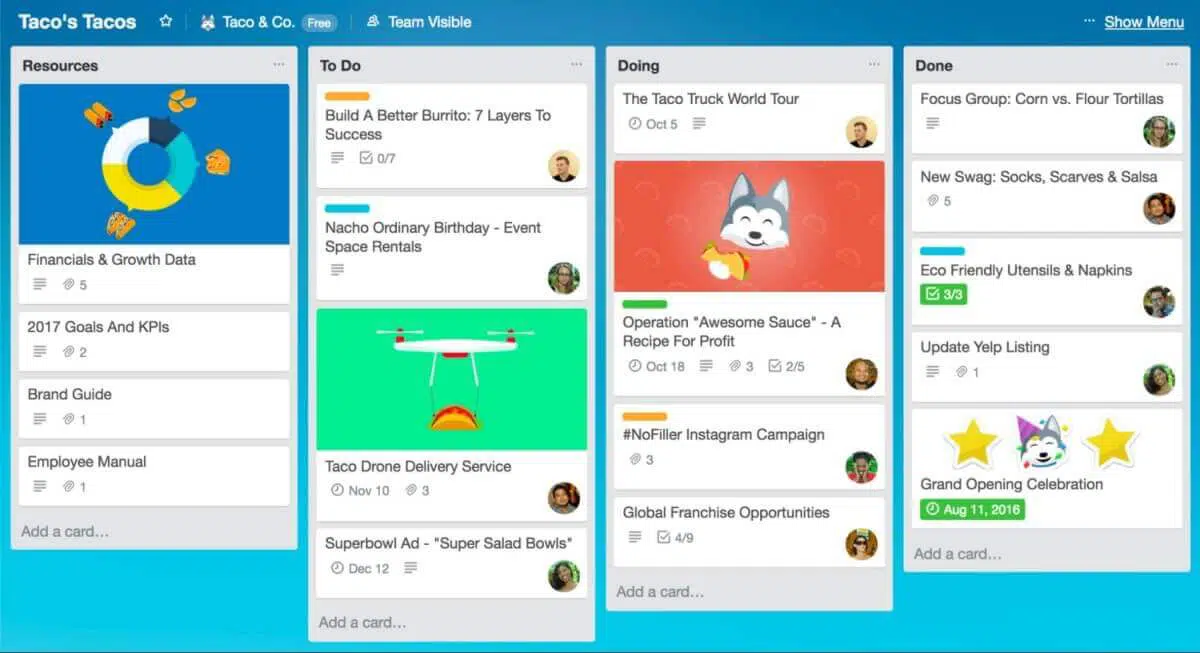 Trello is an agile office management software that has revolutionized the way teams collaborate and complete tasks.  
It provides visual boards, lists, and cards to help teams organize projects and track progress. With Trello's intuitive design, team members can easily assign tasks to each other, prioritize their work with labels and due dates, comment on in-progress tasks, attach relevant documents and files for reference, set reminders to stay on task and more.
Additionally, real-time notifications keep everyone informed of changes as they happen. Ultimately Trello makes collaboration easier so that your team can focus on completing its most important goals in a timely manner.
Features
1. Boards: This feature provides users with a way to create and organize projects by creating boards made up of cards that include tasks, notes, images, files and even data from other integrated apps.
2. Checklists & To-Do Lists: Trello allows users to make checklists within the cards for sub-tasks or associated details related to each card's task. It also lets users assign deadlines, mark them as complete and track their progress in real-time.
3. Notifications: Trello notifies users via emails when they are assigned tasks or due dates are approaching so users can keep on top of their project management workflow easily. 
4. Collaboration: With this feature, multiple people can collaborate on a board at once or separately while staying organized by assigning different roles to different members (guest user or full editing rights). Teams can also share comments and feedback in an organized manner right on the boards themselves instead of using email threads which makes collaboration easy for everyone involved in the project.
Pros
Streamlined collaboration: Trello provides users with a platform to easily collaborate on projects in real-time, assign tasks, share documents, and track progress. 
Flexible organization: With its wide range of features and customizable boards, Trello allows users to create the perfect project management structure for their team or project.  
Intuitive user interface: The drag-and-drop feature makes it easy to move cards around your board while keeping everything organized.  
Cons
Lack of flexibility in assigning tasks: Trello is not very flexible when it comes to assigning tasks, which can be problematic for teams with many moving parts. 
Limited reporting capabilities: Trello does not have any built-in reports for project tracking or analyzing progress. 
No native Gantt chart support: Trello cannot give you a visual representation of your project timeline in the form of a Gantt chart.  
Dependence on third-party integrations: To be able to use some features like resource management, time tracking and invoicing, users need to integrate third-party applications into their projects.  
Pricing
Free $0/month
Standard $5/month
Premium $10/month
Enterprise $17.50/month
---
4. Slack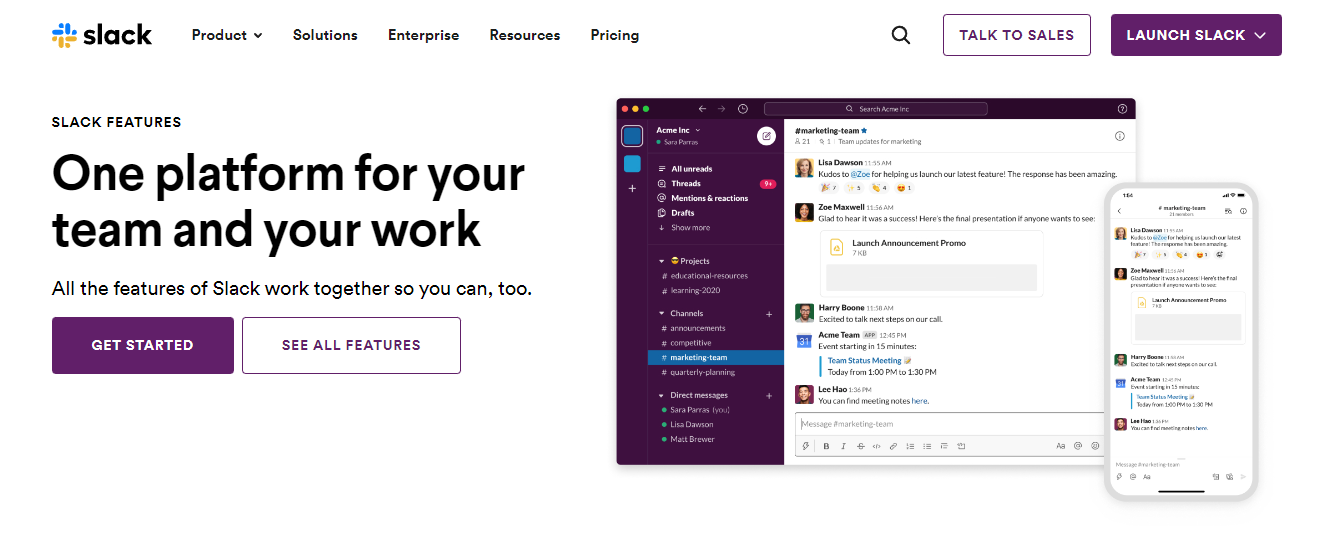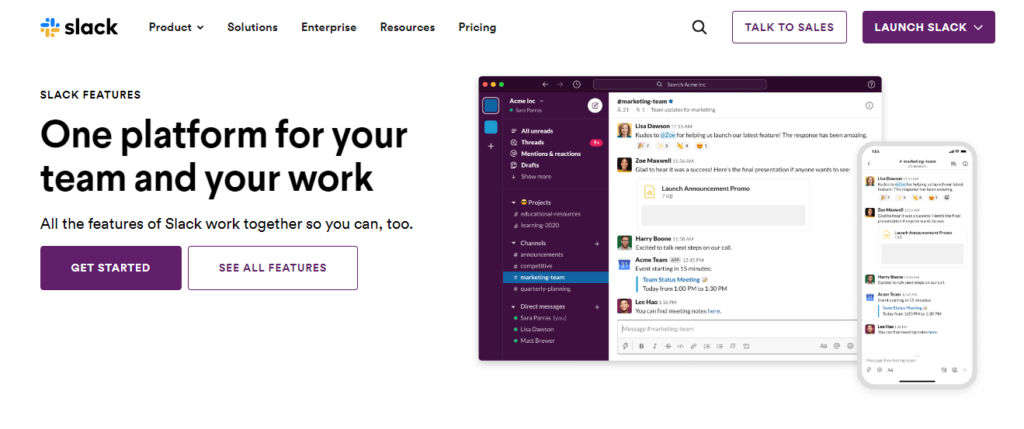 Slack office management software is an online communication platform designed to help streamline the way teams communicate and collaborate within their organization.
It offers a centralized workspace where members can share messages, files and applications, while also providing an integrated search feature that allows staff to quickly find what they need.  
Slack allows users to create multiple channels for different departments or projects, allowing each team member to stay up-to-date on changes within their area of responsibility.
There are numerous third party integrations available with Slack, which allow users to link existing tools like Dropbox and Google Drive into the workspace for improved efficiency.
In addition, there is a mobile app version available so team members can stay connected regardless of location or device. Overall, Slack provides an effective way for organizations to keep communications efficient and organized across all departments in one place.  
Features
Online Collaboration: Slack enables teams to work remotely and collaborate in real-time with features such as instant messaging, file sharing, video and audio calls, polls and surveys.
Automated Notifications: Slack's automated notifications can be set up to notify users in different channels or directly via direct messages when a task is completed or when issues arise.
Task Management: Team members can assign tasks directly through the platform and track their progress using built-in project management tools such as Kanban boards or Gantt charts.
Customized Integrations: With customizable integrations, users can integrate multiple applications into a single workspace for streamlined organization of tasks from various sources like CRM systems, bug tracking software etc.
Search & Navigation Tools: Users have access to powerful search capabilities that make it easy to find any message within a Slack channel quickly and efficiently so they don't miss important updates
Pros
Easy access to communications, files, and collaboration tools in one place 
Ability to host real-time video conferences with team members 
Built-in storage for all kinds of documents and resources 
Automated task provisioning and scheduling functions 
Ability to customize notifications and message views according to user preference 
Robust search capabilities that allow quick retrieval of relevant data 
Cons
Lack of flexibility to customize features.
Complex and expensive user setup process.
Limited analytics and reporting capabilities.
Not suitable for handling large numbers of users, projects, or channels.
Pricing
Free $0/month 
Pro $7.25/month 
Business+ $12.50/month 
Enterprise Grid custom pricing/month 
---
5. TaskWorld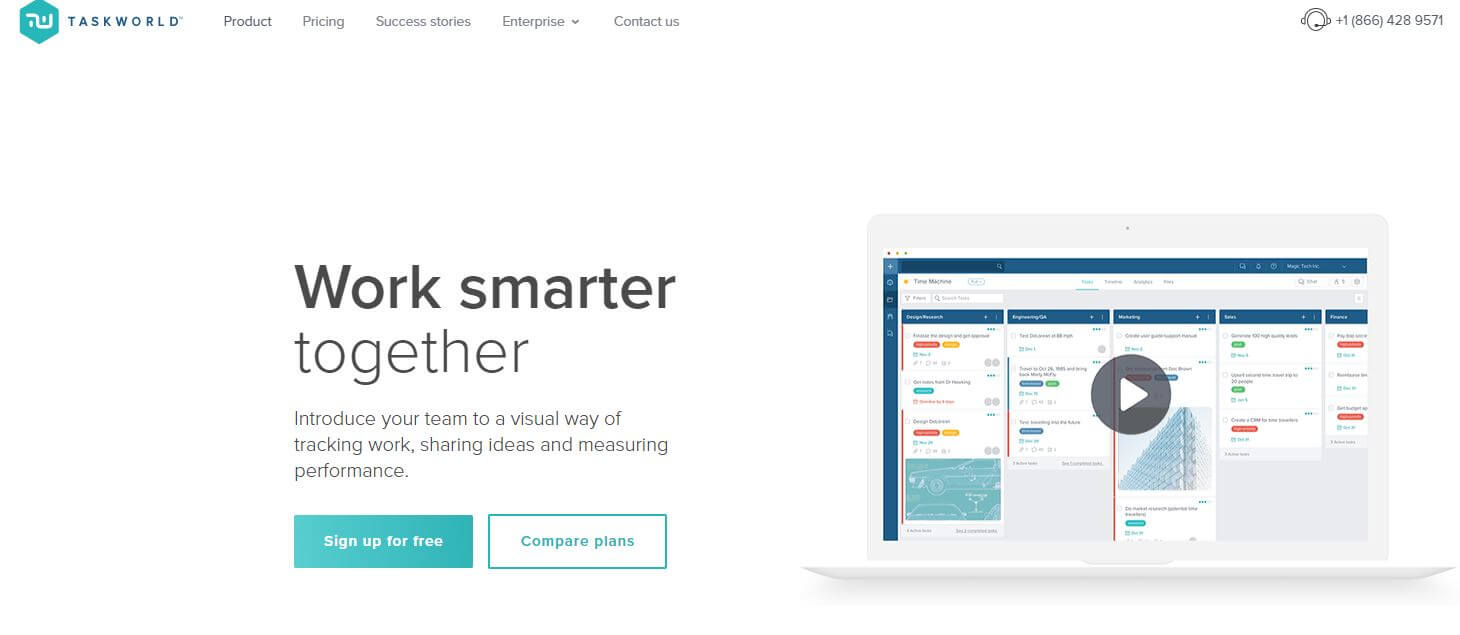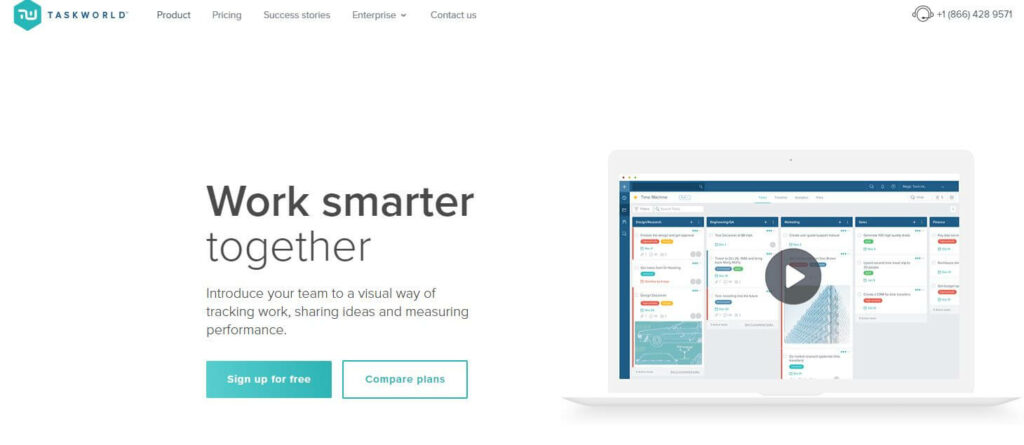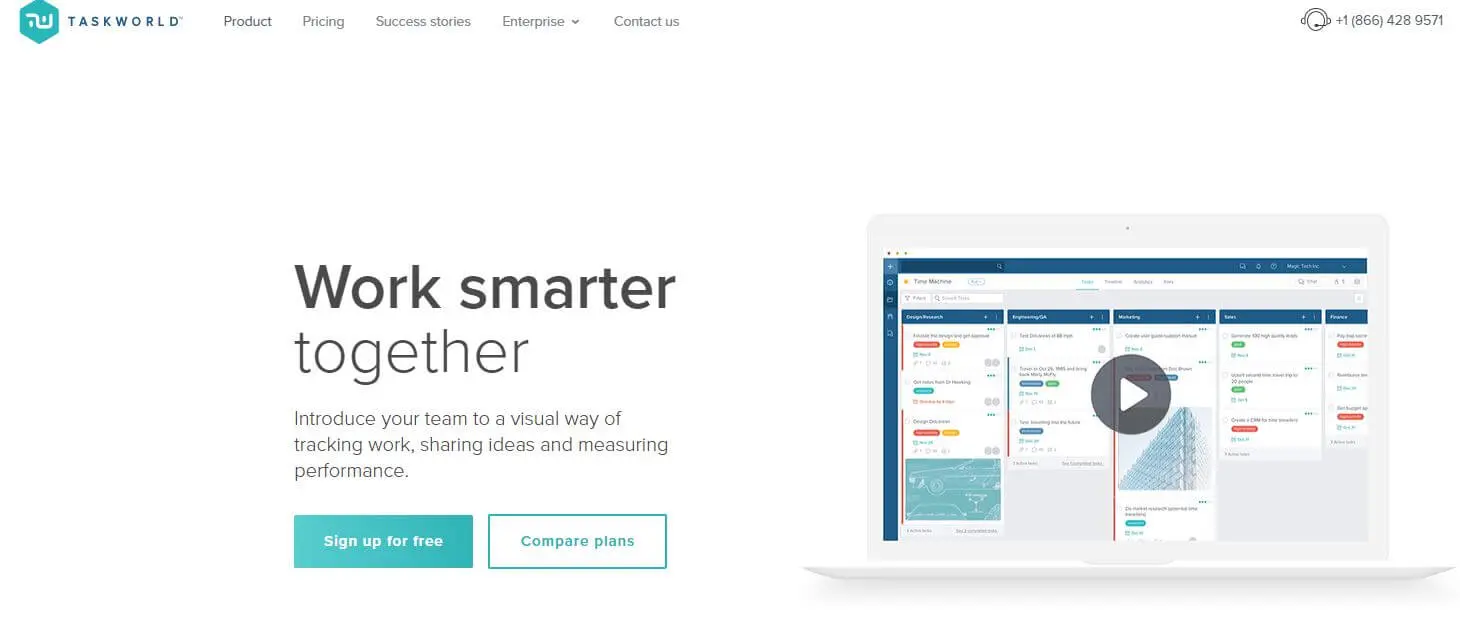 TaskWorld is an office management software that makes it easy for teams and businesses of any size to organize their tasks, projects, and communication in one place.  
It helps teams reduce confusion and streamline collaboration by keeping everyone on the same page. The software also provides a number of features to help with task management including creating tasks, assigning tasks to team members, setting due dates and priorities, tracking progress on tasks, tagging people or delivering files with messages, reporting progress with data-driven dashboards.
It also provides administrators with user control so they can easily group people into project teams or departments and restrict access levels to different parts of the system.
Taskworld makes it easy for users to collaborate in real time through chat rooms and discussion boards as well as share documents securely through the cloud. With its intuitive design and vast array of powerful tools Taskworld is an excellent choice for managing projects across a variety of industries from retail stores to software development companies.
Features
Task Scheduling: TaskWorld office management software provides efficient task scheduling capabilities and can be used to organize tasks, assign due dates, set notification reminders for team members, and measure progress on an individual or team basis.
Resource Management: The software features resource management capabilities that provide users with visibility into available resources to ensure projects are properly staffed, tasks are completed by the right people with the right skillset, and individuals perform up to their maximum potential.
Project Tracking & Reporting: Users can track project performance in real-time from easy-to-view dashboards great for tracking key milestones, budget forecasts vs actuals associated with each project task and team member performance metrics such as effort hours worked per month over a period of time.
Collaboration Features: Through secure chat platforms integrated directly into this software users can easily collaborate on projects, discuss ideas share feedback all in one platform creating a more productive work environment for teams of all sizes across the globe
Automated Workflows & Approvals: Automated workflow approvals help streamline data processes allowing stakeholders to submit requests quickly and digitally making it easier than ever before to approve documents, change orders or other internal process items all from within one centralized platform.
Pros
Automates time-consuming office tasks, increasing productivity and efficiency  
Easy to learn user interface, allowing for quick adoption by employees  
Enables team collaboration through shared project and task management tools  
Enhances work visibility by giving real-time updates and notifications on all tasks   
Integrates seamlessly with other business applications like payroll or customer support systems 
Cons
TaskWorld office management software can prove difficult for businesses with limited technical capability. 
It can be time-consuming to set up, as it requires training and adaptation to existing processes. 
The interface of the software is often not user-friendly, making it difficult to navigate and use effectively  
Pricing
Free $0/month
Premium $8/month 
Business $15/month 
Enterprise contact sales/month
Ratings
4.8, 4.7
---
What is the best software for office work for you?
nTask is a cloud-based task management software designed for managing project tasks, conversations and files. It helps teams to efficiently collaborate on projects and manage shared resources in one place. Task allows users to assign tasks and attach relevant files, set deadlines, track progress, communicate with collaborators in real time via instant messaging, as well as create reports on the number of completed tasks.
nTask also includes Gantt charts that show how tasks are linked together in order to provide an overview of the workflow. Additionally, it offers integration with other popular applications such as Slack and Asana that further help streamline project collaboration. With its user-friendly interface and flexible features such as customizable views and reporting options, Task is the ideal tool for busy office workflows.
---
Conclusion
In conclusion, the 5 best office management software in 2023 are a great way to improve productivity and efficiency in the workplace.
Each of these software programs have unique features that can help businesses streamline their operations and create a more organized work environment. Whether you're looking for an all-in-one solution or something more specific to your needs, there is sure to be an office management software that suits your requirements.
---
FAQs
What are the 5 basic activities of office management? 
Office management entails a range of activities including organization and coordination of office operations, budgeting and financial planning, overseeing administrative staff, developing administrative procedures, and monitoring compliance with established policies. Understanding the scope of these activities is essential for successful office management that helps to ensure that all organizational goals are met.
What are the methods of office management? 
Office management is the process of organizing and coordinating the daily activities that help a business to reach its goals. In general, office management involves overseeing the workflow, setting timelines, developing strategies for problem-solving, and controlling costs associated with office operations. Specific methods of office management can vary from company to company, but in general it may include aspects such as time management techniques, communication strategies for employees, managing customer relationships and providing guidance in problem solving. It also includes ensuring that administrative procedures are kept up-to-date and running efficiently. Ultimately, effective office management helps to ensure that businesses are functioning properly and producing quality products or services that meet their goals.
What is the difference between office management and office administration?  
Office management and office administration are both terms that refer to the various tasks associated with running a business's office. Office management typically involves overseeing the daily activities of employees, managing budgets, liaising with other departments and stakeholders, as well as dealing with customers on a regular basis.