Folks who work primarily in business or other sectors are frequently required to scribble down new creative and artistic ideas. So, along with that, they must be organized.
Most individuals scribble down important notes and phrases even when attending a meeting, conference, or presentation. Many online platforms are available for the same purpose, making this task simple and efficient.
Nevertheless, not every note-tacker program offers the same depth or variety of features to enhance your experience.
And to be honest, you may not need everything on their list!
Even with a multitude of note-taking options available, a few powerful competitors dominate the market, and we will go over two of them to help you decide if they are worth your money.
Prepare for Obsidian and Notion's epic note-taking fight. An overview of everything they provide regarding features, pricing, support, and so on.
Let's get straight to the topic.
Obsidian vs Notion
While analyzing Obsidian vs Notion, the main aspect is that Notion is available online. Still, Obsidian is only available offline, and you must pay an additional fee to sync notes between devices in Obsidian. The notion is a full-fledged database processing tool, especially after you start mirroring databases and learning how to use filters and checkboxes.
Obsidian is far more static. Its primary strengths are offline capability, simplicity, and markdown.
Here's a short rundown of Obsidian vs Notion:
| | | |
| --- | --- | --- |
| Comparison Parameter | Notion | Obsidian |
| Platforms- Supported | Mac, IOS, Windows & Android | Linux, Windows, IOS |
| User Interface | Create a workspace and add pages to it. You can favorite a page or subpage to get to it quickly from the left sidebar. Notion works well with both light and gloomy themes. | Your notes are saved locally on your device in folders called "vaults." Obsidian supports both bright and dark themes, as well as a translucent appearance. |
| Features | Templates serve as the home page and can be built-in, community-added, or modified by third-party widgets. Although Notion allows backlinks, it presently lacks a knowledge graph display. When taking notes, its back-linking allows you to connect your thoughts. | Obsidian uses back-linking and a knowledge graph to visually depict note connections. |
| Sharing & Collaboration | Allows you to share the workplace with other team members. They can also be associated with job duties and projects. | Obsidian only enables you to export notes in text or pdf format. You can share Obsidian using Obsidian publish and share the public URL of your vault for viewing only. |
Let's further analyze Obsidian vs Notion and see what you should choose.
UI & Note Customization
Customization and ease of use are two of the most crucial features of any note-taking tool. Here's what Notion and Obsidian have in store for us.
Notion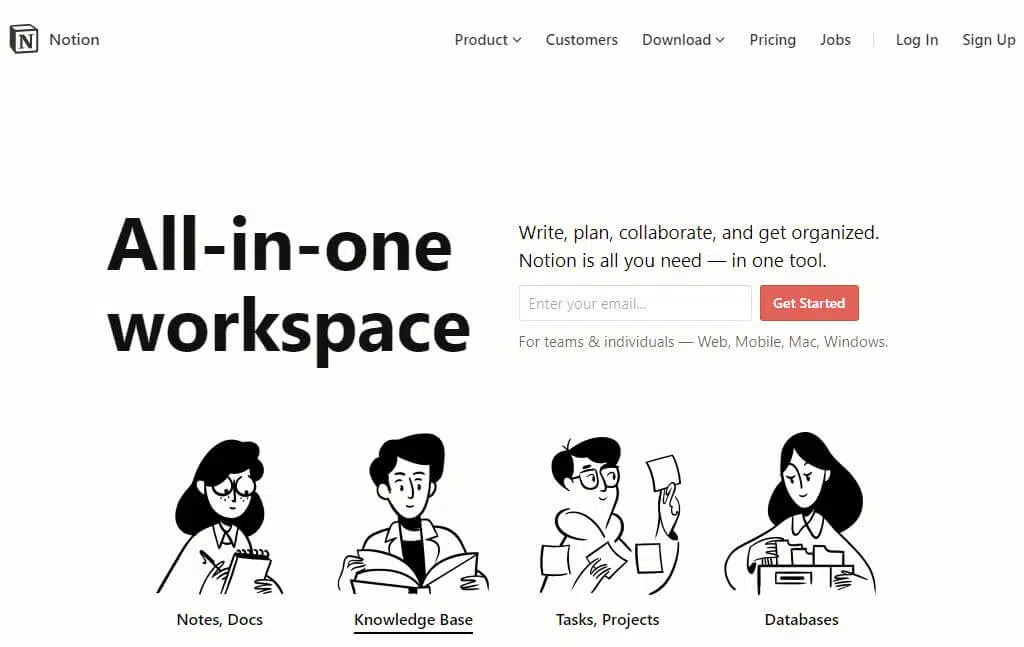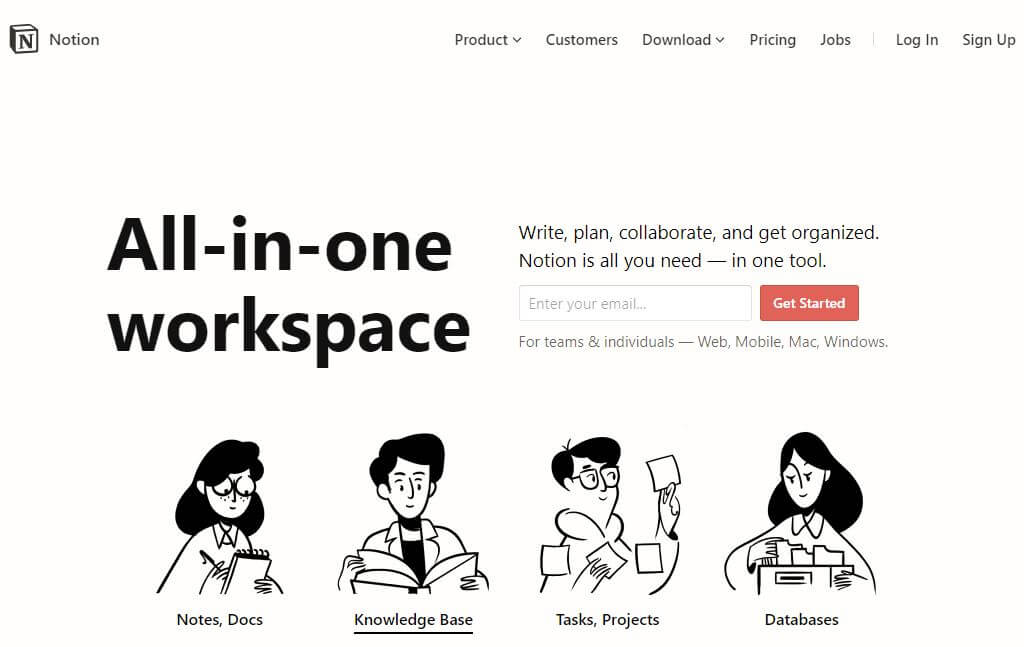 In Notion, you create a workspace and then add pages to it.
You can use subpages to create a visual structure for your papers and even use backlinking to connect page portions to other pages. By adding pages to your favorites, you may instantly access them from your sidebar.
For note-taking, Notion supports both markdown and drag-and-drop editing. It also provides several attributes to improve your notes, such as emojis, banners, headers, and checkboxes.
Obsidian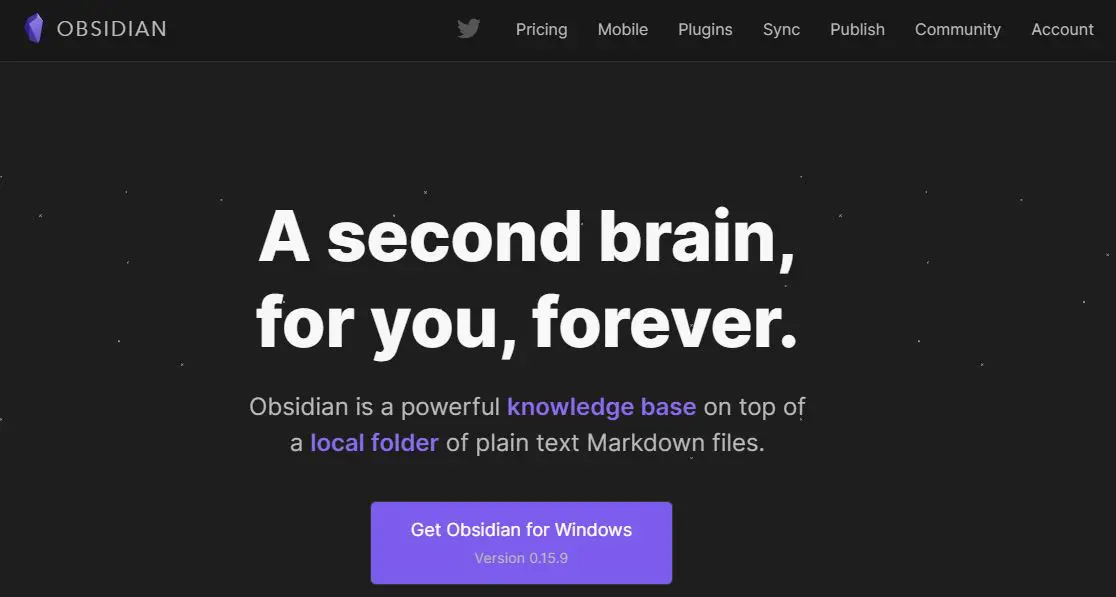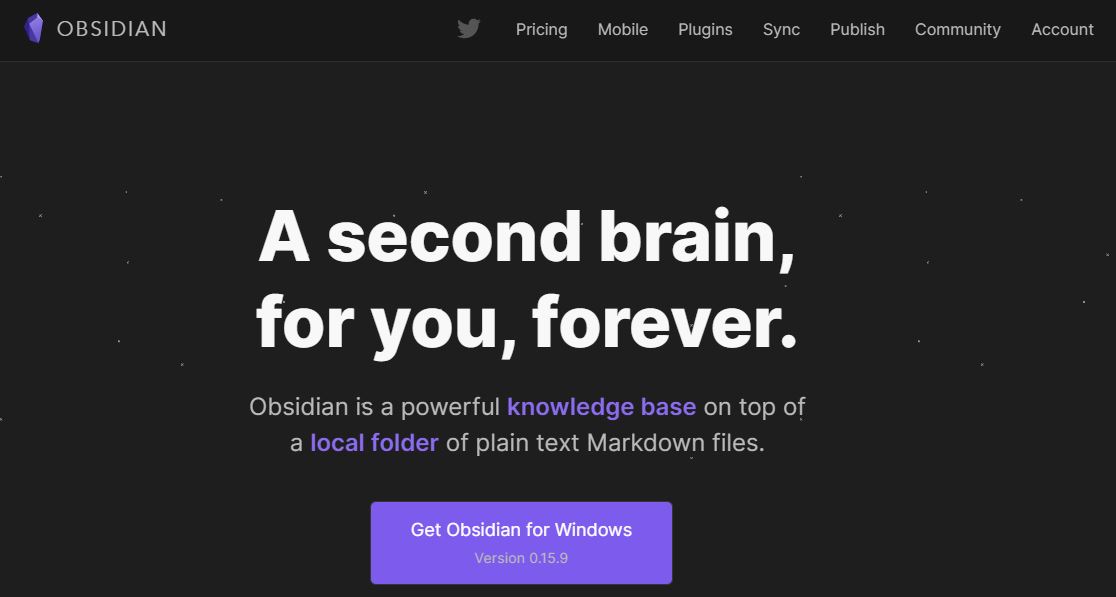 Contrary to Notion, Obsidian refers to a vault rather than a workstation.
Obsidian stores your notes in the vault, a folder on your smartphone. Depending on the number of projects, you might have one vault or more. After building your first vault, you may take plain text notes.
Unlike its alternatives, Obsidian allows you to have many files open on what it calls panes. The panes may be modified or separated into two identical duplicates. For example, you may separate a window to provide an editing view and a reading view for a preview.
Backlinking Feature
Moving onto the following parameter of Obsidian vs Notion, for most note-taking enthusiasts, a note-taking tool that allows you to link ideas and thoughts is a dream come true. Let us see how Notion and Obsidian fare in this regard.
Notion
Notion's backlinking function allows you to connect your thoughts when taking notes. Notion automatically produces a backlink whenever you add a link.
You can then see all of the backlinks to a certain page and see where they were used. This is a useful function in Notion for constructing wikis, linking ideas, or organizing activities.
Obsidian
Backlinking is a basic feature of Obsidian notes that helps with wiki creation.
Instead of hierarchical files or databases, Obsidian lets you utilize a knowledge graph to build a connected network of ideas—an ideal resource for students, researchers, software engineers, and other professionals who are constantly writing things down.
Collaboration
Whether it's planning a trip with your homies or organizing cooperative plans, you definitely would consider the collaboration feature of the note-taking tool.
Obsidian vs Notion, let's see who wins this race.
Notion
Notion is especially adept at taking notes and functioning in groups.
Simply send a link to your Notion workspace to a teammate on a new project or a buddy for an impending holiday schedule.
Obsidian
You can use a plugin, but the experience will be less smooth than it is with Notion. You cannot even provide someone a link to your Obsidian vault so they may access it. A vault may only be shared by exporting it in PDF or text format.
You may, however, share Obsidian with the rest of the world by utilizing Obsidian publish and revealing the public URL of your vault for viewing only.
Notes Saving
What's the main purpose of using the note-taking tool?
Obviously, to save it for later. That's why these tools have online and offline modes.
Notion
You don't need to worry about any internet problems with Notion. The program stores your notes in real-time, much like Google Docs or Evernote.
Before backing up to the cloud, your notes are kept on Notion's servers. Of course, this is only feasible if you are connected to the internet.
However, you must have a premium subscription to restore the previous version of your notes.
Obsidian
Obsidian, like Notion, saves your notes instantly two seconds after you stop typing, so you can be confident that you will not lose anything after spending time making your ideal graph.
Compatibility across Platforms
The ability to sync notes across devices is what makes a note-taking app truly helpful. Nothing beats taking notes on your laptop first thing in the morning and continuing on your phone over your lunch break. Let us see whether Notion and Obsidian can make it through this test.
Notion
To begin using Notion, you must first connect to the internet and create an account. Even though Notion stores your notes in the cloud, periodic backups are required to avoid being locked out if their servers fail. With Notion, you can sync your notes across Windows, macOS, iOS, Android, and the web app.
Obsidian
Obsidian works offline, so your notes are stored locally on your smartphone, which is both good and bad.
It is convenient since you will still have your plain text files if Obsidian goes down, but it is also inconvenient because you cannot simply sync your notes between devices unless you buy an upgrade.
As a workaround, keep your notes in the cloud using Google Drive, Dropbox, or Onedrive while creating your vault. Although it is an extra effort, backing up your notes is usually beneficial.
Pricing
Pricing should be your top concern while choosing Obsidian vs Notion.
Notion and Obsidian both provide free plans for personal usage. However, Notion also offers a pro plan for personal usage.
On the other hand, Obsidian charges a premium cost for commercial use and extra payments for publishing and synching capability.
Here's a pricing comparison between Obsidian and Notion.
Notion
Personal – Free – Unlimited pages and blocks, device synchronization, sharing with up to 5 guests, and an API for custom integrations
Personal Pro ($4 per month): All of the features of Personal Free Plus unlimited file uploads, unlimited visitors, and the option to see and restore versions. For 30 days
Teams ($8 per month): Everything in Personal Pro plus an unlimited number of team members, sharing permissions, a collaborative workspace, and administrative tools.
Enterprise– SAML SSO, user provisioning (SCIM) Audit logNEW, extra security & controls, unlimited version history, dedicated success manager (100+ seats), bespoke contract
Obsidian
Personal (Free): No account required, community support, plugin access, and API
Catalyst ($25 one-time payment): Early access to new features, exclusive community badges, and access to the private dev channel are all available.
Commercial ($50/year per user): Priority support and commercial use
Optional extras: Sync ($8 per month), Publish ($16 per site)
Use Case: Obsidian vs Notion
Obsidian is a robust note-taking application that works with Markdown files. You can use Obsidian to collect and organize notes while keeping the focus. Obsidian has the following applications:
Create projects and track your progress by linking
Obsidian Publish is a tool for internet publishing
Take notes and link one page to the next
Maintaining meeting minutes
Blogging and research initiatives
Notion is intended for small and medium-sized groups and may be used for a range of note-taking tasks. From workflows and roadmaps to design papers and meeting notes, Notion gives tremendous flexibility in creating and organizing information, task items, or database components.
Notion may be used to do the following tasks:
Administration of databases
Remote employment for small businesses
Nonprofits and new businesses
Industry of engineering education
Hosting of web content
Obsidian vs Notion- Pros & Cons
Notion
Pros
Cons
– The UI is simple to use API integration with a broad variety of popular tools
– Reasonable prices
– Work may be accessed from anywhere, including off-site and while traveling.
– A plethora of customization options allow users to compose and arrange notes exactly as they like.
– View your data from several perspectives.
– No advanced features
– The mobile app may require some improvement.
-No annotations for notes.
– It takes some time to get everything set up.
– Search and navigation might be enhanced.
Obsidian
Pros
Cons
– Simple to adapt and configure to your needs
– Mobile app loading times are fast for iOS and Android
– There is a short learning curve, and new users may begin utilizing the program right immediately
– There are no distractions or needless options in the lightweight interface
– Users have complete control over their notes
– A great tool for storing and linking your ideas and research
– There are certain usability concerns with a mobile app
– Some new users may be thrown off by a high learning curve
– The workspace notes cannot be shared
– Plans with high pricesThe lack of native cooperation is a significant disadvantage for distant teams
So, who's the Winner?
In the battle of Notion vs. Obsidian, it is impossible to identify a clear winner.
Both tools are great for taking notes, but they have complex limitations.
Notion is a perfect note-taking option if you need a centralized hub for sharing files, folders, and documents with your team members across several devices. Notion allows you to share your desktop, making it ideal for collaborative tasks.
On the other hand, Obsidian is the appropriate note-taking tool if you want basic, easy software that allows you to take notes without interruptions.
There is no clear winner here because each product is intended to fulfill the specific demands of various teams and people.
nTask, a Robust Alternative to Obsidian Vs Notion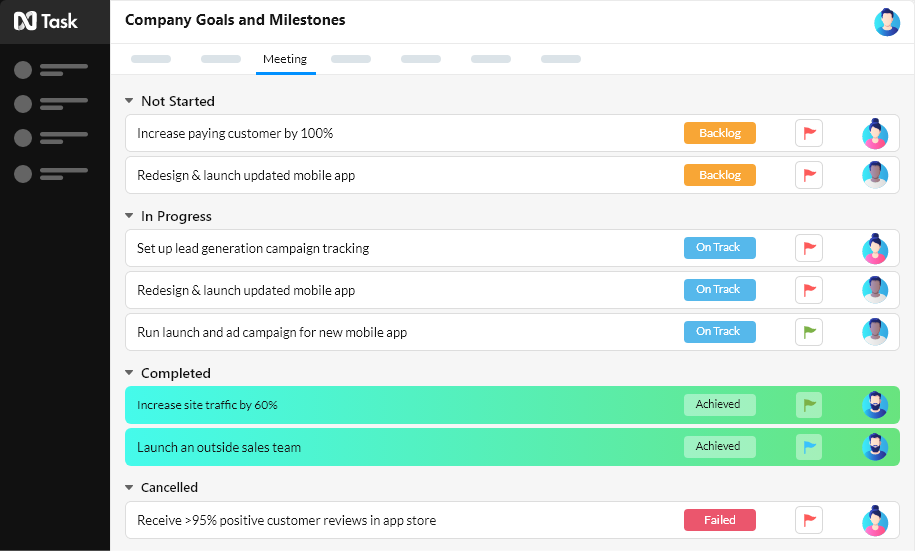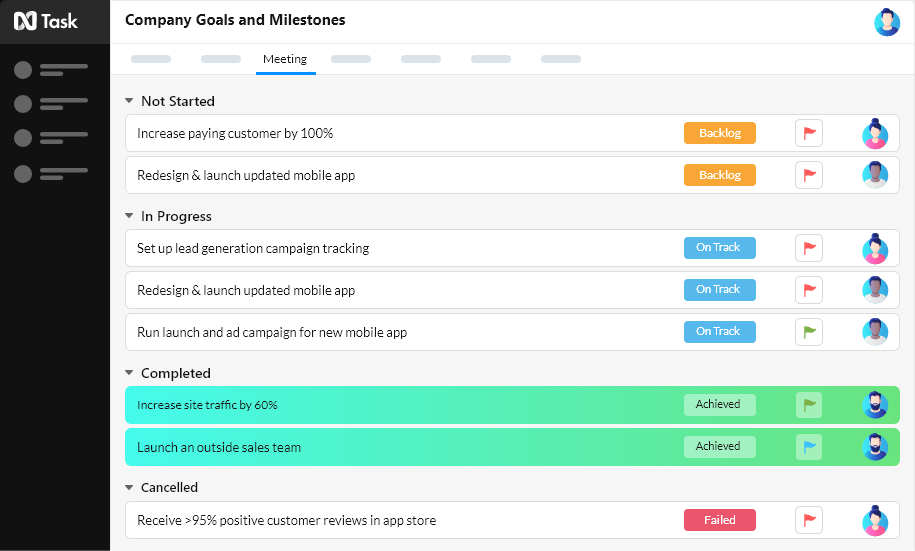 nTask is a one-stop solution. The application is a well-known tool with over 250,000 users in over 150 countries. The tool has seven distinct management modules, each of which is furnished with cutting-edge technology to make administration jobs easier for you.
Using nTask's extensive features, you can create tasks, allocate resources, establish deadlines, start and completion dates, and track the progress of each work in a project. It also promotes conversation and collaboration through the use of comments, chat options, and other features.
The application excels in note-taking as well as project management. As a note-taking tool, nTask does not fall short of the competition. Take a peek at the core features of nTask to learn more.
Key Features
The search and filter functionality allows you to retrieve information rapidly and provides different integrations to keep your workplace cohesive
Alerts, alerts, and reminders keep you constantly informed
Allows for easy file sharing
iOS and Android mobile apps are available
Pricing
The basic plan is free of charge.
$3/user/month for the Pro plan
Business plan – $8/month per user
Enterprise plan – For price, contact the nTask team