Everything That's New in nTask 2.0 (Beta)
Published on

September 29, 2019

Read time

Category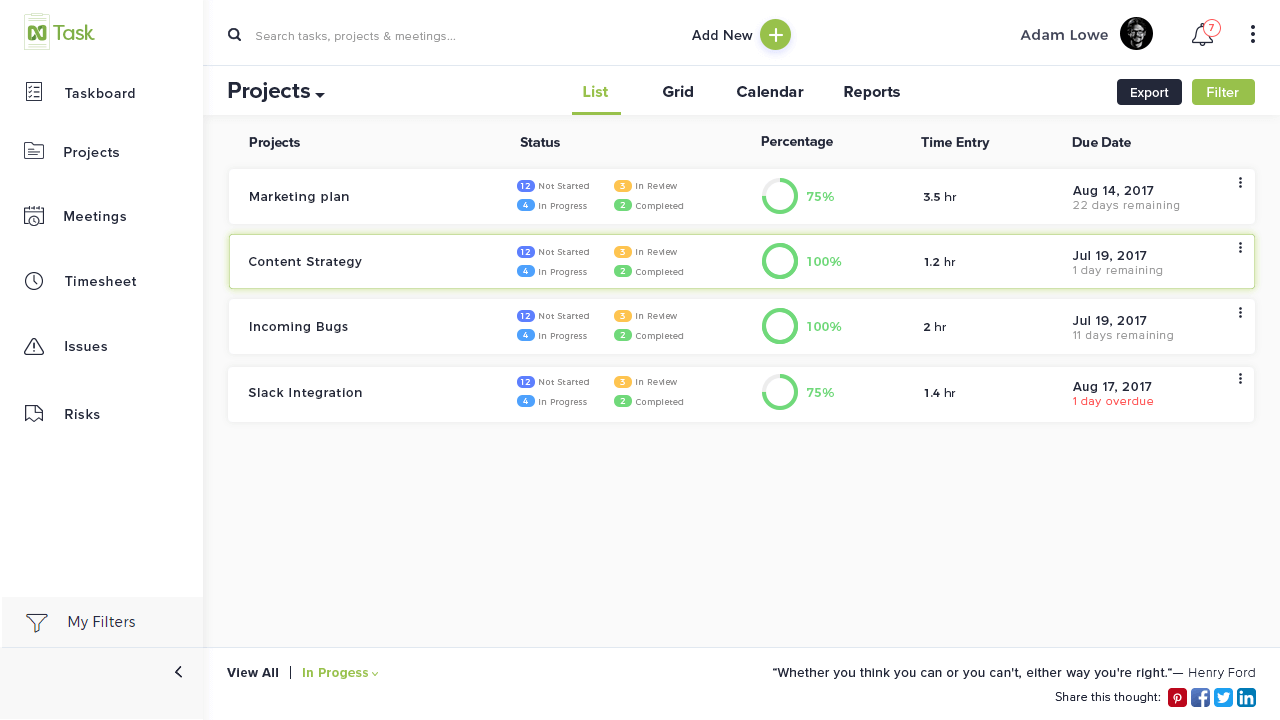 As promised, we're here with the biggest update of nTask till date.
Today marks the day when you'll be beginning your day with an oh-so-amazing update that we've been eagerly waiting to bring for you in the form of nTask 2.0. And the day is finally here!
We're doing a happy dance here at nTask and you should too because what you're about to experience will completely transform your perspective about project management.
With a completely reimagined nTask, we make sure your work doesn't have to be boring. Trust us when we say this, nTask 2.0 (beta) is all about loads of new features which focus on increasing your productivity, all the while giving the most user-friendly experience ever.
The motive behind this update was to bring new project management techniques, valuable user experience, and aesthetically pleasing design your way. For this reason, the 6 native modules of nTask went for a complete makeover and they're now back with a bang!
So, without any further ado, let's dive in the sea of updates nTask 2.0 (beta) is here with:
Hierarchical Project Flow
We understand the importance of hierarchical workflow and what role it plays in effective project management. That's why our new intuitive design lets you systematically create projects, associate relevant tasks, and then proceed as changes come your way.
This systematic workflow will allow you to make timely amendments wherever needed and will aid in efficiently tracking the progress along the way.
Don't want to begin with associating a project and instead work on independent tasks? We've taken care of that too!
Just launch the application and instantly start managing standalone tasks, meetings, issues, or risks. No worries! We've tailored nTask 2.0 (beta) to fit with everyone's needs, and not be limited to sticklers of project management only.
Sleek New Dashboard (Coming Soon)
nTask 2.0 raises the bar quite high by introducing an all-new handy dashboard for you.
As soon as you launch the application, an overview of all your projects, tasks, and recent activities will be right in front of you to take a quick glance at your performance. Useful project metrics have also been added to make project monitoring easy for you.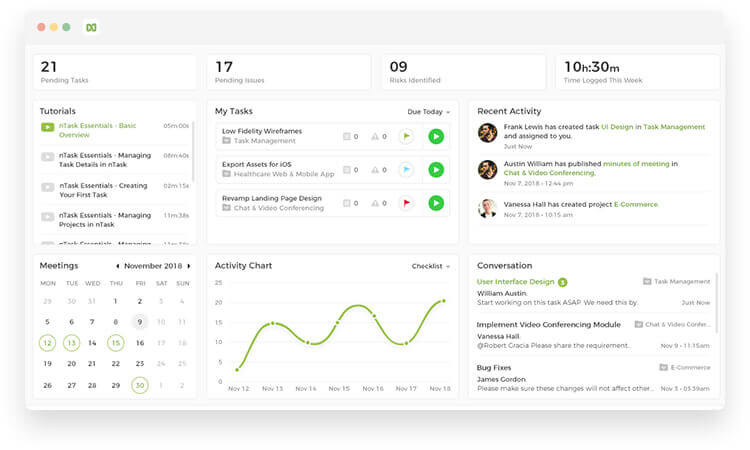 Advanced Workspace Settings
If you've ever been bothered by limited workspace settings that resulted in many hair-pulling moments during the day, we've heard your silent cries.
nTask 2.0 saves your day with advanced workspace settings. The new application comes with greater workspace functionality for you to manage your workspaces the way you want through an array of useful new features.
1. Usage Metrics
Now you workspace owners and admins can view usage stats for their workspaces. Here are a few metrics we've included:
Workspace storage space utilized
Total number of active workspaces
Total amount of team members
And, no. of projects created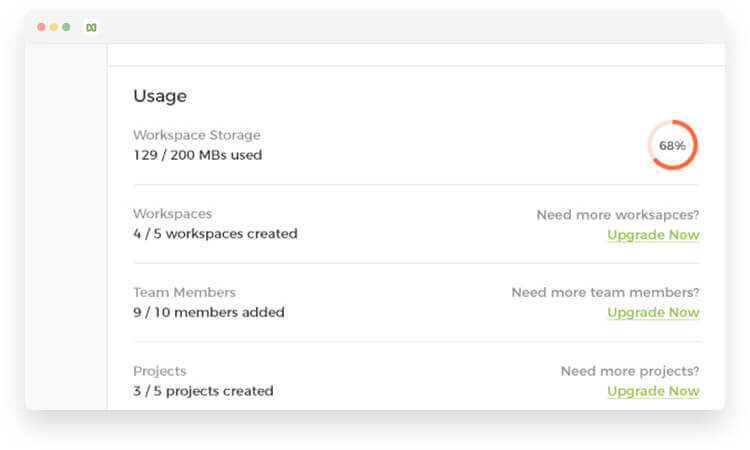 Let's have a look at some of the most important features:
2. Multiple Views
Coming with a high degree of flexibility, the 'multiple views' of nTask 2.0 provide greater customization options to you and the way you want to organize your personal or team workspace.
Primarily, you'll have access to three different views, each having its own set of unique features:
List
The List view provides the following new features which make project sorting easier than ever:
The new 'Archive' functionality allowing you to archive the tasks or projects you don't want to view.
Multiple smart filters for you to find the projects of your choice. You can save these filters to make them your default view each time you access your workspace.
For maximum control, we've provided multiple-column sorting for you. Select multiple projects at once and sort them according to your need.
New search at the top of your workspace for quick access to the important stuff.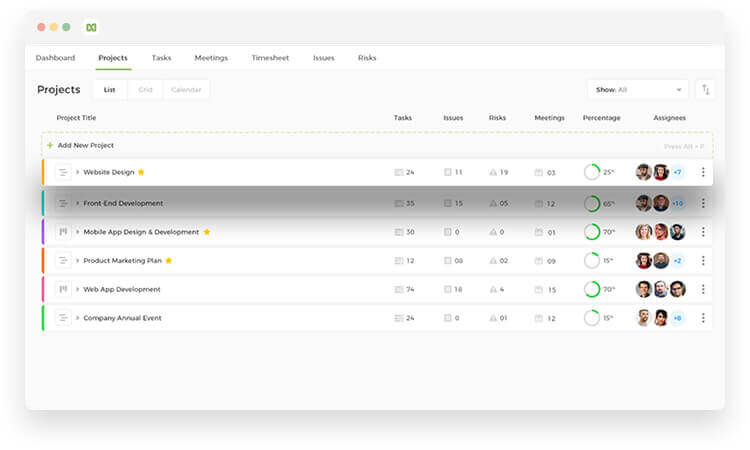 Grid
For making navigation painless for you, the newly designed Grid view lets you quickly edit fields without having to open individual projects.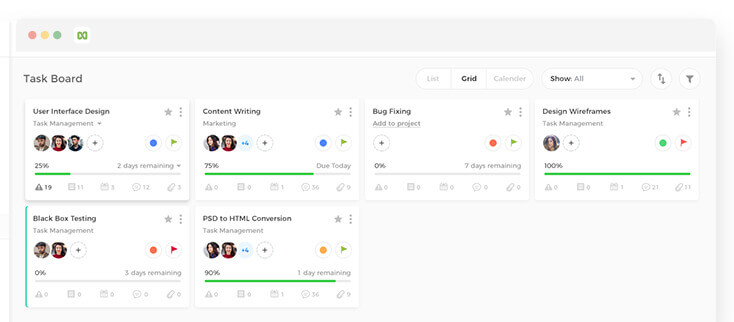 Calendar
Our beautiful Calendar functionality has been completely transformed to provide increased interactivity to the users. With an advanced drag-and-drop feature, you can easily create a timeline of all your projects and keep an eye on important deadlines.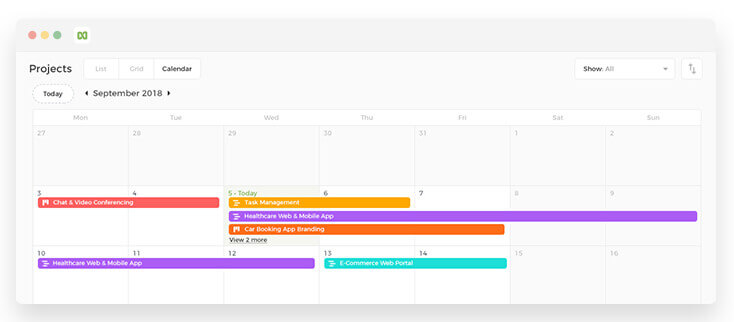 3. Roles and Permissions
To ensure maximum authority, we've added a whole new set of roles and permissions that'll give you the peace of mind you deserve. There are 4 roles that you can easily assign for smarter member management. These are:
Owner: with the new application, the owner will have all the rights to view, create, and edit any activity inside the workspace. He can also appoint a new owner, admin, member, or limited member.
Admin: admin has the same permissions as an owner, except that he cannot delete a workspace.
Member: a member can create new tasks and projects, but he does not have access to advanced workspace permissions like managing workspace settings etc.
Limited Member: the last new role defined in nTask 2.0 is the 'limited member'. The person will only have access to the limited projects (decided by owner and admins) and will have limited permissions for the things he can create or view.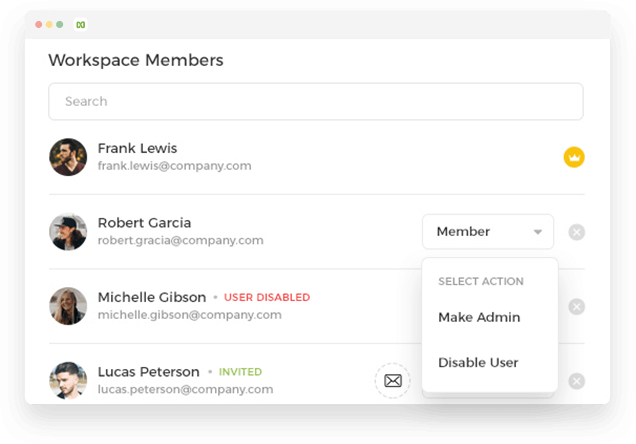 4. Bulk Invitation of Members
Inviting multiple team members to your workspace is not a hassle anymore with our new 'bulk invite' feature. Conveniently choose multiple team members and invite them instantly through one click without getting into the trouble of sending individual email invites.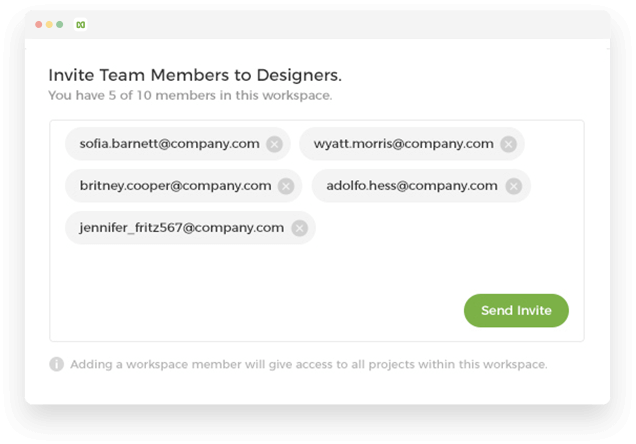 5. Docking Coming soon
To make navigation even easier, the new application allows docking of multiple activities. You can monitor your overall performance and multitask without any fear of losing track.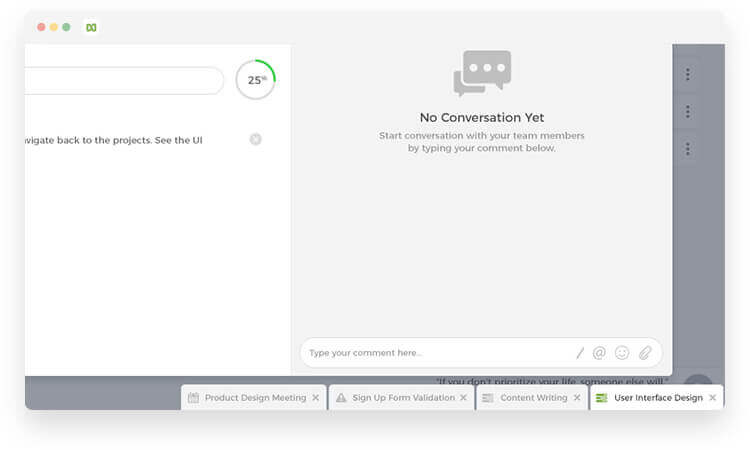 6. Bulk Edits
An easy way for you to make quick changes within each module is by 'bulk editing'. Select multiple tasks and make changes simultaneously to save time.

A New Way to Manage Projects
With the new design, we've completely transformed the way you manage your projects. From adding advanced project settings to native Slack integration, we made sure the new application has everything it takes to make your experience worthwhile.
Some of the amazing new features for your projects are:
Comprehensive project settings which enable you to easily bill your projects by an hourly rate. With the new settings, you get the flexibility to set billing either by the entire project, individual tasks, or by resources
You can now assign a Project Manager to your projects and assign him the right to approve or disapprove timesheets
Make better use of your space by bookmarking your favorite projects. The projects that have been 'starred' will appear on top of the sidebar for quick access
Quickly add resources to respective tasks and make job roles transparent
Manage your team projects efficiently through our native Slack integration
Connect with hundreds of other applications through our Zapier integration and don't worry about constantly switching between apps
Visualize your workflow better through our smooth Kanban boards and monitor progress effectively (coming soon)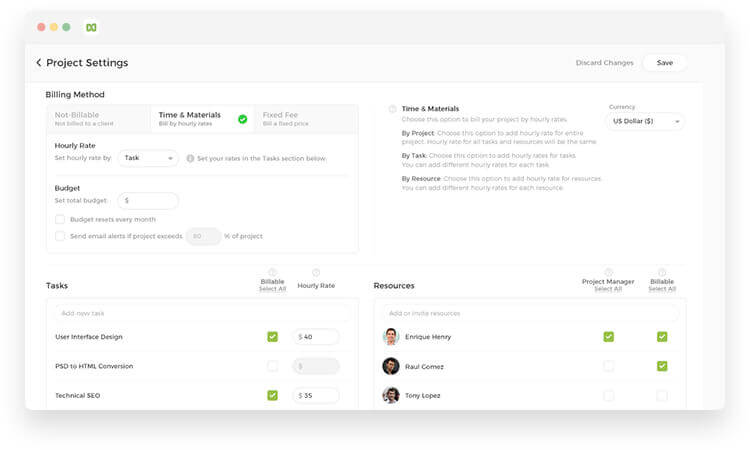 New Elegant Gantt Charts
One of our most popular feature requests, our dynamic new Gantt charts give you a bird's eye view of all your projects and make project scheduling a piece of cake for you.
Some of the major features that we've added in our Gantt charts are:
Milestones; you can add a milestone by identifying the most significant events of your project lifecycle and get a clear picture of what lies ahead
Dependencies; through our interactive Gantt charts, identify task dependencies and specify the order based on Start to Start, Finish to Start, Start to Finish, or Finish to Finish.
Project scheduling; manually connect tasks to build dependencies and create a project schedule through simple drag and drop functionality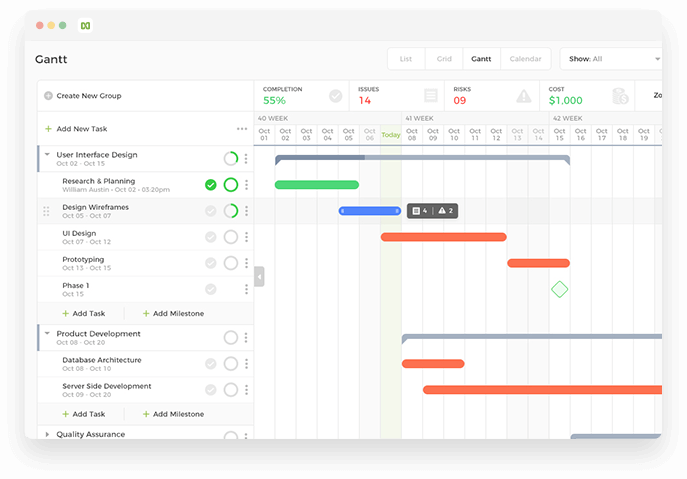 Remodeled Task Details
Our task board also received a makeover and we're drooling over its new design.  Out of the myriad of new features, some of the most noticeable ones are:
Set a planned start and end date to your individual tasks, and compare it with the actual date to monitor performance
Edit checklists, and stay informed about which team member check-marked tasks at a specific time
Associate distinct categories with individual tasks to understand their true nature
You can now create issues and risks within tasks
Easily import tasks through our CSV functionality and share files with anyone for collaboration
Integrate your task board to hundreds of other apps through our Zapier integration and sync data smoothly
Apart from these fresh changes, nTask 2.0 takes team collaboration to a whole new level by providing the following features:
Topnotch Collaboration Features
Simple Slash Commands to quickly refer to particular tasks
Comments within tasks for instant feedback
File attachments to collaborate on things that matter
Mention team members for specified team communication
Activity log and recent updates to keep an eye on overall progress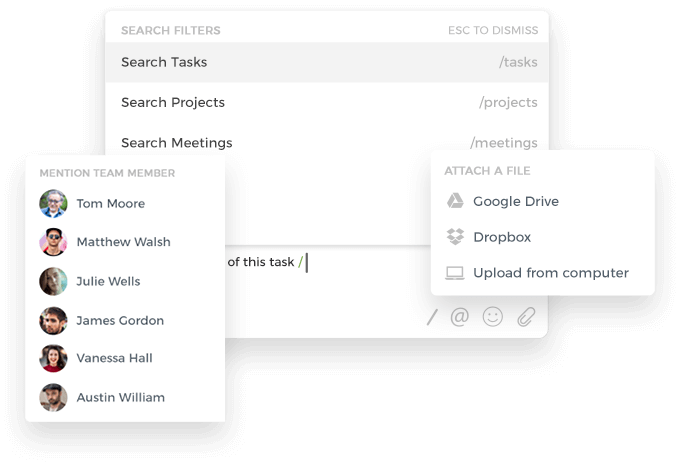 Powerful Meeting Scheduling and Management
Already coming with robust meeting management, nTask 2.0 has further made its meeting management module smarter than ever.
Run super productive meetings now with the new additions that include:
Drag and drop for sorting of meetings
Intelligent recurring meetings scheduling. The new functionality results in automatic scheduling of meetings upon one click
Unique color codes for identifying specific team meetings
Meeting cancelation option
Ability to convert follow up actions to tasks
Smart filters to sort meetings. Your preferred filter can also be converted to your default view each time you access your meetings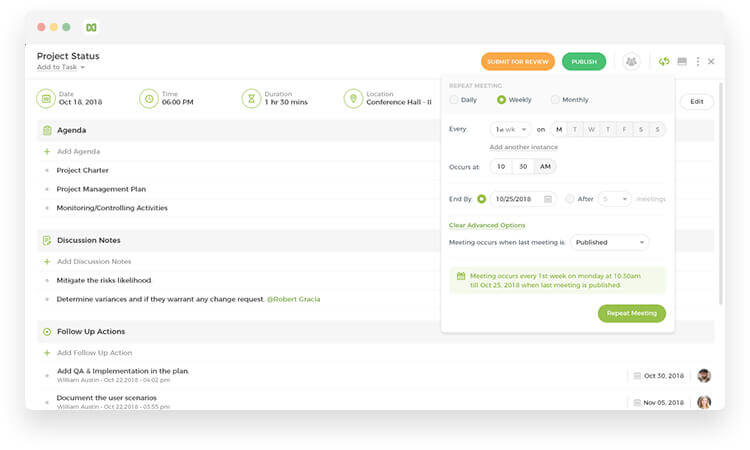 Timesheets and Time Tracking
Tracking time with nTask 2.0 is as easy as pie. Through our built-in timesheets, you never have to leave the application to track time associated with your tasks.
Our new timesheets provide:
Automated web timer that you can start when you begin working and turn off once you're done
Manual time entry into timesheets, if you don't want to use the timer or you forget to turn on the timer
Integration with other time tracking apps, so you don't have to switch applications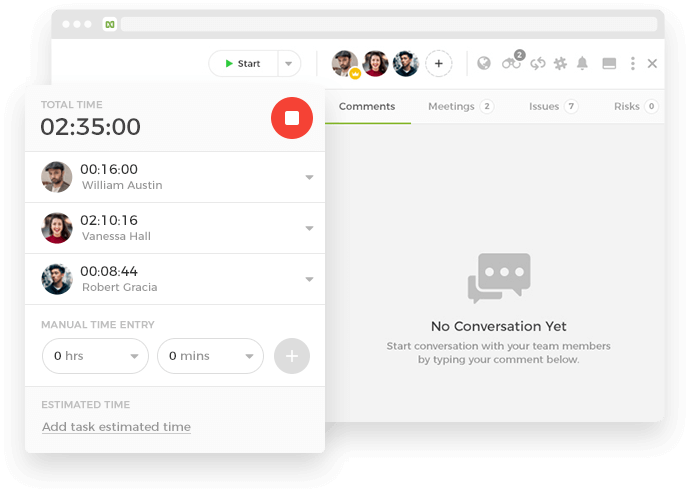 Fast Bug/Issue Tracking
A critical aspect of a project management software is the ability to document issues as they arise during a project and resolve them smartly. We made sure nTask 2.0 can do this for you with minimum chaos through:
Issue type: identify specific issue type to correctly decide the next course of action
Category: associate categories and get a clear picture of the nature of issues
Start and end date: set them to define deadlines
Time tracking: track time against each issue to better manage your time
Smart filters: apply your preferred filters and save settings to make them your default view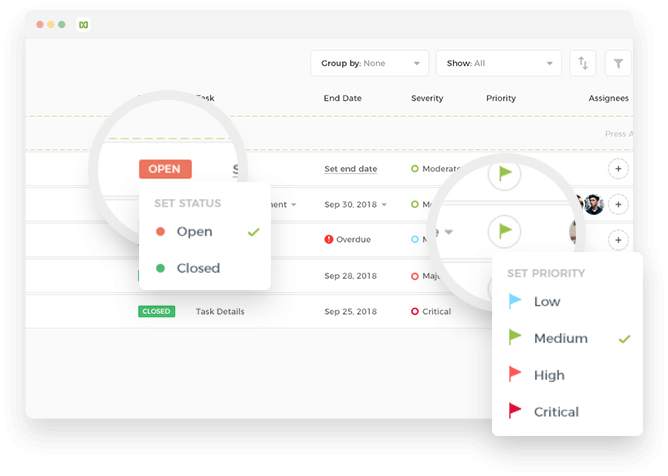 Project Risk Management
Finally, we've also brought improvements to our functionality surrounding risks management.  These improvements are:
Risk Owner: assign a risk owner to your risks and ensure effective development and implementation of mitigation strategy
Risk IDs: allot unique IDs to each of your risks to make their tracking easy
Mitigation Plan: develop a mitigation strategy and minimize your risks' negative impacts
Filters: smart filters for you to sort your risks the way you want. Save your preferences and make them your default view for every time you access risks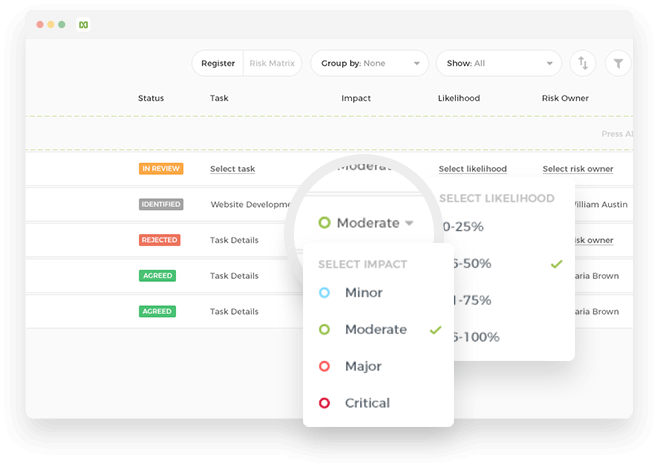 nTask for Mobile
Take your work with you wherever you go with nTask 2.0 for mobile. Our new mobile application allows you to manage your work on the go, without any glitch.
So, it all comes down to this,
Super-fast? ✅
Super-sleek? ✅
Extremely user-friendly? ✅
Advanced new features? ✅
Pocket-friendly? ✅
Even after all this, it doesn't end here!  This is just the beginning of a number of other exciting new features that you'll be seeing over the course of the next few months.
We hope you enjoy this update and we'd love to have your feedback. Write to us in the comments below and let us know what you think.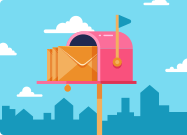 Experience team collaboration like never before
Manage your team, tasks, projects and more on a single platform. Sign up today, it's free.