Are you looking for a free, online collaboration tool to help you and your team work together more effectively? You're in luck! In this article, we'll highlight 12 Miro board alternatives that can help businesses of any size work smarter in 2023.
From cloud-based whiteboard tools to project management platforms, these Miro Board alternatives offer the features and flexibility you need without breaking the bank. Read on to learn more about how these solutions can help maximize collaboration and productivity in your organization.
What is Miro Board?
Miro Board is a cloud-based collaboration and whiteboarding platform designed to help businesses collaborate better. It enables teams to create digital workspaces where they can brainstorm, plan, and manage projects.
With its intuitive drag-and-drop interface, it allows teams to quickly create visuals such as flowcharts, mind maps, and sticky notes. It also supports real-time collaboration with remote teams so that everyone can work together in the same space.
As a result, businesses can improve communication and collaboration between team members. In addition, Miro Board also offers an extensive library of templates, icons, and integrations with other popular tools such as Slack, Google Drive, Dropbox, Jira, Trello, and more.
With these features in place, businesses are able to streamline their workflow processes and increase productivity.
Who is Miro Board for?
Miro Board is a cloud-based collaboration and planning platform designed to support businesses of all sizes.
It provides users with an interactive whiteboard that allows them to develop ideas, create plans and collaborate with teams remotely. The platform is a great tool for businesses looking to engage their employees in creative problem-solving and project planning.
Miro Board can be used by teams of all sizes, from small startups to large enterprises. With its easy-to-use drag-and-drop interface, users can quickly add images, videos, documents, and notes to the whiteboard. It also features advanced functionality such as voice chat integration and real-time collaboration.
Additionally, it offers a wide range of integrations with other popular tools such as Slack and Trello, making it easy to access data from multiple sources.
Miro Board is an ideal solution for businesses looking for an affordable and versatile collaboration platform. With its free version offering many features and its paid version offering even more features for larger companies, Miro Board is an excellent choice for businesses seeking an intuitive collaboration tool.
Simplify project management
with nTask today!
How Does Miro Board Work?
Miro Board is an online collaboration platform that enables businesses to collaborate in real time, regardless of distance. It allows teams to work together on projects with ease and efficiency. With Miro Board, teams can brainstorm, discuss ideas, and create visuals to keep everyone on the same page. Through its intuitive design, Miro Board provides a virtual workspace where teams can quickly get up and running.
Miro Board works by providing a shared online space for users to collaborate on projects. It has a range of features designed to enhance collaboration including whiteboard functionality, drag-and-drop image uploading, text chat capabilities, and more.
The platform also integrates with popular applications such as Slack and Google Drive so users can keep their workflow organized in the same place. With its intuitive user interface, Miro Board makes it easy for businesses of all sizes to quickly get up and running with the platform.
For businesses looking for alternatives to Miro Board in 2023, there are plenty of options available on the market. From free tools like Google Jamboard to paid platforms like Conceptboard or Stormboard, there are plenty of options available depending on your needs and budget. All these alternatives offer similar features as Miro Board but may vary in terms of pricing plans or integrations.
What functionalities does Miro Board offer?
Miro Board is a cloud-based collaboration platform that provides businesses with a range of features and functionalities to help them work together more efficiently.
This platform is designed to help teams collaborate in real time, regardless of their physical location. With Miro Board, users can create digital whiteboards and share them with other team members. On the boards, users can add images, videos, and documents to the boards, as well as use sticky notes to keep track of tasks and ideas.
Additionally, it supports real-time chat so that remote teams can stay connected. Miro Board also offers multiple integrations with popular applications like Trello and Jira for further collaboration. In summary, Miro Board makes it easy for business teams to collaborate on projects in an effective and organized manner.
3 Reasons Why You Need A Free Miro Board Alternatives
Cost Savings: A free Miro Board alternative can save you money on software costs. Many of these options provide the same features and functionality as Miro, but at a lower cost or even for free. This can be especially useful for small businesses that may not have the funds to purchase costly software programs.
Increased Functionality: A free board alternative offers more options than just sticking with Miro. You can find many additional features such as project collaboration, task assignment, whiteboarding tools, video conferencing, and other tools not available from Miro alone.
Customization: With a free board alternative you get the freedom to customize your workspace according to your needs and preferences – something that is limited in Miro boards due to their standardized layout and design elements.
Having this customization power allows you to get more specific with how you want collaborations within your team or organization to work – which may lead to better results overall when working together remotely or in person!
12 Best Miro Board Free Alternatives for 2023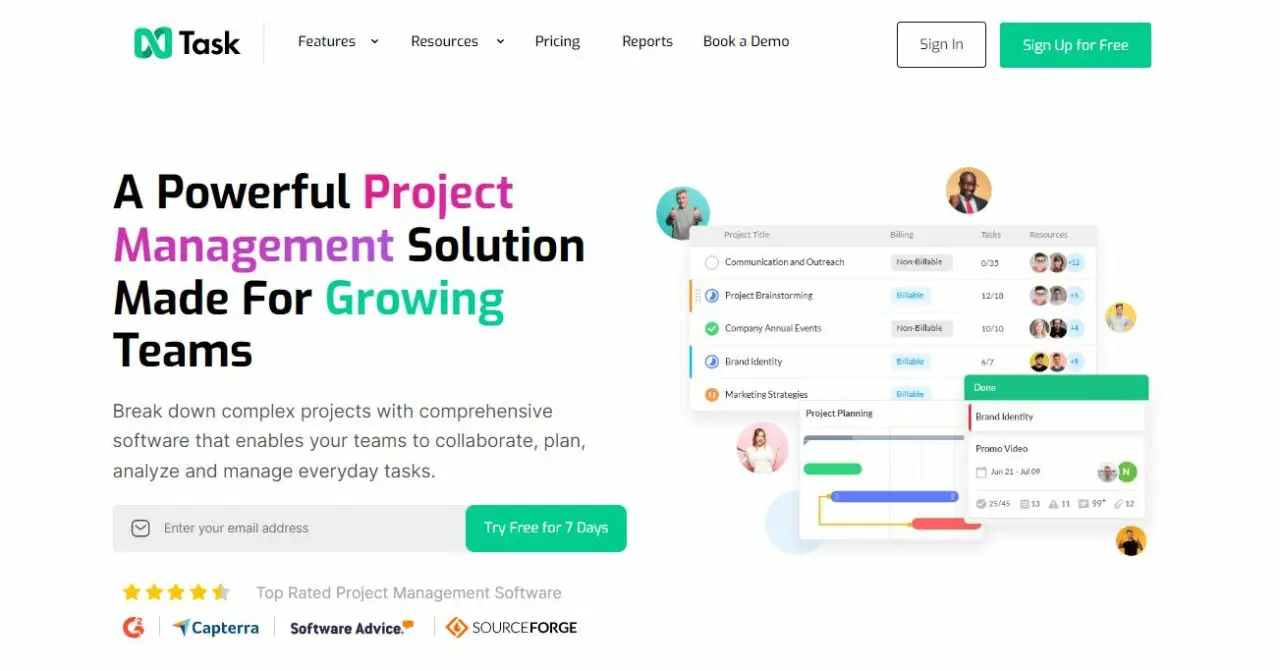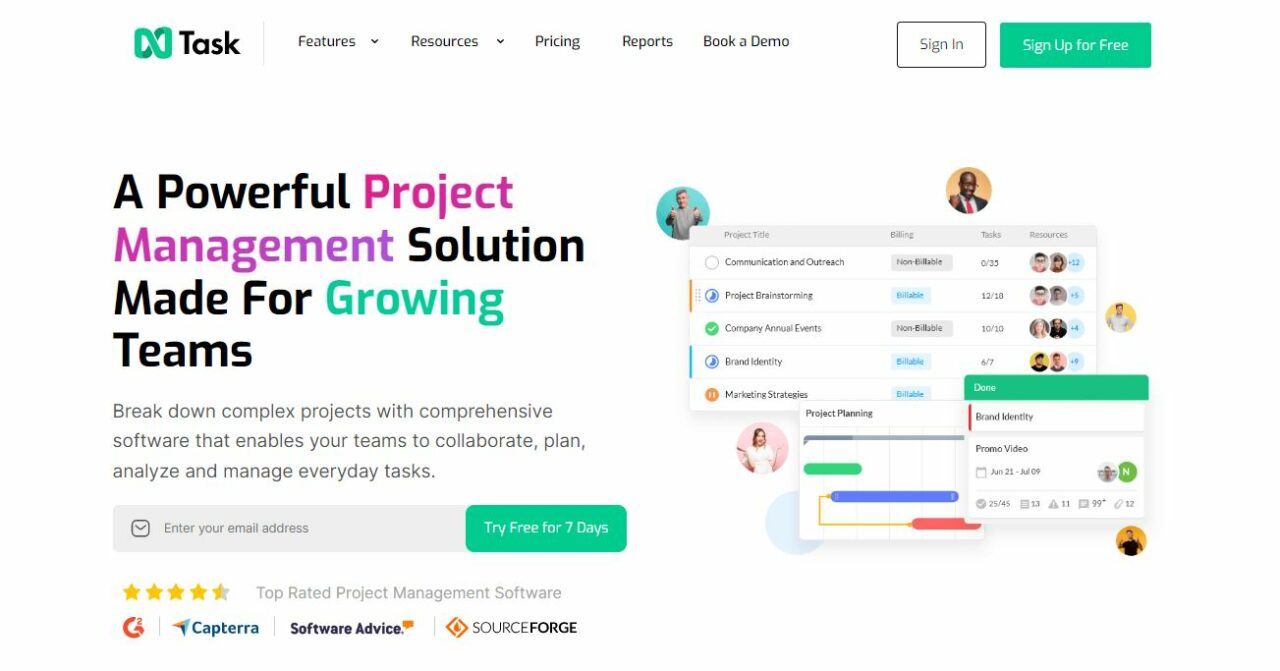 nTask is a cloud-based task management tool designed to help users easily create and track their tasks. It offers an easy-to-use drag-and-drop interface that allows users to quickly add notes, assign tasks to multiple people, set due dates, add labels and even upload files.
It allows teams to visualize the progress of each project in order to identify any delays or hurdles during the development process. nTask has powerful features like Gantt charts and timelines that make it easier for team members to see where they stand on any given project.
Additionally, its built-in collaboration features such as real-time chats allow teams to effectively coordinate their efforts while working remotely from home or in different locations.
Features
Project & task tracking: Users can easily assign tasks and track progress with visual gauges for time spent/estimate remaining time on each task as well as due dates for each project or task.
Viewable activity streams: Users have access to a live view of all recent activities related to the project such as comments, attachments, etc., giving users insight into what's taking place in real time.
Informative dashboards & reports: nTask provides powerful insights via its various dashboards (overview dashboard and individual area dashboards). Detailed reports are also available with flexible reporting options like filtering by date range and other parameters.
Customizable fields & settings: The product is highly customizable allowing you to define custom fields that fit your specific process requirements or tweak existing fields in response to changing needs during the course of your project's life cycle.
Pros
Increases productivity by streamlining the process of assigning and monitoring tasks.
Offers effective communication between team members, allowing for efficient collaboration.
Entails easy access to data and resources which ensures improved decision-making capabilities.
Allows managers to hold employees accountable by tracking their progress on individual tasks as well as group projects.
Enhances clarity regarding who is responsible for what task and when it needs to be completed.
Cons
Desktop app not available for now
Pricing
Premium $3/user/month
Business $8/user/month
Enterprise custom/user/month
Easy Project Management
With nTask. Start Here!
2. Taskade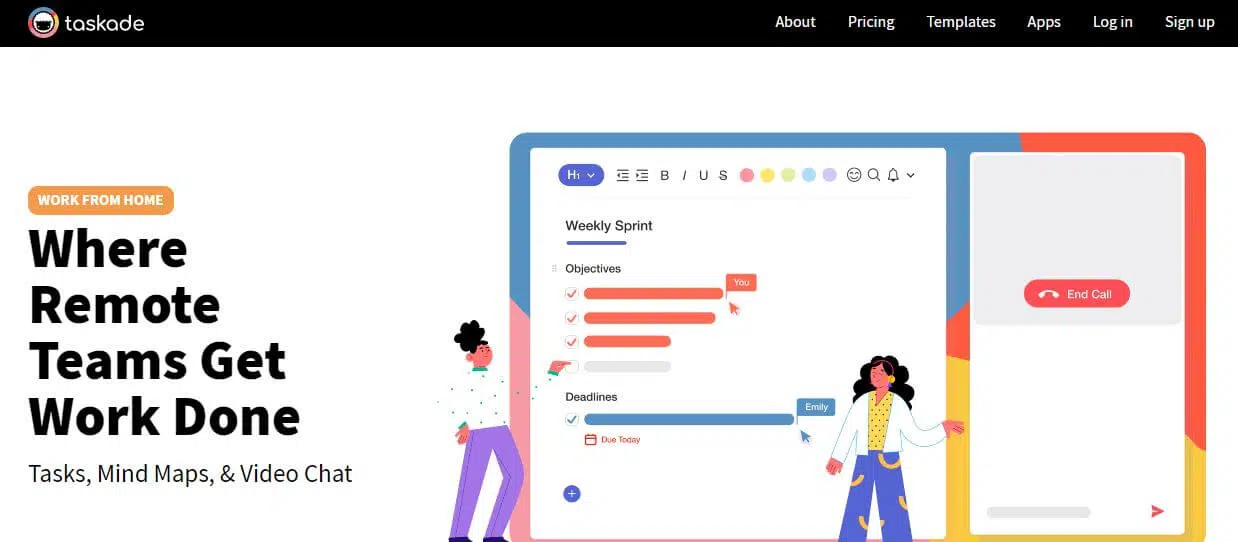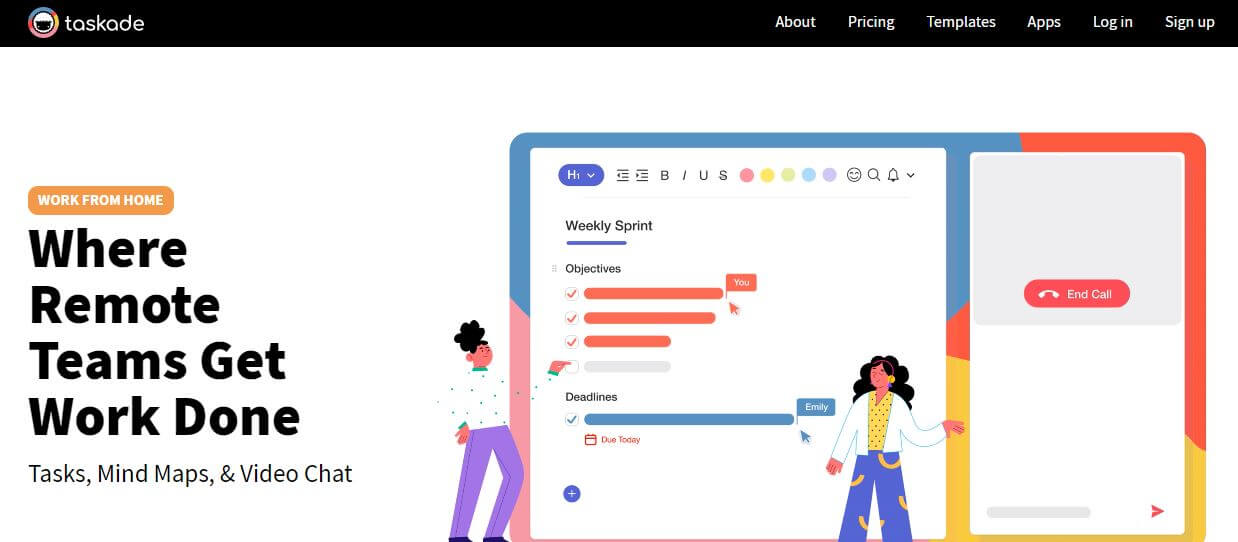 Taskade is a cloud-based collaboration tool that enables teams to stay organized, communicate effectively, and accomplish their goals faster.
It is used by organizations of all sizes from startups to enterprises that need to work remotely or across distributed teams.
With Taskade, users can manage projects and tasks in real-time enabling them to track progress quickly and easily.
In addition, users can use Taskade to set up checklists, assign tasks and share notes with team members as well as access projects management functionalities such as time tracking and reporting metrics.
Taskade also integrates with other third-party apps giving users the ability to collaborate on documents stored in Dropbox, Google Drive, or Box while staying organized within their workflow. Finally, they have an instant chat feature allowing everyone on the team to engage in conversations both synchronously (in real-time) or asynchronously (when it's convenient).
Features
Taskade is a cloud-based collaboration tool that allows teams to easily organize their tasks, projects, and ideas in an intuitive and streamlined way. Its features include:
Task List View – Quickly view all tasks assigned to you or your team with this feature. It also shows who is responsible for each task, the due date, and status updates.
Customizable Dashboard – Create custom dashboards according to your own needs so that your team can see important data points in one glance.
Project Management – Manage complex projects by breaking them down into structured components such as goals, objectives, deliverables, and subtasks with start/end dates progress tracking, and integrated timeline views.
Team Collaboration – Invite members from other departments or external collaborators to join a project or workspace within Taskade to quickly share files and updates without having to switch tools or context switch between different apps.
Team Chat & Messaging – Use the built-in chat app for instant conversations about any project or task within Taskade so you don't need multiple tools just for communication.
 Real-time Notifications & Alerts – Get notifications when changes are made to tasks so you can stay up-to-date on any actionable items assigned to you at all times no matter where you are located in the world!
Pros
Easy setup and integration with existing workflows.
Enables real-time collaboration on projects, ideas, tasks, and documents.
Seamless synchronization across multiple devices.
Allows chat communication between project members in private channels or public chats.
Supports file sharing for efficient collaborative working.
Cons
Limited customization options: Taskade offers limited customization and configuration options that may not be suitable for complex projects and tasks.
Lacks key features: It does not have some of the key features like task dependencies, resource allocation, comprehensive analytics, etc., which are essential for managing larger projects.
Not easily integrable: Taskade is not easily integrable with other tools or software, making it difficult to track project progress across multiple applications.
Pricing
Free $0/month
Pro $19/month
Business $49/month
Ultimate $99/month
3. Collaboard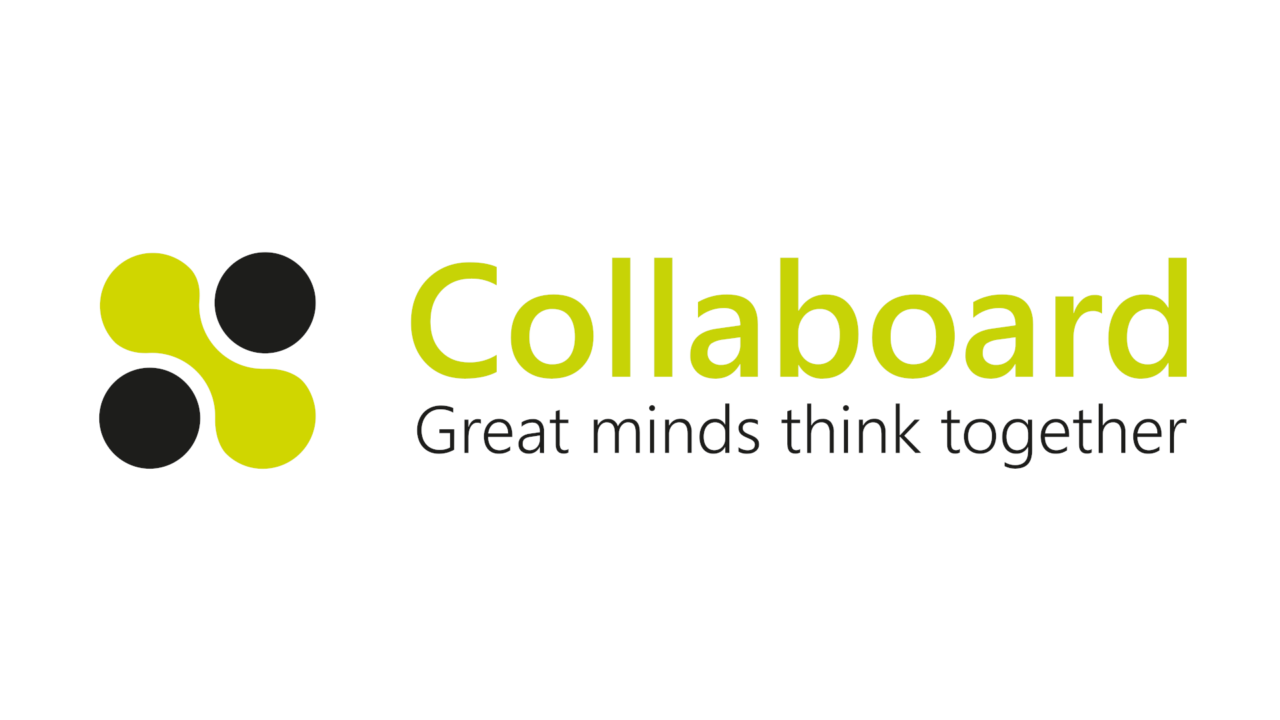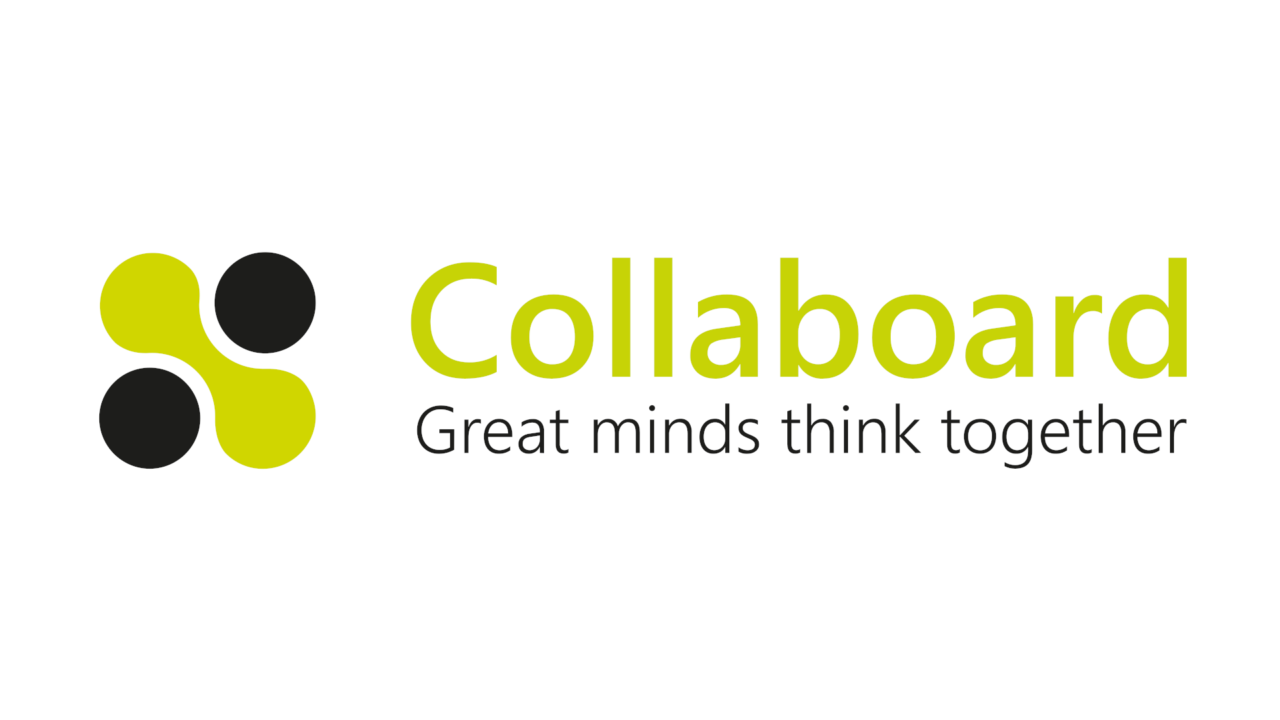 Collaboard is a powerful collaboration tool designed to help teams collaborate more effectively.
It allows users to easily share, edit and update documents from any device in real-time. With its easy-to-use interface, Collaboard simplifies the process of collaborating on projects with multiple individuals. It also includes support for file sharing, and project management tools such as boards, task lists, and tracking systems.
Additionally, Collaboard provides integrations with popular third-party applications allowing teams to take advantage of their existing workflow processes. With its user-friendly design, every user can start using it immediately without required training or setup time.
Furthermore, the platform offers great security along with unlimited storage space for team members to access their files at any point in time securely from anywhere in the world via the cloud. Overall, Collaboard is an effective collaboration and project management tool that can help ensure that teams work together smoothly while staying secure.
Features
Task Assignment: Assign tasks to team members with clear deadlines and progress indicators so that everyone knows who is responsible for what.
Activity Streams: Keep up-to-date with relevant project activity streams in one easily viewable location.
Commenting & Discussion Feeds: Have conversations right within the project files or documents without having to switch tabs or applications for discussion updates or feedback exchange among teammates.
File Sharing & Storage: Store all important documents related to the project such as meeting notes and client updates in the cloud where it can be accessed from anywhere with an internet connection.
Task Tracking & Progress Updates: View task statuses at a glance and keep tabs on who has completed which tasks by tracking their progress through completion milestones charts and reports.
Team Calendar Management: Easily set up meetings, plan events, manage deadlines, assign resources, and track performance goals across teams through calendars.
Integrations: Connect multiple third-party systems like Dropbox, Salesforce, Slack, etc., together into one platform so everyone is always working off of the most updated files and data sets available.
Pros
Easy to use with a simple user interface
Offers real-time collaboration for maximum productivity, shared workspaces, and messaging systems
Enables multiple people to work on the same file from different locations
Automatically saves all changes while multiple users edit documents simultaneously 
Provides version control capabilities that enable users to compare document versions and revert back to an older version if necessary
Allows users to draw freehand on digital whiteboards, highlight important items or add notes
Cons
Lack of customization options: Collaboard offers limited customization options, which makes it difficult to tailor the experience to a user's individual needs.
Poor customer service: Reports have surfaced that Collaboard provides poor customer service, with customers often having difficulty reaching representatives and getting their issues resolved.
High cost: Collaboard can be expensive for the features it provides, which may be a deterrent for small businesses or individuals looking to save money on collaboration tools.
Pricing
Free €0/month
Personal €3/month
Basic €5/month
Advanced €10/month
4. Ryeboard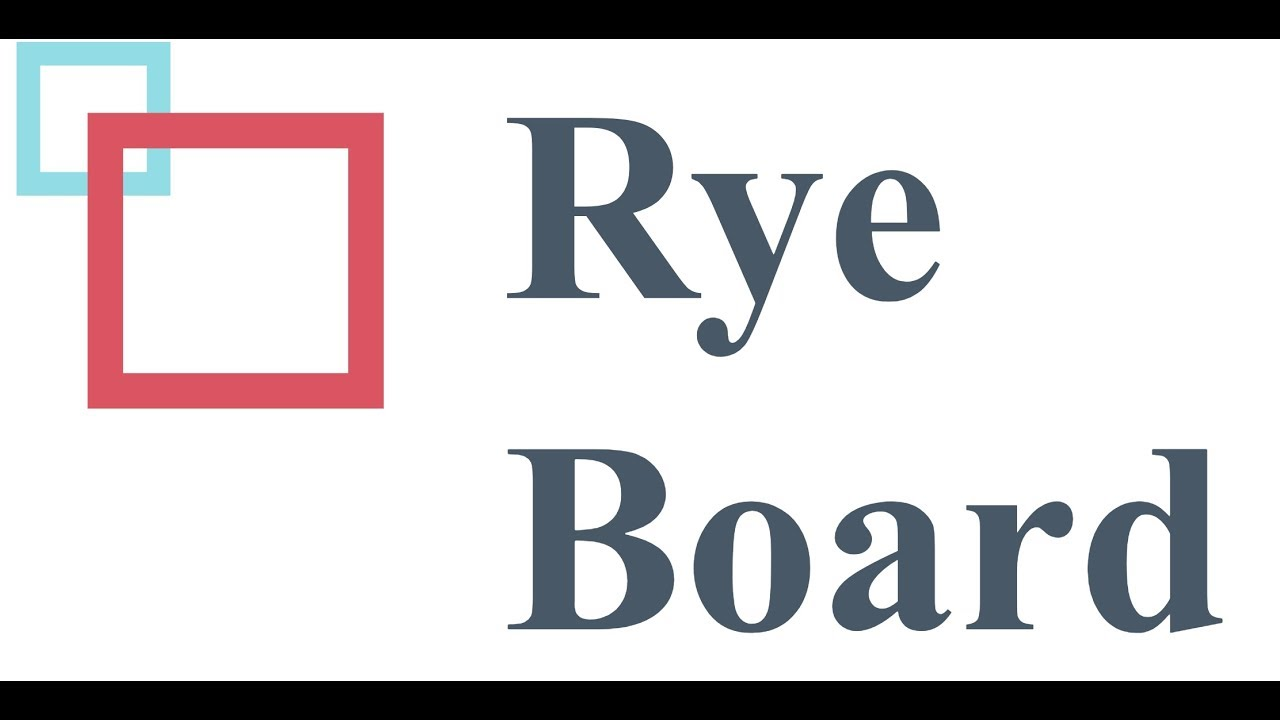 Ryeboard virtual whiteboard software is a powerful and versatile tool that allows users to collaborate and brainstorm in real-time. It provides innovative features such as the ability to display multiple boards at once, draw, edit, share ideas, and more.
The interface is user-friendly and designed with an intuitive workflow so teams can easily organize their thoughts.
Ryeboard also integrates with productivity tools like Microsoft Teams, Slack, Google Docs/Drive, Zoom, and Dropbox as well as popular project management apps like Jira creating improved collaboration across all projects.
With Ryeboard virtual whiteboard software you can quickly make decisions on projects from any device providing streamlined communication between team members located in different locations or time zones. Team members can add notes for future reference or keep track of tasks needed for the completion on each board with the one-touch task tracking feature giving the team a comprehensive view of progress no matter where they are working from.
Features
Live Collaboration – Ryeboard allows multiple team members to work simultaneously on one project or idea. It's easy to invite guests into the workspace and set up group sessions for everyone to contribute their thoughts.
Easy Creation of Ideas – Ryeboard's drawing tools make it simple for users to add shapes, doodles, text boxes, icons, and images onto the canvas. Sticky notes can also be added that allow users to keep track of different tasks or assign roles among team members.
Document & Image Sharing – Users have the ability to drag and drop documents such as PDFs or PowerPoints from their local device directly into Ryeboard's workspace without having to download anything first. They can also upload images from popular apps like Dropbox or Google Drive so that all files/images are accessible within one platform for better collaboration purposes.
Viewing & Sharing of Projects – Completed projects created in Ryeboard can be shared via email with links that direct them back into the user's workspace; allowing others to view them without needing any extra accounts/downloads.
Pros
Cloud-based: Ryeboard is cloud-based, giving users secure remote access to their whiteboards from any device.
Collaboration Friendly: Ryeboard encourages collaboration with features such as comment threads and real-time updates for multiple users.
Customizable: Users can customize their boards to have the look, feel, and navigation they need.
Intuitive Interface: Its easy-to-use interface allows all users to quickly get up and running with minimal learning required.
Cons
Limited features and customization options
Relatively expensive compared to other software solutions
The difficult learning curve for users unfamiliar with digital whiteboard software
Lack of support for collaboration with team members working remotely
Limited integration with other popular tools or services
Pricing
Free $0/month
Team $10/month
Business $20/month
5. GroupBoard
Groupboard is a collaborative online whiteboard platform that allows multiple people to work together in real time.
This platform provides users with the ability to easily create digital boards where they can collaborate on tasks, share ideas, and work together in an organized fashion. The virtual whiteboards can be used for brainstorming sessions, problem-solving activities, project design or planning meetings, and many other purposes.
With Groupboard's proprietary technology, users are able to draw and write directly onto their online boards which are instantly synced with all of the participants connected to the board.
Participants can also propose drawing suggestions that everyone connected will visualize and interact with during meetups or sets of workshops.
In addition, participants have access to tools such as a chat box for communication and supplementary features that help facilitate group collaboration further such as mind maps and sticky notes for note-taking.
The main feature of Groupboard is its real-time support allowing participants from any location across the globe to communicate in an efficient manner without losing time writing back emails or having long delays due to asynchronous communication.
Features
Real-time collaboration: Groupboard allows multiple users to work together on the same project from different locations in real-time.
Easy setup: Groupboard requires no special setup or installation, and can be accessed from any modern web browser.
Automated backups: Groupboard automatically backs up documents and content, ensuring that all progress is never lost even if the internet connection goes down unexpectedly.
Flexible user roles: With customizable user roles, each collaborator can be given a specific role within the team (e.g., editor or contributor).
Preset templates and settings: Pre-configured templates let you quickly create projects with predetermined layouts and settings so everyone starts out with a familiar baseline setup right away. 
Highlight & annotation tools: Special tools allow users to comment on, highlight areas of interest, and make notes directly onto documents in real-time for easy sharing of ideas between collaborators as well as clear feedback for reviewers later on instead of relying solely on emails back and forth about changes needed, etc.
Cross-device compatibility: access your whiteboard through Windows, Mac OS X, or Linux operating systems using any desktop Web browser like Chrome, Firefox, or Safari.
Pros
Easy to set up and use: Groupboard is a user-friendly online whiteboard platform that is easy to set up and simple to use, making it ideal for quick collaboration sessions.
Feature-rich: Groupboard has a huge range of features, such as file sharing, video conferencing integration, secure private messaging, and more.
Customizable: Groupboard allows users to customize the whiteboards with backgrounds, images, shapes, and text so that each session can be tailored to specific needs.
Real-time collaboration: With Groupboard's real-time collaborative features all participants can work on the same document at the same time from any device with an internet connection.
Cons
Reduced scalability due to limited resources available
Limited integrations with third-party applications, leading to a lack of flexibility in usage
Lack of features compared to some other platforms that offer more advanced features such as real-time collaboration or voice/video conferencing
High cost of subscription plans for larger teams, making it less cost-effective than other solutions
Pricing
Free $0/month
15 users $9.99/month
50 users $19.99/month
Enterprise License $499/month
6. Twiddla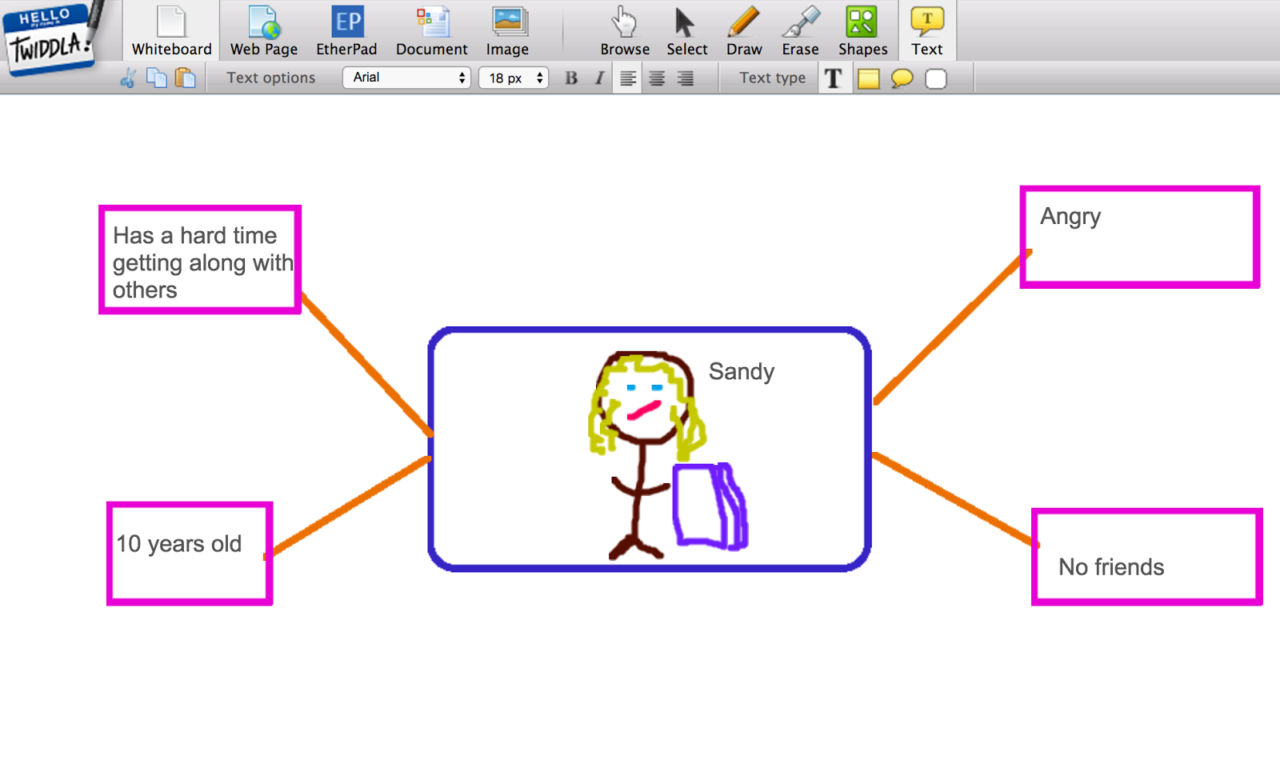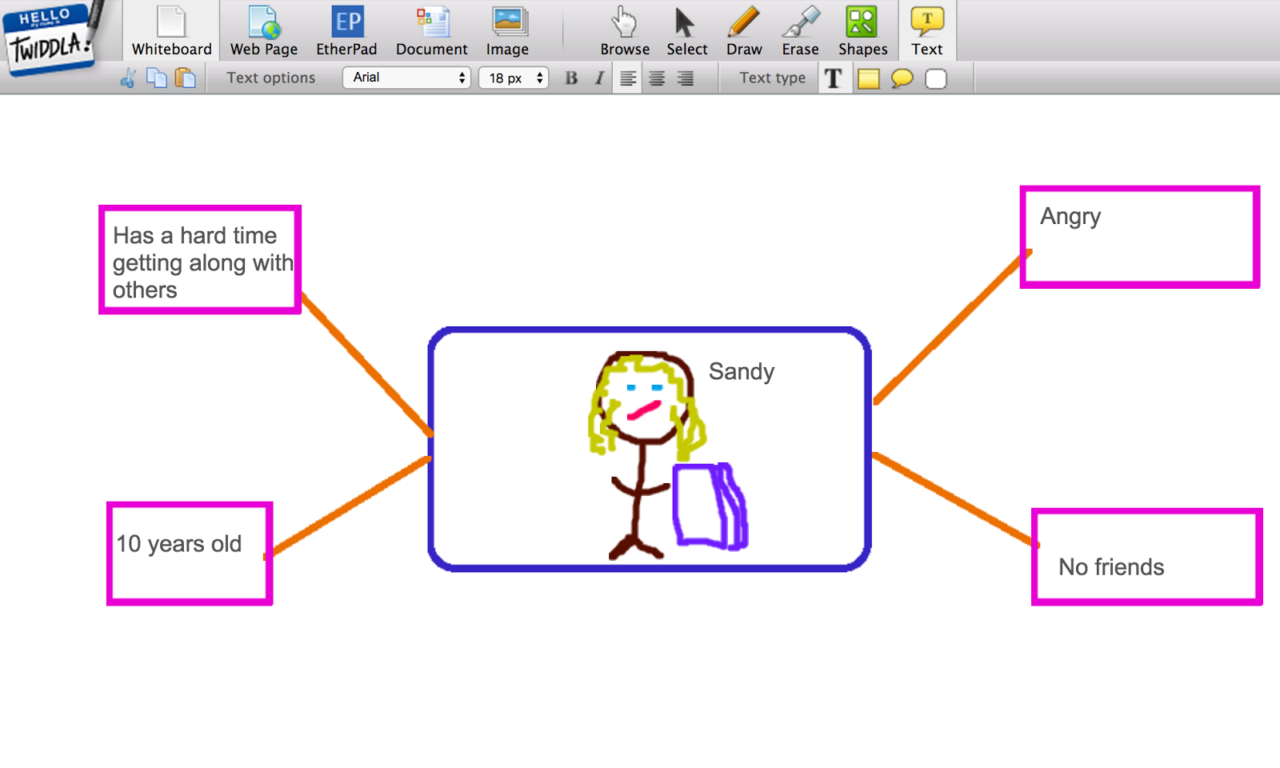 Twiddla is a web-based whiteboard software that allows teams to collaborate in real time.
It provides users with the ability to easily share ideas and work together on projects from anywhere in the world. It offers a variety of features, such as text chat, file sharing, image annotations, web conference calls, and much more.
With Twiddla's simple user interface and drag & drop customizations it becomes easy to quickly plan tasks with colleagues or brainstorm new ideas at any distance.
The platform is also great for video conferences where multiple team members can join and instantly draw diagrams to help better understand each other. Features like screen capturing and recording sessions allow users to refer back at any time while brainstorming or catching up on things they may have missed earlier.
In addition, Twiddla also supports voice commands which make it easier to navigate through ideas without too much effort. All these features come together making Twiddla one of the most powerful whiteboard software available today!
Features
Drawing and sketching tools– Users can draw lines, shapes, arrows, circles, or any other image they desire by simply dragging their fingers across the easy-to-use interface. Users can also switch between different brush sizes and color palettes to customize their artwork even further.
Team collaboration– With Twiddla's online chat feature users can communicate throughout their entire project while working together in real-time on the same whiteboard canvas. They can also invite other people into their projects without having to leave the software or set up multiple accounts.
Image/video sharing– Upload images or videos from your device quickly onto Twiddla's web page so others can view them in seconds. This makes it ideal for sharing ideas during brainstorming sessions or presentations as team members will always have access to whatever material is being discussed at any given moment.
Cloud integration– All Twiddla projects are safely stored on an encrypted cloud platform which helps maintain security and allows team members to reference past work in order to better collaborate moving forward with new ideas and tasks.
Pros
It is easy to use with a simple and intuitive user interface.
It has various drawing tools for making diagrams, drawings, sketches, etc.
It supports real-time collaboration with other users – ideal for remote teams.
You are able to set up screen sharing and video chat facilities within the application itself.
You can save and export your work in different formats including PDFs and images.
There is a library of templates available to give you ideas and help you get started on projects quickly.
Cons
Twiddla whiteboard software has limited collaboration tools, making it difficult to work on projects with multiple people.
Its features are quite basic and lack the more advanced customization options of other whiteboard software.
Twiddla does not offer any kind of file integration, meaning users cannot import documents or images into the whiteboard space.
Pricing
7. Microsoft Whiteboard


Microsoft Whiteboard is a freeform digital canvas collaboration tool where users can easily draw, type, and add images to their virtual whiteboard.
It provides an intuitive way to work together online with colleagues and customers. Microsoft Whiteboard has been designed for any device and works on Windows 10, iOS, Android, and the web. With its versatile design, it is ideal for all kinds of collaborative scenarios. It allows teams to brainstorm ideas quickly with others through live streaming or video conferencing.
Through its annotation tools like pens, highlighters, or stamps users can easily collaborate in real time with partners from anywhere in the world and make sure everyone's on the same page in no time.
Moreover, Microsoft Whiteboard also enables access control so only certain people have access to your boards as well as saving different versions of your board change history so you can always go back if need be.
Features
Real-time Collaboration: Microsoft Whiteboard enables users to collaborate in real-time on the same digital canvas. This can be useful for brainstorming ideas, creating visuals, and more with others from anywhere in the world.
Multi-User Holograms: Microsoft Whiteboard allows up to twenty participants to actively collaborate on a board using their own holograms during a video conference call.
Annotate Images & Texts: Users can easily annotate images and texts inside of the app to clarify points or provide visual cues that cannot otherwise be conveyed through words alone. This makes it possible for remote teams to quickly add context without needing any additional software or tools.
Ink Effects & Fonts: The drawing capabilities within Microsoft Whiteboard are especially impressive as they allow users to choose between various ink effects, fonts, sizes, and colors while they create a visual masterpiece.
Draw Shapes & Diagrams: It's easy for users to draw shapes and diagrams such as arrows, circles, squares, lines, etc., directly onto the whiteboard interface which is both time-saving and great for clarity when communicating ideas clearly over long distances.
Online Templates Library: The online template library offers an extensive range of templates so you have something ready-made when starting out brainstorming your next big project!
Pros
An easy-to-use collaborative tool with real-time editing capabilities
Ability to work on a surface with a virtually unlimited digital workspace
Multimedia features like image, audio, and video support
Ability to seamlessly convert handwriting into text
Feature of instantly sharing whiteboard through emails or public links
Cons
Limited Functionality: Microsoft Whiteboard has limited features as compared to other digital whiteboard tools available in the market.
Lack of Collaboration Features: It does not offer many collaboration features like user permission, real-time editing or comment history.
Intricate Design Process: Its intuitive design process can be quite intricate for new users.
Expensive Price Tag: The cost of using the software is relatively expensive and may turn off potential buyers.
Pricing
Basic $6/user/month
Business $8.25/user/month
Standard $12.50/user/month
Premium 22/user/month
8. Limnu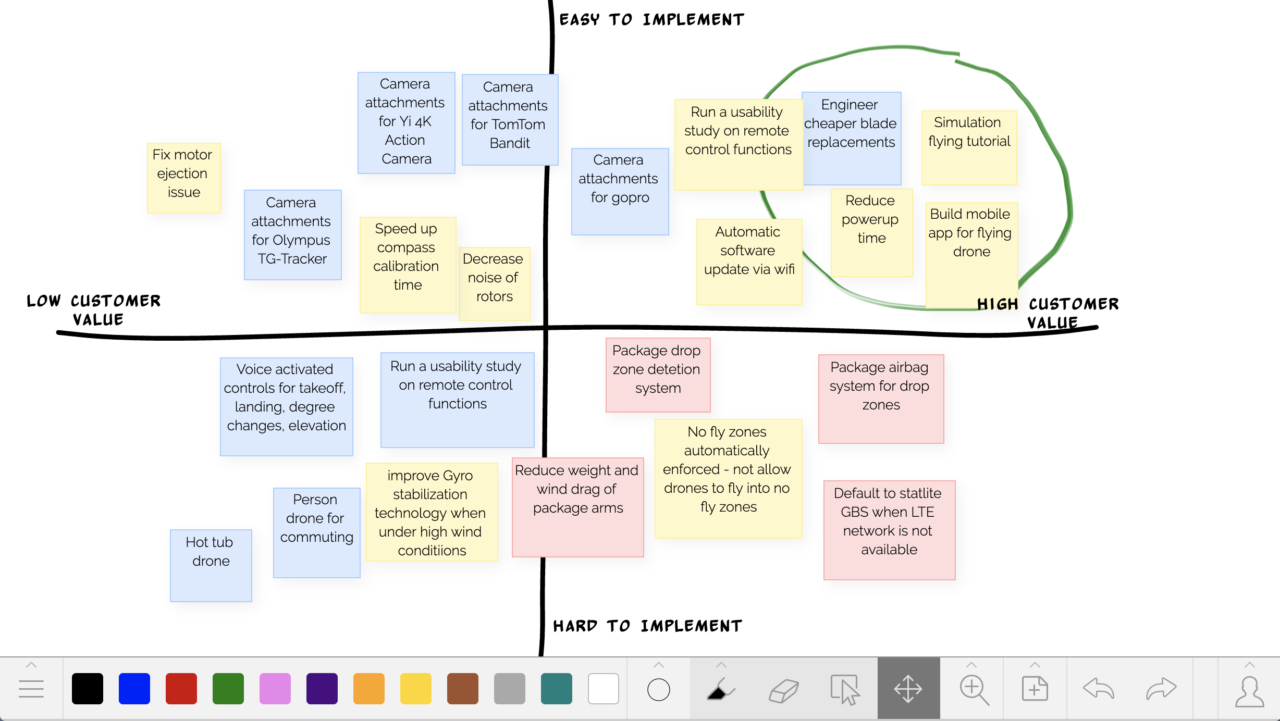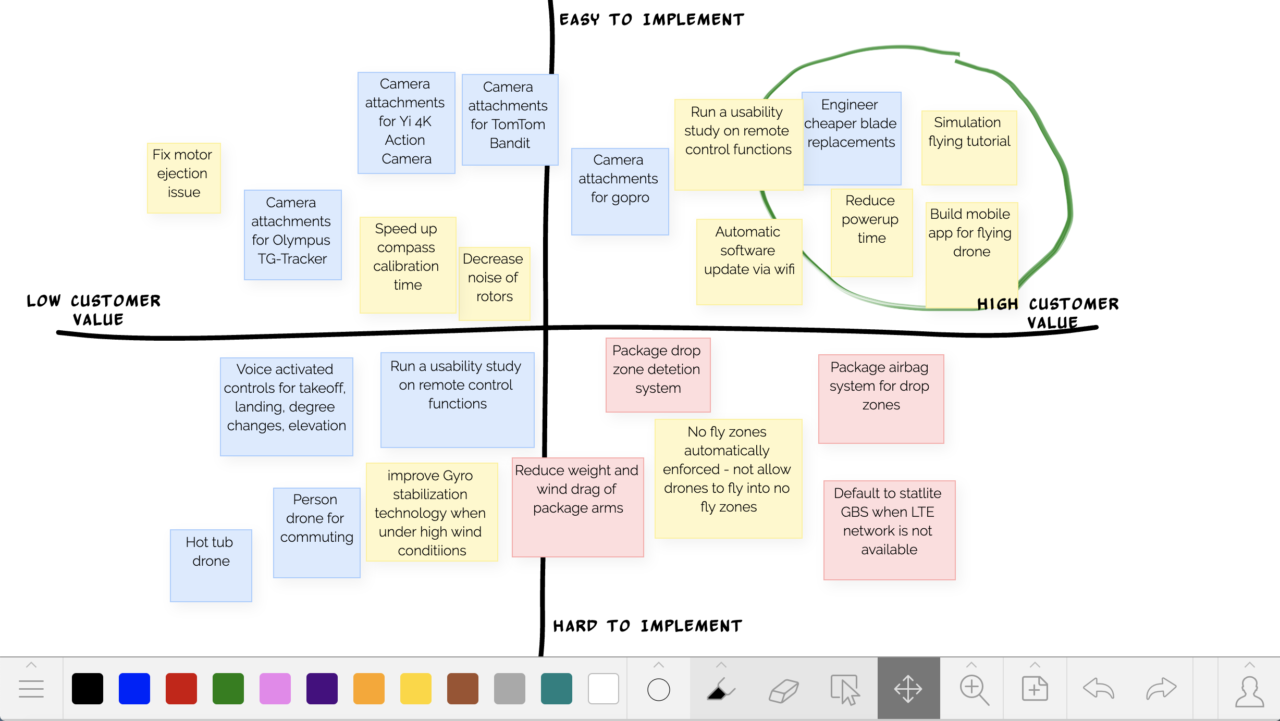 Limnu Whiteboard collaborative software is an innovative software that allows multiple users to collaborate with each other in real-time.
It's perfect for remote team meetings, video conferencing, and brainstorming sessions. The whiteboard can be used as a virtual workspace for teams to share ideas, create diagrams, draw sketches, brainstorm plans, and more.
It also provides access to a library of content that allows teams to quickly share resources such as photos, videos, and web links without ever leaving the app.
The software is available on both desktop and mobile devices so it's easy for anyone to use from just about any device or location. Teams can easily set up private rooms with invite-only access so that everyone can work together securely within the platform.
Limnu Whiteboard encourages collaboration by providing various tools such as drawing tools, text chat functionality, and even audio integration so team members feel like they're working together face-to-face even when they're apart!
Features
Drawing Tools – Limnu offers a full suite of drawing tools including pencil, brush, and markers that give users the ability to draw precisely as they would on paper. In addition, Limnu also offers eraser tools and quick selection tools so users can quickly make changes or select specific elements on their board quickly. 
Annotations – Users have access to various annotation tools including text boxes, speech bubbles, shapes, and lines allowing them to add information or make comments and annotations on their whiteboard in an intuitive way.
Customization – Limnu provides various customization features such as setting background images, canvas size customization, and export/import options so users have the freedom to customize their whiteboards exactly how they want them. 
Sharing/Collaboration – With Limnu's sharing feature, multiple people can view the same whiteboard at once from anywhere with an internet connection. This makes it easy for users to collaborate remotely with others in real-time making online meetings more efficient.
Pros
User-friendly interface that allows multiple users to collaborate in real-time
Variety of features such as text formatting, sticky notes, grids, and other drawing tools
Ability to upload images from cloud storage or from your device
Easily save the final product for future use or export it as an image file
Cross-platform support for Mac, Windows, Android, and iOS devices
Integration with third-party services like Google Drive and Dropbox
Automated version tracking helps keep everyone on the same page
Security options available for extra peace of mind
Cons
Limnu Whiteboard collaborative software can be difficult to set up.
The user interface is not very user-friendly and can be confusing for new users.
It does not offer features such as file sharing and real-time editing, and these must be enabled through third-party software in order to work with Limnu Whiteboard.
It has limited support, so those with technical questions may have difficulty finding help quickly.
The cost of the program can also become expensive over time due to subscription fees or upgrades.
Pricing
Free $0/month
Pro $5/month
Team $8/month
9. Idea Flip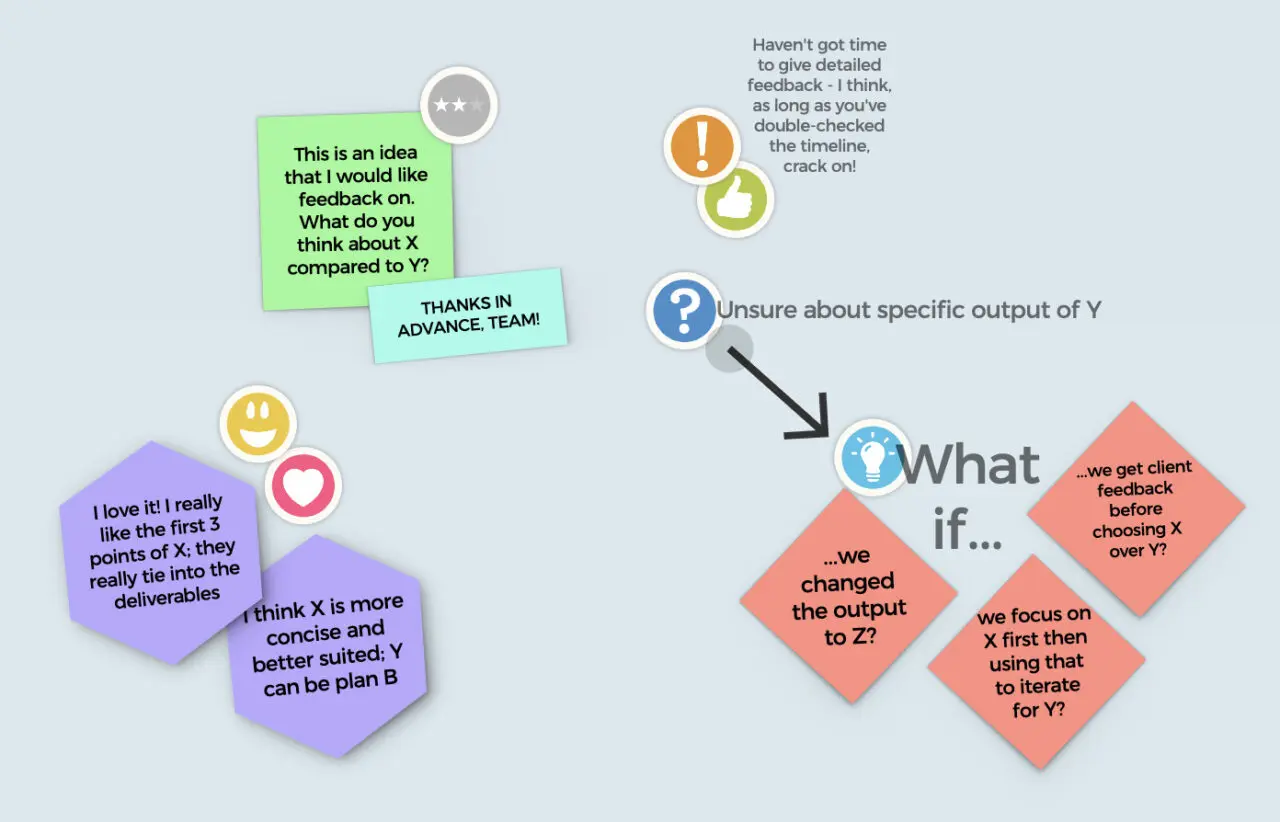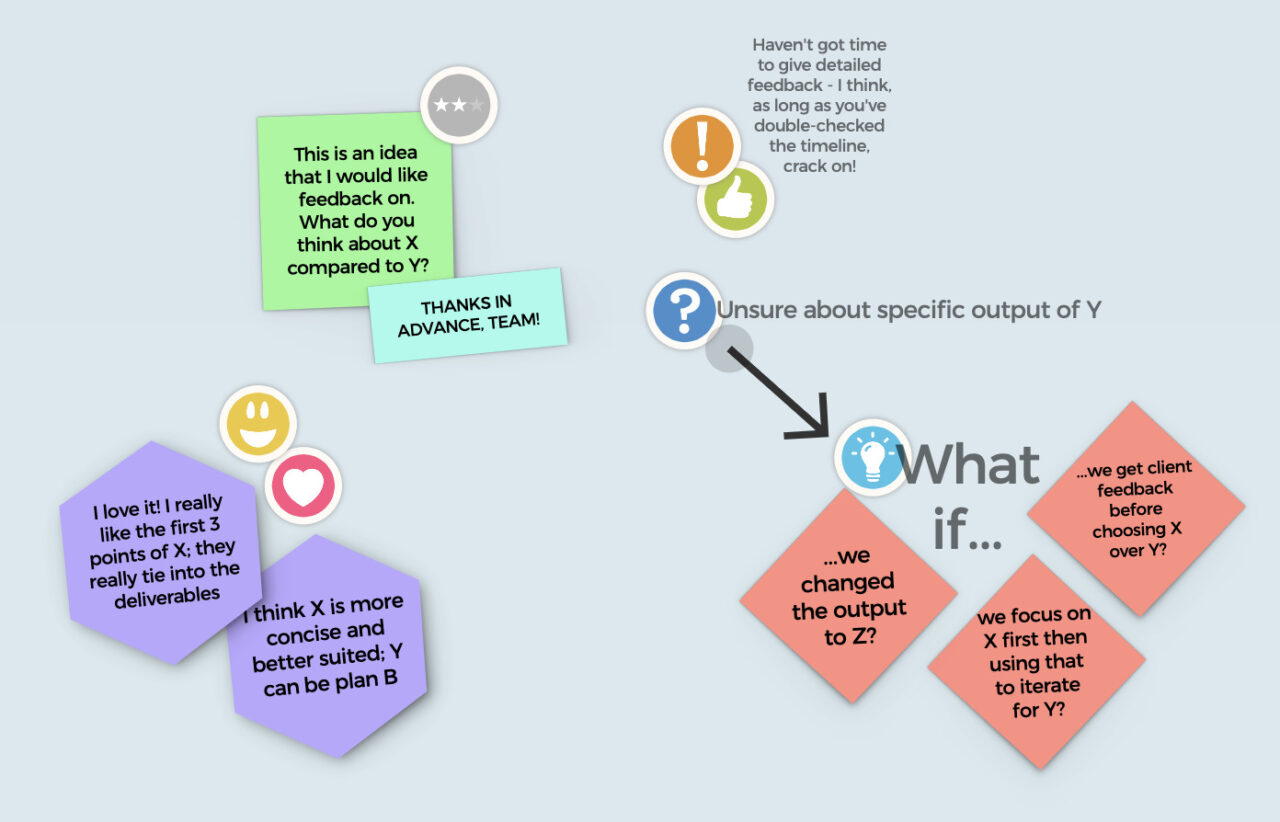 Idea Flip is an innovative collaboration tool designed to help teams brainstorm and collaborate on ideas. It is easy to use and helps generate creative solutions quickly.
The tool allows users to create boards with multiple layers, making it simple to store, organize and develop ideas collaboratively. On each layer of the board, users can add notes, images, or drawings that can easily be reviewed and discussed by the team members.
With its intuitive user interface, Idea Flip makes communication easier allowing teams to focus more on coming up with new ideas and working together efficiently.
Through real-time conversations within a board, users are able to efficiently communicate their ideas while also developing better relationships amongst colleagues in the process. In addition, Ideas Flip provides an integrated search feature allowing members of a team to quickly review old ideas when looking for related inspirations or solutions for newer projects ahead.
Features
Real-time collaboration: Idea Flip allows users to collaborate in real-time and share ideas, allowing them to work together quickly and effectively. It also provides searchable archives of all conversations, so users can easily find what they need.
Brainstorming tool: Idea Flip's brainstorming tool helps people identify new ideas and build on existing ones by providing an easy way to capture, organize and refine ideas in a collaborative environment.
Voting/ranking system: Users can rate each other's ideas with rating systems or vote for the best one. This encourages people to think outside the box and evaluate different options when looking for solutions.
Visualizations & Charts: Idea Flip provides various visualizations such as mind maps, flowcharts, and conceptual diagrams that help make complex concepts easier to understand at a glance. Additionally, charts allow users to gain insights into their data faster than ever before.
Gamification elements: Gamifying tasks on collaboration tools encourages participation from team members who may otherwise not be engaged in the process of brainstorming or problem-solving. In this way, it helps make work more enjoyable while producing better results.
Pros
Easy-to-use interface for efficient collaboration.
Allows multiple users to easily add feedback on tasks and projects simultaneously.
High security with granular access control and activity logs to track who made changes.
Provides customizable workflow management with labels and flexible tasking options.
Real-time updates and notifications notify users when changes are made.
Built-in team chat allows open discussion of ideas while editing a project or assignment.
Cons
Idea Flip collaboration tool can be expensive for larger teams.
It lacks integration with other popular tools like Slack and Asana, making it difficult to collaborate with colleagues who may already use other platforms.
The user interface of the tool is not very intuitive or user-friendly, requiring some time and effort to understand how to properly utilize its features.
Pricing
Personal – Free
Team $12/month
Professional $24/month
10. Cardsmith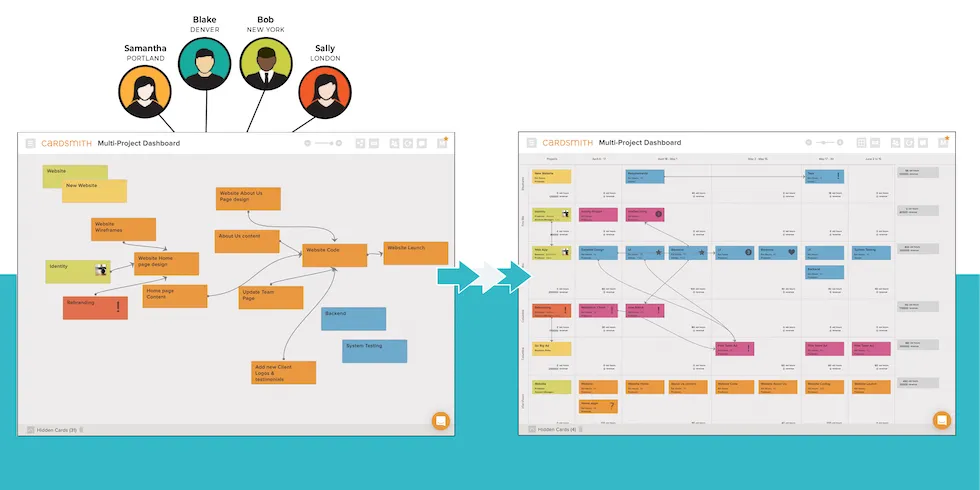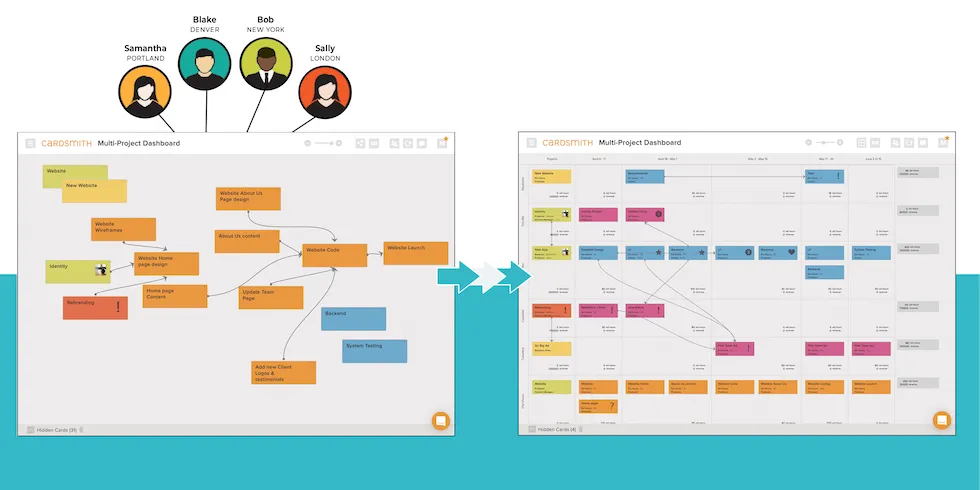 Cardsmith is a powerful collaboration management tool that enables teams to execute their plans quickly and easily. With creative visual templates for brainstorming and planning, Cardsmith gives interactive support to projects of any size.
The interface is designed to be intuitive, allowing users to create actionable cards with tasks or comments, assign roles and due dates, upload files, and track progress all in one place.
Key features include real-time visualization of project data, version control, and audit trails so changes can be reviewed at any time. With flexible reporting tools that allow you to view trends over time or across multiple projects, Cardsmith makes it easy for your team to stay on top of the details while staying focused on the bigger picture.
Features
Task Management: This feature coordinates multiple people and tasks; assigning, tracking, and monitoring progress to ensure that all tasks are completed on time. It also provides options for organizing tasks by project or by individual.
Automated Notifications: This feature sends real-time notifications when tasks have been assigned, changed, or completed so that everyone is kept up-to-date on the task progress without having to monitor it constantly.
Team Discussion Forums: Cardsmith offers team discussion forums where members can openly discuss ideas and leave comments about projects in order to move them forward faster.
File Storage & Sharing: This feature allows users to upload files from their device (such as images, documents, or audio recordings) or from popular cloud services like Dropbox and Google Drive directly into a project viewable by other collaborators working on the same project in real-time with no need for downloads or additional software installation required.
Task Dependencies/Prioritization: This feature helps plan projects by visualizing task dependencies and allowing users to prioritize which tasks should be done first before others can be completed based on defined timelines established within the tool itself; a great way of ensuring that only relevant work gets done at any given moment while keeping teams focused towards an end goal throughout their workflow process
Pros
Intuitive user interface: The intuitive drag-and-drop design makes organizing projects a breeze for even inexperienced users – it's incredibly easy for anyone new to collaboration tools like Cardsmith to get started quickly.
Integrated calendar view: The integrated calendar view allows you to easily visualize upcoming events and due dates at a glance so you have a better understanding of your workloads at any given time.
Customizable templates for repeatable processes: Organizations can customize task templates according to their own processes so repetitive activities can be automated with ease.
Cons
Lack of integration with third-party tools: While Cardsmith does offer a few integrations with popular tools such as Trello, Slack, and Dropbox, it does not offer any additional connections with other popular third-party tools.
Limited feature set compared to competitors: Cardsmith's collaboration management tool has a limited feature set when compared to similar products from competitors. This can lead to users feeling limited in their ability to create cards or manage projects effectively within the platform.
Pricing
Basic $0/month
Professional $9/month
Team $9/month
11. Infolio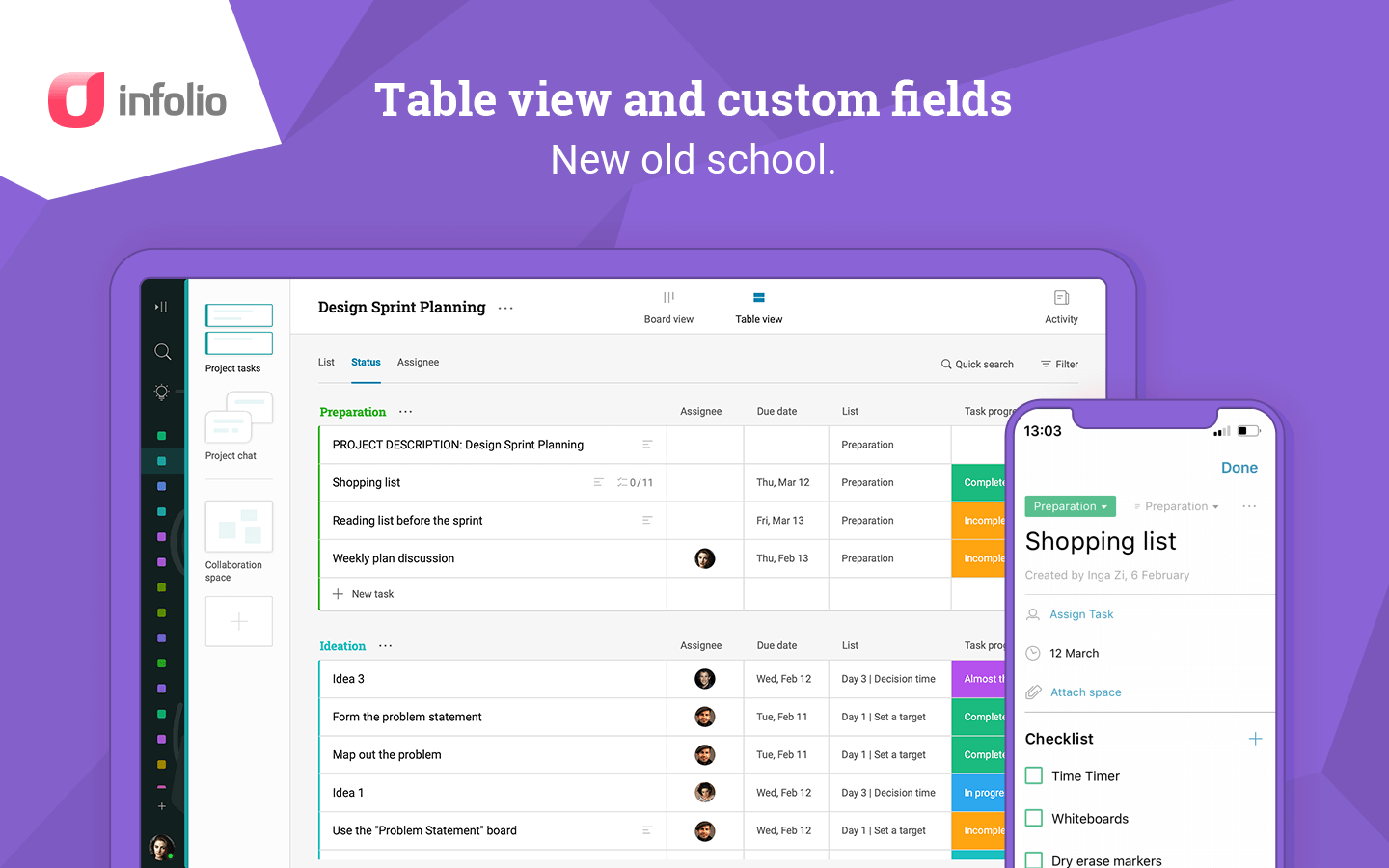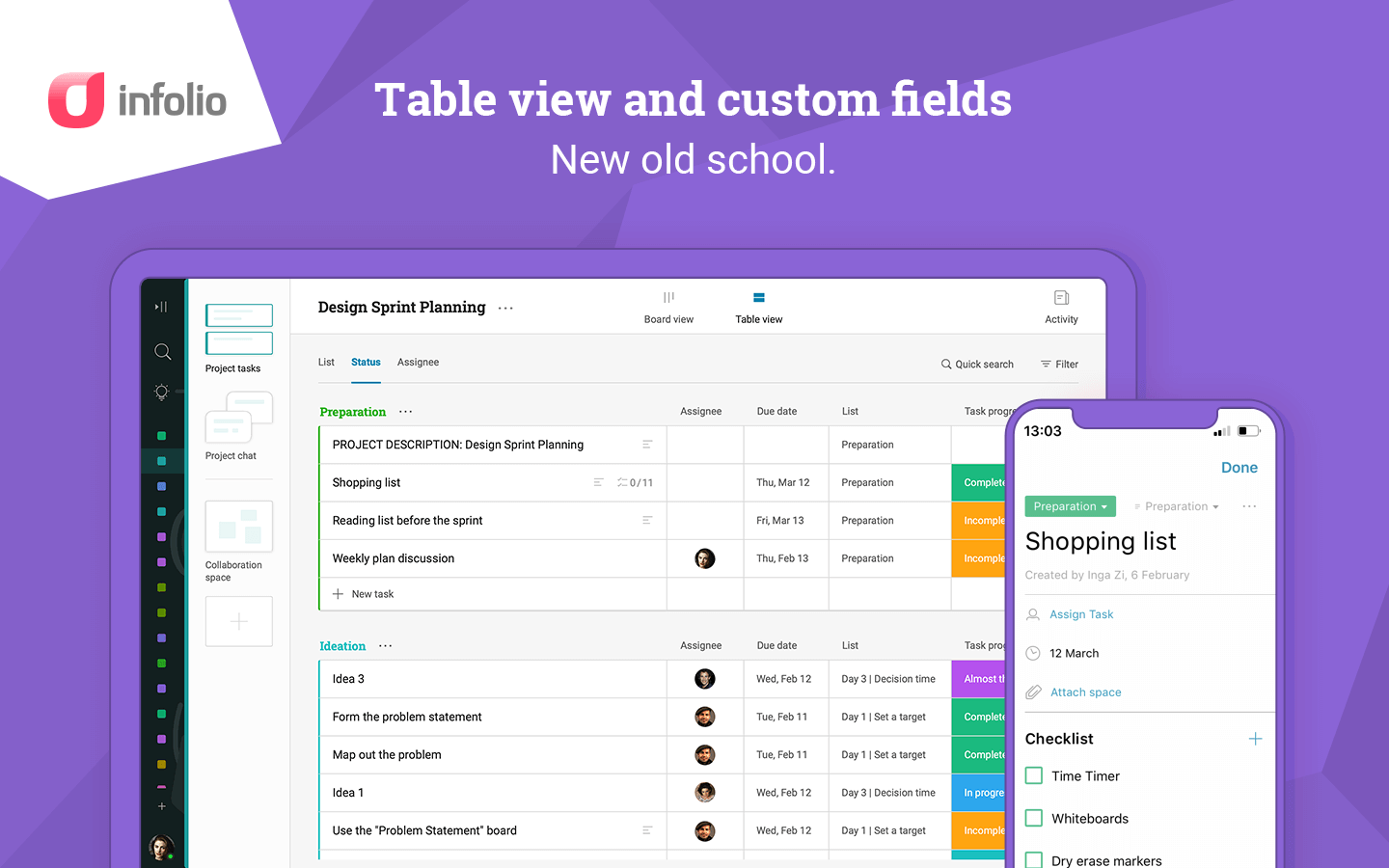 Infolio is an innovative task management platform that provides users with the freedom to organize and manage their projects in one convenient place.
With its intuitive interface, users can quickly create workspaces for each of their tasks, add team members and assign specific roles to each member. It also allows users to set deadlines and reminders, as well as share files with colleagues or collaborate on documents in real-time through its unique discussion feature.
Infolio makes it easy for teams or individual workers to instantly see what needs to be done, who's responsible for each task, and track progress effortlessly.
The platform has been designed specifically for businesses, making it a perfect solution for companies looking to streamline their workflow and maximize productivity across departments.
Features
Task Management: Infolio task management allows users to create, assign, view, and edit tasks across multiple teams or projects. It provides a centralized system that enables team members to collaborate and efficiently complete their tasks in a timely manner.
Calendar View: The calendar view feature of the platform helps users plan their projects and keep track of upcoming tasks with ease. Users can see a summary of all their tasks at once and quickly identify which ones need immediate attention or are overdue for completion. Additionally, they can define themes for each task type (e.g., project-related) to stay organized throughout the entire workflow process.
Notification System: Infolio's notification system ensures that all stakeholders are notified about new assignments or any changes made to existing ones, avoiding unnecessary communication delays and ensuring up-to-date information for everyone involved in the project flow.
Customizable Reports: The customizable reports functionality lets users generate reports from assigned tasks easily in order to measure progress over time and review the productivity levels of individual team members as well as group performances. This also helps them forecast future needs so they can scale accordingly.
Automated Email Reminders: Automated email reminders are sent out prior to due dates, reminding teams about impending deadlines and reducing the chances of missed objectives.
Pros
Enables users to easily organize tasks and projects.
Provides project customization options.
Integrates with email, calendar, chat, and other business tools.
Allows collaboration between teams and project members.
Cost-effective solution for small businesses.
User-friendly interface that is easy to navigate.
Cons
Infolio task management platform requires users to have an internet connection which might not always be available.
It has limited options when it comes to customizing the task list.
It is not completely free, so some users may find it too expensive.
The UI is not as intuitive as some other competing platforms, making it a bit difficult for new users to navigate.
Pricing
Standard – Free
Professional $4.99/month
12. Markup Hero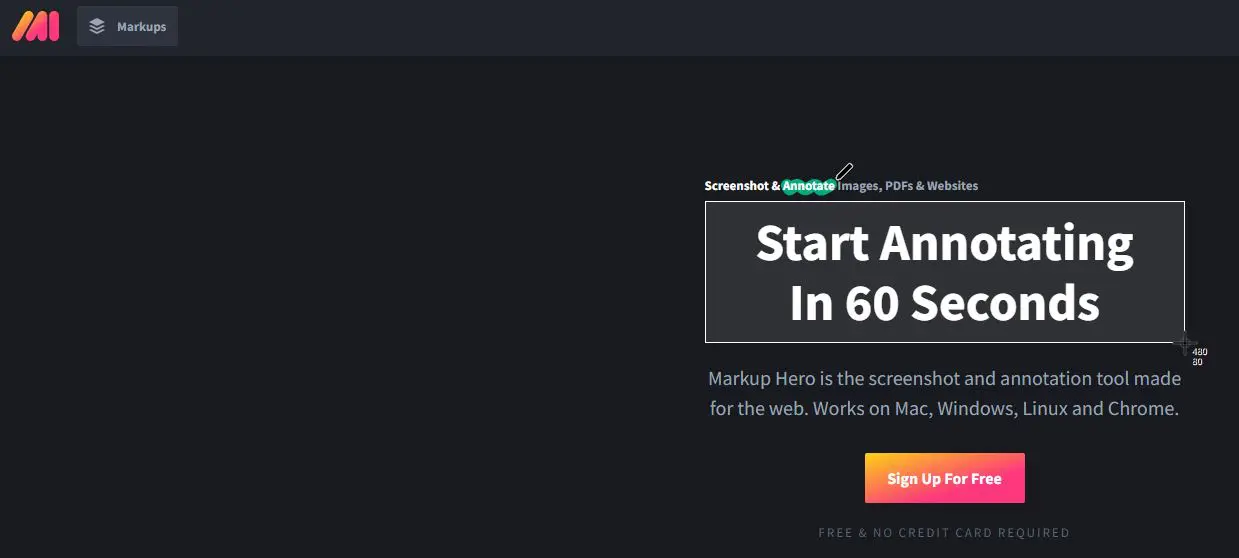 Markup Hero is a powerful screenshot and visual collaboration tool designed to revolutionize the way teams communicate and work together on visual content. With its versatile features and intuitive interface, Markup Hero empowers teams to annotate, edit, and share images, screenshots, and PDFs seamlessly.
Key Features of Markup Hero:
Annotate and Markup: With Markup Hero, you can easily add annotations, comments, arrows, shapes, and text to images and documents. Highlight important areas, provide feedback, and collaborate visually with your team.
Quick and Easy Sharing: Markup Hero simplifies the sharing process. Simply capture or upload an image, annotate it, and instantly share it with your team members. No more back-and-forth emails or complicated file-sharing methods.
Version Control and History: Markup Hero keeps track of all your markups and revisions. You can easily compare versions, revert to previous versions, and view the markup history, ensuring a seamless workflow and efficient collaboration.
Secure and Organized Storage: Store your marked-up files securely in the cloud. Markup Hero provides organized storage, making it easy to access and manage your annotated documents anytime, anywhere.
Integrations: Markup Hero seamlessly integrates with popular tools like Slack, Trello, Asana, and more. Collaborate on visual content within your existing workflow, enhancing productivity and efficiency.
Pros:
Access Screenshots Across Devices: Whether you're working from your computer, tablet, or smartphone, you can access and collaborate on your annotated images seamlessly.
User-friendly Interface: Markup Hero boasts an intuitive and user-friendly interface, allowing both technical and non-technical users to collaborate effortlessly.
Versatile Annotation Tools: With an extensive range of annotation tools, Markup Hero offers flexibility and precision when marking up visual content, enabling clear communication and collaboration.
Streamlined Sharing Process: Markup Hero simplifies sharing with its quick and easy sharing options.
Robust Version Control: The version control and history feature of Markup Hero ensures a transparent workflow, enabling teams to track changes, compare versions, and collaborate effectively.
Cons:
Limited Access for Free Users: Free users of Markup Hero have limited access to their markups. Access to your last 10 markups is available, which may restrict users who require access to a larger number of annotated files.
Pricing:
Basic: Free
Pro Plan: $4 a month
3 Reasons Why nTask is the Best Miro Board Alternative
nTask is the perfect Miro Board alternative due to its streamlined user experience. With a modern design, intuitive navigation, and powerful project management capabilities, it is ideal for collaborative and remote teamwork.
Unlike Miro's clunky UI, nTask offers an enjoyable experience with minimal complexity so that users can get to work faster.
nTask goes above and beyond simple kanban boards by offering features such as task automation, time tracking, recurring tasks & reminders, checklist templates & themes as well as integrations with popular third-party applications like Slack and Dropbox. 
Last but not least, nTask provides accessible pricing plans which start from free for basic use cases or $4/month for businesses wanting additional features like priority support or unlimited users per project board – making it a great inexpensive solution compared to other alternatives in the market including Miro Board.
Additionally, its pricing structure allows scaling of teams according to need making it an excellent choice for startups needing flexibility in the growth stages of agile development processes
FAQs
Who uses Miro Board?
Miro Board is a collaborative online whiteboard platform that provides users with the tools to collaborate remotely.
It is popular among business teams, education institutions, and other groups who need to work together efficiently in virtual environments. Miro Board offers features such as real-time collaboration, interactive polls and quizzes, task boards for project management, and customizable templates.
It also offers integrations with popular applications including Google Drive and Microsoft Teams. As such it is suitable for a range of use cases from distance learning to product planning and agile software development.
Is the Miro Board secure?
The Miro Board is a cloud-based collaboration platform, and security is an important component of any such system.
As with other systems that store user data, the Miro Board implements industry best practices when it comes to security.
These include encrypting all data stored on the platform, using secure authentication protocols, allowing users to set their own levels of access and permission controls, monitoring suspicious activity, and regularly updating security protocols in response to new threats.
Can you export from Miro Board?
Yes, it is possible to export from a Miro Board. The tool allows users to save their boards in many different formats, such as .png or .pdf files.
By choosing the "Export" option from the top bar of the board, users are provided with a variety of ways to save and share their work with others.
Conclusion
In conclusion, there are a variety of Miro Board-free alternatives for businesses in 2023. These alternatives can help organizations to save time and money while still providing effective collaboration tools.
From virtual whiteboards to online chat rooms, these tools have the potential to revolutionize how teams collaborate and work together. With such an array of options available, businesses should take time to explore the different features offered by each tool to find the best fit for their organization's needs.