Milanote established itself as a note-taking tool for creative professionals, showing itself as a notes app for creative work when it was launched in 2017.
Recently the platform has evolved into a unified tool for research, ideation, and collaboration over design projects, mind-mapping, drawing inspiration from diagramming as well as Kanban tools.
Milanote continues to make waves in the post-pandemic era. The note-taking tool is the preferred choice of leading professionals who this app to take notes for creative work.
The platform has added up multiple features which allow users to add notes and mind maps, manage to-do lists, and post comments.
While Milanote is an amazing tool without its shortcomings, there are multiple reasons why you should look for a Milanote alternative:
Milanote does not have version history, making it quite difficult to restore the previous iterations of your work.
Milanote does not offer a tagging system to make it easier to categorize your notes.
The only way to navigate down your notes and boards in Milanote is by using the breadcrumb trail.
There is no other way to organize your notes in a proper structure, similar to what to get in other wiki software and note-taking.
Milanote offers no public API and no integrations with other services.
There are plenty of other reasons for not using Milanote anymore. Regardless of what they are and how long they are, there are multiple Milanote alternatives to choose from.
Best Milanote alternatives To Try Today!
To make your decision much more easily, we have evaluated multiple options and put together a list of Milanote alternatives and competitors,
1. Miro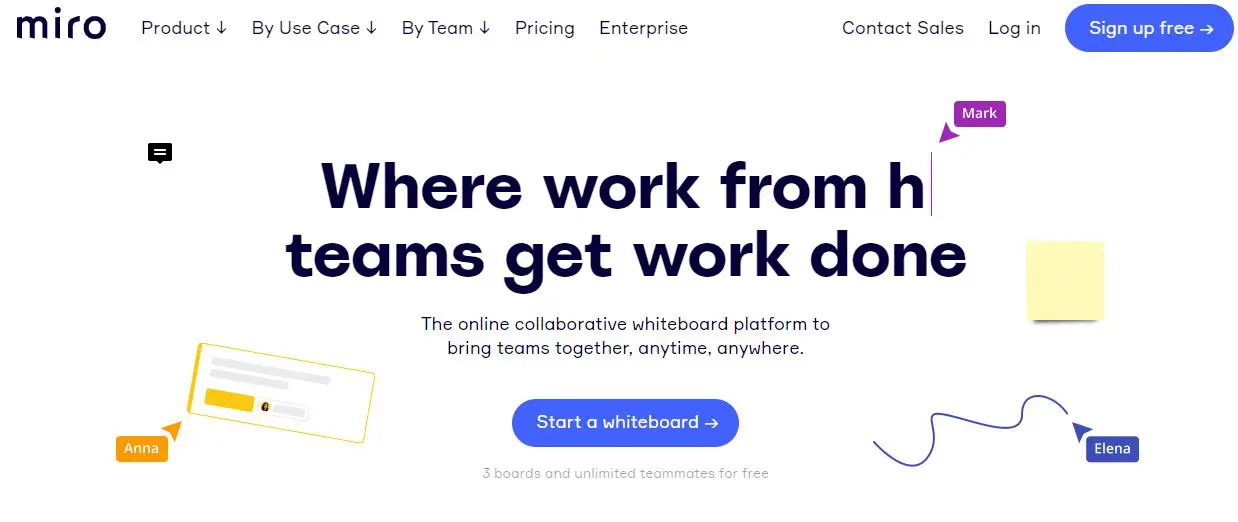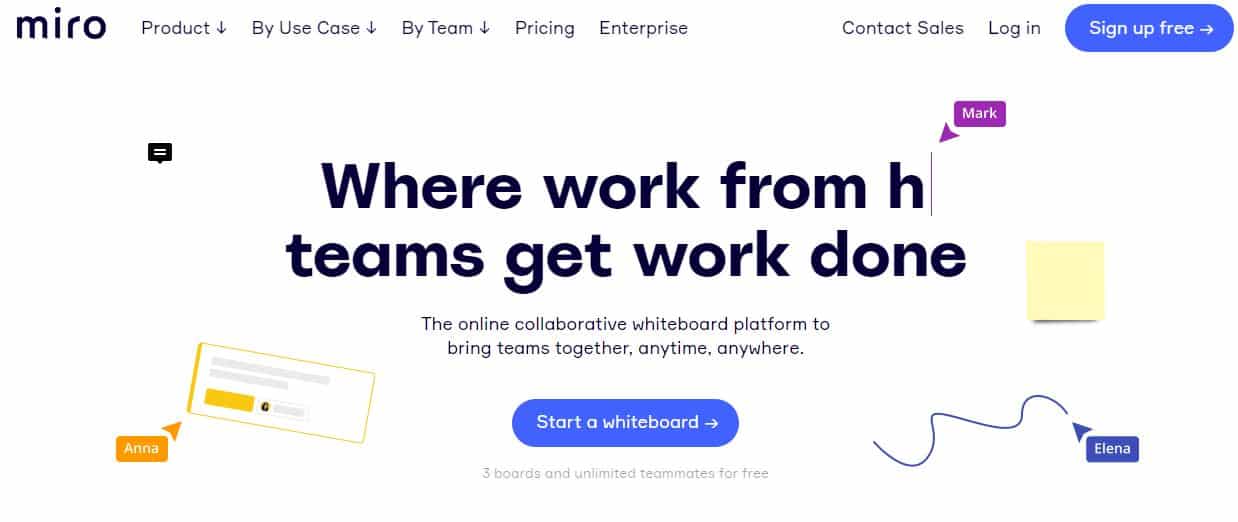 If you are looking for the top Milanote alternative that works like a collaborative digital whiteboard, consider Miro.
It is much more flexible than Milanote, which may enhance the learning curve for new users, but its vast library of ready-to-use templates makes it easy to get started. Miro completely shines when it is used collaboratively in a team.
It offers plenty of features like video conferencing, Milanote lacks, presentation mode, screen sharing, and more.
It is great for facilitating meetings, brainstorming ideas, running agile workshops and classes, and a lot more. Miro is the Google Docs of whiteboard tools, you can conveniently see what your teammates are working on in real-time, promoting effortless collaboration.
Key Features
Creating a list of ideas to focus on for an important project
Developing a user story or customer journey map
New concept, idea, and wireframing
Laying out a roadmap or strategy for an innovation workshop or program
Running more engaging or innovative meetings for your team in any agile culture
Pricing
Free plan
Team plan costs $10 per month or $96 per year
The Business plan costs $20 per month or $192 per year
Enterprise plan, customized plans
2. Evernote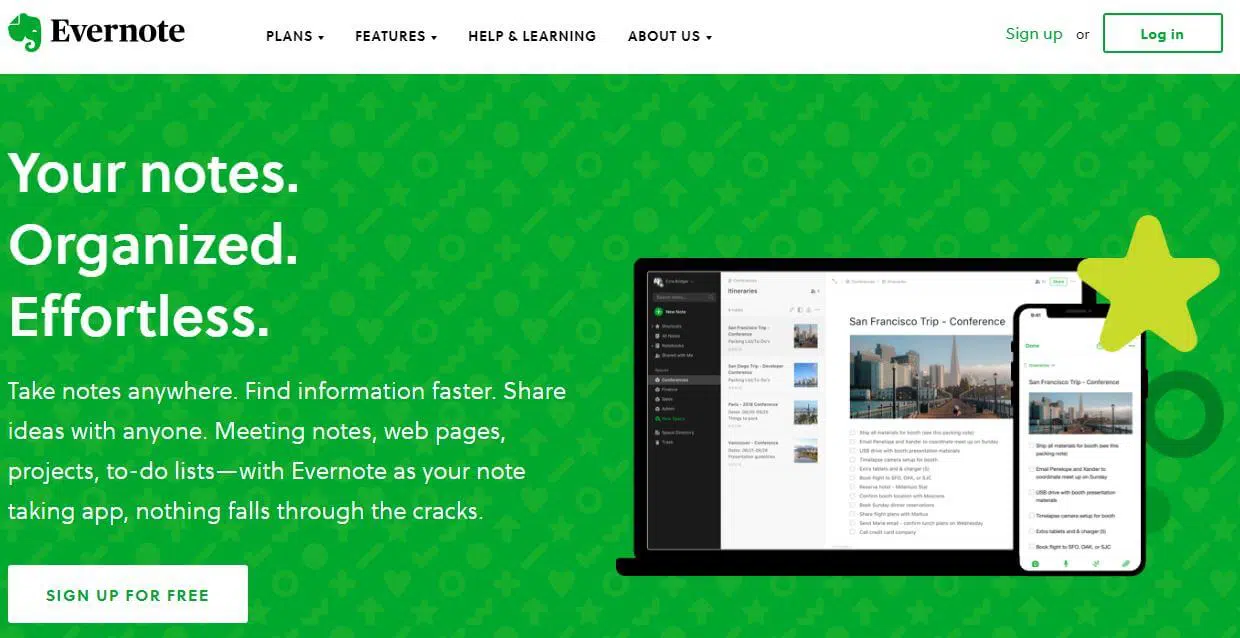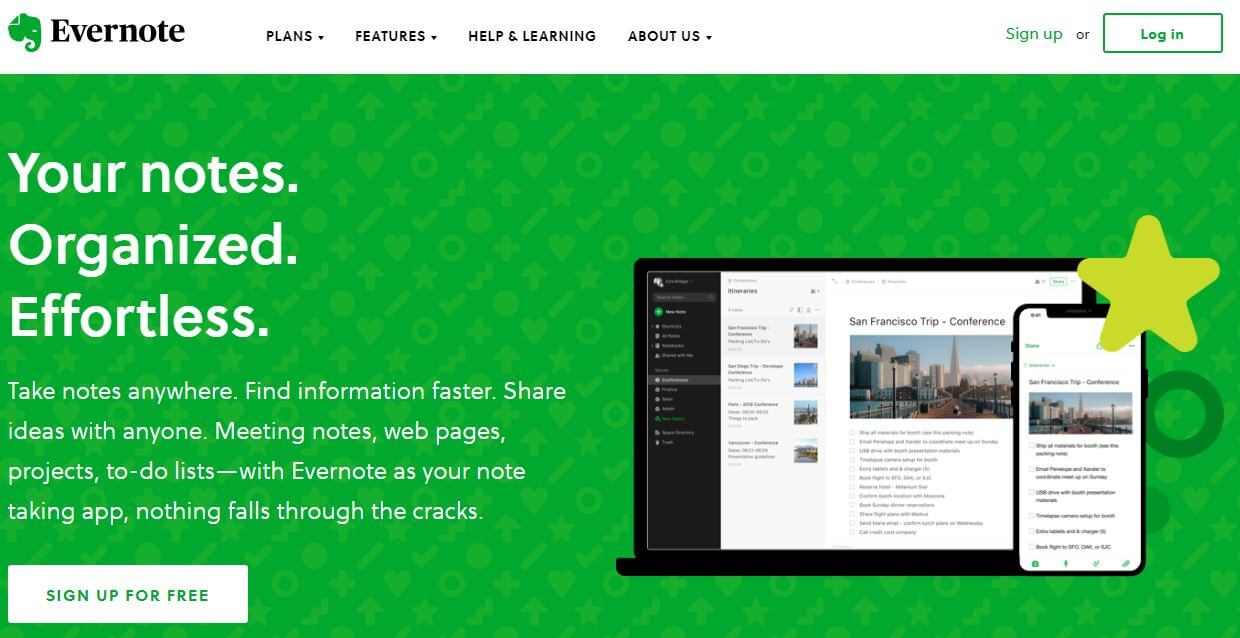 Evernote is a popular note-taking app with a large user base. The platform has gained popularity among professionals and students. It is a dedicated note-taking app that allows you complete control over your notes.
It makes searching, capturing, and organizing notes highly accessible. Evernote is a simple, efficient, and elegant tool that helps to sync between multiple devices quickly. The navigation on all devices stays the same over mobile, desktop, and web.
Evernote has various note-taking templates you can select from. They include to-do lists, reading lists, essay outlines, etc. All of these templates save you plenty of time that you will otherwise have spent creating something similar from scratch.
After creating a note, you can easily organize them as different notebooks within the Evernote app. You can also add unique tags to every note that you can create. These tags will assist you to sort out and find your notes faster.
Key Features
Create, organize and assign tasks within notes
Calendar integration from up to five accounts to view upcoming events
Geographic search to find notes in the Evernote location
Mobile offline notes that are available anywhere, anytime, and even without an internet connection
PDF annotation
Concierge support
Faster image recognition and search in PDFs
Pricing
Evernote app offers a freemium
Two premium plans of the Evernote app, personal and professional, monthly or yearly.
Former costs $7.99/month and the latter $9.99/month.
You can take advantage of the 14-day free period to test each premium plan before deciding if you will purchase or not.
Related:
What You Should Know About Evernote, Notion, and nTask?
3. Asana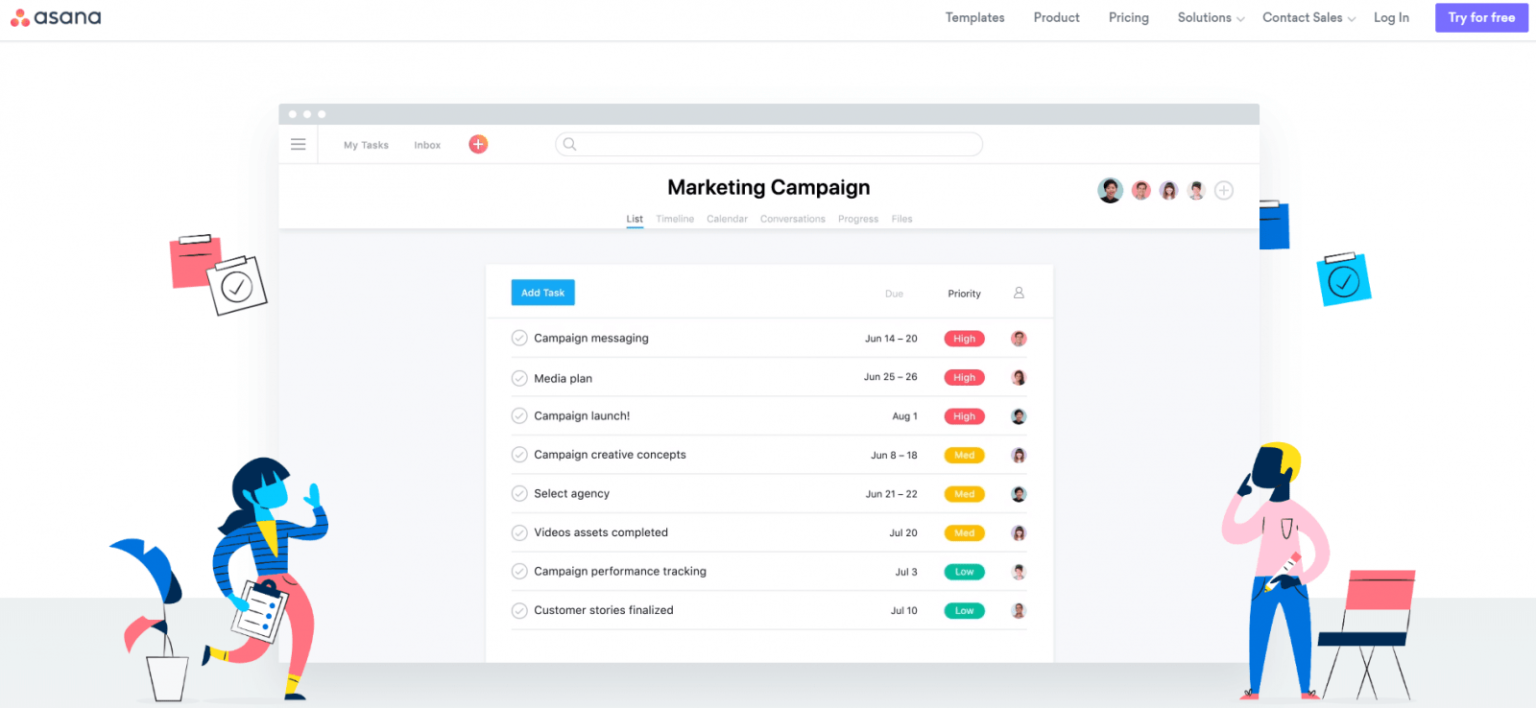 Asana is one of the most adaptable task management and collaboration software that is highly accessible and easy to use. Asana has a user interface that is both interface and intuitive, making it quite simple to collaborate in groups of any size.
Some of the top features include task management, several app integrations, and workload management.
The platform is designed to assist managers in assigning projects and keeping employees on track when it comes to the work that needs to be done.
It is an excellent collaboration tool that helps teams manage all kinds of tasks. Asana also supports multiple automatic processes and integrations that can make your team much more efficient.
You can set up automatic messages and due dates for every project individually.
Key Features
Customizable dashboards and activity feeds
Focus mode and individual task lists
Custom calendar and prioritization
Tracking and project permissions
Automated updates and notifications/reminders
Multiple workspaces, customer support, and tracking
Email integration and searched views
Pricing
Free Trial
Free Package – 15 users
Premium Package – $21/5 users/month
4. Roam Research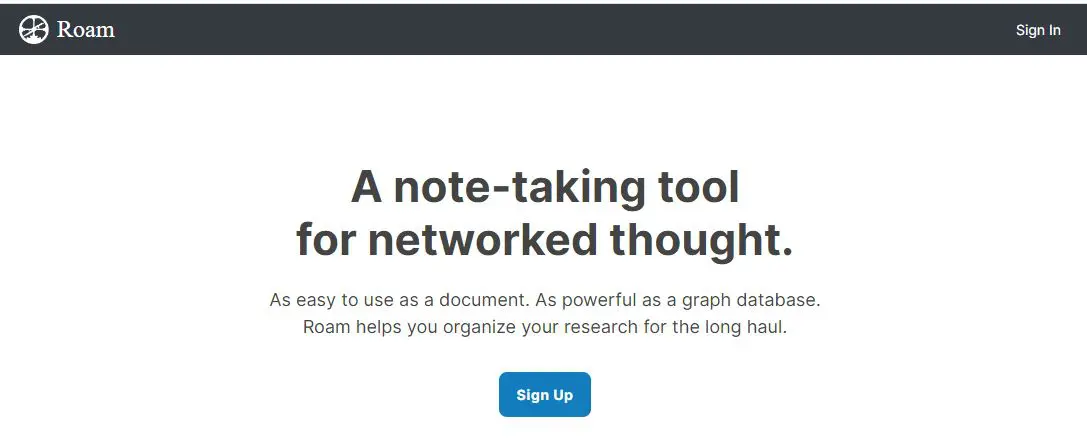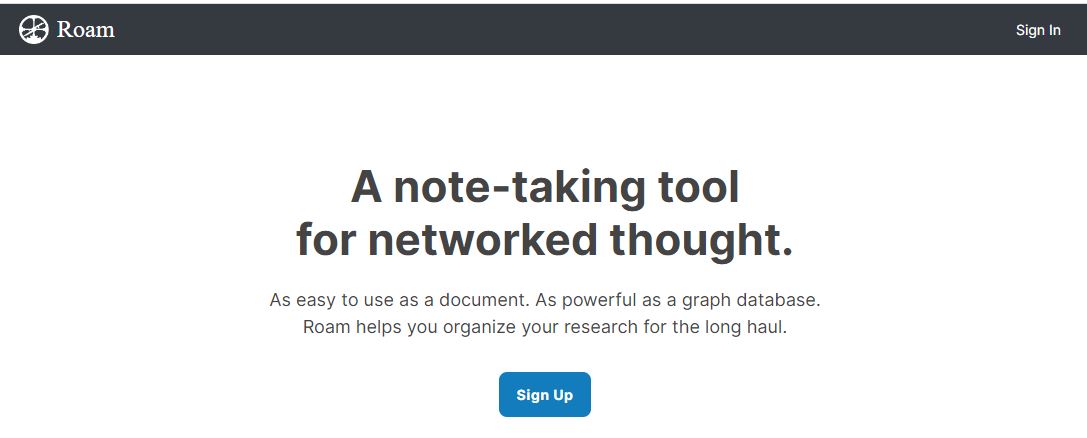 Roam Research is one of the top auto-back linked wikis that assists people to be more productive.
With the help of bi-directional links, you can easily create new pages as you type, and when you go to those pages, it lists all the bullets where you have mentioned the tag. You can create a network of notes that are interconnected and not linear or hieratical.
Roam Research is one of the best pieces of software for writers, academics, and thought leaders to take notes and manage their knowledge.
Roam helps to retain the core benefits of many other note-taking tools, streamlines many inefficiencies, strips away their bloat, and adds up a few unexpected additional benefits.
The software cleanly fixes accidental mistakes by merging the data on the pages and updating links in order to minimize duplicate issues.
Key Features
Calendar notification sends a user notification.
Real-time collaboration.
Task tracking is the process where one identifies, monitors, and progresses.
Recurring tasks that happen over and over again.
To-do lists and calendar notes.
File sharing and app integrations
API access and Apps
Unlimited Collaborators
Up to 3 Private or Public Roam Graphs
Meetings Support arranging meetings and recording vital details.
Version control is the process of monitoring and handling charges
Pricing
Pricing Model – Free Trial
Monthly Yearly Pro – $13.75/month, $15/month billed, $180/per year
5. Bear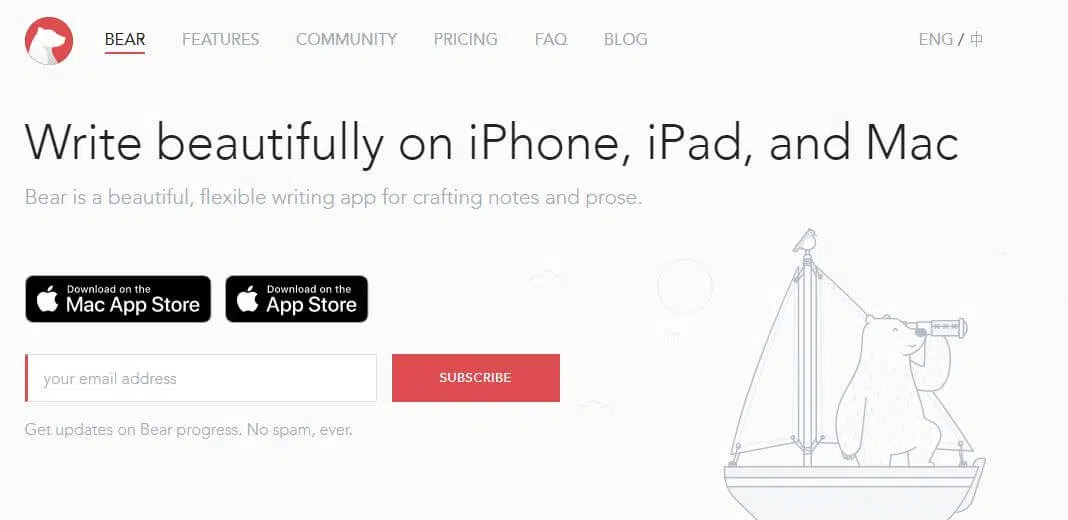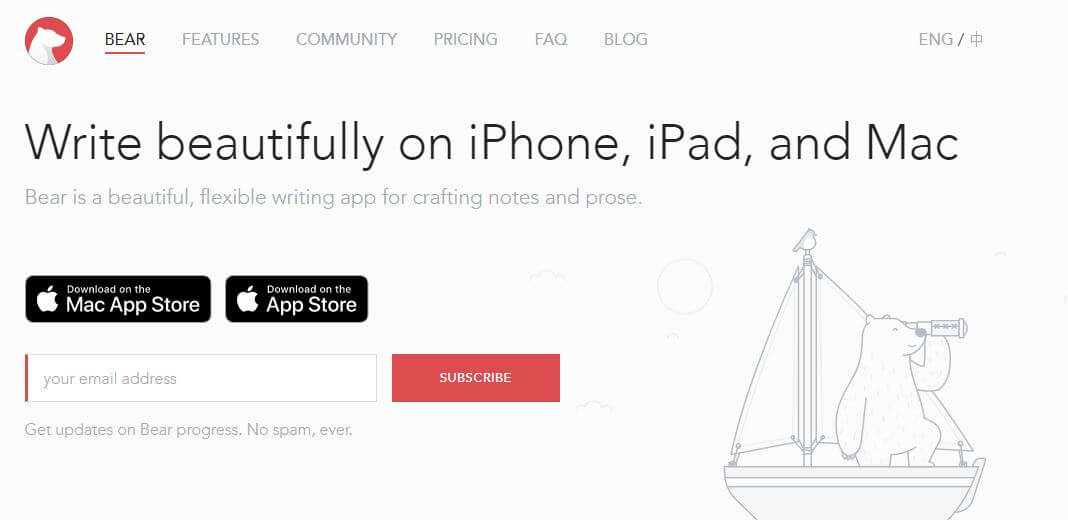 Bear is a beautifully designed note-taking application for IOS and Mac. It offers an elegant design with the ability to add full in-line images and the Markdown editor makes it the perfect tool to easily draft quick notes or in-depth essays.
One of the best features include beautiful themes, focus mode to help you concentrate, typography, PDF and word docs converter, hashtags to quickly find and organize notes, multi-device sync via iCloud, and Cross-Note links.
Bear is a creative alternative to Milanote, navigation between organizational hashtags and individual notes is effortless.
Bear uses a unique hashtag system for searching notes, you can add a hashtag to any note, which then makes that hashtag a keyword that Bear can search for locations. The system is flexible, intuitive, and best of all, very fast.
Key Features
Simple and distraction free-interface
Multiple storage options included
Folder design
Plain and simple hashtagging set-up
Task management
Notes management
Mobile support
API and Customization
Pricing
Bear free – export options, attachments, and tags
Bear pro – $1.49/month – for writing themes, iCloud sync across iPhone, iPad and Mac, and encrypted notes.
6. Nuclino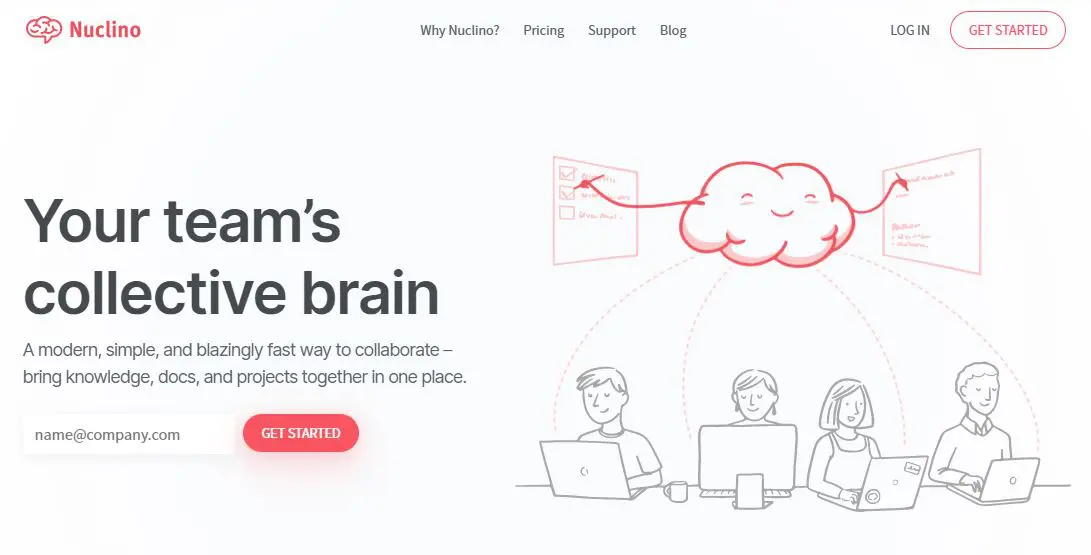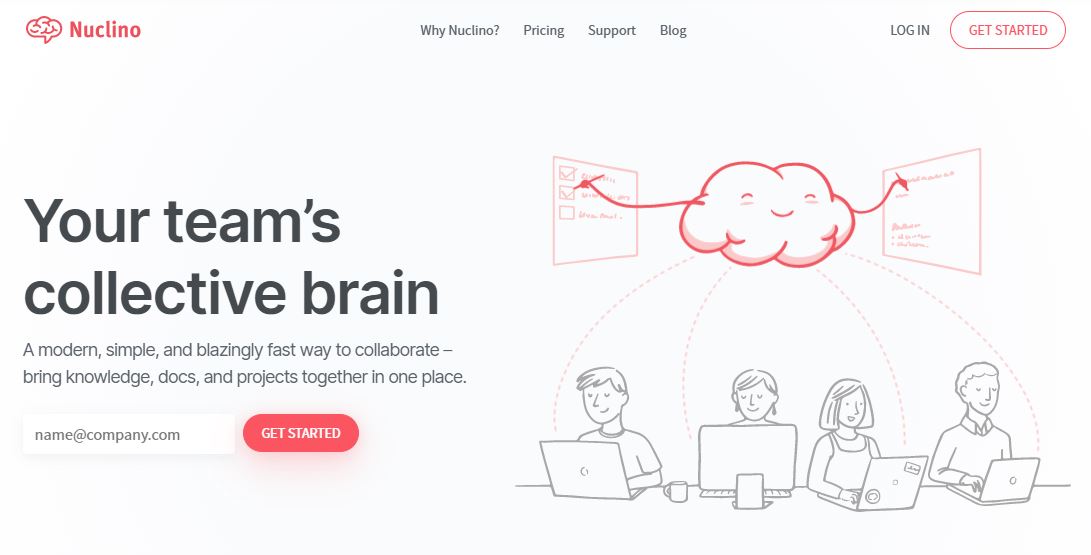 If you are looking for a Milanote alternative that makes it convenient to keep your notes organized, then Nuclino may be the perfect substitute for you.
Nuclino allows you to organize your work visually and create a structured overview of all your notes while working on your projects using a Kanban board.
You can see how your documents relate to each other in a mind map, with a list, board, and multiple graph views, and keep your notes structured.
The flexibility offered by the app makes Nuclino a great solution for a wide range of use cases.
You can easily use Nuclino for brainstorming and ideation, planning sprints, onboarding new employees, designing video games and building your internal wiki, and more.
You can add up images, code blocks, and to-do lists, and bring your notes to life with interactive media embeds from 30+ different apps.
Key Features
API/Access controls/Permissions
Cataloging/Categorization
Collaboration Tools
Commenting/Notes
Alerts/Notifications
Mentions/Comments
Pricing
Nuclino offers a free plan for up to 50 items and 2GB total storage.
Paid plans start at $5/user/month (billed annually)
$6/user/month (billed monthly) and includes unlimited items, 10GB storage and advanced features.
7. Trello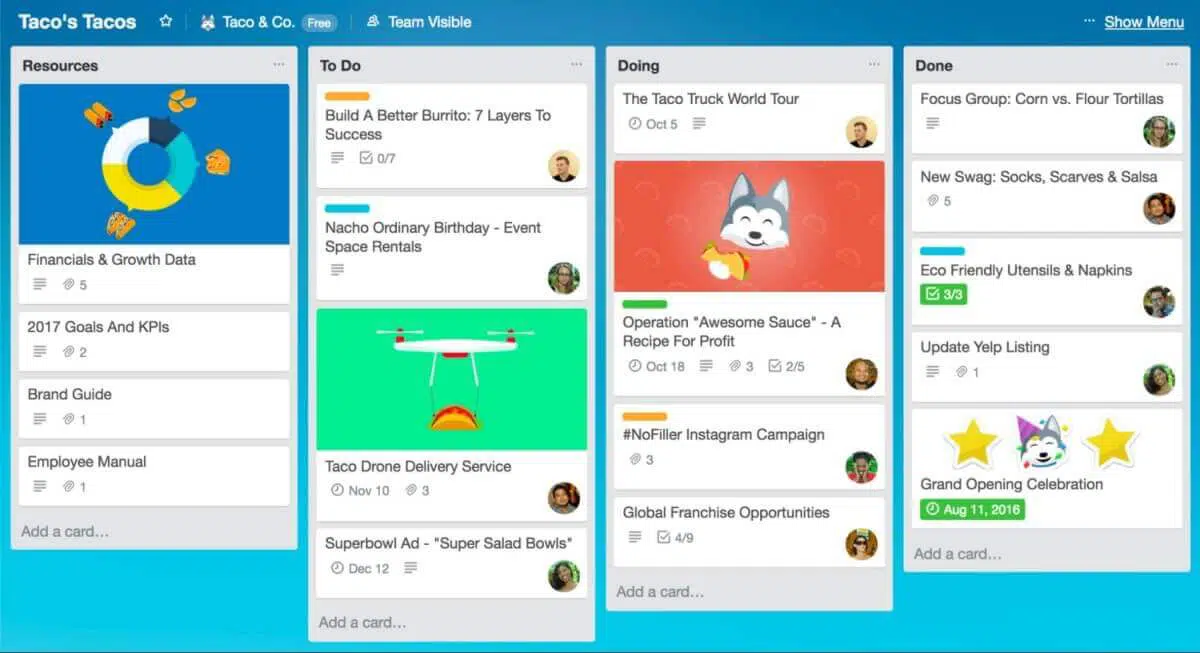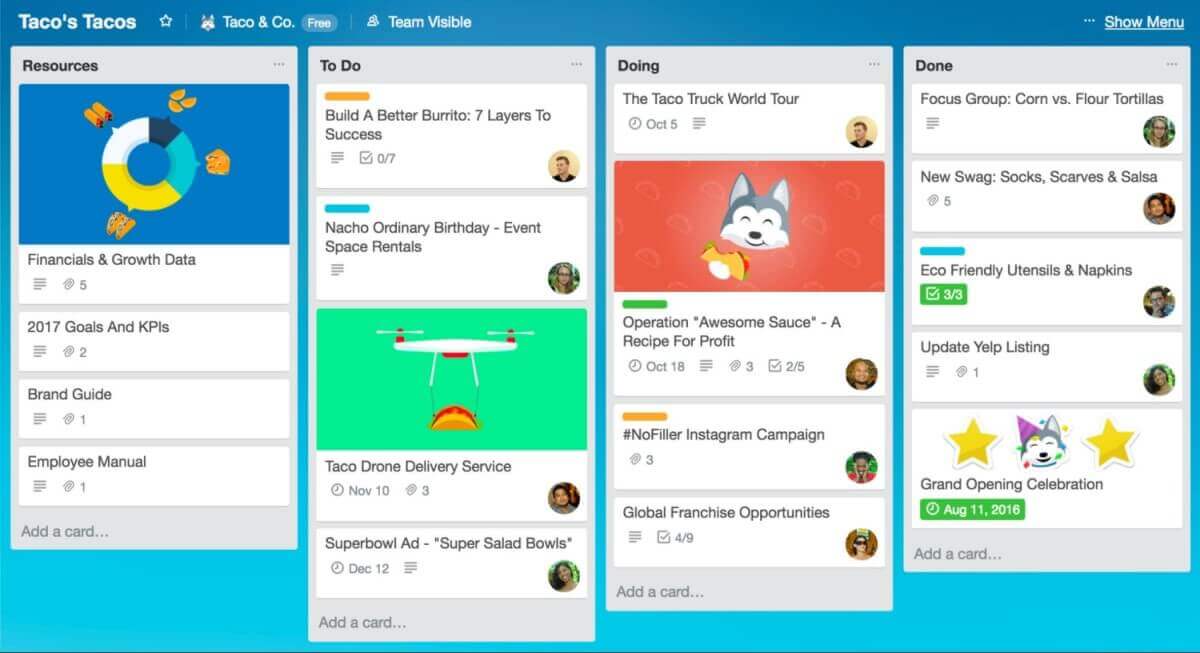 If you are looking to organize your notes and tasks on board, however, and would prefer a tool that is a lot more structured than Milanote, give Trello a try.
Trello is one of the most popular Kanban tools and is tried and true solution utilized by millions of teams and individuals. It is highly flexible than Milanote, but you may find that its rigid structure makes it easier to keep your work organized.
Trello offers an extensive selection of power-ups that make it easy to integrate it into your unique workflow.
Trello is a quite simple and user-friendly project management solution, everyone can easily use the drag-and-drop Kanban board to manage tasks and visualize progress throughout the workflow.
Trello offers automation tools that are quite generous and just as easy to set up with extended functionality options.
Key Features
Easy to use and customizable
Workflow automation
Extended functionality options
Powerful mobile apps
Team collaboration features
Reporting and integrations
Pricing
The free plan is great for personal and small side projects
Trello Standard – entry-level paid pricing tier, rate of $5 per user per month/ 10, 20, or 30+ members
Trello Business Class offers unlimited boards, with advanced features and power-ups.
Trello Premium, is great for teams with over 100 members/$10 per month
Trello Enterprise, $17.50 per user per month
8. Mural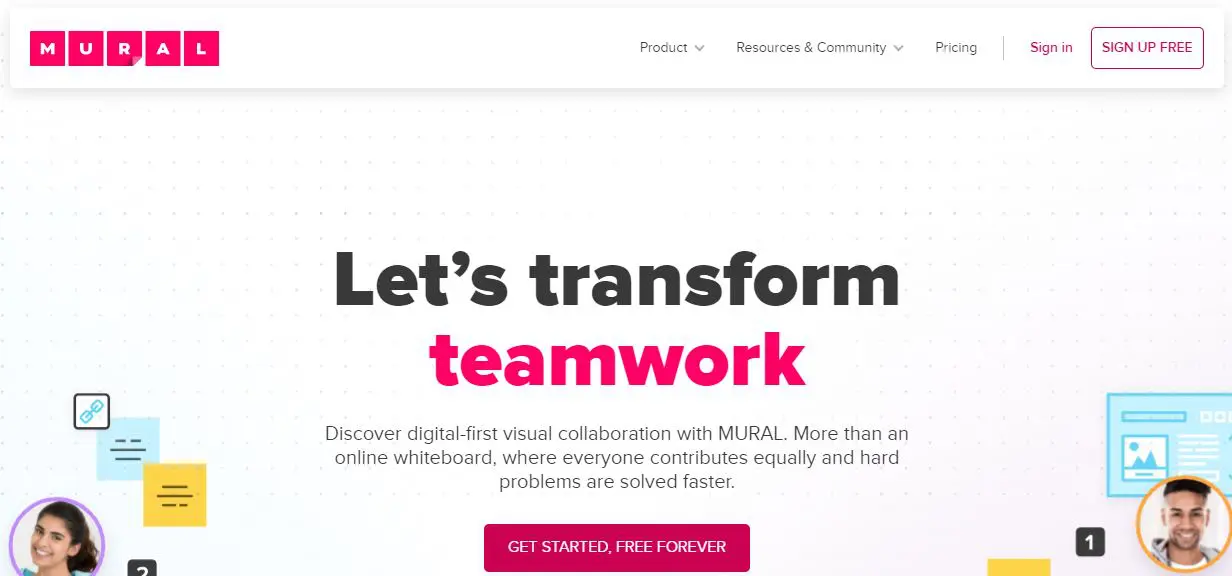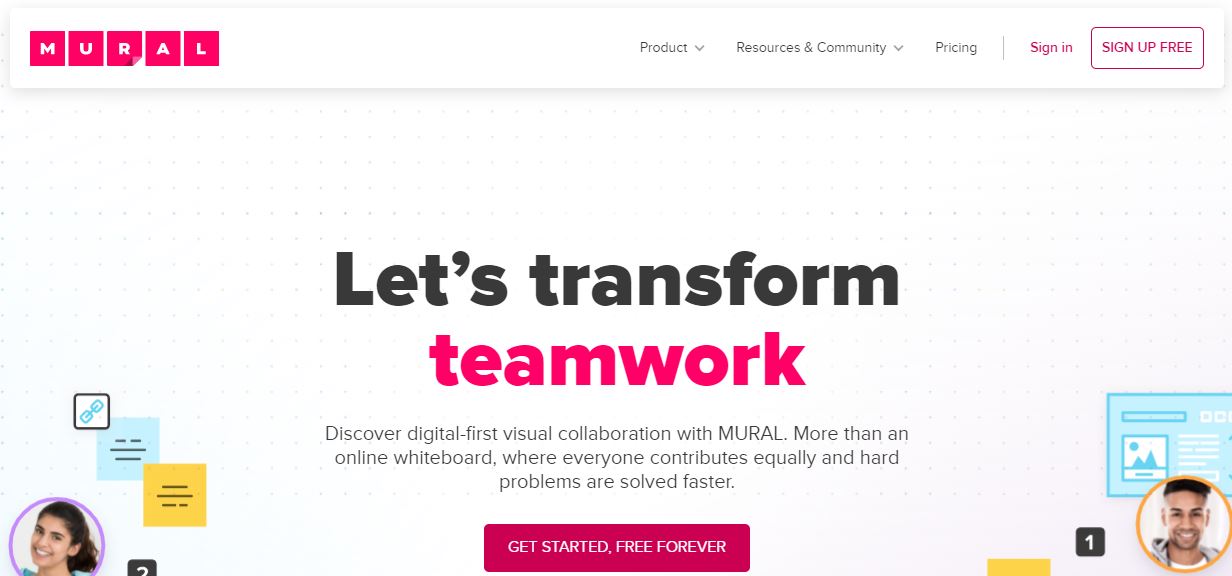 One more alternative is Mural, which is a visual collaboration platform that allows users to organize notes, ideas, and concepts on a digital canvas.
Mural is a great alternative to Milanote because it offers several unique features that make it stand out.
One of the best part of Mural is its digital canvas, which allows users to create a visual representation of their notes and ideas. The canvas is highly customizable, allowing users to create and arrange their notes in a way that makes the most sense for their specific project or task.
Mural also offers a variety of note-taking tools, including text boxes, sticky notes, and image uploads.
Users can also add links, videos, and other multimedia elements to their notes, making it easy to create a rich, dynamic workspace.
The canvas is like a blank sheet of paper where users can add notes, images, videos, and other multimedia elements to create a visual storyboard.
Key Features:
Digital Canvas to create visual representations
Real-time collaboration and feedback
Integrations with popular productivity tools
Wide range of templates to choose from
Mural is designed with security in mind
Pricing:
Free: The free plan includes all essential features and is suitable for personal use or small teams.
Plus: The Plus plan costs $16 per user per month (when billed annually)
Enterprise: The Enterprise plan offers customized pricing
9. Coda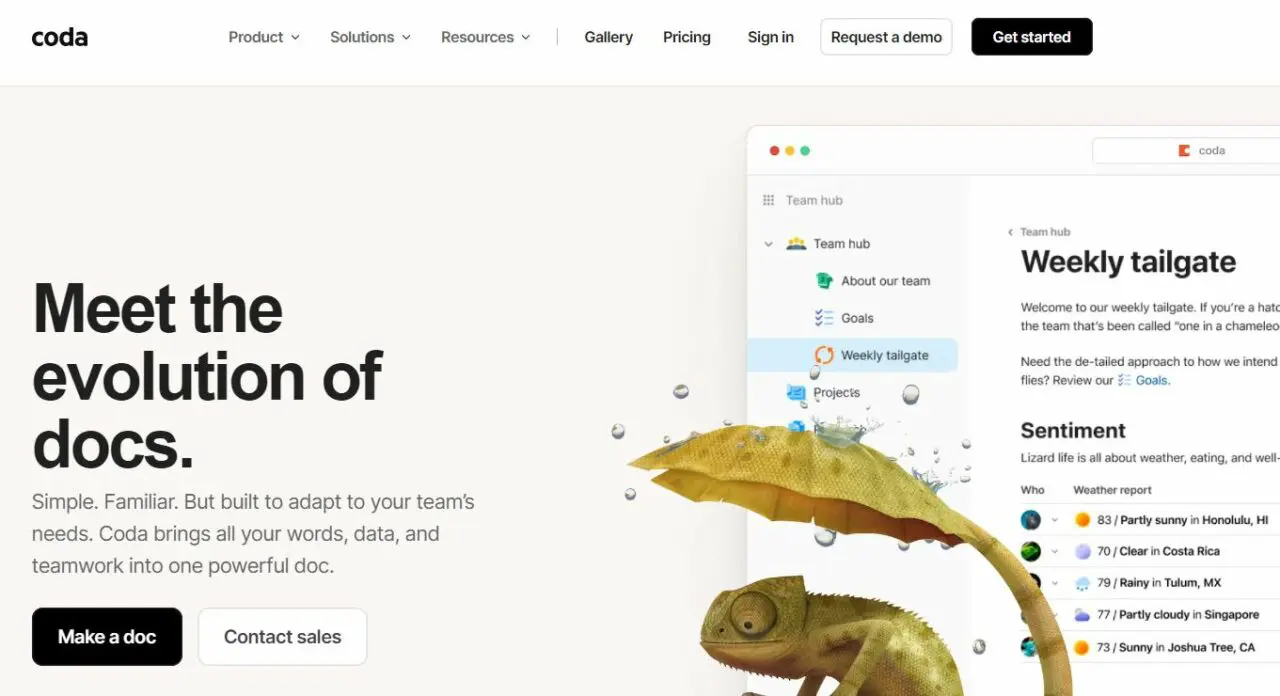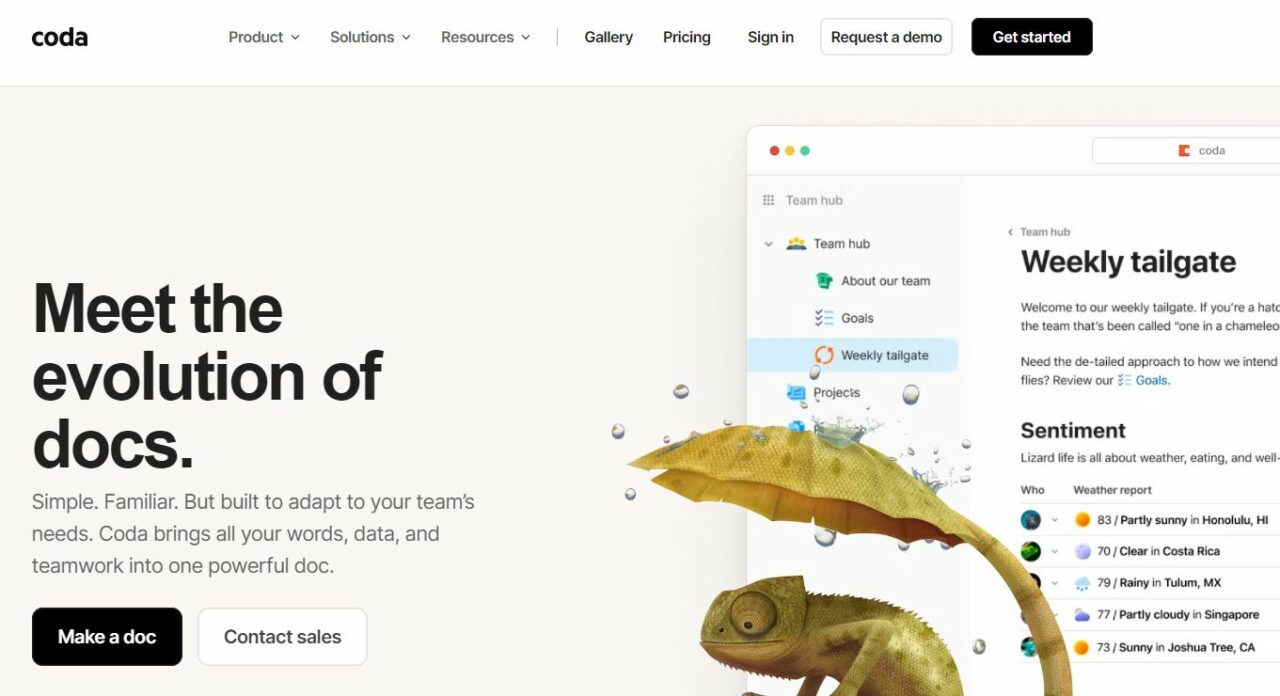 Coda is a note-taking app that is designed to help individuals and teams collaborate and organize their work more effectively. It is a great Milanote alternative.
The app combines traditional note-taking features with project management tools, spreadsheets, and databases, making it a powerful all-in-one solution for organizing information and getting work done.
Coda provides its customizable workspace.
Users can create custom tables, forms, and pages to organize their notes and ideas in a way that makes sense for their specific project or task. This allows users to create a highly personalized workspace that meets their individual needs.
Coda also offers a range of collaboration features that make it easy for teams to work together. Users can share their workspaces with others and collaborate in real-time, making it easy to get feedback and make changes on the fly.
Overall, Coda is a powerful and versatile note-taking app that is designed for individuals and teams who need to organize and collaborate on their work.
Key Features:
Customizable workspace with tables, forms, and pages
Integration with third-party apps
Collaboration features
Real-time editing, tagging and commenting
Automation tools
Database functionality
Pricing:
Free plan: Includes access to all the essential features for individuals and small teams, with up to three docs and three automations
Pro plan: $10 per user per month when billed annually
Team plan: $30 per user per month when billed annually
Wrapping it up
So which one of these tools is the top alternative to Milanote? The answer depends upon your choices and how you are using the application and why you are looking for an alternative in the first place. We gathered a list of the top 7 Milanote alternatives for you to choose from, start digging and start making notes now!
More Note-Taking Apps For You: