As we see every day in the project management paradigm, the planning and scheduling of all tasks and processes necessary to complete the project development process are crucial for effective management and working of the overall project and the development team.
Big IT businesses from all over the world have many problems streamlining their project development processes.
You need to keep in mind that the success of every team-based endeavor in a business depends on the communication level that the team has among its members.
Therefore, when it comes to choosing a project management platform that will be your tool for keeping tabs on everything that the company and its resources are busy performing, you need it to be collaborative so that it can easily automate the procedures in question and increases efficiency.
As you may probably know, a project management tool behaves as a daily planner for all of your project development team members.
This software allow the team members to have a crystal clear understanding of the project, goals, milestones, objectives, and strategic initiatives that the company has in mind and make sure that the appropriate team members are assigned to the appropriate tasks.
In short, the main reason the project management teams worldwide use these software is that they help them spend less time on work coordination and other useless tasks and help them to be more focused on the core jobs that they have to perform.
If you need such software, you are in luck because, in this article, we will talk about two of the most amazing and commonly used project management tools that are well-equipped to handle anything that you throw at them.
This article will be a comparative analysis of Microsoft vs. Asana, along with the key differences highlighted in detail.
So, without further ado, let's find out how these excellent software are different from one another and how they can benefit you according to your needs and requirements.
Microsoft Planner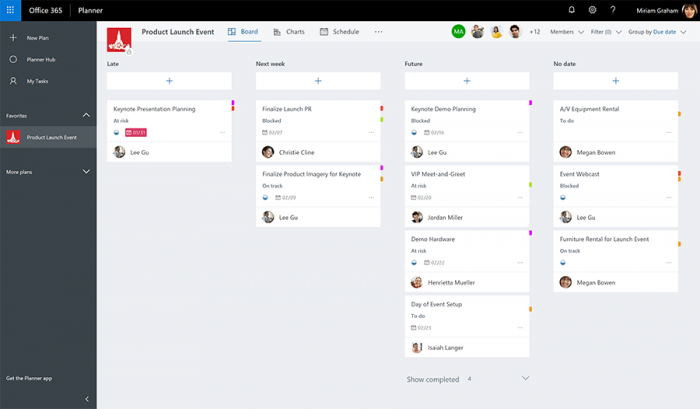 Being one of the most lightweight, web-based project management software with excellent mobility, Microsoft Planner is incredible when handling different aspects of business related to project management.
The software is part of the exclusive Microsoft Office 365 collection for business subscribers. Furthermore, MS Planner is available for any user who has a paid Office 365 subscription. This subscription can be an enterprise license or a personal subscription.
When it comes to project management, MS Planner goes above and beyond to make sure that you and your team can make plans, discuss different assignments related to the project, assign various tasks associated with the project, and view progress charts of everything going on in the project.
The application is also equipped to track all of the project activities via the Kanban boards created as part of the project and provides detailed information about all of the tasks and activities that the project development team members are performing.
Another great functionality that the application offers is a personal view that allows the users to see all of the tasks they have going on across the different plans and the Groups associated with the project.
This excellent tool is available with Microsoft SharePoint and Microsoft Teams too.
Here are some of the most popular key features of this incredible project management tool.
Key Features
Buckets
Hub view
Analytics Tools
Collaborative Task Management
Let's discuss these features in more detail and determine how they can benefit you according to your needs and requirements.
1. Buckets
Unlike most of the other project management tools in the market right now, this great project management solution allows its users to graphically arrange and structure all of the different tasks and activities that you have displayed in the interface.
These tasks and activities can be shown in different "Buckets" (basic columns) based on the theme you set for the entire project. According to your needs and requirements, you can also rename these Buckets to whatever you like.
2. Hub view
The application also offers another amazing feature called Hub view.
Basically, what this does is that it offers the users a complete overview of the entire project development process so that the progress of the whole shebang can be tracked and monitored. The manager can make the necessary changes if any arise.
This feature also helps the managers look at all of the employees and their tasks while also checking to see who's open for new assignments and who's achieving their deadlines efficiently. This helps them to make better staffing decisions in the future.
3. Analytics Tools
Another amazing feature that this application provides is analytics tools. These tools can help you evaluate the task progress and the project status in the form of a bar graph and a pie chart, depending on your needs. It also aids in the identification of trends and interpretation of data.
4. Collaborative Task Management
The application also helps you display all of your tasks in one place so that all team members and the project manager can comment and attach different files or extensions to the tasks in question in different outlets like Outlook, Teams, Outlook groups, or some other destinations.
Pricing
Here are the pricing plans of this amazing project management software.
Office 365 Business will cost you $8.30 per month per user
Office 365 Business Premium is going to have all of the features of the simple subscription and more but with an additional price of $12.50 per month per user
Office 365 Business Essentials is going to cost you a measly $5 per month per user for an incredible toolkit
Related:
Microsoft Planner vs Trello: Which One is Better?
Asana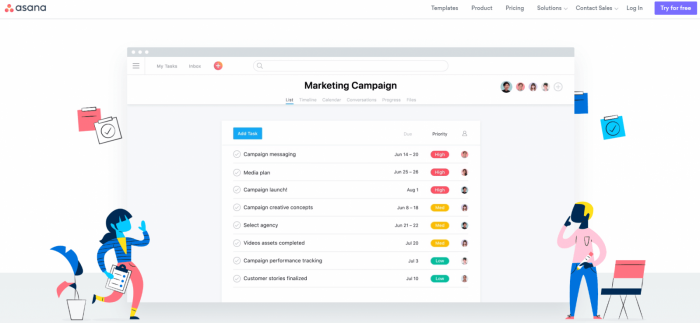 One of the most popular projects management applications right now is Asana. The application is a great cloud-based project management solution used by all kinds of different businesses from around the world.
The application is an incredible tool for keeping track of all of the different tasks and activities included in the most massive projects that are currently part of the market or even the most complex projects that are making their way in the market in 2022.
The platform incorporates many amazing features like task management, document management, collaboration, workflow management, and project portfolio management, among many others.
The project management tool has many other features up its sleeve, like visualizing the work progress of the tasks included in the project development process, making calendars according to the users' needs, and making Gantt charts and Kanban boarding for better project visualization.
Using the application, you can also automate the entire process of collaboration and communication among the team members to be more focused on their core responsibilities and not wonder what they have to do the whole time.
Let's now look at some of the key features that this excellent project management solution offers to its clientele.
Key Features
Asana Timelines
Asana Calendar View
Customization
Remote Access
Asana Portfolios and Workload
Collaboration
Online Communities and Support
Let's look at these features in detail and find out how they can be beneficial for us according to our needs.
1. Asana Timelines
One of the best things about this incredible project management application is that the tool has a great timeline to showcase the different tasks and processes you and your team are working on.
You can easily set different stages for your project and check the progress of the activities performed as part of that project.
2. Asana Calendar View
Another fantastic feature of this incredible project management application is that you can have a Calendar view of all the tasks and processes you and your team are performing.
Using this view, you can get a list of the assigned tasks and correlate them to the specific dates that you have to finish them on.
3. Customization
One of the best features of this application is that, based on your needs and requirements, you can change the whole workflow process.
This means that you can start building your boards, calendars, and timelines according to the project's requirements from scratch, or you can even use the Asana templates to perform those tasks quicker.
4. Remote Access
The application also provides complete remote access to all of its components from anywhere worldwide.
This means that wherever you are in the world, you can access your projects, tasks, and processes from anywhere and from the device of your choice and get the job done.
5. Asana Portfolios and Workload
According to the various departments in your company, you can build specific portfolios for each of them and see the overall performance of the team's working in those departments.
The application's workload tab helps you see how much work has been performed by the team members and which team member has performed which task. This allows the project managers to distribute the work equally and more efficiently.
6. Collaboration
In the interface, you and your team members can attach different files and other related attachments to the team's tasks and processes. If you and the entire team want to appreciate someone's work, you can do so using the Like button.
7. Online Communities and Support
Last but not least are the online support communities that Asana boasts.
The application is incredibly intuitive and easy to use. Still, if you get stuck somewhere utilizing the application, countless online community forums can help you easily solve any and every issue you might have.
You can also access other helpful content like webinars or training videos that can help you learn about the software more efficiently.
Pricing
There is a Basic version of the application that is free but has a limited set of features
If you want a more premium toolkit than the basic version, then you have to pay $10.99/month/user for the Asana Premium version
If you think that your and your company's needs and not being fulfilled by these pre-determined subscriptions and their offered features, then you can get the Asana Enterprise version that lets you have all of the features that you need and then some, but you have to call the company to get a custom price quote
Verdict
As you can see, both of these incredible project management applications are amazing at what they do, but they are not as reliable, affordable, or feature-friendly as nTask.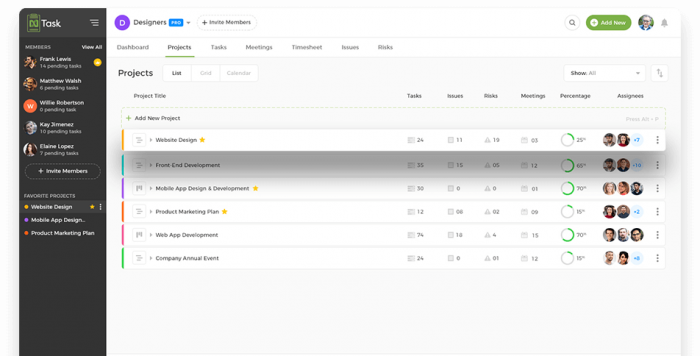 nTask is an excellent project management tool that allows you to take care of your tasks and processes while managing all of the other aspects of your project development process, all under the price of $2.99/month.
Here are some of the features that this application has to offer.
Task management
Project management
Risk management
Bug tracking
Meeting management
Gantt charting
Kanban boarding
Zoom integration
Simple Project Management With nTask

Manage documents, issues, projects, teams and tasks, all in one place. Sign up today!
So, if you are not sure about what project management software to get, go with nTask. It won't let you down.