Microsoft Forms is one of the world's most famous office software solutions. It is a business & commerce Survey Creator that is free with your Office 365 credentials or Microsoft account (Hotmail, Live, or Outlook.com
Choose the best!
Start using nTask today.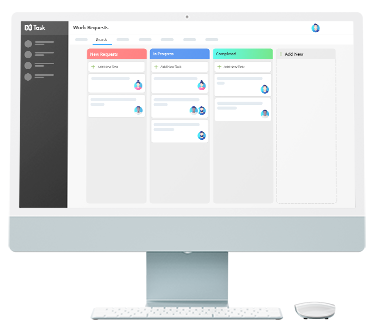 Let's dive deeper into learning about Microsoft Forms alternatives that you can use for similar purposes.
---
Why is Microsoft Forms Useful?
Microsoft Forms is a popular tool for data collection and analysis. The drag-and-drop interface makes form generation significantly easy. Furthermore, it is being used by a range of businesses due to its reliable customer service and value for money.
The perfect form for your needs can be chosen from the many accessible online form templates.
Forms are effective data collection and analysis tools because they can be customized to meet your needs.
Gather all the information you will need to run your business successfully, i.e., Create client surveys to understand how to improve your service or employee replies to assess the reflectivity of your management system.
Microsoft forms can be made available to non-Microsoft 365 users, giving organizations a larger audience and more detailed data analysis
However, some limitations to Microsoft Forms are increasingly pushing people away from it in search of better alternatives.
Before diving into Microsoft form alternatives, let's look into its limitations.
---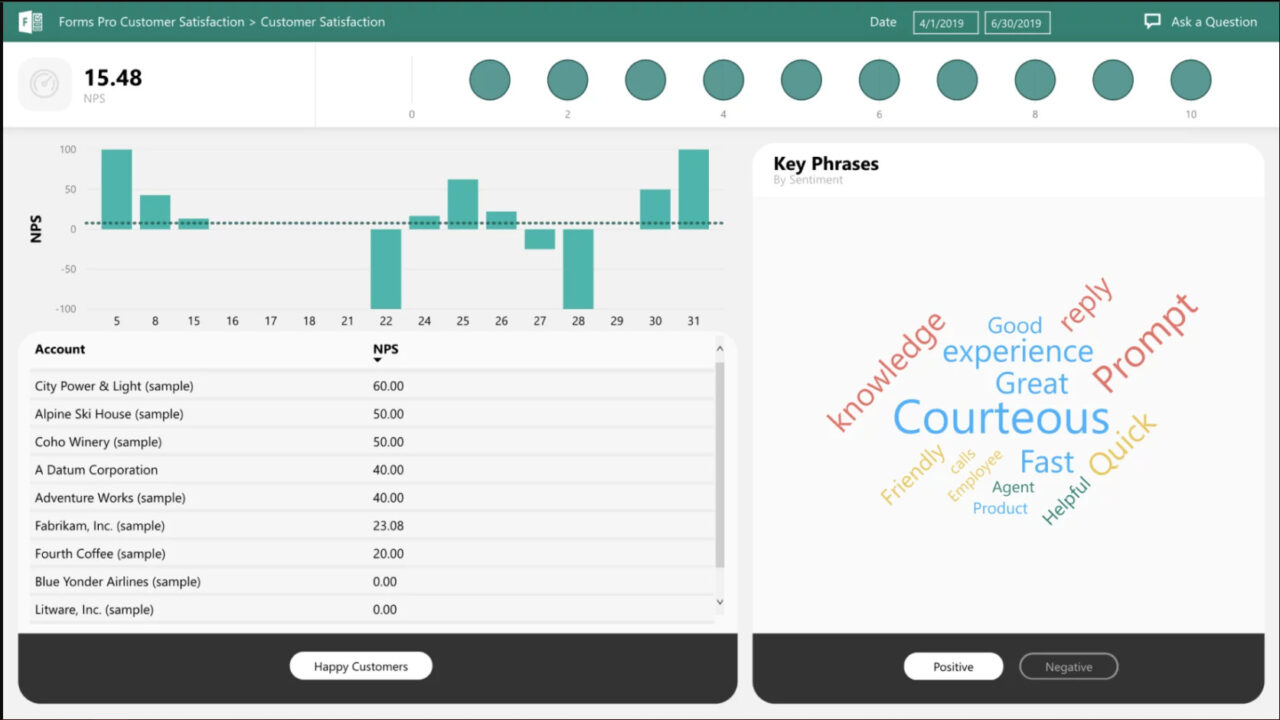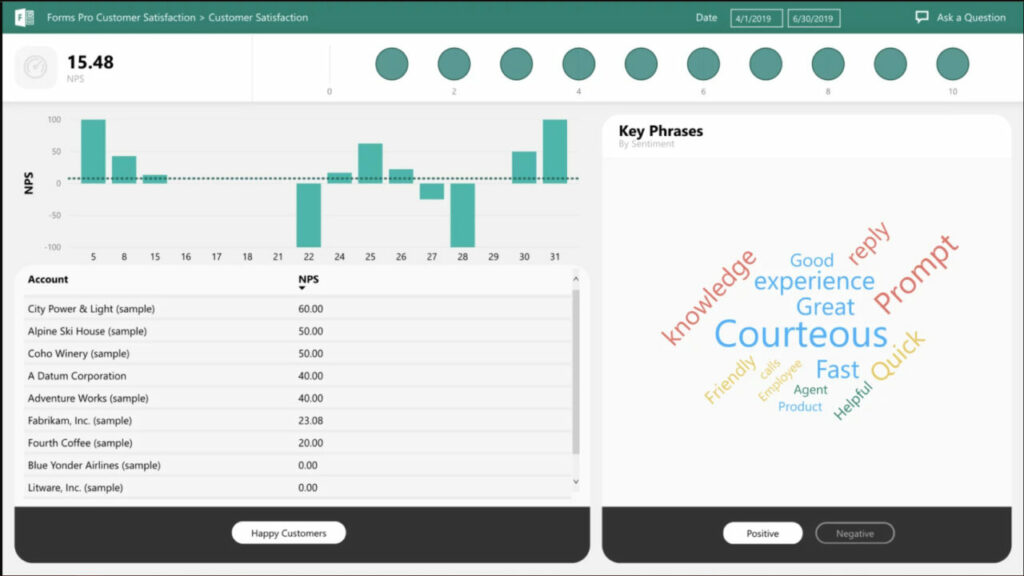 Microsoft Forms Limitations
For beginners, the tool can be expensive, reducing its overall efficacy over time
Forms are usually not user-friendly, making it difficult for users to complete them correctly
Another typical problem is that developing and customizing forms might take a long time
Microsoft forms have a limited number of questions that can be asked
Online templates are widely accessible, but they are not particularly user-friendly. Customizing a form might take a long time and work, especially if you want it to appear ideal
Templates available need improvement to assist companies in saving time and effort while still offering important functionality
---
Why Should You Look for Microsoft form Alternatives?
With the development of increasingly effective and versatile form builders, it is vital to assess which is appropriate for your company.
This post has compiled the top 6 Microsoft Forms alternatives in 2023. They offer great customization, making them ideal for enterprises with limited resources or technical skills. 
They also interface with well-known websites, allowing you to deliver forms straight to your clients from those platforms.
Consider the following Microsoft Forms alternatives if you need a more robust or specialized form builder
---
Top 6 Microsoft Forms Alternative for 2023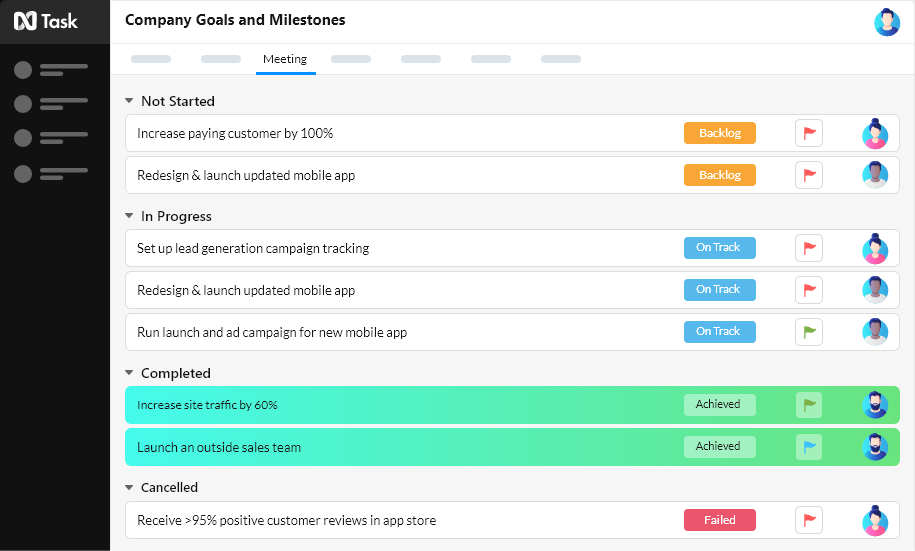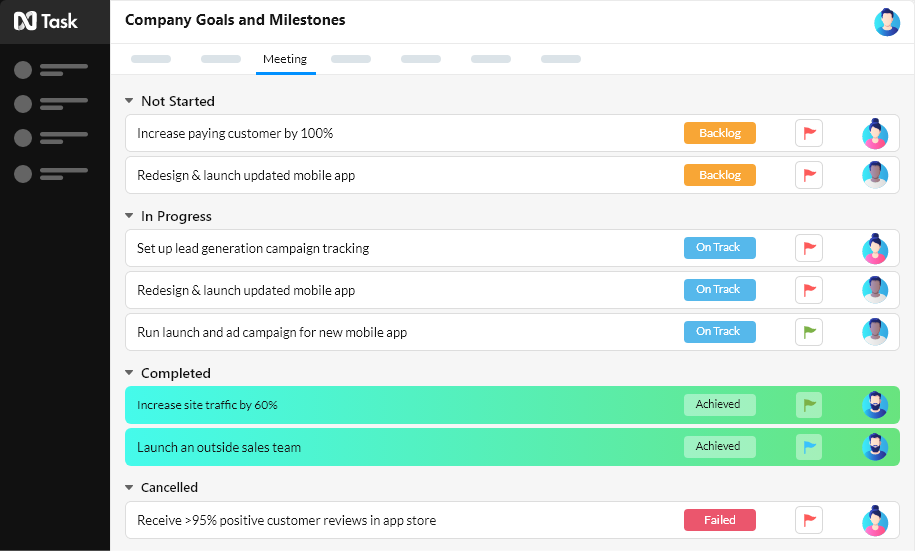 nTask is an all-in-one project management application with plenty of features for everyone.
You can budget time & cost, do resource management, allocate tasks and optimize workflow efficiency with the help of interactive Kanban boards. Then again, the app comes with Gantt Charts, another interactive feature to streamline projects with critical task dependencies.
Speaking of nTask as a Microsoft Forms alternative, the app is undergoing an exclusive 'Forms' related feature. It's right around the corner!
nTask Forms showcases custom form creation options, multiple cell fields, and many automation-based styles to gather feedback through exclusive survey forms. The possibilities are endless. Top it off with a high feasibility price tag, i.e., $3 per user / per month *(paid annually); you're looking at tons of features for a Premium plan.
Key Features:
Dedicated Forms management module with options to create interactive and deployable forms all over the internet
Create all sorts of to-do lists as per your customizations in the form of a checklist
Track and resolve issues through issue tracking feature
Meeting management tools to organize meetings from one dashboard
Interactive Kanban board and Gantt Charts
Timesheet for workflow monitoring, approval, and budget management
Pricing:
Premium Plan starts at $3 per month when billed annually
Business Plan starts at $8 per user/ per month when billed annually
For details on Enterprise Plan, feel free to get in touch with the nTask sales team 
---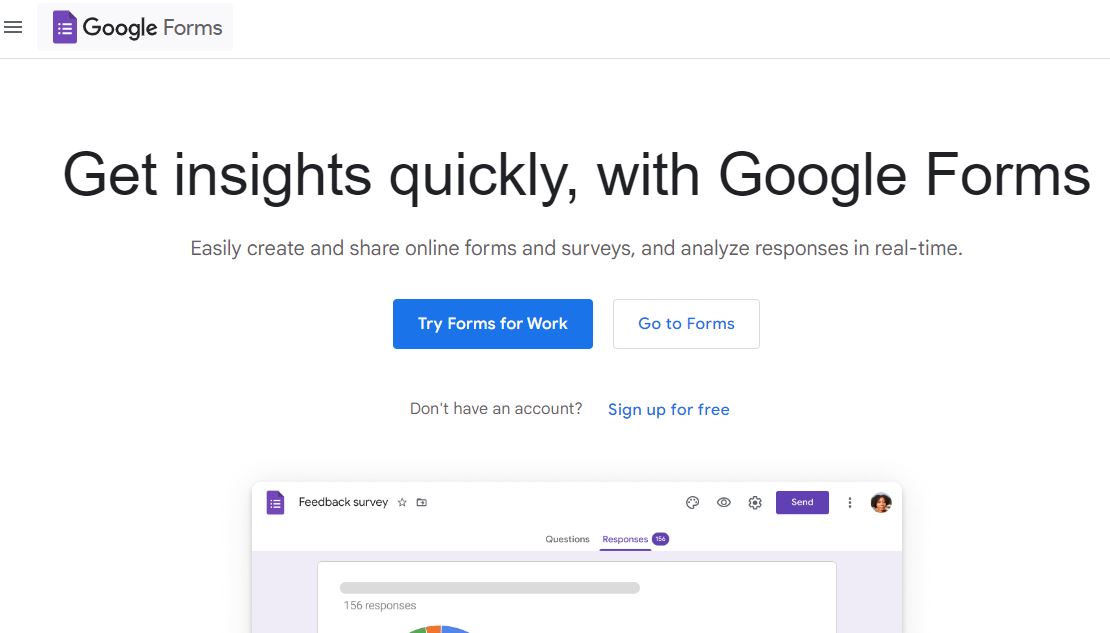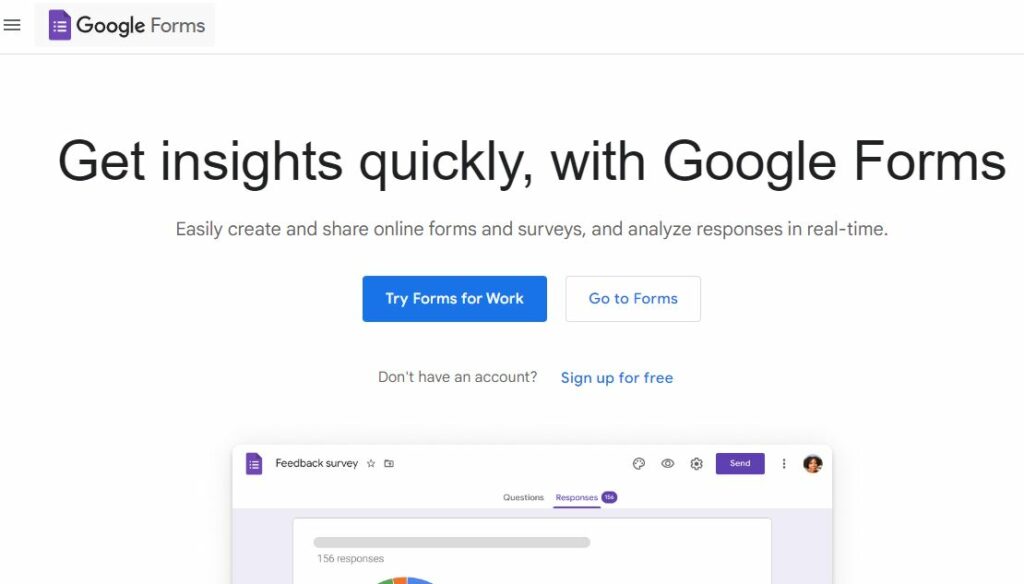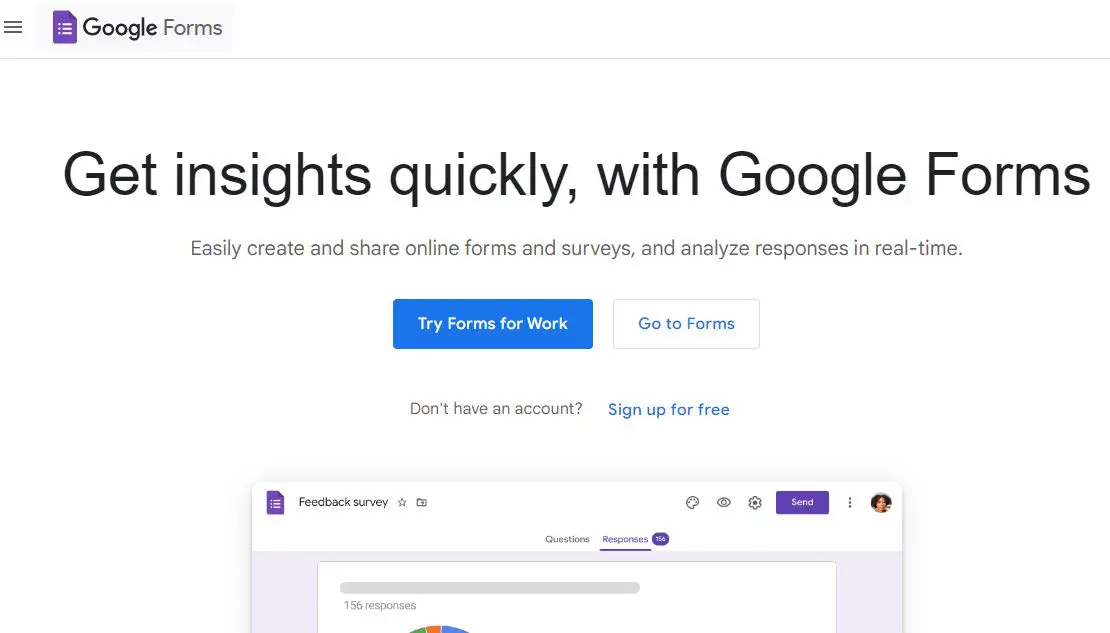 Google Forms is an extremely simple MS Forms alternative that can be edited on mobile devices and desktops. Furthermore, the data can be rapidly converted to Google Sheets spreadsheets to build bespoke reports.
Google Forms also allows you to add and change form items quickly.
It also includes features like adding photographs, videos, and files to your forms, changing themes, making multiple-choice, dropdown, linear scale inquiries, and much more.
Key Features:
These web-based forms can be sent to the intended audience by simply sharing a link or sending it through email
It is probably one of the few online survey tools that can be used without any tutorials or prior survey production experience. It is quite simple to use and is great for creating short surveys
Users can drag and drop a question to a certain location in the desired sequence
It comes with a variety of prebuilt themes from which to choose before you begin adding content to your form, but you may also customize your own 
Google Form Add-ons allow you to extend the functionality of your forms even further.
By linking Google Forms to over 1,000 other apps, you can also use Zapier to automate workflows
Why is Google Forms better than Microsoft Forms?
Unlike Microsoft Forms, Google Forms allows a range of question formats, including linear scale, dropdown, and multiple choice.
 Google Forms should be your choice if you want a platform that is easier to use, has more collaboration features, and allows you to add more components to your real form. 
Cons:
Excellent for simple forms but not for more complex tasks
There are no built-in filters for limiting data
Does not allow e-signatures or payments natively
Pricing:
---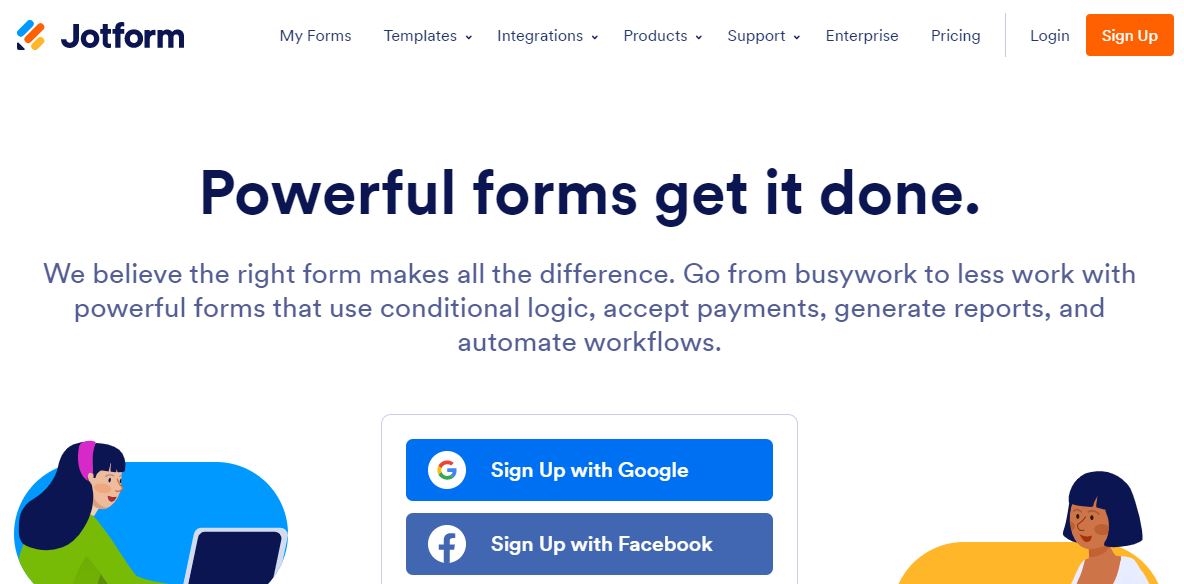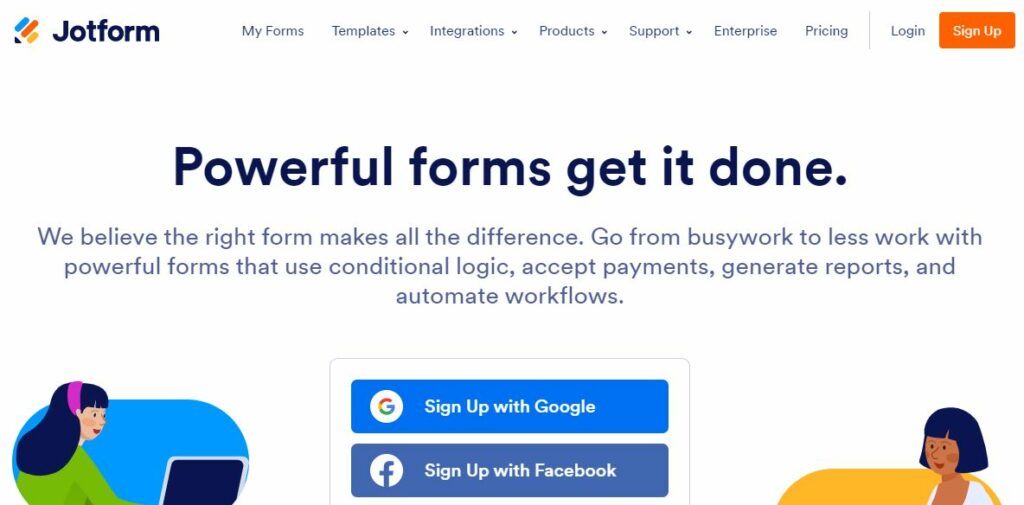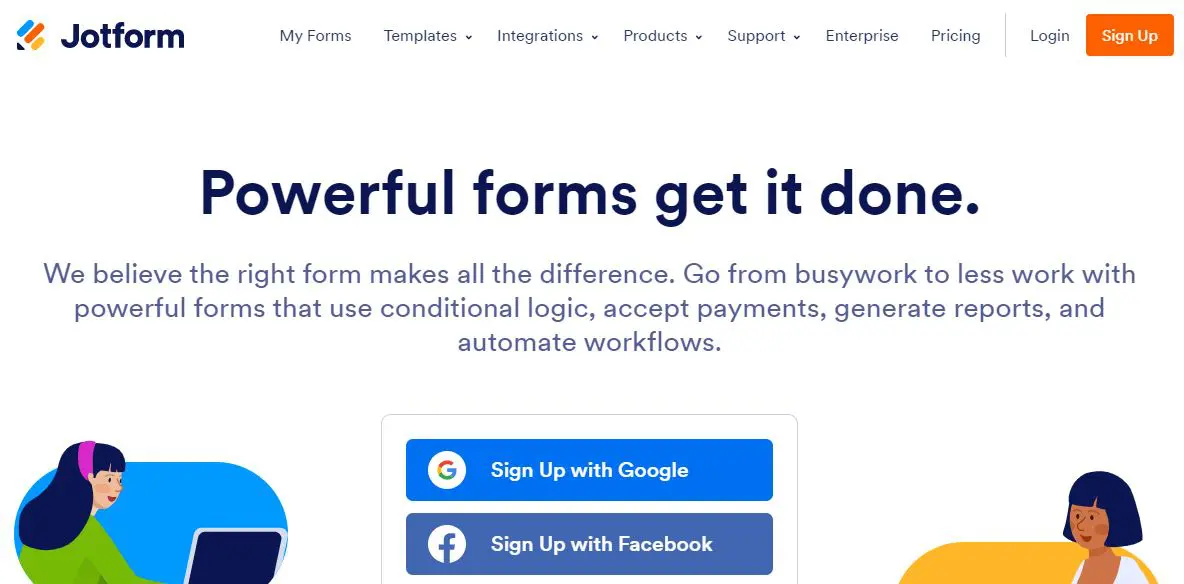 Jotform is a cloud-based form automation tool that allows users to develop online forms and gather customer feedback. It is among the most popular online form builders, so you can get what you are searching for.
Ideal for people with lead generation, order payment collection, customer surveys, job application management, and event registration.
Key Features:
There is a survey format as well as several built-in templates and themes that users can customize 
There is also a central dashboard, and the form builder includes icons, animations, video backgrounds, and other features.
Jotform plugins enable PayPal, Google Drive, Dropbox, MailChimp, Box, OneBip, SalesForce, and Zoho CRM
Users can also include add-ons, e.g., checklists, slideshows, terms and conditions, date choices, tables, and more, in their forms
Payments and custom forms are all put together in a single bar on the left side of the screen.
Elements of forms can easily be dragged and dropped on the screen
Survey sharing options include website embed, email link, and weblink
Why is Jotform better than Microsoft Forms?
It is a collaborative tool, meaning several people can work on the same form simultaneously, which Microsoft Forms does not provide.
The file-upload area, which allows responders to attach images, papers, and other material, is another unusual feature.
Jotform can send email notifications when a form is completed to make sharing information even easier.
Cons:
Custom domains and white labeling are only accessible to Jotform Enterprise clients
Except for Gold, all premium plans have form and payment submission restrictions
There is no live chat assistance or demos available
The design of the template is outdated
Pricing:
Standard Plan – Free
BRONZE- $19/month
SILVER- $39/month
GOLD- $99/month
---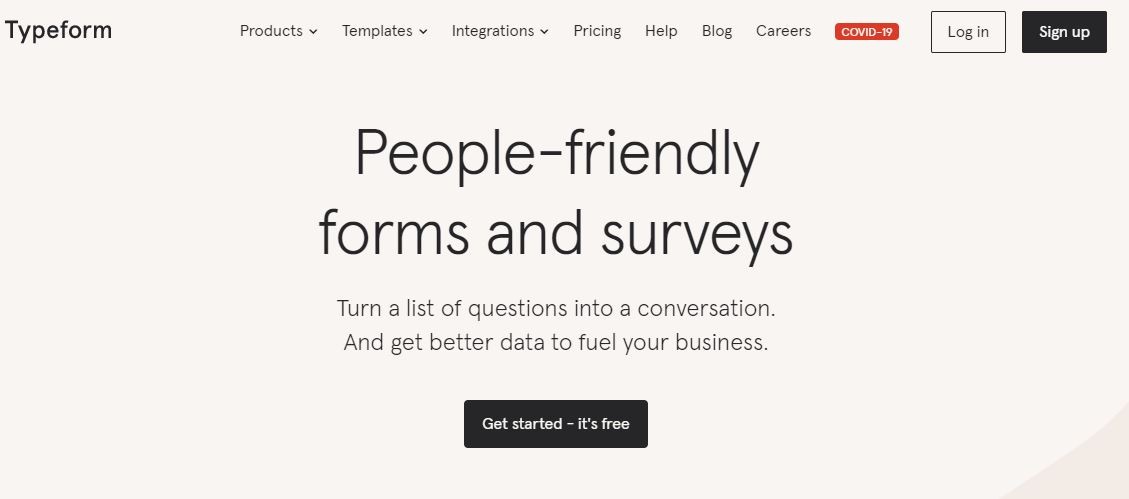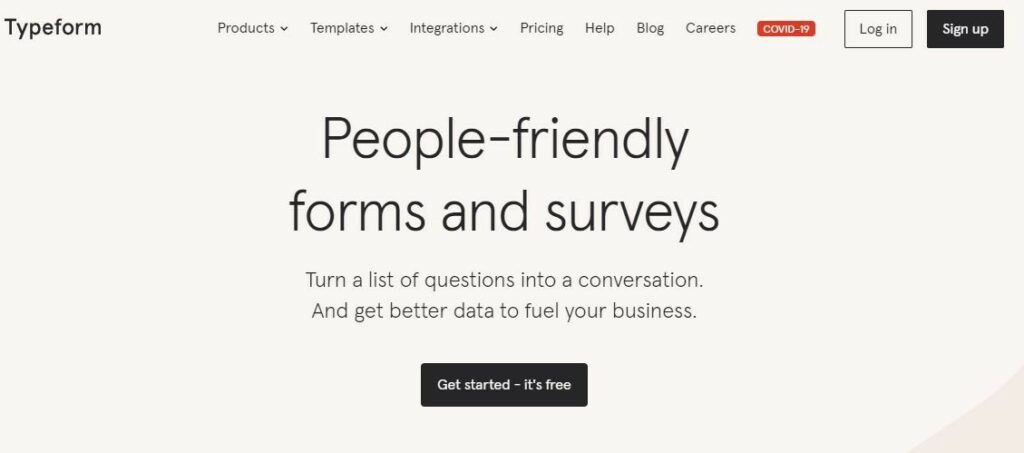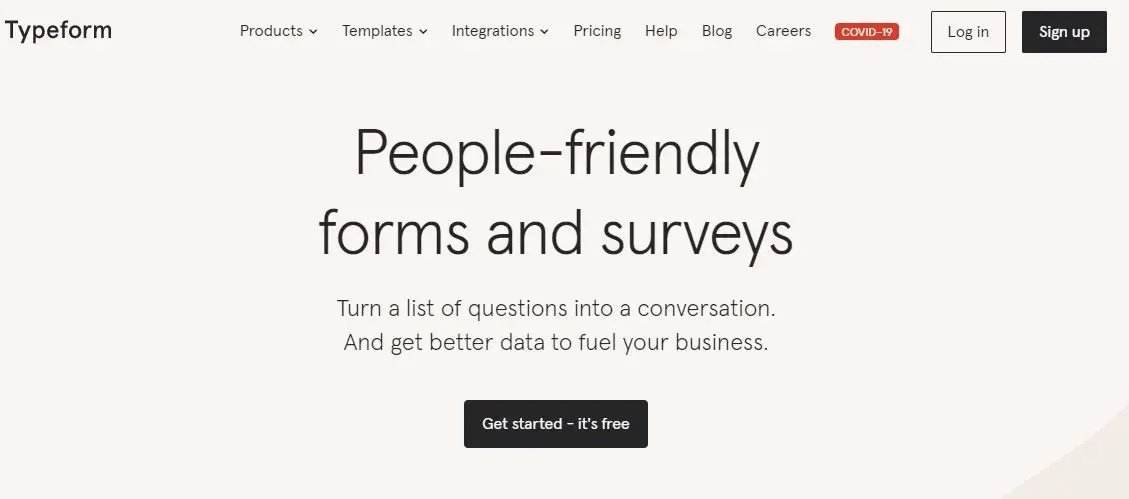 Because of its unique and modern UI, which deviates from the traditional form builder approach, Typeform is one of the best Microsoft alternatives. The tool allows you to design visually appealing and interesting forms quickly.
Typeform works with all devices and browsers.
The Logic Jump feature lets users create question logic pathways with endless Logic Jumps.
Key Features:
The application forms can contain a cover page, a progress bar, and/or a thank you page
It provides customization of the colors and patterns of your buttons, including animated buttons, to match your brand
It is compatible with a variety of payment processors, including PayPal and Stripe
You may also change the style and feel of your forms to fit the identity of your business.
They provide subscription services that include things like logic leaps and file uploads if you want more features and capabilities
The tool provides data security by storing data automatically
Why is Typeform better than MS Forms?
Unlike Microsoft Forms, there is no whole page of questions. Typeform offers each question on its card, one at a time. This gives it the impression of a discussion rather than a quiz, which may elicit more comments.
Respondents can also use emoji reactions to communicate their feelings about a question, which can be useful for getting qualitative feedback.
This conversational approach is ideal for surveys that require more open-ended responses since respondents may take their time thinking about their responses.
Cons:
Pricing is prohibitively expensive for startups and individual researchers
The Basic subscription is limited to one user and 100 responses each month
Typeform is currently only available in English and Spanish
There is no built-in analytics or reporting features
Pricing:
Free
Basic package- $29/month
Plus-$59
Business-$99
---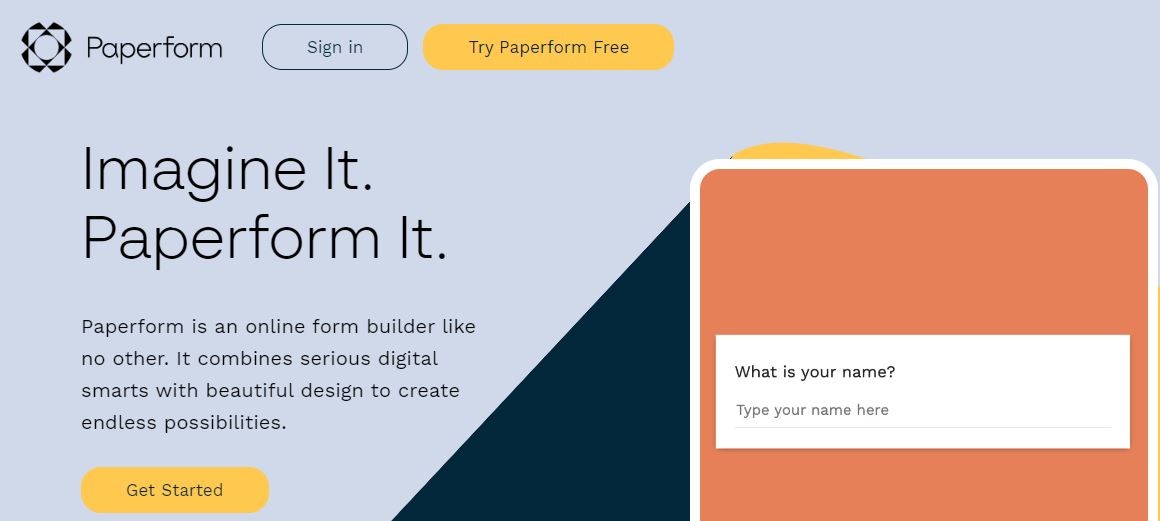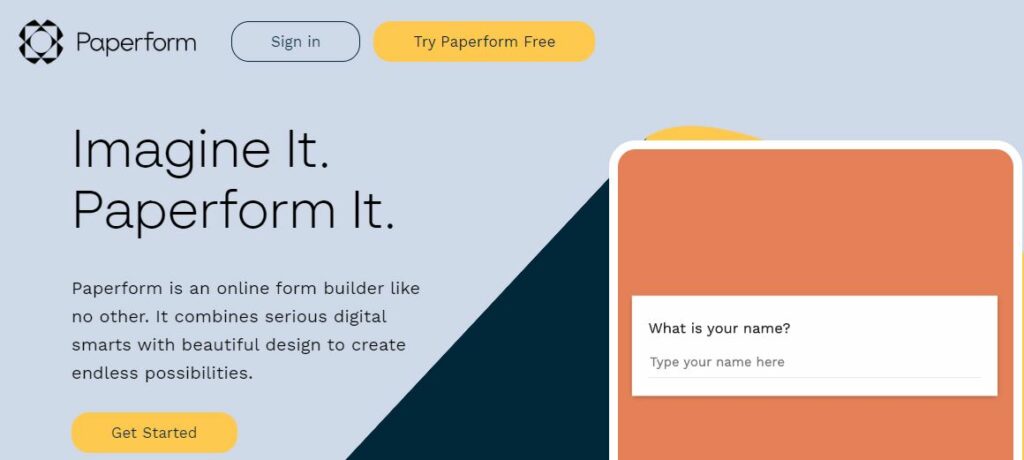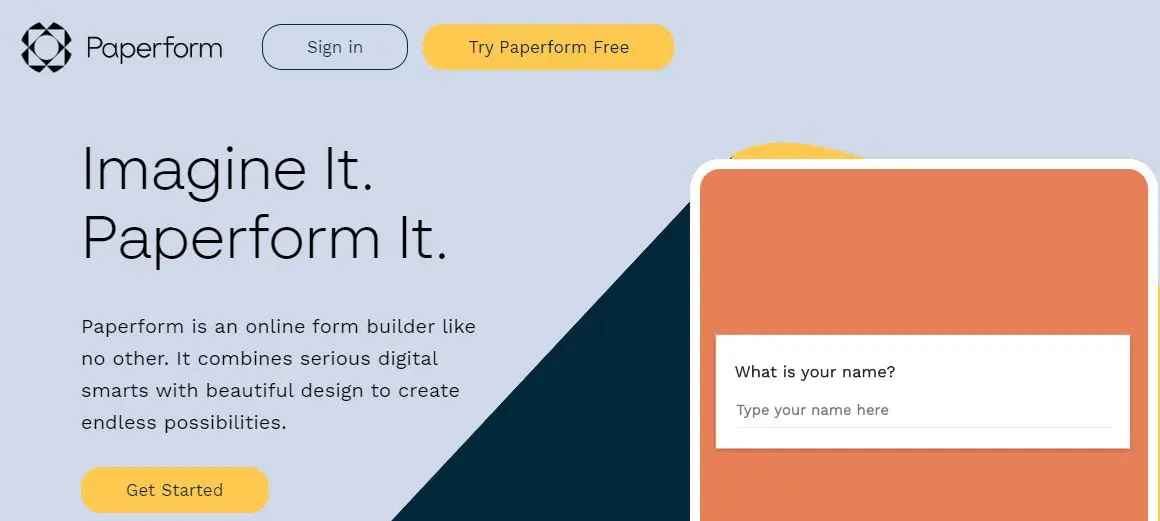 Paperform is a great MS form alternative for rapidly designing forms for landing sites, payment pages, or product pages.
The platform is also popular for its modern design and ease of use. You can create visually appealing forms for your website and include product images, descriptions, and prices without having to worry about code.
Key Features:
Paperforms has many templates for all forms, including order forms, contact forms, surveys, and more.
You can also use its visual editor to create customized forms from scratch.
On the backend, you can manage your inventory, see orders, accept payments, and do a lot more
the system will automatically update your inventory when a buyer makes a purchase
You can also connect to popular payment processors like Stripe and PayPal and configure automatic shipping and tax calculations.
Paperform forms are mobile-friendly, which means they will appear great on any device.
Furthermore, Paperform offers over 40 different payment methods, allowing your customers to pay you however they see fit
Paperform is a simple tool for designing appealing forms and landing pages that can boost conversion rates
Why is Paperforms better than Microsoft Forms?
 Paperform is a form builder that specializes in transactions.
For businesses that sell digital or physical things using forms, Paper form's eCommerce features are a wish to come true.
The forms have little similarity to conventional Microsoft Forms. They appear to be landing pages or blog articles with appealing images, videos, and graphics.
As a result, it is one of the best MS forms alternatives for those looking to increase conversions and sales.
Cons:
Lower price tiers offer restricted UI flexibility and integrations after submission
Custom reporting is not currently available
Customer assistance is solely available via chat, and there is no way to schedule a demo
Pricing:
Essential- starting from $20
Pro – starting from $40
Agency- starting from $135
---



SurveyMonkey offers a variety of options for creating practically any form of survey.
Moreover, specialized products such as Usabilla, which delivers real-time customer feedback, and TechValidate, which converts customer input into social proof such as case studies.
Key Features:
With ease, create surveys, quizzes, and polls for any audience
Gather feedback using web links, email, mobile chat, social media, and other avenues
The automatic assessment of data provides additional analytical features
files can be exported or combined with integrated apps
With insights, make informed, data-driven decisions
White labeling & team collaboration tools
Why is SurveyMonkey better than MS Forms?
SurveyMonkey has a question bank tool with various prebuilt questions that you can use as a starting point and customize to your individual needs.
Another big benefit of SurveyMonkey is its ability to analyze data from respondents, allowing you to gain insights from the data more quickly.
If you want an easy-to-use application with a library of survey questions for any situation, SurveyMonkey is the best MS form alternative.
Cons:
The Basic bundle is not feature-rich e.g. no piping, randomization, custom variables, or uploads permitted.
It can too costly for new and small enterprises.
There is no live chat assistance. Phone support is only offered for the Premier, Team Premier, and Enterprise levels.
Pricing:
Individual – starts from $67.97
Team starts from $21.07 
Enterprise-Contact Support
---
Conclusion
While Microsoft Forms is a great form builder, one of these alternatives might be the right match if you want to conduct surveys or have more features and options.
Choosing the best MS Forms alternative will be challenging with all of these software options and features. That's why we compiled their pros and cons. 
It is now up to you to assess these Microsoft Forms alternatives and choose the one that best matches your needs.