After drafting an impeccable project plan, the next step is to present it to your clients. This is the turning point, as PMs have to deal with the age-old 'How to present a project plan efficaciously?' dilemma.
Presenting a project plan requires more than just PowerPoint slides.
Since a good presentation can win you a deal with your clients, you need to be prepared for everything. Your presentation should communicate everything effectively. Your client should have a clear understanding of all the details the plan suggests.
Why is effective communication so vital? Your clients must understand the very intricacies of the plan. Your presentation must serve the purpose of making them aware of all the processes. They might not be aware of the technicalities so your presentation should get them more acquainted with the specifics.
Moreover, getting your message across before laying the foundations also minimizes the chance of errors in the future. Once your clients have methodically understood the ins-and-outs of your work, you can start implementing the plan.
Another plus point of a project plan presentation is that it helps build trust between both parties. Once you present a project plan, both the parties become aware of their responsibilities and know what to expect from the other party.
How to Present A Project Plan In an Agile Environment?
Knowing the nitty-gritty of how to present a project plan is imperative for the success of a proposal. Here's a list of things you can do to skillfully communicate the details of your project plan and probably win yourself a deal:
1. Simplicity Is The Best
A presentation should be simple enough to be understood by everyone. Drowning your client in complex data and a boring set of figures is out-of-question unless you plan to scare your client away.
Your goal is to find how to present a project plan so that it attracts your client and piques his interest. Unnecessary statistics and complex graphs will do more harm than good.
The purpose of your presentation should be to clarify and explain the process in detail. So, we suggest that you keep it simple. Employ the use of a Work Breakdown Structure (WBS) – to structure a project roadmap.
Guide your client through the roadmap and all the phases of the project. A roadmap will give your client a clear understanding of the plan.
Using A Project Management Plan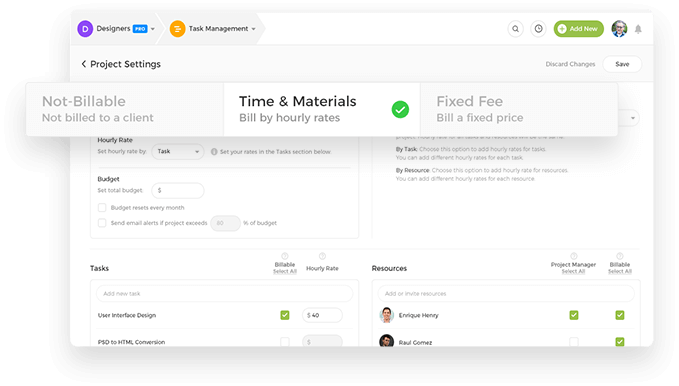 To keep it simple and effective you can employ the use of a project management plan such as nTask. Why nTask you ask? We may seem a little bit biased here, but our partiality is completely defensible. Hear us out on this one.
For starters, nTask's project management plan is simple and easy to use, with no complexities. You can easily plan your project in just a few steps. nTask offers effortless integration of the details of the project, the billing method, the time duration, and allocation of the tasks to your team members.
Immediate communication and conversation via the chat feature are also baggable features of our project management plan. This feature allows you to privately communicate with each member, share data and files, and much more.
nTask's project plan tool also helps in structuring, planning, and allocating tasks to your members. Furthermore, you can also subdivide the tasks, assign resources to each task, add time constraints, and create to-do lists. Your project plan is not only simplified but also guarantees timely completion of the deliverables.
Each of these features, in essence, helps declutter your mind. They help keep you focused with their immaculate organization and simple structure.
The aim is to keep everything readily understandable while ensuring a smooth flow of information.
Visual Representation Through Gantt Charts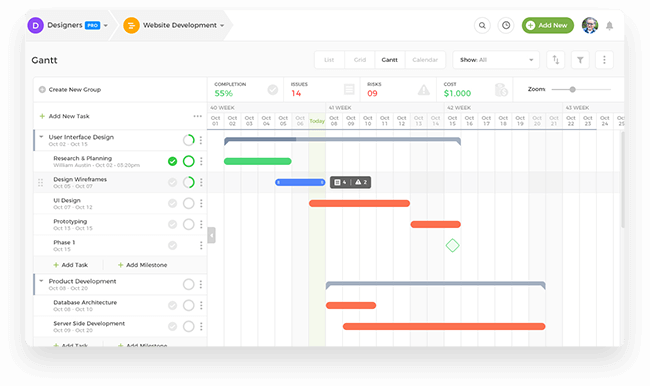 Visual representation via Gantt charts works like icing on the cake. Gantt charts help set milestones for each task, set priority status, track budgeting, etc.
You can also create a workflow diagram highlighting the phases of the task and the duration for each task. A visual representation will help your client identify the dependencies, duration, and sequences of the tasks.
2. Explain the Process Methodically
When you are preparing for the presentation, contemplating how to present the project plan, think of your client as someone completely oblivious to the working of the plan. Carefully describe your project from the start till the end. He should be aware of the whole process and how everything will come about.
While you are at it, tell him why you planned the project the way you did. If it is something tried and tested earlier, inform your client about how this has worked on previous projects and why it will work on your project too.
If you have applied a new approach, elucidate the reasons you decided to take a unique path and how it will be beneficial.
3. Review the phases of the project
Review all the phases of the project. It is important to explain each task, the sequence of the tasks, the time it will take, and the assignees of each task. After informing them about these details you can explain the whys of each task.
Your client might need an explanation on one or two of the tasks or why it was assigned to a specific team member or why does it take more or less time. Don't worry, these questions are an affirmation that the client is interested in your project.
If you can, share similar experiences. To build their confidence in the plan show them documents or files explaining how this particular approach has worked on previous projects. Visual evidence will increase their trust in you and the work you do.
Educating your client is essential to win their trust. By arousing their interest, you are increasing the chances of success of your plan.
4. Estimating Expectation For Timely Feedback
Your project is a two-way process. Every milestone you complete needs approval from the client. If in any phase of the project, the client takes a bit too long to deliver his feedback, you might miss your deadline for the next phase.
Timely feedback and review are vital so that you are not held back, and the process is as smooth as it can be. To do that, include time estimates for feedback from your client. Once your client is aware of his responsibilities and expectations, he will work harder to make sure there are no lapses in the work.
Matching your synergies will speed up the work and will produce more fruitful results than anything else.
5. Highlight The Dependencies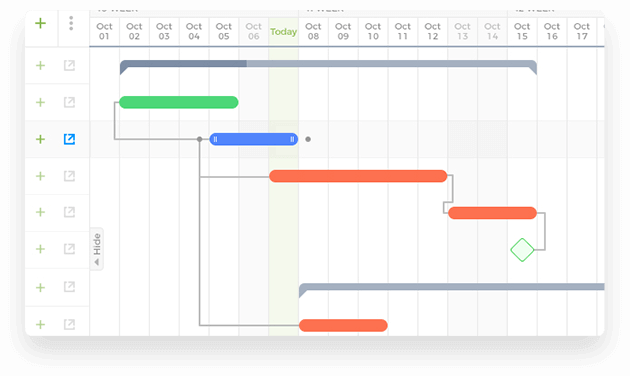 Make sure to point out all the dependencies in your presentation. Present the project plan in such a way so that he knows his responsibilities. Tell them what happens if there is a delay on their end or how it can affect your work.
Also, make sure that he knows the weak points of your project or the potential threats so that both parties can prepare themselves accordingly.
Highlight the dependencies early on so that everyone is aware of the potential risks. This, in turn, will keep them prepared for unforeseen circumstances and they will be ready to fight their way through.
6. Discuss Your Resources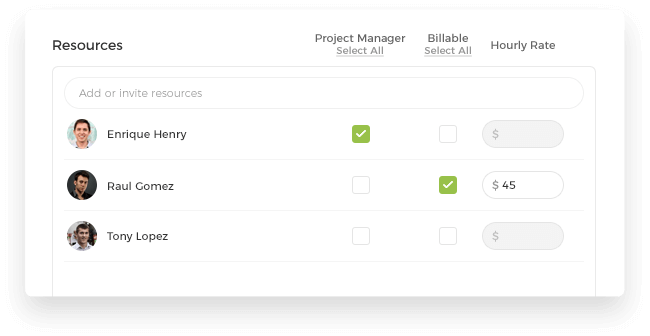 Let your client know the capability of your members. Your clients have had no interaction with your resources, so they are unaware of the competency of your team members.
Let them know whatever you discussed as a team and why you took the decisions you did.
They might not be interested in knowing the human aspect of the project but a little effort on your part will give them more insight into the work you do. He might also be able to connect with your team and understand their work as well.
Making them aware of the potential of your team will let them know what to expect from your side and how they can optimize your work.
7. Keep Reviewing Your Project Plan
Just because you have presented all the aspects of the project does not mean that you cannot make any more amendments. Your project is not perfect, it will probably need adjustments at every step.
While in process, you might find a more feasible way of doing things or think that this resource suits this task more than the previous one. You are free to make any and every alteration. Finding the best method and the best person to do a task is important for the successful completion of your goals.
As long as the outcome of the project is profitable, it does not matter what method you use or the resources you employ.
It's not important to stick to plan 100%. you are always prone to unforeseen and unpredictable situations. What you can do to overcome the inevitable is, to strategize anew and get back on track as soon as possible.
Remember to communicate the changes to your client and your team. Keep everyone updated and informed about the progress of the project and how everything is coming about.
This list of features will hopefully answer the question i.e. 'how to present a project plan?'. Incorporating these features in your presentation will have the help you make a good and lasting impression on your client. You cannot only win the deal but might even earn a few compliments!
Make Your Own Project Plan With nTask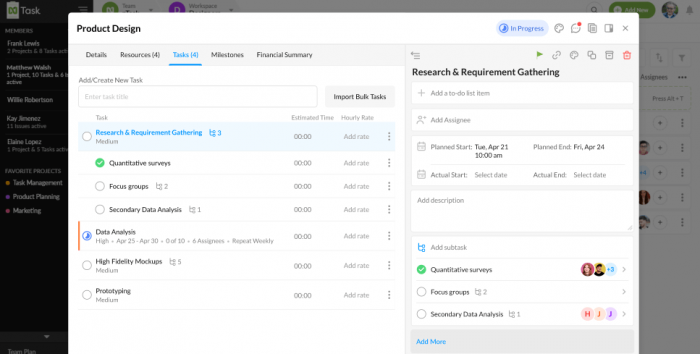 With nTask, you can create your project plan and manage your team relatively easily.
Getting started is easy; log on to www.ntaskmanager.com to sign up for a free account. We have a dedicated feature-set for PMs who wish to engage in simultaneous project planning activities, road-mapping, and team management.
Use The Best Project Planning Tool.

Manage all your tasks, projects, team collaboration and more in one place. Sign up today!
Here are some of the key highlights of this robust project management software solution:
On-demand project planning
Collaborate via team chat, @ Mentions, private messages, and more
Task management on the go
Visual project progress through interactive Gantt charts
Milestone creation and tracking
Financial summaries, billables, contract workers' management, etc.
Document management
Interactive Kanban boards with sizzling features
Alerts and notifications
Custom colors for different tasks
Set dedicated custom status for dependencies, projects, tasks, and much more!
Overall, project planning is crucial to ensuring long-term success. However, it doesn't come naturally to project managers. You need to adapt to the evolving industry standards.
Keep at it; feel free to improvise and always consult with stakeholders for the best results.
Happy nTasking!