A good marketing plan will help you be organized, aligned, and productive to achieve your goals and objectives. However, most people don't know how to create a marketing plan.
Thus, in this blog, we have discussed in detail what a marketing plan is, its benefits, things to be included in a good marketing plan, and how to create a marketing plan using nTask.
So, create a roadmap of your marketing plan to optimize your processes.
Here we go!
What is a marketing plan?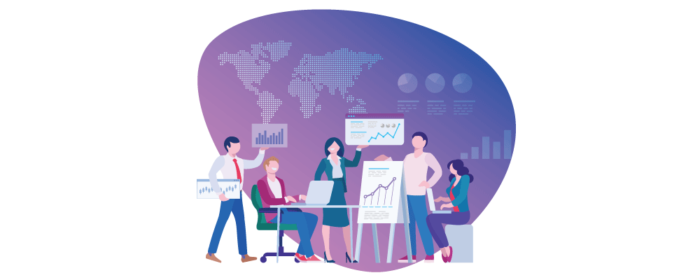 A marketing plan is a strategic roadmap that organizes, tracks, outlines the steps necessary to achieve the goals and objectives.
A marketing plan involves the following:
Allocation of marketing resources
The direction of marketing operations
Preparation of policies or budgets
Thus, a marketing plan is the first step in management to achieve the set agendas successfully.
Marketing Plan vs. Marketing Strategy
A marketing plan involves all the steps you'd need to take to achieve a competitive advantage, while marketing strategy is the approach taken to get there.
Thus, your team can create a marketing strategy; however, a marketing plan will help create a timeline and theme to achieve the goals of that strategy.
So, a plan is needed to work in your favor for your strategy. Therefore, in this blog, you'll see how to create a marketing plan using nTask manager.
Benefits of a Marketing Plan
It will proceed the following benefits for your company:
It helps to achieve objectives with clear direction and focus
Mitigates the risk of failure and uncertainties
The higher customer satisfaction rate
Coordination and communication between different departments
Better control on business operations
Helps to save cost with effective allocation of resources
The 8 P's of Marketing
The 8 P's of marketing are essential for a good marketing plan to find a fresh perspective and uncover opportunities for effective marketing. While making a marketing plan, a marketer needs to answer the following questions of 8 Ps:
Product: What are our products?
Price: What is its price?
Place: Where would the products be sold?
Promotion: How are we going to promote it?
People: Who'd be our targeted audience?
Positioning: What unique features would we be offering?
Processes: What processes would we be using?
Performance: How have you performed?
Why do you need a marketing plan?
The marketing plan helps you streamline your tasks to reach your marketing goals to help in business growth. A well-thought marketing plan helps you:
Brings all teams to a single page. The marketing plan document work as a cheat sheet for the entire company to look for and then execute the marketing activities. It helps teams to work towards a common goal.
Help to highlight the important aspects of the marketing plan.
Help make better decisions
Gives an overview of the industry marketing practices. The market research included in the marketing plan gives an insight on what the competitors are doing to achieve their goals.
What should your Marketing plan Outline include?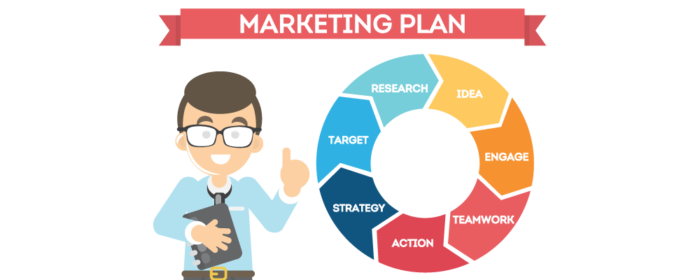 Your marketing plan outline dramatically depends on the type of audience you are selling your products to. However, there are some essentials you can keep in mind while sketching out your marketing plan outline:
1. Business Summary
This is first essential on how to create a marketing plan outline. As the name suggests, it includes the summary of your business, including:
Business name
Business's headquarters
Business's mission statement
2. Business Initiatives
It includes your project goals and the processes you'd take to execute those goals. Moreover, it should consist of a summary of the objectives and not the whole story.
3. Customer Analysis
This step includes doing market research to know your targeted audience. You'll find the targeted industry and create a buyer's persona with the following information:
Age
Location
Title
Goals
Personal challenges
Pains
Triggering events
4. Competitor Analysis
Isn't it obvious?
To make your brand stand out, you need to know who your competitors are. What are their strengths and weaknesses, and what strategies can you use to better cater to your audience and solve their problems?
5. SWOT Analysis
SWOT analysis has been an important marketing tip. A successful SWOT analysis will help you analyze your business's
Strengths
Weaknesses
Opportunities
Threats
6. Marketing Strategy
The marketing strategy includes the 8 Ps of marketing we have mentioned above. It is crucial to achieving the goals of a marketing plan.
7. Allocated Budget
It includes your company's budget for successfully implementing your marketing plan and strategies.
8. Marketing Channel
This would help you decide how you will find your leads, create brand awareness, and where you'd publish your content. It also includes your social media strategy.
How to create a marketing plan with nTask?
Do you know what the best part is?
nTask's project manager module can help you create a successful marketing plan with various features.
How to Create a Marketing Plan using nTask?
Here are the tips you can follow to boost your processes with nTask!
1. Task Management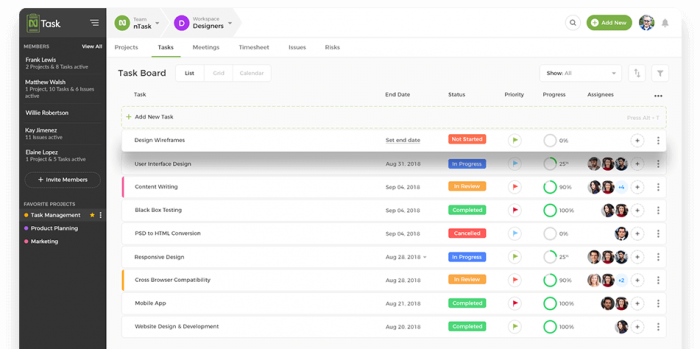 A marketing plan involves more than one team for its implementation. A task management tool is a great aid to align your marketing plan with your team. You can assign tasks to them, create dependencies and have a complete visualization using Kanban Boards and Gantt Charts.
This helps to create transparency and track your team's progress effectively. So, you can have a marketing plan laid out in front of you with complete visualization.
nTask interface to create tasks. Create your workplace for your marketing plan and collaborate with your team directly under one roof.
Create task dependencies on Gantt Charts to have a clear roadmap on all your processes.
2. Kanban Board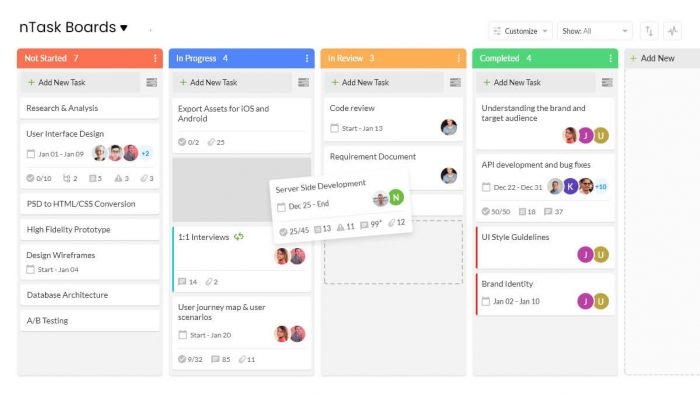 You can also use the Kanban board to schedule tasks, mark progress, and complete tasks to track progress. Moreover, you can also use the in-built templates for better planning, streamlining tasks.
3. Resource Management and Budgeting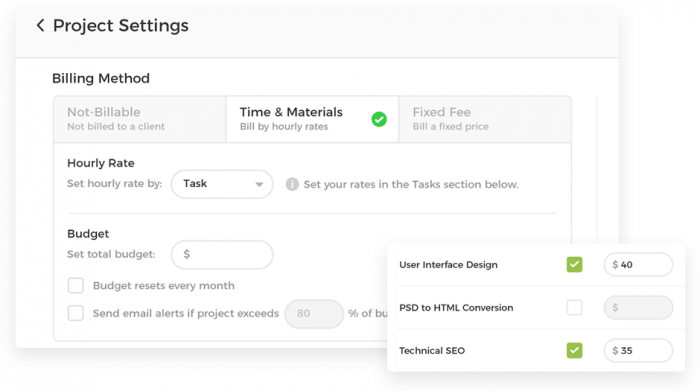 Another essential feature in creating a marketing plan is resource management and budgeting. You should know the resources you'd need and what's the budget limitation. nTask allows you to do it effectively with its tools.
Thus, get rid of the spreadsheets and optimize your processes with nTask.
With nTask resource and budget management, you define your budget, billing method, resource allocation, and budget capacities.
4. Risk management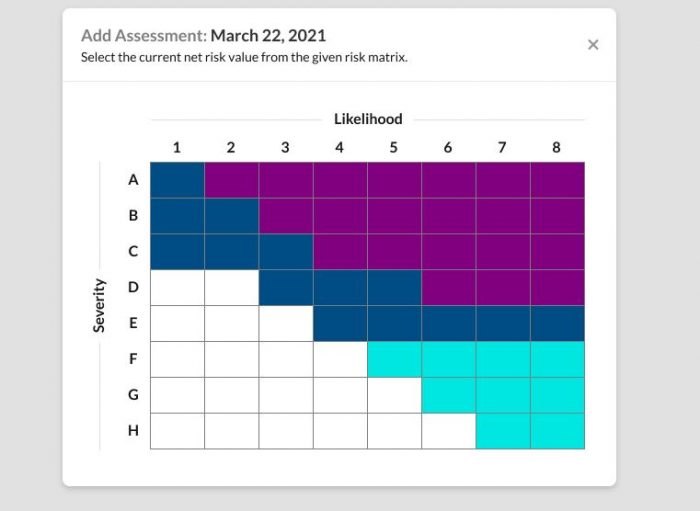 For your marketing plan to work out, it's necessary to be able to forecast the risks there might be. nTask allows you to create highly customizable risk metrics, risk mitigation plans, and controls and measures.
Thus, execute your marketing plan better by analyzing the risks and efficiently finding ways to mitigate them.
5. Issue Tracking
An effective marketing plan should be free of bugs and issues. Thus, with nTask, you can streamline your processes by tracking bugs and predicting errors.
Here is a view of the nTask issue tracking dashboard!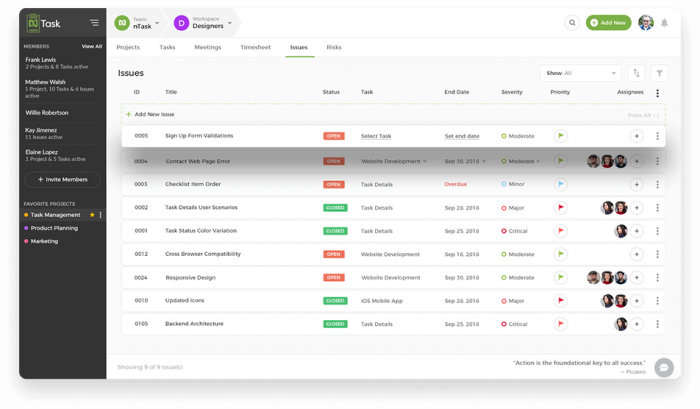 6. Time Tracking and Timesheets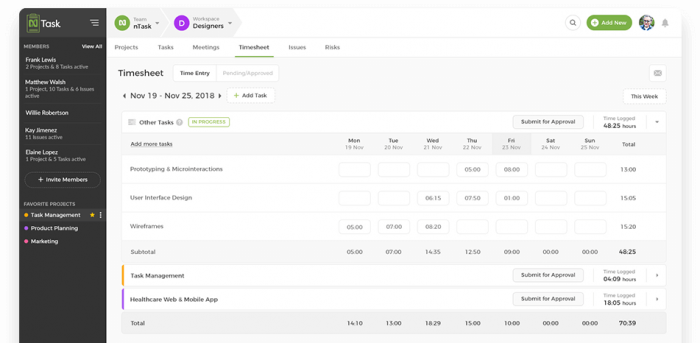 The last step in creating a marketing plan with nTask is setting time tracking and timesheets. Track time and schedule the duration of your marketing plan with the time tracking and timesheets feature of nTask.
Moreover, you can also use the shared calendar to keep yourself updated and on track.
Manage Your Marketing Tasks With nTask

Create projects, teams, tasks, timesheets, and more in one app. Sign up now!
Conclusion
A marketing plan is the core of getting business, finding the right audience, and raising brand awareness. Thus, it should be well planned and well thought.
Gladly, with nTask, you can do it more effectively. Whether planning your tasks, budget or allocating resources, you can do it all under one roof.
Thus, plan out your marketing plan with the best software there is.
Wish you Good Luck!