Welcome to the ultimate task management showdown! It's time to explore the pros and cons of two popular task management tools: Hive vs ClickUp.
Over the course of this blog post, we will be comparing ClickUp and Hive side by side to determine which one is the best for your project needs. We'll also cover nTask, a third tool that can offer a different approach to task management.
We'll start with ClickUp and Hive, beginning with their features and pricing. ClickUp offers an intuitive interface, customizable reports, team workload tracking, and advanced features like mind mapping that can help you plan your projects more effectively.
However, it does come with a hefty price tag compared to other task management tools.
Hive isn't as feature-rich as ClickUp but it does have some nice features such as Kanban boards and Gantt charts that might appeal to those looking for something less complex than ClickUp. Plus, its subscription plans are much more affordable than ClickUp's pricing plans.
Next up is nTask, which offers an entirely different approach to task management compared to both ClickUp and Hive. Unlike the other two tools, nTask doesn't focus on features like Kanban boards or Gantt charts – instead, it helps teams collaborate by assigning tasks based on their strengths so everyone can contribute in their way.
Plus, its hosted solution makes it ideal for businesses working remotely or distributed teams looking for a secure platform to manage tasks online.
Ultimately, each of these three task management tools has its strengths and weaknesses so it's difficult to say which one is definitively better than the others.
Simplify project management
with nTask today!
What Is Task Management?
Task management is a crucial part of being productive and efficient, but with so many different tools available to choose from it can be hard to find the one that best suits your needs.
When it comes to task management features, both ClickUp and Hive offer a wide range of options that make them both great choices. ClickUp allows users to create tasks quickly and easily while also giving them control over the level of detail they want when managing projects.
It includes real-time collaboration features like commenting, tagging, and assigning tasks to increase productivity among teams. Furthermore, users can view their team's progress in one handy dashboard with detailed reporting capabilities.
Hive also offers great features for task management as well as project tracking. It offers a visual task board that's easy to use and efficient as well as collaboration tools like commenting, file sharing, and priority tracking for organizing tasks. The platform also provides project templates for quickly creating projects on time and within budget.
When it comes to user experience, both ClickUp, and Hive are designed with the user in mind. ClickUp is intuitive and user-friendly which allows users to get up and running quickly wherever they are. Hive makes sure all tasks have clear deadlines so there's no confusion about what needs to be done when and where.
Why Is Task Management Important?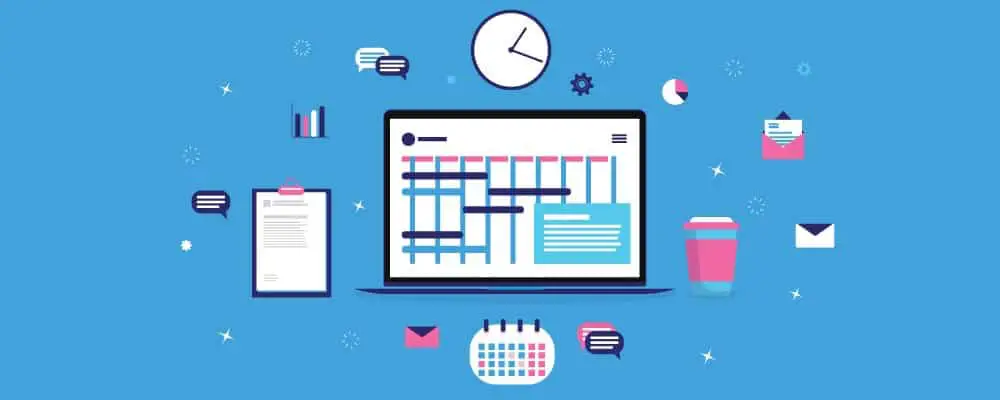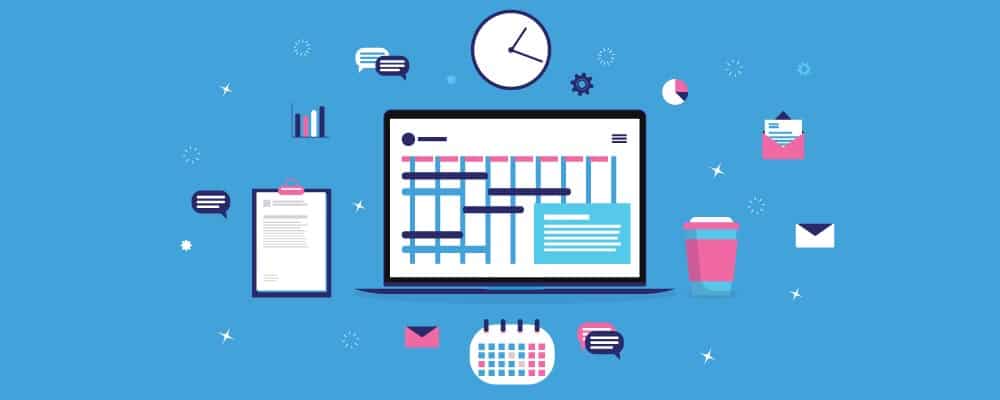 Task management is an essential element of any successful project no matter the size!
Task management tools like ClickUp, Hive, and nTask can help you stay organized and collaborative when it comes to managing tasks, so let's look at why task management is so important.
Collaboration is key to getting any project off the ground. Having a task manager like ClickUp, Hive, or nTask can make collaboration easy. These tools are designed to be shared spaces where members can stay on top of their tasks and communicate with each other about work progress.
Organization is another key benefit of task management tools.
Complex projects often require careful planning and organization to meet deadlines and reach goals with these applications you can set up tasks and subtasks that are easy to track and manage. Breaking down complicated jobs into manageable chunks makes it easier to plan out your time as well as keep track of progress.
Productivity is also improved by using task managers they help users prioritize their day-to-day tasks so they can focus on what's important first. This makes it easier to hit deadlines without wasting time on less urgent priorities.
Additionally, time savings are another great reason to use task management tools they automate reminders and alerts so you can focus on other tasks instead of constantly reminding yourself what needs to be done next!
Projects often require multiple people working together, which means prioritization and scheduling are crucial for success. Having a centralized place where everyone involved in the project can add tasks and organize them into categories or priority levels means everyone understands what comes first.
Who Can Use Task Management Tools?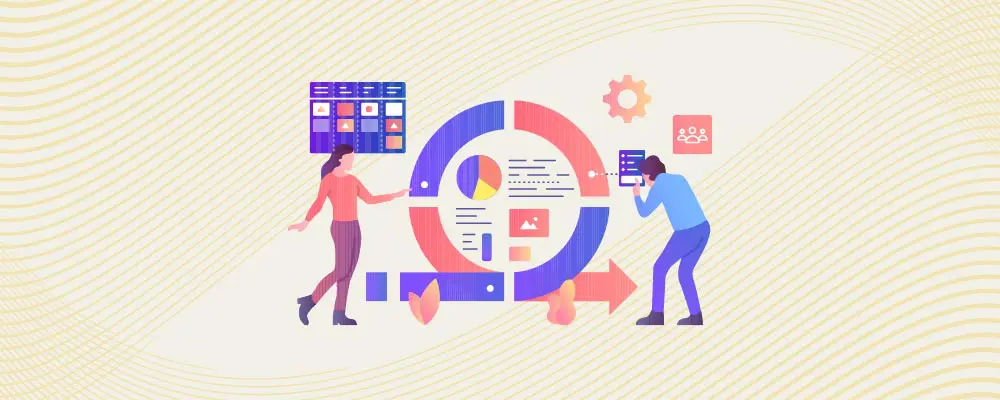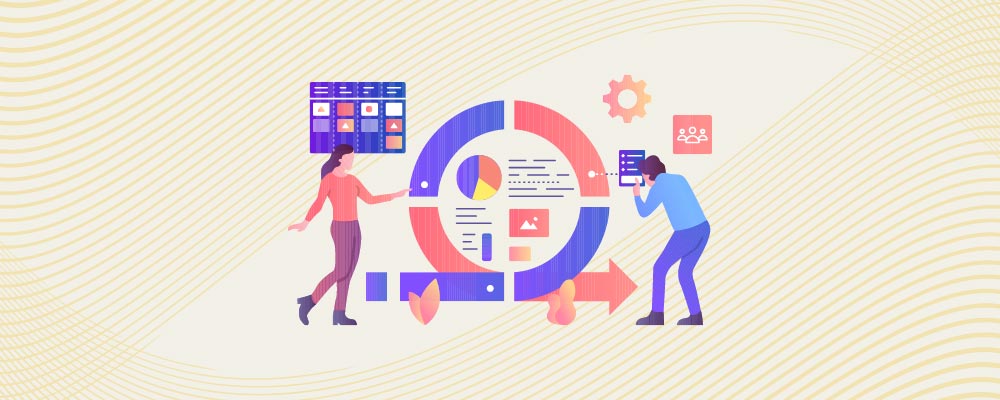 Task management tools like ClickUp, Hive, and nTask are incredibly helpful and versatile resources for improving productivity. But who can benefit from using them?
The truth is that anyone dealing with multiple tasks or projects can use task management tools. For those managing larger teams, they're invaluable for handling complex projects with ease. Meanwhile, freelancers and solo entrepreneurs can benefit because these tools help to make their day-to-day operations simpler and more efficient.
And of course, project managers need such tools for tracking progress across a larger operation.
Plus, task management tools are great for remote workers as well! Whether you're working from home alone or as part of a distributed team across the globe, task management tools make it easy to stay organized and on track with your projects. By creating deadlines with notifications, you'll never miss an important milestone again!
So, whether you're using ClickUp, Hive, or nTask—or any other task management tool out there—anyone managing multiple tasks daily can benefit from these helpful resources!
What Are The Features To Look For When Choosing A Task Management Tool?
So, what are the key features to look for when choosing one?
Here are some great criteria to consider:
Ease of Use You want your team to be able to easily understand how the tool works and quickly learn how to use it. Make sure the platform has an intuitive interface and helpful tutorials that walk users through each step.
Customization Options Can you customize the color scheme, add custom fields, or ability to view tasks in different ways? Consider what customization options are important for your team and decide if they're available on the platform.
Collaboration Features Does the platform have collaboration features like real-time chat, audio/video calls, or comment threads? It's essential for teams working remotely or distributed teams to work together collaboratively.
Reporting/Analytics Keeping track of milestones is essential for any team or project manager. Look for options like reporting dashboards, project completion dates & times, task lists by a user, etc., as well as data that can be exported in different formats from various reports.
Integration With Other Tools Does it integrate with other third-party apps such as Google Calendar, Zoom, Slack, etc.? Having this feature will help you save time by having all of your tools synced in one place rather than having multiple logins spread across different services.
Hive Vs Clickup Vs nTask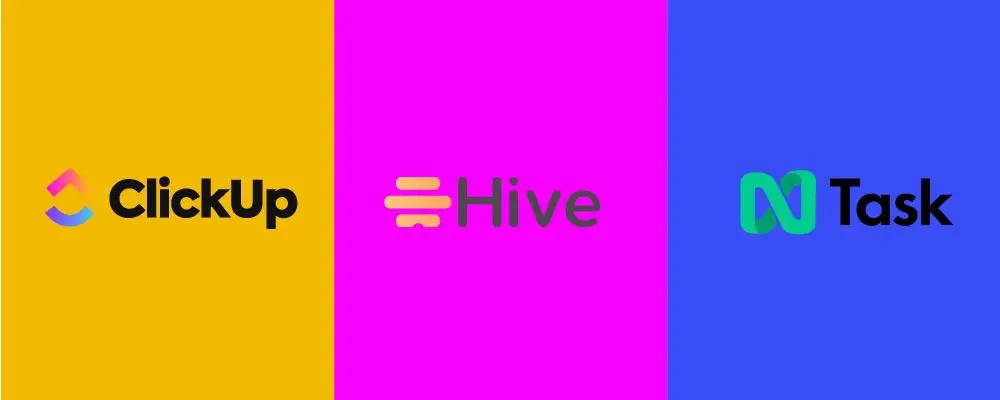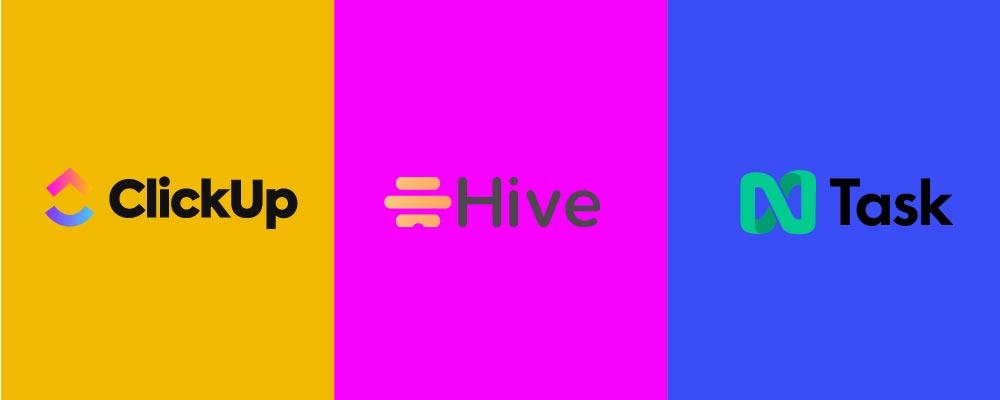 Let's start with ClickUp.
ClickUp is a popular task management tool designed to make it easier for teams and individuals to stay organized with their tasks.
It provides users with an extensive range of features including project planning, collaboration tools, kanban boards, visualizing capabilities, as well as integrations with other productivity apps like Slack and Zapier.
It also offers time tracking capabilities so that users can keep track of how long each task takes them.
Hive is another popular task management system with similar features to ClickUp. It includes project planning capabilities, kanban boards, collaboration tools, and time-tracking options. Additionally, it allows users to customize views of their tasks in various ways such as by category or list view.
Additionally, Hive offers advanced analytics tools that allow users to easily see how their projects are progressing over time.
Finally, there's nTask which is also a task management tool with similar features as the other two services such as project planning capabilities and workflow automation processes. It also offers some additional features such as email notifications when tasks are overdue or completed ahead of schedule as well as calendar syncing so that users can stay organized when managing multiple projects at once.
ClickUp Features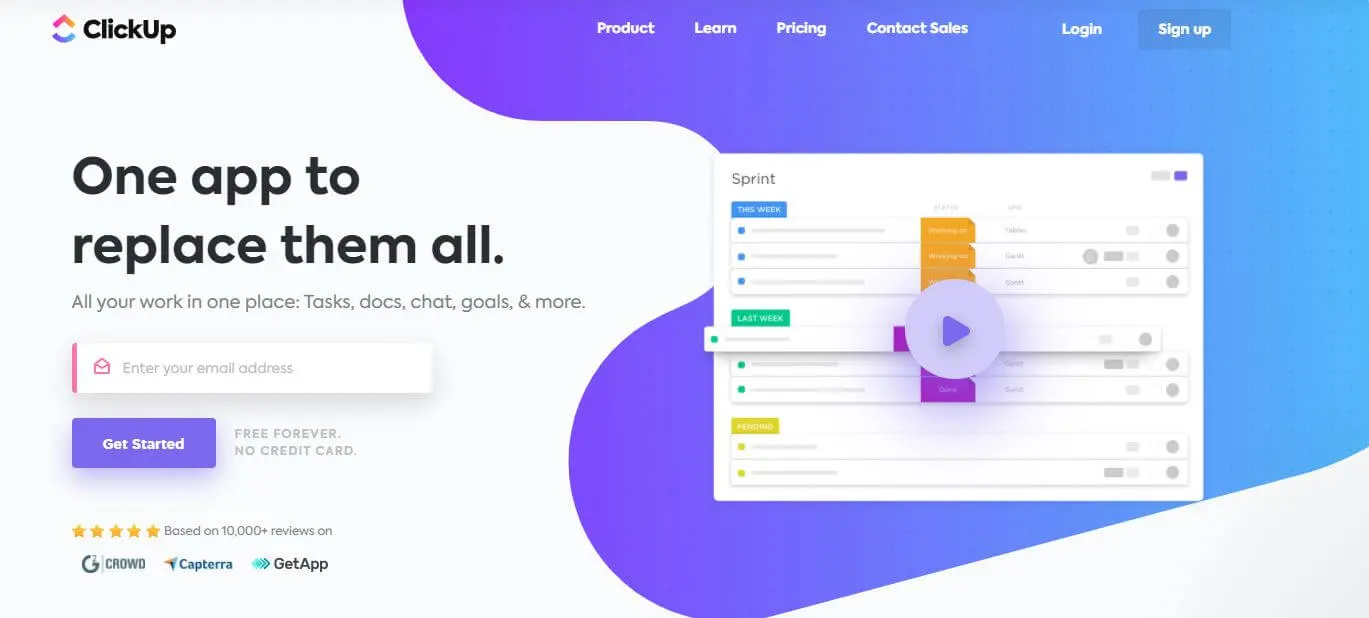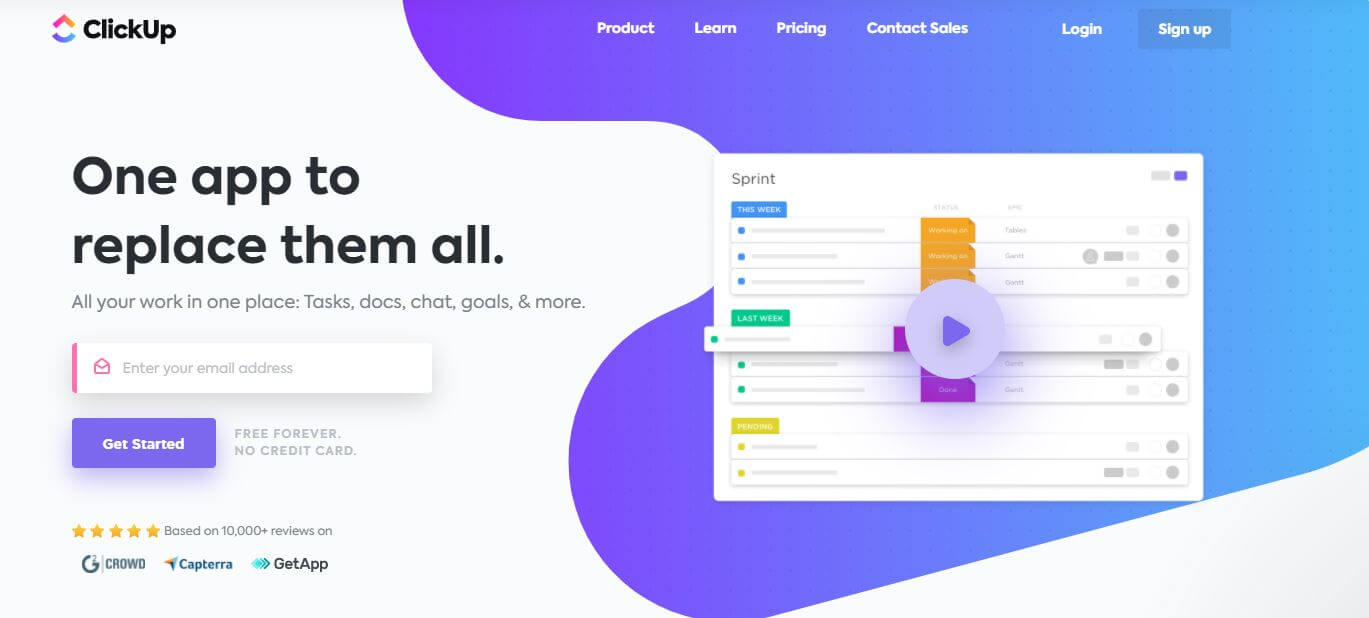 An intuitive and user-friendly task management tool loaded with features. With ClickUp, you'll be able to easily organize your tasks into lists and assign them to the right people by assigning tasks and delegating tasks in one click.
What's more, users can take advantage of their multi-list view for managing multiple projects and get an overview of all the work that needs to be done. And with ClickUp's collaboration tools like comments, @mentions, direct messages, and notifications, staying connected has never been easier.
Additionally, ClickUp gives users greater control over their workflow with automations & rules so they can easily manage various workflows. Plus, you can access or share documents through cloud storage integrations like Google Drive™ or Dropbox™ directly within the platform.
Finally, you have the option to customize your dashboard according to your liking with customizable widgets that truly bring life into your custom workspace – all powered by a simple drag-and-drop interface!
So now let's look at our second contender – Hive! An interesting feature that sets Hive apart from other task managers is its integration with Jira which lets users reference any external project in Jira without ever leaving Hive.
ClickUp Pros and Cons
When it comes to ClickUp, the pros are undeniable. Its intuitive interface makes it easy to use and get up and running in no time.
You can customize a workspace that best fits your team's needs with features such as folders, lists, boards, timelines, mind maps, and more. Additionally, its robust integration capabilities make it simple to integrate your other apps and tools so that all your data is in one place saving you time when making decisions or gathering metrics on how well your team is performing.
The cons of using ClickUp include its pricing structure which can be expensive when compared to other task management options like Hive or nTask.
Additionally, while it offers a wide range of features and integrations, they do not offer as many features as some other services do – meaning you may have to compromise on certain features or functions if you go with ClickUp over another option.
Hive offers a great web-based task manager for teams looking for simple yet powerful task organization tools that are free for unlimited users.
It contains basic project management capabilities like creating tasks and subtasks plus allows users to add multiple tags per task for easy filtering. Hive also offers an easy-to-use drag-and-drop interface and provides convenient alert notifications as well as integration with popular services like Asana and Slack for increased productivity.
Although Hive is free for unlimited users, there are some negatives associated with
Hive Features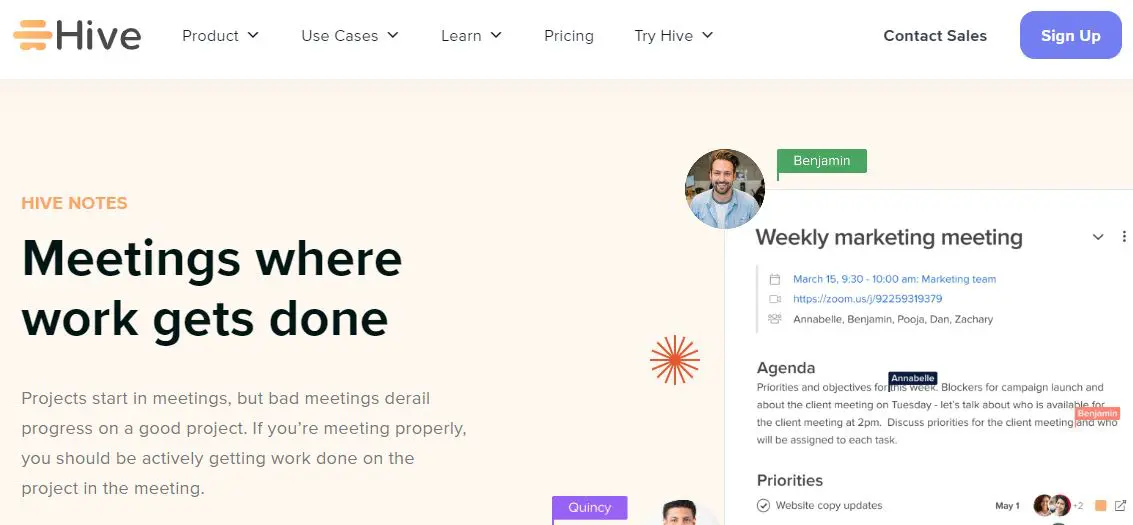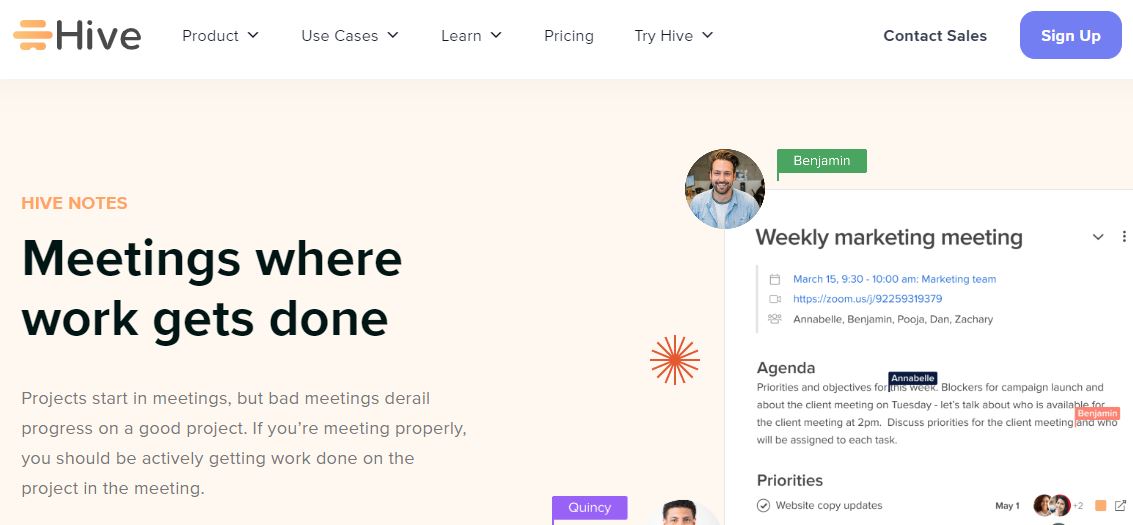 Hive offers some great features for boosting collaboration and team productivity.
With Hive, you can create a project hub for your team, manage tasks using project boards or a calendar view, automate workflows with action plans and custom constraints, and create customized templates tailored to your specific needs.
In terms of collaboration, both ClickUp and Hive make it easy for teams to collaborate on projects from start to finish. You can assign tasks to different members of your team and keep everyone in sync through comments or chat messages. With project management features like boards & lists (in Hive) or labels & categories (in ClickUp), you can easily organize tasks into different sections depending on their completion status.
For project timelines, Hive has a calendar view that makes it easier to plan out the timeline of tasks while ClickUp has Gantt charts – perfect for mapping out larger projects with lots of dependencies.
In terms of automation, Hive allows you to create action plans with custom constraints such as triggers, notifications, and automated emails to help streamline processes. It also provides readymade templates that can be customized according to your needs.
Overall, both tools offer great features when it comes to task management and collaboration – so it depends on what type of task management system best suits your workflow needs. For large-scale projects that require Gantt charts, ClickUp is probably the better choice.
Hive Pros and Cons
Let's look at Hive pros first.
Hive Pros
Hive is easy to use and has a great user interface. This makes it perfect for those who want to get started quickly and don't need any complex features.
It allows you to create custom workflows so that all tasks flow together in an organized way, making your team more productive.
It integrates with popular third-party services like Slack and Dropbox, giving users the ability to collaborate even when out of the office.
Hive Cons
It does not offer any templates or integrations with project management tools like Jira or Asana for advanced teams who need these features.
Its reporting feature is limited and doesn't offer much insight into task statuses or collaboration metrics between teams.
Its customer service can be slow in responding to queries so if you have any urgent issues that need attention quickly, it's not ideal for solving them quickly.
nTask Features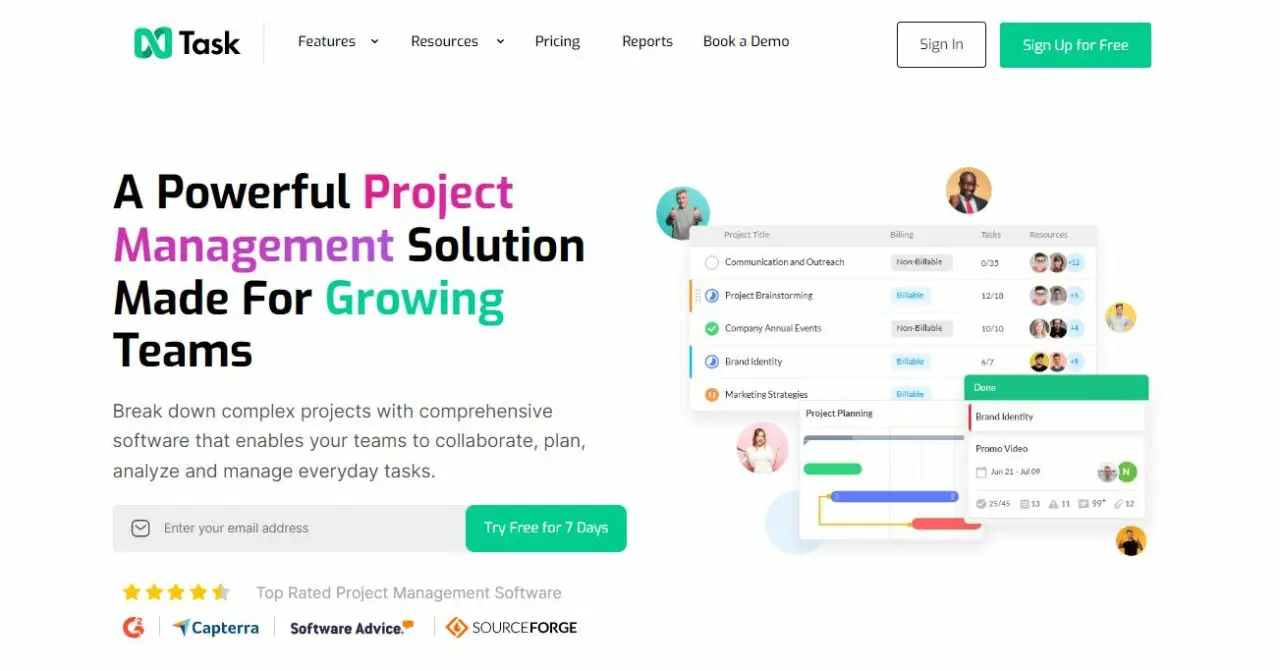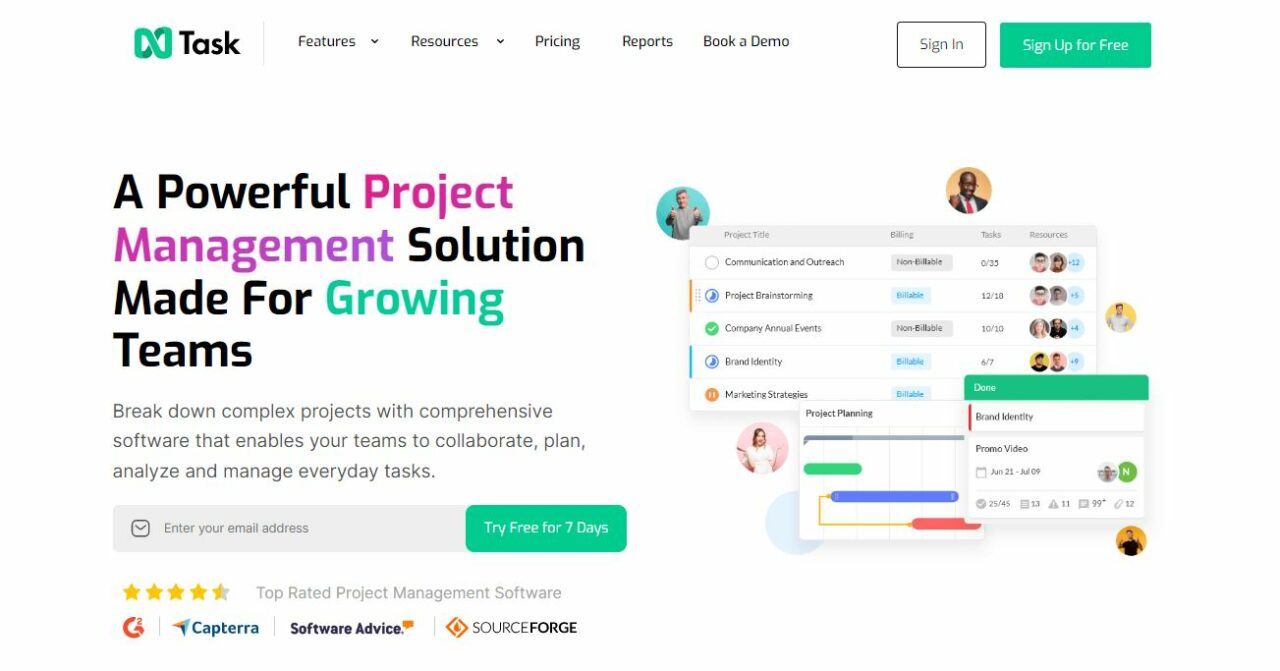 nTask is one of the most comprehensive task management tools on the market today and offers features that make it stand out from the competition.
First off, let's look at nTask's platform. Its intuitive interface is easy to use and makes it simple to track tasks and collaborate with colleagues on projects.
There are flexible file-sharing options so users can share documents and other content with ease. Customizable list views also come in handy when staying organized on complex tasks.
When comparing nTask against competitors such as ClickUp or Hive, you'll find that nTask offers additional features that set it apart from the pack. For instance, integration options allow users to link their existing tools to the platform for increased efficiency.
Additionally, collaboration features found in nTask such as group chats/comments and email notifications & reminders further streamline collaboration efforts between team members.
Altogether, nTask brings together a powerful lineup of features to make task management easier than ever before. Whether you're a freelancer managing your tasks or part of a larger team working on multiple projects simultaneously, nTask makes it easy to stay organized and get more done. Try out its advanced task-tracking capabilities today!
nTask Pros and Cons
Let's take a look at the pros and cons of nTask.
Pros of nTask
nTask is incredibly user-friendly, making it simple to set up and manage tasks. It also comes with great features like custom views, resource tracking, Gantt charts, and time tracking that help enhance your workflow and make managing your projects super easy.
Plus, the drag-and-drop interface allows you to move tasks around quickly so you can prioritize and stay on top of your workload.
Another great feature is the integration capability with external services like Slack or Microsoft Teams. This makes it easy to keep up with project progress without having to jump between multiple applications.
Cons of nTask
One downside is that nTask doesn't offer collaboration features such as commenting on tasks or group chat rooms—features that are available in some other task management tools such as ClickUp or Hive.
Additionally, nTask doesn't offer an enterprise plan for larger organizations. They also lack a mobile app which many users find helpful for on-the-go use cases, but they do provide plugins to integrate with Zapier or Trello making up somewhat for this lack of mobile support.
What Is the Best Task Management Too? Hive Vs ClickUp Vs nTask
When it comes to comparing ClickUp vs Hive, both platforms have a lot of features that are worth considering.
ClickUp has a wide range of features like multi-project organization and automated reminders, while Hive offers more collaboration-focused features like chat rooms, timeline view, and project templates. Both services also offer integration with other software services like Slack and Trello.
nTask is the ultimate task management tool for teams that desire a comprehensive task-tracking system. In comparison to ClickUp or Hive, nTask stands out with its customizability options: you can create custom dashboards with personalized elements as well as automated triggers and notifications.
Team members can assign tasks to colleagues as well as discuss tasks within private comment sections on projects. Plus, nTask integrates with over 100 third-party tools (such as Mailchimp) so that teams can easily connect their data.
Overall, nTask stands out as the go-to tool when looking for an all-inclusive task management solution. No matter what type of project you're managing – from software development to marketing campaigns – nTask is sure to streamline communication amongst your team and make sure everyone stays on track!
Tips For Using Task Management Tools Effectively
Here are some tips to help you get the most out of your task management tool:
1. Setting Clear Priorities: Task management tools allow you to stay organized, which is why it's important to set clear priorities. This means that you should put the most important tasks at the top of your list and work your way down as you complete them.
This will help ensure that you're always tackling the most important tasks first.
2. Working Smarter, Not Harder: It's not enough to just make a list of tasks; it's also important to think about how to use those tasks in the most efficient manner possible.
Take the time to think about how long each task will take and group similar tasks together so that they can be completed more quickly and efficiently. Additionally, delegate as much as possible by assigning tasks to other team members so that each member is doing what they do best while still meeting deadlines.
3. Developing A Routine: Establishing a routine when using task management tools helps ensure that everything gets done in an organized manner and nothing slips through the cracks. Create daily checklists for yourself and try setting specific times throughout the day for completing certain tasks.
If needed, create reminders or notifications for yourself so that nothing gets forgotten or left undone.
Conclusion
It's time to wrap up the ultimate task management showdown and decide which tool is best for you. When it comes to ClickUp vs Hive vs nTask, there are some key differences between each tool.
ClickUp offers an intuitive drag-and-drop interface with a range of functions such as custom board views, along with advanced automation tools, great for larger teams. Hive has a unique hive-like structure that makes it great for project flow and collaboration.
Ultimately, the right fit depends on your team size and specific task management needs – if your team is large and relies heavily on automation, then ClickUp may be the best fit.
On the other hand, if you're looking for something simpler and have a smaller team then nTask might be what you need. Hive is in between those two solutions – offering a great balance between automation and simplicity – making it ideal for midsized teams.
No matter what task management tool you choose, it's important to remember that communication is key when it comes to project tasks. With the right tools in place like ClickUp, Hive, or nTask, you'll be able to streamline communication and increase productivity in no time!
FAQs
What are the different types of task management systems?
Task management systems have become a vital part of any working professional's workflow. With the handy ability to create and execute tasks with ease, these systems allow users to take control of their productivity without much effort.
But when it comes to choosing the right task management system for you, the sheer number of options out there can be overwhelming. In this section, we'll be exploring two popular platforms ClickUp and Hive, and compare them against nTask to help you determine which one is right for you.
ClickUp is an excellent choice if you need flexible options when it comes to organizing your tasks. It offers an array of features like project boards and kanban boards, both of which can be used to categorize tasks and prioritize them accordingly.
Additionally, ClickUp's Gantt charts are great for creating timelines that enable users to track progress more effectively over a given period of time. On top of that, the platform also allows you to add various levels of detail such as comments and attachments to make sure that each task is properly documented and tracked with ease.
Hive on the other hand offers similar features as ClickUp but has a slightly different user interface when it comes to managing tasks.
The platform gives users the ability to organize their activity within projects using boards as well as a list view for an easier way of identifying what needs to be done at every step in the process.
Moreover, Hive also has its version of Gantt charts for visualizing timelines as well as tracking task statuses concerning each other over a period of time.
What makes Hive stand out from other platforms is its integration capabilities with major software applications like Salesforce and Dropbox which makes it an ideal choice if your teams rely heavily upon
What are the 4 elements of task management?
Are you looking for a task management system that can help keep your team on track? Read on to learn the four elements of task management and compare the top contenders in this sector: ClickUp, Hive, and nTask.
At its core, a task management system is designed to help teams plan, prioritize, and track tasks and projects. To be effective, a good task management system will have four core elements: assignees, due dates, tags/labels, and comments. Task management systems such as ClickUp, Hive, and nTask are built around these four elements.
Let's take a closer look at each element and how it fits into the overall system.
Assignees are individuals responsible for completing tasks within the task management system.
This can be anyone on the team or any outside collaborator you've invited to contribute to the project. By assigning specific tasks to specific people within the system, everyone can easily see what needs to be done, when it should be completed by, and who is responsible for getting it done.
Due dates are probably the most important element of any task management platform since they provide structure and accountability throughout the entire process.
Due dates ensure that tasks stay visible in both personal calendars as well as within the team's overall calendar view so that deadlines are met without fail.
The third element of a task management system is tags or labels which provide an extra layer of an organization so that users can easily filter tasks based on criteria such as priority level or category type (e.g., marketing vs customer service).
Tags also make it easier to quickly find related tasks so that everyone has all of their work in one place instead of having it scattered across multiple platforms or documents.
What are the four main types of project management software?
Are you looking for the best possible project management software but not sure where to start?
With so many different options available, it can be overwhelming trying to pick the one that best fits your needs. To help narrow down your search, here are the four main types of project management software: ClickUp, Hive, nTask, and other proprietary systems.
ClickUp is a cloud-based task management platform that helps teams stay organized by organizing all tasks into neatly structured lists and boards.
It offers a wide range of features including customized dashboards, Kanban views, Gantt charts, time tracking, and more. Plus, its user interface is incredibly intuitive and visually appealing. It's perfect for small to mid-size teams who need to collaborate on projects in real-time.
Hive is another great option for teams who need an effective project management system. This cloud-based platform provides an array of features designed to help teams efficiently collaborate on projects. Some highlights include customizable workspaces, task boards with comments and attachments, brainstorming features, and more.
The user interface is well organized and easy to use so even those new to task management systems can quickly get up to speed using Hive's tools.
nTask is a simple yet powerful online task manager designed for businesses of all sizes regardless of complexity. The user interface is beautifully designed which makes it easy for team members to keep track of their tasks quickly and efficiently thanks to its excellent visual representation.
It also supports integrations with popular third-party tools as well as exports via CSV or Microsoft Excel files which makes it very convenient for larger enterprises that need more advanced reporting capabilities.