The influx of projects and overflowing work can make it hard to keep track of your progress. Fortunately, a Goal tracking app helps you with everything you need.
Goal tracking allows businesses to keep tabs on the progress of their work. It offers clarity, ensures timely delivery of tasks, makes sure resources are used efficiently, and delineates all the important aspects related to the achievement of a goal.
It's easy to write down your goals and work towards the accomplishment of these goals, but how can you make sure that you haven't digressed from the path?
That's where a goal tracking app comes in. A goal tracking app helps you manage your projects by offering visual tracking whereby you can keep an eye on the completion of each milestone and the overall progress of the project.
What Makes Goal Tracking So Significant?
The accomplishment of goals is a step-by-step process. Individual tasks form the steps of the ladder leading to the achievement of your goals. Keeping an eye on the completion of each task is imperative since each step ahead takes you closer to your goal.
Having clarity regarding the goals of an organization helps keep everyone on the same page.
Keeping track of the goals helps align everyone's efforts. This, in turn, speeds up progress and alleviates the risk of possible future hindrances.
Here's a list of what goal tracking has to offer:
Now that you are aware of the pros, let's look into the how-to.
How exactly can you keep track of your goals? Write them on paper and forget them somewhere or prepare a file and leave it to rot on your shelf? We have got a better option, a Goal tracking app.
There are tons of goal tracking apps with hundreds of innovative features. Don't worry, you do not have to go through all of them to take your pick.
We have done all the research and arduously compiled a list of the best free goal tracking apps. In this article, we will take a look at the features, pluses and minuses, and pricing of the best goal tracking apps out there.
10 Best Apps For Goal Tracking
The top 10 most efficient goal tracking apps of 2023 are:
Table of Contents
Best Online Goal Trackers of 2023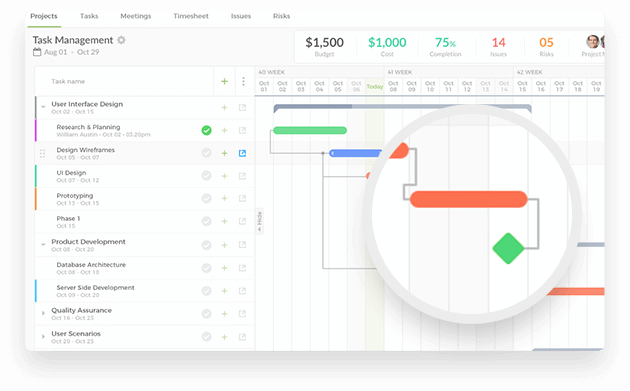 nTask, one of the best project management application, has made it to the top of our list of best free goal tracking apps. Thanks to a plethora of user-centric features that not only help to set & achieve goals, but there's a lot going on under the hood.
For starters, the recent update introduced interactive Kanban boards and custom statuses. Both of these features help to get things done by eliminating waste and focusing more on value-driven user experience.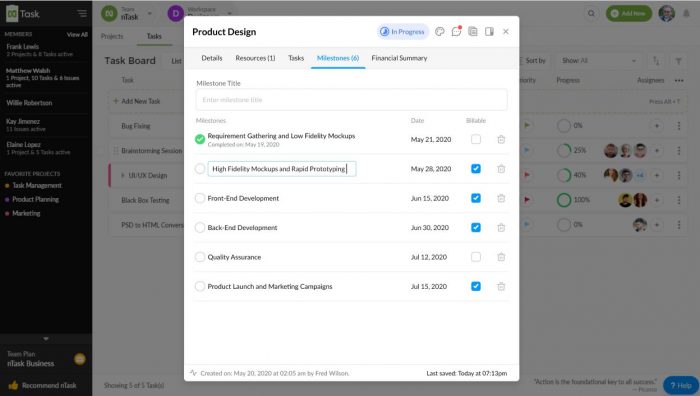 Set goals as milestones in nTask
As far as the goal tracking aspect is concerned, you can create milestones, sub-tasks, and dependencies; all of which are essential to completing any range of deadline-oriented processes conveniently.
Here are a couple of other highlights that drive a wholesome experience to over 100k+ users from all over the world.
Key Features:
Divide your projects into deliverable tasks.
Set deadlines for your goals and update the statuses of your goals to make sure your goals are accomplished in time.
Track the progress of each project and keep yourself updated all the time.
Prioritize your goals.
Third-party access allows you to transfer information.
Alerts, notifications, and reminders to make sure you stay on track.
Time to track your progress with Gantt charts for the effective completion of your goals.
Pricing:
nTask's basic plan is free
Premium solution starts at $3 per user/ month
Business plan starts at $8 per user/ month
You can get a quote for the enterprise plan by directly contacting our team.
Simple and Intuitive Goal Tracking With nTask.

Manage projects, tasks, to-do lists, and timesheets all in one place. Sign up today!
2. Strides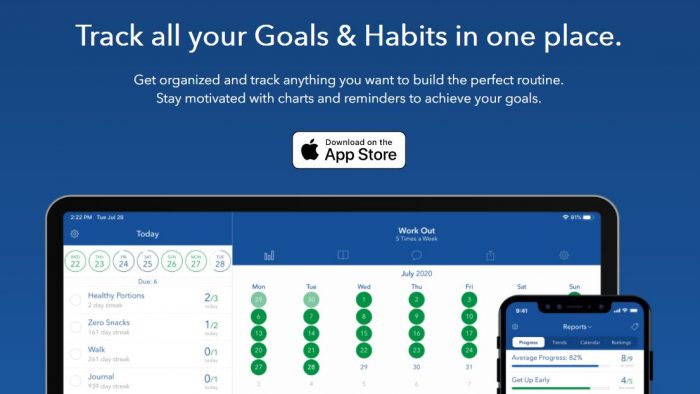 Strides is one of the best apps for goal tracking. The main plus of this app is its flexibility. It offers four different tracker types so that you can track anything you want accordingly.
These four types include:
Habit: This allows you to form new habits and break old ones.
Target: set your own goals with definite time durations.
Average: Charts the progress of a specific goal.
Project: Let you set your own milestones with sliders, pace, and dates for each milestone.
Key Features:
See all your goals and habits via a dedicated dashboard.
Set smart goals in 3 simple steps
Chart progress with progress bars, streaks, success rates, etc.
Set priorities with tags.
You can set reminders to reach your goal
You can synchronize all your devices so that you can keep check of the progress anywhere anytime.
Strides distinguish the status of your goals; failed goals are highlighted in red while successful ones are colored in green.
Daily goals make it easy to focus on one step at a time.
Available for iOS users.
Pricing:
Stride offers a free version as well as a paid plan that starts at $4.99/month.
3. Coach.me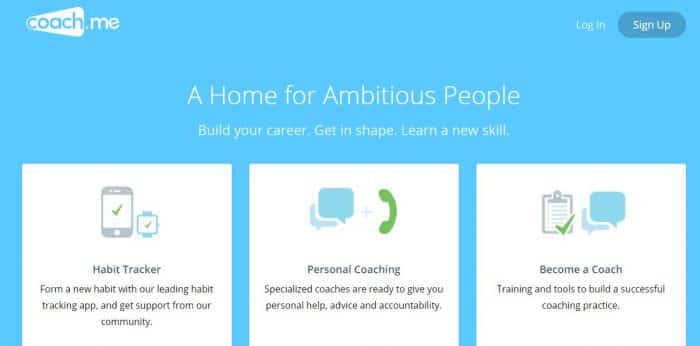 Coach.me is the leading app for tracking goals. If you are looking to develop a new habit or are trying to get rid of another, Coach.me is the perfect fit for you.
With the help of Coach.me, one of the best goal tracking apps for android, iOS, and the web, you can choose a specific habit from the preset list of habits.
The most promising feature of this app is that it lets you share your progress with the community. You can have a look at the people attempting to adopt the same habit or get rid of it. Another plus point, you get rewarded for staying on track. How amazing is that!
Key Features:
With the help of this goal tracker, you can keep your habits in check.
It also offers personal coaching by specialized coaches.
Available on iOS, web, and android.
You can celebrate your achievements with the community.
You can also view weekly and monthly trends of your progress.
You can also build your career as a coach.
You can also get help from the community and the coaches if there's something you do not understand.
Pricing:
Free Basic version available for download
Personal coaching plans start at $25/week/per user
Paid group coaching plans are available at $20/week
4. ClickUp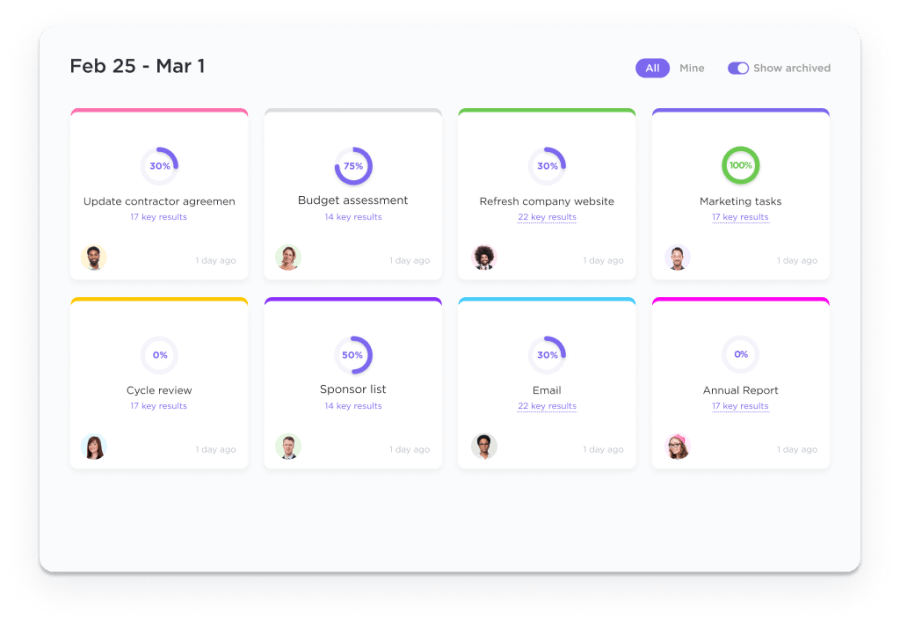 ClickUp is an all-in-one productivity app designed for all users to achieve their goals—from solo entrepreneurs to large enterprises. With hundreds of collaborative and powerful features, it provides an intuitive experience to manage projects, align the team, and work together, all in one place.
Known for its flexibility and feature-rich experience, ClickUp also offers a dynamic Goals feature to boost your productivity on all fronts and track progress toward completion every step of the way. Stay on track to hit your goals with clear timelines, measurable targets, and automatic progress tracking that's connected directly to your tasks in ClickUp!
Key Features:
Assign multiple teammates to your Goals in ClickUp.
Create private Goals assigned to yourself for tracking personal and professional growth.
Manage goals in organized folders.
Track progress with numerical, monetary, true/false, and task Targets.
Track sprint cycles, OKRs, weekly employee scorecards, and any number of important team objectives.
Easily manage and edit permissions to control who can access certain Goals.
Pricing:
Feature-rich Free Forever Plan
Paid plans starting as low as $5 per user, per month
Custom Enterprise pricing
5. Way of Life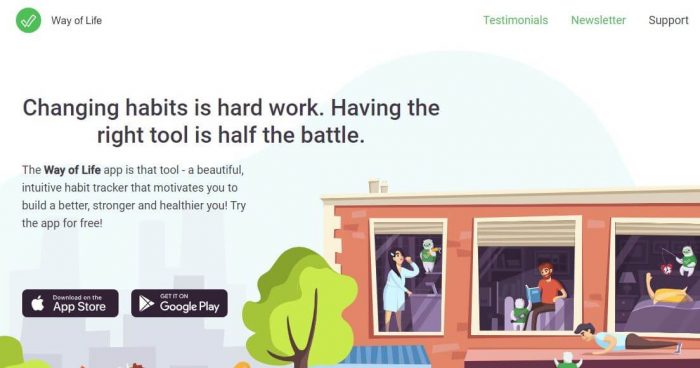 If your goal is to become healthier and stronger then Way of Life is the best goal tracking app for you. Way of life offers several unique, innovative features that have made it number four on our list.
All you have to do is to pick and choose a habit you want to adopt or get rid of. Once you have chosen the habit and your goal, the app will set daily reminders and will remind you of the things you did and those you didn't.
The app also offers statistical charts of your daily progress. So, if you love numbers and graphs, this app is the right one for you. Way of life is one of the best goal tracking apps for Android and iOS.
On top of all that, the app is absolutely beautiful to look at!
Key Features:
The unique color-coded system makes tracking goals easy
Daily reminders keep you on track until or unless you have formed a good habit or broken a bad one.
You can also take notes and jot down notes related to a specific habit.
You can also view trends, negative or positive, related to a specific habit.
Available for both iOS and Android users.
It is easy to use, with no complexities.
Strong visual representation makes it easy to keep track of your progress.
Pricing:
You can download the app for free
Way of Life's premium version starts at $4.99/user per month.
6. ATracker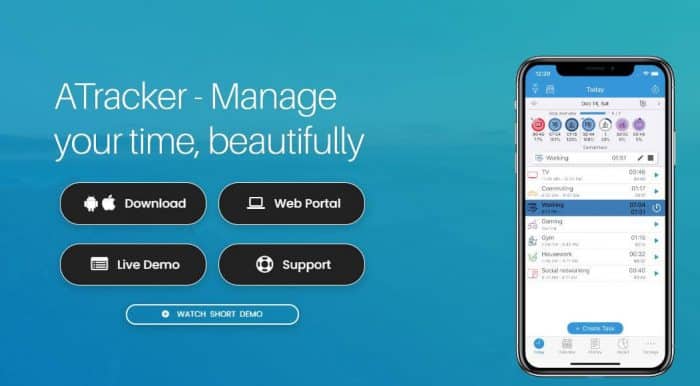 ATracker, one of the most time-efficient apps for goal tracking, has landed number five on our list because of its time management features. It's especially helpful with managing routine tasks.
Key Features:
You can see your progress in pie charts and bar charts and can even share them on your Facebook, Twitter, or emails.
You can see the time you spend in the calendar as well as the list view.
You can also organize your tasks via tags and generate reports based on those tags.
You can synchronize all your devices so that you can have a look at your progress anywhere anytime you want.
You can also customize the colors to your liking.
Easy to use
Available on both iOS and Android.
Pricing:
Download a free version of ATracker or upgrade for $2.99 one-time cost
The premium version of the app is priced at $$2.99/month.
7. Habitica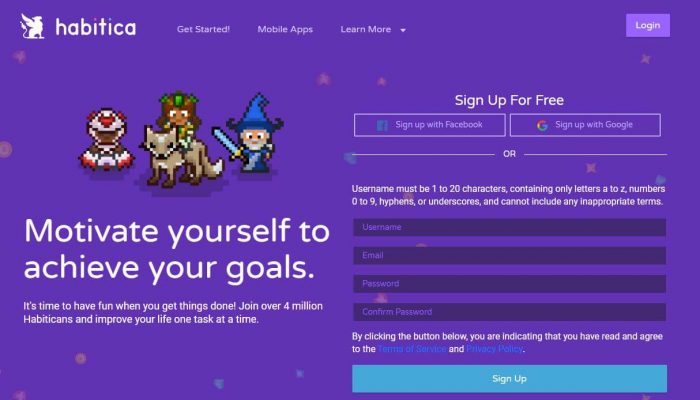 If you find it difficult to keep track of your goal via usual apps, you can download Habitica.
Habitica, an efficient goal-tracking app, helps you to build habits and increase your productivity by playing interesting games.
If you are a fan of video games, then this app is your go-to app for goal tracking. You can game your way to your goals.
With Habitica you can keep yourself well-organized, healthier, and stronger.
It also offers in-game rewards to keep you motivated. And beware, you can also get punished for your bad habits.
Key Features:
Habitica has its social network of fellow habitats so you can share your progress with others.
With the completion of every milestone, you are rewarded with in-game rewards with which you can level up your avatar. The rewards can include, mysterious pets, battle armor, and much more.
You can also collaborate with fellow habitats and fight monsters together.
Available for both iOS and Android, making it one of the best goal tracking apps for Android and iOS.
Pricing:
The app is available for free for both iOS and Android users.
Group plans start with $9 per month with $3 for each additional member.
8. Toodledo

Toodledo offers flexibility and makes it easy for you to track your goals. You can customize the app to your liking.
This goal tracker app has a lot of innovative features to offer.
You can not only create a to-do list but also, write long notes, make custom lists, create structured outlines, and track your habits efficiently.
Key Features:
You can customize the app to determine what, when, and how the data is displayed.
Import and export data from other applications.
Track others' progress; reassign tasks and share folders easily.
Share your success with your family and friends.
Customize widgets for your iOS phones.
Customizable alarms send reminders via email or through the app on your mobile.
It can also remind you of a task when you are near the specified location.
Available for both iOS and Android.
Pricing:
Toodledo can be downloaded for free on both iOS and Android.
9. Goals on Track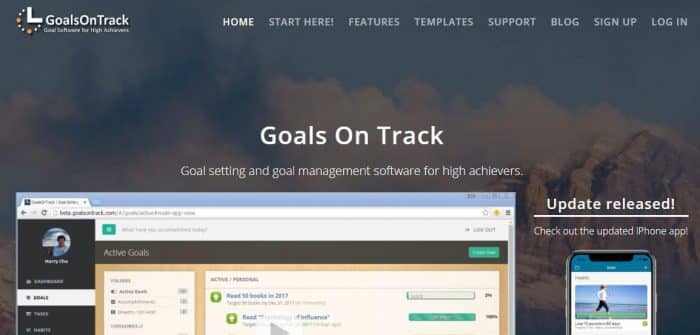 Goals on track help make your goal more achievable by dividing them into smaller chunks. The breakdown helps you focus on one thing at a time.
You can also view the progress of each of your goals via a progress bar that displays the percentage of completion of each goal.
The SMART feature of the app makes sure that the goals you have set are achievable, relevant, and measurable. This, in turn, helps enhance your productivity.
Key Features:
View the progress of each of your goals through the dashboard view.
Build detailed action plans and view milestones for each of your goals.
You can also visualize your goals to keep you motivated. The visualization can be customized according to your preferences.
You can also keep notes of your progress in the journal.
This app also offers a built-in tracker for better efficiency.
Task management features allow you to add tasks and take steps ahead towards the completion of your goals.
This goal tracker app is only available for iOS users.
Pricing:
Paid plans start at $68 per user per year.
10. Hive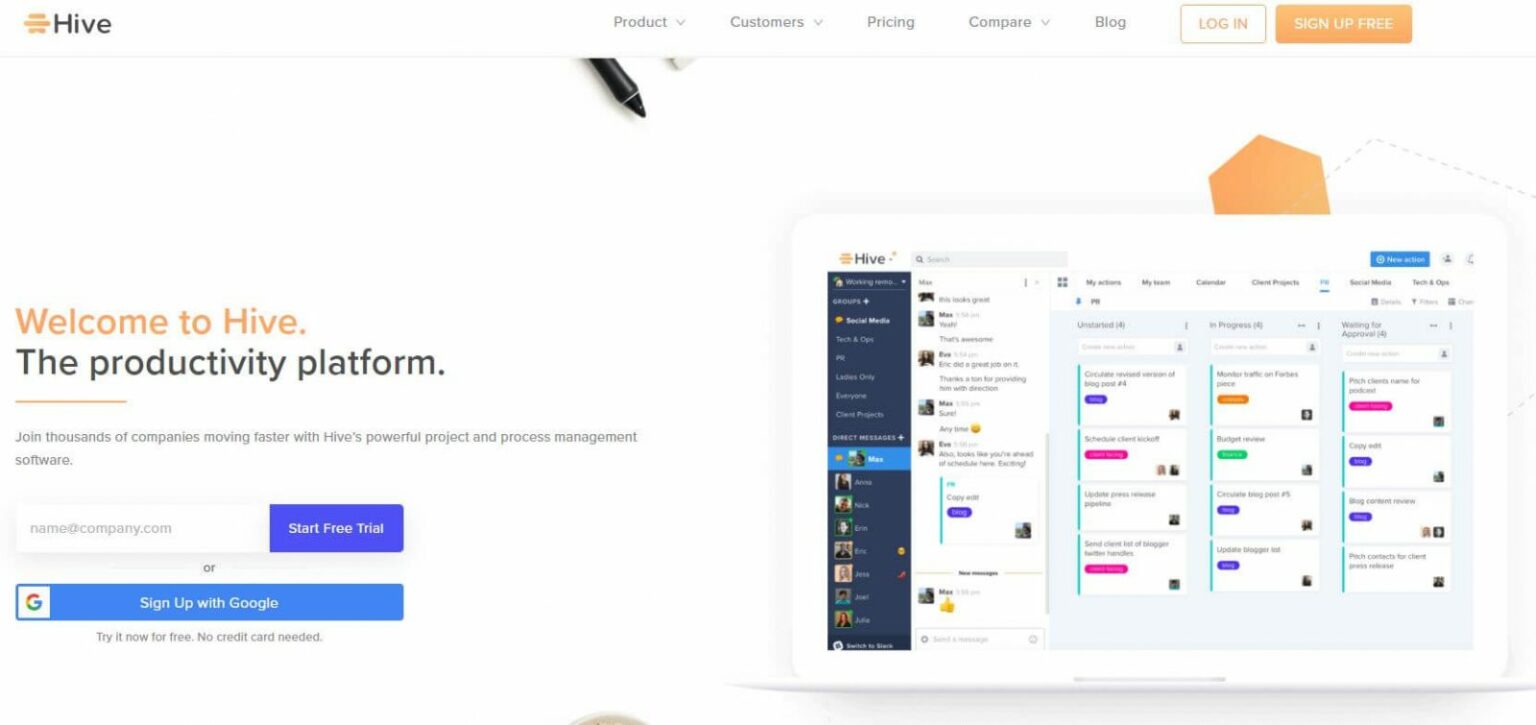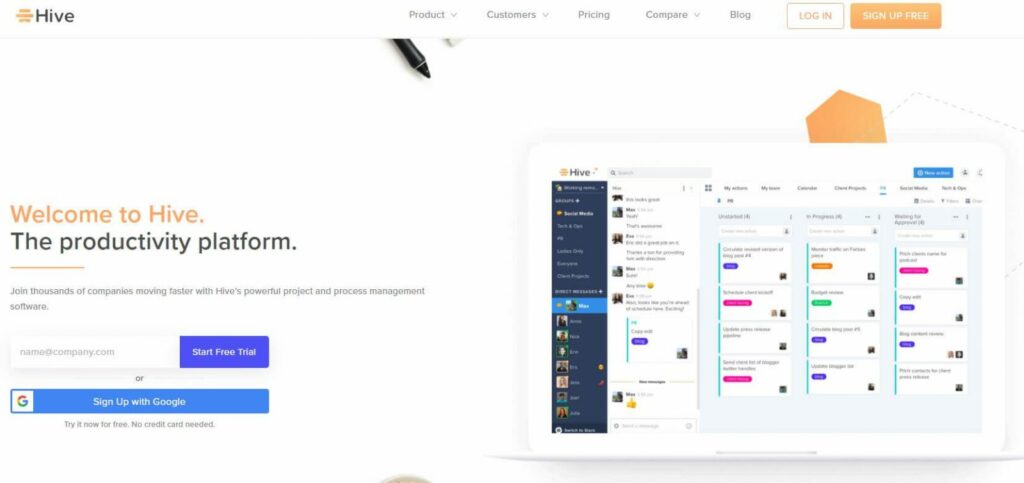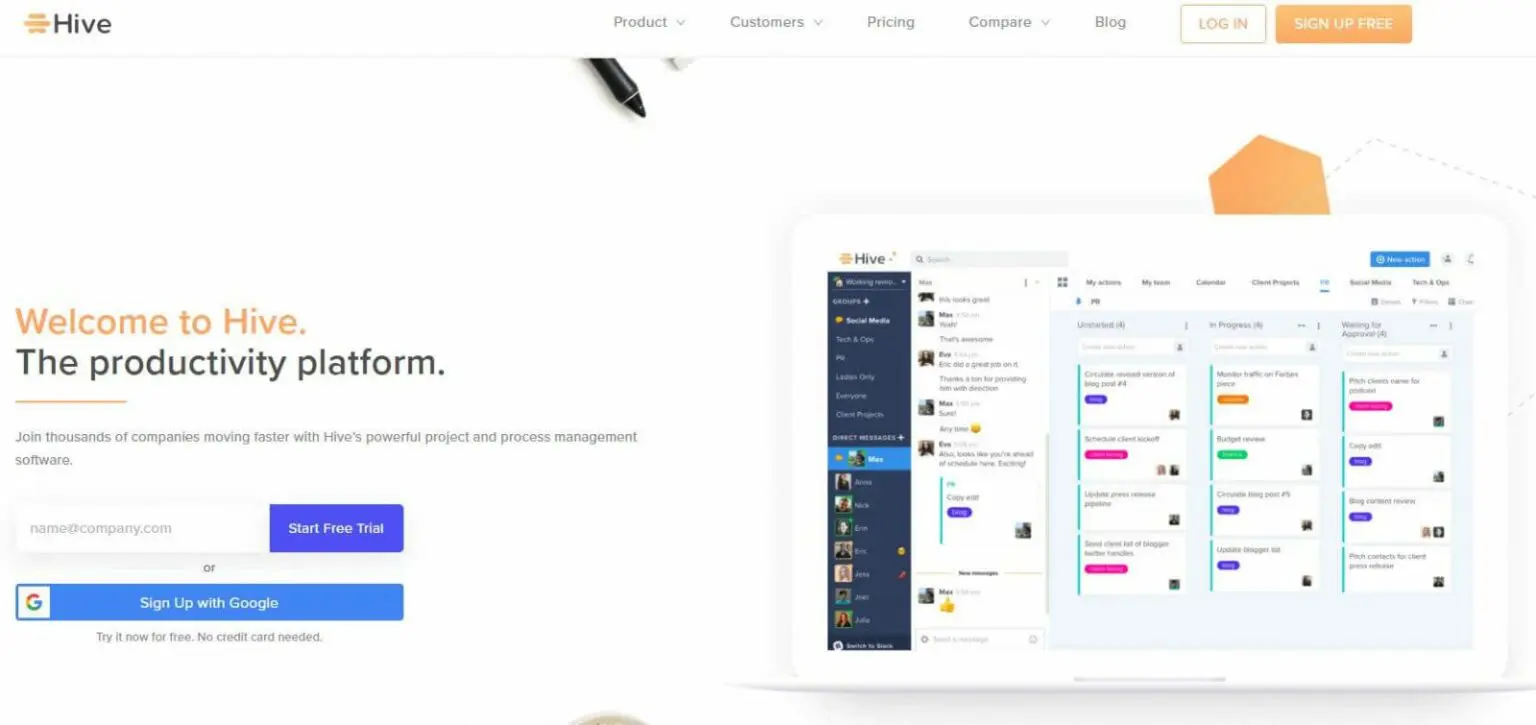 With Hive, reaching your project goals is simpler than ever! This goal-tracking app is the perfect tool for individuals or teams who want to boost their productivity and stay on top of their tasks. From tracking projects and collaborating on tasks to chatting with team members and taking meeting notes – Hive offers an intuitive solution for anyone looking for a way to get more done. So what are you waiting for? Unlock your potential and reach those project goals with Hive!
Hive Goals is the ultimate navigational tool, like a North Star guiding you and your team toward success. It's not just about setting goals, but also about seeing them through to completion. Create unlimited goals for yourself or share them with your team, assign relevant teammates to each goal and keep track of progress along the way. With Hive Goals, you'll be able to stay organized and on track – no matter where you're headed.
Key Features
Project management
Time tracking, time sheets, and workflow automation
Jira, Gmail, Zoom, and Salesforce are among the more than 1,000 connector choices.
Collaborative taking of notes
Native integrations for email and chat
Detailed analytics that are current
Desktop and web applications
Pricing
Free plan
Teams plan at $16 per user per month
Custom Enterprise plan is also available.
How to Pick Your Ideal Goal-Tracking App?
Okay, so before using these goal-tracking tools, let's do a little brainstorming. Do you recall how we said that some of these apps would be incredibly functional? You should therefore first configure some settings before selecting the ideal app. You wouldn't buy snow boots for a trip to the tropics, after all. The same is true for this kind of tracking program. You wouldn't want to spend money on an app that didn't live up to your expectations. So, to select the ideal goal-tracking tool for you, ask yourself the following questions:
1. What is the price?
You have alternatives, ranging from a free version to a paid edition. Even while this list includes some excellent free options, you could find that in order to access more features, you need to upgrade to the premium version. Keep your mind and perhaps your wallet open.
2. What kind of platform is it?
Depending on what kind of gadget you use, the age-old iOS vs. Android argument can be decisive. While the majority of these apps have download options for both platforms, some are only accessible on one or the other, so make sure the app you love is compatible with the platform you use.
3. Does it have effective goal-tracking features for you?
Asking if your goal-tracking app has goal-tracking features may seem absurd, but it is a valid inquiry. Some of us like having apps that alert us at specified moments about the objectives we should be focusing on. Others adore chores that do nothing but occupy space and serve as a reminder when a task is finished. It's up to you how frequently you want to communicate with your goal-tracking software.
4. Can you operate the program?
If the software is too hard for you to use or you can't figure it out, go on. Ironically, it is quite unproductive to waste time trying to figure out how to use an app that is designed to increase productivity. Instead, choose a user-friendly app with good U/X and daily access to yourself.
5. Do you get what you need from it?
What are your precise objectives? Do you require a powerful task management system for your job that can be utilized by many individuals, or do you only need this goal-tracking tool for your personal life (okay, soccer practice, we're looking at you)? Determine your what and keep it in mind when you evaluate each goal-tracking app's essential features.
Conclusion:
Goal tracking apps are a lifesaver for people who have a hard time keeping track of their progress. These apps make it easier and simpler to reach your goals with their unique and innovative features.
We have listed the 9 best free goal tracking apps. Each of the apps has its pros and cons. You just need to look through them and pick the one that suits your requirements the best.
---
Recommended Readings: