Customers are the foundation stone of any business. The choice to lay a strong or weak foundation is all up to you. Free Customer Management Software is a great way to forget about maintaining those long spreadsheets and contacts. Thus, your customers might be the drivers of your business but you are the one to tell the directions.
How to generate leads? Ways to filter out organic leads? How to maintain lead data? What can be done to retain leads? How to keep the whole team on board?
Yes, you are right! The answer to all these questions is CRM software.
According to tech. co, 91% of companies use CRM software and the use of CRM can increase the conversion rate by 300%. Moreover, 41% of companies increase their revenue by the use of CRM applications whereas the productivity rate was increased by 50%.
But CRM tools are expensive! Isn't that what you are thinking? Well, don't worry because in this article we have only covered the free CRM software for you. So, just focus on generating those leads.
Before we get into the list of the free CRM tools, let's first understand the need to have them.
The need to have Free Customer Management Software
CRM tools allow you to interact with your customers, gain information and generate leads in a much more effective way.
No matter the size of your company, if you want to retain your customers it is necessary to use software that allows you to gain insights into your clients and divert sales.
In a CRM tool, everything is right in front of you and you don't have to jump from one application to another. Whether it is collaborating with your team or clients, you can do that all in a single software.
According to Harvard Business Review:
"On average, sales and marketing costs average from 15%-35% of total corporate costs. So, the effort to automate for more sales efficiency is essential. In cases reviewed, sales increase due to advanced CRM technology has ranged from 10% to more than 30%."
Sir Henry Ford says, "A business devoted to Customer Service Excellence will have only one worry about profits. They will be embarrassingly large."
Here is a list of the top 10 free CRM software to use in 2022!
10 Free Customer Management Software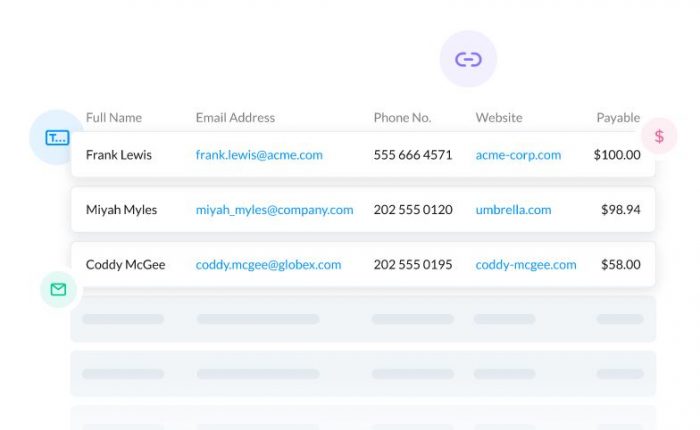 nTask is an all-in-one free CRM software that gives you a chance to drive your sales the way you want. Customers are the engine of any business. However, finding organic customers and retaining them is hard. The good news is that nTask has made it all easy for you.
With nTask you can handle your project management and CRM under one roof. Sounds great, right? Well, over the years nTask is consistently working to bring ease and comfort to its clients by providing them with the maximum digital marketing services. Now with the nTask CRM tool, you also hold a chance to retain your customers and generate more leads.
Thus, you create a personalized CRM in nTask using Custom Fields and swirl to manage leads.
Features
Kanban Boards and Gantt Charts for better visualization
Reporting and meeting agendas
Meeting management and reminders by calendar sync with Google
Project budgeting and cost estimating
File sharing and attachment
Minutes of meeting and feedback management
Security
Pricing
Basic Free plan
Paid subscription-$3 (starting)
Create your own personalized CRM today.

Manage documents, customers, projects, teams and contacts, all in one place. Sign up today!
2. HubSpot CRM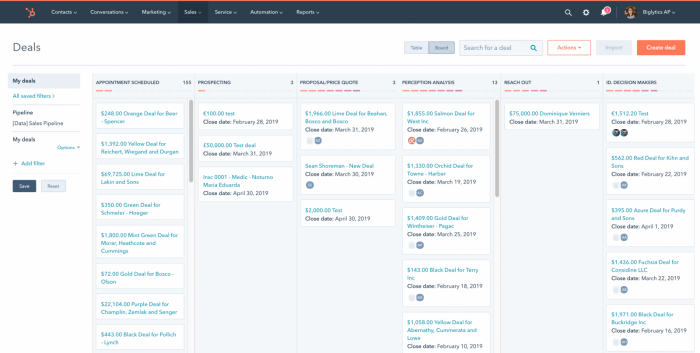 HubSpot has been on top of its game over the years. Similarly, HubSpot CRM is one of the best free CRM tools for managing work remotely. With HubSpot, you don't have to be on the radar 24/7. You can automate your sales and update reports remotely using the free CRM tool.
The initial plan for HubSpot is free but most customers tend to subscribe to its paid plan once their needs grow with their business.
Features
Reporting dashboards
Customer insight
Deal tracking
Pipeline management
Email tracking and notifications
Prospect tracking
Meeting schedule
Live chat
Pricing
Basic free plan
Paid subscription starts at $45/month
3. Capsule CRM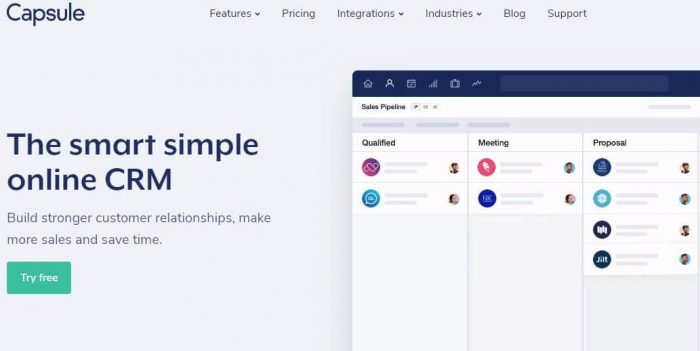 Capsule CRM is a free customer management software that allows you to have a bird' eye view of everything about your customers. You no longer have to connect with your customer in an old-school manner. Capsule CRM helps you to interact with your customers in a much more effective way.
Moreover, you might be a small-scale company and juggling where to allocate your resources. Well, Capsule has got you covered with its free plan and hundreds of integrations.
Features
Contact with your clients using Outlook, CSV, Google Contacts, Spreadsheet and vCard
Quick search to find information on any key client
Manage contacts in lists by filtering custom fields
Attach documents or files
Share contacts with the team and keep everyone up-to-date
Tasks and calendar to manage appointments or deadlines
Create email templates and save time
Insightful reports on all aspects of your sales cycle
Stay in the pipeline with a summary of every sales opportunity
Pricing
Basic free plan
Paid subscription starts at $18 per user/per month
4. Zoho CRM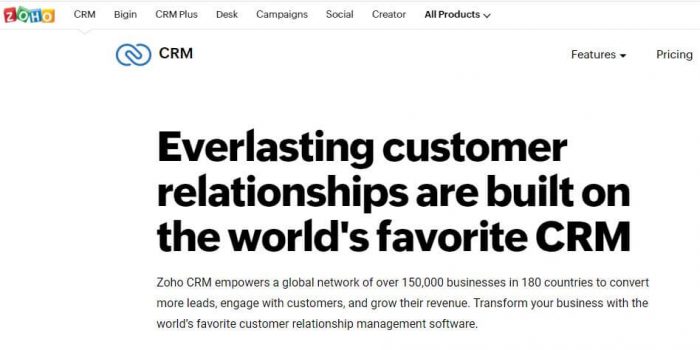 Expand your reach and generate more leads with Zoho free CRM. Zoho CRM provides a wide variety of features for you to interact with your customers in a much more effective manner.
With the help of Canva, it also allows you to redesign your interface as per your preferences. Thus, don't let any lead go to waste with Zoho CRM.
Features
Connect with your clients via telephone, email, live chat, or social media
Real-time notifications each time a customer interacts
Increase your reach through the best channel
Automate sales routine
Analyze workflow performance
Zia for AI-powered sales assistant
Intelligent alerts and task reminders
Suggestions on the best times to contact your leads based on your past successful interactions
Pricing
Basic free plan
Paid subscription starts at $14 per user/month
Related:
25 Best Zoho Alternatives to Use in 2022
5. Bitrix24

Britix24 is a complete digital sales suite encompassing all the features one needs in an effective and free customer management software. Over the years 10,000,000+ organizations have chosen Bitrix24 for their CRM.
Britix24 like all other free CRM software also has a paid plan with additional features and integrations. However, if you are a startup, you can take a hit at improving your CRM with its free plan first and see if it working out for you not.
Features
Communicate with your team via chats, worktime tracking video calls, and conferences
Communicate with your clients via telephony, live chats, and contact forums
Lead acquisition via multiple channels
Sales automation to save time and resources
Manage leads with an in-build scoring tool
Use the "get things done "tool to set tasks, receive work reports, and manage projects online
Template-based website builder to create custom websites, landing pages, and online stores
Pricing
Basic free plan
Paid subscription starts at $39/month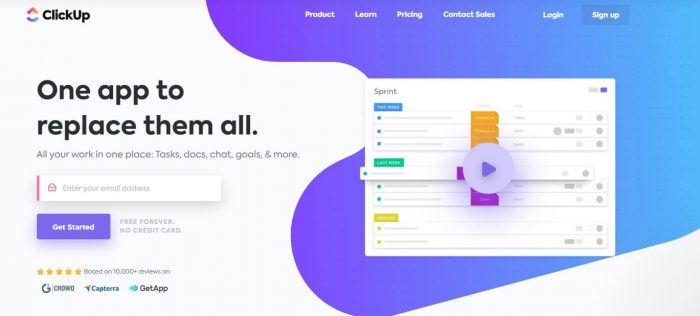 Scale your customer relationship with the best free customer management software. ClickUp allows you to generate organic leads and nurture lifelong relationships with your clients.
The best part is that it is not only the highest-rated CRM tool but also a project management software. Thus, you can make full use of both software for expanding your reach and increasing ROI.
Features
Kanban boards, tables to visualize your sales, orders, and clients
Build your mission on dashboards
Email management for better interaction
Organize customers via workspaces, spaces, lists, and folders
Database to Store and analyze customer data
Automate tasks
Analyze team's performance via sales KPIs
Form view to capture the information you need
Assigned comments to turn comments into action items
Custome fields to add client info, score leads, and track orders
Pricing
Basic free plan
Paid subscription starts at $5 per user/month
Check this out:
What Is the Best Project Management Software? ClickUp vs Trello vs nTask
7. Insightly

Loyal customers are all that you desire for your business. Insightly is a powerful free CRM tool to grow your business faster by building an everlasting relationship with your clients. It allows you to build a complete buyer's persona to help you deliver exactly what they desire.
Insightly believes that nowadays customers want relationships, not just transactions. People tend to return to a brand that they can trust and connect with. Thus, it encompasses a variety of features that help you achieve that goal.
Features
Easy to use dashboards
Cloud-based deployment
Customer services
Lead management
Sales record and track contacts
Run campaigns with enterprise-grade reports and dashboards
Create custom emails and newsletters
Build and deploy custom applications
Real-time updating of the projects using the mobile app (android & iOS)
Pricing
Basic free plan
Paid subscription starts at $29 per user/month
8. Agile CRM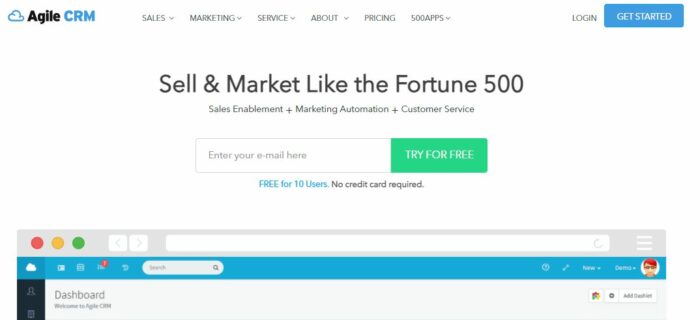 Build specifically for SMBs and freelancers this free customer management software is one of the top software in terms of ease of use. It is an all-in-one platform to avoid any form of data leaks. Moreover, this cloud-based Saas free CRM software is user-friendly and mobile-ready.
Agile CRM provides a trunk full of solutions to any inefficiencies and technical challenges that might occur in integrating sales or marketing. Like all other software, Agile CRM is also a free Customer Management Software.
Features
Create events or sync them with google calendars to stay up-to-date
Keep your sales process and milestones on track
Document attachment
Drag and drop project management in CRM
Reporting for advanced analytics and metrics
Twilio, RingCentral and SIP accounts telephony integrations
Real-time alerts on your leads
Schedule appointments
Gamify sales for competition and collaboration
Pricing
Basic free plan
Paid subscription starts at $8.99 per user/month

Managing leads, sales pipeline or onboard customers, Monday.com has all of the CRM solutions for its users. It is a powerful free CRM tool to streamline your sales. CRM is the foundation of any business and generating organic leads is pivotal for success.
Monday app allows you to manage pre-sales and post-sales under one platform. Thus, centralize your customer data and visualize everything in one go with one of the best free Customer Management Software.
Features
Sales management and lead generation
Customer management and customer onboarding
Customer projects and marketing activities
Assign team tasks and projects
Pricing
Basic free plan
Paid subscription starts at $8 per user/month
10. EngageBay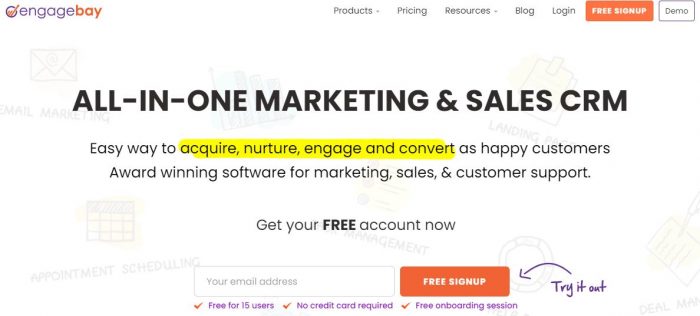 EnagageBay will allow you to build stronger relations and store tons of contacts in one place. With EngageBay you can divert sales, identify new opportunities and gain loyal customers.
Like all other free CRM tools, EnagageBay also lets your team be onboard and interact under one roof. This free tool will allow you to stay organized and in sync with each other. Thus, bringing you a step closer to retaining your customers.
Features
Email Marketing
Marketing Automation
Email Template Builder
Landing Page Builder
Lead Generation tools
Social Suite
Pricing
Basic free plan
Paid subscription starts at $10.79 per user/month
Conclusion
Voilà! This was our list of the best free customer management software to use in 2022. You can choose the one that best suits the needs of your business and increase your chances of diverting more leads and increasing your ROI. Moreover, once you find the best software for your business and expand your budget, you can always subscribe for their paid packages, to enjoy full-fledged features.
Lastly, if you think we've missed any software or want to share your experience with any of this CRM software, feel free to write us at fwilson@ntaskmanager.com
---
Also, see these resources: