Are you looking to streamline and simplify your workflow processes?
Many businesses are turning to the convenience and power of online flowchart software solutions to help them visualize their projects.
With the ever-growing capabilities of today's technology, it has become easier than ever for organizations of all sizes and industries to design their own unique flowcharts.
To help get you started, we've compiled a list of the 12 best online flowchart software solutions in 2023 that can meet any business challenge with ease.
From customizing existing templates to quickly creating personalized diagrams, these powerful platforms provide everything you need to map out a successful project from start to finish.
Keep reading for more information on each platform's features, pricing plans and more!
What Are Flowchart Software
Flowchart software is a type of program that helps users create diagrams and visuals to document processes, program algorithms and more.
To put it simply, flowchart software lets users see the big picture in order to identify relationships between tasks, objects or events.
Flowcharting made easy
Start using nTask today!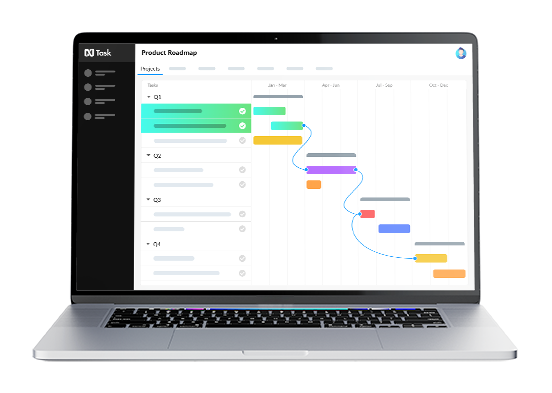 This type of tool can be useful in a variety of settings including business organizations, educational institutions and private households.
There are many options when it comes to choosing flowchart software. Generally speaking, most applications follow the same key principles:
Users start by drawing shapes which represent different components within their process or project
They then connect those shapes with arrows which indicate how each component relates to another
Finally, accompanying text can be added in order to explain what each shape symbolizes and how components interact with one another
Common features found across all types of flowcharting tools include cut-and-paste editing capabilities as well as drag-and-drop interface elements for inserting shapes into existing workflows.
Additionally, the ability to export diagrams into various file formats (e.g., .pdf, .jpg , etc.) allows for easier sharing amongst team members or other stakeholders.
Also noteworthy are the additional design options such as line thicknesses, colour palettes or background images – all of these help enhance visual compositions while communicating complex ideas clearly and concisely.
Whether it's automating decision-making processes or visually conveying concepts/ideas during presentations – having access to quality flowchart creation tools cuts down on valuable time spent on manual diagramming tasks so you can focus your efforts elsewhere!
How Does Flowchart Mapping Software Work?
Creating flowcharts and maps can help streamline complicated processes within organizations, but doing this manually can be time-consuming.
Flowchart mapping software automates the process by providing an online platform for creating and managing these diagrams.
With just a few clicks, users are able to create visually pleasing flowcharts and maps that effectively communicate information in a concise way.
One of the key features of flowchart mapping software is its intuitive interface. The drag-and-drop feature allows users to quickly sketch out the basic outline of their diagrams and easily add elements like text boxes, arrows, shapes, images, etc.
In addition, many programs allow users to customize colors and styles so they can match their existing brand look or organization guidelines.
Once all the elements are added it's easy to rearrange them using simple tools such as resize handles and repositioning options which makes diagram editing quick and efficient – perfect for when you need to make changes in a hurry!
Some advanced programs support collaboration capabilities so multiple people can work on diagrams at the same time via cloud storage offerings like Dropbox or Google Drive.
Finally, exporting your finished project is equally as straightforward with most products supporting the most popular file formats such as PDFs, PNGs or JPGs for easy distribution both online or in print material too!
Types Of Flowchart Software
Flowchart software allows businesses and organizations to create diagrams that visually represent processes, such as customer order fulfillment or website navigation.
The diagrams can show the steps of a process in great detail and help identify areas where processes can be improved. There are many types of flowchart software available to meet a range of needs.
Desktop Flowchart Software: Desktop flowchart software is installed on a computer, enabling users to create detailed electronic diagrams with various shapes and text boxes.
These programs often include drawing tools, templates for quickly creating common types of charts, and the ability to export designs into various formats like Word documents or PDFs for sharing or printing.
Web-Based Flowchart Software: Web-based flowchart software runs in web browsers rather than needing to be installed on each user's computer.
This makes it suitable for collaboration between multiple users working from different locations, as well as making it easier to distribute charts through email or social media sites without worrying about compatibility issues.
Mobile App Flowchart Software: Mobile app flowchart software allows users to access their flowcharts wherever they are using mobile devices like smartphones and tablets with an internet connection.
These apps often offer similar features compared to desktop versions but may have limited customization options due the small screen size limiting their usefulness for complex designs.
Cloud-Based Flowchart Software: Cloud-based flowcharts are offered via cloud computing services such as Microsoft Azure, Amazon Web Services (AWS), Google Cloud Platform (GCP), IBM Cloud etc., allowing users to access flowcharts from any device connected via the internet without needing any installation on local machines – the perfect solution if you have dynamic workgroups spread across multiple physical locations.
How To Select The Best Flowchart Software
Creating a successful flowchart requires the right flowchart software. Many offices and businesses use flowcharts to visualize data in a way that's easy to comprehend and follow.
In order to build effective flowcharts, it takes the correct software; one that is both user-friendly and efficient. Here are some helpful tips on how to select the best flowchart software for your needs:
Understand Your Needs: Different charting tools serve different purposes, so first you need to decide exactly what type of diagram you want to create and what information needs to be included in it. This will help narrow down your choice when selecting specific products or platforms.
Research Platform Options: Once you have identified which kind of diagrams or charts you will need, research all available options with respect to features, functions, cost, etc. Make sure that each option offers the same basic elements for building quality diagrams (such as libraries of shapes, connectors & text boxes).
Compile A Shortlist Of Tools To Try Out: After assessing all available options for creating charts and diagrams online or offline, compile a shortlist of three solutions that look most promising. At this stage read consumer reviews from other users who have used these programs before making your final decision.
Try Before You Buy: The best way to gauge if a tool is suitable enough for creating process diagrams is by taking it out for a test drive before spending any money on it. Many vendors offer free trial versions which should be taken advantage of where possible, allowing users to get familiar with its functionalities as well as analyze their effectiveness at building complex visuals. Additionally, check whether there are tutorial videos available as part of support resources. This can also go long way in making sure users create accurate representations of data for various business processes being mapped out visually.
12 Top Online Flowchart Software Solutions Of 2023
Here are 12 top online flowchart software solutions to use in 2023.
1. nTask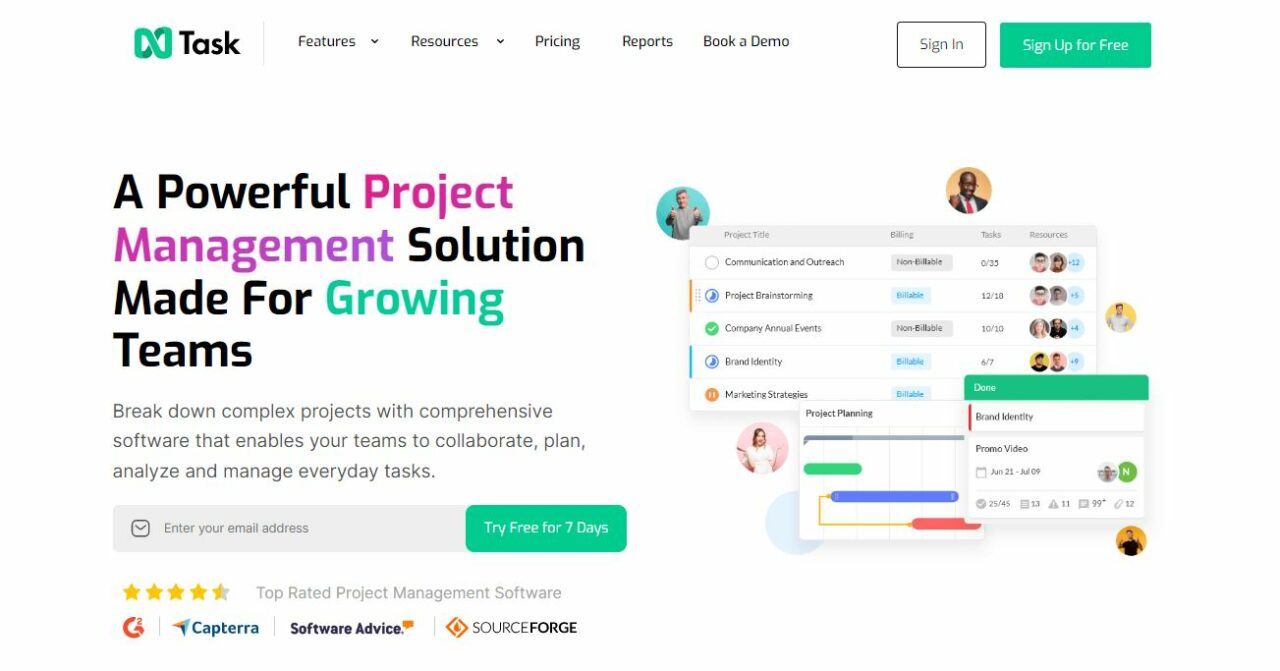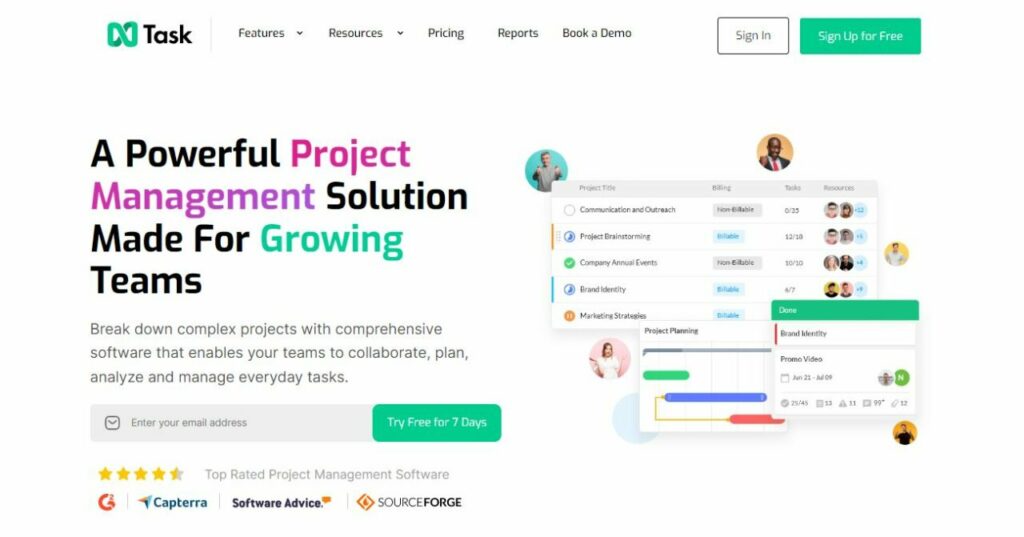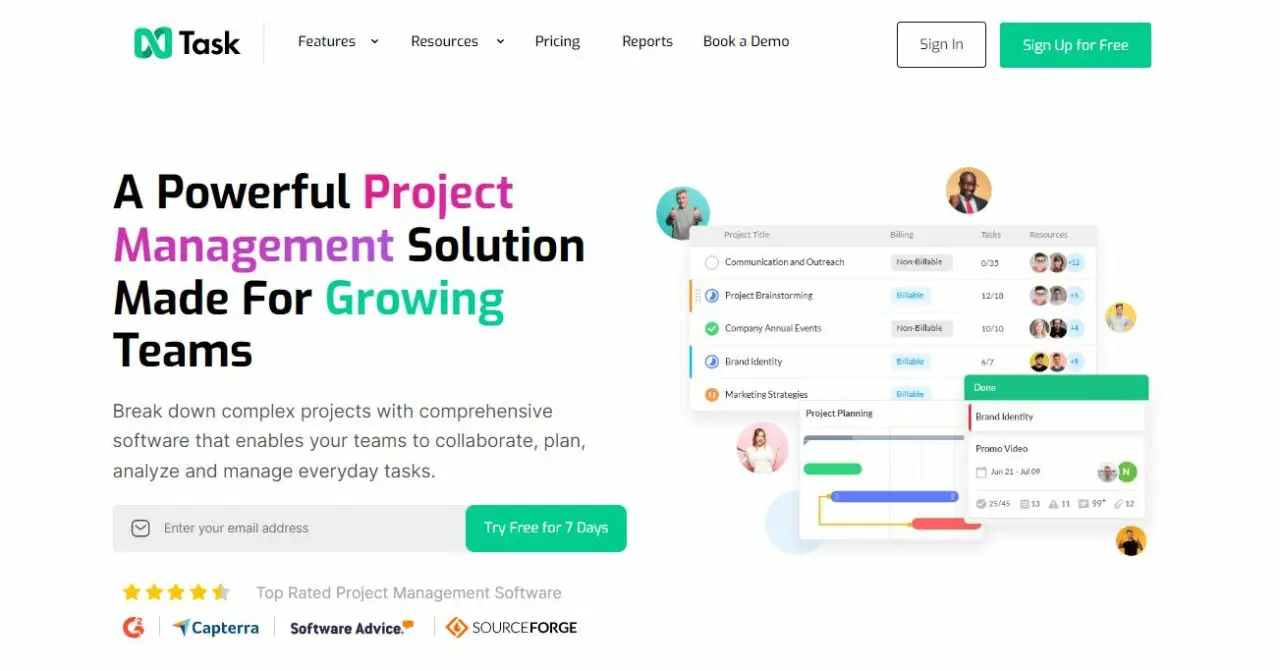 nTask is a cloud-based project and task management software that enables teams and individuals to organize their workflows.
With powerful features such as Gantt charts, resource allocation, task dependencies, and calendars, nTask makes it easy for users to create efficient workflows.
nTask's user interface is both intuitive and customizable. Its drag-and-drop feature allows users to quickly create complex flowcharts with ease.
Simplify project management
with nTask today!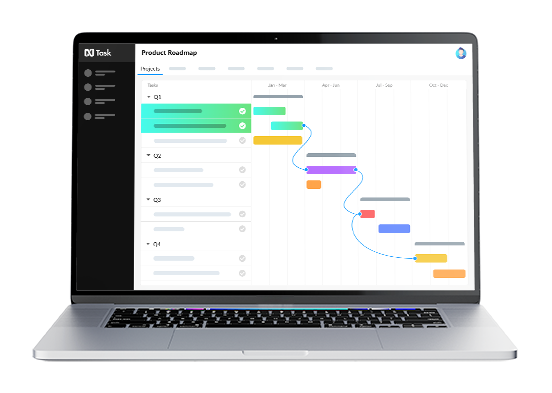 Additionally, users are able to assign specific roles or skill sets on tasks in order to better coordinate team members' efforts. This helps ensure that the right people have the right information at all times while they collaborate on the same project or task.
For those who need an extra boost of visibility over their projects, nTask offers real-time reporting features that allow users to view progress in detail.
With up-to-date analytics of task performance metrics including duration, completion ratio by user group, or individual user performance data – this feature ensures that nothing goes unnoticed or unattended when it comes down to your project's success rate.
2. Miro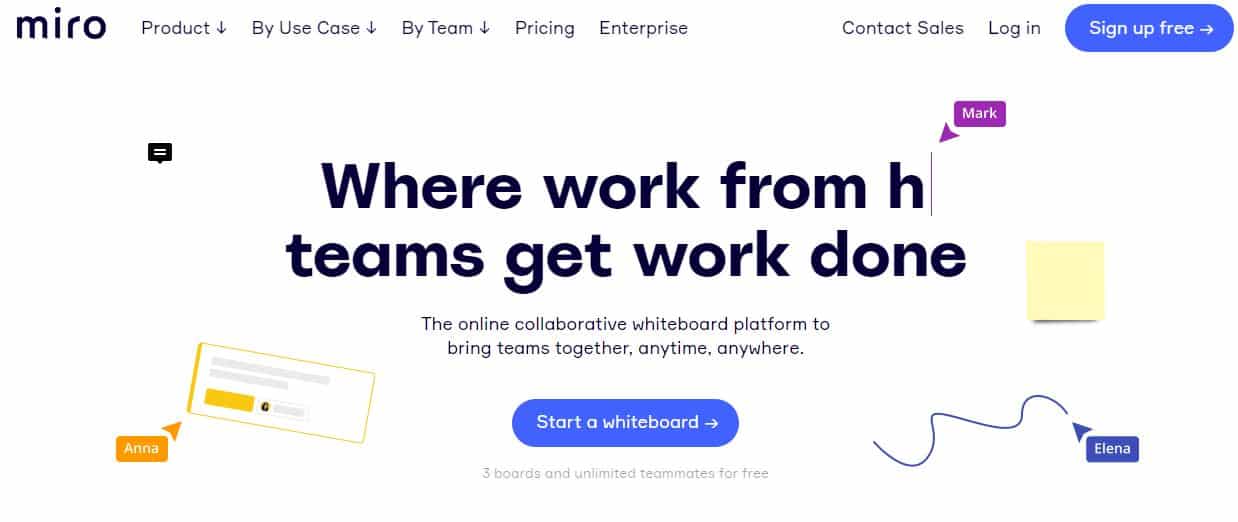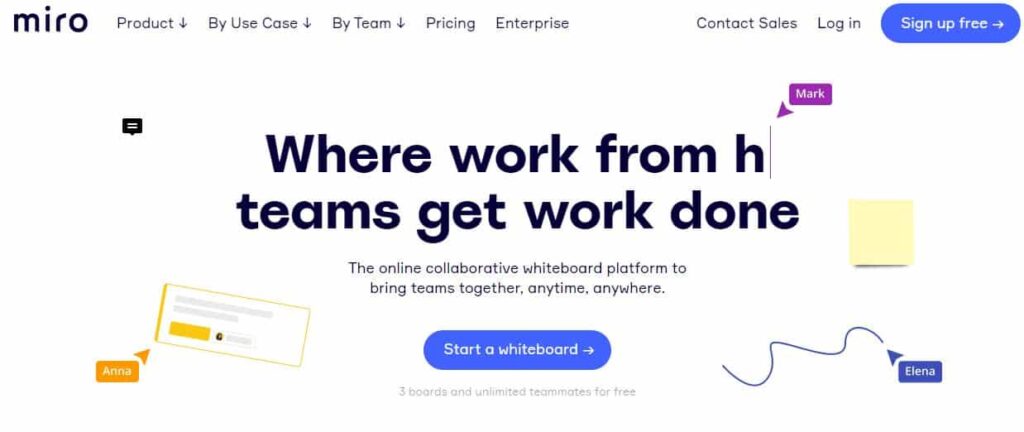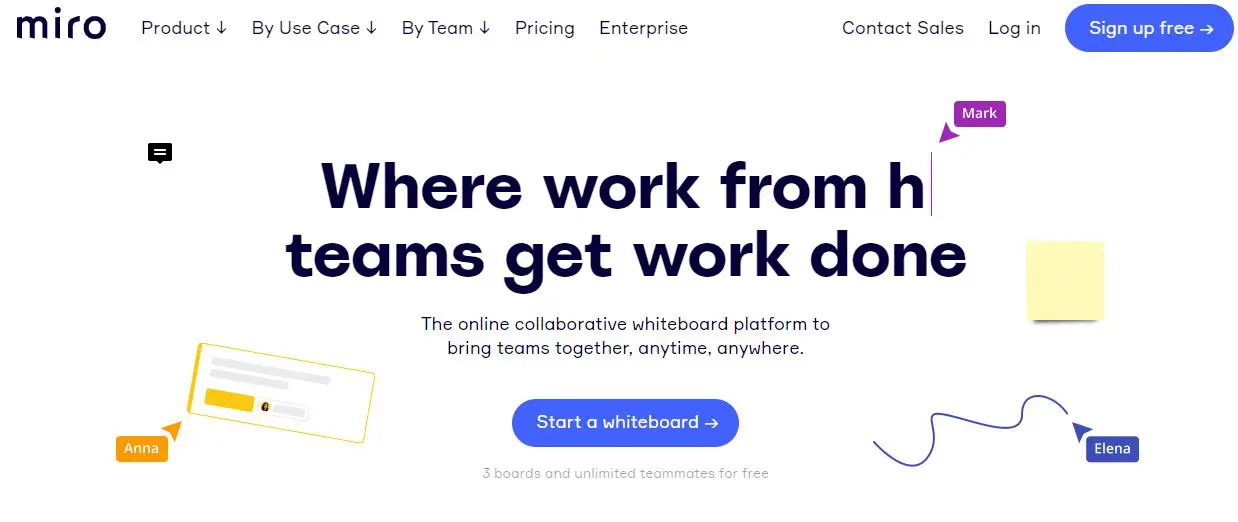 If you're looking for comprehensive flowchart software, Miro is a great choice. It offers a robust platform for creating diagrams and graphics quickly and easily.
With its intuitive user interface, Miro makes it possible to create complex diagrams without any prior training or experience in diagram design.
Miro's features include an integrated library of symbols and elements that make it easy to find the right shape for your project.
It also comes with powerful drawing tools like drag-and-drop placement, auto-formatting, and layer selection that allow you to tweak the details of your diagram with ease.
In addition, when you share a project online, other collaborators can add their own comments or feedback on your work in real-time so everyone is kept up to date on changes made by the group.
Finally, if you need help getting started on projects with Miro, they offer tutorials and templates which will enable users to get off the ground running quickly while still providing plenty of room for creativity and innovation along the way.
Whether you're new to flowcharting or an experienced designer/developer looking for comprehensive software solutions, Miro makes it easy to bring ideas into reality faster than ever before!
3. Draw.io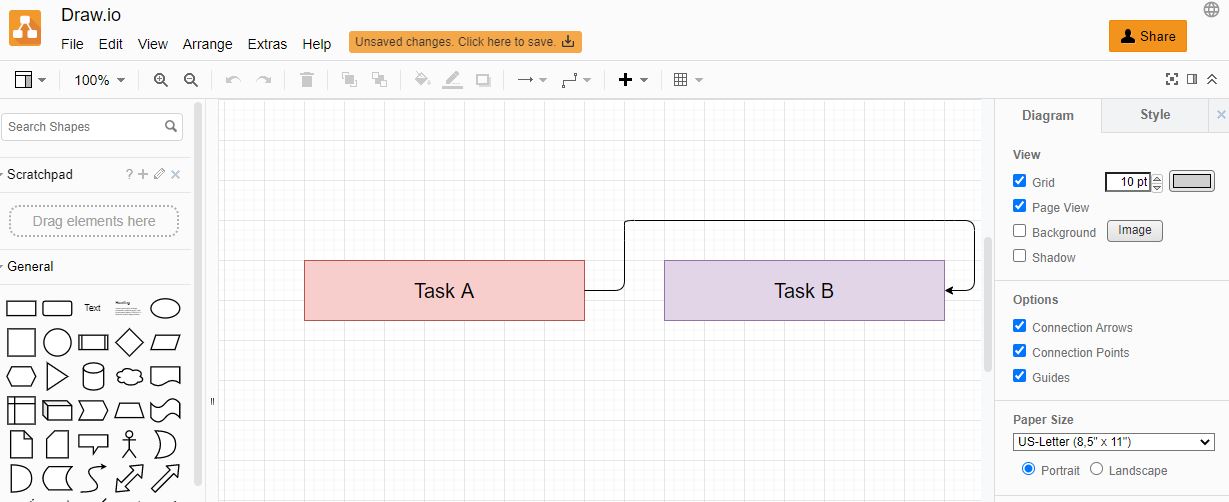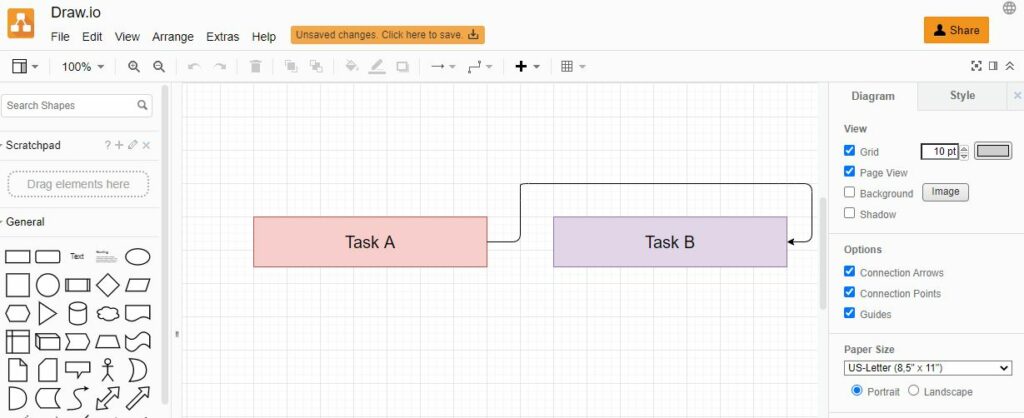 Draw.io is a free, open-source flowchart software designed for the use of both beginners and experienced users.
It makes creating diagrams easier than ever before with its drag-and-drop features, intuitive interface, and a vast selection of shapes, objects, and symbols.
With Draw.io you can quickly create professional-looking flowcharts that visually represent complex processes in a clear and concise manner – all without having to install bulky software or complicated 3rd party tools on your machine!
Draw.io's powerful yet simple styling options allow users to adjust various elements like shape color/fill style/border paint to create unique organization charts which are perfect for illustrating corporate hierarchies or workflows within any organization setting.
Users can customize their drawings even further by adding annotations or captions directly into their images which can help explain certain steps during process analysis or provide additional context in user manuals where needed!
Overall, Draw.io is a great tool for anyone looking for an easy way to make professional-looking flowcharts or diagrams in a short amount of time regardless if they're newbies or pros alike!
The range of features provided gives users the power to design stunning visuals that would otherwise take much longer if done manually – all while still keeping it relatively simple enough for everyone to use easily!
4. Lucidchart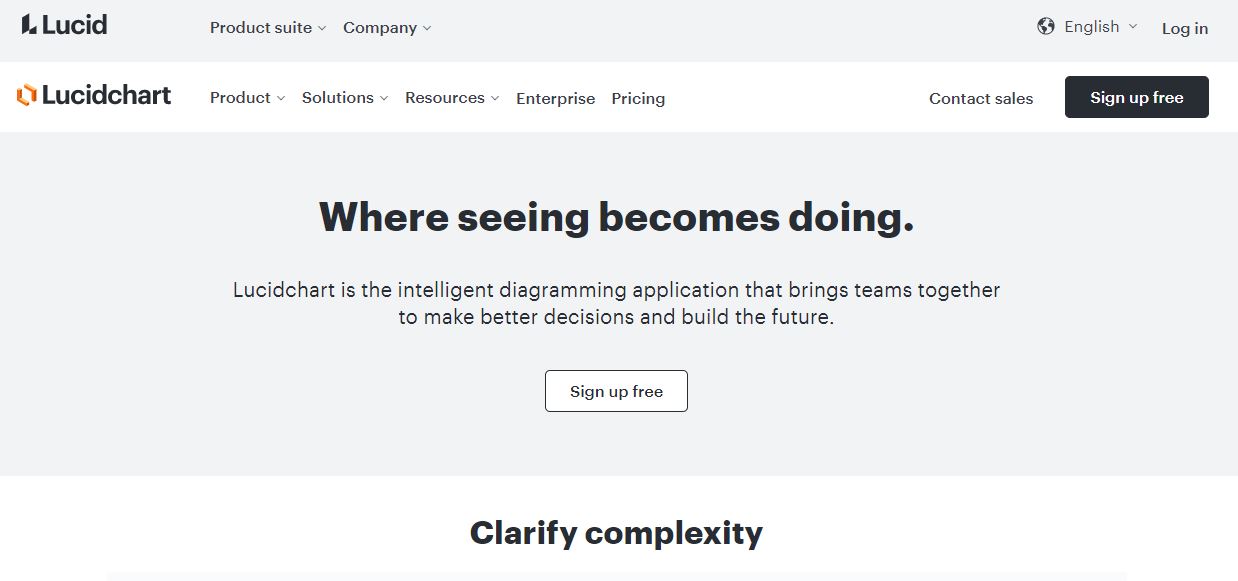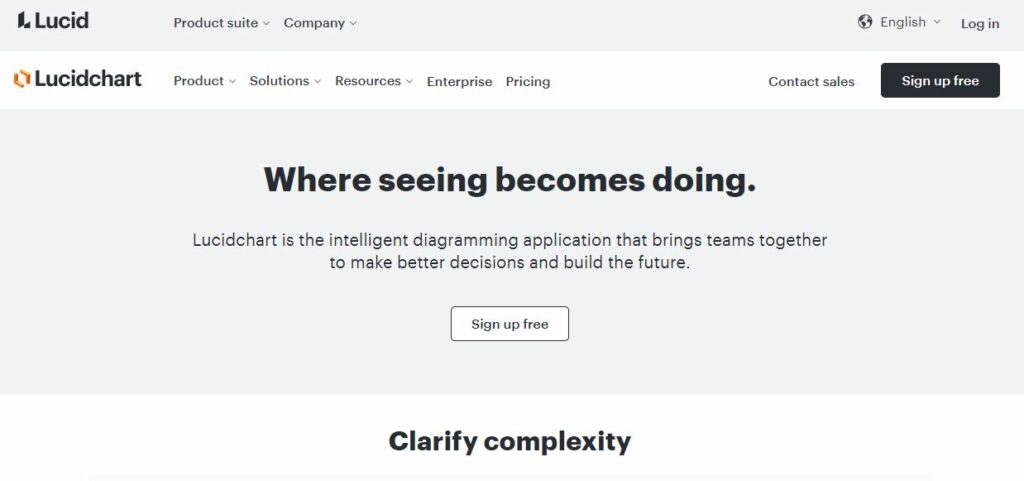 Lucidchart is an online flowchart software that enables users to create flowcharts, organizational charts, network diagrams and more.
It has a wide selection of professional-looking shapes and templates for you to use at all stages of the diagramming process. The drag-and-drop design editor makes it easy to customize your diagrams with a range of different fonts, colours and styles.
Additionally, you can easily share your diagrams with others via various sharing options. Lucidchart also allows teams to collaborate on projects together in real time, so everyone can stay up-to-date on changes or updates quickly and easily.
Overall, this flowchart software is user-friendly and very helpful for those who want to visualize their ideas in an organized manner.
5. Visme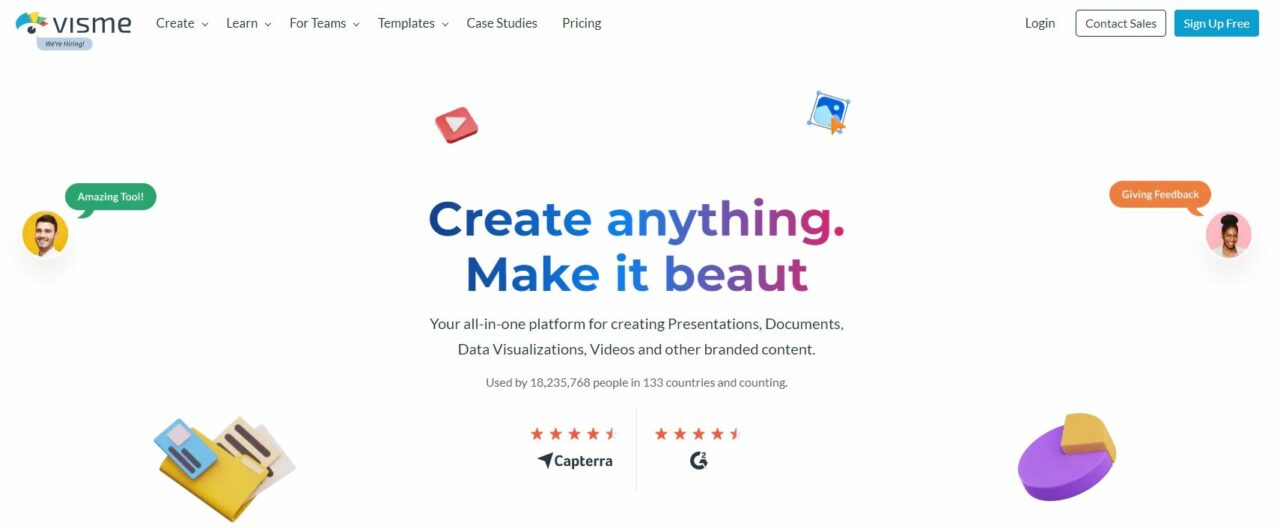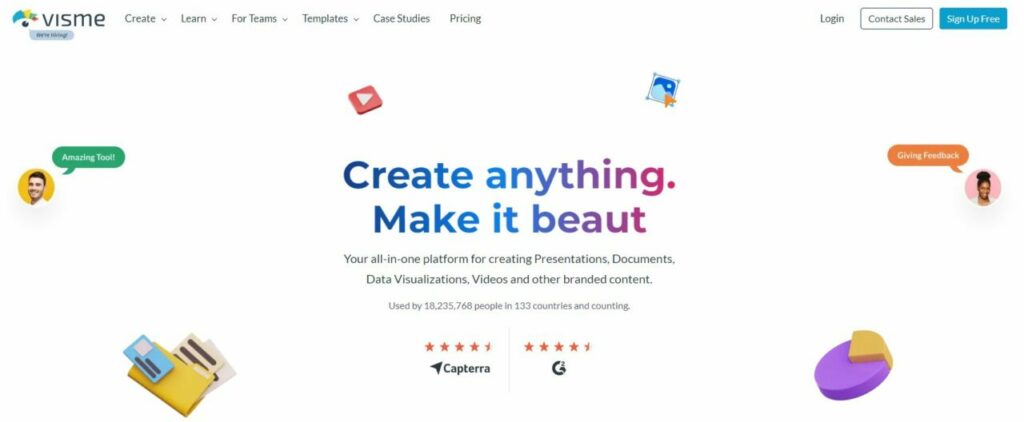 Visme is a flowchart software that makes it easy to create professional, eye-catching visuals. It provides a selection of templates to choose from and helps you build your own custom chart in just minutes.
With Visme, users can quickly add text, shapes, images and more to their charts, making them suitable for a variety of uses ranging from business presentations to social media posts.
The software also allows for collaboration with others so that users can all work together on creating beautiful visuals. In addition, Visme offers detailed analytics on how well your visual content performs with audiences.
This software is perfect for anyone who wants to easily create high-quality visuals in no time at all!
6. Edrawmax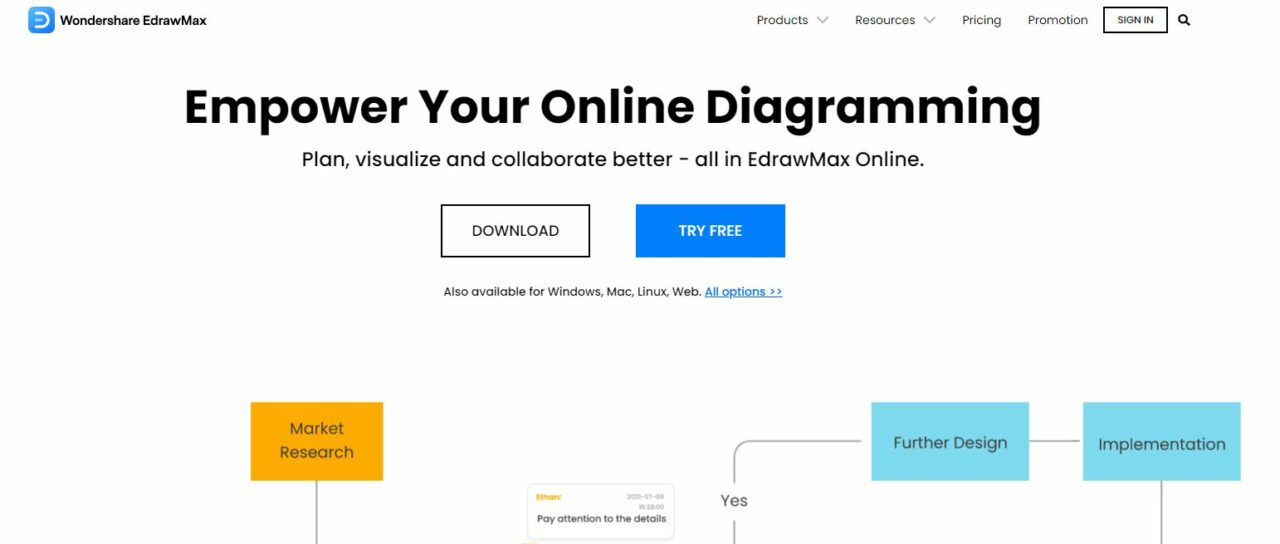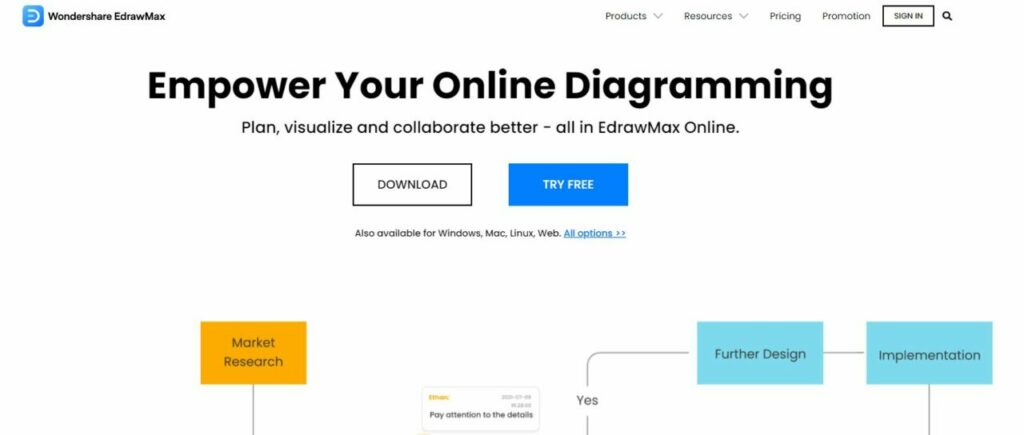 EdrawMax allows users to create professional-looking flowcharts, network diagrams, mind maps, organizational charts, business processes, website wireframes, engineering diagrams and much more.
With its user-friendly interface and comprehensive library of symbols and templates, it's easy for anyone from novice to experienced professionals alike to produce visually stunning visuals that can be shared easily in print or online.
The software's intuitive drag-and-drop feature allows users to quickly move objects around within the workspace while managing lines between them or adjusting their size or position with precision.
You can customize each item by adding text labels or annotations as needed. Even better is that when elements are changed within these edits are reflected throughout the document automatically making updates quick and easy.
In addition to their ease of use, EdrawMax also features advanced features like layer management that helps you organize your work into logical groups while keeping clutter at bay; custom colour scheme editing so you can match your designs with corporate branding; animation support so you can make your projects come alive plus much more!
7. Zenflowchart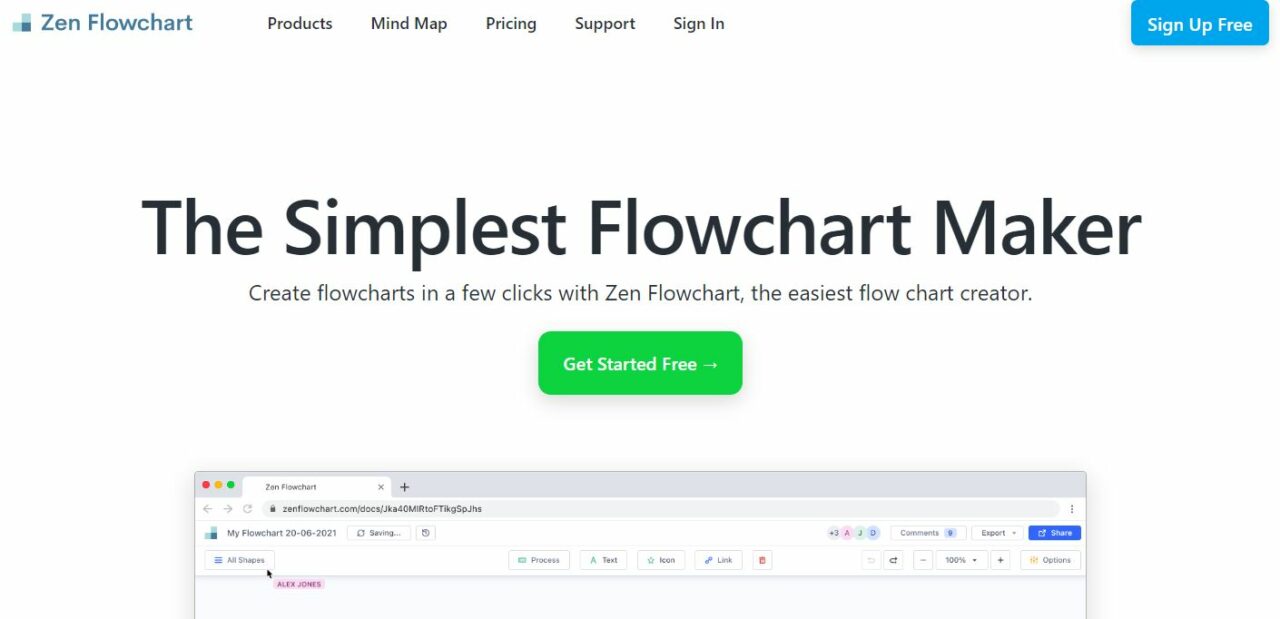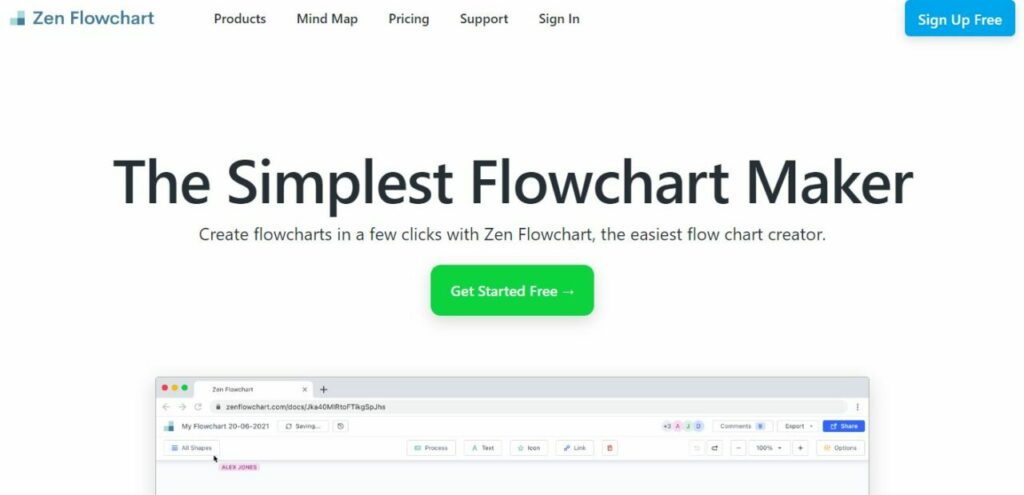 Zenflowchart is a powerful software that simplifies the process of creating professional-quality flowcharts. It's easy to use and requires no technical knowledge or design experience to create stunning visuals in just minutes.
With its intuitive user interface, you can quickly build up complex charts and diagrams with ease.
The software comes with an extensive library of shapes, symbols, and templates for quickly constructing your own desired outcome.
You can customize each element of the chart or diagram you are working on by editing colours, fonts, line styles, images, text labels and more.
Furthermore, you have the ability to add links that will automatically open other documents when clicked upon – creating an organized workflow for your data visualization task.
The output from Zenflowchart is ready for printing or embedding into documents such as Word and PowerPoint slideshows.
It also supports direct exporting to various formats including HTML5 Canvas so it can be used directly on websites as well as PDF files which makes distribution simple and fast.
Overall at its core, this software makes it easier than ever before to make beautiful flowcharts without spending hours learning complex design programs such as Adobe InDesign or Photoshop!
8. Whimsical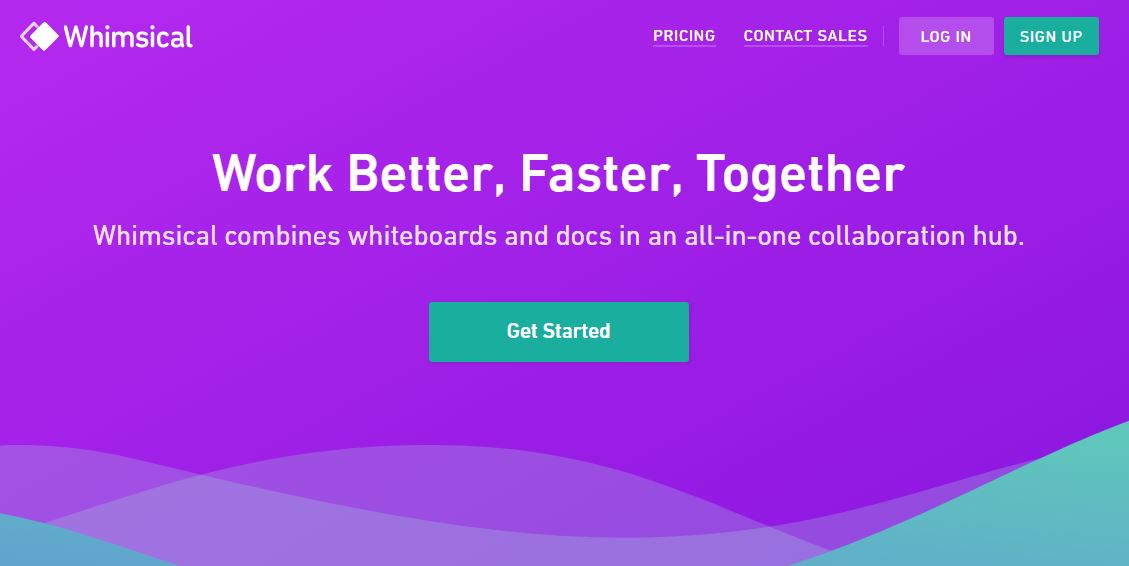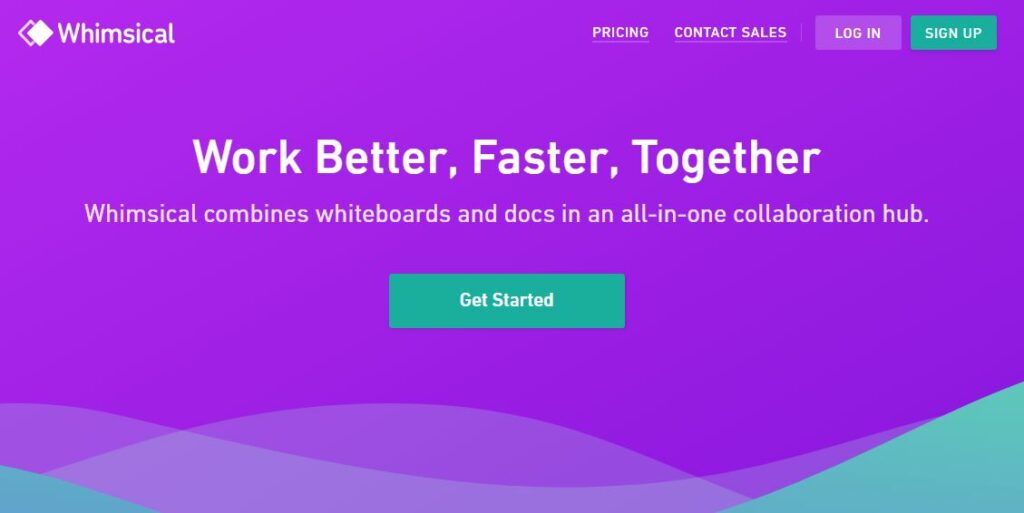 This cloud-based flowchart software is packed with features that make it ideal for businesses of all sizes.
With Whimsical, you can quickly diagram complex concepts and processes with beautiful visuals. You have the ability to drag and drop shapes and images as well as create custom illustrations from scratch.
You also get access to various library templates and workspaces so you can save time while designing your workflow. Additionally, its shareable links allow remote teams to stay on top of projects from any device at any time.
Whimsical also offers collaboration tools such as the real-time chat feature, which allows multiple users to work on the same project without fear of conflicts or duplication of efforts.
Plus, it supports multiple language environments, making it easy for multinational organizations to collaborate effectively across global teams without language barriers getting in the way.
9. Visio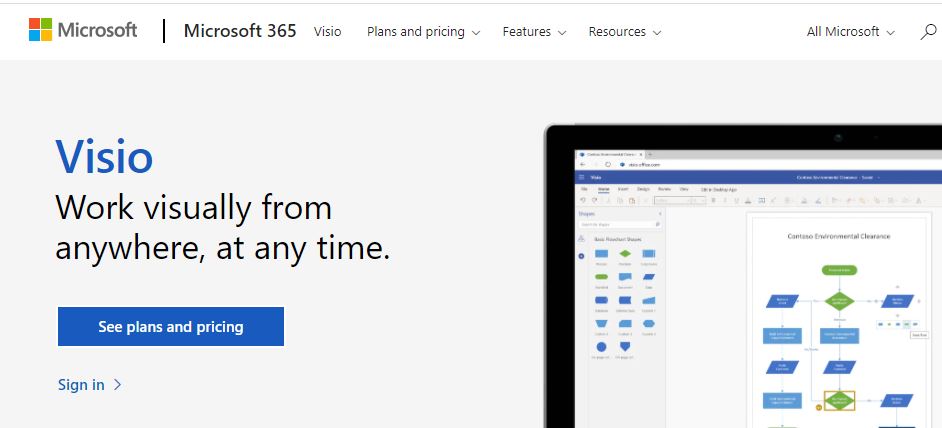 Visio is a software program by Microsoft that enables users to create flowcharts for a variety of uses. A flowchart is essentially a diagram used to visually represent and communicate processes, plans, or workflows within an organization.
Visio offers creative possibilities with powerful drawing capabilities, allowing users to construct accurate diagrams of systems quickly and easily.
Using Visio's myriad tools and shapes, users can generate process maps and organizational charts in minutes. The program also employs drag-and-drop functionality to make the creation process even easier.
It helps streamline data flows from various sources into meaningful visuals as well as automate recurring tasks such as updating process diagrams on an ongoing basis without manually making repetitive changes.
The ability to collaborate in real-time makes Visio attractive since multiple team members can contribute at once while all versions remain current throughout any project or task.
Its integration with Microsoft Office Suite allows you to embed pictures and videos into your drawings too if desired.
10. SmartDraw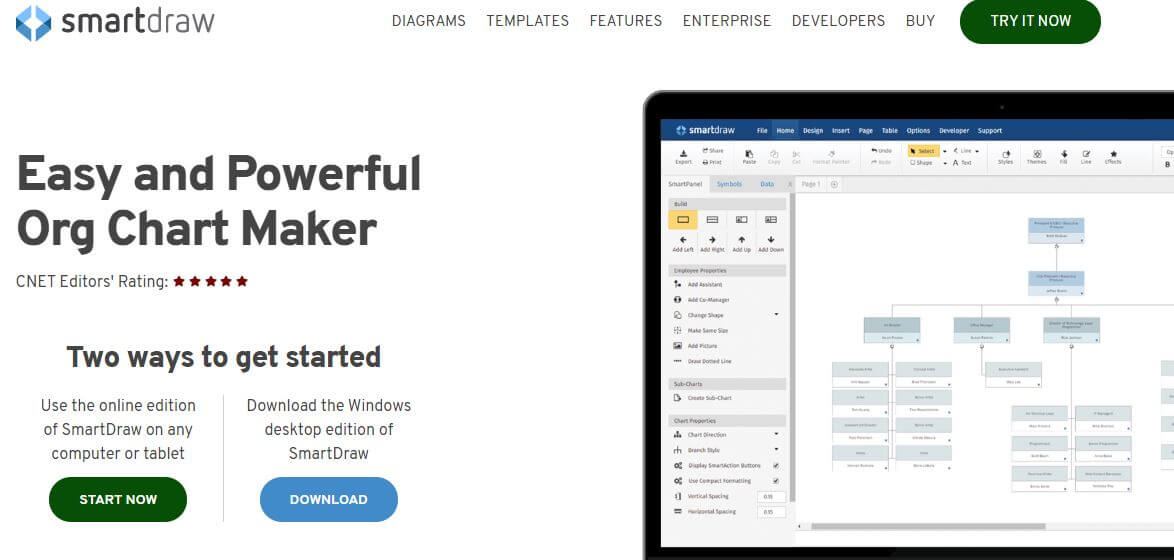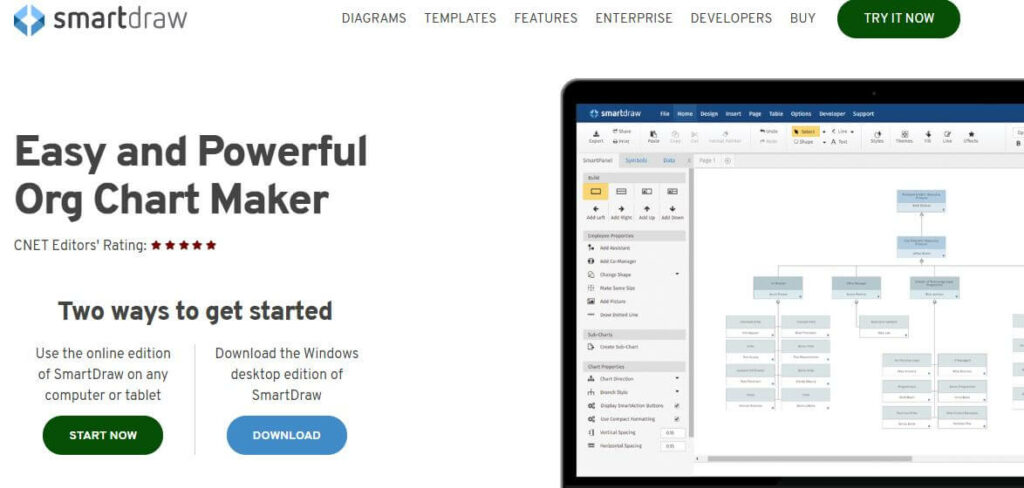 SmartDraw helps anyone quickly create professional quality flowcharts without prior design experience.
SmartDraw is a cloud-based program that runs on both Windows and Mac operating systems. It has advanced tools for creating everything from basic shapes to complex pipelines or gear charts.
The interface is highly customizable so you can fine-tune it to your specific needs. You can also save your drawings on the cloud or export them as PDFs for sharing with other users or publishing online.
The drag-and-drop functionality makes drawing diagrams a breeze as well as adding colours, fonts, annotations and clipart images which allows you to add personal touches to your work.
There's also shape search which lets you find prebuilt shapes almost instantaneously no matter how complex they are! And if you're ever stuck in the process of designing something new, there are customizable templates at hand that make life much easier too.
11. Textographo


Textographo has everything you need to make your ideas come alive.
Textographo's feature-rich environment gives you unprecedented control over your diagrams.
With a collection of pre-made shapes and symbols, you can quickly drag and drop items into place on a blank page or start from one of many professionally designed templates.
Edit each item in minute detail using powerful styling tools such as masks, fills, borders, shadows and more. Plus add additional custom elements with photos or illustrations for a truly unique look that will stand out from the crowd.
Best of all? Textographo makes constructing large complex diagrams easy by automatically aligning elements on canvas for a perfect composition every time without hard manual labour.
You can also link up pages together so that navigation between multiple documents is seamless – ideal for creating interactive infographics or presentations quickly and easily.
12. Cacoo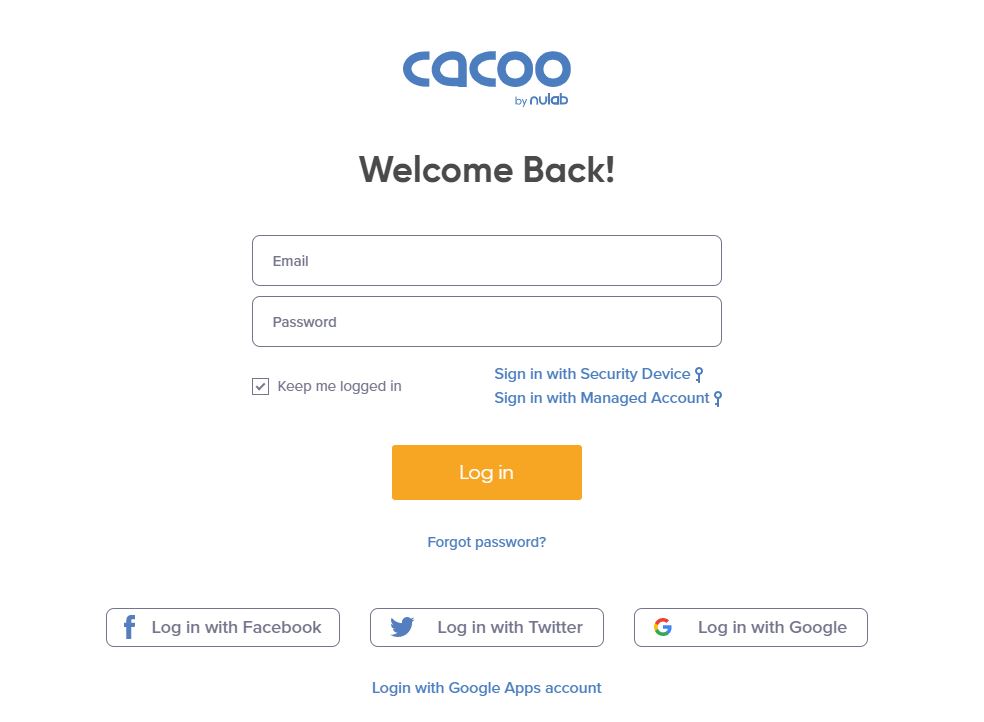 Cacoo is a powerful cloud-based flowchart software that can help organizations of all sizes create and manage business diagrams, visual solutions and more.
The platform enables users to quickly create an infinite number of flowcharts, org charts, wireframes, sitemaps and much more in real time with drag-and-drop capabilities.
Cacoo also provides an array of features such as collaboration tools for team members to work on the same project together from different locations.
Through the use of its powerful editor, users can modify shapes and text styles within their diagrams or upload their own images for added customizability.
Furthermore, Cacoo provides libraries for commonly used templates which makes it easier for users to start creating quickly without sacrificing quality or design options.
Plus, all designs created via Cacoo are automatically stored on a secure cloud server which offers users quick access from any device with an internet connection.
What Makes nTask The Best Software For Flowchart
nTask is an all-in-one project and task management tool that makes flowchart creation easy and straightforward. With its intuitive user interface and powerful features, it's no surprise that many people are turning to nTask as their go-to for flowchart making.
When it comes to creating a flowchart with nTask, it only takes a few quick steps to get started.
First, users can choose from pre-made templates or customize one of their own, allowing them control over how their flowchart will look before they begin working on it.
Once they have chosen the template they want, they can begin adding tasks or events into each column in order of sequence – giving them total control over how their workflow progresses and giving them a visual representation of what needs to be done.
In addition to being incredibly user-friendly when it comes to creating your own customized workflow chart, there are also lots of other features available on nTask which make using this software even more convenient and efficient when managing tasks or projects: time tracking; collaboration tools; task assignment capabilities; resource monitoring options; multiple project views – all these elements combine together give users full visibility into the progress of any given project without having step away from the platform itself!
Conclusion
In conclusion, there are a number of great online flowchart software solutions available in 2023.
From the comprehensive features provided by Lucidchart and Creately to the convenient cloud-based collaborative tools offered by Gliffy and Draw.io, users can find an online solution that meets their needs.
FAQs
What are the basic flowchart symbols?
The basic flowchart symbols are: 
Start/End – This is represented by a circle and indicates the starting and ending point of the process.
Process – This is depicted by a rectangle and consists of any step or action taken in the process.
Decision – A diamond shape represents decision points which lead to different outcomes based on conditions or criteria being met.
Connector – This symbol is often used when you want to connect two separate parts of your flowchart, usually due to space constraints on the page or for organizational purposes; it is represented by an arrow looping back to itself, indicating that it's part of a series connected processes or decisions rather than its own independent task within the overall diagram.
What are the common types of flowcharts?
The common types of flowcharts are process flowchart, document flowchart, data flow diagram, workflow diagram, and swimlane diagram. A process flowchart is a visual representation of the steps in a business process or workflow. A document flowchart shows how documents move around within an organization. A data flow diagram maps out the way that data flows through a system. A workflow diagram is a graphical representation of the tasks necessary to complete a process or project. Finally, swimlane diagrams illustrate roles and responsibilities for different parts of an organization within the context of specific processes or activities.
Is there free flowchart software?
Yes, there is free flowchart software available. Some popular options include Draw.io, Lucidchart, Gliffy and Edraw Max. Each of these programs allows users to create flowcharts with a range of features such as drag-and-drop shapes, text tools, and more. They also offer various integration options with other applications like Google Drive and Dropbox for easy sharing and storage of diagrams online.
Does Microsoft Office have a flowchart program?
Yes, Microsoft Office has a flowchart program. It is called Microsoft Visio and it is part of the Microsoft 365 suite of applications. With Visio you can create detailed diagrams, including flowcharts, to help with business process modeling, system design and more.
Can you create a flowchart in PowerPoint?
Yes, it is possible to create a flowchart in PowerPoint. Microsoft PowerPoint includes several shapes and connectors that can be used as building blocks for creating a flowchart diagram. Additionally, there are a variety of templates and themes available with visual elements such as background colors, icons, and font styles that can be customized to create an attractive chart.
Can we create a flowchart in Excel?
It is possible to create a flowchart in Excel. To do so, select the Insert tab and click on the SmartArt button. This will open up a wide variety of flowchart styles that can be used to quickly create a professional-looking flowchart in Excel.
Is it better to create a flowchart in Word or Excel?
It depends on the individual user and the purpose for creating a flowchart. Word and Excel both offer features to create diagrams and flowcharts, but each program has its own pros and cons. For example, Word may be better to use if you need a basic chart that can be modified or updated quickly, while Excel may be better if you are looking for more detailed calculations. Ultimately it is up to the user to decide which program they prefer based on their specific needs.