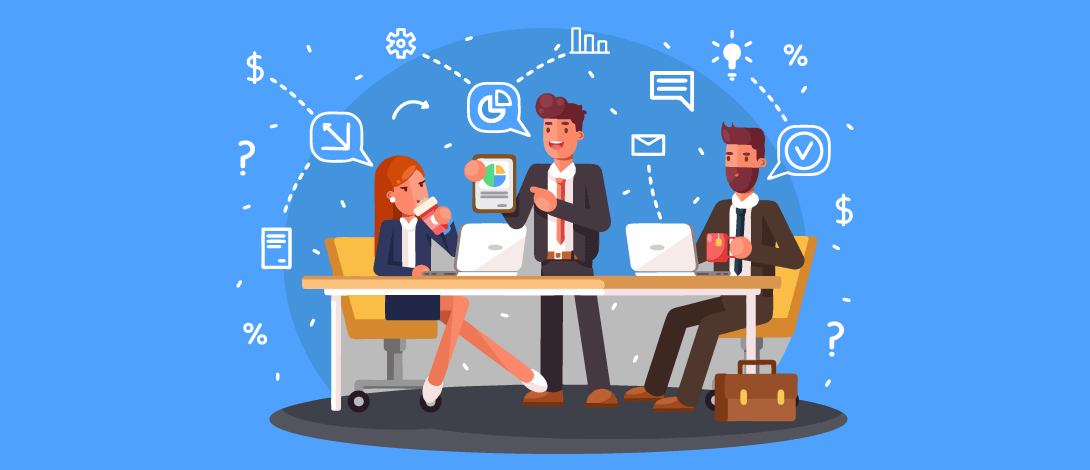 There was once a time when you worked as an ordinary member of a team, taking orders and working frantically to get the job done on time. Until one day, you were promoted to Manager and nothing was ever the same again. What came as a delight soon turned into a worrisome responsibility to lead, inspire and motivate those under your management.
After all, not all that glitters is gold. And the same could be said for Project Managers. Effective team management requires personal and professional development. Development, however, takes time and experience. So how can you as a Project Manager, tackle the dynamics of effective team management as you grow into your role?
Here are 5 techniques that will help you take care of that:
1. Recruit wisely, appoint tactfully
So much is invested in how a team should be managed to achieve the desired results. What if I told you, that almost 50% of good team management can be easily obtained by building a good team, to begin with?
Of course, team building isn't something that can be achieved overnight. It is an ever-running process that needs continuous input on part of a project manager. But there are certain starting points that might help you start off with a team that will be easy to manage later down the road.
One of these starting points is recruiting. Do your homework and evaluate which team member will be best suited for a given role. Perform due diligence on the expertise needed for a role, as well as the expertise each member possesses.
As a result, not only will you be making maximum use of your resources, but your team members will also flourish knowing they've been appointed a role that compliments their skill set. Ultimately, a win-win situation.
However, recruiting wisely and then appointing tactfully, is not always as straightforward as it sounds. Which is why organizations make use of a team management model called Belbin's Team Roles.
Belbin's Team roles assist project managers in proactively managing their team by understanding the various roles in a team and their personalities by which they are expected to perform.
The Belbin Team Model highlights 9 roles that every team needs to perform. This doesn't mean that every team should comprise 9 team members as well. It's dependent on how the project manager understands these roles and makes use of the available resources to fulfill them.
Belbin's Team roles with respective personalities and contributions are summarized in the table below.
| Role | Personality | Contribution |
| --- | --- | --- |
| Resource Investigator | Extrovert, social & opportunity seeker | Good at developing contacts and exploring new ideas |
| Teamworker | Perceptive, cooperative & helpful | Is a good listener that works on resolving conflicts. |
| Co-ordinator | Confident, positive & open minded | Good at delegating and identifying goals, frameworks and making decisions. |
| Plant | Introvert, thinker, creative | Good at solving problems and finding solutions to obstacles. |
| Monitor Evaluator | Sensible, critical, strategic | Good at analyzing and structuring valuable insights. Able to take strong decisions. |
| Specialist | Independent, dedicated and task oriented. | Provides specialized knowledge. |
| Shaper | Competitive, passionate and entrepreneurial mindset. | Good at motivating the team, creating team growth and resolving issues and problems. |
| Implementer | Hardworking, transparent, agreeable. | Responsible for creating a plan, executing it and organizing the scope of the project. |
| Completer Finisher | Conscientious & perfectionist | Foresee risks and problems, makes sure deadline is met. |
2. Map & Align: Timelines, Objectives, and Goals
For effective team management, you have to endorse good time management as well.
Attach concrete timelines to each member's role in a project and link it to weekly goals. Keeping team members on a defined schedule allows them to keep track of their own performance and activity with that of the project's life cycle.
One way to manage individual timelines is by employing a project management software.
nTask is a free task management tool that allows you to assign a due date to each task and project created. When the due date is imminent, you get a notification for a reminder. In nTask, you can also track the progress of each project, in reference to each task within the project in the form of a Gantt chart.
Secondly, creating a single objective that defines the project scope is not enough. Make sure you align that objective with your team's objectives, so that each member knows how to relate their individually appointed objectives to the bigger picture. Otherwise, your team members could steer in opposite directions.
In 2015, a survey by Clear Company reported that 97% of employees and executives believe lack of alignment within a team impacts the outcome of a task or project.
Most CEOs make use of the Objectives and Key Results (OKR) method, a framework that measures the performance of a worker towards his/her objectives in a given timeline.
3. Apply B.E.C.C with your team
As a project manager, you must be well-versed with the golden tip of Communication when it comes to effective team management. Though this tip is still golden and equally constructive, it is no longer sufficient on its own. To become a well-rounded project manager, you need to apply B.E.C.C with your team. What is B.E.C.C?
B=Bond, E=Empathize, C=Connect and C=Communicate. (B.E.C.C)
There are many leadership styles out there to be mirrored and adopted by. But in order to be a truly transformational leader, you have to be all three: directive, supportive and participative.
To practice Participative leadership, empower your team, and hand them the gift of autonomy. Encourage team involvement by allowing decision-making to escape from your end to theirs, so your team feels a sense of liberation in contrast to the otherwise suffocated atmosphere of following strict guidelines.
To practice Supportive leadership, show/unmask your human side. Let your team know you care about them.
Sundar Pichai, CEO of Google, shares one of his supportive leadership strategies:
"To not only see your own success, but to focus on the success of others."
He explains that a major part of a leader's responsibility is to focus on making other people achieve their success, instead of focusing on his/her own. This typically requires how well the project manager knows the team members.
Their strengths and weaknesses, their likes and dislikes, how easily they are motivated and their areas of interests. The more you are conversant with these aspects of your team members, the more successful you'll render at solving their problems and bringing them to the finish line.
And to practice Directive Leadership, adopt a manner in which you appear approachable to your team members. Setup a feedback system where they can approach you with their opinions and suggestions.
Take it from Tim Cook, CEO of Apple, who is widely known for giving a listening ear to the people that work next to him. He trusts and values their opinions and supports his leadership style by asserting that one of the many great traits of a good leader is that he is humble.
Not only will this kind of attitude give birth to a cordial bond between the team and their leader but also motivate them to collaborate with their boss.
4. Double Rs: Recognize & Reward
Ask yourself this: Would you put in a vast amount of hard work into your work if the outcome was petty recognition, negligible personal benefits and unacknowledging feedback from your peers? Probably not right. Imagine the same for your team members. Perhaps placing yourself in their shoes and then realizing what is essential for effective team management, is the most powerful technique you can employ.
Every human has needs, desires and incentives that are the driving force for their reason to work towards something.
You must view your team members as no exception to this.
They also have needs.
They also need motivation.
And they also wish to be recognized for their hard work.
A Global Recognition Study, revealed that 78% of U.S workers report that being recognized motivates them at their job.
A small verbal pat on the back goes a long way in motivating the team to continue with their dedication. After all, your team is accountable to your judgement at the end of the day, it is only but characteristic of them to expect you to let them know how good of a job they are doing.
Many organizations have applied ERG (Existence, Relatedness & Growth) Theory in their workplace to understand employees' motives and how to induce motivation in them. Alderfer's ERG theory is a pyramid depicting 3 set of needs every human has.
Existence Needs
Relatedness Needs
Growth Needs
Motivation stems from incentives and incentives stem from needs. To cultivate motivation in your team, you need to address their needs first.
This is where the rewarding part of the Double Rs comes in.
Say you've recognized a member for excellent results, will that last in driving him/her to continue producing the same level of results for another 5 months? Absolutely not.
You need to arrange tangible rewards that can boost your team's work ethic.
According to a survey conducted by Deloitte University Press, when asked what would make them stay at their current employer, 44% of the employees answered additional bonuses or financial incentives.
5. Culture that Fosters Teamwork
Deloitte Human Capital Trends 2016, a study that surveyed more than 7,000 companies, reported that restructuring of workplace culture was one of the top 3 trends that are considered to be very important by 86% of the respondents.
One of the main goals of effective team management is to ensure that the team functions as efficiently in your absence as it would in your presence.
In large companies, managers can't be present at all times to monitor their teams. By formulating a positive, collaborative culture in the workplace, a manager can enable his/her team to perform equally well when he/she is not around.
Endorse social messenger tools that your team can use to communicate with each other on a daily basis.
3 of the most commonly used social tools by teams to collaborate are:
Slack – group messing, private messaging, file sharing, integration with project management tools
Yammer – group and private messaging, file sharing, integration with project management tools
Socialcast – group messing, private messaging, file sharing, integration with project management tools
McKinsey Global Institute Survey 2016, reported 93% of respondents said their companies use at least one social technology.
For go-to team collaboration on project details, updates and progress, employ a project management tool. On an automated platform of a project management tool, your team can track and manage changes of the project, conduct effective meetings, formulate and share time sheets with you and other team members from anywhere in the world.
Remember, effective team management is not a one-time stroll in the park. It is a constant struggle to improvise, adapt and modify your strategies as your team grows and changes.