There's a famous Mark Twain saying that goes something like this:
"Eat a live frog first thing in the morning and nothing worse will happen to you the rest of the day."
This is an incredible quote that tells you the importance of performing your most important duties at the very start of your day.
This will result in freeing you up for all of the menial tasks that can be performed in a jiffy.
That's basically what Eat the Frog is all about.
For the self-help guru Brian Tracy, this "Frog" or that important task is not something that you, as a professional, or a normal person, will perform willingly. You will avoid it at any cost.
But the irony in this situation is that the task that you are trying to avoid is going to have the biggest positive impact on your life.
So, when the reviews about this time management strategy were this interesting, we decided to give it a try.
After all, who doesn't like to improve their time management skills for work or their personal lives?
So, let's start from the beginning and find out what Eat that Frog is actually about.
What is Eat that Frog?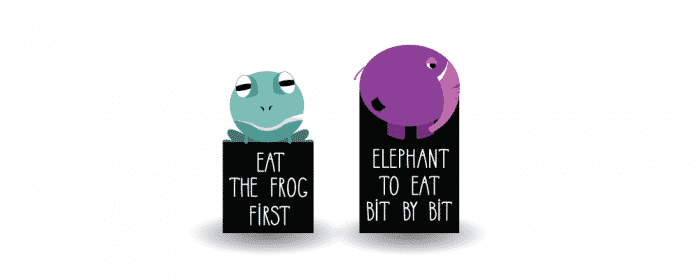 According to Tracy's book Eat That Frog! 21 Great Ways to Stop Procrastinating and Get More Done in Less Time, there are more than 20 time management tips and tricks that you can use to plan, prioritize and perform the most important things in your life.
Let's look at the steps that you can take to incorporate Eat that Frog into your daily professional or personal schedule.
You have to make sure that you have a mental picture of your biggest goal that you have to perform. When you have that in your mind, you will know what you want to achieve the most.
The next step is to write all of the details regarding that specific goal.
The third step is to set a deadline to complete that task so that you can reap the maximum reward from it.
The next step is to make a list of all of the resources you might need to complete that task in its entirety.
You need to make sure that you prioritize that list. Once you have all of the priorities written down, you will have a list of your "Frogs".
One important thing is that you have to take quick action and perform the ugliest frog or the hardest activity first.
You have to continue this activity till your project is complete or even after that, to make sure that your professional and personal life doesn't suffer and you manage your time according to your needs and requirements perfectly.
According to this time management strategy, it is very important to note that after you incorporate it into your daily personal or professional life, you need to always work from a list.
You will always start with the biggest list you can generate, and as the work starts to pick up the pace, you can shift to smaller more granular lists like a monthly list, weekly list, or daily lists.
What are the Advantages of Eat That Frog?
Here are some of the advantages that you can get by using this incredible time management strategy for your professional or personal lives.
The most obvious advantage of this strategy is that it makes it very easy to optimize your activities.
It focuses on the most important task of the bunch and helps make sure that you go through that first so that all of the remaining tasks can be performed easily and effectively.
It's very impact-driven and it keeps you focusses on the important tasks so that this strategy has the maximum impact on your professional or personal life and makes you successful.
This strategy is like a personal mantra that you can keep with yourself for your daily professional or personal life.
It's all about impact-driven positivity and how you can make the biggest changes in your professional or personal life by just focussing on the important stuff and get rid of everything that has no connection to your success.
What are the Cons?
Here is a list of cons associated with the strategy.
We all know what you are thinking right now. What is up with that name? Everyone that we talked to about this strategy made different faces that all translated to disgust.
Because there's no way anyone in this world is assuming straightaway that Eat that Frog means that you should manage your time by focussing on the bigger and more impactful tasks at the start of the day and work your way to the easy stuff.
Dude seriously, 21 steps and rules about anything is just way too many. The concept, when it starts, is quite interesting and doable. But as we go further, things become way too repetitive and quite hard to follow.
The whole strategy is, quite frankly, rigid and unrealistic (at least for some people that have a fast-paced working environment and don't want to incorporate this technique in their lives).
It also promotes the culture that you should always go for the most impactful thing on the list, but in the real world, companies have Real clients that want things to be done as they want, not as you want to do them.
So, for them performing a single task that is going to be done in a day is more important than one which is going to take 2 days but is more impactful.
Conclusion
So, this was a short take on the time management strategy Eat that Frog. This strategy is everything that some people might be missing from their lives, and on the other hand, it might be the weirdest and stupid thing that they might have heard in a while.
If you think that this works for you or if you are one of the people whose belief is the latter one, write to us. We want your opinion about this.
---
More Readings: