Customer relations are everything when you are trying to run a business in any industry. You are always in dire need of the best tools in the market to expedite your business workflow.
That being said, there isn't anything like the 'Perfect CRM tool' on the internet. If someone says so, either the said program completely fulfills their company requirements, or they are just trying to upsell the tool.
Your best bet is to scour away all of the different options to find the best software that will help you in your business according to your requirements.
But for that, you have to research.
Thankfully, you don't even have to do that because, in this article, we are going to discuss the best CRM tools that are available in the market right now.
But before that, let us tell you why you need a CRM software in the first place.
What is a CRM tool and Why Use it?
A CRM tool can be any software from a simple contact management application to keep in touch with the different clientele of your business or a full-fledged project management tool with CRM capabilities.
These PM tools also have detailed solutions for the communication pipeline and many different billing features to keep on top of everything.
But if that isn't enough, here are some of the benefits of using CRM tools for your business.
Increased communication between the company and the clientele
An increase in efficiency when it comes to staff and client satisfaction
A definite increase in teamwork and team collaboration
A reduction in manual labor and budget expenditure
Let's now take a look at all of the different CRM tools on the market right now.
Acceptance Criteria
As there are so many CRM tools in the market to choose from, you need to know the important features that should be present in the application to make it usable.
Here's a list of all of the different features that an 'ideal' CRM tool must possess.
Database Management
Marketing and Campaign Management
Mobile Support
Security
30 Best CRM Tools to Use in 2022
Here's a list of all of the different applications that we are going to talk about in this article.
Table of Contents
Let's take a detailed look at all of them.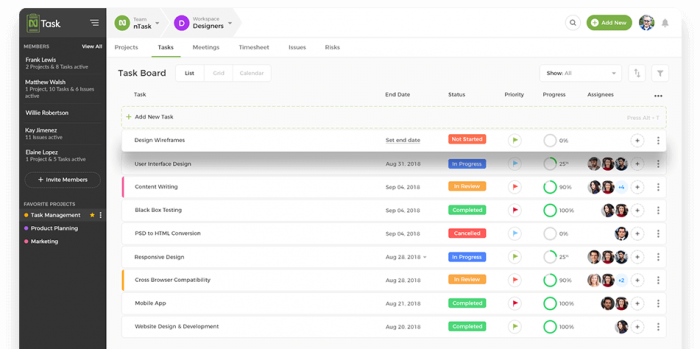 One of the best project management applications that prove to be an amazing CRM tool for your business is nTask. The application has all of the different features mentioned in the acceptance criteria.
The software is feature-packed to the brim and is the application you need to make your sales process, customer relationship improvement, and project development process, a success.
Key Features
Reporting
Meeting agendas
Project budgeting
Calendar sync with Google
Cost estimating
File sharing
Minutes of meeting
Feedback management
Calendar management
File attachments
Security
Pricing
Free basic plan with 100MB storage, and unlimited tasks
Premium subscription starts at $3/month per user
Business subscription starts at $8/month per user
nTask is a loved by the sale teams.

Manage all your tasks, projects, meetings, timesheets and more in one place. Sign up today!
2. Sugar CRM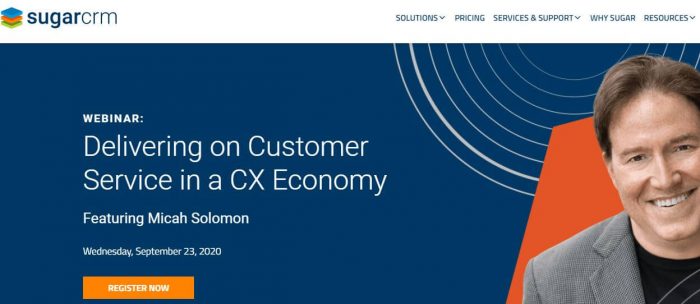 Sugar CRM is an incredible application that tracks the entire communication journey the customer and the company representative, embark upon.
The application is a brilliant one as it gives you a proper idea about the view of the customer and perfectly anticipates an opportunity to convert them.
Key Features
Marketing Automation
Customer Support
Email Integration
SalesForce Automation
Social CRM
Pricing
Paid subscription starts at $52/user/month
3. Pipedrive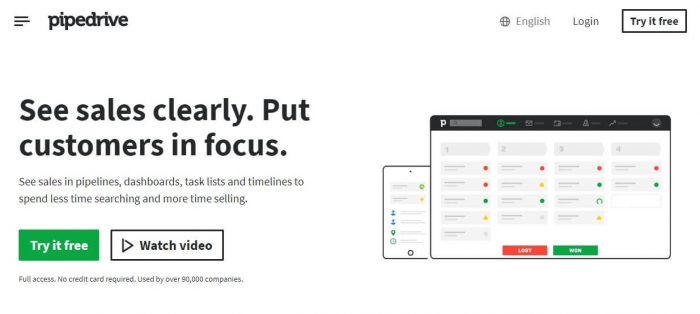 If you are a small business and you need a software that won't break the bank but won't compromise on the quality of features that it provides, then you have to go with Pipedrive.
The application has over 50k users and is one of the leading CRM tools that take care of all of the different sales management processes related to your company.
Key Features
Activities and goals
Contact History
Email integration
Full Customization
Google Calendar & Contacts Integration
Mobile Apps
Pipeline Management
Roles & Organizational Hierarchy
Sales reporting
24/7 Support
Configurable Workflow
Customer Database
File management
Goal Setting & Reporting
Meeting management
Multi-Language
Powerful API
Rule-Based Workflow
Sales forecasting
Summary reports
Pricing
Paid Subscription starts at $15/month
4. Insightly

Insightly application is another example of a brilliant business and project management software that can prove to the best CRM tool that you can find on the market.
Key Features
Automatic address book
Automatic notifications
CRM
Client management
Contact Database
Custom charts
Custom objects/apps
Customizable fields
Customizable templates
Data filtering
Duplicate detection
Email templates
Event-triggered actions
File sharing
Lead assignment
Lead distribution
Native iOS & Android mobile apps
Powerful Google & Microsoft calendar integration
Project tracking
Recurring tasks
Scheduled reporting
Sidebar chrome extension
Status tracking
Task management
Pricing
Paid Subscription starts at $29/month
5. Zoho CRM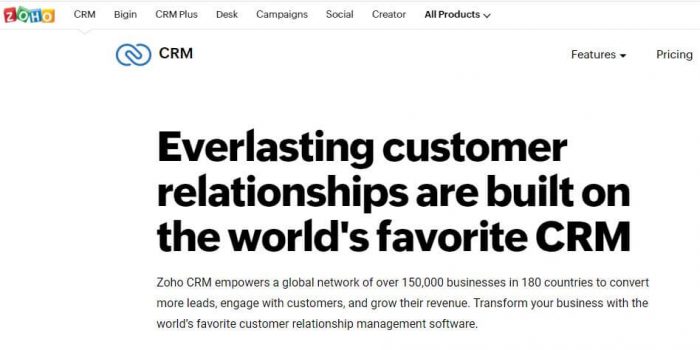 An example of a CRM software that is a part of a great software family 'Zoho' is Zoho CRM.
The software is an amazing application that helps you reach your potential clientele at just the right time and improves your customer relations process.
Key Features
Artificial Intelligence
CRM with Email
Call and Email Workflows
Contextual Form Builder
Custom Signals
Customer Segmentation
Developer API for Third-party Integration
Gamification
Inventory Management
Marketing Attribution
Mass Email
Multiple Pipelines
Real-Time Data
Review Process Management
SalesForce Automation
Social CRM
Workflow Approval Processes
Workflow Suggestions and Reports
Analytics Mobile App
CRM Analytics
Call Customization
Cohort & Quadrant Analysis
Custom Modules
Customer Journey Planner
Customer Support & Service
Pricing
Paid subscription starts at $12/year
6. Freshdesk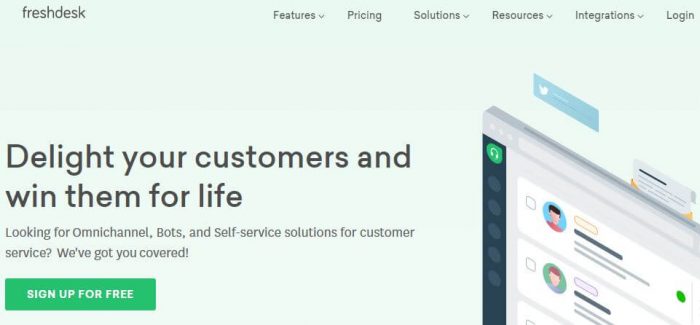 The Freshdesk application has an amazing customer relations management system that is coupled with an incredible automated helpdesk to increase the efficiency of your customer relations.
Key Features
Agent & group performance reports
Automatic email notifications
Business rules management through SLAs
Community forums
Custom contact & company fields
Customer self-service portal
Customizable ticket forms
Event-triggered workflow automation
Filtered search
Integrated game mechanics
Knowledgebase
Live chat channel
Portal customization
Activity log
Agent collision detection
Automatic, skill-based & load balanced ticket assignment
Pricing
Paid subscriptions start at $19/month
7. Freshsales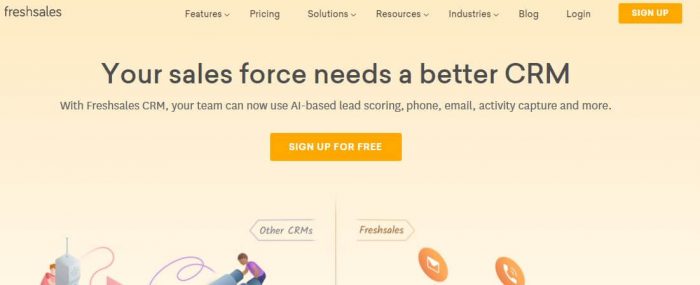 If you are a fast-paced team that wants to be on top of everything, always, then Freshsales is the best CRM application for you.
Key Features
Lead scoring
Segment and organize your team
360° Customer view
Auto profile enrichment
Appointments, tasks, and notes
Pricing
Paid subscription starts at $12/month
8. Creatio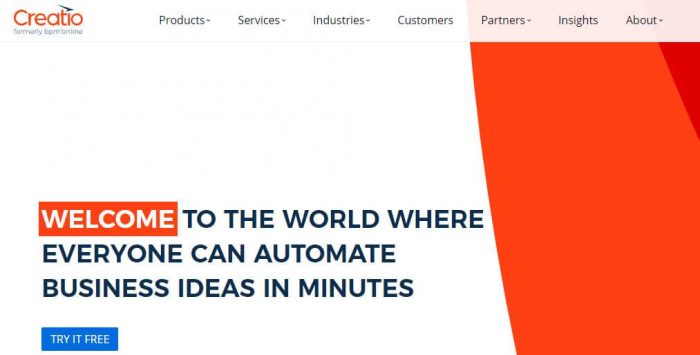 An incredible software that combines all of the different sales, marketing, and customer service features in one amazing package to help your customer relations is Creatio.
Key Features
Social media platforms integration
Lead Management
Analytics
Customer Data Management
Document Management
Knowledge Management library
Communications
Pricing
Paid subscriptions starts at $25/user/month
9. Apptivo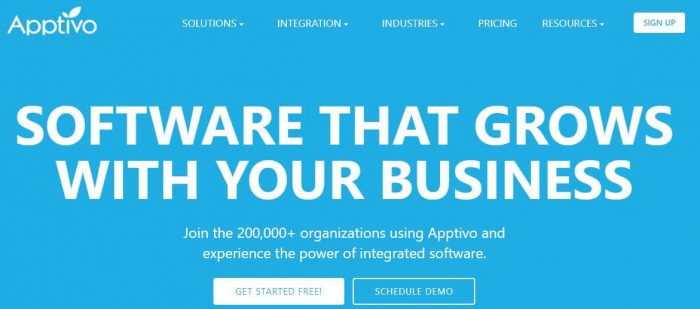 Apptivo is a pure sales-related application that can intensify your sales process and help your customer relation process.
Key Features
Contact Management
Lead tracking & auto-assignment
Workflow & marketing automation
Detailed role-based security
Audit trail
Automatic reminders
Calendar sync with Google
Customer accounts
Customizable branding
Customizable templates
Document storage
Estimating
Full-text search
Help desk management
Job management
Lead distribution
Pricing
Paid subscription starts at $10/month
10. PipelineDeals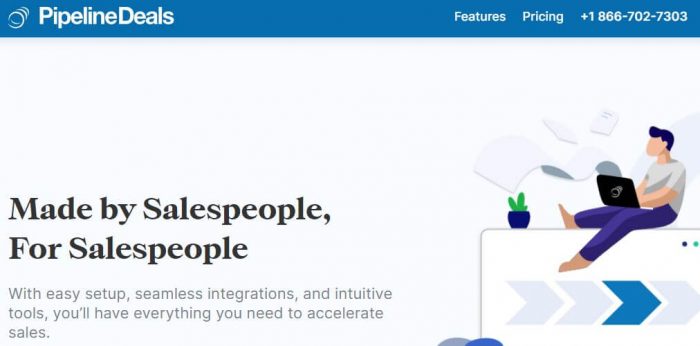 PipelineDeals is designed to streamline the process of sales, the application has an amazing dashboard comprising of all of the tools necessary to improve your customer relations process.
Key Features
Lead Tracking
Customer Relationship Management
Calendar
Customizable Lead Status and Sources
Custom Color, Branding, and Subdomain
Email Marketing Integration
Native iPhone & Android Apps
Sales Pipeline Tracking
Email Insights and Analytics
Customizable Reporting
Deal Tracking
Document Storage
Customizable Deal Stages and Custom Fields
Customizable Note Categories and Tags
Google Apps Integration
Outlook Integration
Lead Management
Email Tracking
Pricing
Paid subscription starts at $25/month
11. Microsoft Dynamics 365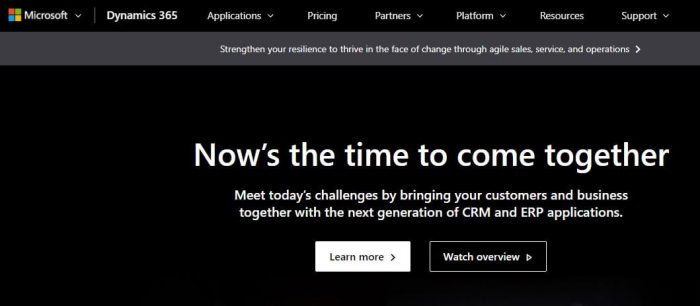 Microsoft Dynamics 365 is an amazing one that encapsulates the data, people, and the sales processes related to your business, in one software, which you can use to improve your customer relations process.
Key Features
Sales & marketing
Budgeting & forecasting
CRM integration
Campaign management
Cash flow statement
Estimating
Fixed asset management
HR management
Sales & inventory forecasting
Sales orders
Calendar management
Capacity monitoring
Cash management
Employee management
Financial management
General ledger
Inventory management
Pricing
Paid subscription starts at $8/month
12. Odoo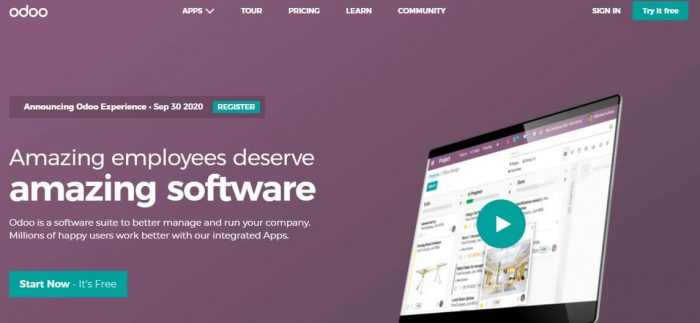 The Odoo application is an open-source CRM tool that can help you improve your customer relationship process effectively.
Key Features
Dashboard creation
Email templates
Human Resources
Lead assignment
Accounting Integration
Action item tracking
Action planning
Real-time data
Sales forecasting
Summary reports
Team chat
User activity monitoring
Bid management
Billable hours tracking
Bills of material
CRM integrations
Customer management
Data import/export
Gantt charts
Instant messaging
Pricing
Paid subscription starts at $20/month
13. Less Annoying CRM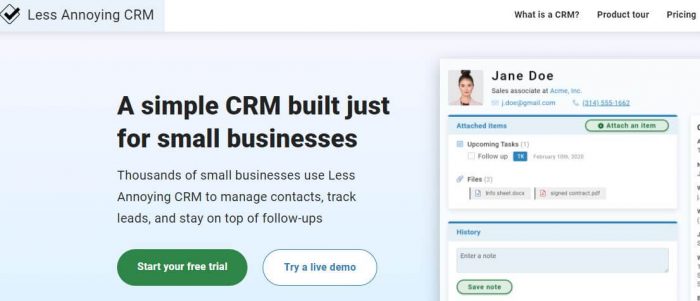 The Less Annoying CRM is designed for small to medium businesses, the application is an amazing CRM application that has the potential to greatly improve your customer relations process.
Key Features
Track sales lead
Enter and categorize notes
Share contacts with your co-workers
Mobile website
MailChimp integration
Simple contact management
Set reminders
Pipeline reporting
Create contact groups
Manage your sales team
Pricing
Paid subscription starts at $10/month
14. Podio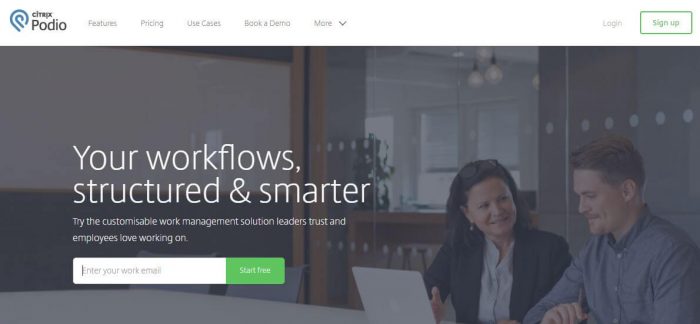 Podio is a highly customizable application that every user can tweak according to their specific requirements to improve its customer relations process.
Key Features
MS Exchange integration
Mobile apps for Android, iPhone & iPad
Dynamic cardboards
Activity tracking
Automatic notifications
Calendar management
Collaborative review
Collections management
Configurable workflow
Reporting
Email integration
File sharing
Indexing
Simple CRM & sales tracking
24-hour personal support from the Podio team
Time tracking by project
Activity management
Pricing
Paid subscription starts at $9/month
15. WorkBook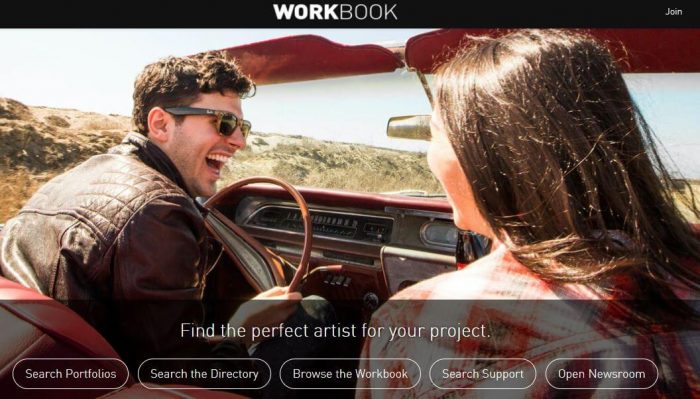 WorkBook is a project and resource management software, that has proven time and time again to be an amazing CRM tool that can help improve your customer relations process immensely.
Key Features
Project Management
Time, expense, material, and mileage entry
Inter-company settlement
Customer Portal
API
CRM & Pipeline Management
Resource Management
Subscription Management
Multi-company / Multi-currency / Multi-language
300+ built-in reports and a report editor included
Collaboration
Pricing
Paid subscription starts at $23.62/month
16. Scoro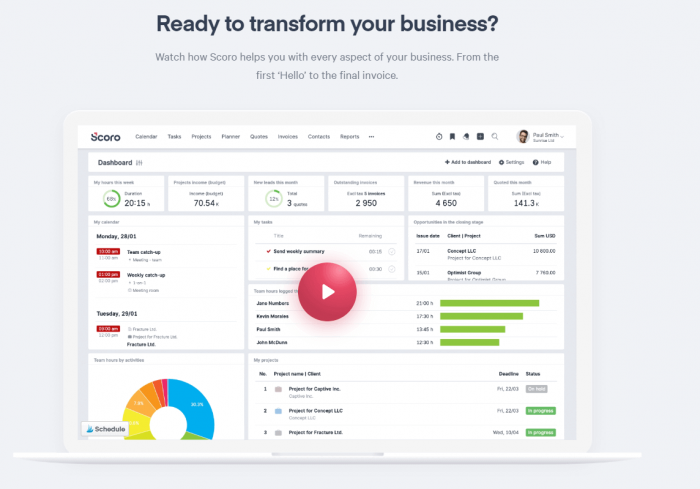 Scoro is a dedicated CRM software that you can use to optimize your sales and customer relations process and increase the performance capabilities and the overall productivity of the sales team.
Key Features
Automated Alerts
Budget Control
Business Dashboard
Calendar Management
Company News Feed
Currency Conversion
Customer Management
Customizable Templates
File Management & Sharing
Invoices & Expense Management
Lead Management
Multi-currency and Multi-language
Overtime Tracking
Permission Management
Project Management
Quote Management
Role-Based Permissions
Advanced Reporting & Analytics
Billing & Invoicing
Budgets & Forecasts
Business Intelligence
Client Management
Pricing
Paid subscription starts at $26/month
17. Salesforce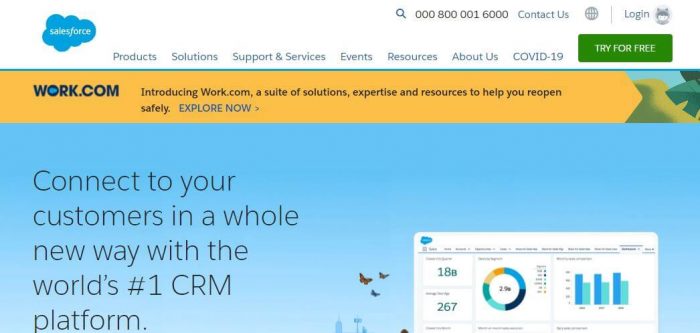 Salesforce is an amazing CRM software that combines all the goodness of marketing and sales in one amazing application that helps convert potential customers.
Key Features
Contact management
Lead management
Sales forecasting
Sales collaboration
Email integration
Pricing
Paid subscription starts at $75/user/month
18. Highrise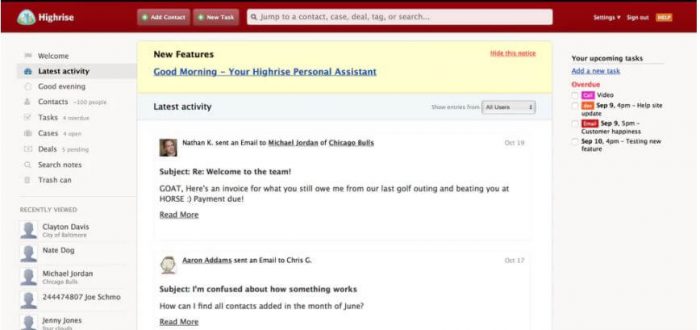 HighRise CRM application is great at contact and communication management as it keeps track of all of the conversations that the people have and all of the tasks that are connected to those people.
Key Features
Store customer emails
Attach documents and files
Task tracking & reminders
Notes & comments
Proposal & deal tracking
Share contact/ company data
Data import/ export
Mobile app for iPhone or Android
Import contacts from Outlook or Excel
Reply to emails
Assign tasks
Email/ SMS notifications
Meeting notes
Custom privacy setting
Custom data fields
Track employee reviews
3rd party integrations
Pricing
Paid subscription starts at $24/month
Related:
7 Best Highrise CRM Alternative to Use in 2022
19. Infusionsoft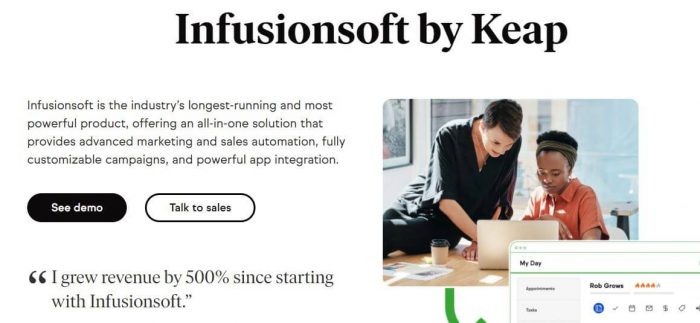 InfusionSoft is an amazing communication management software that uses the power of AI to track the writing patterns of the customers talking to you and generates responses according to that research.
It is an amazing application that greatly improves your customer relations process.
Key Features
Marketing Automation
Multimedia marketing management
Social Sharing
Track orders
CRM
E-Commerce
WebForms
Built-in metadata and keyword fields
Pricing
Paid subscription starts at $199/month
20. HubSpot CRM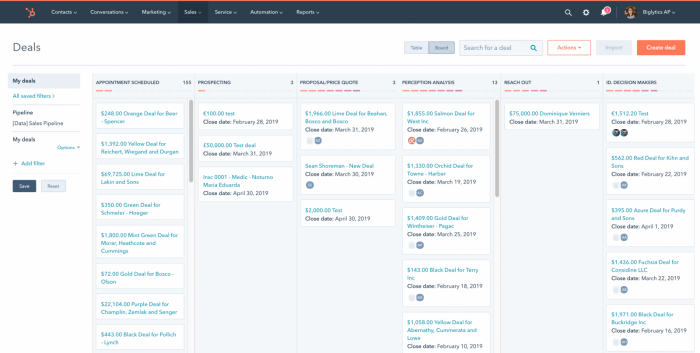 HubSpot CRM an amazing software that helps streamline the organization and tracking of different communication pipelines to improve the customer relations process.
Key Features
Pipeline management
Contact database
Content management
Email archiving
Email tracking
Shared history
Task planning
Task tracking
Email monitoring
Prospect database
Lead timelines
Contact history
CRM integration
Email integration
Recurring tasks
Social media integration
Task scheduling
Call monitoring
Pricing
21. NetSuite CRM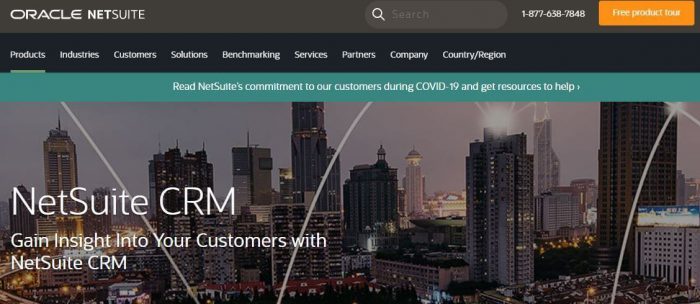 If you work in sales, you will know that sales forecasting is always a twisted puzzle that is very difficult to solve. Thankfully, NetSuite CRM untangles that puzzle to improve your customer relations.
Key Features
Sales forecasting
Billing & invoicing
Customer self-service
Customization platform
Ecommerce
Global sales & service organizations management
Integration with Microsoft Office & Outlook
Marketing lead source/ROI/revenue by lead source
Salesforce automation
Accounting integration
Commission management
Customer support & service
Dashboards, analytics & reporting
Email marketing, target list segmentation & creation
Incentive compensation management
Marketing automation
Pricing
Paid subscription starts at $129/month
22. Base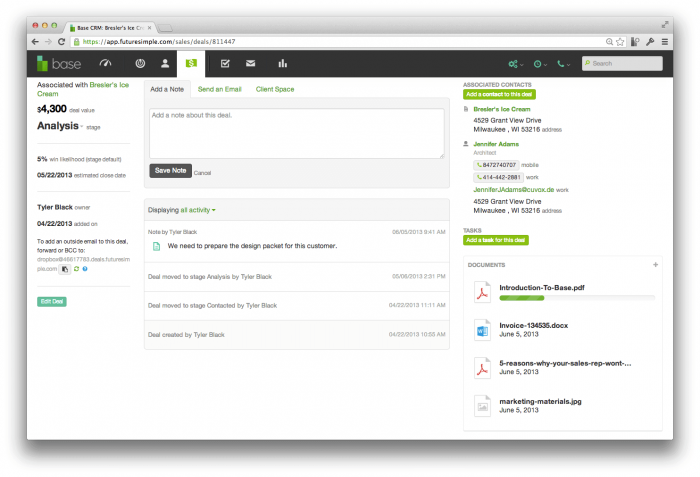 Base CRM is an amazing lead management software that enables you to gather all of the different opportunities form all of your social media handles and the website, to increase sales.
Key Features
Sales management
Mobile sales management
Sales forecasting
Lead tracking
Customer management
Sales reporting and analytics
Pricing
Paid subscription starts at $45/user/month
23. Nimble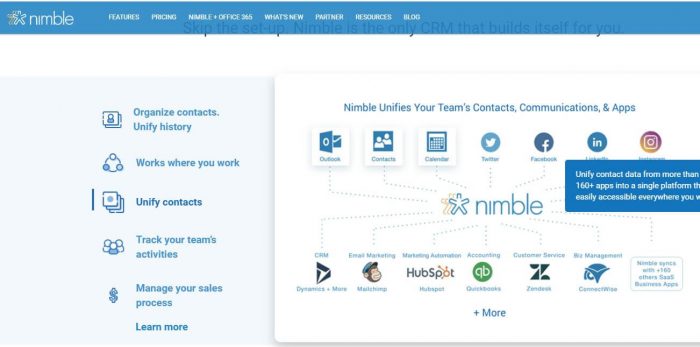 Nimble is a great application that has amazing contact management and notification features that automatically update the customer information that greatly helps in developing customer relations.
Key Features
Contact Management
Deal Pipeline and Reporting
Android and iPhone App
Sales & Marketing Automation
E-mail Tracking and Analytics
Pricing
Paid subscription starts at $12/month
24. Instream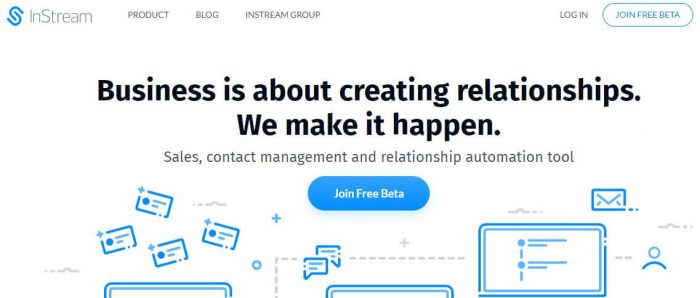 Instream is an amazing contact management application that helps the sales team to be more productive and form long-lasting customer relationships.
Key Features
Relation list management
Customizable lists
Action management
Assignment management
Calendar management
Communication management
Contact history
Fast-filter options
Help desk management
Real-time conversations
Status tracking
To-do tasks
Goal setting/tracking
Communication monitoring
Reporting & statistics
Appointment tracking
Custom fields
Cataloging / categorization
Task management
Contact management
Client management
Customer support tracking
Pricing
Paid subscription starts at $6/month
25. Capsule CRM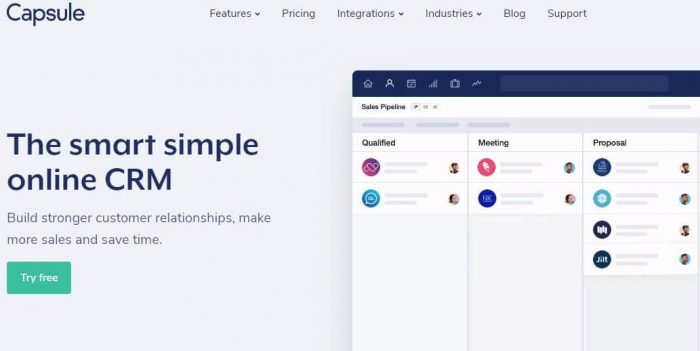 Capsule CRM is another contact management application that helps you take control of the whole operation from a single interface where you can manage different customers, contacts, vendors, and leads.
Key Features
Activity & sales reports
Customize Capsule to fit your business
Manage groups of contacts with lists
Access your account from anywhere, securely
Arrange Capsule into Teams
Get a complete contact view
Manage your sales pipeline
Team management & user access controls
Pricing
Paid subscription starts at $18/month
26. WORKetc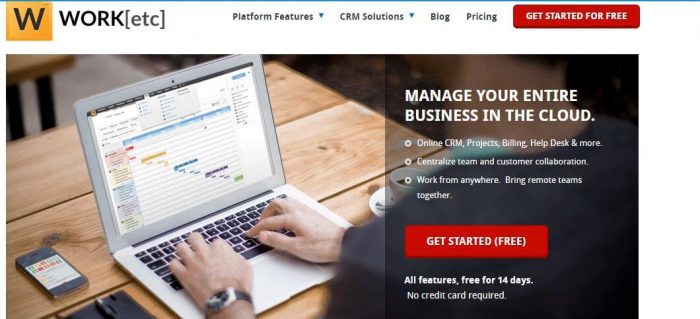 Finally, the last item on the list is WORKetc. It is an amazing CRM application that helps the team with the reporting, billing, and most importantly the customer relationship process.
Key Features
Campaign Management
Task Management
Lead Assignment
Filtered Views
Reporting & Statistics
Gmail and Outlook plugins
Customizable Fields
Accounting Integration
CRM integration
Customizable Reporting
Data Filtering
Data Synchronization
Document Management
Contact Management
Dependency Management
Billing Rate Management
iPhone, Android & mobile support
Invoices
Timesheet Management
Activity Tracking
Customer History
Customizable Templates
Pricing
Paid subscription starts at $78/month
27. Messagely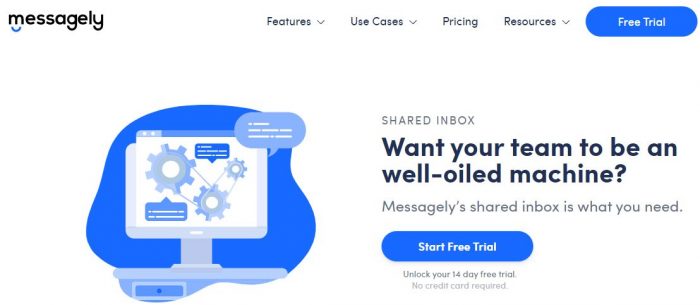 Messagely is a modern messaging platform built that helps businesses acquire, engage, and support customers from one platform. This feature-rich app offers the ultimate customer support kit, including a live chat tool, help desk, shared team inbox, and knowledge base.
If you are looking for a one-stop solution for all your customer relationship management problems, Messagely won't disappoint you.
Key Features
Live Chat
Targeted Messages
Full background and context into customers
A shared inbox that keeps all messages in one place
Customizable messages to the visitor based on viewing history
Pricing
Free 14-days Trial
Paid subscriptions start at $29/month
28. BIGContacts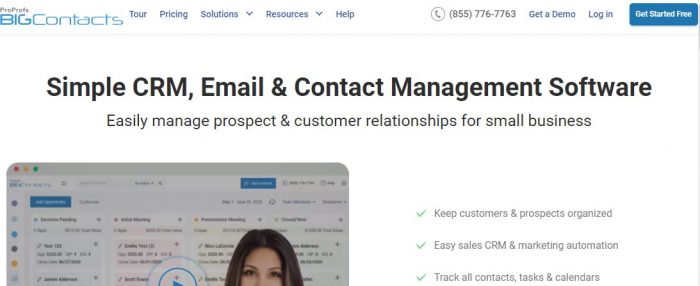 BIGContacts is another affordable CRM for small and medium businesses to manage prospects and grow customer relationships to deliver a delightful customer experience.
The software offers a 360-degree view of all customers' activities and assists your sales, marketing, and customer service teams to make informed decisions collaboratively.
Key Features
Customers' & prospects' data management

Task management

Social media features

Automated tasks & reminders

Easy tracking of all contacts

Sales pipeline

Powerful sales reports

Email marketing automation

Customizable workflows

Analyze teams, leads & campaigns

24/7 support
Pricing
Paid subscription starts at $5/month.
29. Vtiger Sales CRM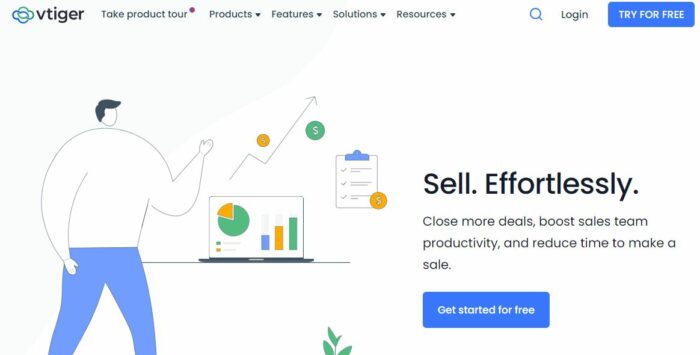 Another excellent CRM tool that you can use in 2022 is Vtiger Sales CRM. The software was designed to streamline all of the communication and collaboration channels between the customers and the employees of the sales department.
The software also helps make sure that all of the tasks and processes of the sales department are automated, and there are no hurdles in their execution.
One of the best things about this wonderful CRM application is that you can embed it perfectly in your system if you are a small business or company, and you can access all of your sales data and other information about your company that you put in the software, from anywhere you want.
Here are some of the key features that this application has to offer to its clientele worldwide.
Key Features
Contact Management
Opportunity Management
Case Management
Performance Reporting
Subscription Management
Flexible Workflows
Insights
Email Marketing
Forecasting
Workflow Automation
Lead Management
Security management
Product Customization
Customer Portal
Tasks and Activities
Pricing
The application is full of different features that you can check out for free via the free trial that the company offers to all its potential paying customers
If you want to get paid subscription to the application with more premium features than the free version, then you need to pay $30/user/month
If you want to get the ultimate package that has all of the features that this application has to offer, then you will have to pay $42/user/month
30. Bitrix24

And last but not least, Bitrix24. The application is an excellent CRM tool that you can use if you are a business looking for a tool with a wide range of different customization options, features, and tools.
One of the best things about the software is that it is mostly free with a free domain and many website tools. All of this budget-friendliness makes it an ideal option for small businesses that are incredibly tech-friendly and have a relatively low budget to spend on software.
You need to know that the software is not the easiest to use, and there is not much support to get you on the right path if you get stuck, but otherwise, it is an incredible software that is affordable and capable.
Here are some features of Bitrix24 that you need to check out right now.
Key Features
Bulk email
Company structure
CRM reports
Email notifications
File sharing and versioning
Photo albums
Sales funnel
Tasks
Activity Stream intranet center
Calendar sharing
CRM
Daily planner
Extranet
Instant messages
Project groups
Simple access assignment
Pricing
There is a free trial of the software for use if you want to make sure that the features and the functionality that the tool provides follow the needs and requirements of your sales department
If you want some more premium features than the free version, then you can buy the paid subscription of the application, which will set you back $49/month
Frequently Asked Questions
1. What are the Three Types of CRM Software?
Operational CRM: This type of CRM uses marketing and sales automation to provide a visual representation of the customer's journey with the company
Collaborative CRM: This type of application shares all of the relevant information about the customer to the external and internal stakeholders
Analytical CRM: This type of application tracks all of the customer data to help the company make better decisions in the future
2. What is the Salesforce CRM called?
Here's a link to the Salesforce CRM software in question.
3. Who uses CRM?
Every sales team wants to improve its customer relations and increase sales.
Conclusion
We handpicked these tools for you after surveying the internet. It might be possible that you are using a program that's not on the list. If that's the case, do let us know through the comments section below. We will be adding your favorite tool later.
Happy Hunting.