Your organizational values are the core of your work environment; they show others who you are as a company and can substantially impact your recruiting and hiring efforts, employee engagement, and overall success.
They are the core principles and deeply held beliefs that enable a company to deal with complex situations while retaining its identity and culture.
According to a Gallup poll, one-third of employees believe that their company's mission and purpose make them feel important. By increasing that ratio to eight out of ten employees, business units saw a 51% decrease in absence, a 64% decrease in safety issues, and a 29% rise in quality.
That being stated, we have created a list of core value examples to assist you in making business decisions that are consistent with your core beliefs and the goals of the company.
---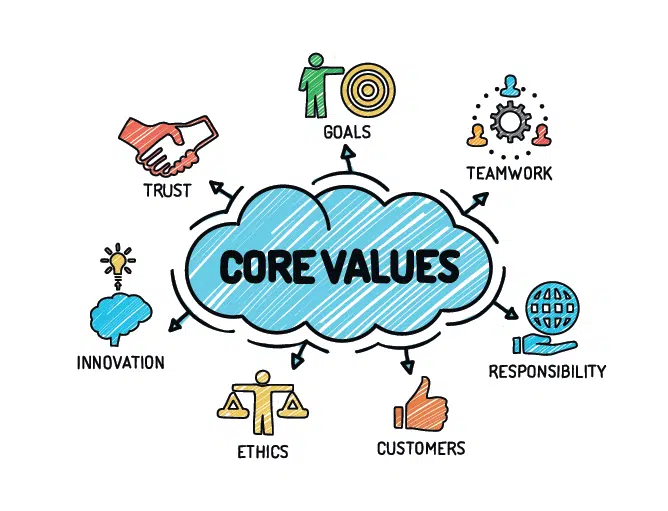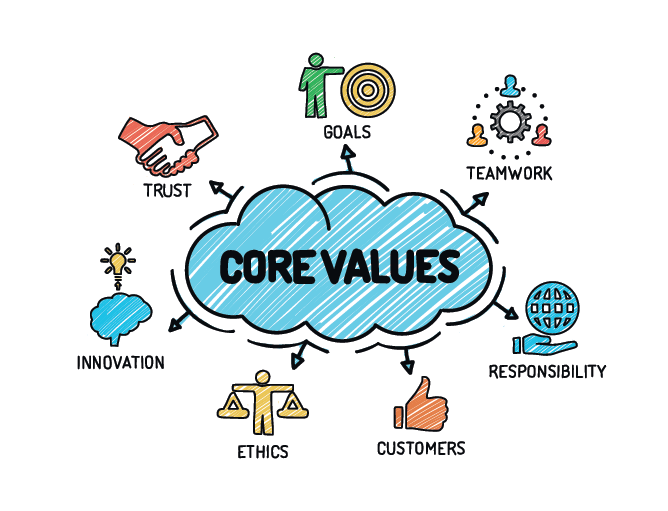 Why are Core Values Essential for Your Business?
It is your company's individuality, its Essence, the reason for its being, and the North Star that continuously guides your business toward its goal and vision. And to propel your firm forward, workers from multiple departments must collaborate, share the same values, and consistently implement them at work.
Some more advantages of having core values are:
When fundamental values connect with business strategy and goals, teams feel empowered to perform at their best
When looking for a new job, your corporate culture may assist potential workers in assessing if your firm meets their personal fundamental beliefs, objectives, and aspirations
Understanding the company's values makes you more competitive in the marketplace and as an employer.
Understanding your company's culture may assist executives and project managers in making more informed decisions and taking more measured risks
Here's a more comprehensive list of values that businesses appreciate.
Integrity
Everyone who represents the corporation and the company's overall conduct must act with high ethics.
Honesty
It is not just the best policy. Transparency and trustworthiness are essential business practices that gain the respect of colleagues, consumers, and the general public.
Fairness
Everyone deserves and expects to be treated with ordinary decency.
Accountability
Accepting responsibility for your acts (and inactions) is the ultimate method to foster internal and external trust.
Customers' Promise
Creating a great client experience starts with being true to our words and the ties we form.
Diversity
Organizations develop by bringing together people with varied life experiences and backgrounds in a shared environment where everyone has equal opportunity.
Learning
Nobody is aware of everything. Successful firms have a culture of humility and continuous learning.
Teamwork
When individuals collaborate, they have the potential to build something larger than themselves.
Passion
Having a sense of joy for our work and others around us so that everyone may be brave, innovative, and creative.
Quality
Because the quality of a company's goods and services is evaluated, the highest standards must be met.
Your core values must be communicated to all levels, not just the leadership management. Purpose enhances more than just employee satisfaction; it also increases your bottom line and builds customer trust.
We believe that reading motivation rather than guidelines will assist you in getting started on your core values list. As a result, we gathered core value examples from different successful organizations.
---
10 Companies having Most Effective Core Value Examples
Be the Next One
We strive to reach the highest quality standards in all we do. We are constantly aiming for the next great thing, constantly challenging ourselves to improve and break new ground.
Feel the Experience
Our world may be unpleasant, baffling, and even difficult at times. We all care about our customers, partners, and coworkers. We have all been there, therefore we behave with empathy and humility.
Our Initial Aim is to Act
We have the confidence to venture outside our comfort zone and explore fresh and innovative ideas since we are passionate about our core aim. Genuine failure is viewed as a future learning opportunity.
Do the Right Thing
Everything we do is rooted in truth. We are regarded and appreciated for our commitment to honesty, trust, and transparency. We do the right thing even when no one is looking.
Better Together
We have created a positive, friendly environment that promotes open, honest, and meaningful friendships. We celebrate and accept our diversity, allowing everyone to feel included. We invest in one another, and as a result, we win and grow as a team.
Accessibility
We believe that customers, small businesses, and other organizations should have access to the hardware, software, services, and technology they need to thrive.
Promote education
Education helps everyone to reach their greatest potential, which is why we are committed to providing chances for individuals from all backgrounds to study through collaborations in over 100 countries.
Racial equity and justice are all critical
Apple emphasizes its worldwide leadership position in promoting equality and combating injustice worldwide.
Trust
We are trusted advisors. We earn the trust of our customers, employees, and extended family via transparency, security, compliance, privacy, and performance. In addition, we offer the most trustworthy infrastructure on the market.
Customer Satisfaction
We thrive when our clients thrive. As a consequence, we encourage them to accomplish extraordinary things. We develop and expand our company's goods to provide new chances for all stakeholders to achieve even greater success.
Innovation
We work together to innovate. Our consumers benefit from constant technology improvements and new efforts. Our clients' feedback helps us build products that best match their business needs.
Equality
Everyone has the right to equal opportunity. Everyone should be seen, recognized, valued, and provided with the necessary resources to succeed. Hearing other people's perspectives sparks innovation, develops interpersonal relationships, and makes us a better company.
Sustainability
We are taking tremendous measures to address the climate problem. We are committed to using Salesforce's full potential to accelerate the world's transition to net zero energy.
Passion
Passion creates excitement about what we do and how we do it. We promote ideas, inspire excellence, and develop creative approaches to remove barriers to advancement, with enthusiasm at the heart of all we do.
Integrity
As a firm, it is our most valuable asset. It is the foundation of trust. Individually, it is the continual decision to include honesty, fairness, and respect for both clients and coworkers in all actions.
Unity
Unity celebrates diversity. Combining each team member's collective experiences, diversified abilities, and individual talents generates unstoppable momentum and drives impossible tasks.
Innovation
Action is motivated by innovation: taking chances, encouraging curiosity and new ideas, learning from failures, and continually striving to surpass expectations. We create solutions for our clients and raise the bar via innovation inside our organization and within our industry.
Impact
It demonstrates the power of our shared principles and combined efforts to effect positive, game-changing change and give quality to our customers, coworkers, and communities.
Adding Client Value
Developing long-term relationships with clients and allowing them to become high-performance businesses by being responsive, relevant, and consistently offering value.
Unified Global Network
We utilize the power of global information, relationships, cooperation, and learning to give outstanding service to clients wherever they do business.
Individual freedom 
Accenture promotes diversity and unique contributions, develops a trustworthy, open, and inclusive environment, and respects each individual in a way that reflects Accenture's principles.
Exceptional Team
Attracting, developing, and retaining the best people for our business, as well as challenging our employees, demonstrating a "can-do" mentality, and fostering a collaborative and supportive environment.
Integrity
Being unwaveringly ethical and honest, as well as inspiring trust, by saying what we mean, doing what we say, and accepting responsibility for our actions.
Stewardship
Fulfilling our responsibility to build a better, stronger, and more durable company for future generations, protect the Accenture brand, meeting stakeholder commitments, acting with an owner mentality, developing our people, and contributing to the improvement of communities and the global environment.
Work Effort
Working hard requires figuring it out and completing the task. You understand that it is not merely a matter of doing more for the sake of doing more, but of confronting challenging tasks because they are the RIGHT things to do.
High Expectations
High standards suggest a refusal to compromise. It bothers you when you realize things could be better and decide to jump in and attempt. You scrutinize every aspect while focusing on the fundamentals – the genuine game changers. You have already shared it. Do you consider it a requirement, and when does it succeed? 
Hunger
Progress toward goals is vital to your survival, and overcoming obstacles is a source of great satisfaction. You take measured risks and compete to win. Never give up because you are hungry.
Helpfulness
Being a helpful coworker includes being a trustworthy and adaptive colleague. You speak clearly and frankly and put yourself out there for your team members to learn from and rely on. You accept any task, no matter how glamorous, and if it takes an unexpected turn, you are there to adjust the sails to the shifting winds.
Humility
Humility includes generosity and curiosity. Not afraid to try something new? Awesome. We genuinely care about what our team members think, and no task is too little.
Uniqueness
Regardless of our backgrounds, interests, or physical appearance, our diverse perspectives contribute to a culture in which decisions are based on ideas rather than organizational charts.
Creativity
We believe that innovation may come from anywhere and at any time; thus, each team member is encouraged to contribute new ideas during a daily meeting or a global hackathon.
Ambition
We are proud of our achievements thus far, but we will never stop pushing the limits of what is possible. We constantly consider the future and how we can think bigger and achieve better.
Team spirit
Our common purpose is to humanize the digital world. We work hard, celebrate our achievements, and confront our challenges together.
Enthusiasm
We foster a shared sense of purpose and adventure through celebrations, company-wide team activities, and employee-led culture crews.
Semrush core value examples
Ownership
We are all driven by the urge to get things moving. Drive meaningful initiatives to you because it is not worth wasting time on something you do not believe in.
Constant Challenges
We are continually looking for ways to improve things. Change is exciting; it does not have to be frightening.
Trust
This is what you have by default. Speak up and be your authentic self.
Empathy is encouraged
Leaders and salespeople should be kind and polite to one another and their customers.
Improve your Skills
Maintain your integrity and accept responsibility for your actions.
Promote Workplace Diversity
Promote peace, equal opportunity, and inclusion through internal efforts.
Xeros core value examples
Human
Xeros is sincere, inclusive, and concerned. We are pleasant and optimistic. We are kind, approachable, and empathetic. We are willing to be vulnerable to convey our fears, failures, and lessons learned.
Ownership
Xeros follows through on its commitments. We always deliver on our commitments. We acknowledge our mistakes and take appropriate action. To fulfill the tasks at hand, we work rapidly.
Challenge
Xeros is curious. We have huge ideas and great dreams. We take the initiative and welcome change, always seeking new and improved techniques. We welcome uncomfortable conversations and ensure that they are conducted with decency.
Enjoyable Experience
Xeros provides enjoyable experiences as well as ones that inspire and excite people. We give excellent service and go above and above.
Team
Xeros is a fantastic team player. We support Xero's purpose and objectives. We work together to get the best results for Xero and our clients. We acknowledge and congratulate one another's achievements.