The struggle of creating high-quality content is real. Leading content needs merging various ideas from many brains on content creation, evaluation, and delivery.
Even if you are a content trooper, you need a clear approach to connect with other team members, document their activities, and offer a home for all the information they generate.
This is where content collaboration, or the concept of handling all aspects of content creation and diffusion in one place, is helpful.
But how can you bring all your content activities together in one place? This post will demonstrate how. We would explain content collaboration, why your team needs it, and what technologies may help support it.
File sharing, distribution, and administration of corporate material inside an organization are made possible by information collaboration platforms, which allow employees to connect in real-time with team members and managers.
We all create and share a lot of content every day. Every day, 2.5 quintillion bytes of data are generated! We are constantly sharing files—documents, PDFs, sales decks, project ideas, training material, HR guidelines, and so on—with our coworkers through email, Slack, internal wikis, cloud storage services, and so on. Businesses become more digitally savvy.
Fortunately, some tools can help you. We will go through 7 of the best content collaboration platforms available.
Before we get there, let us go over some fundamentals.
Content Collaboration Platforms
A content collaboration platform is a tool that aids businesses in achieving two key goals. It promotes cooperation among all parties engaged in content creation and increases efficiency by simplifying most content workflow.
As a result, most such platforms have comprehensive document management features. Companies can use them to keep all files in one location, reducing team members' time searching for the correct file versions. Many of these products provide additional security capabilities to help prevent unwanted access to files.
During the review and approval process, such a platform allows teams to communicate on files, remark on assets, and annotate drafts.
Finally, most content collaboration software includes project management capabilities. Some use simple task lists, while others allow businesses to develop elaborate Kanban boards.
Importance of Content Collaboration Platforms
There are various advantages. The following are the most important:
To begin with, having content collaboration software in place implies quicker productivity and fewer errors. Because all files are in one location, there is no need to track down multiple versions, and teams can simply communicate about projects; the job gets done.
Content collaboration platforms also enable more creative input from all parties involved. Even the time-consuming chore of tracking down subject matter experts for their views is becoming obsolete.
Collaboration software also boosts engagement. According to research, 75% of employees regard teamwork to be "extremely vital."
Content collaboration platforms facilitate the simplification of organizational procedures. These technologies enable the configuration, management, and even automation of many production processes.
Content collaboration systems can help with two particularly tough processes: review and feedback. Such tools can help with process development and system implementation to ensure that feedback happens on time at each level of the content production process.
Our List of Top 7 Content Collaboration Tools for 2022
1. Wrike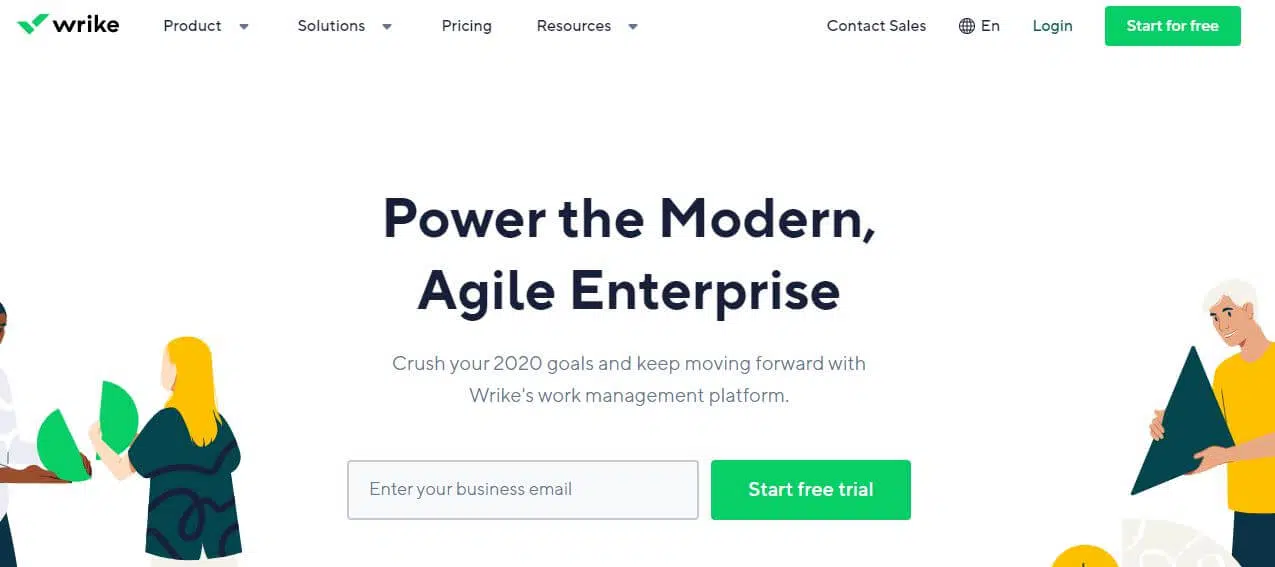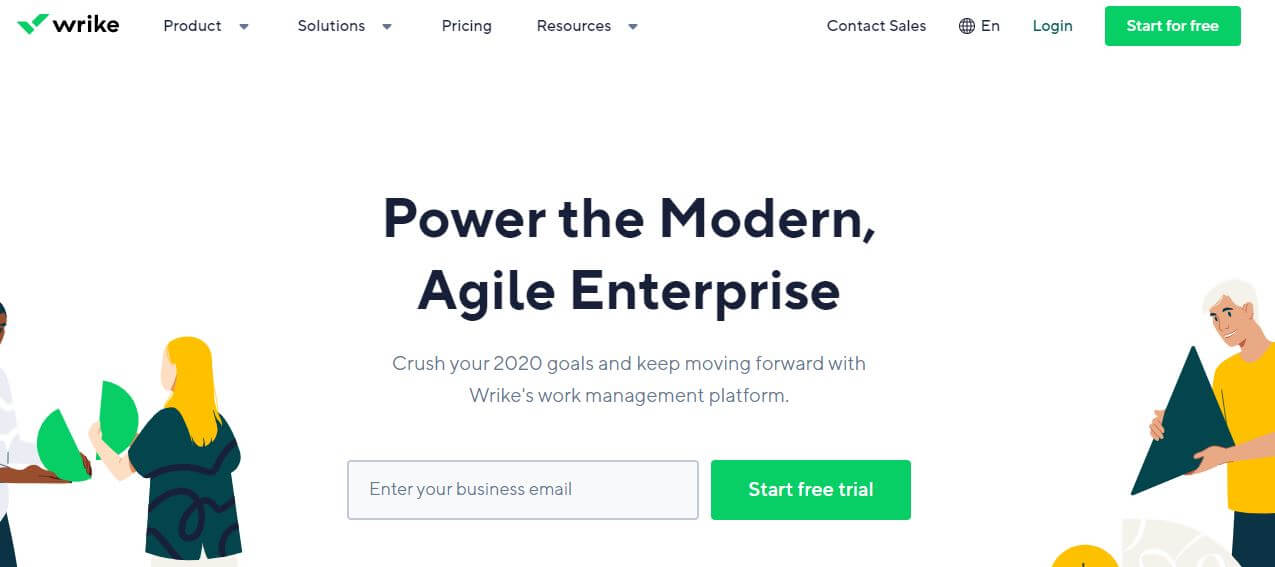 Wrike is a popular project management tool for teams of all sizes. Wrike is one of the most intensive content collaboration systems on the market.
The platform combines project management, file sharing, agile task management, a content center, online proofreading, and other features to help businesses generate content more quickly and efficiently.
Key Features
It can handle an unlimited number of projects at once
Includes a plethora of organizing features such as task lists, Gantt charts, resource management, time tracking, and custom dashboards
Wrike makes it simple to work on individual files within the platform, in addition to standard features like commenting on tasks, tagging team members in comments, and assigning tasks to several people at once
Wrike consolidates everything into a single area, reducing the need for version control
Pricing:
| | | | |
| --- | --- | --- | --- |
| Free | Professional | Business | Enterprise |
| $0/ user/per month | $9.80 user/month | $24.80 user/month | Not public |
Why Wrike?
At its core, Wrike is an easy-to-use tool for streamlining the internal project management and collaboration processes between team members, whether in the same office or separated by an ocean.
2. CELUM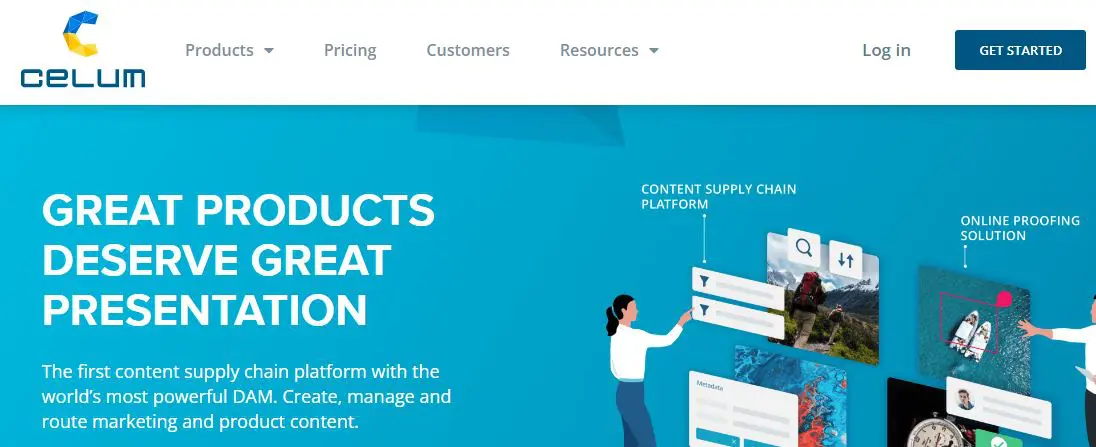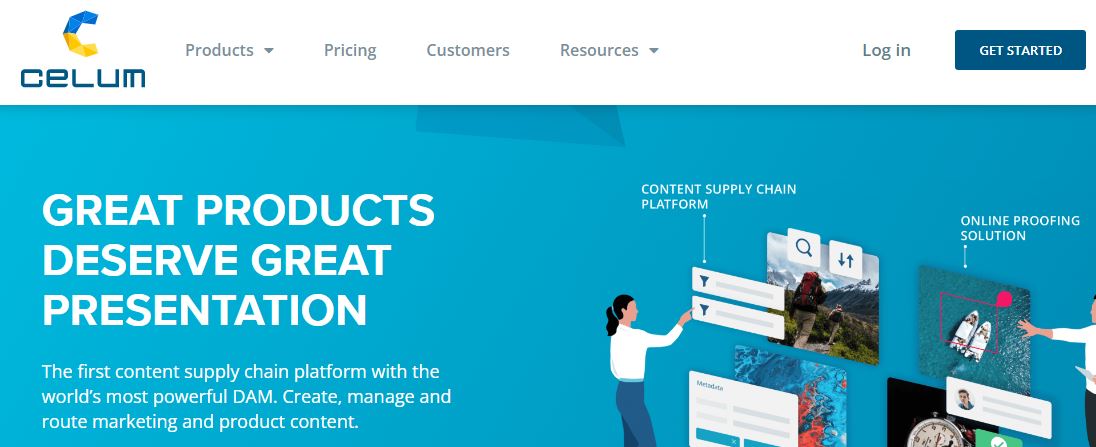 CELUM provides all of the capabilities needed to get everyone involved in content creation on the same page and improve cooperation and collaboration.
Key Features:
Advanced file organization- you can conveniently save and manage your team's work using CELUM's shared workrooms
You may also directly attach files to certain activities to boost efficiency even more
Tools for advanced cooperation- All stakeholders, from in-house creative teams to external suppliers, can effortlessly interact and get things done with CELUM
CELUM allows you to define complex roles and duties, as well as employ Robots to automate numerous time-consuming management chores
Deadlines and responsibilities- You can assign someone to a single job or make them responsible for all tasks on a list using CELUM
You can also specify their due dates and see the complete process from start to finish
Pricing:
CELUM provides a free unlimited subscription for up to ten users. Paid plans for larger teams begin at €14.90 per month.
Why CELUM?
The CELUM Cloud platform encompasses the complete content supply chain, integrating a content hub with tools for agile cooperation, process automation, online proofreading, and file synchronization and sharing.
CELUM's global client base of 900+ includes well-known companies like Mammoth, SCOTT Sports, HiPP, CLAAS, and voestalpine.
3. Google Workspace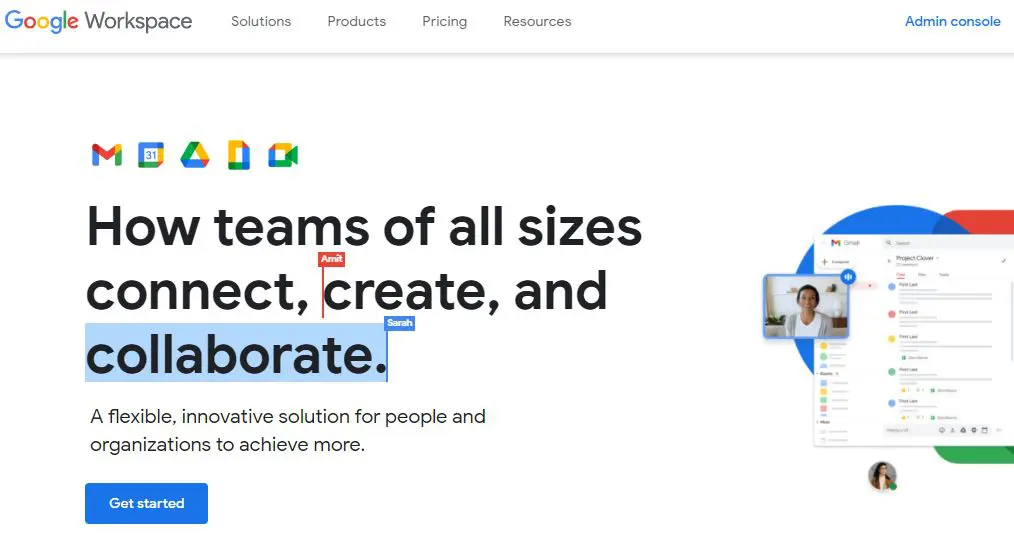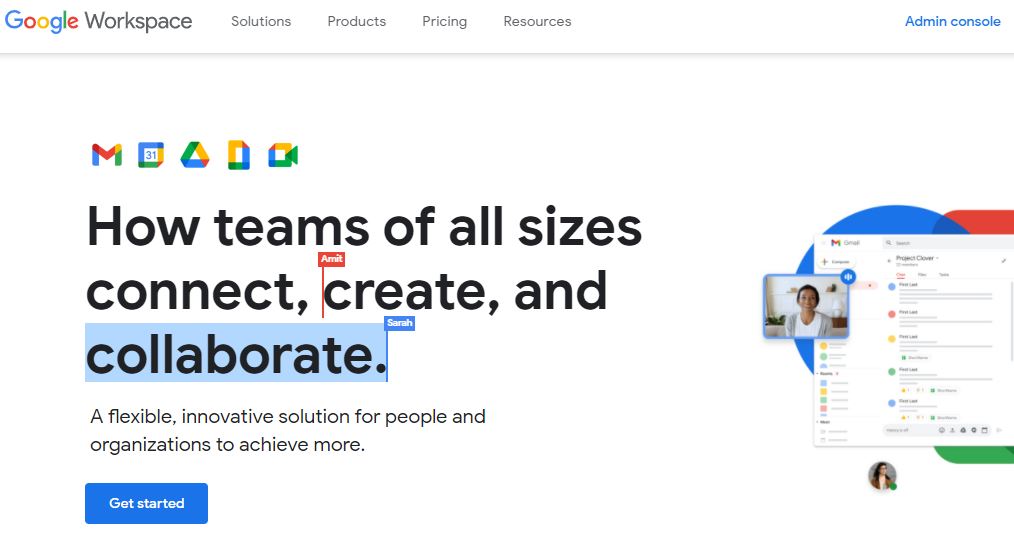 It is impossible to discuss content collaboration software without addressing Google's platform. Google Workspace includes tools that let companies collaborate on content. All Google apps – Docs, Suite, Sheets, Slides, and so on.
Key Features:
Google's content collaboration service, known as G Suite, has emerged as a market leader in the content collaboration area
G Suite comes with advanced administrative controls, 30GB of storage per user, live support, quick data transfer, and endpoint management
Autocomplete and other AI features
G Suite also includes a user-friendly interface designed by Google and advanced capabilities powered by artificial intelligence and machine learning.
Pricing:
Google Workspace costs €4.68 per user per month.
Why Google Workspace?
Google Workspace assists you in getting more done by instantly linking you to relevant content and people in Docs, Sheets, and Slides. We also know that when people work remotely and interact with clients online, building human ties is even more important.
4. ProofHub


ProofHub is a cloud-based team collaboration and project management system that includes built-in File Management software, allowing users to create, upload, organize, and collaborate on all their files and documents in one location.
You can attach files and documents to tasks, discussions, chats, and notes at any moment.
Key Features:
Tasks can be created quickly and easily by assigning them to various persons, establishing due dates and reminders, and adding task notes
Using Kanban boards, you can organize your work in a visually appealing manner
Set workflow rules for each project to assign tasks and interact with your team members
The Gantt chart functionality allows you to plan and track progress on all projects/tasks in one location
Use @ to communicate with your team members. You will also get
For real-time chats, there is an instant chat tool
Pricing:
ProofHub's premium subscriptions begin at $50 per month for a maximum of 5 users.
Why ProofHub?
ProofHub is an effective content collaboration software that managers can use to easily arrange their and their teams' daily tasks. Furthermore, with its extensive set of tools, managers may get total control over their teams and projects.
5. BoostHQ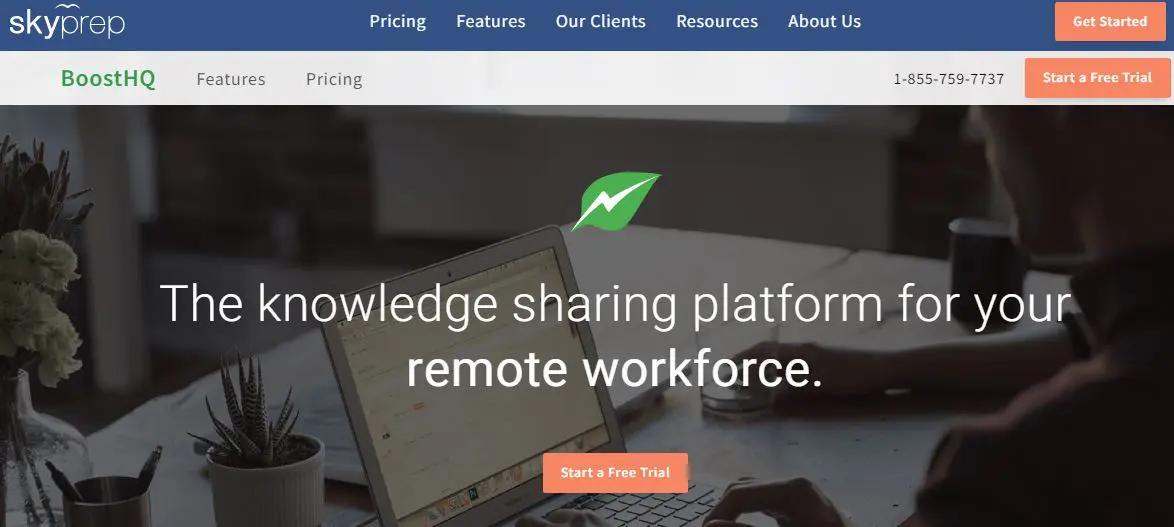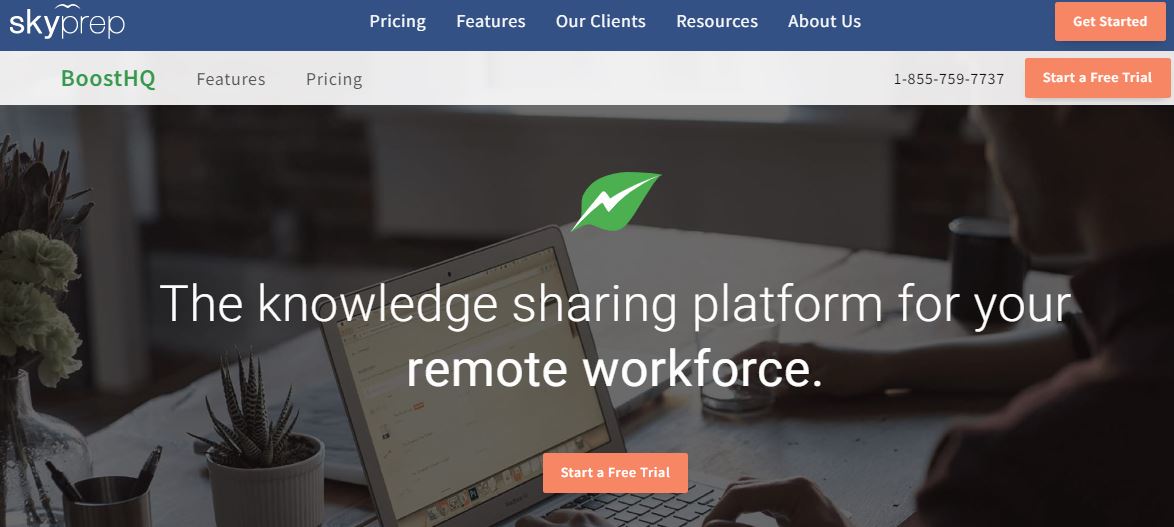 BoostHQ is another useful content collaboration solution that assists firms in creating, sharing, and organizing internal knowledge and information.
BoostHQ aids employees in organizing company knowledge into groups, categories, and tags, allowing for rapid and easy information search and retrieval.
Key Features:
Its major objective is to convey internal corporate information and content
Companies can utilize BoostHQ to gather and categorize their expertise and tag specific assets to make them easily accessible to diverse team members.
The platform also incorporates aspects that allow employees to share their thoughts, ideas, and experiences to enhance the company's knowledge base
Pricing:
BoostHQ subscriptions begin at $299 per month for 100 users.
Why BoostHQ?
When more content is required, BoostHQ smart search makes it available. It also enables employees to share their thoughts and experiences while also gathering and storing knowledge for future use.
BoostHQ's thorough analytics give you information on which materials are used most and who is the most engaged in your company.
6. Microsoft Office 365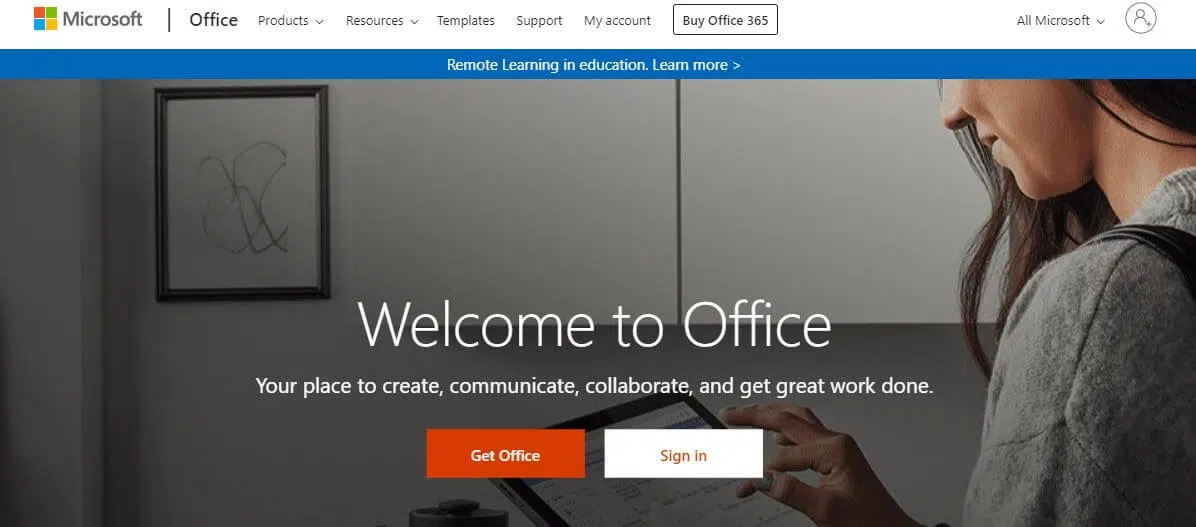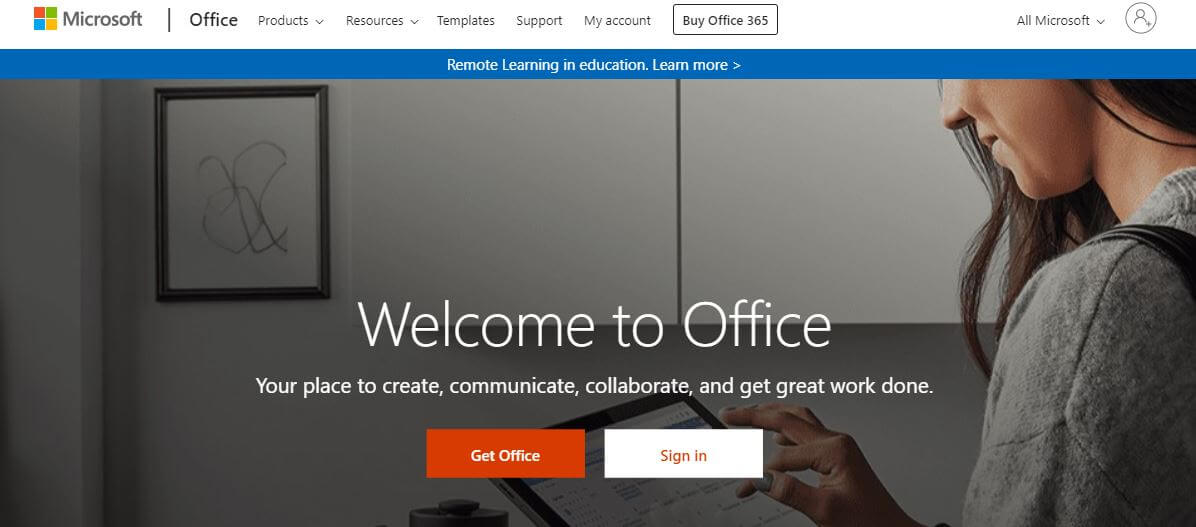 Microsoft Office 365 is one of the most established firms in the content collaboration space, having released the first edition of its products in 1998. Since then, Office has grown into a subscription-based cloud-based service for both companies and customers.
Key Features:
Outlook, OneDrive, Word, Excel, PowerPoint, OneNote, SharePoint, Teams, Yammer, and other essentials are included in the most recent edition of Office 365, merging communication and content production into one package
Furthermore, OneDrive acts as the central cloud hub for all other Office programs
Office has a well-established and tested user interface and user experience, and it is accessible on all major platforms, including Windows, Mac, Web, Android, and iOS applications.
Additionally, the application is automatically updated and offers templates for common use cases, allowing enterprises to deploy the solution for specific use cases without wasting resources.
This content collaboration package delivers spam and known threats protection via Outlook, over 1000 security and privacy options, customizable access control, and bespoke password rules to guarantee mission-critical work security.
Pricing
The basic version of Office 365 costs $5 per user per month, while the fully-featured tier costs $12.50 per person per month.
Why Office 365?
Office 365's collaboration tools enable you to share mailboxes, calendars, contacts, and edit documents in real time.
Sharing calendars in Exchange helps you to see who is available when in your company, allowing you to schedule meetings that are convenient for everyone the first time.
Related:
6 Best Alternatives to Microsoft Dynamics 365
7. Smartsheet


Smartsheet is a content collaboration tool that stresses automation, confidentiality, and accessibility. It comes with forms, a basic dashboard and report generator, and a personalized collaboration grid.
Key Features:
To boost acceptance, the platform promises to be simple to use and provides connections with several content platforms
Smartsheet provides live data for mission-critical applications, as well as bespoke API connections and connectors to unlock data in software such as Microsoft Office and Salesforce
Smartsheet also offers a visual editor and advanced automation, allowing for automated operations that increase productivity and reduce friction.
It is a no-code platform, lowering the entry barrier for non-technical users.
In addition to these features, Smartsheet offers accelerators for common corporate tasks.
Pricing:
The platform offers small to medium-sized organizations a 30-day free trial and monthly plans ranging from $14 to $25. Pricing for business plans with extra features is established on an individual basis.
Why Smartsheet?
You can communicate, organize, and report on work in real-time using the Smartsheet platform, automate workflows and scale new processes.
Smartsheet is more than simply a productivity or task management tool; it is an end-to-end job execution platform with the proven potential to help your company achieve more.
Also, see:
Smartsheet vs. Airtable: Which of Them is Effective and More Reliable?
Bottom Line
Content collaboration platforms are also at the forefront of AI and machine learning innovation, supplying cutting-edge technology to organizations in their day-to-day operations.
Grammar checking, intelligent presentation conversion, intelligent access control, and the automation of repetitive operations all boost efficiency and productivity.
The best software for content collaboration may differ depending on your use case.
Finally, it all comes down to what works best for you.