Many of us have difficulty keeping track of our time and tasks to measure productivity and determine how resources are allocated accurately.
Fortunately, there are tools like Clockify! 
With the help of Clockify, you can easily and quickly monitor all your activities. This post will provide a step-by-step guide on how to use Clockify time-tracking software to ensure you're making the most out of every minute.
Time-tracking made easy.
Use nTask today!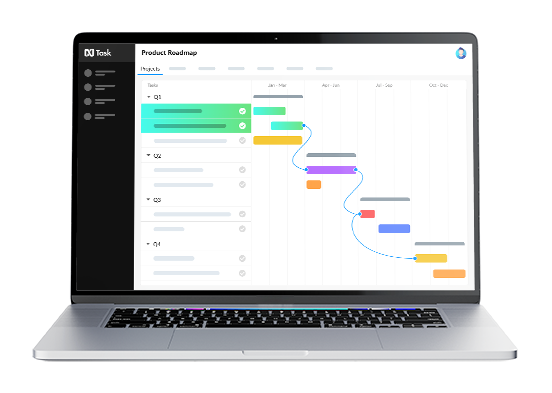 ---
What is Clockify time-tracking software?
Clockify is a time tracking software that allows you to track your time, measure productivity, and see where you can improve your workflows. It's a simple, fast, and easy-to-use tool that can help you be more productive and efficient in your work.   
Clockify can help you track hours, bill clients for time spent on projects, generate reports, and visualize your productivity. It also allows you to analyze and optimize your project process effortlessly. This can help teams collaborate better by making data-driven decisions.
---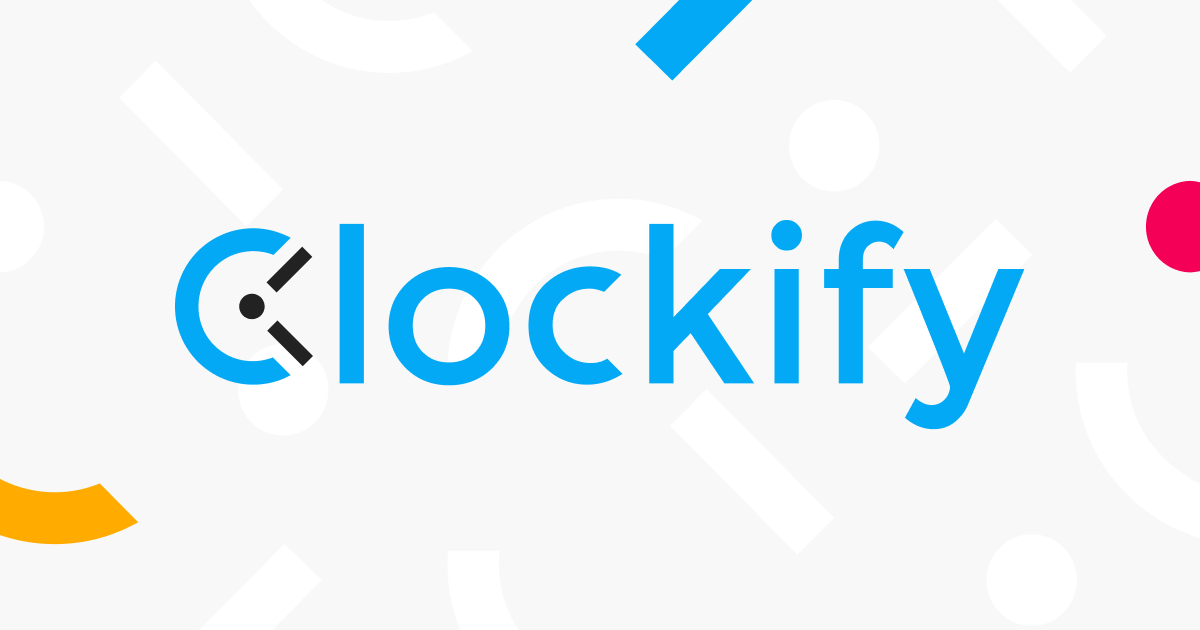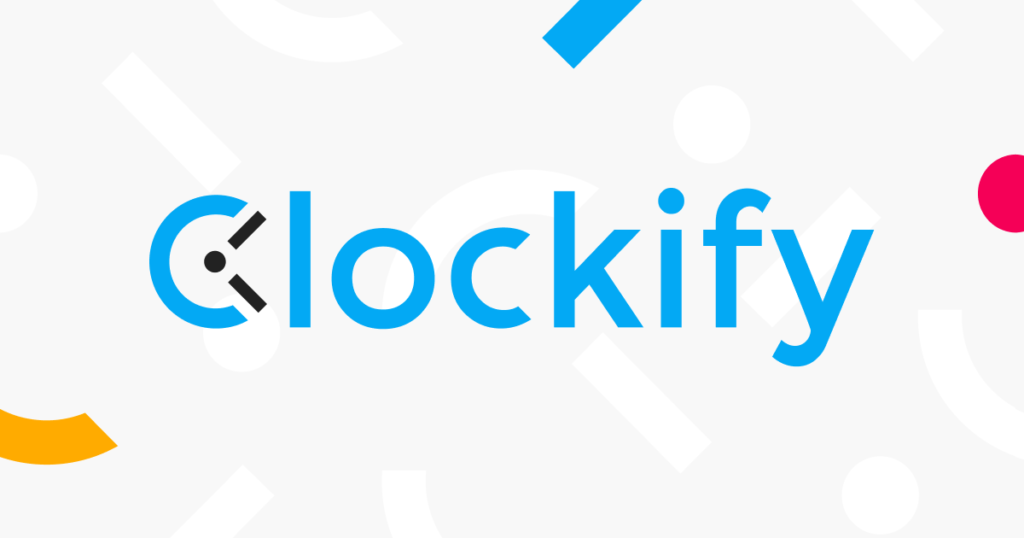 Features of Clockify Timesheets
There are many features of Clockify timesheets that make it a great tool for tracking time. Here are some of the most popular features: 
Clockify automatically tracks your time so you don't have to start and stop the timer yourself. This is great for forgetful people or when you're in the zone and don't want to be interrupted by starting and stopping a timer.
– Manual time tracking:
If you prefer to track your time manually, you can do so with Clockify. Simply start the timer when you begin working and stop it when you're done. You can also add manual entries later if needed.
– Detailed reports:
Clockify generates detailed reports of your time so you can see your time on each task or project. This helps invoice clients or for tracking your own productivity.
– Multiple projects:
With Clockify, you can track time for multiple projects at once. This is perfect for freelancers or consultants who work on multiple projects at the same time. 
– Tags and notes:
You can add tags and notes to your Clockify entries to help organize your data or simply provide more context. This is helpful if you want to remember why you worked on something later or if you need to categorize your data for reporting purposes.
---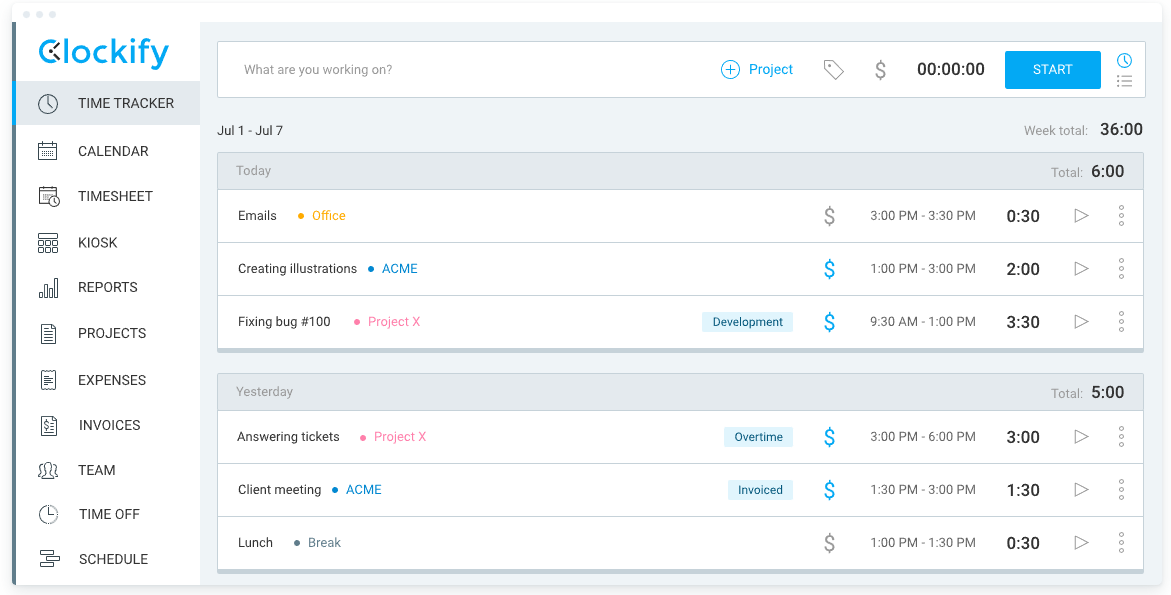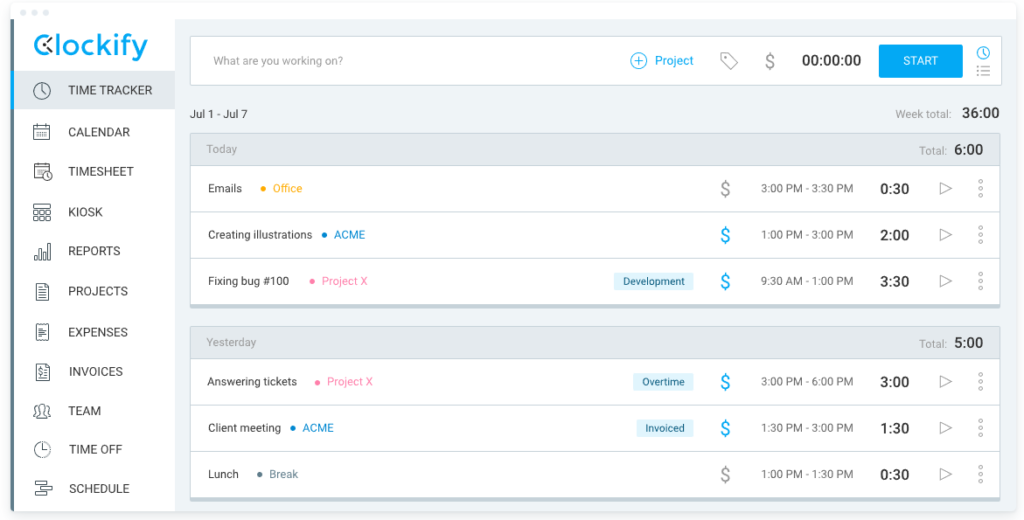 Setting up Clockify
Before you can start tracking time with Clockify, you need to set up your account and preferences. Here's a step-by-step guide to getting started: 
A. Signing Up
1. Go to Clockify.me to sign up for a free Clockify account.
2. Fill in the required information and click "Sign Up" to create your account.
B. Add Users
1. Once your account has been created, you can start adding users.
2. To do this, click "Workspaces" in the top navigation bar and select "New Workspace."
3. Give your workspace a name and add any relevant details such as time zone, currency, and language.
4. Click "Create" to save your new workspace.
5. Now you can add users to your workspace by clicking the "Users" tab in the left sidebar and then selecting "Invite Members".
6. Enter the email address of the person you want to add and select their role (Admin or User).
7. Once they accept their invitation, they will be part of your workspace!
C. Setting Up Teams
1. If you need to organize users into teams, you can do this in the "Teams" tab in the left sidebar.
2. Click "New Team" and enter a name for the team.
3. Then, click "Create" to save your new team.
4. Now you can add users to your team by clicking on members and selecting from the list of available users.
5. Once you've added all your team members, click "Save Changes" to finish setting up your teams!
---
Using Clockify
A. Creating Projects
1. Click the green "+ Create New" button at the top of the page and select "Project."
2. Enter a project name and description in the designated fields.
3. Set up a budget, if desired, by entering an amount in the "Budget" field and selecting a time unit from the drop-down menu.
4. Use the color picker to choose a project color, if desired. This will help differentiate this project from others in your workspace or on reports/dashboards.
5. Select which members should have access to this project by checking their names in the list or using the search bar to find them quickly. You can also choose whether each member should have admin rights or just be able to enter time for this project by setting their role to either "Admin" or "User," respectively.
6. Hit "Create Project" when you are done, and it will appear in your list of projects!
B. Tracking Time
1. Click on the "Start" button in the upper left corner of the page and select a project from the drop-down menu.
2. Enter a description for your time entry in the text box that appears and select any relevant tags or clients to mark it with, if desired.
3. Set up a duration by entering an amount of time, either in hours or days, and selecting a time unit from the drop-down menu. Alternatively, you can click on "Start Timer" to track your time immediately and then enter a duration when you finish.  
4. Click "Create" to save your entry!
C. Generating Reports
1. Click on the "Reports" tab in the navigation bar at the top of the page.
2. Select a report type from the options listed and choose any additional filters you would like to apply to it.
3. Click "Generate Report" when you are done and your report will be generated!
---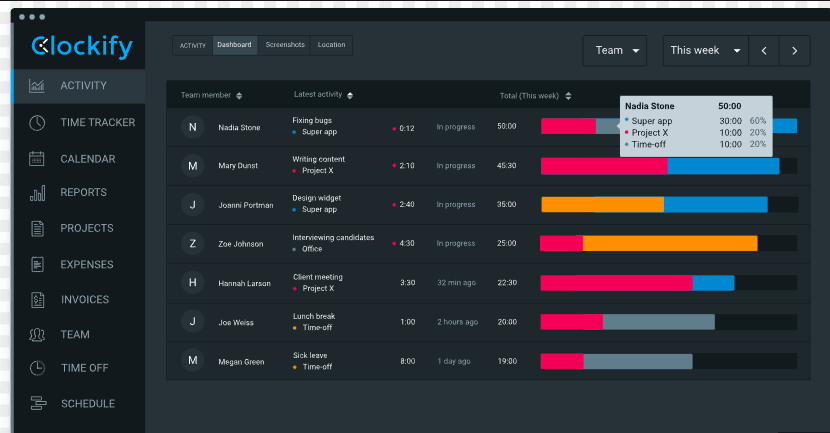 Customizing Clockify
A. Setting Up Rules
1. Set up a rule for how many hours you want to work each day.
2. Set up a timer to alert you when it's time to take breaks.
3. Create a list of tasks and assign them to specific days or times of the day.
4. Adjust the settings in Clockify so that it works best for your workflow, such as enabling idle detection, setting priorities, and creating custom tags.
5. Add any personal preferences, such as choosing between dark and light mode, setting up notifications, or adjusting font size and color options.
B. Setting Up Notification
1. Select the type of notification you'd like to receive and when (e.g., be alerted if you exceed your daily limit, or if you're about to exceed it).
2. Choose from different notification methods (e.g., email, SMS, Slack, etc.).
3. Decide how often you'd like to be notified (e.g., every hour, day, week).
4. Set up custom messages for each notification and decide when they will be sent out (e.g., at the end of the day with a summary of your workday).
---
Benefits Of Clockify
A. Accurate Time Tracking
  : Clockify is an accurate time-tracking software that is perfect for freelancers, agencies, and small businesses. Clockify automatically captures the exact time you spend on each task and project so you can easily track your hours, billable/non-billable time, and overtime. 
B. Improved Productivity:
By tracking your time accurately, you will be able to optimize your workflow and make sure that you are utilizing your time in the most efficient way possible. This can help increase productivity as well as provide insight into where improvements can be made.
C. Easy Reporting:
With Clockify's reporting capabilities, you can gain insights into how much time is spent on each task or project by individual team members or departments. This helps to ensure that the right amount of resources are allocated for each job and no one is overworked or underutilized.
---
Conclusion
Clockify is an incredibly powerful and easy-to-use time tracking software.  
It can help you manage your team's hours more efficiently, save money on labor costs, and make sure that everyone is working as efficiently as possible.
With the step-by-step guide we've provided here, it should be easy to get up and running with Clockify in no time. We hope this article has helped you better understand what Clockify can do for you and how to set it up properly.