It is crucial to keep a log of the time you spend working on different projects to gauge your level of productivity.
Clockify and Toggl are excellent time-monitoring tools; nevertheless, the two programs concentrate on different capabilities.
While Clockify is known as a robust Pomodoro style app that helps teams enhance their productivity, Toggl's primary function is that of timesheet software, despite its extensive project and team management tools.
Which time-monitoring app do you find to be the most useful?
In this post, we will compare Clockify vs Toggl so that you can make an informed decision about which tool is best for you.
---

What is Toggl?
Toggl is a widely employed digital tool for time monitoring that companies of any size may use. It makes keeping track of time simple across many devices, providing managers with an overall picture of productivity and profitability.
The teams are provided with an accurate breakdown of how much time they spend on each activity, enabling them to discover areas in which they struggle and make improvements that benefit their work habits.
Comparison wise, Toggl is simple to use, does not call for substantial training, and gives managers the ability to set many timers for a variety of tasks at the same time.
Additionally, Toggl is a free time tracking tool that can be useful to small teams due to its many helpful features. However, freelancers can also benefit from using it.
Toggl's user interface is simple and uncluttered, and the portal is straightforward to navigate.
This software is compatible with desktop versions of Windows, Mac OS X, and Linux, and it interfaces with a variety of applications for managing projects.
The tool provides a free package that includes unlimited projects, clients, and tags. Also, this package includes exportable reports, a Pomodoro timer, CVS imports, idle time detection, and personal desktop activity tracking.
---
Key Features of Toggl
Time Tracking
In the Clockify vs Toggl comparison, with Toggl, you can determine the amount of productivity while effectively managing time for all tasks in a better way
Reporting
Obtain comprehensive reports on the status of your initiatives
Project management
Toggl can control an infinite number of projects and clients if chosen in Clockify vs Toggl
Simulation and monitoring of the project
Determine the status of projects and monitor their progression
Team management
Choose Toggl if you want to obtain a high-level view of the things that your team is doing
Integration with several different tools
With the Toggl browser extension, you can keep track of time spent on more than 100 popular tools
Calendar integration
Toggl's calendar may be integrated so that project events are automatically sent to your timesheet, that's why Toggl is a fair option in Clockify vs Toggl comparison
Monitoring of income and expenditures
Find out how far you've come by breaking down your earnings and expenditures
Sending remembrances via email to teams
Emailing previously saved reports can be scheduled
Pros of Toggl
Set time estimates for particular tasks
Find the areas where there is room for improvement in terms of productivity
Examine your situation to see if you are making any headway
Estimate the costs of upcoming projects and chores using accurate data
Improve the way you manage your work time
Quick and simple in its assembly
Cons of Toggl
It is expected to spend a lot of money on it, and you can end up paying a lot of money for features that you do not require
Outside of monitoring your time, it might not provide you with a large variety of features
---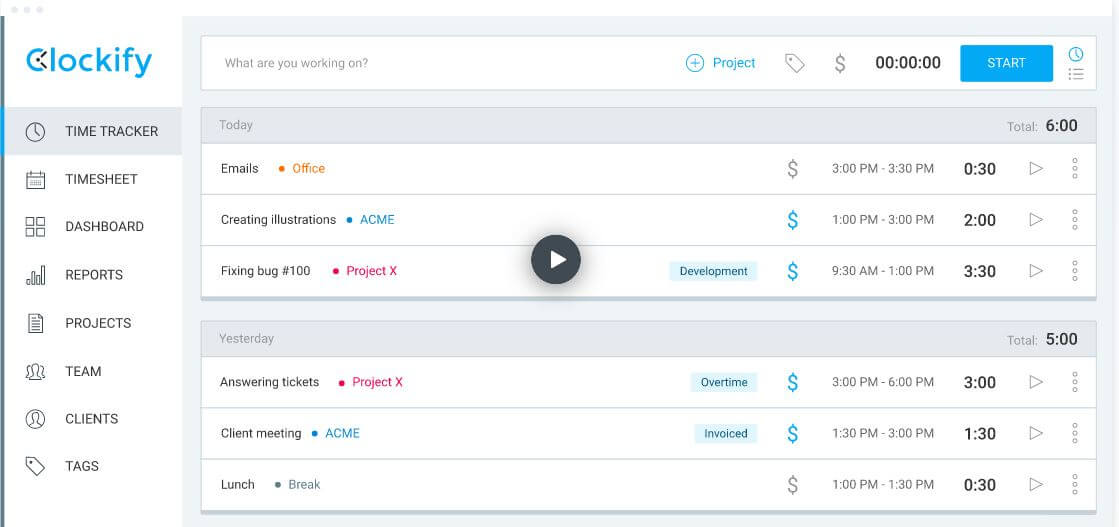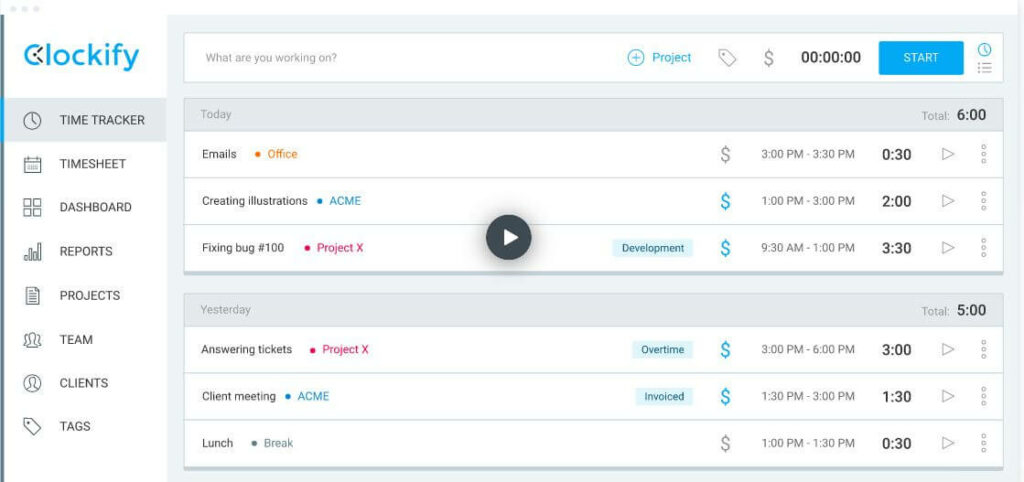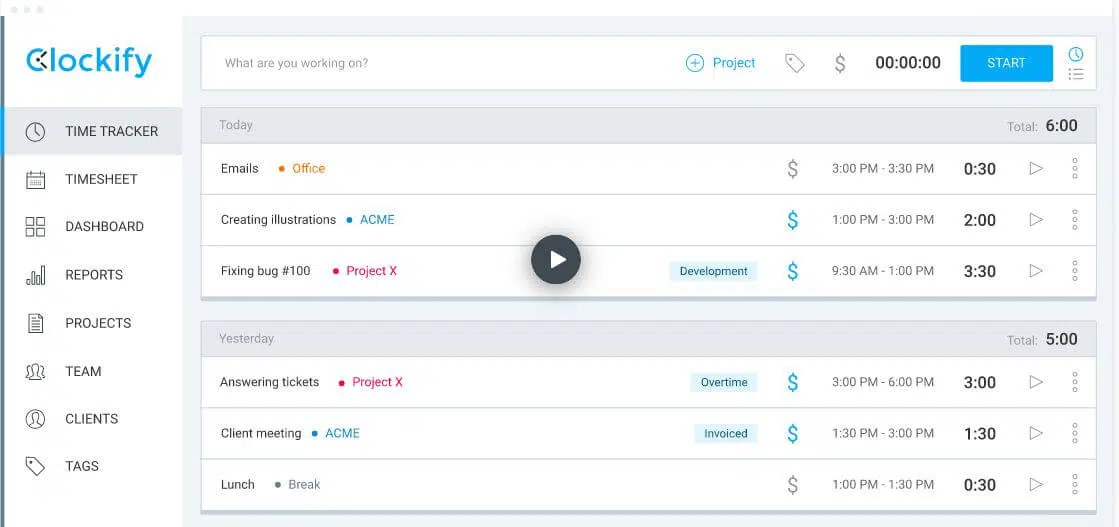 What Is Clockify
Moving on, Clockify is another popular time-tracking tool that works similarly to Toggl.
However, what makes Clockify stand out from other time-tracking apps are its timesheet and payment capabilities.
The tool is most frequently employed by large enterprises since it provides features such as client portals, alarms, and notifications to keep your team updated on the progression of any project. The function for employee scheduling streamlines and simplifies the process of scheduling shifts.
Additionally, Clockify gives businesses that have a big number of employees or teams access to a variety of useful features. It is a great tool for tracking employees and the tasks they are responsible for, personalizing projects, providing a simple view of processing, successfully assigning employee projects, and boosting visibility into the activities the team is engaged in.
The software is primarily intended to assist organizations, and in many respects, the Basic and Standard plans offer options that are more economical than other available choices.
Furthermore, Clockify provides unlimited users for a flat monthly charge on all of its plans, but enterprise businesses will most certainly need to upgrade to higher-tier plans to access more sophisticated features.
---
Key Features Of Clockify
Monitoring of tasks and projects:
Keep an eye on all task progress, status, and budgets
Timesheets
If you want to keep a record of your weekly endeavors then prefer Toggl 
Kiosk
You can check in using any of the shared devices with this feature as it is only offered by Toggl
Time Off
Maintain a log of your team's requests for paid time off, sick leave, and holiday time
The Process of Billing and Invoicing
Include invoices, receipts, and other documentation depending on the hourly rates
Time tracking
You can either start and stop a timer or manually enter your work time
Calendar management
Prepare a schedule for future events and activities
Dashboards and Reports
Examine the breakdown of the time you spend working
Pros of Clockify
Helpful for companies that keep time records so they may accurately bill their customers
Timekeeping can be done from either your computer or the mobile app
More than eighty integrations with several additional work tools
Cons of Clockify
A less intuitive interface
There is no screenshot function
Teams may need training to become familiar with all of its capabilities. 
---
A Detailed Comparison Of Clockify vs Toggl
You should examine the characteristics of several time-tracking tools before investing in a new one so that buyer's remorse doesn't kick in later.
Although both Clockify and Toggl are time-monitoring applications, there are some variations between the two in terms of their feature sets. Here is the Clockify vs Toggl comprehensive analysis of their differences.
1 – Time Tracking
Time tracking is the key feature that can be found in both Clockify and Toggl, and it is the one that helps employees and team managers determine how much time they spend working on different tasks and projects.
But how do these different time-monitoring tools in Clockify vs Toggl compare and contrast with one another?
Clockify
Clockify is centered on time entries, in which you monitor the passage of time with a stopwatch.  
You have the option of starting and stopping the stopwatch as you work or entering the information manually at a later time. You may also do the following by using the timer on Clockify:
Check the amount of time that employees spend on each task
Find out whether or not the staff have achieved their goals
Include a note in any of your tasks
Obtain evidence that the staff have worked on their assigned tasks
Check the daily totals for the amount of time spent on each activity
Find projects that have been identified as billable so they can be invoiced
Toggl
Toggl's most useful feature is that it gives users the option to record their time either manually or automatically.
Your time should be started and stopped as you proceed
Enter your hours in a retroactive manner
You can program your watch or timer to begin counting down to an appointment or activity on your calendar automatically
Toggl is a time-tracking tool that can be used online in a browser, or you can download the mobile app and track time on the go.
This ensures that the tracker is always within reaching distance of your hand. In addition, Toggl will send you a notification if you neglect to start your timer.
---
2 – Project Management
Project management includes rigorous analysis, planning, implementation, and tracking to guarantee that projects are completed on schedule and without exceeding their allocated budgets.
This is why it's so important to have project management solutions that include built-in tracking functions for both time and money.
Where does the Clockify vs Toggl comparison show up on this front?
Clockify
Clockify enables you to monitor the progression of a project as well as key data. You may also monitor the difference between tracked and estimated time, allocate projects to members of your team, categorize time into billable and non-billable categories, and define custom rates for projects.
All of these things are extremely helpful for teams who frequently interact with customers or work on time-sensitive projects.
Toggl
You can see all of your projects displayed on the dashboard thanks to the Toggl project management function. Toggl gives you the ability to plan out budgets and timetables, in addition to monitoring the progress of a project.
You will have an easier time recognizing areas that require improvement early on and developing a strategy to prevent difficulties of a similar nature in the future. Additionally, you can:
Make sure certain jobs can also serve as subtasks
Tasks should be delegated to members of the team
Find out how much time was spent on all of the activities and projects
Make time estimates for the projects you're working on
---
3 – Reporting and Analytics
Data enables organizations to make decisions that are both effective and accurate across all departments.
If you use the right tool, it will eventually be easier for you to correctly analyze data and provide accurate reports on any project or activity you are working on in real-time.
How does this appear in Clockify?
Clockify
Clockify provides users with three distinct sorts of reports that they may use to discover specifics regarding the projects and tasks that led to the generation of revenue.
Summary: A summary of the time, the day, the activity, and the user
Detailed: Check out the tasks broken down, as well as the total clocked hours, billable hours, and overall amount. You can make changes to the entries in the report
Weekly: Receive a weekly summary of all of the time that has been monitored
The full report should be broken down even further by day, activity, and user. Clients have the option of receiving the reports in CSV, Excel, or PDF format.
Toggl
Reporting in Toggl gives meaningful insights about your projects and tasks in three different ways, just like Clockify's reporting does.
Summary: Examine the overall amount of time that has been logged for tasks, and then filter the results by date, clients, users, and projects
Detailed: Examine the time entries made by the team and then export the entries
Weekly: Examine the time that has been tracked for the full week
If you have the premium plan, you will be able to schedule the most important reports to be sent to your email and you will be able to keep up to date on projects without having to log in.
---
4 – Time Management  
By now, we know that both apps have dedicated time management features to spearhead simultaneous projects.
However, the question is, how effectively can enable team management or multiple individuals?
Clockify
Clockify gives you the ability to monitor and optimize the time management of a team by monitoring working hours and viewing who is working on which tasks.
Because it enables you to determine which activities use the majority of your productive time, the program can cause a shift in the way that you conduct business.
You can keep track of what the team is momentarily working on, how much time is being spent on each task, and which tasks demand the most effort.
Toggl
Using Toggl makes managing time commitments of a team much simpler and more efficient.
This tool assists you in managing your team and inspires all of its members to take personal responsibility for their level of individual productivity.
When used correctly, teams can operate projects without any hiccups, fulfill deadlines, effectively manage time, and agree on long-term goals.
Toggl gives you the proficiency to view recent time entries that have been made by your team, to automate and keep track of email reminders, and to recognize unassigned time entities so that you can take the appropriate actions.
---
5 – Integrations 
Both of these applications combine with other sophisticated tools for web development, project management, and productivity, which increases their overall capabilities.
Clockify
Clockify interacts with more than 80 different web apps, allowing you to track time from virtually any location. Here are some of the Clockify integrations that we enjoy using the most:
Project management tools: ClickUp, Trello, Asana
Support for customers: HubSpot, Freshdesk
Web development: GitHub and Gitlab
Productivity: Google Calendar and Google Docs GitHub and Gitlab
Toggl
Toggl can supercharge your processes by integrating with over one hundred different tools through the use of browser extensions, native integrations, and automation apps.
The following is a selection of some of our favorite integrations for Toggl:
Project management tools: ClickUp, Trello, Podio
Support for customers: Slack, Clio, Pipedrive
Web development: Filter by Zapier, AzureDevOps, GitHub
Productivity: Todoist, Timeular, and Zapier are extensions for Google Chrome.
Integrations are also provided for human resources, accounting, calendars, email applications, task management, and web development.
---
6 – Platform Compatibility  
Both Clockify and Toggl are compatible with a variety of OS systems as well as web browsers.
Clockify
Desktop programs, browser extensions, and web applications are all ways in which users can access Clockify. It is accessible on a variety of platforms, including Windows, Mac OS X, Linux, Android, and iOS.
In addition, Clockify includes a browser extension that can be added to Chrome and Firefox web browsers.
Toggl
Toggl is compatible with your organization's current IT infrastructure but may require you to make some expensive adjustments.
Toggl is accessible on the most popular mobile platforms and operating systems, and it integrates with more than one hundred different applications.
---
7 – Pricing
Let's face it: at the end of the day, what matters is how much money you made or lost. How much would it truly cost you to purchase all of these tools? And which of clockify vs toggl is a better option according to your organization's budget?
Clockify
A free plan is available from Clockify, and it includes limitless project support, time monitoring, and report generation. It is adaptable for use by groups of varying sizes. The following is a list of the proposed more sophisticated features:
The basic package ($3.99 per user):
Functionalities related to administration
The standard plan, which costs $5.49 per user per month:
Features such as a timesheet and invoices are included.
PRO package ($7.99 per user):
Contains elements that promote productivity
Enterprise package ($11.99 per user):
Regarding more sophisticated safety measures
Toggl
Toggl provides a free trial as well as several paid options that are customized to meet the requirements of your team:
Contains the fundamental functions, allows for a maximum of five users and provides time monitoring, a Pomodoro timer, idle detention, CSV imports, and more.
Beginner level plan that costs $10 per user, each month:
Project time estimates and warnings, project templates, and billable rates are all available for use by smaller teams.
Premium plan (which costs USD 20 per user, per month):
Lock time entries, centralized control of labor costs, basic features for numerous teams, time tracking audits, scheduled reporting, and a project dashboard.
For large and complicated projects, with premium features, priority support, expert training, and an unlimited number of user licenses included.
---
Alternatives Of Clockify and Toggl
If you are looking for an alternative to Clockify vs Toggl, you have several other time-tracking tools that you can consider using instead. These tools include: The following are some examples of popular choices:
State of the art project management tool with dedicated timesheets, budget management, Forms, interactive Gantt Charts and much more.
It's more of a flexible project management application with emphasis on the management aspect of things to help teams and individuals with performance optimization.
This application has capabilities for managing projects, as well as tracking and billing for worked hours. In addition to this, it is compatible with a broad variety of other applications as well as services.
This application keeps track of the amount of time you spend using various apps and websites and provides you with in-depth information on how well you are using your time. A better option to Clockify vs Toggl
Features for time tracking, project management, and report generation are included in this application. In addition to this, it supports many different languages and comes with an integrated billing system.
This program allows for the tracking of time as well as the administration of projects. It can link with several different project management tools like Trello, Asana, and Jira, and it also has an invoicing component that is built right in.
This application is a time-tracking and productivity tool that provides features such as activity tracking, blocking of websites and applications, and thorough reporting on the productivity of employees.
In the end, the solution that is best for you will be determined by your unique requirements and inclinations. It is in your best interest to evaluate all of them using a free trial to determine which one is the most suitable to meet your requirements if any of them offers such a service.
---
Conclusion
Clockify is a good option to consider if you want a free time tracking tool that also can generate invoices.
On the other hand, Toggl is a good option to assess if you need more integrations and are willing to pay for a subscription. In the end, your prerequisites and tastes will determine which tool will serve you the best.