The organizational paradigm is a complex maze that you, as a manager, have to understand completely. Otherwise, you will never be successful. An essential element of this understanding is the Roadmapping you perform for all of your projects to keep everything in check. Finding the best roadmapping software depends on your specific use case, but this blog will ease out your decision-making.
You can, nowadays, choose roadmap software from a variety of tools with differing feature sets. If you are presently using other project management systems, you must carefully assess its basic functions, additional features, and integrations to reduce duplication of work.
Roadmapping is a vital process for a project that helps you track all of the progress associated with it, coordinating all of the activities associated with it, and collaborate on information related to the project with all of the team members across different teams.
Being such an important part of project development, Roadmapping needs to have the best possible digital solution there is to take care of all of your management needs. There are many amazing options in the market now when it comes to Roadmapping tools.
Here's a list of some of the software that you can use to streamline your project management activities in 2023.
Check out this awesome guide about collaboration strategies to boost performance.
The Best Roadmapping Software to Help you Streamline Project Management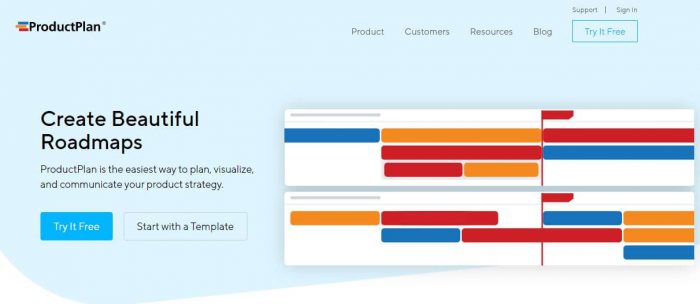 The first one on our list of the best roadmapping software is ProductPlan. PP is an amazing tool for project managers that are a fan of creating a visual display of all of the projects that their team is working on. ProductPlan enables these managers to create roadmaps quite seamlessly. It also helps them create and move different estimates related to the projects.
The managers can also communicate all of the important info about the current progress and future plans related to the project, with the concerned team members using this software. This will help create a seamless work process across teams.
Key Features
Import/export data
Planning board
Data encryption
Action management
Automatic notifications
Collaborative workspace
Content filtering
Planning tools
Master plans
Secure data storage
Security & encryption
Task planning
Third-party integration
Tracking features
PDF Conversion
Containers
Content import/export
Goal setting/tracking
Multiple format support
Custom tags
Collaboration tools
Milestones
Percent-complete tracking
Score initiatives
Activity tracking
Collaborative review
Communication management
Parking lot
Pricing
Free Trial is available
Business plan: $39/month/editor
Enterprise Plan: $69/month/editor
Why is ProductPlan one of the best project roadmap software?
It is quite easy to use, and you can create a roadmap in minutes.
You can use ProductPlan to share your roadmap with everyone.
You can share it by embedding it on your website or by using a URL link
If you have a large number of roadmaps, you can manage them all from a single area
Your roadmap may be viewed as a table, timeline, or calendar, providing you with more flexibility.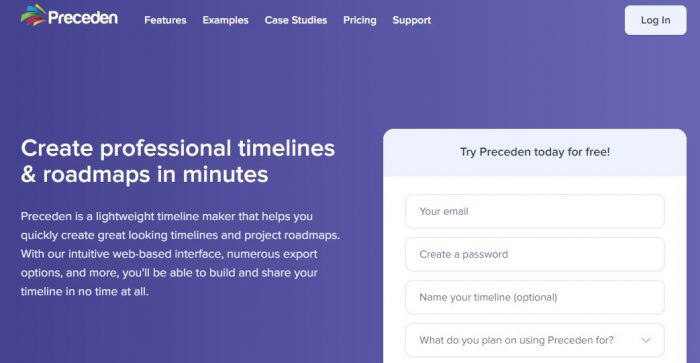 Second on our roadmapping software list is Preceden, an incredibly easy-to-use web-based tool for creating professional timelines and roadmaps. It enables project managers and their teams to effortlessly visualize complex roadmaps, helping them reach their milestones on time while keeping stakeholders up to date on their progress.
And unlike many other tools whose UI may leave you scratching your head, Preceden's intuitive interface will have you creating your first roadmap in minutes. It offers a wide variety of features for roadmap creation.
Key Features
Layers to organize your timeline
Export as PDF, PNG, PowerPoint, Keynote, CSV, and Excel
Bulk editor
Embed in other websites
Share via link
Presentation mode
Zoom
Connections between events
Dependencies
Collaboration
Privacy controls
Percent-complete tracking
Legend
CSV import
Themes
Optional end dates
Search and filter
Approximate start and end date
Durations for events
Icon library
Milestones
Notes
Pricing
Free plan is available, no credit card required
Paid plans up to $149/year
Why is Preceden one of the best roadmap software?
Preceden's user-friendly UI allows you to rapidly design your timeline
The application allows you to create plans and projects as well as illustrate historical events
It is an excellent choice for educational purposes. Of course, this is not the only field in which it can be successfully applied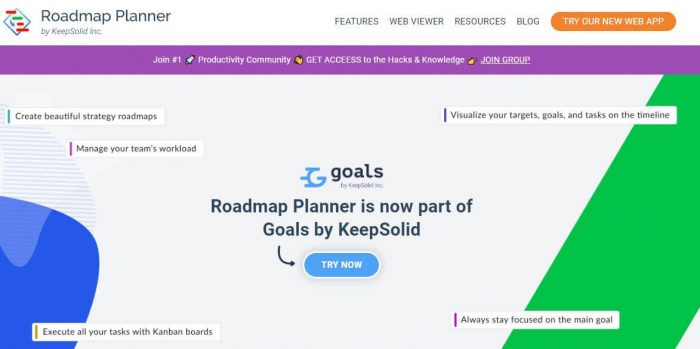 Roadmap Planner is an incredible collaboration and planning software that is designed to assist different types of businesses no matter what their domain is. Depending on the subscription you choose for your team, the tool offers different features like management, integration, data exchange and many more.
Key Features
Scopes
Completion Status
Data Synchronization
Protected Storage
Outline View
Export / Import
Share Your Roadmaps
Friendly Interface
Printing
WYSIWYG Mechanism
Presentation Mode for Projector
Flexible Timeline
Predefined Templates
Pricing
Free Trial is available
To get a subscription, you have to call the company
Why you should consider Roadmap Planner as your roadmap project management software?
This roadmap software creates attractive visual roadmaps with this roadmap software for Windows and Mac. It also offers some characteristics that set it apart from other apps.
Roadmap Planner is intended just for the creation of roadmaps. That is, it has several functions that other projects or diagramming tools do not have. Features like as:
Several themes with various colors, fonts, and forms Colors, icons, label
Customization choices are available
Multiple plans can be supported on a single canvas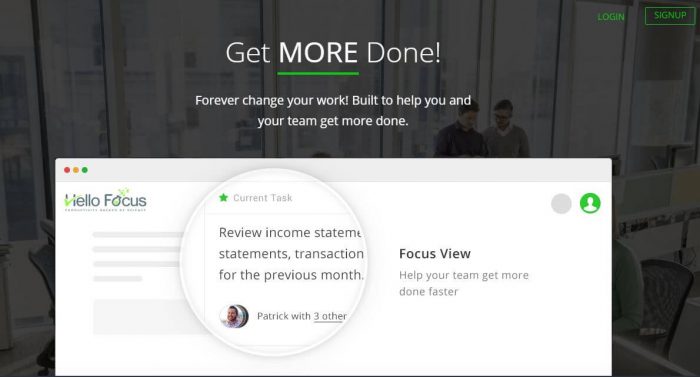 This application was designed for managers that want their team to focus on their work as much as they can to get things done quickly. There is a wide extent to which this application can be used ranging from a simple to-do list to fully-fledged project management software.
Embedded in the software are beautiful roadmaps that track all of the activities that the team members perform while they work on a specific project. This frees up the teams from daily boring stand-ups and meetings that are not worth their precious time.
Fueled up with a lot of scientific principles, the software actively denounces multitasking and makes the teams more focused on their work while monitoring their progress on incredible Roadmapping charts.
Key Features
Task tagging
Task editing/updating
Recurring task management
Gantt charts
Recurring tasks
Task planning
Milestone tracking
Critical path
Productivity reporting
Completion tracking
Collaboration tools
Timeline management
Alerts/notifications
Pricing
Free Trial is available
For a subscription, you have to contact the company
Why should you consider Hello Focus roadmapping software?
The software allows you to visualize tasks as a chart. It enables you to organize and distribute tasks to your team in order to maximize workflow.
Hello Focus can significantly boost your teamwork planning.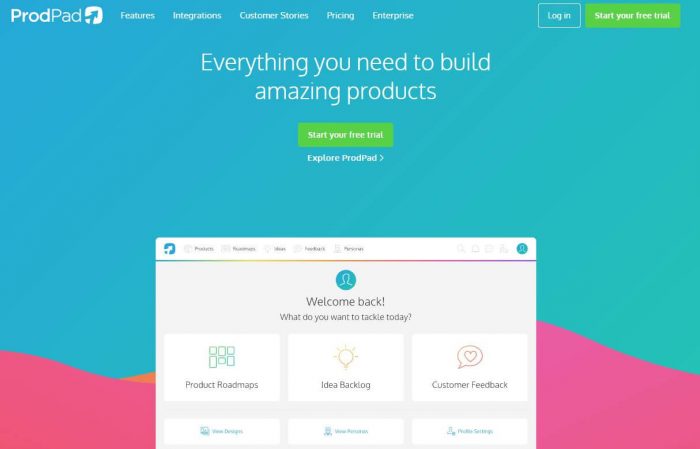 Next one of the best roadmapping software lists is ProdPad. This application has a lot going on it in the market mainly due to its seamless integration with other notable tools used for project management purposes, like Trello, Slack, Jira, etc.
Depending on the subscription you opt for, ProdPad provides a different set of features and administrative permissions for the users.
Key Features
Document management
Voice of the market
Idea ranking
Evaluation workflow
Drag & drop editing
Content import / export
Product Roadmapping
Collaborative review
Web Collaboration
Notifications
Collaboration
Email digest
Prioritization
Mockup Integration
Idea management
Pricing
Free Trial is available
Basic: $45/month
Plus: $69/month
Why should you consider ProdPad project roadmap software?
Product teams can use ProdPad to collect and organize customer feedback, which helps them understand their customers and discover areas for improvement.
Product teams can disclose and discuss their strategy to keep the team focused on outcomes
Product teams can share their product roadmaps with stakeholders and incorporate their feedback and recommendations into their initiatives.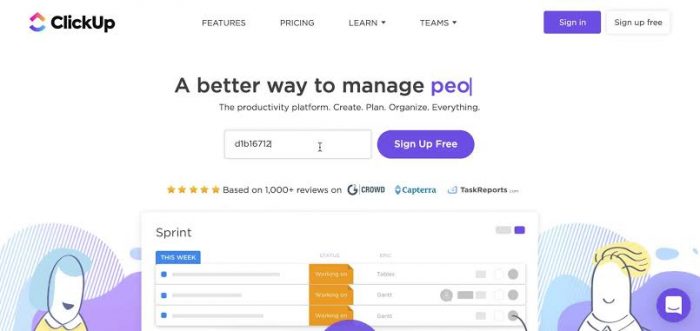 ClickUp is an incredible project management software that provides a simple and quite seamless procedure for workflow organization. The application can be connected with over 500 different third-party applications that many successful businesses nowadays, use in their workflow. It is one of the best roadmapping software on our list that offers several project management features too.
Key Features
3 different views
Bug tracking
Client management
Completely customizable
Custom statuses
Document management
File sharing
Image comments
Image mockups
Multiple assignees
Product Roadmapping
Supports Agile
Supports Scrum
Task management
White label option
Assign Comments (turn comments into tasks)
Chrome-like tabs
Pricing
Free Version is available
Unlimited: $5/user/month
Business: $9/user/month
Why should you consider using this roadmap project management software?
Using task dependencies, your team can successfully plan your product roadmap using ClickUp. Furthermore, by using Goals, your team can celebrate significant successes.
Productfolio is a newer entrant to the Product Management software landscape but it's starting with a bang. The tool provides an end-to-end workflow solution for Product teams, that keep everyone aligned, and all the key work in one place. Start by defining the product collaboration strategy for the team you will align to.
Then, members of the Product team can capture their ideas, projects, and requirements, linking them all together, and ultimately reflecting the plan on a roadmap. It's not just for the Product Management team – the roadmap can be shared, stakeholders can comment on product briefs, and your customers can submit new ideas via the ideas portal.
Key Features
Product strategy canvas

User personas

Pubic Ideas portal

Insight & idea management

Detailed Product briefs

Drag & Drop Prioritization

Timeline-based roadmap

Kanban/Agile roadmap

Requirements backlog

Release planning

Multiple users

Multiple products

Jira Integration

Customizable terminology

Configurable features
Pricing
Monthly plan: $19.95 /month/editor

Yearly Plan: $199.95 /month/editor
What do we love about Productfolio roadmap software?
Productfolio is an easy-to-use and accessible product management software solution because of its efficient user design and consistent interface
Productfolio is currently beta testing their program, so they are open to feedback and looking for ways to improve depending on user demands
The software also serves as a platform for stakeholders and product managers to track the progress of projects
Conclusion
So, there you have it. These are the 7 best Roadmapping software on the market right now. All of the software has unique functions and qualities that appeal to various users with different needs.
In this article, we have discussed our top picks for the topic, but we would encourage you to branch out and find the best possible software in this list or in the market which would efficiently fulfill your needs and requirements.