"You only live once, but if you do it right, once is enough." – Mae West
Every new day presents a new set of goals to achieve, a new set of hurdles to overcome, and looking forward to being better than yesterday. Regardless of the industry or profession, you belong to, you want to maximize your efforts to maximize your growth.
Especially, with the phenomenon of globalization, an average student has a higher bar to reach and a regular employee has a tougher competition to not only progress but survive.
When it comes to productivity, to each his/her own. Productivity can be boosted through numerous channels, some work better than others as per individual aptitude, ways of working and focus modes.
Ever wonder how the giants and the geniuses do it? Here we give you a glimpse of just that – top 11 productivity hacks from successful professionals and entrepreneurs to prove that you can also do this.
Featured Read – Best Productivity Apps of 2023:
The 37 Best Free Productivity Apps of 2023
The 11 Best Productivity Hacks of 2023
1. Declutter Email
Email distraction is a real thing. McKinsey Global Institute found that the average interaction worker spends an estimated 28% of the workweek managing e-mail.
Tim Soulo, CMO & Product advisor at Ahrefs has shared one of the best productivity hacks about decluttering email:
"Learned an awesome productivity hack today on how to unclutter your inbox. Just create a filter for the word "unsubscribe" and make sure all emails that contain it will skip your Inbox and go to some special folder."
2. Make To-do Lists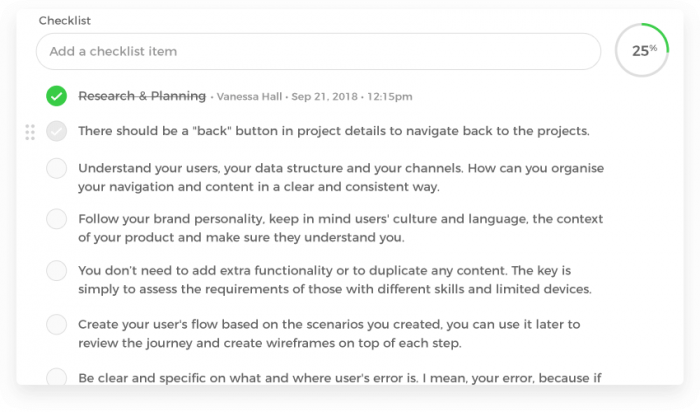 To-do lists can greatly improve your focus and in long-run productivity. Justin Kan of Atrium says:
"A productivity hack I've been using: keeping a shared to-do list with my Chief of Staff in a private channel in Slack. Each item can have a thread, important items get starred, you can delete the item when you're done. Helps keep me accountable to execute tasks."
Take a pick from our top to-do list apps right here.
3. Sleep on It
There is no substitute for a good night's sleep. According to a survey of 7,400 individuals by Harvard University, sleep deprivation costs companies $2,280 per employee, or 11.3 days of productivity, each year.
James Clear is the author of the NYT bestseller, Atomic Habits. James says:
"The best productivity hack is getting 8-9 hours of sleep every night. Second best is exercising 30-60 minutes each day. Both are obvious and overlooked, and yet make a more meaningful and immediate impact on the quality of your thinking than 99 percent of productivity tips."
4. Set a Theme
If you are running multiple projects or various types of tasks, it may be a good idea to dedicate a specific day to a certain dimension of your tasks. Take the example of Jack Dorsey, the CEO of Twitter. He is also the CEO of Square.
Dorsey has an unusual trick to ensure everything gets done to its maximum potential. We found it really interesting, and it ranks #4 on our list of top productivity hacks for 2020.
He sets themes for each day of the week. For example, Mondays to management and running the companies, Tuesdays for focusing on product, while Wednesdays are dedicated to marketing, communications, and growth.
5. Make Commute Productive
The daily commute takes a significant time for the majority of people. Did you know that in the U.S., the average, one-way commute time is 26.1 minutes? It is important to find ways to make use of this time and find opportunities to stay more productive.
Tori Dunlap is a digital marketing manager and has been a Plutus Award finalist for Best New Personal Finance Blog. According to Tori, you can make the most of commute with a number of things including using Pocket to curate off-line news, carry a book, check your email (but do not respond), download some podcasts, make a call, meditate, or learn a language.
See also:
15 Best Productivity Quotes by Productivity Gurus
6. Say 'No'
More often than not, we feel obliged or pressured into accepting every challenge or favor being asked of us. While being helpful and creative is a good thing, it is critical to understand your priorities lest you may lag behind in your own goals.
According to Marc Chernoff, co-author of the New York Times bestselling book, Getting Back to Happy:
"Don't be afraid to say "no" to unnecessary obligations. In a world with so much noise and clutter, you must make room for what matters. That means pruning nonessential commitments and eliminating as many distractions as you possibly can.

No wasted time, no fluff, no regrets. When you're crystal clear about your priorities, you can painlessly arrange them in the right order and discard the activities and commitments that do not support the ones at the top of your list."
7. Procrastinate Constructively
While people may have a negative view of procrastination, it can actually be a good thing if you use it positively. We as human beings have limitations. We are bound to get fed up, slow down or simply lose interest in work temporarily.
Austin Kleon is the bestselling author of Steal Like an Artist. Kleon's tip makes it to #7 on our list of the best productivity hacks:
"Practice productive procrastination — have two or three projects going at one time, so if you get sick of one, you can jump over to the other."
See also:
The 18 Most Productive Things to Do When Bored
8. Choose the Middle Way
Doing your best is a good thing but focusing too much on being a perfectionist can backfire. It makes one spend more time than required on a single task. This may affect the other tasks and keep the overall goal from being achieved.
Elizabeth Gilbert is the #1 New York Times bestselling author of Eat Pray Love. Elizabeth's recommendation is 8th on our list of the best productivity hacks:
"I abide by Goethe's rule: 'Never hurry, never rest.' I never go into crazy fugue states, but I don't ever stop, either. I'm a plow mule. I'm very disciplined, and I have a great regard for deadlines — usually my own.

[Our mother] … taught us not to become perfectionists, which is where a lot of procrastination and time-wasting occurs. Nothing is less efficient than perfectionism. Her great adage, which I still adhere to, was: Done is better than good."
9. Make Time for a Nap
In addition to having a good night's sleep, a daily nap can do wonders for your health, and in turn, your productivity. According to research, a daily nap could reduce blood pressure and stave off heart attacks.
Take it from the StockX CEO, Josh Luber. According to Luber, one of the best ways to recharge during the day is with a nap. He says:
"I find that one of the best ways to maintain productivity is to incorporate power naps into your day. At the rate at which StockX is growing, it's a 24-hour job and I spend 70-80% of my time on the road across varying time zones, which can be hard on your body.

I take 11-minute naps once or twice per day and find that it makes for increased energy and efficiency."
See also:
The 25 Best Productivity Books to Unleash Your Absolute Best
10. Keep the End in Mind
Sometimes in order to get through dry or uninteresting work, it is better to focus on the light at the end of the tunnel. According to research, certain emotions can help one focus better on the work at hand and increases chances of completion.
Steven Handel is the founder of The Emotion Machine and author of Small Habits, Big Changes. According to Steven:
"Thinking about the positive consequences of getting to the end – This is one of the most popular and successful strategies used by individuals to help them overcome a difficult task. By thinking about the rewards they will get by the end of it, they were more likely to stick with the task until it was completed."
11. The Pomodoro Technique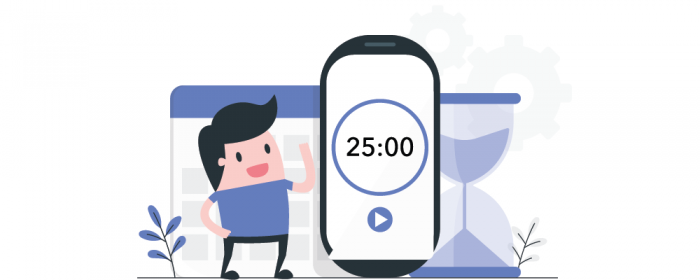 Surprisingly, when it comes to the best productivity hacks, we don't see a lot of people talking about the Pomodoro Technique. This "hack" is free of cost; doesn't require any app installation and can be incorporated in your life on a daily basis.
The Pomodoro Technique calls for breaking up work into several segments followed by small break intervals. This keeps your creativity ignited, and you don't feel bored/ exhausted as much.
A lot of research papers have been written about this technique over the last couple of decades. We also wrote about the Pomodoro methodology in one of our blog posts. It illustrates what the framework has to offer in general, and how it can impact your life for good!
Regardless, you can do more with this technique if you were to follow it to the letter. Try it sometime; you won't regret it.
Do you have any productivity hacks you play by or have learned from your mentor? Let us know in the comments below.
See also: