In this post, we will highlight the best product management tools available in the market which you can start using today.
What are Product Management Tools?
The first thing to understand is what Product management tools actually are. The term is quite vague and encompasses a range of different software that offer different functionalities.
To understand it simply, however, you can classify tools that help develop and improve a business' products as product management software.
With the help of such software, product managers and product teams can collect ideas for product or feature releases, plan those ideas, and implement them.
Considerations for a Great Product Management Tool
There are a lot of product manager tools available with varying functionalities and at different price points, you can choose from. Before we get on to our top picks for the best product management tools, here are some considerations to keep in mind.
The most important consideration is what you are trying to achieve. Planning, creating, and releasing a product involves a lot of moving parts which can be confusing. You want tools that will provide a feature set that helps manage these elements and your team without the need to rely on too many different apps or software.
Another important consideration is the budget you have and your team's size. Product manager tools can rake up a great cost over time especially since they are per user and thus depend on your team's size as well. There are tools of all price ranges with different pricing plans and options to choose from. So, keep your available budget and the number of your team members in mind when coming to a decision.
As mentioned, product management is a process that requires different tools. You want to select tools that offer you the most. But since you may be relying on more than one such tool or app try and select a software that integrates with the software you and your team are already using. This will enable you to streamline your entire product lifecycle with ease.
The software interface is also important. Working on creating and implementing products will come as no surprise. But while your team may be able to easily work with more complex tools, such tools are often also used by different departments to provide transparency and insight into product development. These could be marketing and sales teams to name a few. Therefore, you want to select a tool with a user-friendly interface that is easy to implement into your organization for everyone.
So, let's get to it and see which tools made it onto our list of the best product management tools.
Best Product Management Tools
We have tried to incorporate a range of different product manager tools into our list in light of the different requirements of the product lifecycle. We have also made these selections on the basis of the considerations listed above.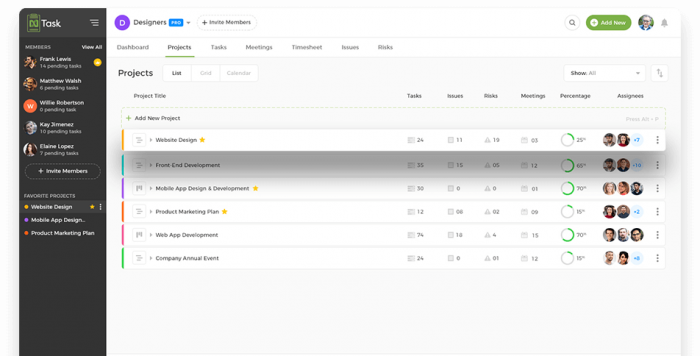 nTask is the first selection on our list because it is a feature-rich platform. It is a tool that provides different modules thus offering the ability to manage different elements of the product lifecycle within a single app.
Such apps are great as they offer a lot more under one roof thus limiting the tools that you are reliant on. This not only serves to lessen confusion amongst your team of where they can get information but also saves effort and is budget-friendly.
nTask is user-friendly therefore will be easy to use for different departments as well. Furthermore, you have different pricing plans that are great which we will discuss below. Moreover, you can track product bugs and issue tracking in just one place using this application.
Key Features:
Product document management
Time tracking and timesheets
Issue tracking
Risk management
Team management
Communication and collaboration features
File sharing abilities
Pricing:
nTask offers four different pricing plans.
The basic plan is free of cost.
Premium plan starts at $3/month/user
Business plan starts at $8/month/user respectively.
There is also a custom enterprise plan
The Best Product Management Tool for Teams.

Manage all your tasks, projects, collaboration, resources and more in one place. Sign up today!
2. GoodDay
GoodDay is a road-mapping software. We included it in our list due to the importance of planning in the product development lifecycle.
GoodDay has some really useful features which we will discuss below all of which will help in the planning and development of your product.
The software is a great choice no matter your team size and is also flexible in the way it caters to different industries.
Key Features:
Data Management
Process Management
Custom Statuses and workflows
Backlogs
Priorities management
Pricing:
GoodDay offers three pricing plans. the first of which is their free plan which is free to use for up to 15 users, you can also upgrade to the Professional plan which will cost $4/user/month. GoodDay like nTask also offers a custom Enterprise plan for which you have to contact the provider for a quote.
3. LeanKit

LeanKit by Planview is another great road-mapping tool that offers the ability to plan out the strategies behind your product development.
The tool is one of the best product management tools since it also offers features to help your team collaborate and for you to seek and offer feedback to help outcomes and productivity.
The tool is perfect for engineering teams no matter which level of the organization they are in. LeanKit aims to help you and your teamwork smarter and deliver outcomes faster.
Key Features:
Process visualization
Sample workflow templates
Projections
Customizable dashboards
Pricing:
LeanKit offers a single pricing plan which starts at $20/user, per month.
You can test out whether the tool is right for you by using LeanKit's 30-day free trial.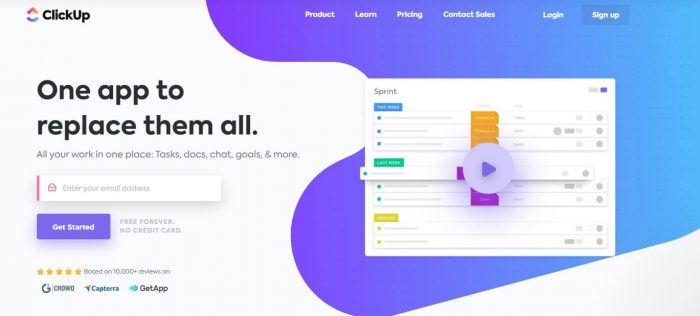 ClickUp is one of the best product management tools that's noteworthy for its flexibility. With fully customizable features, views, and organization structure, ClickUp helps teams of all sizes plan, organize, and collaborate on any type of task or project.
Because different teams in an organization will likely have different workflows and require different tools, ClickUp allows deep modularity in the form of add-ons called 'ClickApps', which allow each team to customize their workspace.
Key Features:
Multiple views including Kanban, Gantt, List, Table, and more

Communication tools including real-time chat and assigned comments

Native Docs with real-time collaboration

Home and Profiles to track assignments

Custom task statuses to create unique workflows

Automations and templates
Pricing:
ClickUp has four pricing options:
Free Forever plan

: unlimited tasks (projects) and members and 100MB of cloud storage space

Unlimited plan

($5/user per month): unlimited projects and members and an unlimited number of integrations + advanced reporting

Business plan

($9/user per month): unlimited projects and members and two-factor authentication + Google SSO

Enterprise Plan

(contact sales for details): Single sign-on, Increased API limits, dedicated success manager, advanced permissions, white labeling, and more
5. FullStory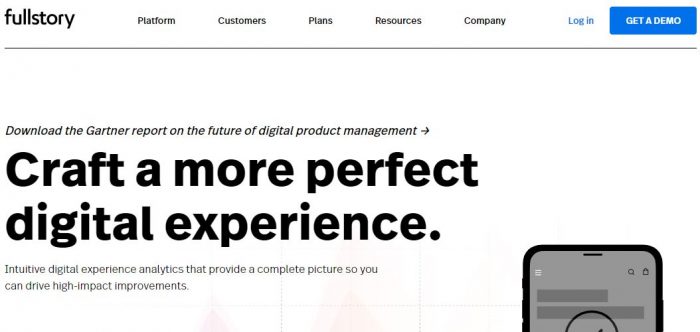 Product development is based heavily on the needs and wants of the customers. Therefore, having a tool to help determine what is needed in the market is both helpful and important. You also want a tool to help understand how your customers are reacting to your product.
FullStory serves up a superset of DX data in an easy-to-use, accessible platform. You gain insights into every digital interaction with your site or app to allow you and your team to measure, validate, and incorporate each experience to give your customers the best.
Key Features:
Element analytics
Funnel analysis
Conversion tracking
Behavioral analytics
Pricing:
You can access a limited version of FullStory for free. To avail more features, you can opt for the Business or Enterprise plan.
To get a quote on these plans contact FullStory's sales team.
6. Hotjar

Hotjar is another website heatmaps and behavior analytics tool that can help you and your team with your product development by giving you insight into your customers' needs and website visitors.
Hotjar offers insight into user behavior to help you understand what users of your website care about and provides useful supplemental data.
Key Features:
Feedback management
Heatmaps
Mobile survey
Element analysis
Customer journey mapping
Behavioral analytics
Data analysis tools
Pricing:
Hotjar offers a range of pricing plans depending on whether you are looking to use the tool for personal use, for your business, or if you are an agency.
Basic plan available for free
The Plus plan available for $39/month
A Business plan starting at $99/month
A Scale plan starting at $389/month
Custom plan for Agencies
7. LaunchDarkly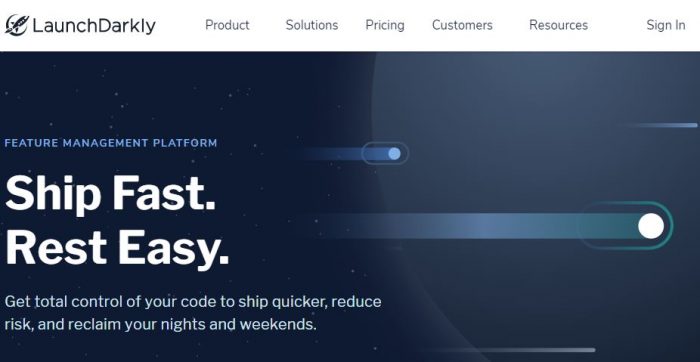 LaunchDarkly is the first feature flagging software on our list. These types of software provide you and your team the ability to easily manage specific features.
LaunchDarkly empowers your team to manage feature flags thus being able to get the most from its usage. It is also a tool that helps with requests as it combines feature flagging and toggle management.
LaunchDarkly boasts of its ability to help you build for both speed and scale. The tool offers real-time streaming connections.
Key Features:
Audience targeting
Product data management
Release management
Performance analysis
Campaign segmentation
Requirements management
Continuous delivery
Pricing:
The starter plan costs $75/month for one user,
The Professional plan is for 5 users and costs $325/month.
You can also get their Enterprise plan which is a custom plan according to your needs and team.
8. Microsoft Visio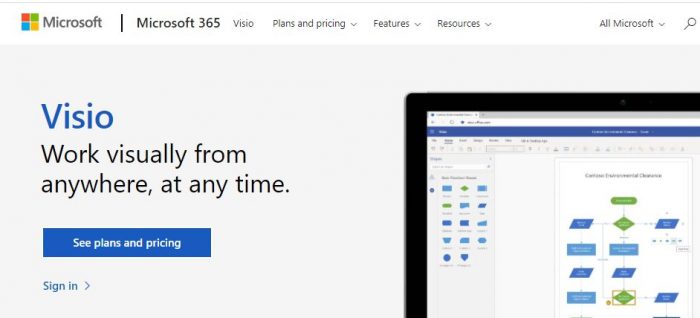 Up next on our list of the best Product management tools is Microsoft Visio. Visio is a flowcharting tool. Such tools may not be for everyone and not a necessity for many teams however, the ease and structure they provide can often be compelling when trying to stay on top of product delivery.
Visio is an innovative solution that gives you the features you need to visualize data-connected business process flows.
You can use different tools and integrations with the Microsoft suite to help you create, view, edit, and collaborate on diagrams.
Key Features:
Collaboration tools
Equipment management
Graphical workflow editor
Pricing:
Visio can be accessed for $5/user/month or $15/user/month depending on the features you are after.
9. InVision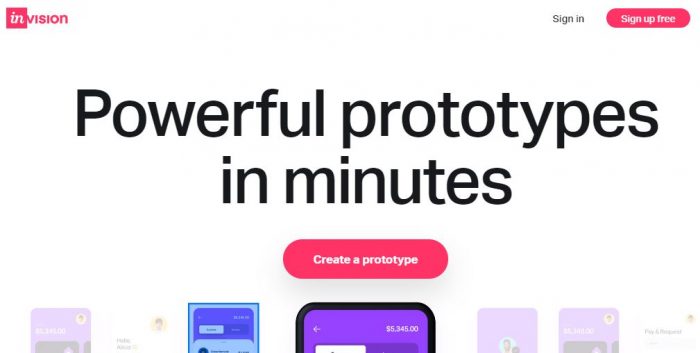 InVision is up next and is a digital project design platform that allows you and your team to better your customer's experience.
We have included InVision in our list of the best product management tools because of its prototyping features which allow you to turn statistic designs into real experiences.
User designs and customer journeys are important for the success of any product release and that is why such software is important and can be a great tool to help you achieve successful product management.
Key Features:
Reporting and analytics features
Screen capture ability
Data linking
Feedback management
Idea management
Animation tools
Pricing:
InVision has different versions whose pricing plans may vary slightly. For this blog post, we are quoting the prices for InVision V6.
Free plan available
The Starter plan is for $13/month
The Professional plan is for $22/month
The Team plan costs $89/month
There is also a customizable Enterprise plan, for a quote contact InVision's sales team.
10. Roadmunk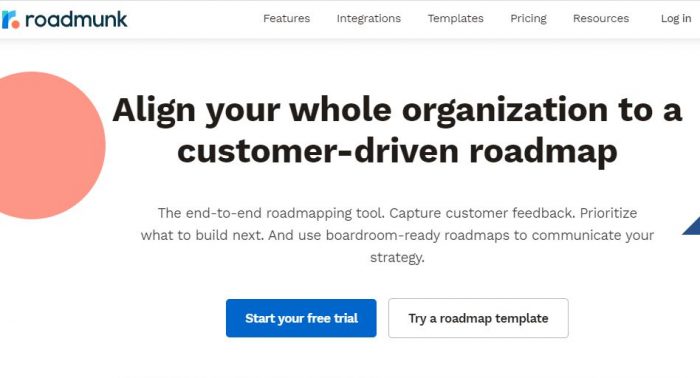 Roadmunk is a product roadmap software and roadmap tool. The platform aims to be your end-to-end road-mapping tool to help you build and communicate your product strategy.
Such software can help you plan and strategize which in turn helps data-led planning which is essential for effective product management.
Key Features:
Workflow management
Requirements management
Collaboration features
Pricing:
Roadmunk offers four pricing plans. The starter plan costs $19/month.
You can upgrade to the Business plan which starts at $49/user, per month.
There is also a Professional plan starting at $99/user, per month.
Finally, you can even get a quote from their sales team for a custom Enterprise plan.
11. Freshservice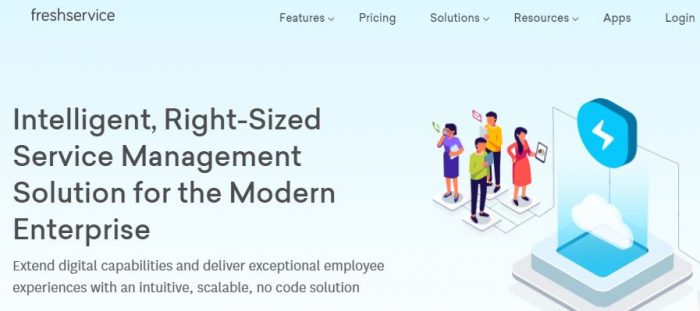 Freshservice is a complete IT HelpDesk tool. Such tools are great to help prevent pitfalls. They document and track risks across the development process. They allow problem prevention and quickfire reaction.
Freshdesk offers the ability to revamp your IT support, customize workflows and set up automation.
Key Features:
Activity tracking
Automated routing
Bug tracking abilities
Audit management
Asset tracking
Pricing:
Freshservice offers a Starter plan which costs $19/month/agent, A Growth plan which costs $49/agent/month, a Pro plan which costs $89/agent/month, and an Enterprise plan which costs $109/agent/month.
12. Chisel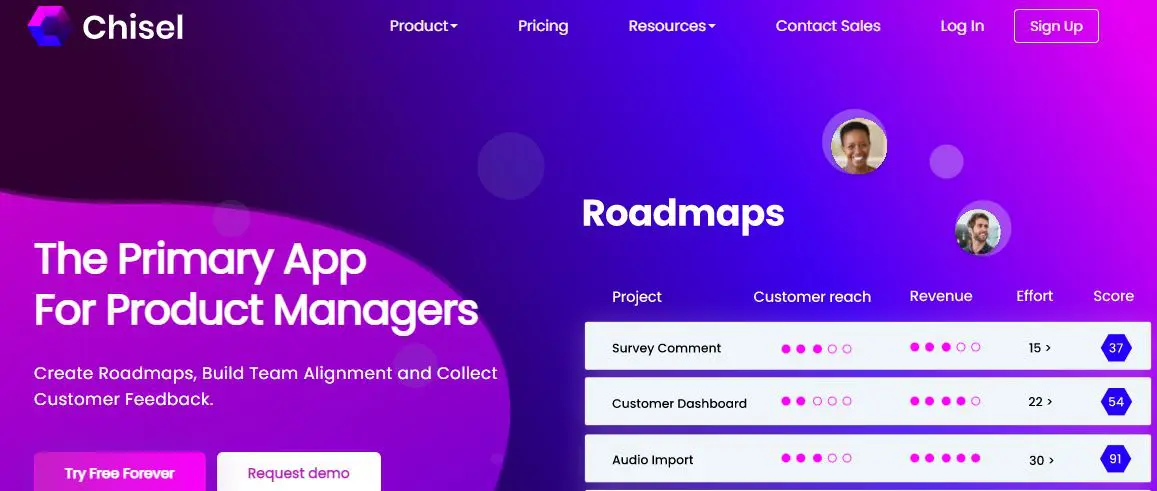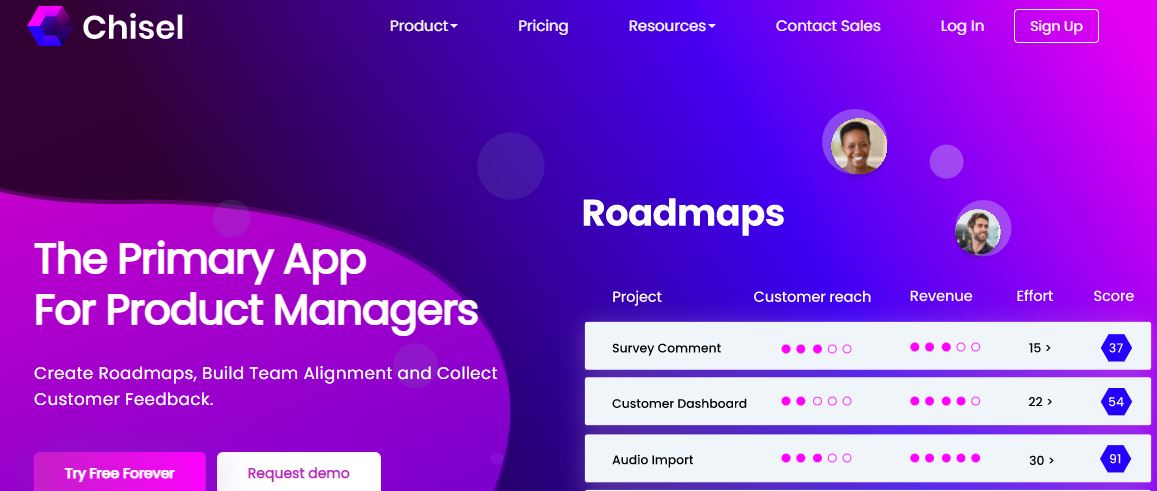 Chisel is a Product Management tool that helps teams plan, build, and ship great products. It offers a variety of features that make product management more straightforward.
Chisel is a great way to manage your product roadmap and keep track of your product development progress. It makes it easy to communicate with your team about product development progress and get customer feedback about your product.
With Chisel, you can easily see
What features are being developed?
What features are in testing?
What features are already launched?
Whether starting a new business or trying to scale an existing one, Chisel can help. This product management tool gives you the insights and tools you need to boost your productivity and grow your business.
Key Features:
Roadmap management
Progress tracking
Communication tools
Customer feedback
Reporting
Idea Management
Team Alignment
User Survey Feedback and analysis
Integration with Jira and Azure DevOps
Pricing:
Free forever plan with 2 makers and unlimited contributors
Premium plan at $49/month
An enterprise custom plan is available
Free trial available for paid plans
Conclusion
We have highlighted the top product management tools that can help your team to get on a single page and make all your product management work easier. Choose among these product management solutions to make better products and grow successfully.
---
Further Readings: