Are you looking for the best MindMeister alternatives in 2023? Are you tired of being limited by the features and functionalities of MindMeister?
If so, then you've come to the right place! In this blog post, we'll take a look at 11 of the best MindMeister alternatives available today – giving you plenty of options to choose from for your next mind-mapping project.
What is Mindmeister?
Mindmeister is an online mind-mapping tool that allows users to visually organize ideas and concepts. This innovative tool can help increase creativity, collaboration, brainstorming, goal-setting, and problem-solving. It provides a way to create diagrams that represent knowledge structures in a graphical format where users can link different pieces of information together.
Mindmeister has become especially popular with businesses as it enables teams to brainstorm ideas quickly and efficiently in order to come up with solutions more rapidly.
The interface is simple and intuitive, making it easy for anyone to use the program even without any prior experience or design skills.
With its collaborative tools, presentation modes, and integration with productivity applications such as Google Drive, Mindmeister is designed for both professionals and occasional users alike who need a way of organizing and visualizing their thoughts quickly and effectively.
Simplify project management
with nTask today!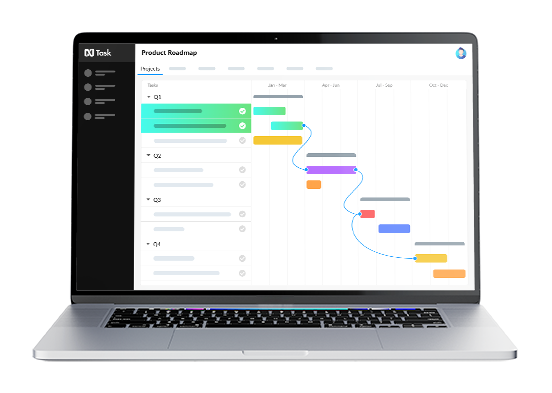 Who is Mindmeister for?
Mindmeister is a cloud-based mind-mapping tool that helps individuals, businesses, and students to visually organize their ideas, tasks, and projects.
It enables the users to capture, develop and effectively share their thoughts with others in an organized manner. Mindmeister's features are ideal for professionals who need to map out plans or brainstorm ideas, allowing them to structure their thoughts and store information in a visual way.
It's also great for project teams as they can collaborate on the same map in real-time. Students can also benefit from its user-friendly interface as it allows them to create visual representations of any course material such as diagrams or flowcharts. Ultimately, Mindmeister is suitable for anyone looking for an effective way to capture and present data or conceptualize complex tasks quickly.
How Does Mindmeister Work?
Mindmeister is an online mind-mapping platform that helps individuals, teams, and organizations to visualize their ideas in a productive and collaborative manner. It helps people to break down complex thoughts into simpler ideas by creating digital maps of their visualized thoughts.
Mindmeister works by allowing users to create a main or central idea with branches coming out from it for each sub-idea or related concept. The idea behind this approach is that the user can easily see the bigger picture as well as all its details at once.
In addition, Mindmeister also allows users to collaborate on their mind maps in real-time with other users or colleagues, which makes it great for teamwork projects. Users can move elements around within the mind map, add notes and images where needed, as well as comment on different aspects of the project in order to communicate more efficiently with one another throughout the process.
Furthermore, Mindmeister allows users to share their projects publicly or protect them with password protection via a URL link if they wish to keep them private instead.
What functionalities does Mindmeister offer?
Brainstorming: Mindmeister offers the ability to brainstorm ideas and organize them visually. This can help spark new insights, facilitate discussion, and manage tasks more effectively.
Presentations: The platform also allows users to create powerful presentations with interactive visuals that can be shared online or exported as images or PDFs.
Collaboration: Users can collaborate in real-time with anyone either within their organization or remotely, allowing teams to work together seamlessly every step of the way.
Mapping: The mind mapping functionality gives users an intuitive system for organizing their thoughts and turning them into actionable plans.
Outlining: For longer documents such as essays or reports, Mindmeister provides an easy way to structure information via an outlining tool with drag-and-drop capabilities.
Integrations: Other applications like Dropbox, Evernote and Google Drive are integrated into Mindmeister so users can easily access all of their content from one place.
3 Reasons Why You Need A MindMeister Alternative
New users may find it difficult to navigate the features and functions of Mindmeister. Competing with more well-established project management products can be a challenge for Mindmeister
The cost of upgrading to premium tiers can be expensive for some users. Collaboration tools are limited due to siloed views, rather than shared workspaces.
Mindmeisters' dependency on browser plugins such as Adobe Flash may lead to decreased functionality or incompatibility issues when using a different browser version
11 Best MindMeister Alternatives in 2023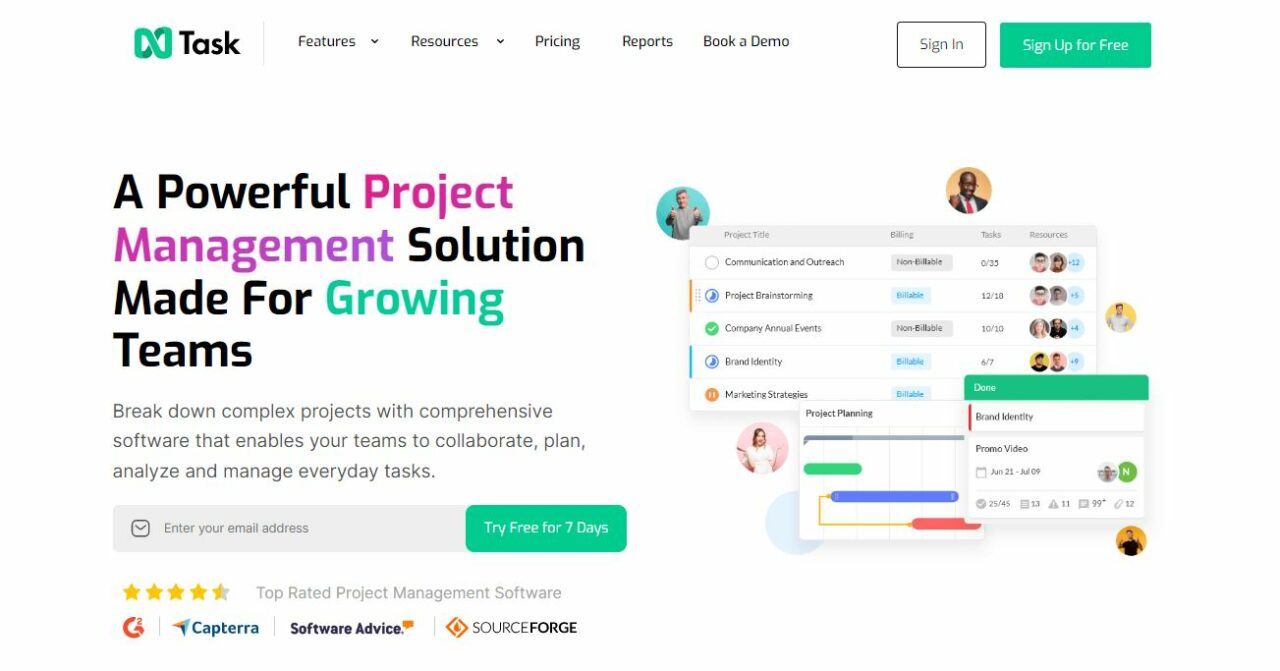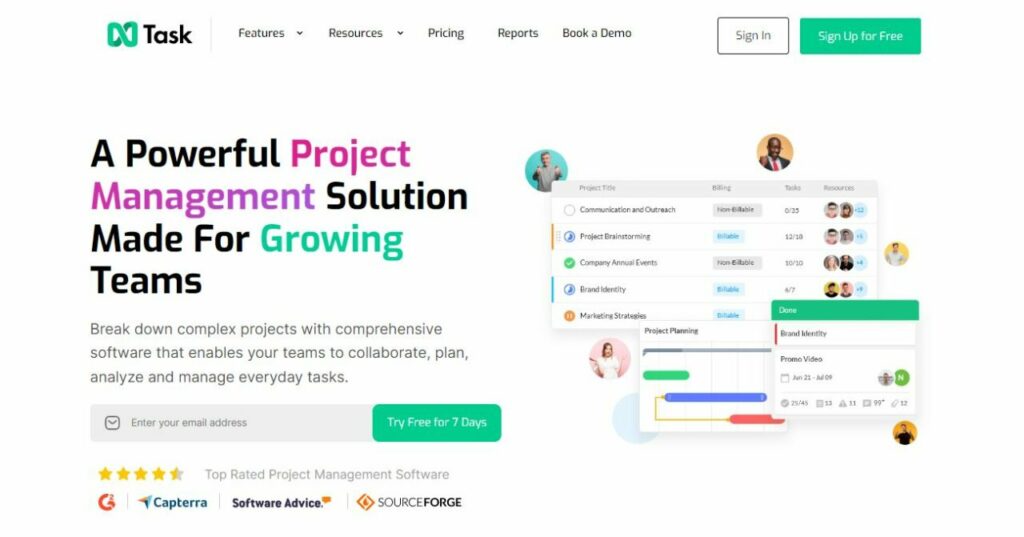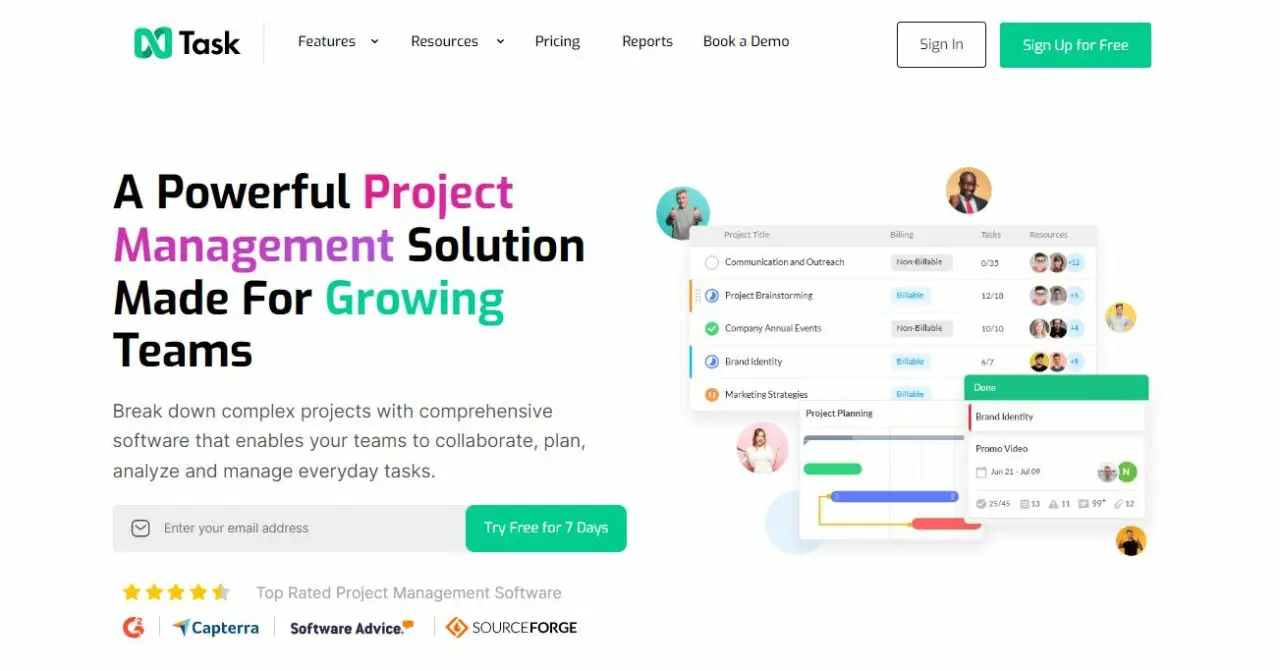 nTask mind mapping software is an incredibly useful tool for businesses and individuals alike. It allows users to create visual maps that represent ideas, tasks, or goals in a way that can be easily and quickly organized.
This type of software typically contains features such as brainstorming, outlining, project planning, and tracking capabilities. By using task mapping software, users can break down complex tasks into smaller more manageable pieces which can be accomplished one at a time.
Additionally, the visualization of this data helps users brainstorm new ideas while keeping their vision organized in an efficient manner. nTask mind mapping software is great for problem-solving and strategic planning since it provides the user with comprehensive views of their projects from both short-term and long-term perspectives.
It also aids in communication between team members as topics are visually represented through common formats such as flowcharts or Gantt charts which can be understood easily by all parties involved with the project.
Features
Visual Representation: Task mind mapping software provides users with the ability to visually represent their thoughts, ideas, tasks, and organizational structures in a graphical format. Users can create multi-dimensional maps filled with various colors, shapes, and arrows connecting different elements to each other. By quickly visualizing a concept or project, users can better analyze the information associated and identify key elements quickly and efficiently.
Collaboration Tools: Task mind mapping software also includes features that allow team members to collaborate on projects in real-time from anywhere in the world. Multiple people can open a shared map at once so they all have access to up-to-date information during group discussions or brainstorming sessions.
Team members can add notes, comments, images, or files directly onto the map for everyone else to see and comment on instantly even if they are not physically present in the same room together.
File Management: The task mind mapping software allows users to easily organize files into folders which makes it easier for them to find what they are looking for quickly and efficiently without having to sift through multiple layers of documents scattered all over their computer desktop or hard drive
This feature gives them an added layer of organization, especially when dealing with large amounts of data that need sorting out like financial records or customer profiles etc.
Pros
Ability to brainstorm ideas quickly
Helps foster collaboration between teams
Enhances organization and structure of tasks
Makes it easier to identify potential roadblocks
Allows for better planning and goal setting
Can be used to track progress against a plan
Creates visual representations that are easy to understand
Cons
Difficulty understanding complex features: In general, mind mapping software applications can be quite complex, with multiple features and customizable settings.
Pricing
Premium $3/month
Business $8/month
Enterprise custom/pricing
2. Miro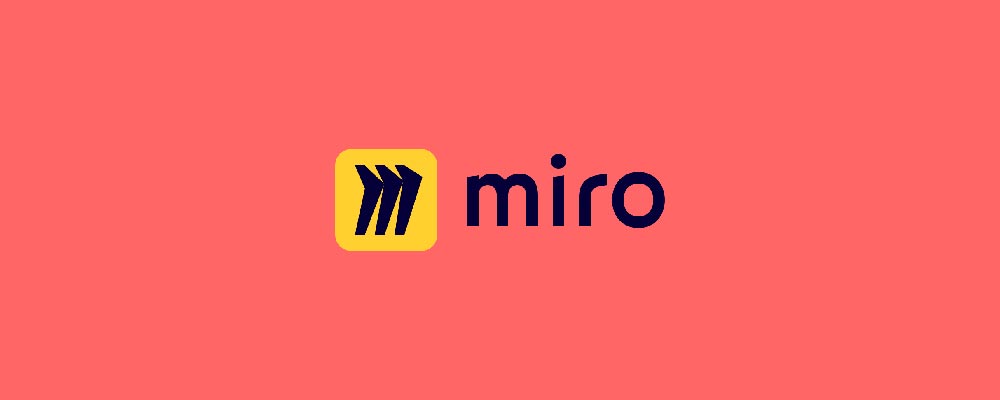 Miro Mind Mapping Software is a powerful online tool designed to help users organize their thoughts, ideas and tasks in an efficient and collaborative way.
The software provides users with the ability to create mind maps, brainstorm ideas, collaborate on projects, and store information securely in the cloud.
Users can add images from files or from Google Drive or Dropbox into the workspace, making it easier to visualize concepts. They can also access features like text formatting for when notes need to be taken within collaboration boards as well as file sharing for when collaboration takes place across multiple platforms or devices.
Additionally, Miro has a built-in video conferencing feature that allows team members located around the world to connect with each other quickly and easily without leaving their project page.
Finally, integrations such as Trello cards are available so that tasks from one platform can be tracked on another platform automatically keeping everyone informed of project updates at all times.
Features
Workflow and Project Management: Miro's intuitive real-time collaboration tools help teams plan, brainstorm, prioritize tasks, manage workloads, track progress on projects, and keep everyone updated.
Customizable Templates: Choose from a wide range of customizable templates designed for specific industries such as product management and marketing campaigns. Templates can be further customized with colors and images to enhance the user experience.
Visualization Tools: Easily create visuals such as colorful diagrams, charts, and flowcharts for a shared understanding of complex concepts or processes within the group or organization.
Sharing & Collaboration Abilities: Share your creations with others inside or outside the organization in order to receive feedback via comments, likes, and reactions quickly in a single dashboard viewable by all stakeholders involved in the project or task at hand.
Task Management: Plan out tasks by setting deadlines and assigning them to team members using Miro's drag-and-drop interface that makes planning effortless while maximizing productivity levels within teams accordingly.
Pros
Easy to create and view mind maps: Miro offers a simple user interface that allows users to quickly create and visualize their projects.
Collaborative editing capabilities: Multiple users can edit the same mind map in real-time, making it ideal for remote teams.
Integration with other software tools: Miro integrates seamlessly with popular productivity and communication platforms such as Google Drive, Dropbox, Slack, Confluence, JIRA, and many more.
Customizable templates: Users can select from various built-in templates or customize their own according to their project needs.
Cons
Potential lagging issues: The Miro mind mapping software can suffer from lagging issues when trying to work on large projects. This can cause slowdowns and hinder productivity.
Limited color exploration options: While the Miro mind mapping software comes with a few preset colors for your map, it does not allow for much customization of color schemes or other aesthetics.
Costly upgrade system: Many users find that the cost of upgrading to Pro or Business plans necessary but expensive, especially for smaller businesses.
Pricing
Free $0/month
Starter $8/month
Business $16/month
Enterprise custom/pricing
3. Freeplane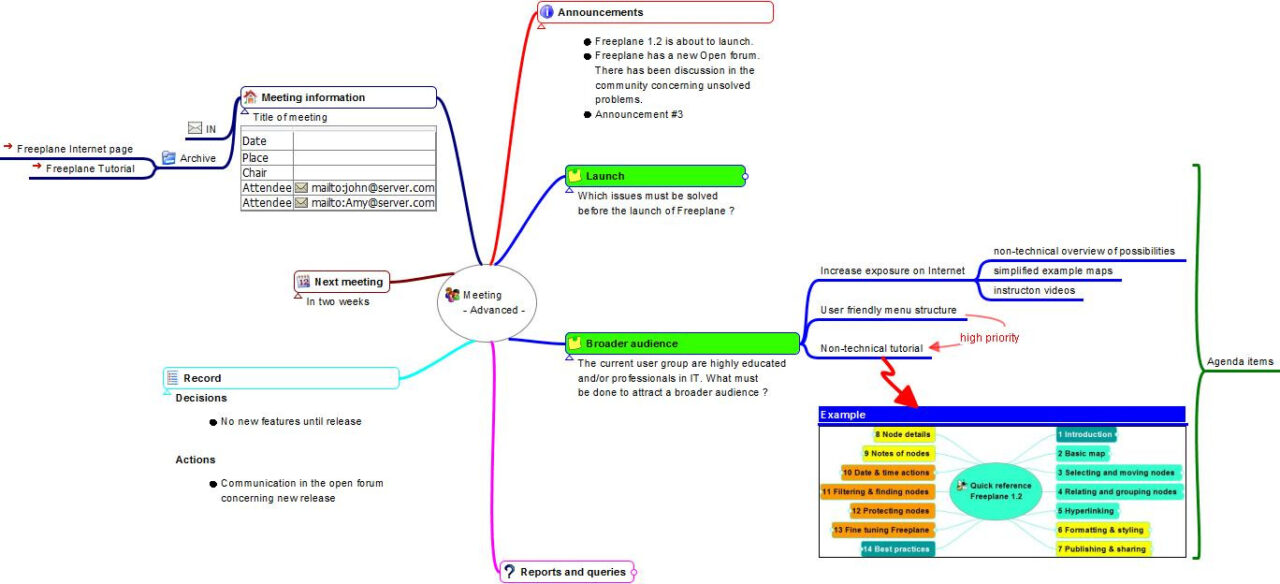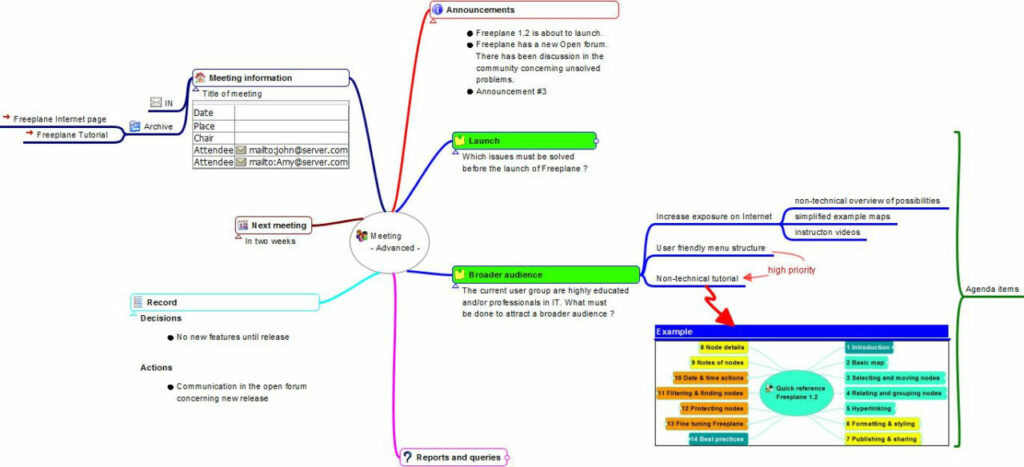 Freeplane is a free and open-source software application for creating and visualizing mind maps. It allows users to organize information graphically with the help of nodes, links, images, notes, and other components.
The application has been designed to enable collaboration among users and supports exporting data in a variety of formats such as pdf, HTML, PNG, and SVG.
Furthermore, it serves as a MindMeister alternative and other tools' popular alternatives.
Features
Mind Mapping: Freeplane enables users to create beautiful mind maps quickly and easily. It features tools for organizing ideas, notes, and other information visually. The mind maps can be connected with each other, making them an ideal tool for project planning, brainstorming, data visualization, and more.
Collaborative Mapping: Freeplane supports collaborative mapping with multiple users working on the same map at once. It allows teams to have real-time conversations about mind maps from anywhere in the world.
Tools & Templates: Freeplane comes with a range of useful tools and templates to help users get started quickly with their projects or ideas. It also includes pre-made designs that make creating professional-looking maps easy and efficient.
Integrations: Freeplane integrates with many third-party applications such as Dropbox, Google Drive, Evernote and Outlook Calendar. This makes it easy to keep all your work organized in one place across different platforms without having to manually input requests or switch between applications while working on a project or idea.
Customization Options: Users can customize their mind maps using several options such as changing colors or font size of text boxes; adding icons and symbols; rearranging topics; adjusting the layout; linking notes to external URLs; etc., allowing them complete control over how they want their final product to look like when shared online or printed out for reference purposes.
Pros
Ease of use: Freeplane mind map software is extremely easy to use, making it a great choice for users of all skill levels.
Platform support: The software works on Windows, Mac, and Linux operating systems so users can access their maps from any device.
Customizable look and feel: You can customize the look and feel of your mind map with different fonts, colors, shapes, and images.
Cons
User interface is cluttered and confusing
Significant learning curve to master all the features
Difficulty in sharing files, as other users need to be part of the Freeplane software platform
Technical support options are limited
Limited number of themes and templates are available
Pricing
Free application
4. Mural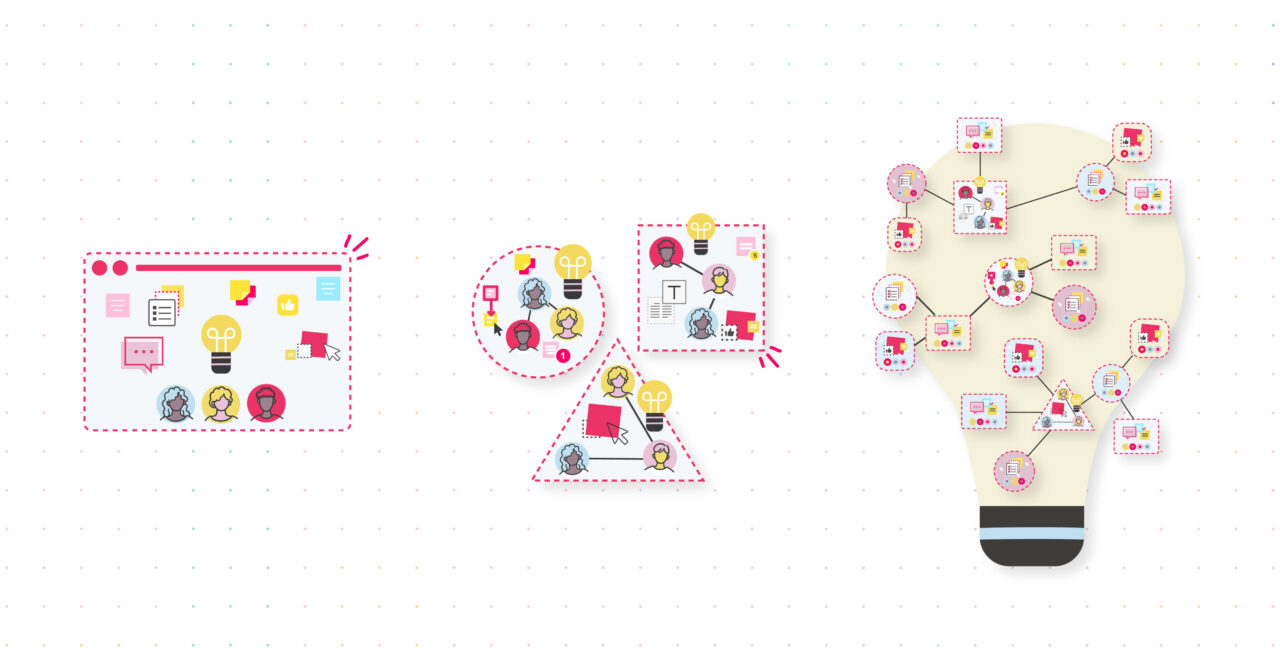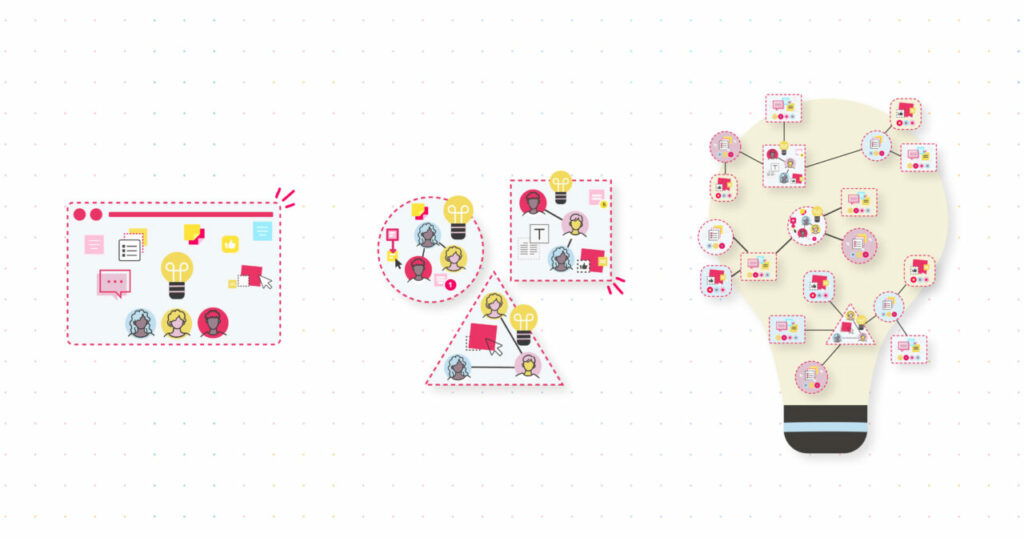 Mural is an innovative and fun way to visually brainstorm, collaborate, organize, and present ideas. It's a cloud-based mind map software that offers users the ability to quickly create visual maps of their thoughts. Unlike traditional word processing programs.
Mural provides an easy-to-use interface with a drag & drop feature allowing users to easily build out their ideas by simply dragging images into place and typing text. Mural also allows up to 25 participants in real-time collaboration mode so everyone can work together simultaneously without interruption.
Users have access to integrated tools such as sticky notes, image inserts, and shapes so they can personalize their brainstorming. Additionally, Mural has a host of features including flowcharts for diagramming processes, a whiteboard for drawing diagrams, storyboarding for creating stories, a voting tool for getting quick team feedback, and Gantt charts for project management.
It also serves as an alternative to MindMeister, Mural offers its own unique set of features that allows users to customize their collaborative experience in powerful ways suited to each individual user or organization.
Features
Drag and Drop builder: Users can quickly add branches, notes, images, videos, etc. to their mind map by simply dragging and dropping them into the desired location on the canvas.
Customization: Users have access to a wide range of customization options within the app such as color-coding nodes, adding custom images or symbols for each node, changing font sizes/styles (including handwriting fonts), setting gradient backgrounds, and much more!
Collaborative Workflow: Users can invite other members in order to collaborate on projects with real-time one-click syncing capabilities as well as version control functionality that allows users to track changes over time (so you'll never be caught without an updated copy of your work!).
Printing & Export Capabilities: Mural supports PDF output for printing or sharing with others outside of the platform if needed – making it easy for users to communicate their ideas efficiently with non-Mural users! It also has built-in support for exporting mind maps in various file formats like image files (JPG/PNG).
Pros
Easy to use: Mural mind map software boasts an intuitive and user-friendly interface that allows users to customize their mappings with ease.
Flexibility: It is highly flexible and versatile, allowing users to create large maps that can be accessed from multiple devices, or even collaborate on the same map with others.
Visualization: The software can help visualize complex data in a more easily digestible form by providing a visual representation of ideas and concepts.
Cons
Limited customization options: Most mural mind map software offers limited customization options, which may not be sufficient to meet the needs of every user.
High cost: Many mural mind map software require costly monthly or yearly subscription fees, making them difficult for individuals and small businesses to afford.
Complex user interface: Some mural mind map software have a complex user interface that can be daunting for new users.
Pricing
Free $0/month
Team+ $9/month
Business $17.99/month
Enterprise custom/month
5. MindManager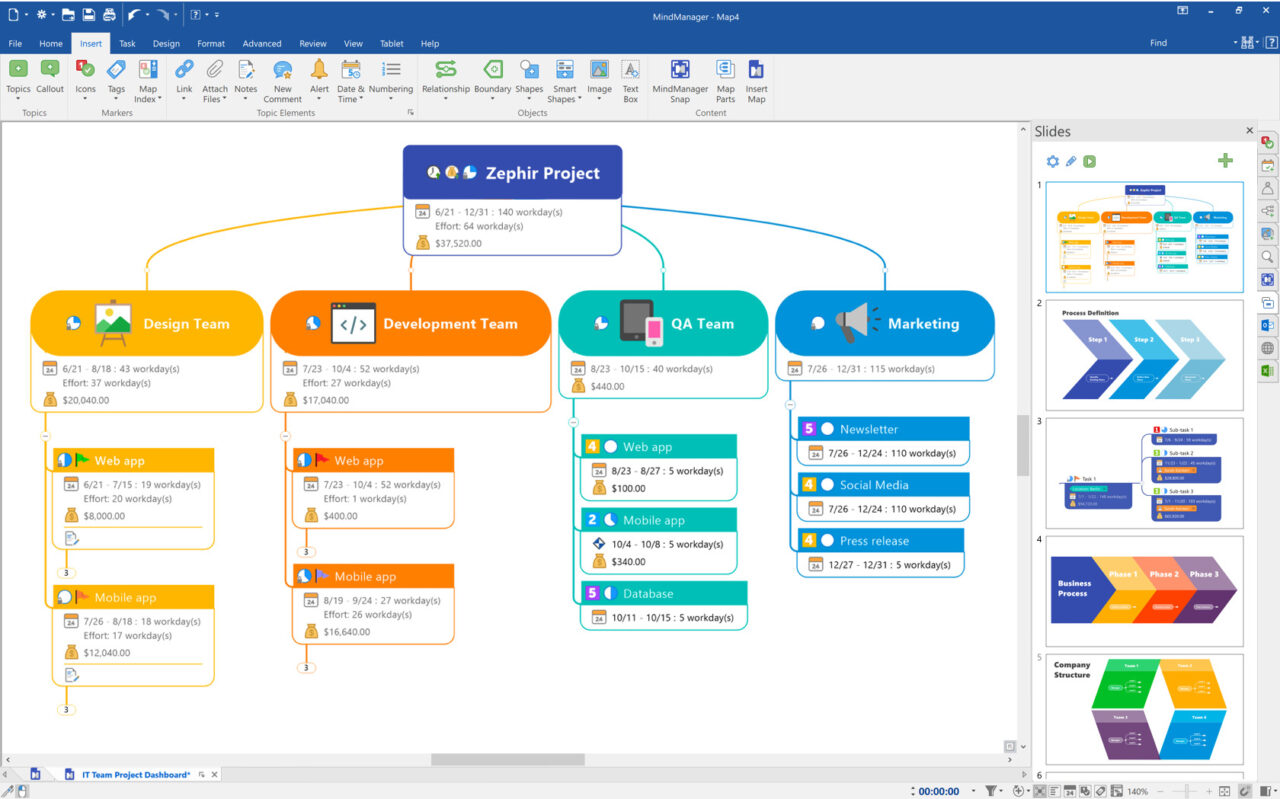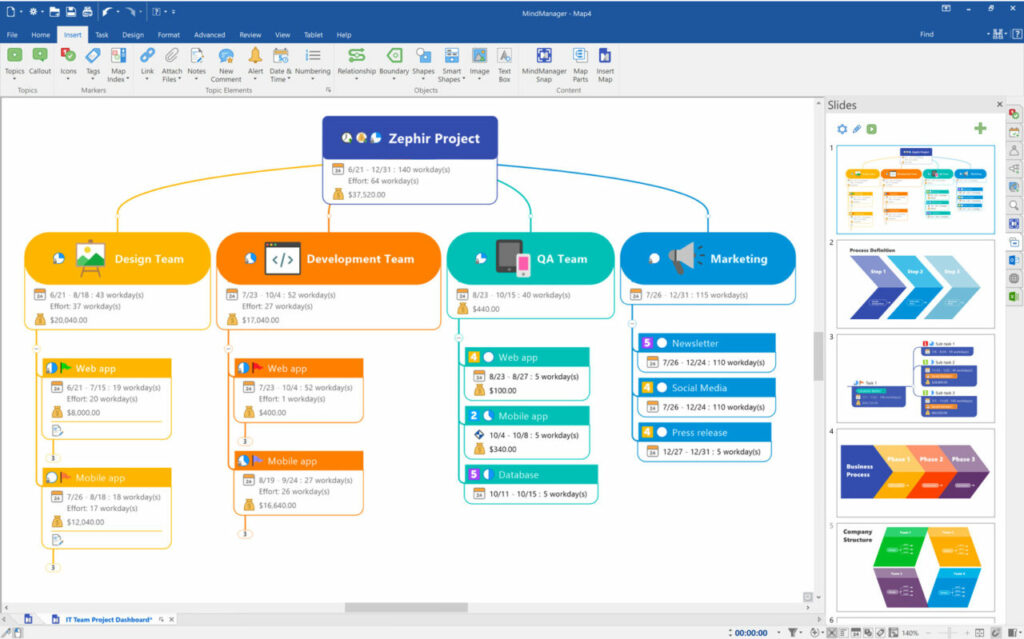 MindManager is a professional mind map software that combines powerful visual mapping, task, and project management to create an all-in-one solution for organizing your thoughts.
It helps you to brainstorm, plan projects and goals, visualize problem-solving processes, and structure ideas in order to solve complex problems faster. With its user-friendly interface, you can quickly start creating rich visuals with just a few clicks.
MindManager allows users to add topics, draw connections between them and easily modify the positions of topics and branches within the map using drag & drop tools.
It also offers several features such as dynamic outlining which provides users with visual cues regarding content depth levels as well as embedded data links allowing for deeper information integration from other sources like webpages or databases.
The software supports multiple export formats including PDFs, images, HTML documents and more providing users access to their work from nearly any device or platform at their disposal. In addition, it also works as an effective MindMeister alternative offering advanced tools for collaboration within teams.
Features
Brainstorming Tool: MindManager provides a comprehensive brainstorming tool that helps users easily capture ideas in a visual format
Collaboration: Additionally the software provides real-time collaboration capabilities for team members to simultaneously work on documents from anywhere.
Outlining & Organizing Tools: This platform also offers mapping tools for organizing information so that it becomes easier for users to quickly find what they are looking for and make meaningful connections between them.
Task Tracking & Management: Users can add tasks with due dates within the project map which serves as a reminder of upcoming deadlines. Furthermore, task progress can be tracked by assigning status labels or setting percent complete values so that you know exactly how far along each project is at any given time.
Pros
Makes collaboration easier with sharing, export, and import capabilities.
Enhances brainstorming sessions with visual thinking tools.
Helps to keep track of projects easily by showing how tasks are connected across teams.
Integrates seamlessly with Microsoft Office applications for easy project organization, communication, and reporting.
Cons
Cost: MindManager can be quite expensive for the average user.
Complexity: For those new to mind mapping software, MindManager can be a bit difficult to learn and use.
Compatibility: The Mac version is not as feature-rich as the Windows counterpart.
Integration: Integration with third-party applications and services is limited compared to other mind-mapping solutions.
Pricing
Custom pricing
Ratings
4.6, 4.7
6. Clickup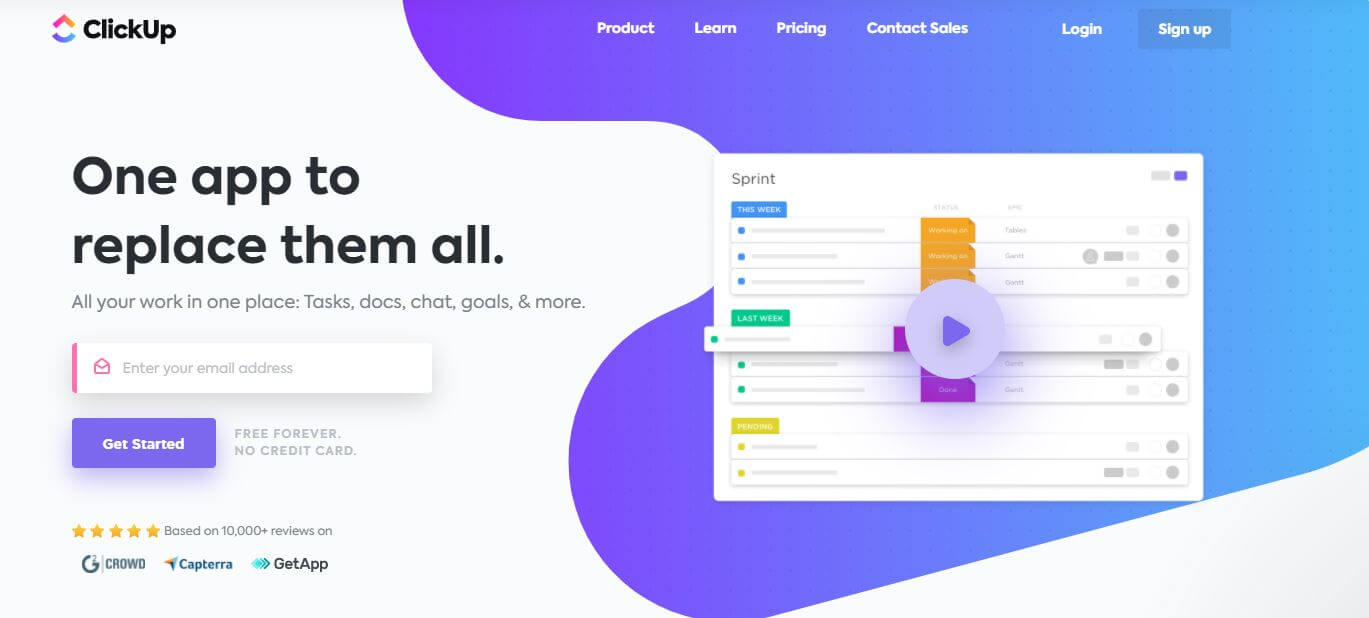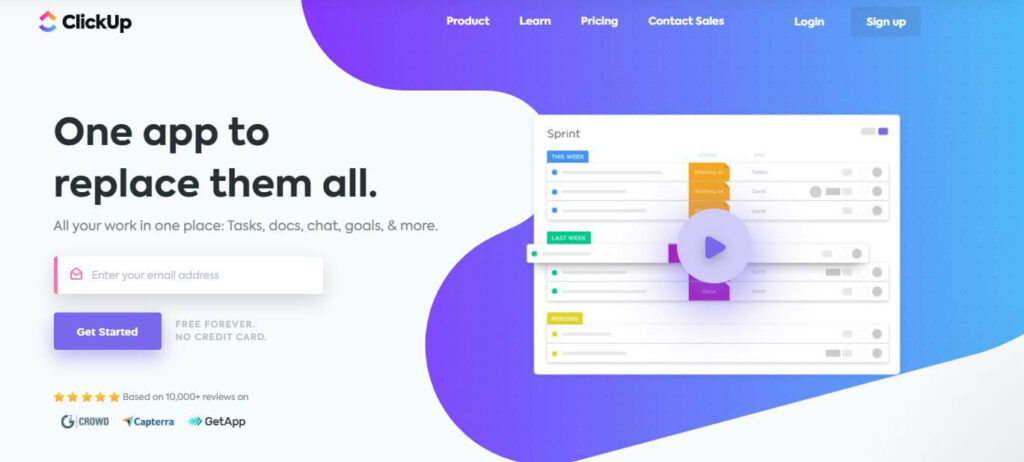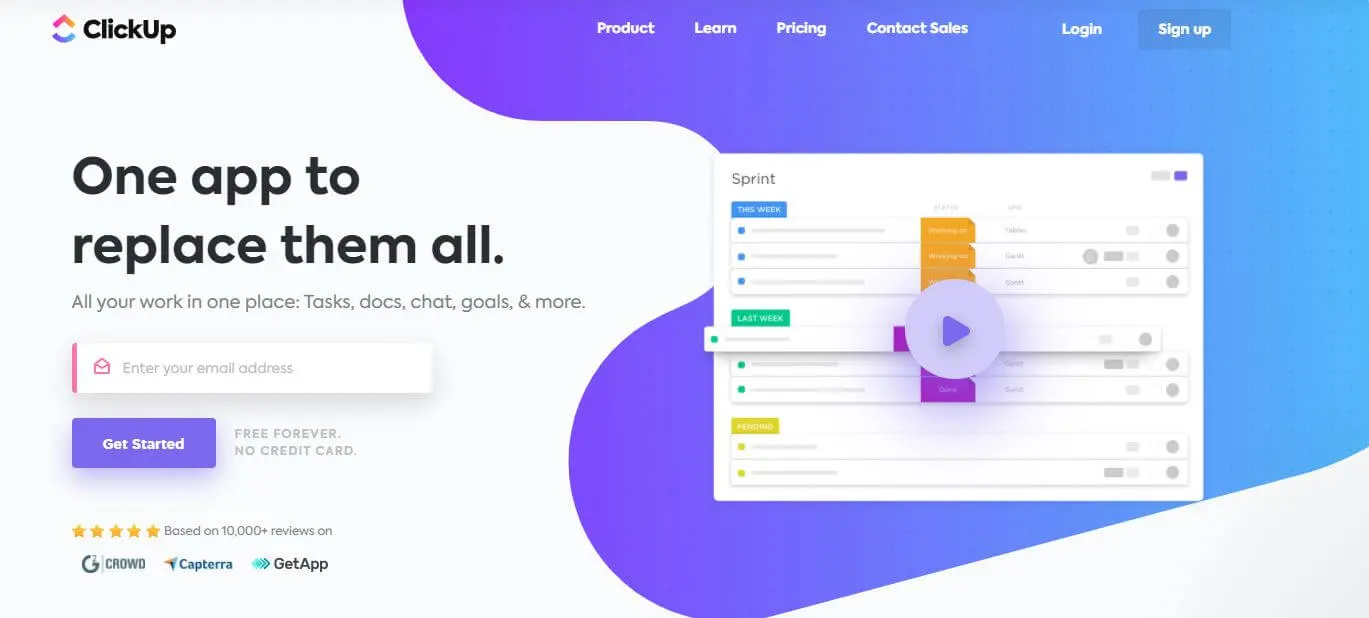 Clickup is a cloud-based mind-mapping software that allows users to brainstorm, plan, and organize ideas. It offers advanced collaboration features such as shared workflows and real-time chat or video calls. With an intuitive user interface, Clickup makes it easy for teams to collaborate on projects and experiment with different ideas.
Unlike other mind mapping tools, Clickup provides powerful business intelligence tools such as Gantt chart views and project templates to help teams stay organized and collaborate more efficiently.
Additionally, the software integrates with popular task management apps like Slack, Trello, and Evernote which helps streamline workflow processes across all the teams' apps. As a MindMeister alternative, Clickup is an ideal solution for those who want a one-stop shop for their mind mapping needs in addition to task management tools.
Features
Easy to Use: Clickup provides an intuitive user experience that allows you to quickly understand the features and tools available. The software is simple enough for beginners, yet powerful enough for experienced users.
Task Management: Create tasks, assign them to yourself or others and set due dates for efficient task management. Monitor task progress with detailed project timelines and reports. This helps teams stay on track with their projects while providing visibility into their workflows.
Mind Mapping Tool: The mind mapping feature enables visualizing concepts and ideas related to a particular project or subject in one click. This helps teams collaboratively brainstorm while giving them the ability to add custom labels, logical connections between nodes, various file formats (PDFs/images/video), as well as view entire projects from multiple angles.
Project Viewer & Dashboard: Clickup's project viewer provides a comprehensive overview of all tasks belonging to a given project in one place at any point in time. It also offers advanced filters so you can easily drill down into project details such as deadline status and assignee without having to switch back-and-forth between pages or tabs within the app.
Pros
Easy to use interface with drag-and-drop capabilities
Customizable workflows and templates
Ability to set recurring tasks and keep track of due dates
Visualize the progress of projects with Gantt charts
Automatically assign tasks when certain conditions are met
Integrate with other apps for seamless collaboration
Cons
Not particularly intuitive or user-friendly
Limited in terms of features compared to more established mind mapping software\
Can't easily draw relationships between topics (e.g., by drawing arrows)
No "undo" function
No integration with third-party applications or software
Pricing
Free – $0/month
Unlimited $5/month
Business $12/month
Business Plus $19/month
Enterprise custom/month

Ratings
4.7, 4.5
7. Lucidsparks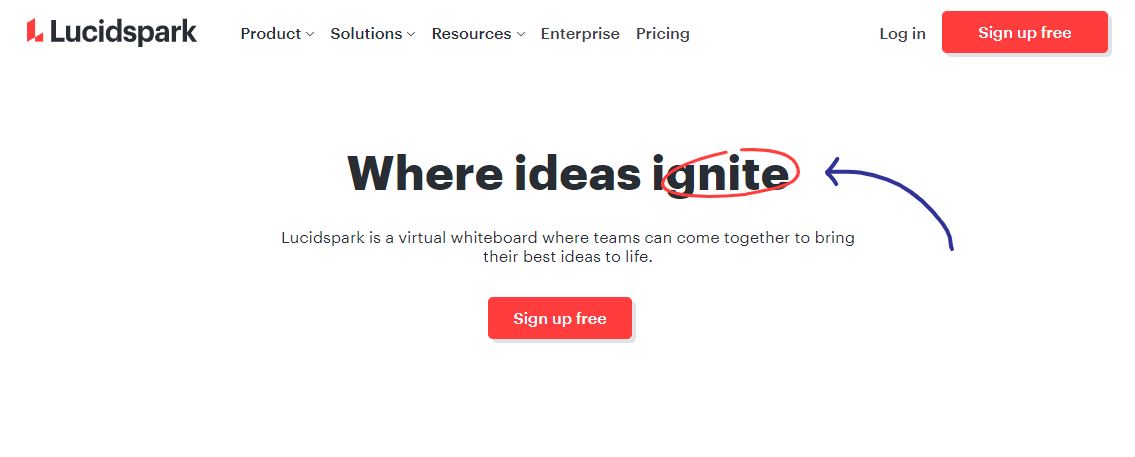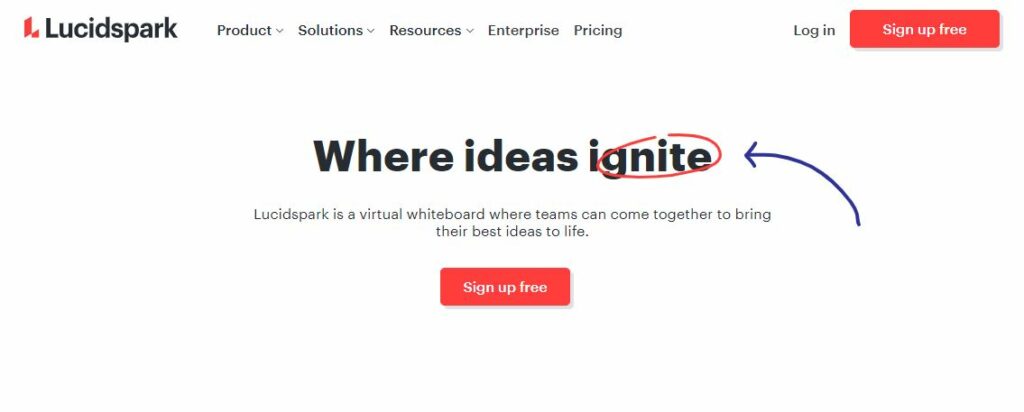 Lucidsparks whiteboard virtual collaboration tool is a cutting-edge technology that makes it easier to collaborate with colleagues from anywhere in the world.
This platform combines features of both a traditional whiteboard and an interactive video conferencing space, making it perfect for teams from different departments or locations who need to come together and work on projects.
Lucidsparks offers users tools like live drawing, sharing documents, brainstorming ideas digitally, offering feedback quickly, and seeing others' faces when discussing tasks.
It also means no more time spent transferring materials through email or trying to meet up at one physical location – everything can be done online in real-time with Lucidsparks!
Not only does this save time on communication and organization but also provides an efficient way for teams to stay connected while they work collaboratively on projects.
Features
Real-Time Collaboration: Lucidsparks Whiteboard Virtual Collaboration Tool enables multiple users to collaborate simultaneously in real time from any device with an internet connection. This ensures that everyone involved can stay connected and make progress without delay.
Streamlined Workflows: Users can brainstorm ideas, review plans and work on projects together more efficiently as they have access to the same digital space while collaborating remotely or in person. Additionally, user roles can be defined according to their contribution type – whether it's commenting or assigning tasks – streamlining the entire workflow process and making collaboration smoother than ever before.
Cloud Storage Integration: Lucidsparks Whiteboard Virtual Collaboration Tool integrates with popular cloud storage solutions such as Dropbox and Google Drive so that documents can be securely stored in the cloud while they are being worked on concurrently by different members of a team or organization remotely access them from anywhere anytime when required.
Multi-Platform Compatibility: The tool runs smoothly across all major platforms like Windows, MacOS, Android, and iOS which means it doesn't matter what device you are using; you will still get an optimal experience collaborating with others virtually using this software suite!
Customizable Templates: This feature allows users to customize the look of their virtual workspace according to their needs – offering templates for everything from brainstorming sessions to project management meetings– saving time when setting up collaborative sessions between team members quickly.
Pros
Easy to use: Lucidsparks whiteboard virtual collaboration tool is user-friendly and doesn't require technical training.
Secure data: All stored data is safe and secure with encrypted backups.
Cost-efficient: Lucidsparks can save companies money in terms of travel costs and physical space for traditional meetings.
Mobile access: The software allows users to access documents, presentations, images, and videos from anywhere.
Cons
Difficulty in navigating the interface for some users, which can be time-consuming and frustrating 
Lack of certain features such as different drawing, text editing, and sharing tools that could make collaboration evasion capabilities with other 3rd party applications or services 
Higher cost than some competing products in its market 
Pricing
4.5, 4.6
8. G2 Deals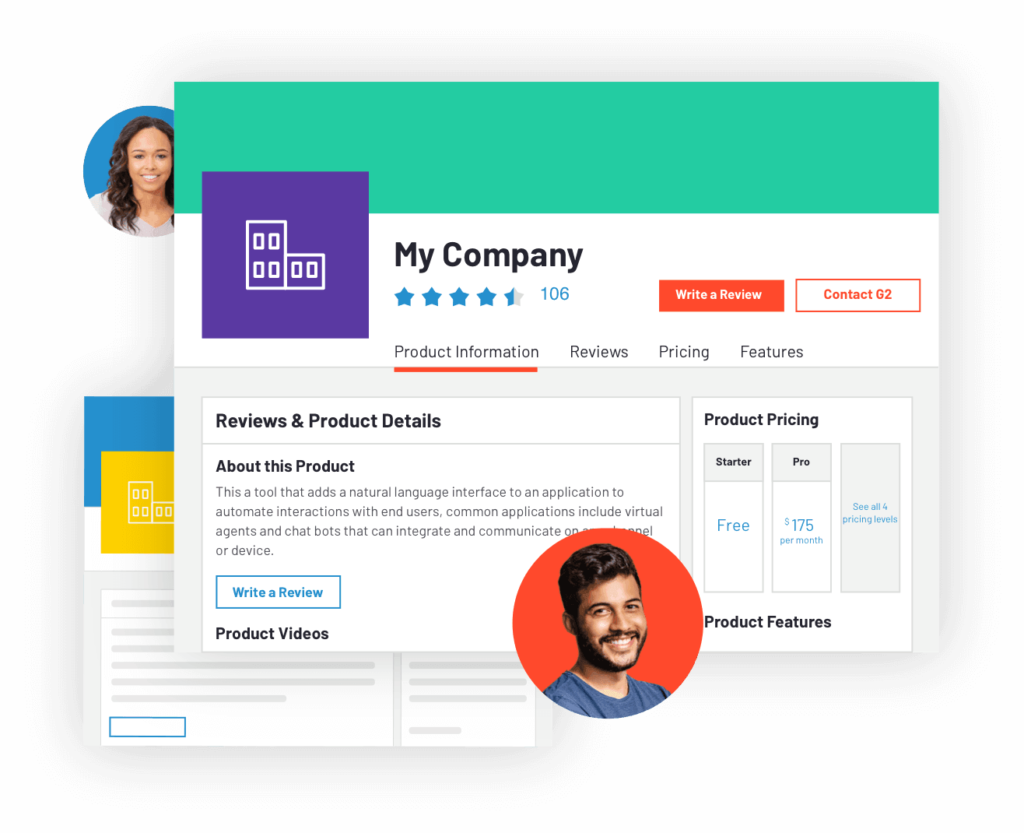 G2 Deals is a powerful mind-mapping software that allows users to easily brainstorm, organize and plan any project quickly. It is designed for both business professionals and casual users, making it a great tool for organizing ideas, plans, and presentations.
The software includes features like an easy-to-use interface, customizable themes, and templates, comprehensive search functions, and drag & drop capabilities so that you can quickly create visually appealing diagrams or outlines from scratch or from existing documents.
G2 Deals also makes it simple to share your work with colleagues by allowing you to export files as images or PDFs for review purposes.
Additionally, all of the data is stored in the cloud so that you can access your projects on any device without having to worry about losing information due to hardware failure or accidental deletion. G2 Deals helps save time while ensuring accuracy by taking care of all the tedious details of project planning.
Features
Brainstorming Mode: The software provides a fast way to sort out your thoughts, create new ideas, and get creative with projects. You can add nodes to existing maps or start fresh with blank maps, use color codes and symbols for visual organization, and collaborate with others in real-time.
Visualize Ideas: Convert text into visually appealing diagrams that capture the big picture quickly when presenting complex topics. Easily arrange objects on the canvas using drag & drop functionality and make quick changes such as rearranging elements or changing colors instantly.
Powerful Mapping Tools: Utilize powerful diagramming tools like auto-layout, snapshots & annotations plus over 500 professionally designed themes that enhance presentations almost immediately.
Import/Export Format Support: With G2 Deals mind mapping software you can import from Microsoft Visio® files, spreadsheets or other sources. Export diagrams as images (JPEG), PDFs, HTML documents; export processes for BPMN collaboration; copy multiple objects simultaneously into Excel spreadsheets; save maps in Illustrator Align format for layout purposes; save in SVGXML format to upload online; export mind map as ePub eBook files.
Cloud Integration & Mobile Accessibility: Platform-agnostic cloud support allows collaborators to access data anytime from any device while using Dropbox®, Google Drive®, and OneDrive® integration making it easy to store online all of your projects without losing anything important in the process. Plus dedicated apps are available for both iPhone® and iPad® devices so you can work remotely at any time!
Pros
Easy to use: G2 Deals Mind Mapping software has an intuitive interface that makes it easy for beginners to quickly get up and running without any training.
Collaborative: Allows multiple users to work on the same map at once, so teams can collaborate in real-time from anywhere around the world.
Comprehensive: Offers a variety of powerful features such as branching, linking, undos/redos, grouping & styling options that help users organize their thoughts and ideas more effectively.
Flexible: Can be used for many different purposes including project planning, brainstorming sessions, studying topics or creating presentations.
Cost Effective: Provides a cost-effective solution compared to other mind mapping packages with similar features and functionality.
Cons
Expensive software license costs
Difficulty to learn and use complex features
Limited compatibility with other programs
Occasional technical difficulties during usage
Lack of advanced collaboration tools
Pricing
Custom-based pricing for all plans.
9. Visio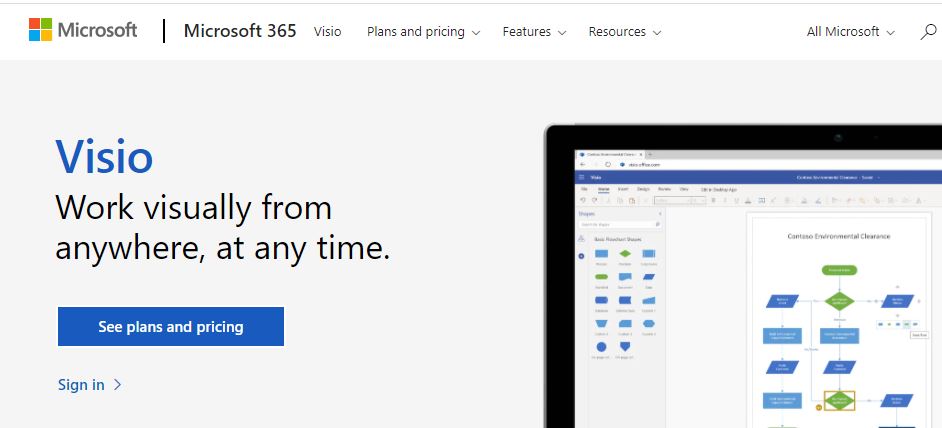 Visio mind mapping software tool is a visual collaboration platform that enables users to plan, brainstorm, organize, and share ideas visually. It combines organized outlines with vibrant visuals such as flowcharts, process maps, and diagrams to simplify complex topics.
Users can easily create dynamic data-driven diagrammatic representations of their ideas using this software tool.
Visio allows users to easily attach notes and other documents directly within the diagrams they are creating in order to further enhance their understanding of the concept or idea being discussed.
Additionally, Visio also offers features such as automated drawing tools which can help speed up diagram creation by automatically connecting shapes for gathering related data quickly and efficiently.
The tool also provides support for several image formats so that users can bring their own visuals into the project. Finally, Visio supports collaborative editing so multiple people from different locations can work on the same project simultaneously – an immensely helpful feature for efficient problem-solving!
Features
Visualization and organization of ideas: Visio mind mapping software tool provides a visual platform for structuring and organizing information flows, allowing users to quickly build new diagrams from existing templates or start from scratch with their own custom designs.
It also features an intuitive drag-and-drop interface which makes it easy to move elements around the canvas, as well as extensive export options that enable users to share their work in different formats.
Image import and annotation: Visio mind mapping software tool allows users to import images into the canvas so they can be annotated directly. This feature is particularly useful for incorporating visuals into presentations or giving demonstrations with simple diagrams that are easier to understand than plain text descriptions of complex concepts.
Interactive outlines: The interactive outline feature of the Visio mind mapping software tool allows users to easily expand upon topics by adding sub-points that can then be further expanded upon as needed. This makes it easy for people working together on projects to stay organized when brainstorming or discussing ideas online in real-time without having multiple windows open all at once.
Collaborative tools: With Visio's collaboration tools, teams can work together on projects without having everyone in the same room at the same time!
Pros
Easy to create and share visual diagrams: Visio mind mapping software tool makes it easy for users to create and share engaging, attractive visual diagrams quickly.
Accessible with cloud storage options: It is accessible both on the desktop as well as through cloud-based alternatives, providing greater flexibility for users.
Can be used for project management: Visio mind mapping software can be used to quickly map out a project's timeline, tasks and resources in an easily understood diagram, helping teams stay organized and on track.
Cons
It is a paid software which may be expensive for some users.
Complicated interface makes it difficult for novice users to use it effectively.
Limited support and compatibility with other software tools in the market.
Limited import/export capabilities meaning data transfer can be cumbersome.
Poor tracking of changes, making collaboration or version control difficult.
Pricing
Plan 1 $5/month
Plan 2 $15/month
10. Xmind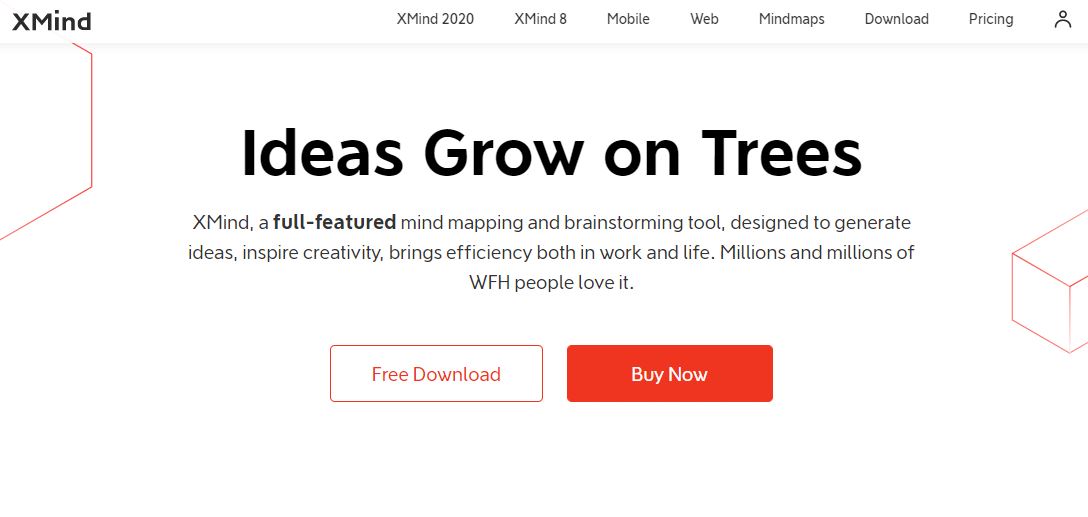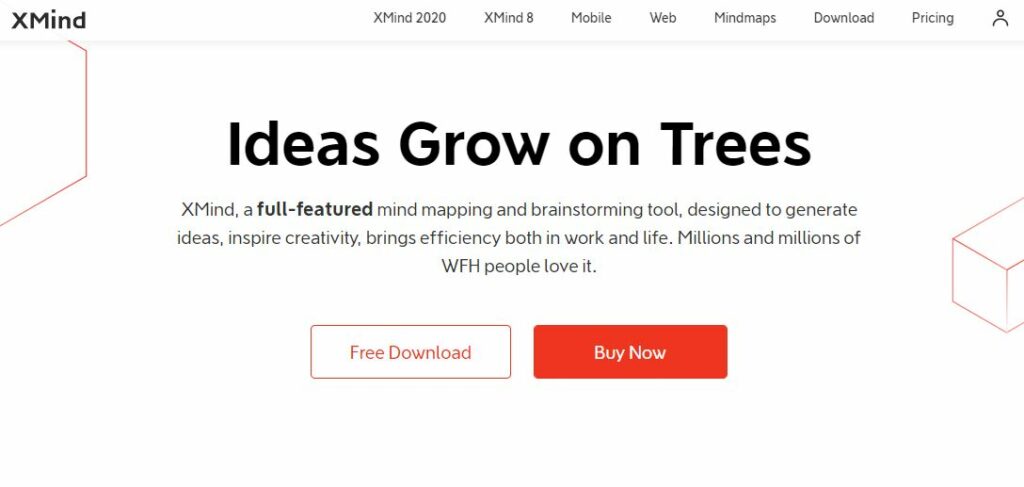 Xmind is a mind-mapping software tool that comes with a range of features to aid in brainstorming and visualizing ideas. It allows users to organize their thoughts into diagrams, making it easier to find patterns and discover unique insights.
The user can create different types of maps such as mind-maps, org-charts, flow charts and fishbone diagrams.
Xmind also provides rich data integration options that enable users to quickly share their work with others or export the maps for further processing in other applications.
Additionally, Xmind has an intuitive cross-platform UI which makes it easy to use while having access to powerful features like task management and brainstorming tools. All these features make Xmind an essential tool for many individuals and businesses who want effective ways of managing their daily tasks or exploring new concepts.
Features
Automated Layout – Quickly design the perfect diagram with automated alignment & layout tools that save time while creating professional-looking diagrams.
Brainstorming Mode – Capture ideas and build connections with a range of brainstorming modes including idea webbing, tree view and fishbone diagrams.
Customization – Fully customize every aspect of your maps with tons of themes, fonts, colors & labels to match your style or brand identity.
Presentation Mode – Showcase all your work in impressive visual slideshows tailored for any size audience or display format (web/print).
Collaboration Features – Work collaboratively on projects using cloud collaboration tools like sharing links & spreadsheets as well as importing/exporting map information to other desktop applications such as MS PowerPoint™ & Excel® .
Mobile Apps – Take your maps anywhere with Xmind's dedicated iOS & Android apps for mobile devices so you can access them from wherever you are!
Pros
Easy to create professional mind maps and flowcharts, allowing users to brainstorm ideas quickly and easily.
Generates visual representations of complex concepts and data, making it easier to understand them.
Allows users to collaborate in real-time with coworkers, making it possible to share ideas or work on projects remotely.
Cons
Limited collaboration options
Lack of basic features such as autosave and undo/redo
User interface is outdated and confusing to navigate
Few export options – some formats require an upgrade fee
Pricing
Monthly $5.99/month
Yearly $59.99/month

Ratings
4.4, 4.5
11. Google Drawings


Google Drawing is a powerful diagramming software that helps users to create diagrams quickly and easily.
It offers many tools for creating diagrams, charts, and graphs that can be shared with colleagues or used internally. With its drag-and-drop interface and intuitive controls, Google Drawing makes it simple to design anything from flowcharts to organizational charts.
Additionally, the user can add text boxes, shapes and colors to their drawings in order to make them more visually appealing. The images created with this program can be exported as .PNGs or edited as vector graphics using Adobe Illustrator or another graphic design tool. Once the image has been finished, it can be instantly shared via email or saved for future use.
Features
Creating Diagrams: With Google Drawing users can easily create a wide range of diagrams including flowcharts, org charts, mind maps, concept maps and more.
Editing Diagrams: Users can customize the appearance of their diagrams by selecting from a variety of colors, shapes and fonts. They can also move objects easily around the canvas or add new elements such as text boxes or images.
Sharing Diagrams: Once finished with editing the diagram it can be shared directly via email with colleagues who will have read-only access to view or edit it if given permission. Additionally users are able to embed this diagram into websites or documents for collaborating on projects in groups.
Exporting Diagrams : Finished diagrams can easily be printed out or exported as either image files (PNG format) or PDF document format by selecting these options in the File menu list.
Pros
Easy to use graphical interface
Variety of formatting and design options
Can collaborate in real time with other users
Can easily insert images, text, and shapes into documents
Copying between documents is easy
Cons
Google Drawing diagramming software has limited functionality and is not suitable for complex projects.
It cannot natively open or save vector graphics files in a range of formats, such as Adobe Illustrator (.AI) and EPS.
It lacks many features found in more powerful programs like Microsoft Visio, such as the ability to easily add text boxes and other elements.
Pricing
Free of charge application.
3 Reasons why nTask is the best alternative to MindMeister
nTask offers an extensive range of features and functions: nTask provides users with a vast set of features and functions which are specifically designed to facilitate project, task, and time management. Unlike MindMeister, it allows you to assign tasks, manage projects, keep track of all due dates in one place, track progress with Gantt charts as well as view all open/closed tasks in one place.
It is easier to collaborate using nTask: With its advanced collaboration features such as comments, tags & labels, sharing lists & attachments, assigning roles to users, etc., collaborating with team members on various tasks and projects can be easily managed with nTask.
It is more affordable than MindMeister: By providing everything from free plans for individuals to enterprise-grade solutions for larger teams at much more affordable prices compared to MindMeister's premium plans – nTask is the obvious choice for those looking for a budget-friendly yet powerful task & project management tool.
Conclusion
After assessing the 11 best MindMeister alternatives in 2023, it is evident that there are a variety of different tools available to fulfill your needs. Whether you're looking for a tool with more features or one that is easier to use and simpler, these 11 tools offer all sorts of options to suit your unique needs. We hope this list has helped you find the perfect tool for your project management or brainstorming tasks!
FAQs
What is MindMeister used for?
MindMeister is a web-based mind mapping application that allows users to create visual representations of their ideas and thoughts.
It can be used for a variety of tasks, including brainstorming, project planning, problem solving, note taking and concept mapping. MindMeister helps users organize their thoughts by creating nodes connected with lines that represent relationships between the different aspects of what they are thinking about.
By visually representing complex topics in this way, MindMeister can help people gain clarity and insight into the overall structure of their ideas.
Can I use MindMeister offline?
MindMeister is a web-based application, meaning that it requires an active internet connection to be used.
While there are some MindMeister mobile apps available for iOS and Android devices, they also require an active internet connection in order to access stored data or create new information. Therefore, MindMeister cannot technically be used offline.
How can I download MindMeister for free?
MindMeister is an online collaboration and mind-mapping software that allows users to create visual representations of thoughts, ideas, and concepts. The basic version of Mindmeister is available for free, however there are also subscription options for more comprehensive features.
To download the basic version, you can go to the Mindmeister website and click on the "Get Started" button. Then you will be prompted to enter your email address so that you can access all basic features of the site. From there you will be directed through a few steps which will help get your account started so that you can use all of the free tools available on MindMeister.